This foolproof recipe will deliver flakey, buttery, delicious pie crusts for your favorite pie creations.
I've been making pie crust this way for many, many years, and I promise you, you won't be disappointed.
Homemade Pie has actually been around for centuries! And we think is one of the greatest human inventions! Learn more about the fascinating history of pie here!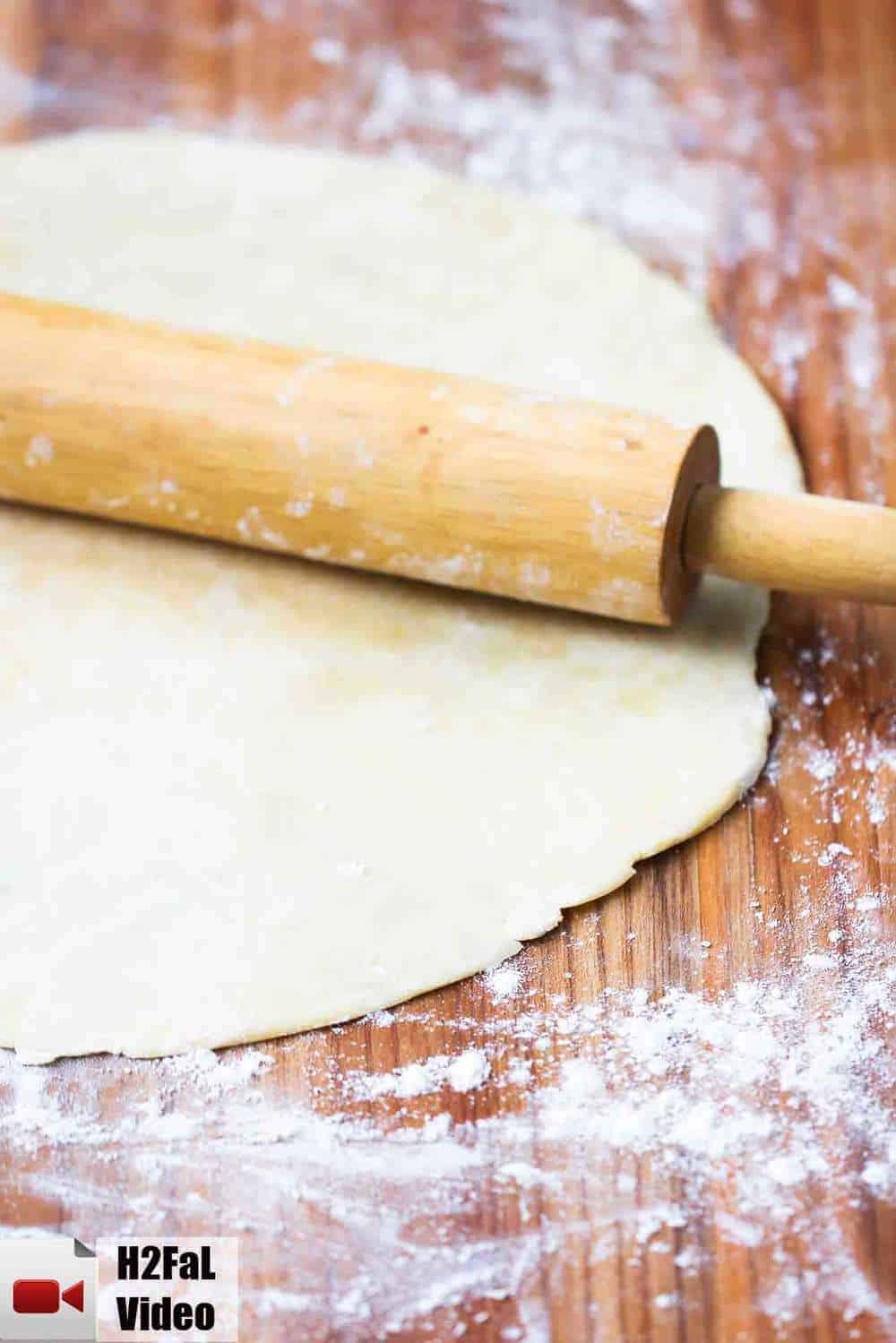 HOW TO MAKE THE PERFECT PIE CRUST
Using your food processor is a solid way of producing wonderful pie dough.
Watch us show you how simple it is to make this amazing dough!
Use your fingers, as shown below, to easily flute the edges for an attractive design.
So festive! Making pie crust from scratch makes your pie even that more special!
Of course, you can find perfectly acceptable pre-made pie crusts at most supermarkets nowadays. But, there is just something so special about a pie that has a homemade crust.
You can just taste the love that went into the creation of the pie, starting with the flakey, buttery crust!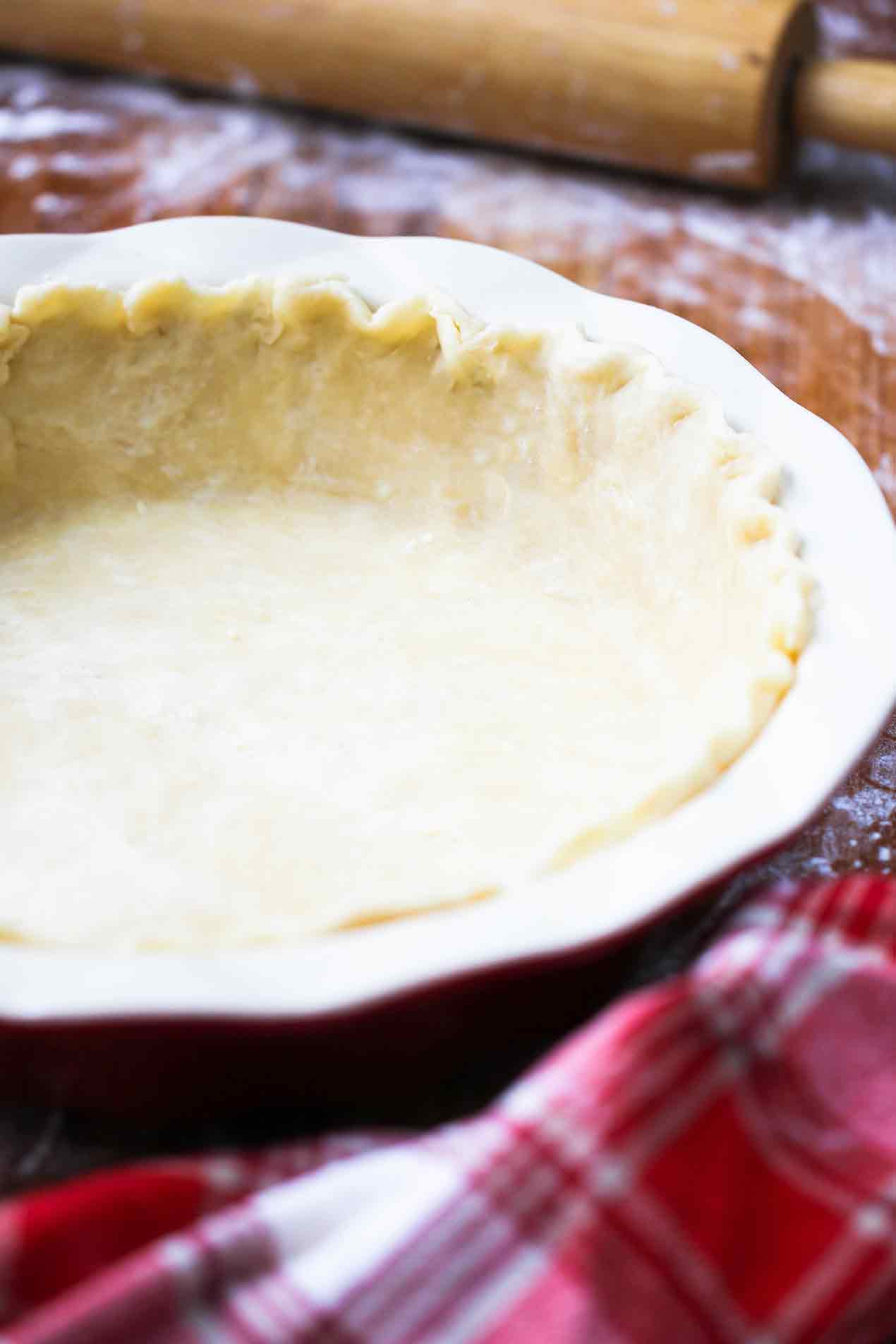 Classic Pumpkin Pie (click for recipe) is made even more perfect with a homemade crust!
Now, go ahead and make this delicious dough from scratch!
And when you make this fabulous dough, be sure to take a photo of it, post it on Instagram, and tag @howtofeedaloon and hashtag #howtofeedaloon!
Take a photo of the pie you make, too! We love pie!
Perfect Pie Crust
This dough makes perfect pie crust every time! Use cold butter, and fold into the dough. Using lard from
www.smithfield.com
makes it even better.
Print
Pin
Rate
Servings: 6 people
Calories: 140kcal
Ingredients
1¼ cups all-purpose flour plus more for dusting your work surface
¼ tsp salt
6 tbsp unsalted butter chilled and cut into 1/2" cubes
2 tbsp shortening chilled and cut into 1/2" cubes
5 - 6 tbsp ice water
Instructions
Using a dry ingredient measuring cup, add the flour to a food processor fitted with a metal blade

Add the salt and then the chilled butter and shortening. Secure the lid onto the food processor.

Cut the fat into the flour by pulsing 7 or 8 times. The butter should resemble small frozen peas.

Through the tube of the food processor, add the ice water, 1 tbsp at a time, just until a ball forms. Immediately stop processing.

Remove the dough from the processor and using your thumbs, for a disc.

Enclose the dough in plastic wrap and place in the refrigerator for 1 hour.

On a lightly floured counter/surface, place the dough. Try not to handle the dough too much, to prevent the butter pieces from melting.

You'll need to roll out the dough to about 3 to 4 inches greater than the inside diameter of the pan. (i.e., if you have 9-inch pie pan, roll the crust to a 12 - 13-inch diameter.)

Try and roll the dough out in as few 'rolls' as possible. Repeated rolling will overwork the dough, and will yield less flakey crust.

To transfer the dough to the pan, fold one half over, then fold over again into a quarter. Gently place into pie pan and then unfold the dough. Trim the edges with scissors.

Use your fingers to flute the edges. Your pie dough is now ready for baking!
Nutrition
Calories: 140kcal | Carbohydrates: 1g | Protein: 1g | Fat: 16g | Saturated Fat: 8g | Cholesterol: 31mg | Sodium: 100mg | Sugar: 1g | Vitamin A: 355IU | Calcium: 3mg