Classic Meat Pie is hands down one of our most favorite treats to eat. Ever.
Flaky crust. Savory filling. Perfection with each bite.
Oh, how we love a classic meat pie.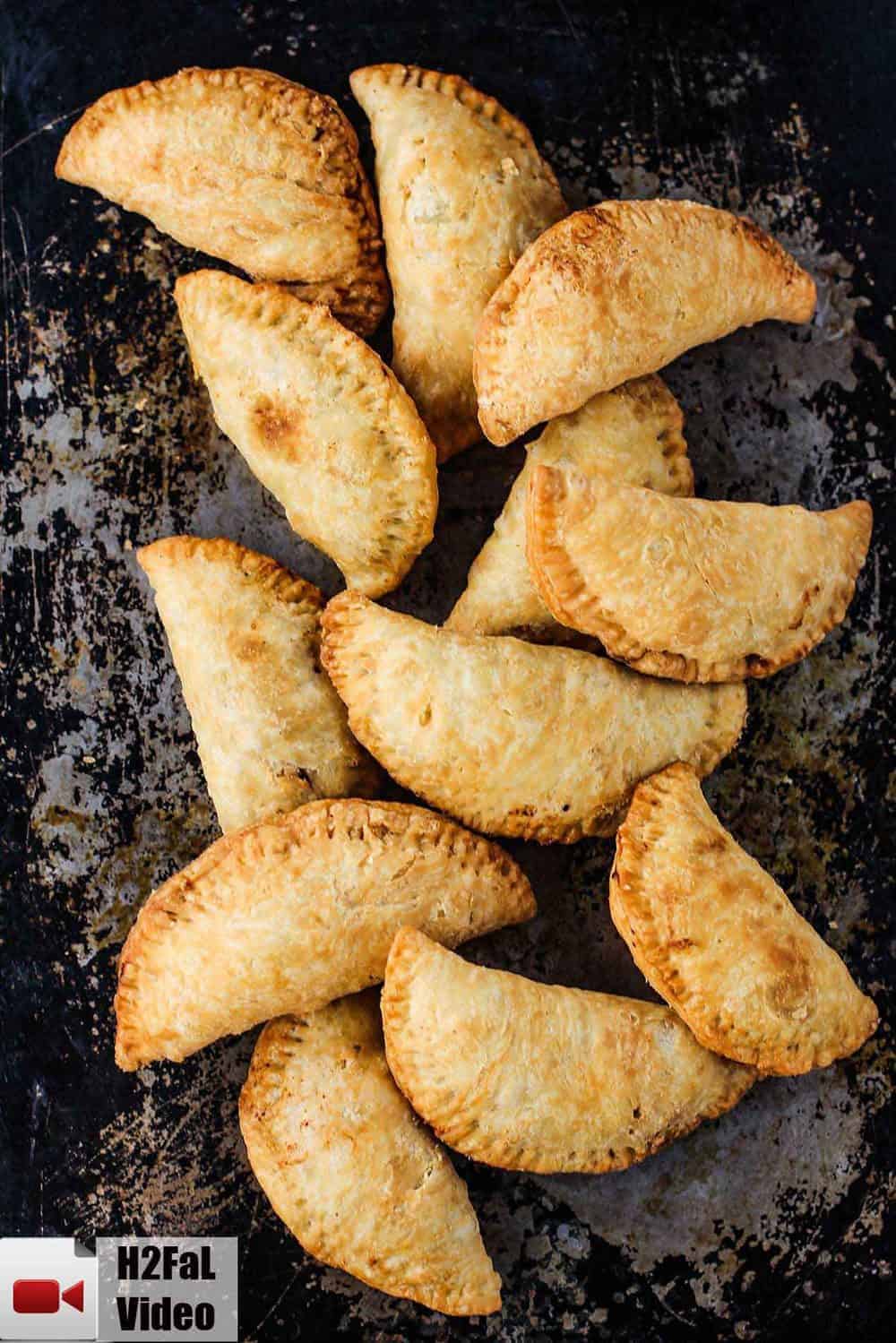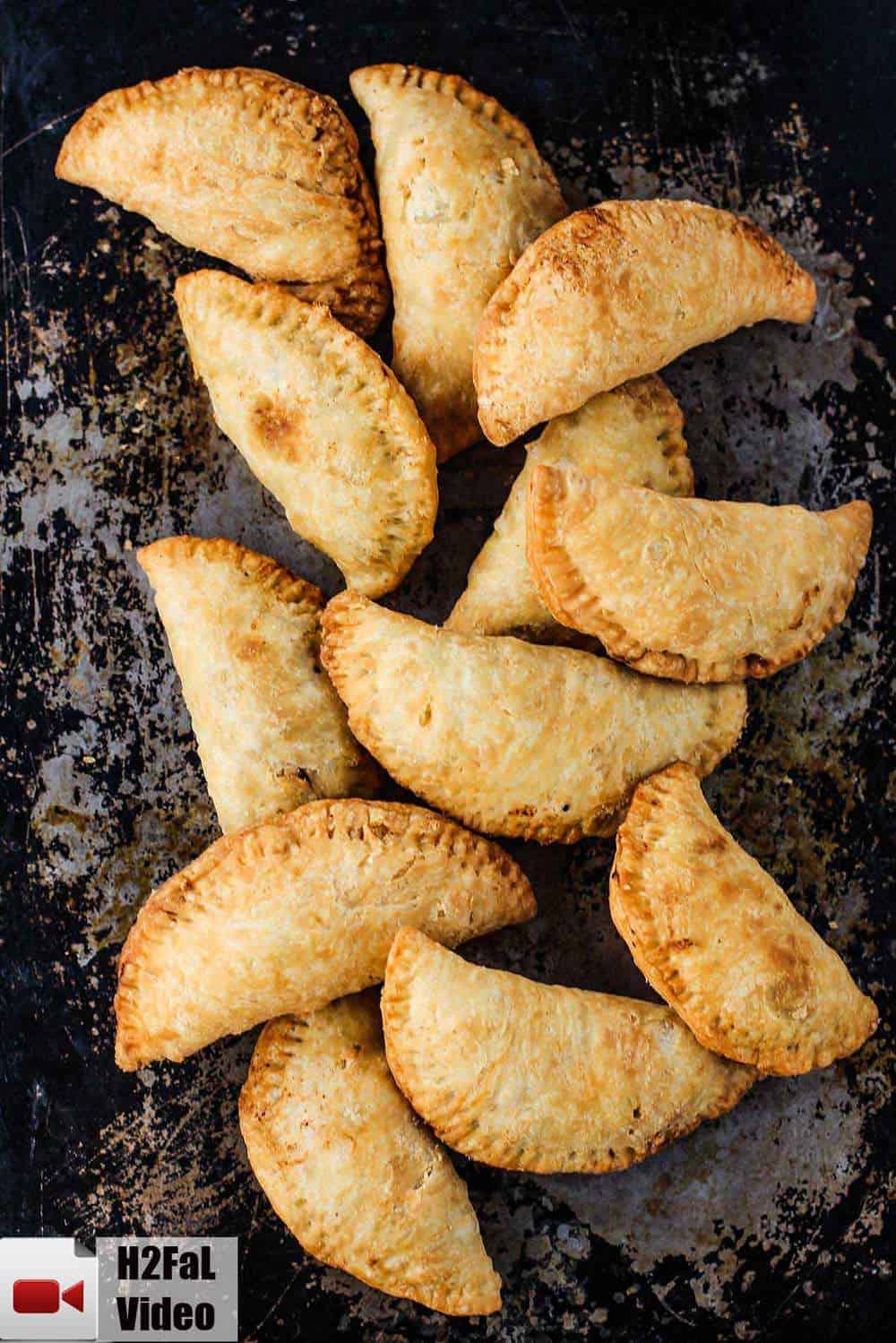 THE CLASSIC MEAT PIE RECIPE IS EASY TO MAKE AT HOME
Making the dough from scratch is essential, not difficult to do, and can be can be done well in advance!
Watch us show you how easy (and fun) it is to make these babies at home!
It all starts with a wonderfully flavorful savory beef filling.
We love sautéing onion, bell peppers, and a little jalapeño to deepen the flavors.
You can adjust the seasonings to your own liking, but we love the little bit of kick in this recipe.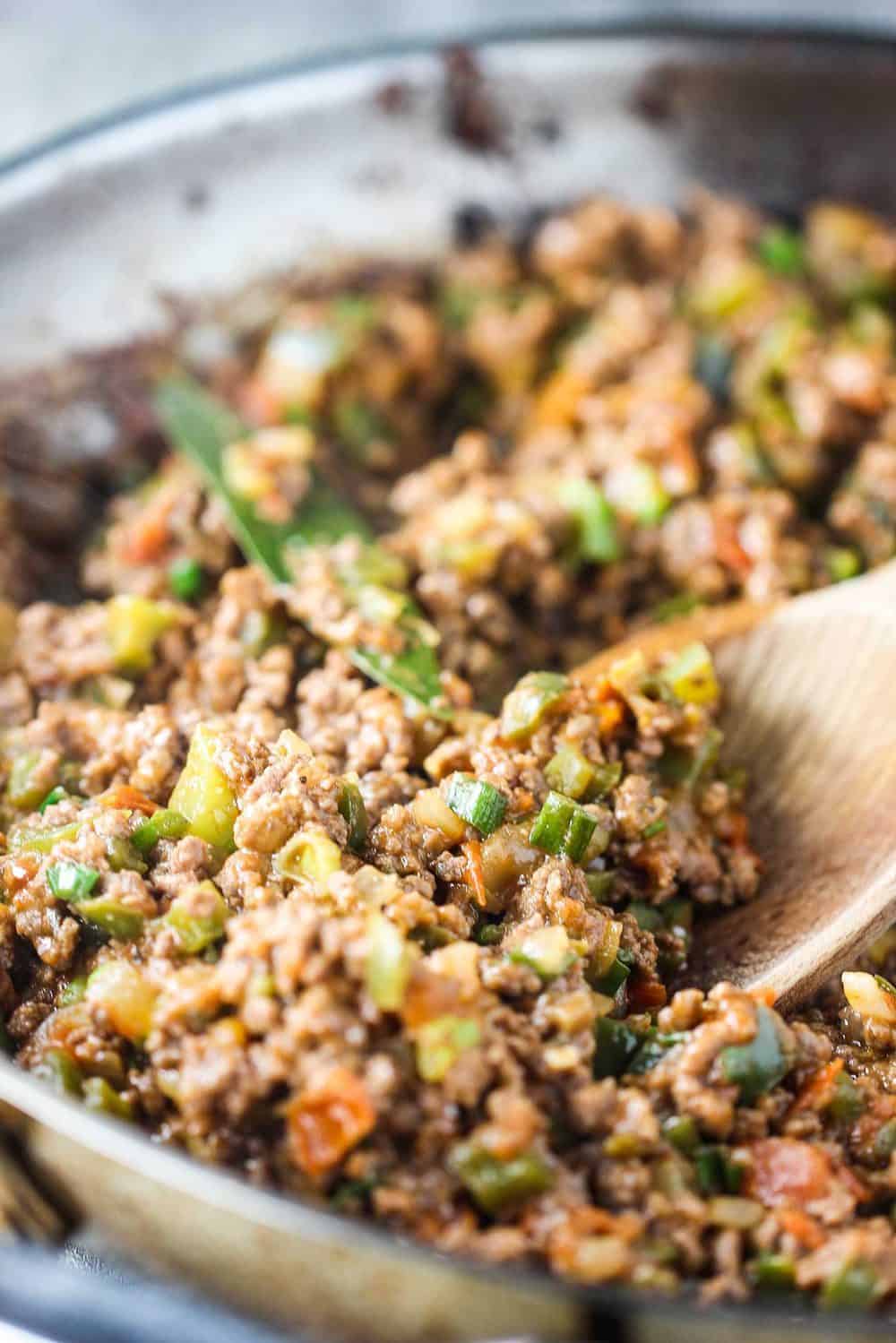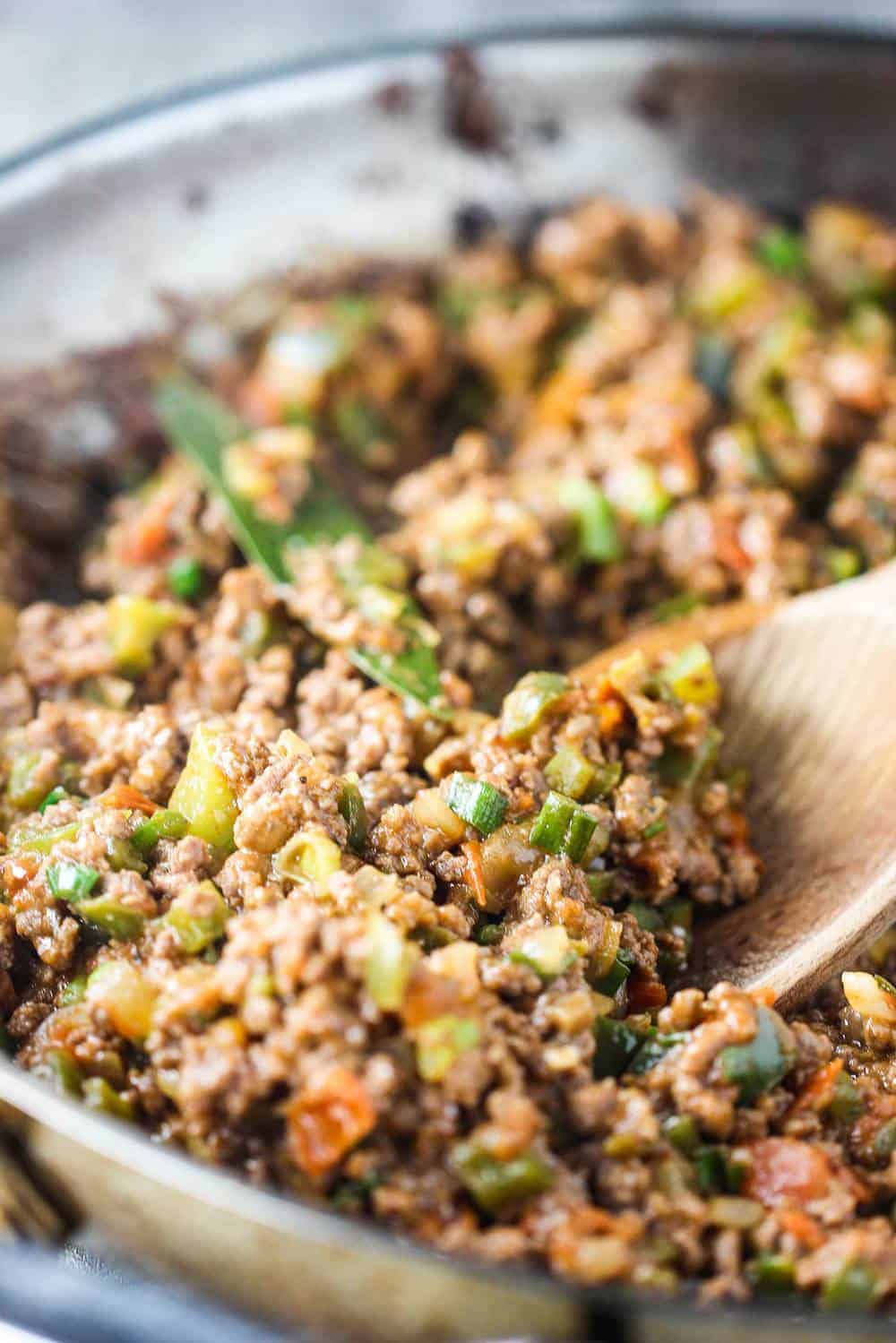 HOMEMADE PIE DOUGH MAKES THE PERFECT CRUST
Making the dough from scratch is simple and puts these meat pies over the top.
We use a 4-inch cutting ring (that we got at Williams-Sonoma) for cutting the disc.
If you don't have this size cutting ring, use a large jar lid, or even a pizza cutter and a steady hand. Point is…it doesn't have to be perfect.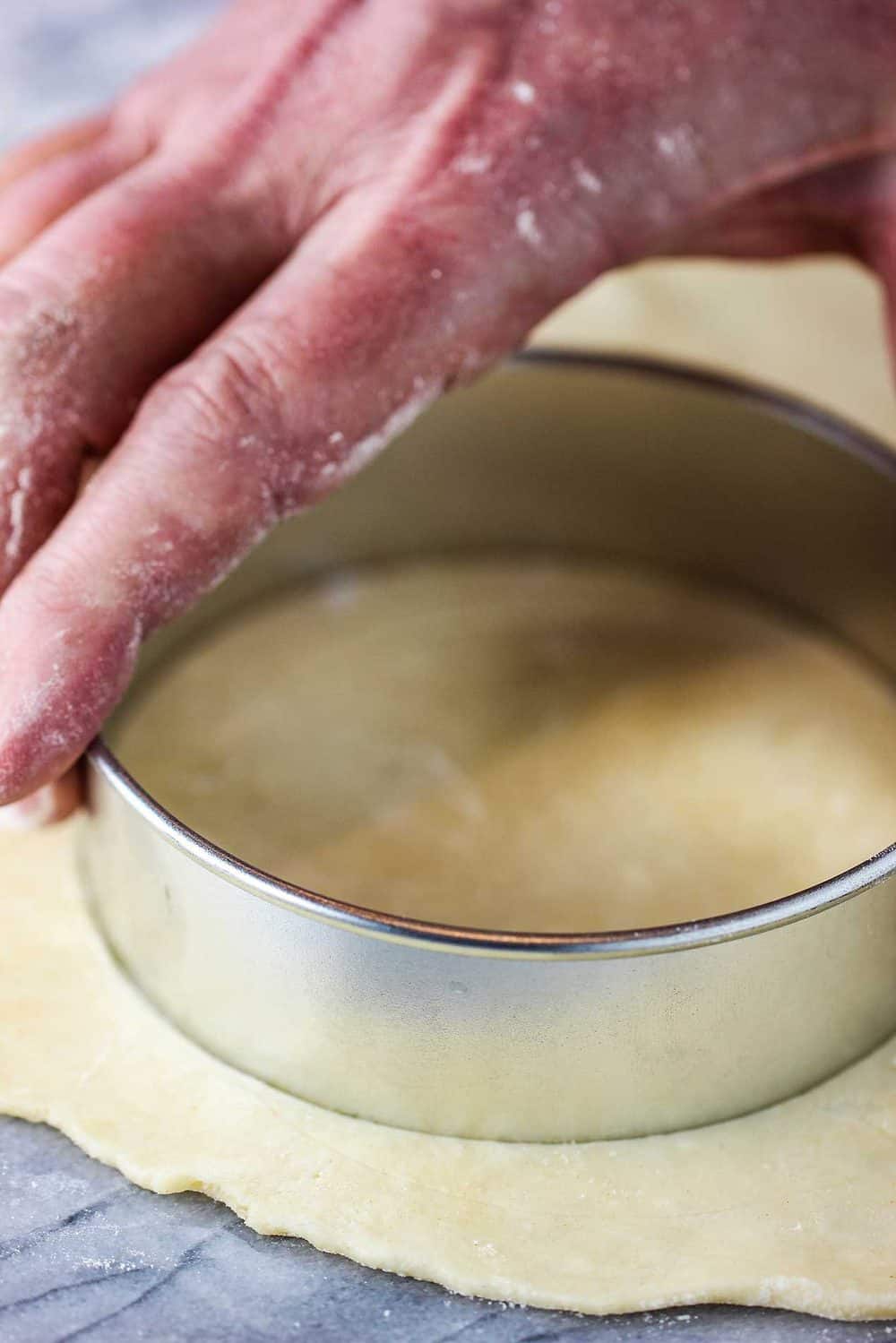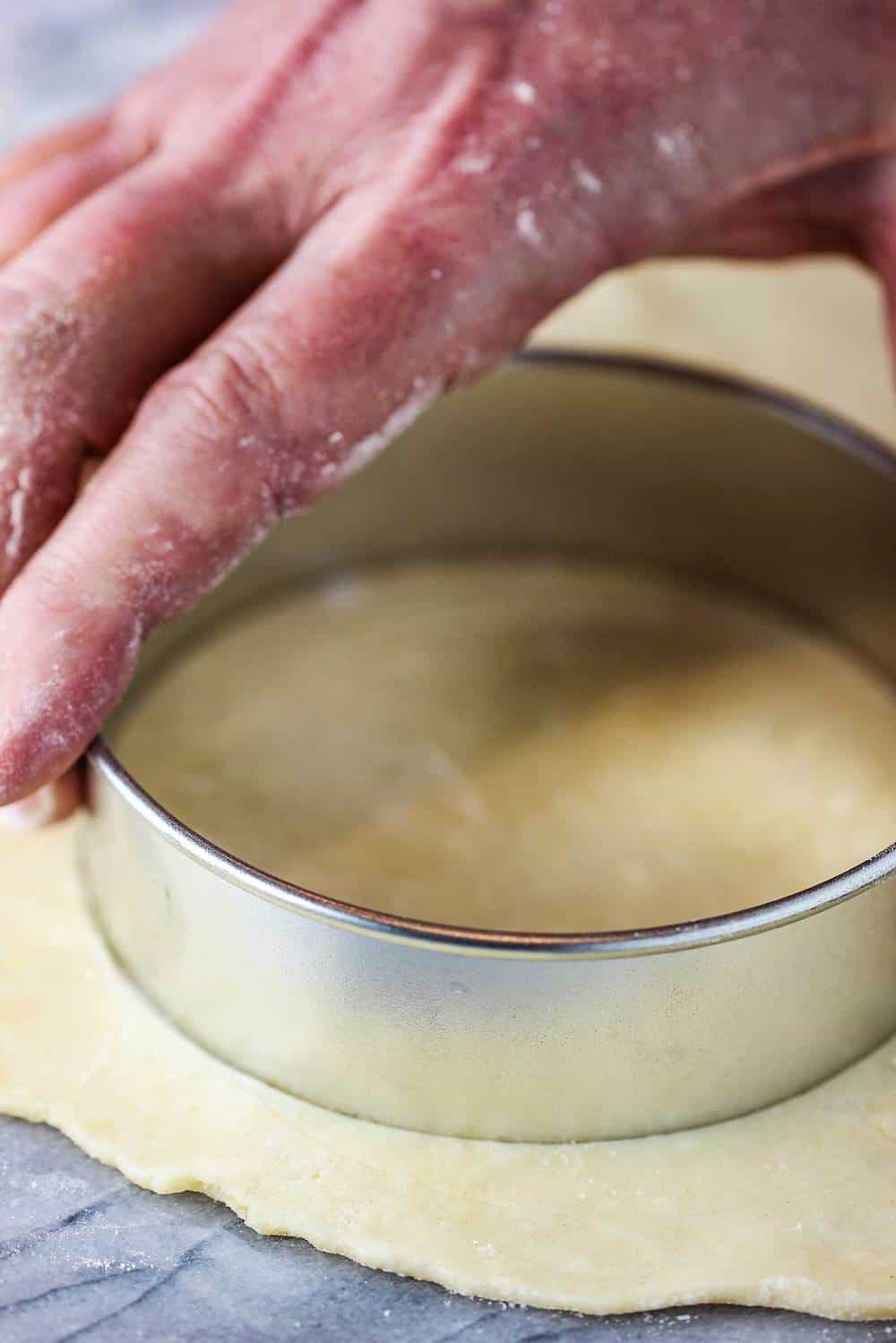 After cutting the dough, add a teaspoon or so of filling right in the middle of the disc.
You'll want to brush the edges of the disc with an egg wash.
This will keep the classic meat pie sealed as it fries (or bakes).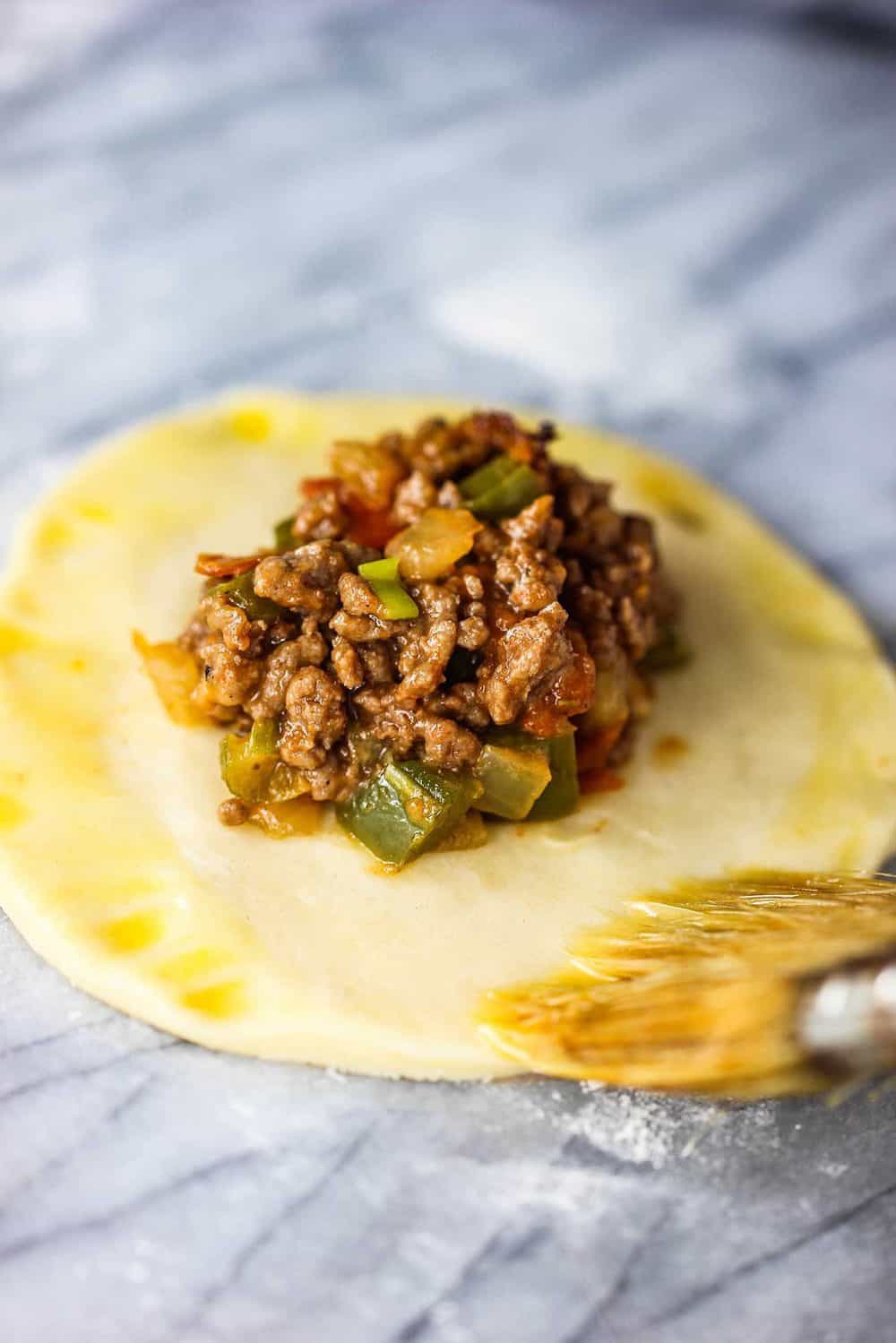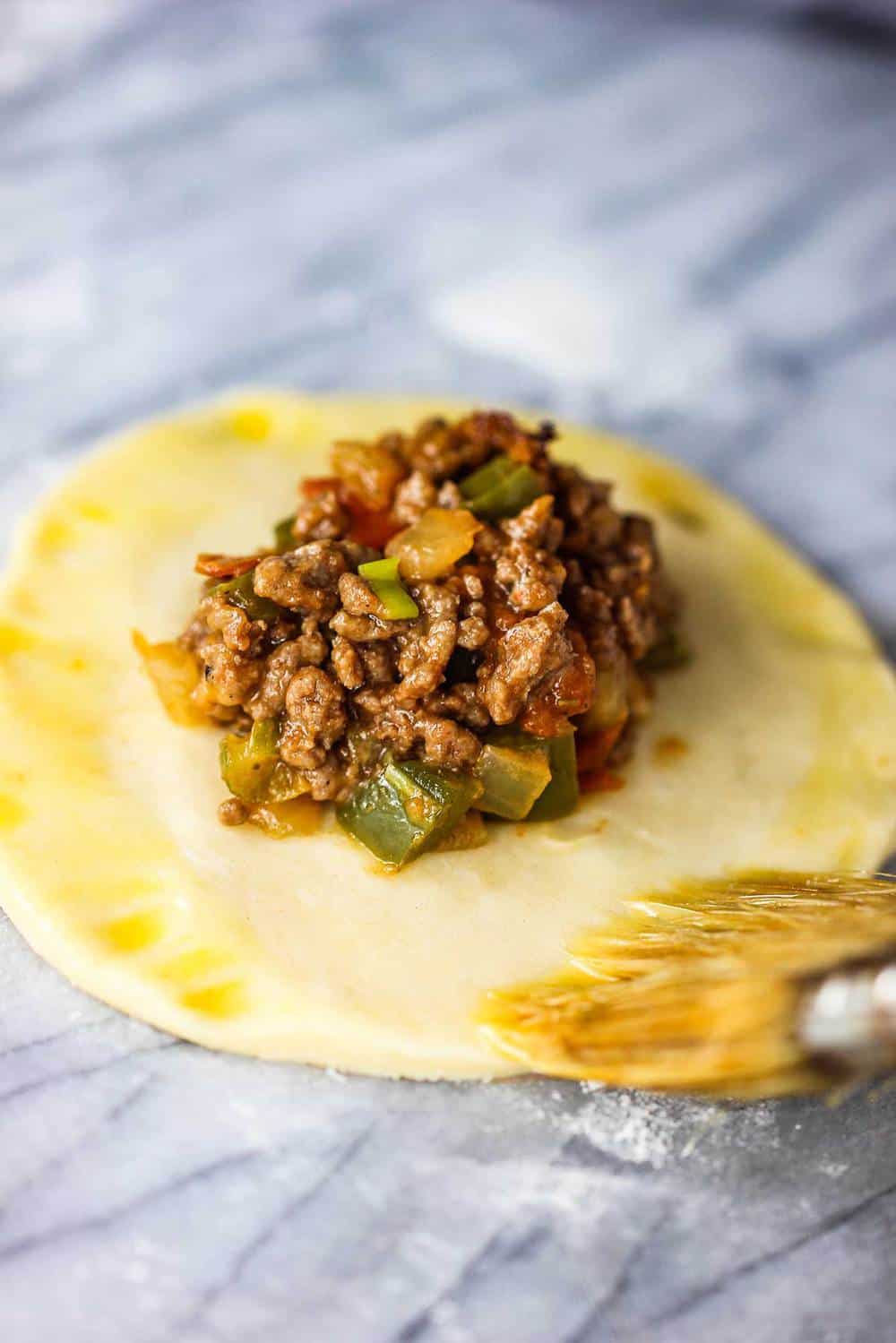 USE A FORK TO CRIMP AND SEAL THE EDGES
A fork is the perfect tool for sealing the dough edges.
Don't worry if a little meat pie filling gets pinched as you're sealing. It will still cook just fine.
We're getting close to one of the most scrumptious snacks in the world!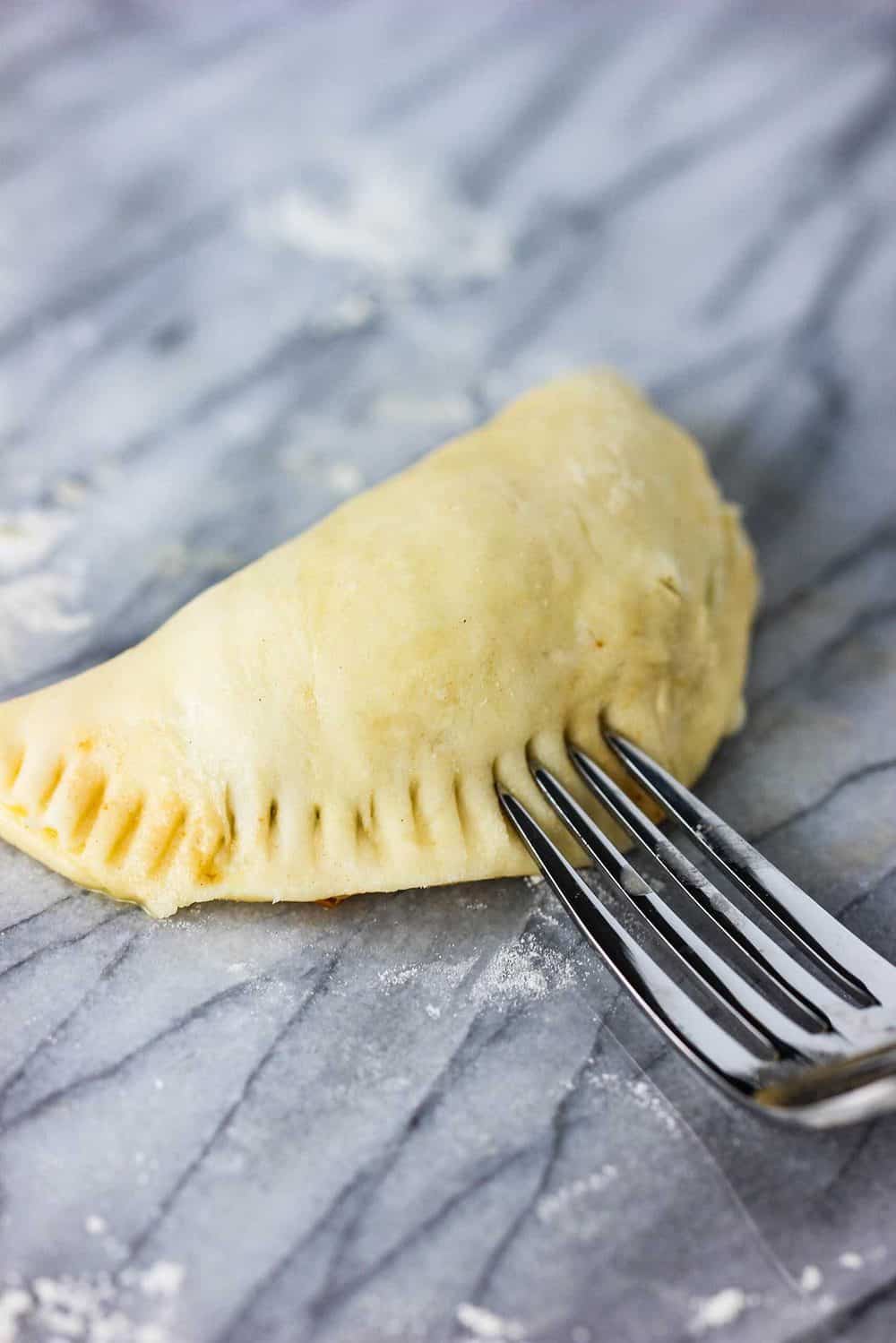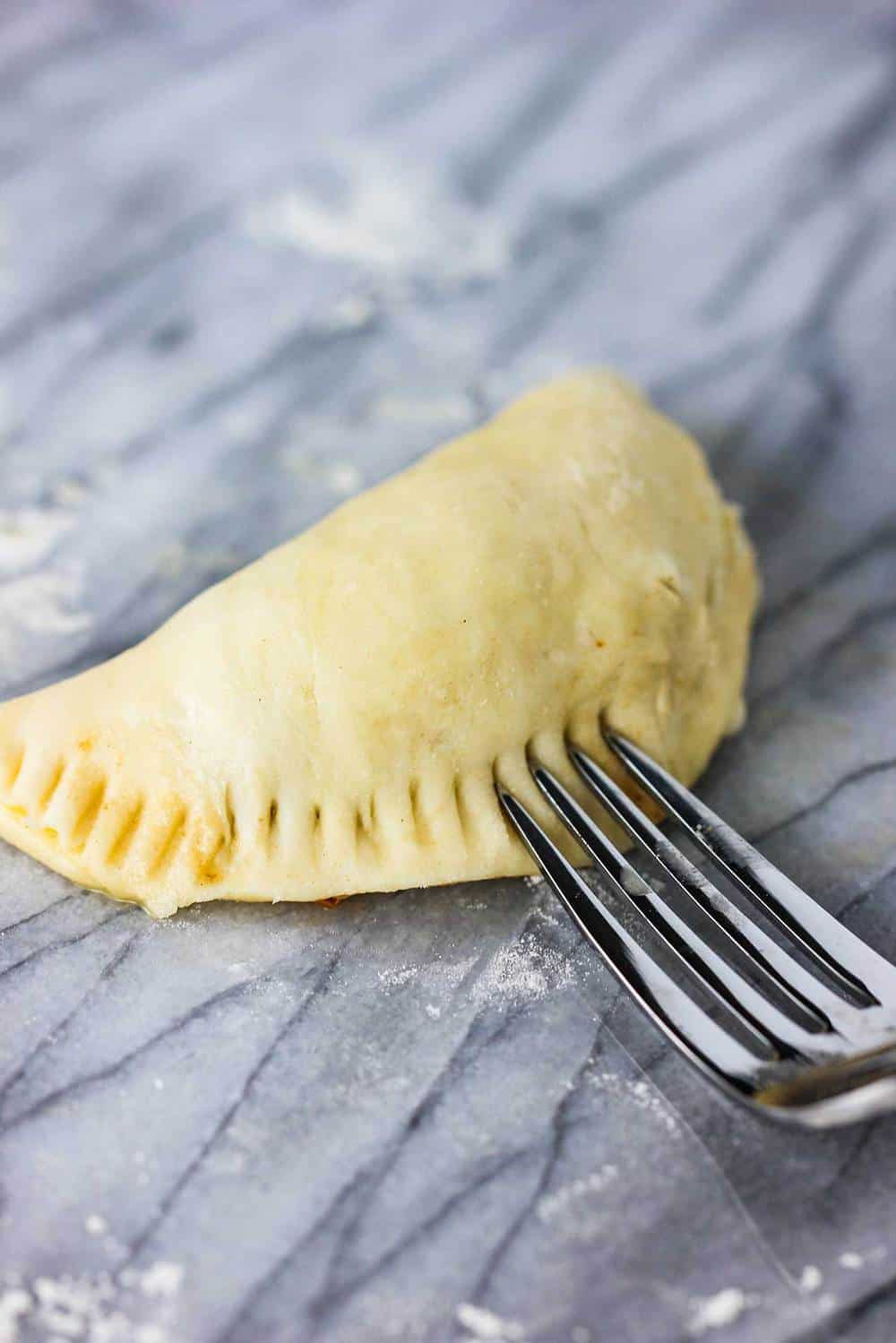 We have to admit that we think frying these meat pies creates the perfect classic meat pie.
However, you can also bake these in the oven and they will turn out beautifully.
If you fry them, be sure to use a large metal slotted spoon (or spider) to remove the meat pies from the oil.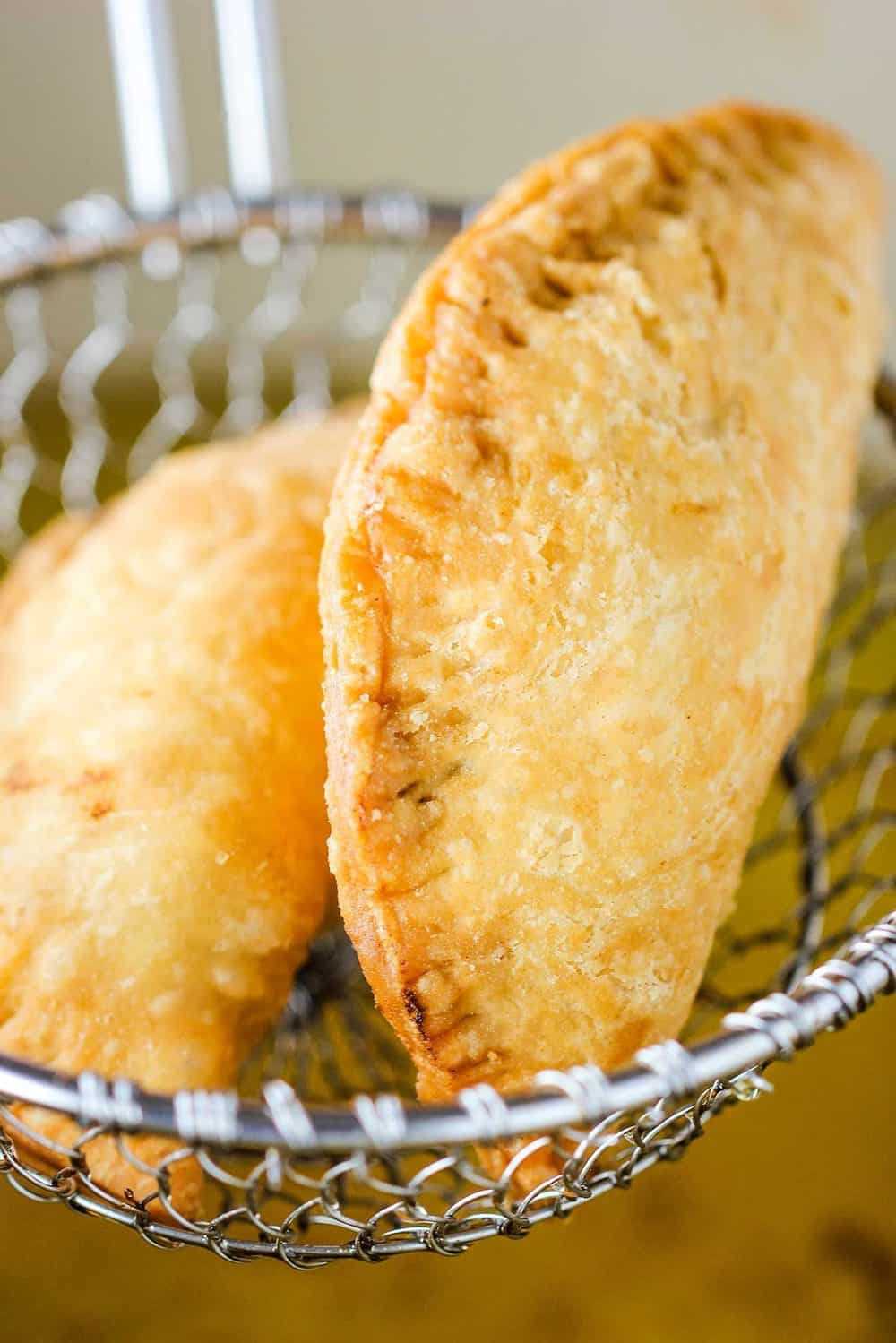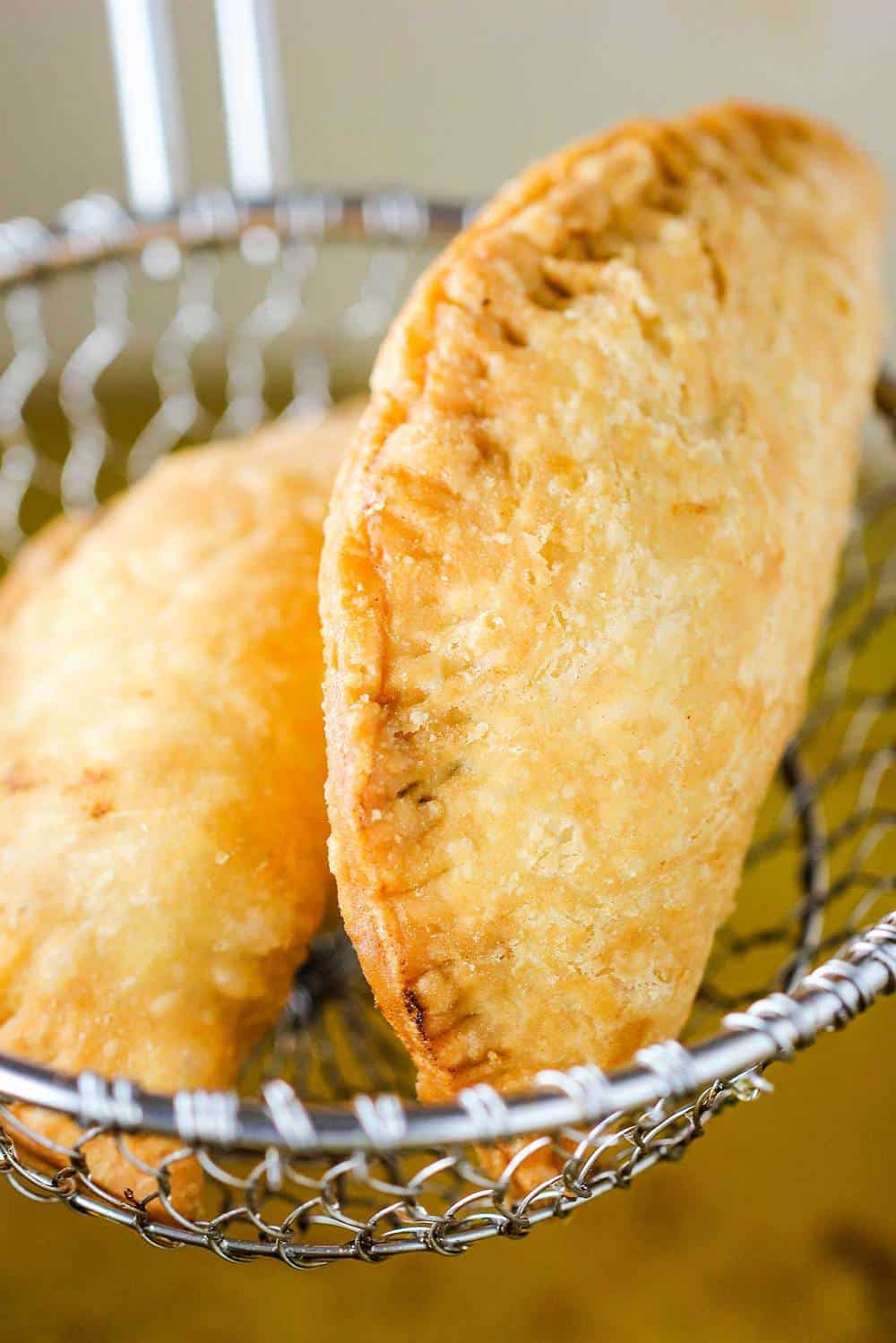 CLASSIC MEAT PIE IS ALWAYS A CROWD FAVORITE
This recipe for Classic Meat Pie can easily be prepared ahead of time.
You can fill the meat pies and seal them, and then refrigerate for 24 hours, or freeze up to 1 week.
You can also fry (or bake) them up several hours prior to serving, and then re-heat them in the oven just before serving.
THERE IS NOTHING MUCH BETTER THAN A CLASSIC MEAT PIE
Wesley and I have always loved a good meat pie. So often we headed for a train in NYC, on a late night, and thought: "Well, we better grab something to eat, and it simply must be a yummy meat pie!"
Other amazing recipes where good ole beef is the star ingredients include:
In the meantime…go ahead and make these amazing Meat Pies!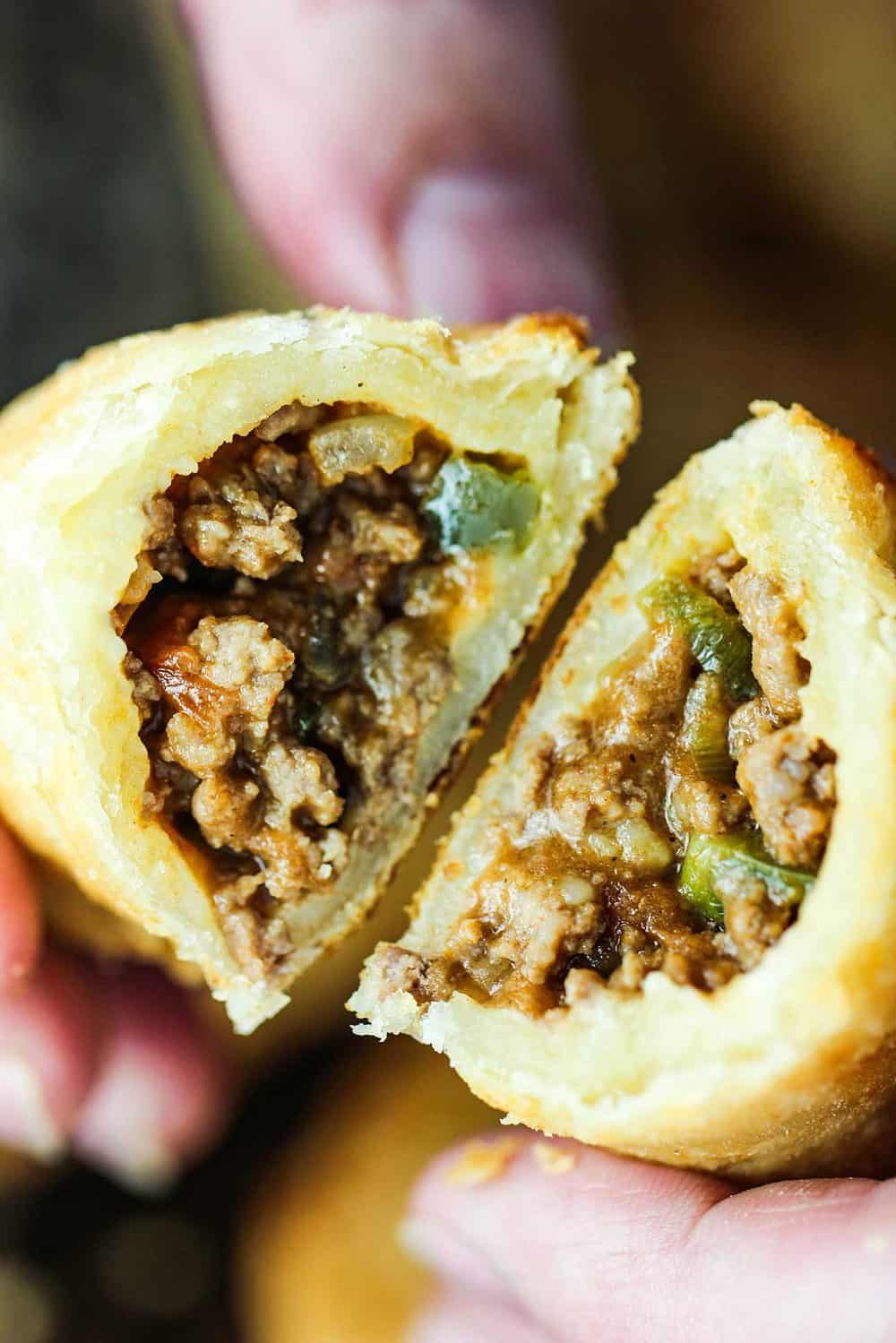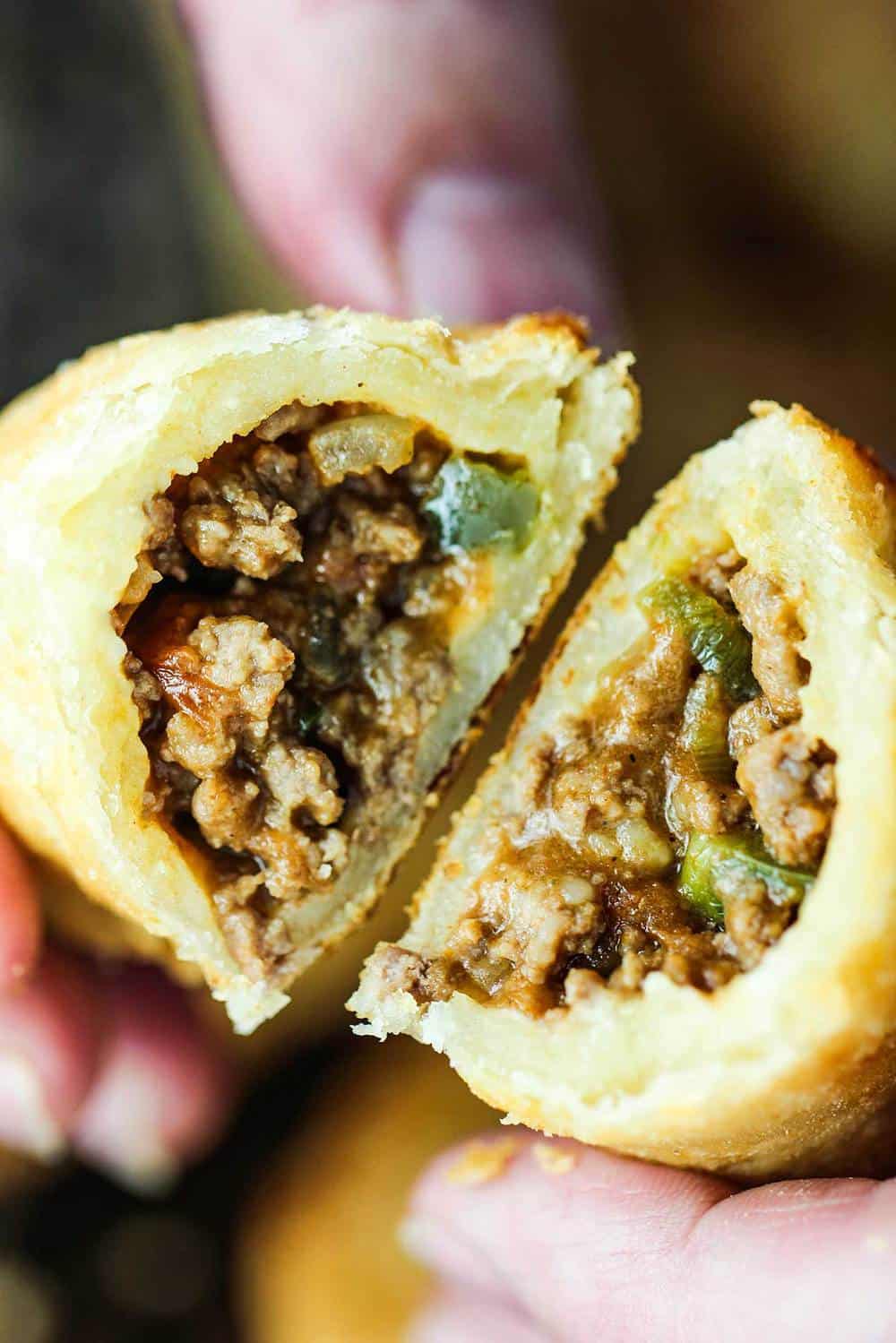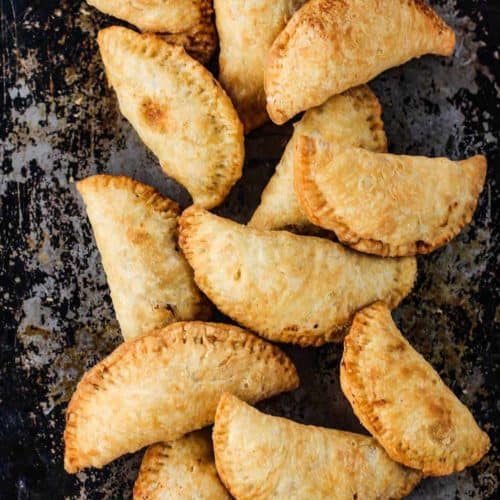 Classic Meat Pie
This classic meat pie is what it's called...CLASSIC. Oh my. So good. The pastry is incredible, as is the meat filling. Make this and enjoy!
Print
Pin
Rate
Servings: 8 people
Calories: 418kcal
Ingredients
2 tbsp vegetable oil
1 lb ground beef
1 tbsp Kosher salt
1/2 tsp cayenne pepper
1 tsp smoke paprika
1 tsp chili powder
1 tsp cumin ground
1/4 tsp ground white pepper
1/2 tsp ground black pepper
1 small yellow onion chopped
1 green pepper cored, seeded, and chopped
1 jalapeno stemmed, seeded, and chopped
4 plum tomatoes diced
1 tsp dried thyme
4 fresh bay leaves
1/2 tsp Worcestershire sauce
2 tbsp all-purpose flour
2 tbsp water
1 bunch of scallions thinly sliced, about 1/2 cup
5 dashes of Louisiana hot sauce
1 eggs
Vegetable oil for frying
Instructions
Heat the oil in your deep fryer, or a 12-inch skillet over medium-high heat.

In a medium bowl, mix the salt, cayenne, paprika, chili powder, cumin, white pepper, and black pepper.

Sprinkle over the beef.

Cook in a large skillet or medium high heat heat for about 8 minutes.

Add the onion, bell pepper, jalapeno, tomatoes, dried thyme, bay leaves, and Worcestershire sauce and cook, stirring for an extra 15 minutes, until most of the juices have evaporated an the veggies have softened.

Dust the flour over the meat and add the water, stirring to combine (this will tighten up the mixture).

Stir in the scallion and hot sauce and transfer the mixture to a baking pan.

Line two baking pans with parchment paper and a dusting of flour.

Divide the dough into to four even sections.

Return the 3 sections back to the fridge.

Dust your counter with flour and roll out the first section until it's just under a 1/4 inch thick.

Use a 4 inch biscuit cutter (or a lid of a jar) to cut the dough into rounds.

Lightly brush the outer edges of each round with the egg wash.

Place 1 to 2 teaspoons of the filling in the center of each round.

Fold the circle over the filling to make a half circle.

Using the back side of a fork, press around the edges to seal the pie.

Transfer the pies to the prepared baking sheet

Refrigerate for at least 30 minutes.

To fry the pies, heat your deep fryer, or, 2 1/2 inches of oil in a large case iron skillet to 350 F. (Or, heat your oven to 350° F.)

Fry the chilled pies in batches. (Or, bake in oven for 35 to 40 minutes, or until pies are golden brown and disregard the next two steps).

Drain on paper towels.

Keep warm in oven as you fry up the other pies.
Nutrition
Calories: 418kcal