Instant Pot Beef Short Ribs.
If ever there was a dish that was tailor-made for an Instant Pot, it's Beef Short Ribs.
This recipe makes fall-off-the-bone ribs in only about an hour and a half, from start to finish.
And taste? Simply amazing.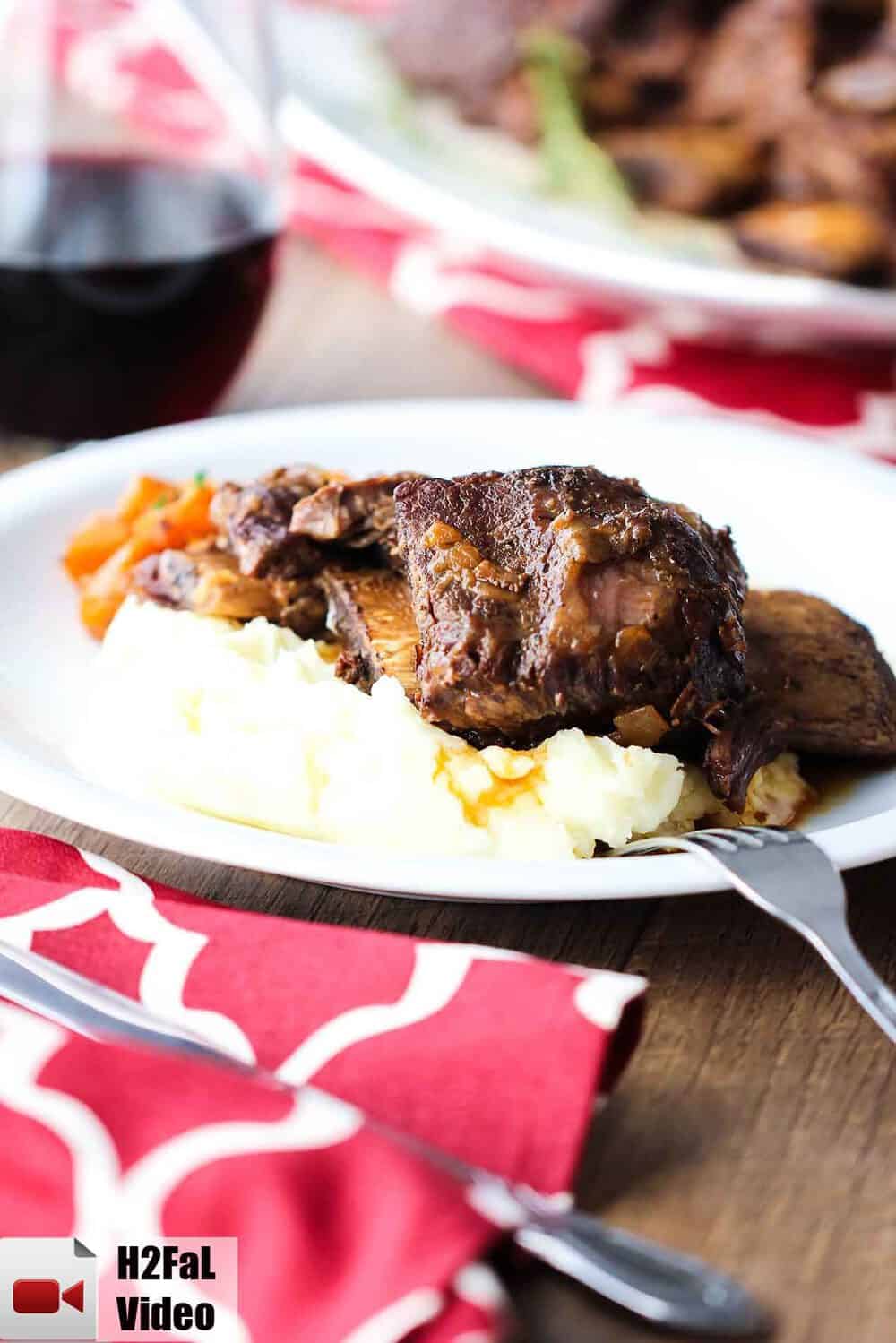 INSTANT POT BEEF SHORT RIBS ARE EASY TO MAKE
Short ribs typically take hours in the oven or in your slow cooker. But with the Instant Pot, they pressure cook for only 40 minutes.
Watch us show you how easy it is to make these incredible short ribs!
After braising in a red wine tomato sauce, they are so tender, the meat practically falls off the bone.
Insanely tender and just so delicious.
These ribs do render a decent amount of fat. We like to strain the sauce after pressure cooking, and the pour the sauce into a fat separator. If you don't have one of the amazing (and in-expensive) tools, you can spoon the grease off the top of the sauce.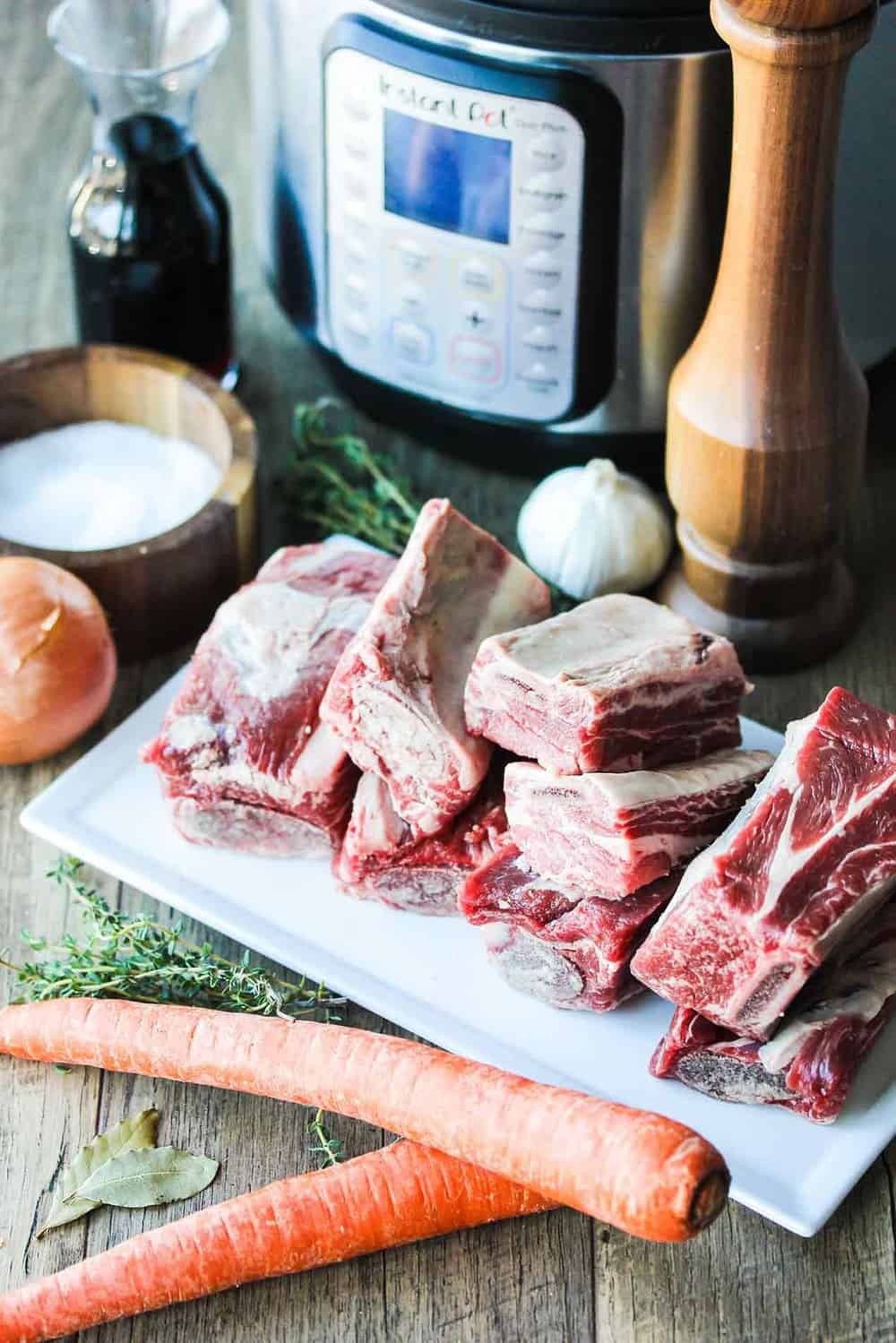 When you're ready to impress, look no further than this amazing recipe. A they cook so fast, you can easily have this dream of carnivores dish on the table on a busy weeknight.
Whip up a batch of mashed potatoes served right alongside the prepared carrots, and you've got a dish you and your loved ones won't soon forget.
(Note: The cooked carrots are delicious, but you may want to prepare more for the table).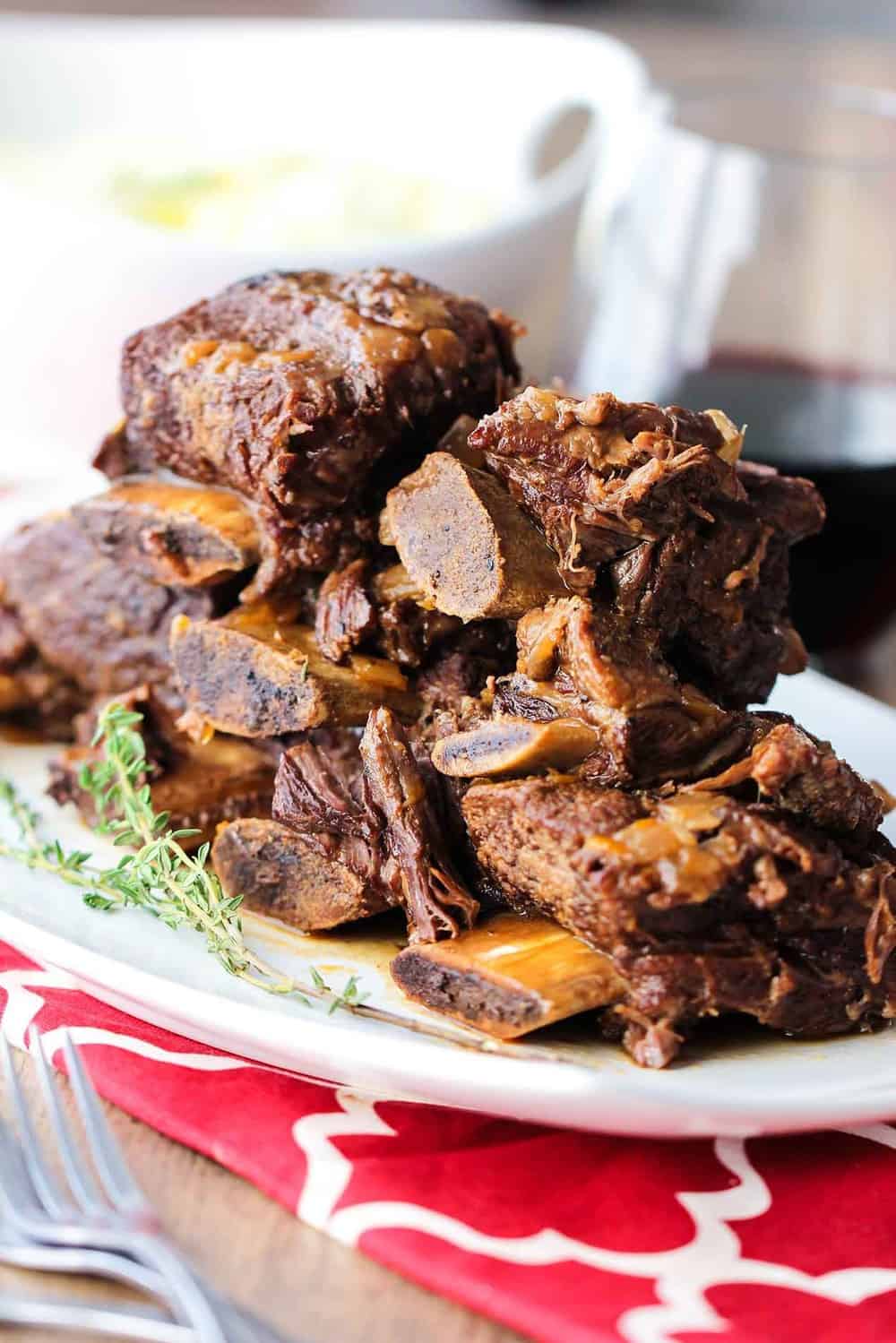 Looking for more awesome Instant Pot recipes? Try these:
Now, let's make these amazing Instant Pot Beef Short Ribs!
Instant Pot Beef Short Ribs
These Instant Pot Beef Short Ribs are fall-off-the-bone tender and exploding with flavor. They take about an hour and a half from start to finish. The meat is so tender, in fact, removing them from the Instant Pot to a platter takes a steady hand and a metal spatula, or two. But wait until you take that first bite! Incredible. Goes beautifully with homemade mashed potatoes!
Print
Pin
Rate
Servings: 4 people
Calories: 364kcal
Ingredients
Kosher salt
4 lbs bone-in beef short ribs about 6 - 8 ribs, 2 inches in length each
2 tbsp olive oil plus additional, if necessary
2 medium-sized carrots peeled and cut into 1/4-inch rounds
1 medium onion chopped
2 garlic cloves minced
1 tbsp tomato paste
1/2 cup red wine
1 cup beef stock
1 tsp dried thyme
1 bay leaf
Freshly ground black pepper
1 tbsp light brown sugar
Instructions
Liberally salt the ribs on all sides.

Turn the Instant Pot to Saute on High.

Heat 2 tablespoons olive oil and then add the ribs in a single layer without overlapping (you'll probably need to do this in a couple batches).

Sear the ribs for 3 to 4 minutes on each side.

Transfer to a plate and set aside.

If pot is dry, add a little more oil.

Add the carrots, onion, and garlic.

Add 1/2 teaspoon salt and stir until vegetables soften, about 3 minutes.

Stir in the tomato paste and cook for 2 minutes.

Add the wine and stir, scraping the bottom to set loose any caramelized bits.

Bring the liquid to a boil and cook until reduced by about a third, about 4 to 5 minutes.

Add the stock, thyme, and bay leaf. Then nestle the ribs into liquid. They won't be completely submerged.

Lock the lid into place, turn the valve to Sealing. Press Cancel and then press "Meat" or "Meat/Stew" and set on High. and set the timer to 40 minutes.

After cooking, naturally release for 20 minutes, then quick release for any remaining pressure.

Unlock and remove the lid.

Carefully transfer the ribs to a platter. They will be very tender, so be gentle!

Tent the ribs loosely with foil while you finish the sauce.

Strain the sauce into a large pot through a coarse strainer and then pour into a fat separator (or use a spoon to remove the fat from the surface of the sauce).

Place the cooked vegetables on a serving dish and tent with foil.

Pour the sauce back into the pot

Select Saute and adjust the heat to Normal.

Add the brown sugar and then bring the sauce to a simmer, stirring frequently until the sauce is the consistency of gravy, about 10 minutes.

Taste and add more salt, if necessary.

Pour some sauce over the cooked ribs and pass the rest at the table.

Serves with vegetables. Enjoy!
Nutrition
Calories: 364kcal