This post is kindly sponsored by Pacific Foods, but the recipe, photography, video, and opinions are 100% ours.
If you're looking for a fall-off-the-bone feast that you can bring to the table in a fraction of the time it would normally take to prepare, you're in for a treat with this recipe.
We love preparing this dish in our beloved Instant Pot because you get that incredible slow-braised taste and texture – in just a little over an hour! Be sure to go with quality ingredients and this is a meal you will want to return to time and time again!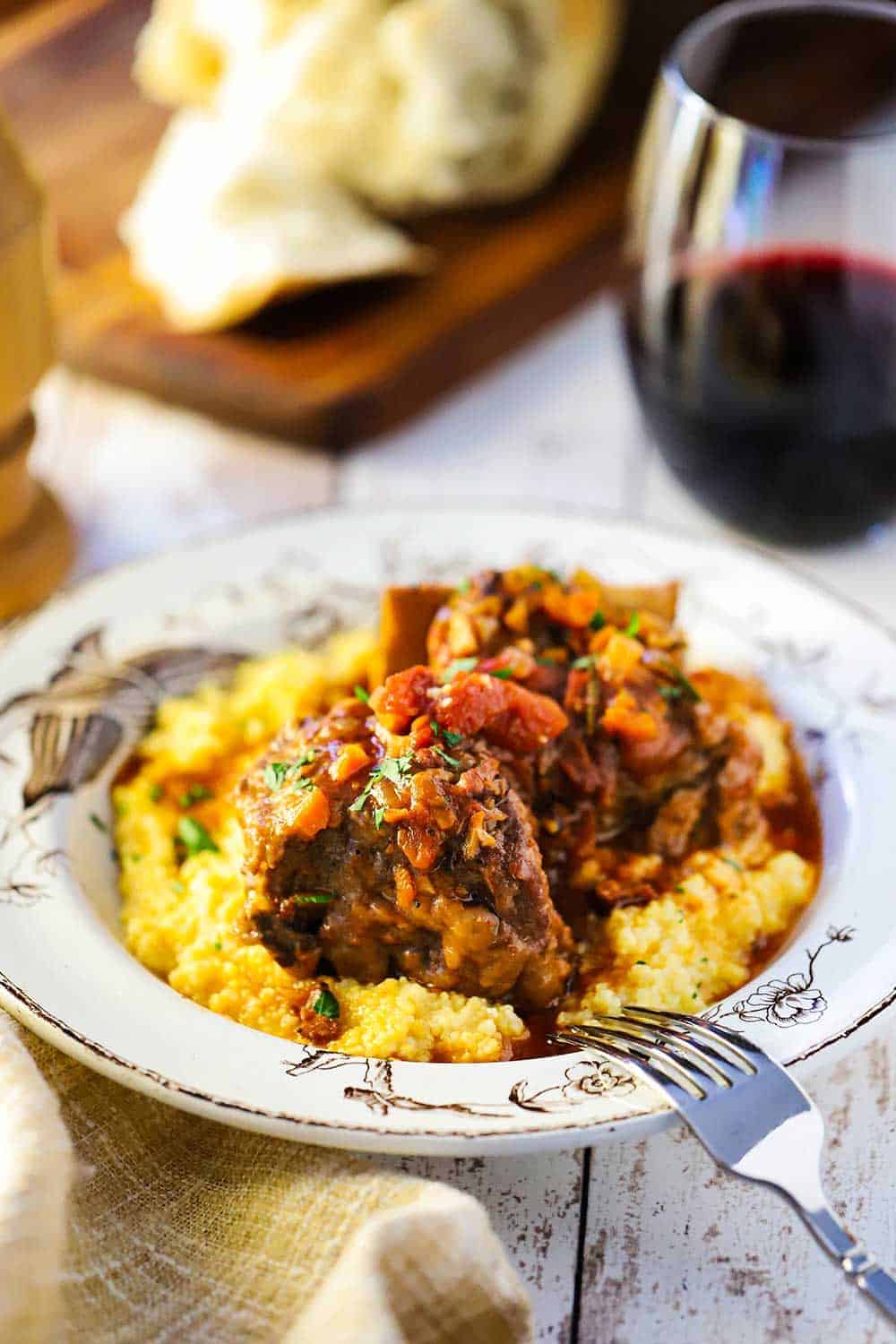 Interestingly, beef short ribs are from the beef chuck, not beef ribs. They are full of marbling, so after a nice long, slow braising process, they become deeply flavorful and fall-off-the-bone tender.
But, honestly, who has time for that on a busy weeknight?
Well, thanks to everyone's favorite pressure cooker (and more), the Instant Pot, we're able to make this amazing Italian-style short ribs feast in no time at all!
Before we start the pressure cooking process, we need to quickly sear the ribs and sauté the vegetables.
Dredge the ribs in seasoned flour, and then in batches, use the SAUTÉ function to beautifully brown them in a little oil.
EXPERT TIP: There are two types of cuts for beef short ribs: "English-style" and "Flanken-style." This recipe calls for beef short ribs that are cut English-style. Most well-stocked supermarket meat departments and certainly most butchers will have them. If they are 6 to 8-inches in length, ask to have them cut into 3-inch pieces. Searing the floured ribs locks in flavor and begins the cooking process. This will need to be done in a couple of batches.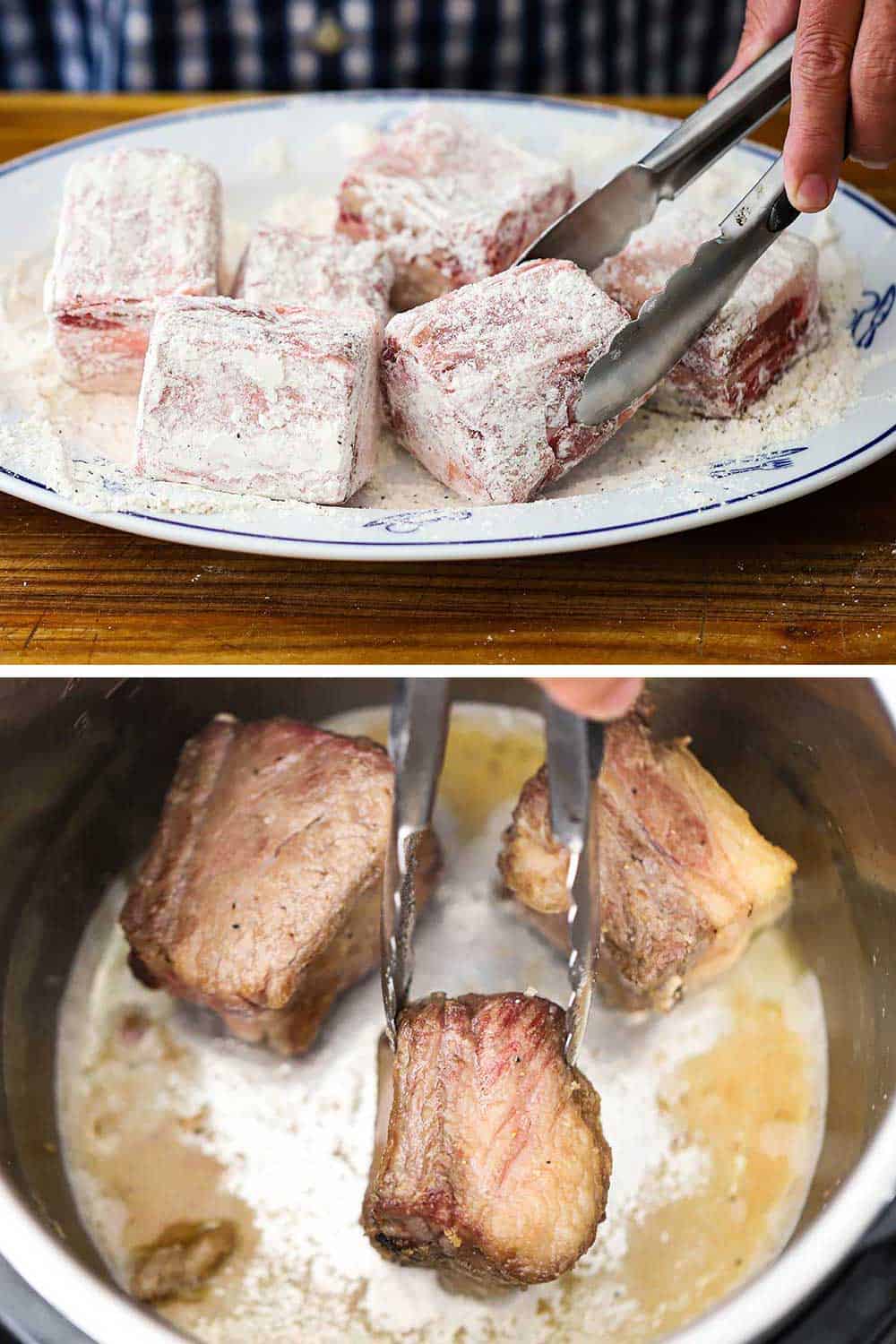 After searing the ribs, it's time to start building that classic Italian flavor profile.
In the same pan, we cook the cubed pancetta until just crispy.
Next, go in the chopped onions, carrots, and garlic.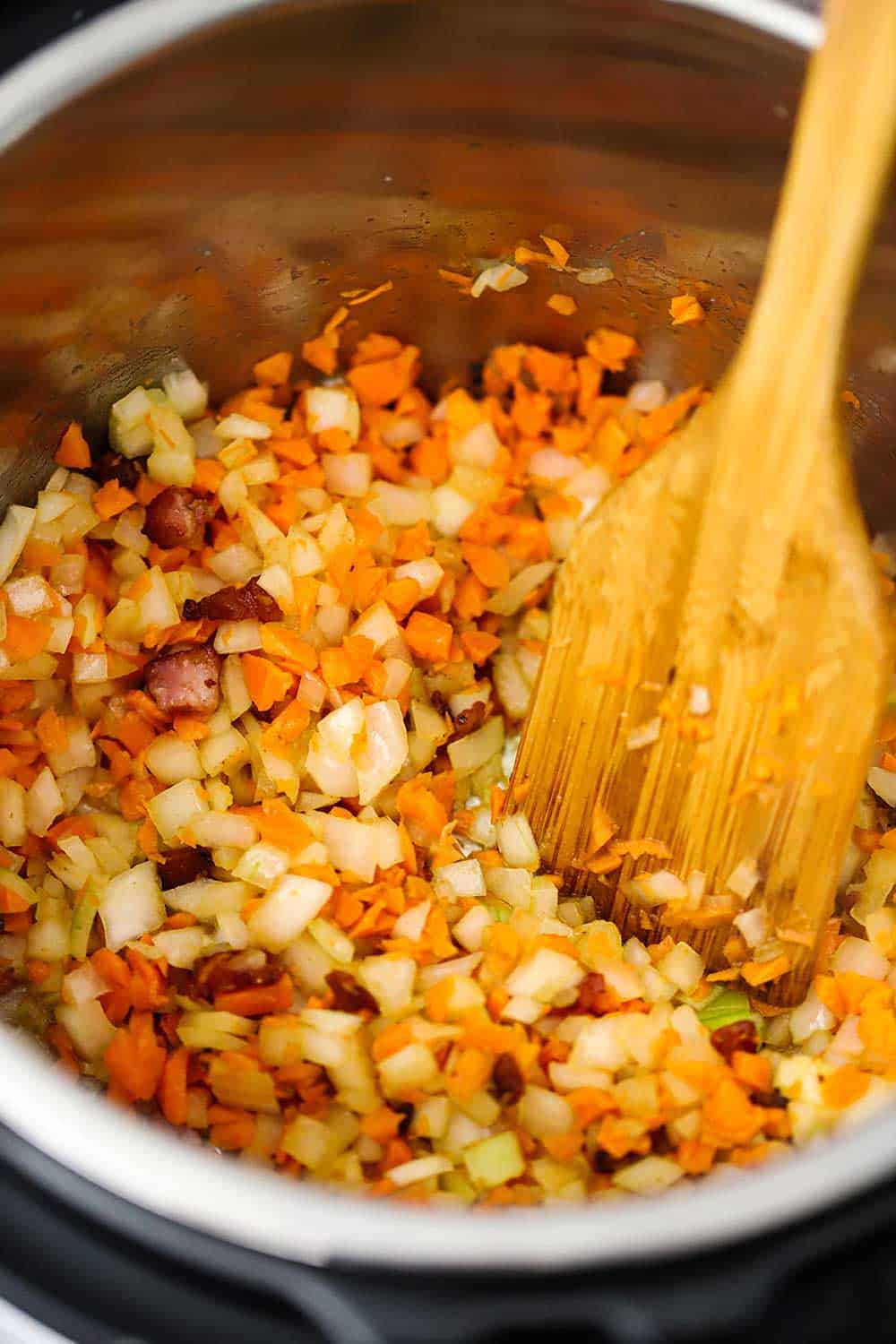 Quality Products Deliver Superior Results
For a dish such as this, you're going to want to use good-quality beef, San Marzano tomatoes, a robust red wine, and absolutely a top-notch beef broth.
We always rely on Pacific Foods for when we need a rich and flavorful broth, and this dish is no exception.
One of the reasons we love Pacific Foods' Organic Low Sodium Beef Broth is because the beef comes from cattle that are humanely raised on organic pastures. And they simmer it with onions and garlic, capturing a flavor so rich and complex, there's no need for extra salt, which is ideal for cooking!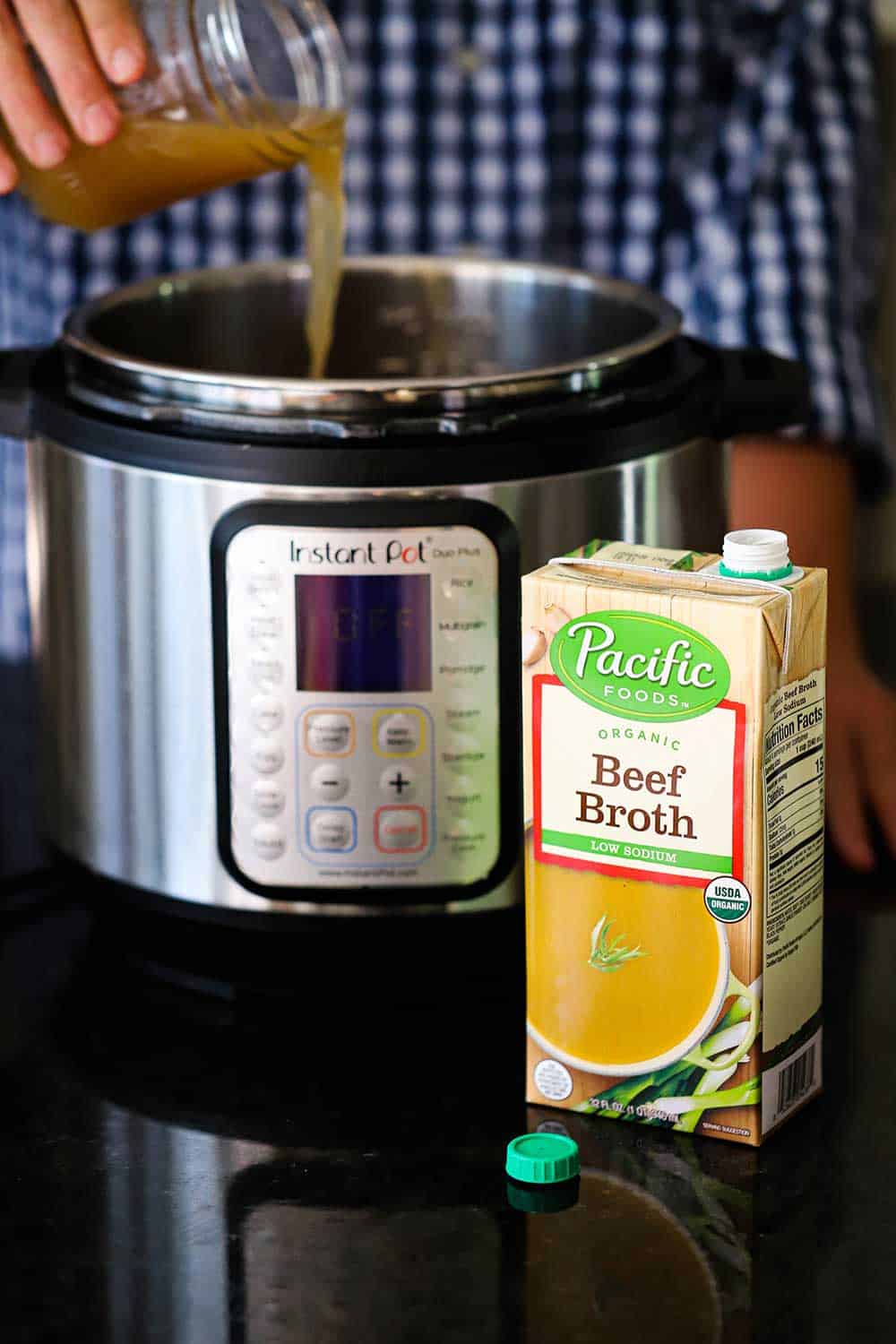 After the wine, broth, and tomatoes have come to a boil, it's time to add in the seared ribs.
We amp up the flavors even more by adding fresh herbs, such as thyme, rosemary, and bay leaves.
EXPERT TIP: For easy removal, we use kitchen string to tie the sprigs of thyme and rosemary together. For this recipe, we go with dried oregano, but you could use fresh as well if you prefer. Use a pair of tongs to nestle the herbs and the ribs into the glorious sauce.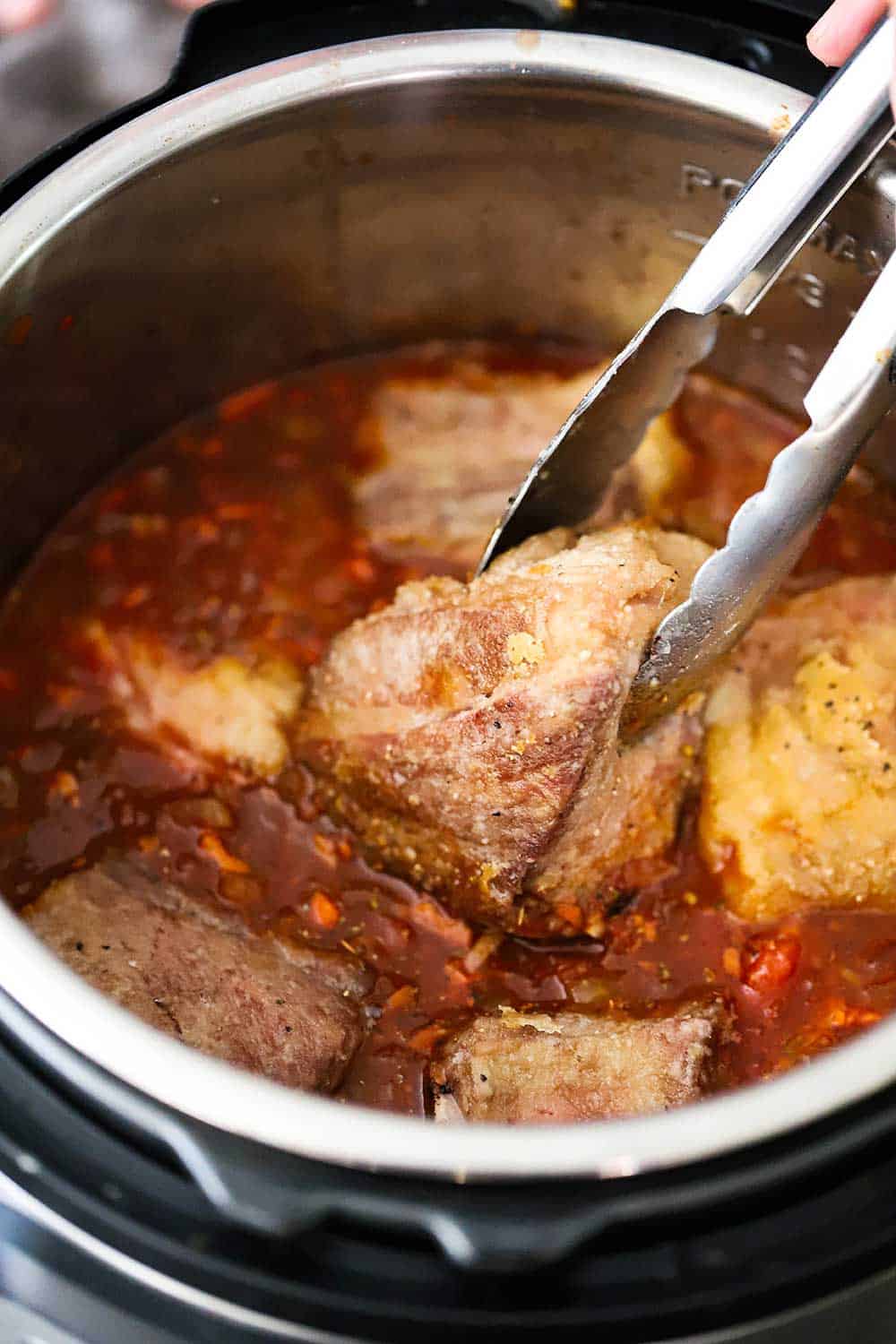 What to Serve with Italian Short Ribs
We absolutely love serving these amazing ribs over cooked polenta.
You can even make the polenta in your Instant Pot before you start preparing the short rib. See the NOTES in the recipe card for details.
These Instant Pot Italian Short Ribs are so meaty and flavorful, all you really need to join them is a nice loaf of bread and a hearty bottle of red wine, such as a Cabernet or Pinot Noir.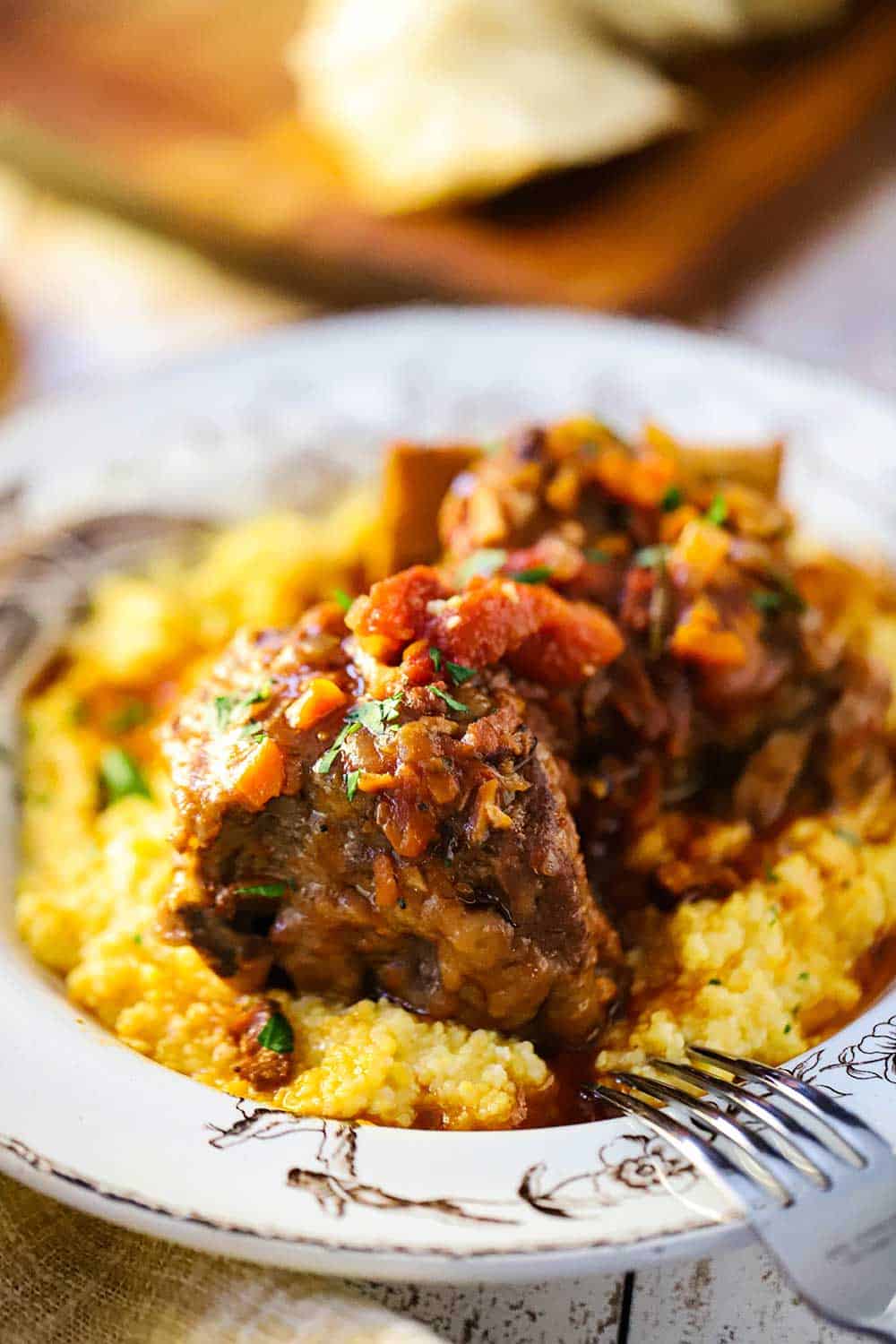 Count on Pacific Foods' Commitment to Quality
We've said it before, but we have to say it again: High-quality ingredients will always produce superior dishes, and this recipe is no objection to that rule.
Pacific Foods uses time-honored recipes and just a few simple ingredients, showcasing each ingredient's true flavor and inherent nutrition. There are no additives or preservatives in their food.
They like to say: "We're out to Nourish Every Body." And we couldn't agree more. Some of our other favorite dishes that star Pacific Foods' amazing array of products include our
Gourmet Beef Stroganoff
Chicken Tagine with Preserved Lemons and Olives
Pappardelle Bolognese
Chicken Enchiladas with Verde Sauce
Coq au Vin
But for now, let's get back to these amazing Italian Beef Short Ribs!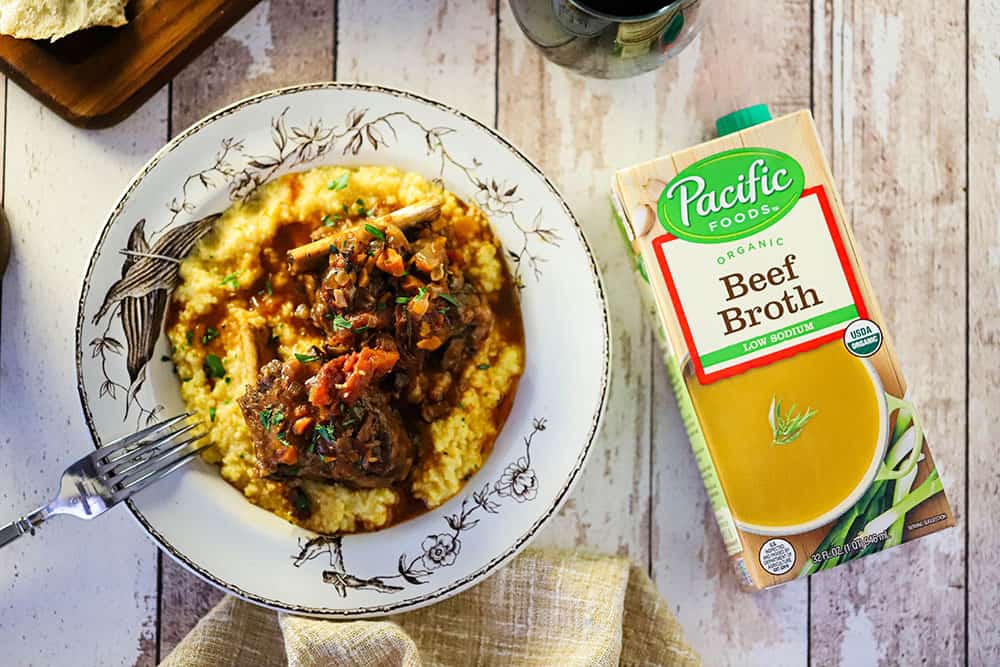 The Instant Pot cooks these beef short ribs perfectly.
The sautéed pancetta and vegetables and herbs add depth to the dish.
And of course, the sauce is richly flavorful from the red wine, San Marzano tomatoes, and Pacific Foods Organic Low Sodium Beef Broth.
Can't you just taste this right now?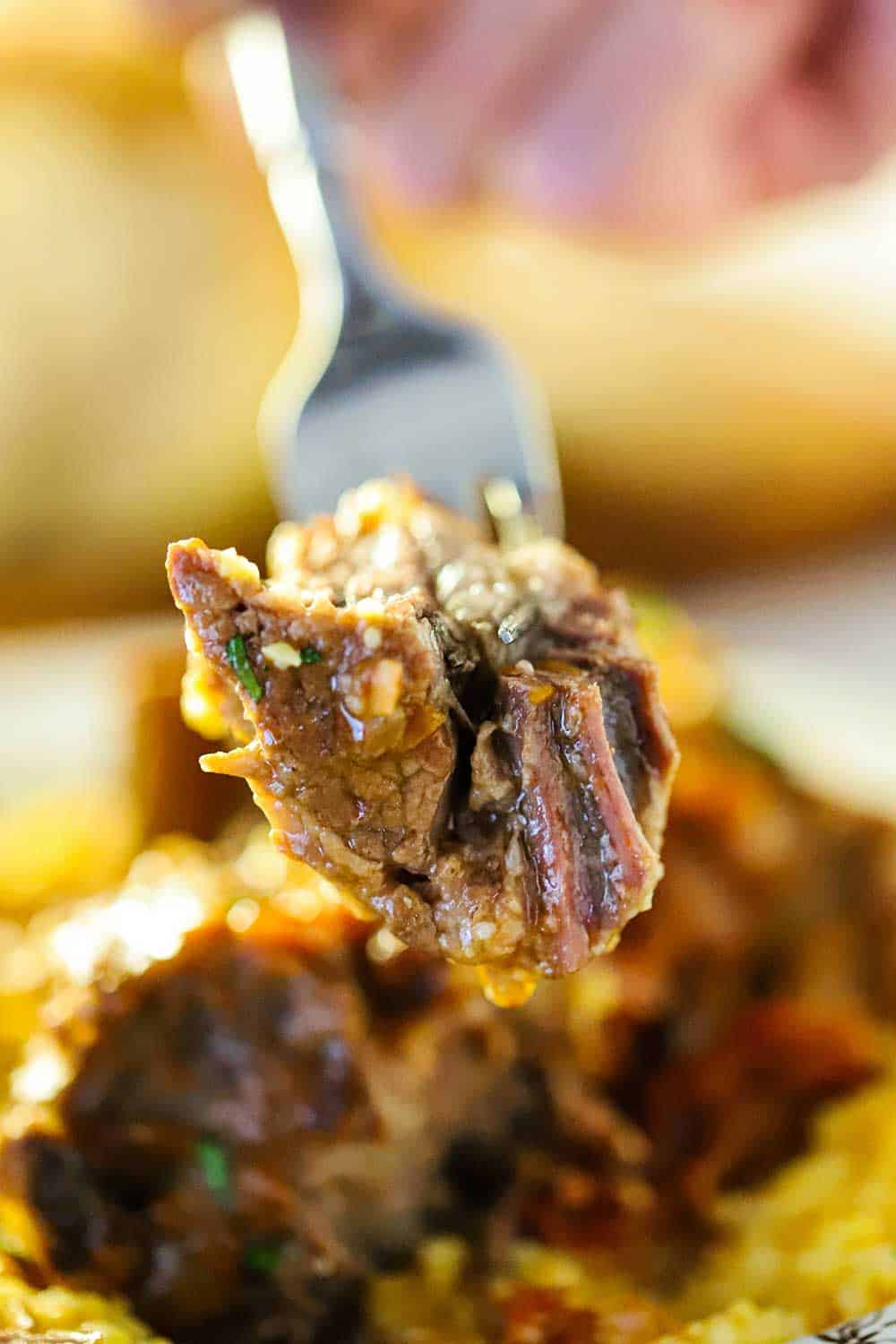 Ready to make the best Instant Pot Italian Beef Short Ribs in town? Go for it!
And when you do, be sure to take a photo, post it on Instagram, and tag @HowToFeedaLoon and hashtag #HowToFeedaLoon!
Instant Pot Italian Short Ribs
These ribs are fall-off-the-bone tender and deeply flavorful. And, thanks to Instant Pot, it takes a fraction of the time it would normally take to prepare in an oven or on the stove. And the flavor is through-the-roof delicious!
Print
Pin
Rate
Servings: 4
Calories: 616kcal
Ingredients
½ cup all-purpose flour
2½ lb beef short ribs cut to 2 to 3-inch pieces
2 tsp Kosher salt divided
1½ tsp black pepper freshly ground
2 tbsp olive oil
2 oz pancetta cubed
1 cup onion chopped
1 cup carrots chopped
4 cloves garlic minced
1 tsp red pepper flakes
2 tbsp tomato paste
½ cup red wine
1 28 oz can whole tomatoes drained, and roughly chopped
2 tbsp balsamic vinegar
2 bay leaves fresh
2 sprigs thyme fresh
2 sprigs rosemary fresh
1 tbsp oregano dried
Instructions
On a large platter, combine the flour with 1 tsp of salt and ½ tsp of black pepper. Dredge the ribs in the flour, coating all over.

Select SAUTÉ on High and add the oil. When the oil is shimmering, and working in batches, sear the ribs until browned all over. Remove from the Instant Pot and set aside.

Add the pancetta and cook until crisp, about 4 to 5 minutes. Add the onions and carrots and cook until soft, another 5 minutes. Stir in the garlic and cook for 1 minute.

Stir in the tomato paste and red pepper flakes and cook for 1 minute.

Pour in the wine and bring to a boil.

Add the broth, vinegar, 1 tsp salt, ½ tsp black pepper, and the red pepper flakes, and oregano. Stir to combine.

Nestle the seared ribs and herbs into the sauce. Lock the lid into place and then select PRESSURE COOK on High and set the timer for 40 minutes. Make sure the venting valve is closed.

Once finished pressure cooking, allow to steam naturally for 10 minutes, and then release the remaining steam by turning the steaming valve to open.

Remove the ribs and select SAUTÉ on High and bring the sauce to a simmer. Use a spoon or small ladle to remove grease that is pooling along the side of the pot.

Serve ribs over warmed polenta or mashed potatoes with sauce drizzled on top.
Notes
This recipe serves 2 to 4 people. You can increase the number of ribs if desired. There is plenty of sauce, so no need to change other ingredient quantities. Because the ribs are highly marbled, they will produce quite a bit of rendered fat. Letting the sauce come to a simmer after the ribs have been removed makes it easier to remove the excess fat on the top and along the edges. The carrots can easily be chopped by placing them in a food processor and pulse several times, or until uniformly chopped. The ribs and sauce will keep in the refrigerator for up to 1 week and freezes nicely for up to 2 months. To make polenta in your Instant Pot, follow these instructions: Bring 4½ cups of water or chicken broth to a simmer in the Instant Pot. Add 1½ cups of polenta (coarse cornmeal), 1 tsp salt, and 2 tbsp melted butter). Pressure Cook for 8 minutes on High. Quick Release the steam. Store the polenta in an air-tight container. To make it creamy again, heat lightly on the stove or in the microwave and add additional broth or water until you've got a consistency similar to mashed potatoes.
Nutrition
Calories: 616kcal | Carbohydrates: 25g | Protein: 44g | Fat: 28g | Saturated Fat: 9g | Cholesterol: 131mg | Sodium: 1491mg | Potassium: 1120mg | Fiber: 3g | Sugar: 6g | Vitamin A: 5661IU | Vitamin C: 8mg | Calcium: 68mg | Iron: 7mg