This post is kindly sponsored by Pacific Foods, but the recipe, photography, video, and opinions are 100% ours.
There are classic pasta dishes, and there are iconic pasta dishes. This recipe checks both of those boxes.
The sauce is stick-to-your-ribs delicious. Hearty, meaty, and so deeply satisfying. We layer the flavor with pancetta, fresh vegetables, 3 types of meat, red wine, San Marzano tomatoes, and our favorite Organic Beef Bone Broth from Pacific Foods (more on that soon).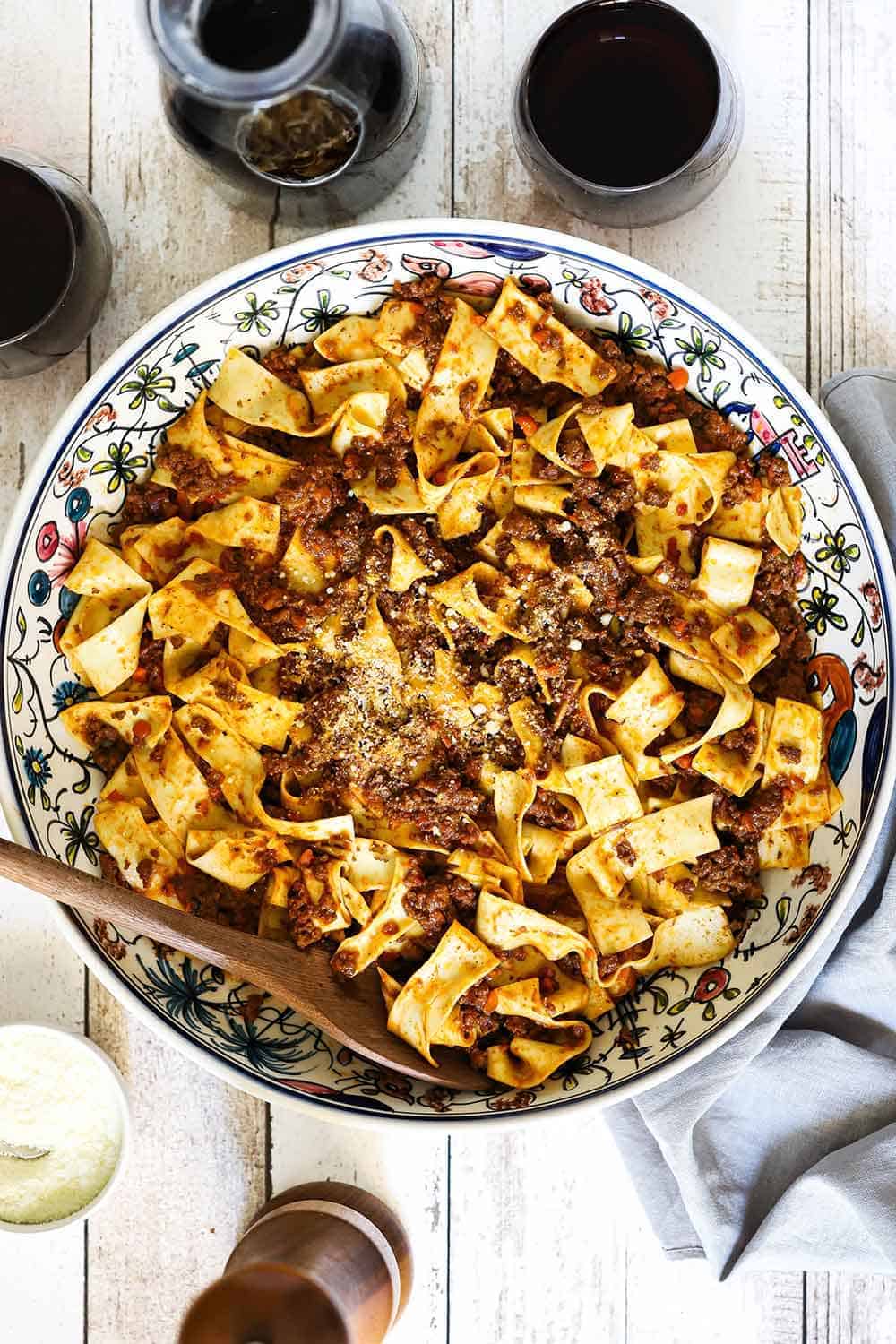 HOW TO MAKE PAPPARDELLE BOLOGNESE
This dish, also called Pappardelle alla Bolognese, has been a favorite in our house for many, many years.
By the way, wondering about the bolognese pronunciation? Click here to hear in English, Italian, and even German!
Traditional bolognese sauce starts with a medley of sautéed vegetables including chopped onion, carrots, and celery.
We love using a trio of protein (beef, pork, and veal) and a classic mirepoix (onion, celery, carrots).
Right from the start, the smell is amazing.
EXPERT TIP: For an even deeper flavor profile, we start off by sautéing 4 oz. of cubed pancetta in a large saucepan or Dutch oven with 1 tablespoon of olive oil. Once the pancetta is nice and crispy and rendered a little fat, toss in the veggies and cook until soft, about 10 minutes. Next, add the ground beef, veal, and pork. Cook until no longer pink. We recommend using a large spoon to remove much of the rendered fat at this point. Don't drain the mixture, because you want to leave some of the fat for added flavor.
QUALITY INGREDIENTS MAKE ALL THE DIFFERENCE FOR PAPPARDELLE BOLOGNESE
We've said it many times before, and we'll say it again: Almost all recipes are only as good as the quality of the ingredients that you make them with.
That's why we want the best for our Pappardelle Bolognese recipe. A good robust beef broth is essential to achieve the depth of flavor that we're after.
Pacific Foods Organic Beef Bone Broth is thoughtfully crafted with organic beef bones and vegetables to create a savory bone broth full of naturally occurring collagen. It's honestly so delicious, it's wonderful to simply pour, heat, and sip in a bowl as is. It's really that good.
To achieve the best-ever bolognese sauce, you need to give it time to simmer on the stove for 1½ to 2 hours.
The addition of warm milk adds a luxuriousness to the sauce that is amazing.
You'll then want the sauce to simmer another 30 minutes to get the milk fully absorbed.
The sauce gets even better as it sits.
Just wait until you try the sauce the following day.
Oh, the sauce. It's all about the sauce.
CHOOSING THE BEST PASTA FOR BOLOGNESE SAUCE
Obviously, we love going with a nice large pasta called pappardelle.
For thick sauces such as this, a larger, more robust pasta is ideal. Although to be completely honest, we've made this with penne, rigatoni, and angel hair, and still loved it.
EXPERT TIP: Pappardelle pasta can be found in the Italian/pasta section of many well-stocked markets nowadays. If you can't find it, you can make your own by cooking lasagna noodles according to package directions, and then use a pizza cutter to cut slices from each noodle that is about ½-inch wide. Always be sure to boil the pasta in water that has been well salted.
This Pappardelle Bolognese Ragu recipe is the real deal and is always such a huge hit when we serve it to guests.
The sauce can easily be prepared up to several days in advance and kept in an air-tight container in the refrigerator, or frozen for up to 1 month.
EXPERT TIP: If you've made the sauce ahead of time, simply bring it back to a gentle simmer while you get your pasta going. Just before serving, we start by adding a couple of hefty spoonfuls to a large skillet/saucepan that's over medium heat. Stir in the pappardelle to coat and then adding the rest of the sauce, stirring until fully combined. If desired, loosen the sauce a little with pasta water.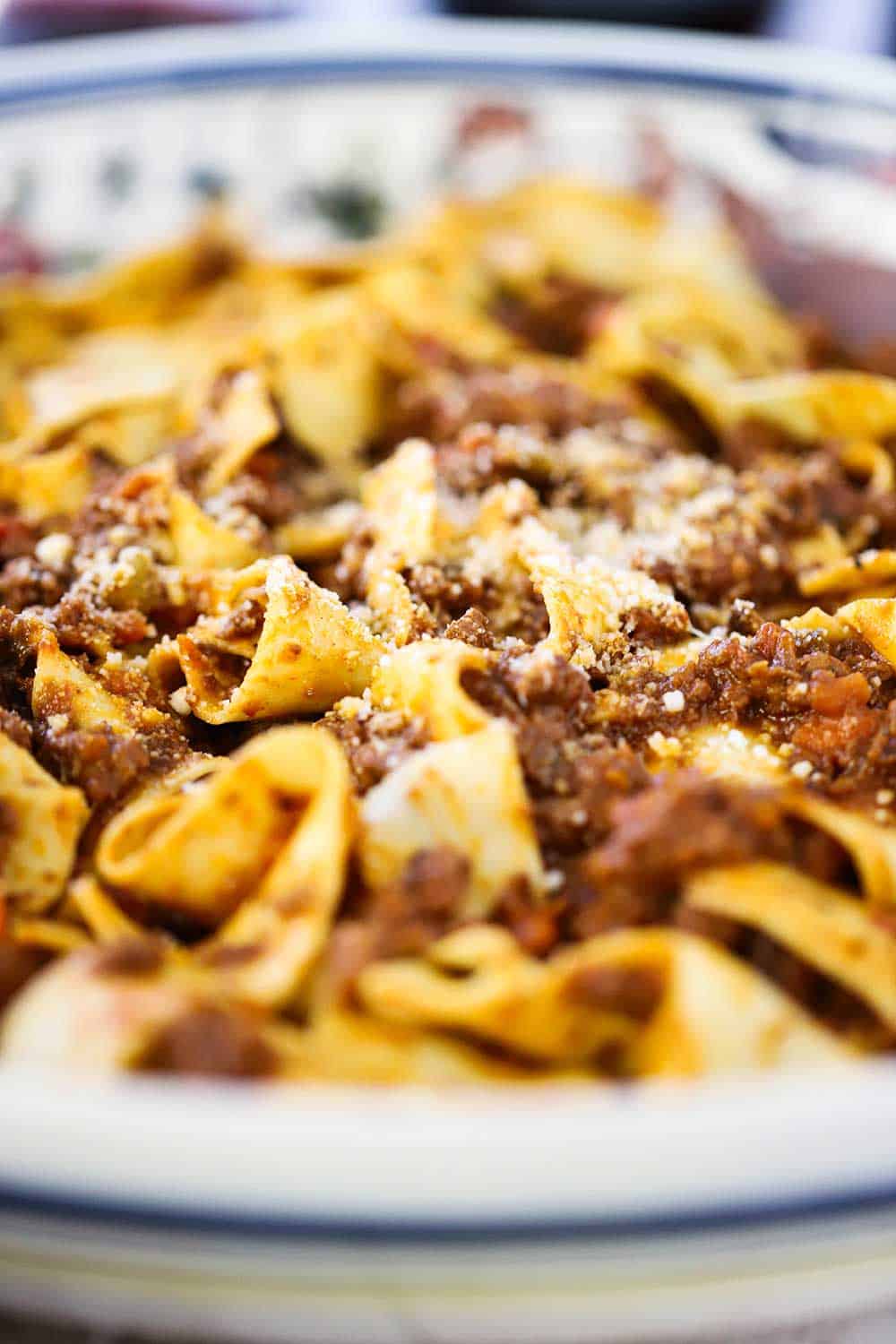 PACIFIC FOODS ALWAYS DELIVERS
Let's say it again: Going with high-quality ingredients takes this dish to amazing culinary heights…in your very own kitchen.
Pacific Foods uses time-honored recipes and just a few simple ingredients, showcasing each ingredient's true flavor and inherent nutrition. There are no additives or preservatives in their food.
They like to say: "We're out to Nourish Every Body." And we couldn't agree more. Some of our other favorite dishes that star Pacific Foods' amazing array of products include our Gourmet Beef Stroganoff, Air-Fryer Cordon Bleu Loaf with Mushroom Sauce, and Chicken Tagine with Preserved Lemons and Olives.
If you are craving a spectacular Italian pasta dish that hits all the right notes, you need to look no further.
Grab all those amazing (yet straightforward) ingredients and whip this incredible Pappardelle Bolognese up.
This easily feeds 6 to 8 hungry people and we promise will not disappoint!
Ready to make the best pasta dish this side of Rome? Go for it!
And when you do, be sure to take a photo, post it on Instagram and tag @howtofeedaloon and @pacificfoods and hashtag #howtofeedaloon and #pacificfoods!
Pappardelle Bolognese
Pappardelle Bolognese is a favorite at our house. Make the pasta, if you can, and cut into /2" strips to make the perfect pappardelle...or, boil lasagna noodles, and cut those...or, just use fettuccine...no matter what...with this Bolognese sauce, you can't go wrong.
Print
Pin
Rate
Servings: 8 people
Calories: 553kcal
Equipment
Large Dutch oven, or pot.
Ingredients
2 tbsp extra-virgin olive oil
3 oz pancetta chopped
1½ cups onion chopped
3 celery stalks chopped
3 large carrots peeled, chopped (a food processor works well)
12 oz ground beef 85% lean is nice
6 oz ground pork
6 oz ground veal
¾ cup dry red wine
3 cups Pacific Foods Organic Beef Bone Broth divided (2 1/2 cups and then a 1/2 cup)
1 28 oz can whole tomatoes preferably San Marzano, drained
3 tbsp tomato paste
Kosher salt
Freshly ground black pepper
1 cup whole milk
1 lb pappardelle
Finely grated Parmesan cheese for serving
Instructions
Heat the oil in a large pot (preferably a Dutch oven) over medium-high heat. Sauté pancetta for 5 minutes.

Add the onions, celery, and carrots. Cook until soft, about another 10 minutes.

Add beef, pork, and veal and sauté, breaking it up, until browned, about 15 minutes.

At this point, if you feel you have too much fat that has rendered, tilt the pot and use a large spoon to collect the fat that has pooled at the end of the pot. Remove all grease except for about 1 tbsp.

Add wine; boil for 1 minute, deglazing the pan (scraping the brown bits from the bottom of the pan).

Add 2½ cups of the broth and the tomato paste; stir. Use your hands to squeeze and gently break the whole tomatoes into the sauce. Reduce heat and gently simmer, stirring occasionally, 1½ hours. Season with salt (2 tsp) and black pepper (1 tsp).

Warm the milk in a small saucepan and then gradually add to the sauce.

Simmer the sauce for another 30 minutes, stirring occasionally, until thickened and milk has completely been absorbed. Add more broth if the sauce is too thick. Taste and add more salt, if necessary.

Meanwhile, cook pasta in liberally salted, boiling water until al denté. Follow packaging instructions. Reserve ½ cup of the pasta liquid. Drain pasta.

Transfer 2 large spoonsful of the sauce to a large skillet over medium-high heat. Add pasta and toss until coated. Add in remaining sauce and a few tablespoons of the reserved pasta water until pasta is fully coated and the consistency is right.

Serve at once with Parmesan cheese on the side.
Notes
Cubed pancetta can be found in many well-stocked supermarkets, often in the deli section. You can also use sliced pancetta or prosciutto, roughly chopped. We like using beef, veal, and pork for this sauce. However, you can use a combination of just beef and pork, or beef and veal. Just make sure the amount you are using totals 24 oz (1 1/2 lbs). The sauce can be made up to several days in advance. Actually, it gets even better after it has time to meld even further in an air-tight container in the fridge. The sauce freezes for 1 to 2 months. If you can't find pappardelle, you can boil lasagna noodles and then use a pizza cutter to cut strips that are about 1/2-inch in width. Or, just go with a nice spaghetti, linguine, or other long pasta.
Nutrition
Calories: 553kcal | Carbohydrates: 49g | Protein: 26g | Fat: 22g | Saturated Fat: 7g | Cholesterol: 121mg | Sodium: 222mg | Potassium: 634mg | Fiber: 3g | Sugar: 6g | Vitamin A: 4693IU | Vitamin C: 5mg | Calcium: 86mg | Iron: 3mg