Gourmet Beef Stroganoff is one dish you and your guests will not soon forget.
We like to say: "This isn't your mama's beef stroganoff!" Sorry, mama…no offense, but this version is nothing short of spectacular. And it comes together in about 30 minutes!
What makes this version so delicious? The ingredients: Beef tenderloin (filet mignon), fresh mushrooms, crème fraîche, fresh dill, cognac and deeply flavorful Pacific Foods Organic Low Sodium Beef Broth.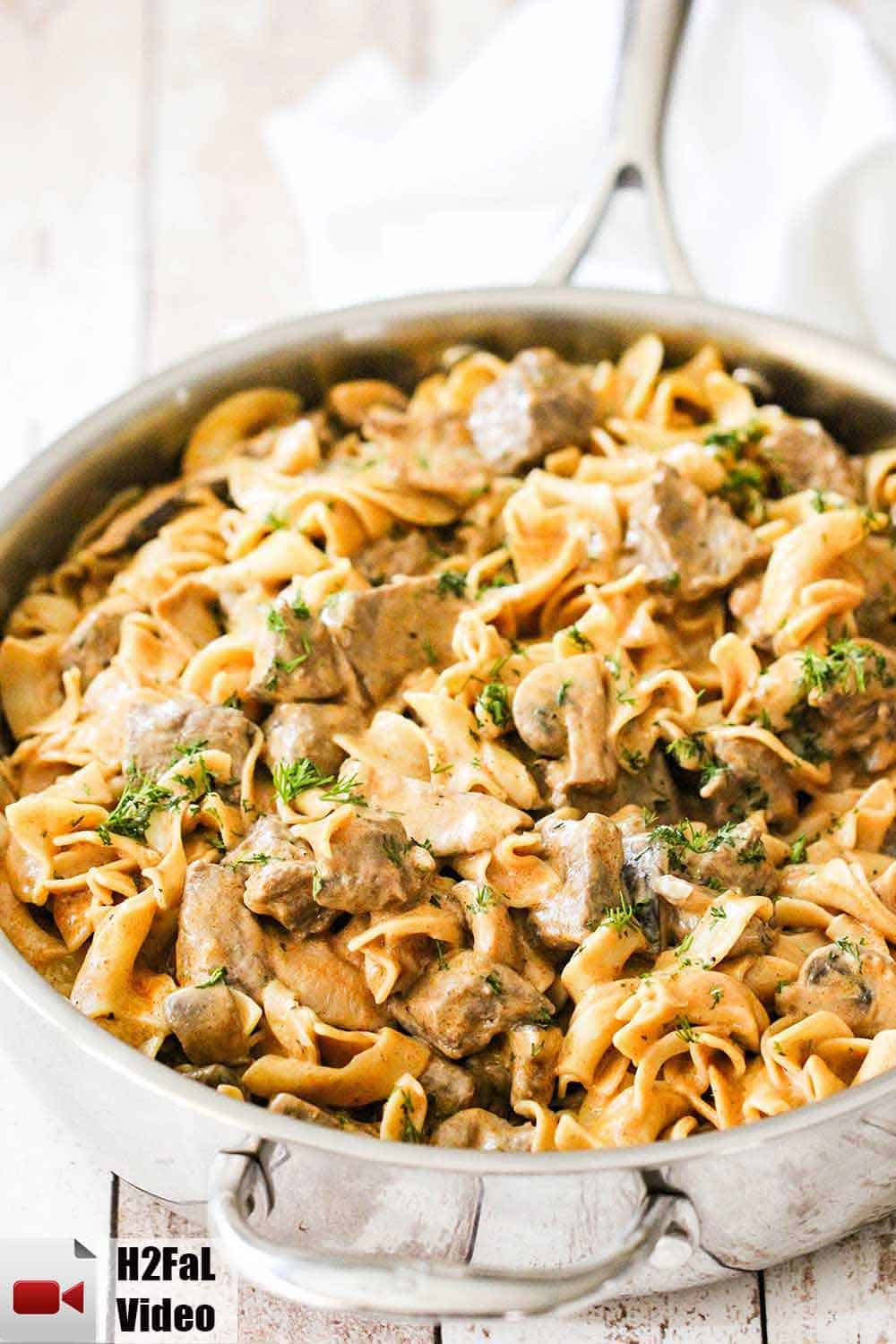 HOW TO MAKE GOURMET BEEF STROGANOFF
The trick to making a beef stroganoff truly spectacular doesn't require any special equipment or highly skilled culinary techniques.
Plan accordingly and arm yourself with the best ingredients available, and we'll show you how easy it is to elevate this simple dish to amazing heights.
Watch us show you how simple it is to prepare Gourmet Beef Stroganoff!
KEEP IT SIMPLE, CLEAN & NOURISHING
The key to making this gourmet beef stroganoff stellar is in the quality of the handful of ingredients that are used. Which is why we always turn to Pacific Foods for so many of our recipes.
For this recipe, we need a deeply hearty beef broth that will complement the beef tenderloin. Pacific Foods Organic Low Sodium Beef Broth is the perfect choice because it has been simmered with onions and garlic, capturing a flavor so rich and complex, there's no need for extra salt.
And since we know we're going to have a deeply flavorful sauce thanks to the broth, we need to make sure we've got quality beef. We're going the extra distance here and using beef tenderloin that we've cut into bite-sized pieces. Just a little salt and pepper is all that's needed for this incredibly flavorful and melt-in-your-mouth tender cut of meat.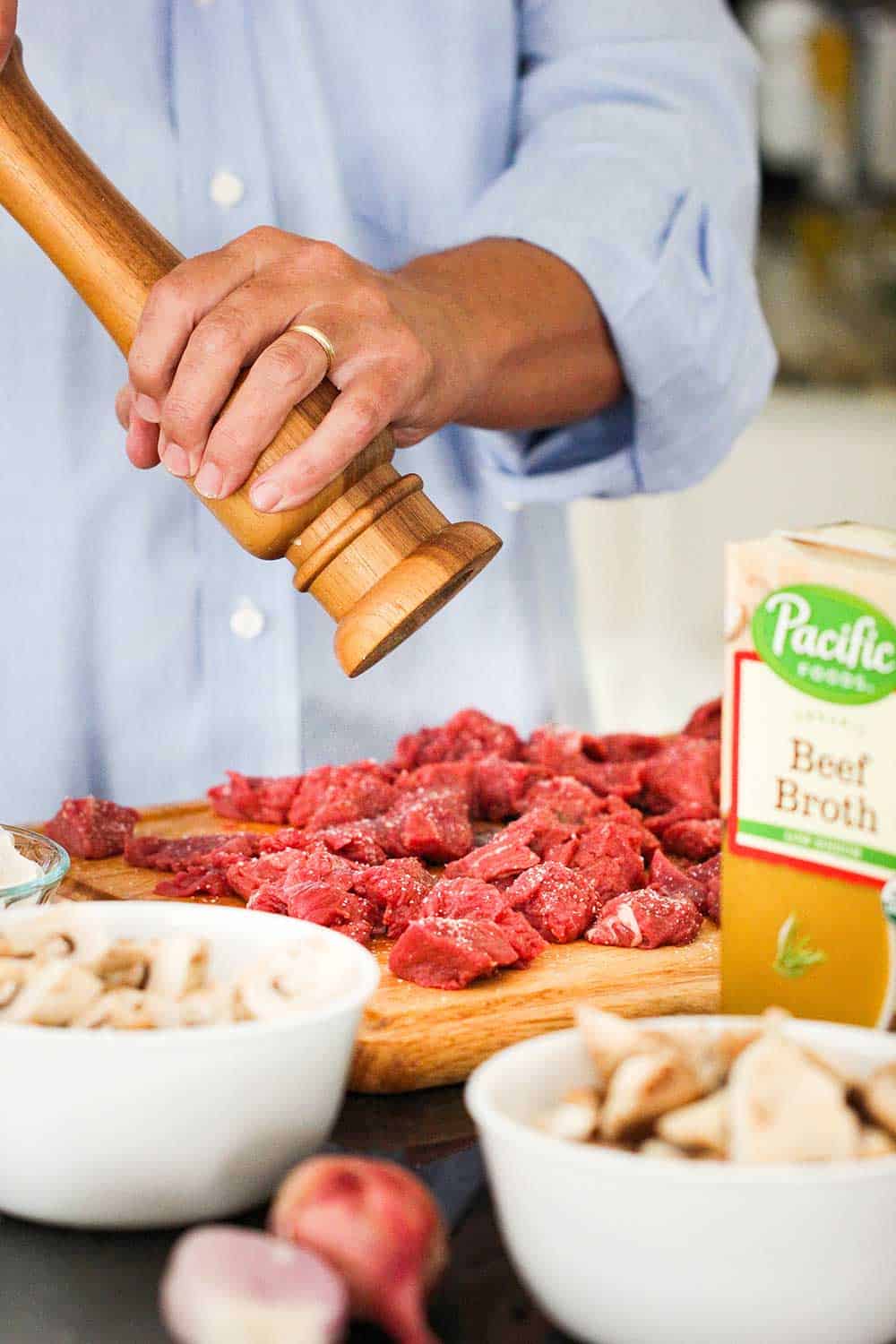 COOK THE MEAT IN TWO BATCHES
After cutting the beef tenderloin into bite-sized pieces, and then lightly salting and peppering the meat, you'll need to give the meat a quick sear.
EXPERT TIP: Sear the meat until just browned all over then set aside. The meat will finish cooking to a gorgeous medium while it gently simmers in the sauce. Cooking the meat usually is done in a couple batches.
After you have browned the meat, pour out any excess fat that has accumulated in the pan.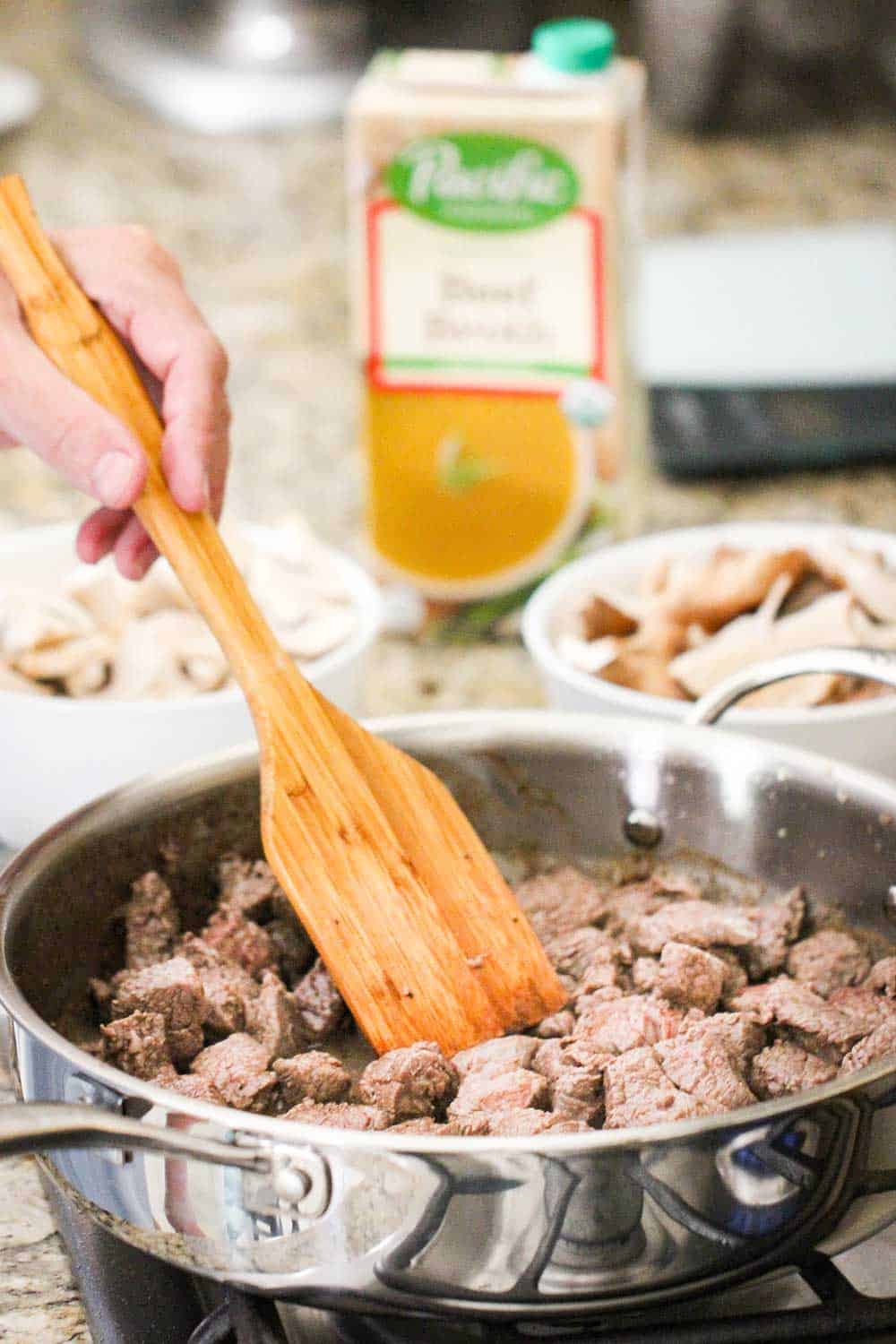 TRY A COMBINATION OF MUSHROOMS IN GOURMET BEEF STROGANOFF
We love all types of mushrooms and we love mixing things up when making this incredible dish. Try a combo of any of the following (you'll need a total of 16 oz.)
Shiitake
Oyster
Cremini
White Button
Portobello
Porcini
When sautéing 'shrooms, just a few twists of fresh black pepper is all that's needed to enhance the flavor.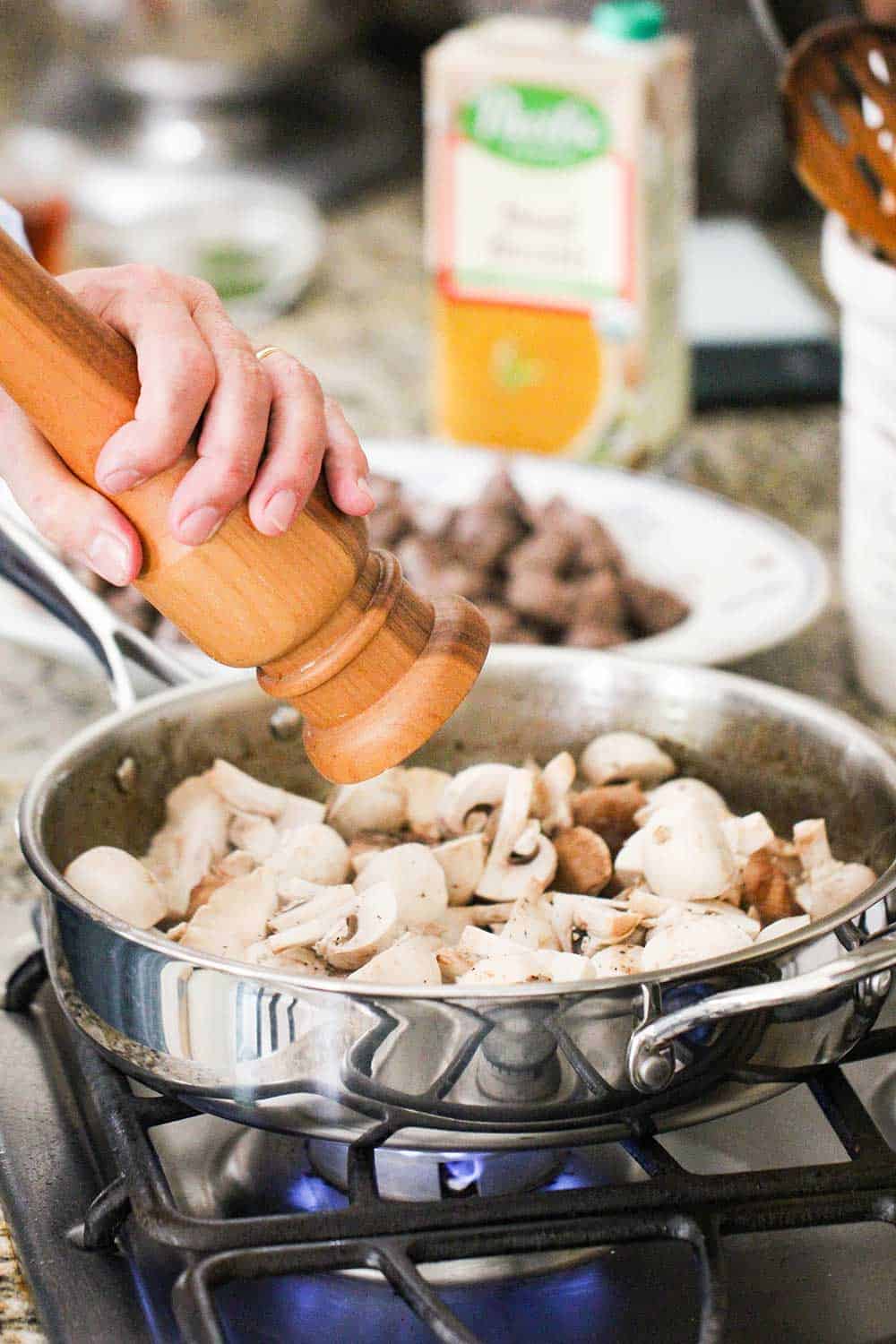 PACIFIC FOODS IS COMMITTED TO QUALITY
There are so many reasons we love cooking with Pacific Foods products. Pacific Foods' delicious, nutritious foods are inspired by traditional recipes made convenient for busy, health-conscious consumers.
We love using their Organic Low Sodium Beef Broth for this gourmet beef stroganoff because it's just so rich and delicious. Pacific's commitment to unmatched quality truly makes it as good as it gets.
We're pretty sure you're starting to see why this is considered by many to be the best beef stroganoff recipe on the planet. Right? Just wait…we're not done yet.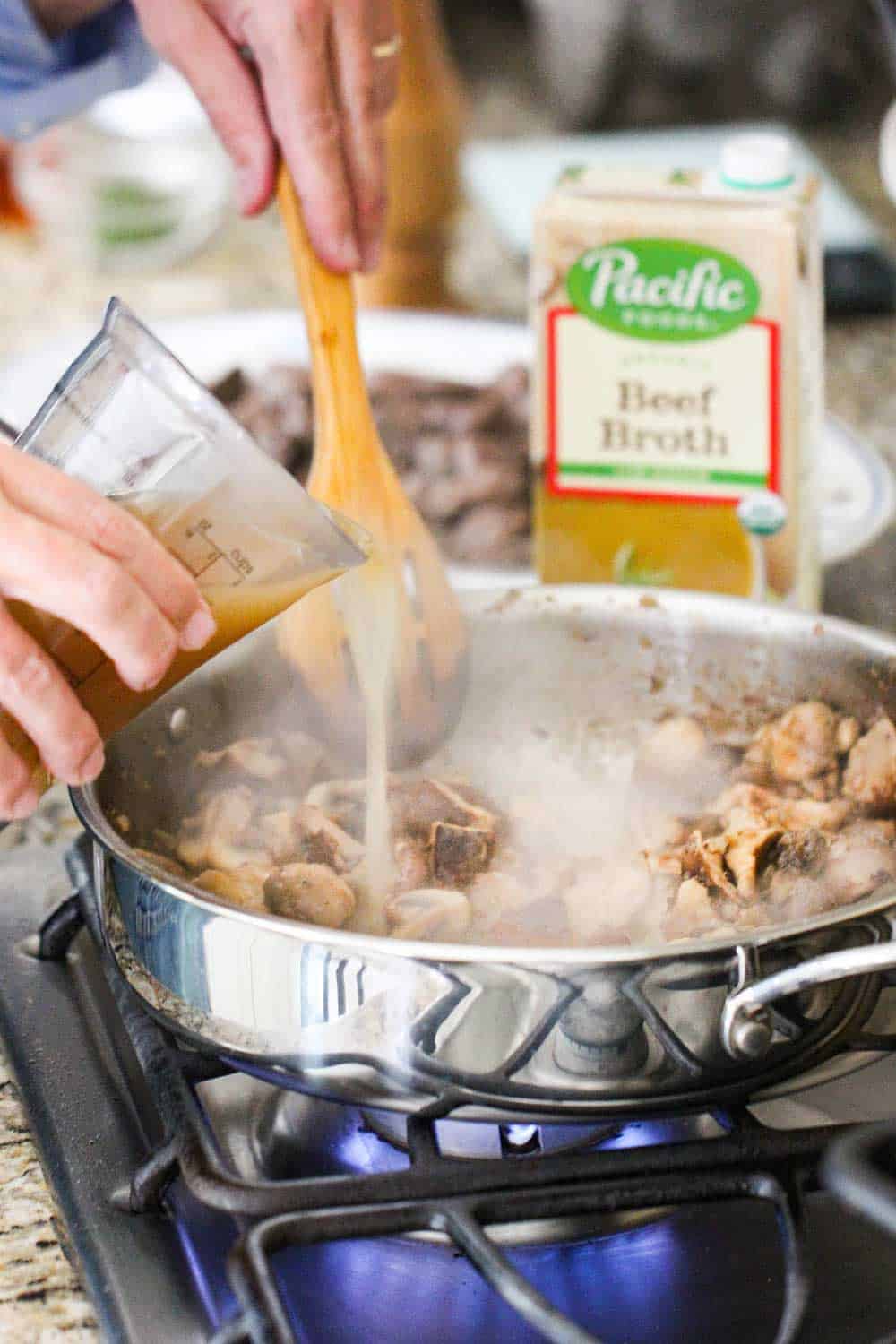 EXTRA-WIDE EGG NOODLES ARE IDEAL FOR STROGANOFF
We are getting so close now. After adding in the crème fraîche, fresh dill and Cognac (optional), back along with the browned beef and accumulated juices, it's time to cook the noodles.
EXPERT TIP: Crème fraîche is very similar to sour cream, however it is a little creamier with a little less tanginess. Although we call for it here in this recipe, you can certainly use sour cream and still get fantastic results. Because sour cream could curdle if simmered too long, we recommend stirring it into the sauce just before you are ready to serve.
For the ever-important noodles, we go with extra-wide egg noodles. Once cooked, we toss with a little unsalted butter for added flavor and to keep the noodles from sticking to each other.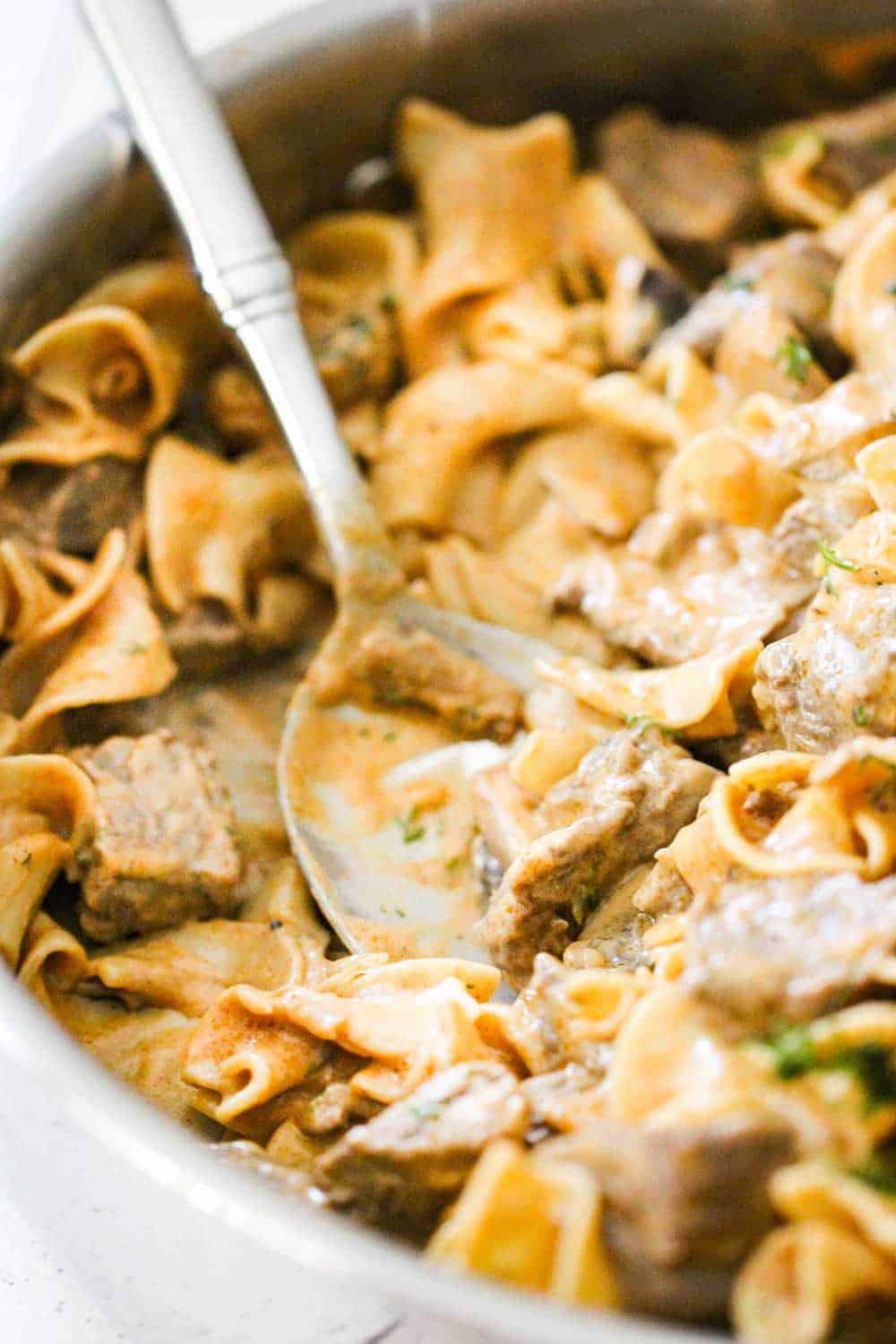 QUALITY INGREDIENTS IS KEY TO GOURMET BEEF STROGANOFF
We can't stress enough that what takes this beef stroganoff to the highest of culinary heights is the quality of ingredients used.
This is a "special occasion" dish, no doubt. That's why we say go with the best of the best: Beef tenderloin, fresh mushrooms, high-quality Congac (if using), fresh dill, egg noodles…and of course Pacific Foods Organic Low Sodium Beef Broth.
This is a dish that you will cherish forever and so will the lucky people you serve it to!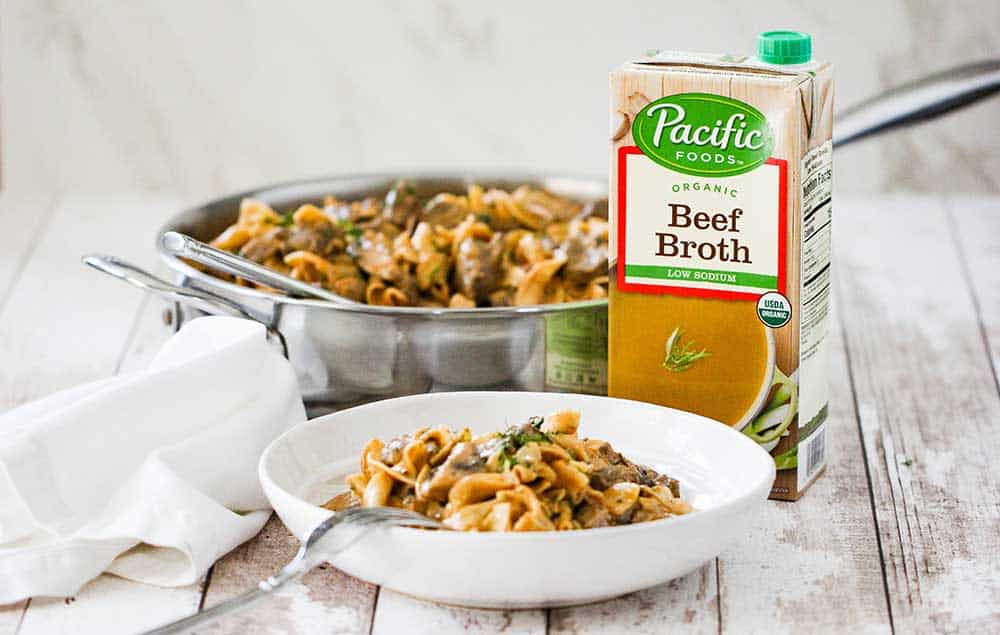 Ready to impress your loved ones with this amazing Gourmet Beef Stroganoff? Go for it!
And when you make the dish, be sure to take a picture, post it to Instagram and tag @howtofeedaloon and @PacificFoods!
Gourmet Beef Stroganoff
This Gourmet Beef Stroganoff recipe brings the old school dish to epic, modern flavors. Prepare this for a special occasion, and you will be a super star!
Print
Pin
Rate
Servings: 8
Calories: 388kcal
Ingredients
1 2 lb beef tenderloin trimmed and cut into 1" strips
Kosher salt and ground black pepper
2 tbsp olive oil
6 tbsp unsalted butter
½ cup shallots diced
1 lb white button mushrooms sliced
2 tsp Worcestershire sauce
2 tbsp all-purpose flour
2 fresh bay leaves
1 tbsp smoked paprika plus extra for garnish
1 tbsp Dijon mustard
¼ cup Cognac optional
2 tbsp fresh dill chopped
1 ½ cups sour cream or cream fraiche, or whipping cream
12 oz egg noodles
Instructions
Pat meat dry with paper towels and sprinkle with salt and pepper.

Heat oil, preferably in a large Dutch oven, or heavy skillet, over medium-high heat.

Working in batches, add meat in a single layer and cook until just brown, then stir. Cook for a total of about 3 minutes.

Transfer to a large platter.

Drain pan.

Add 4 tablespoons of butter to the same pan over medium-high heat.

Add chopped shallots and saute until tender, about 4 minutes.

Add mushrooms and sprinkle with pepper and Worcestershire sauce.

Saute until liquid has nearly evaporated, about 15 minutes.

Add flour and stir until mushrooms are coated. Cook for a 2 to 3 minutes.

Add beef stock, bay leaves, paprika, mustard, then Cognac.

Simmer until the liquid thickens slightly.

Add meat and accumulated juices from the platter.

Simmer over medium-low heat until meat is heated through, about 3 to 5 minutes.

Stir in 1 tablespoon dill and all of the crème fraîche (or sour cream).

Season to taste with salt (1 tsp) and pepper (½ tsp).

Remove the bay leaves.

Meanwhile, bring a pot of salted water to a boil.

Add the egg noodles and cook until tender, drain. Place noodles back in pot.

Add the remaining 2 tablespoons of butter to the noodles, mix.

Add the buttered noodles to a large serving dish.

Pour the meat mixture over the noodles and stir to combine.

Garnish with remaining dill and a sprinkle more of smoked paprika.
Notes
Sour cream can easily be substituted for the crème fraîche. Sauce can be made up to 1 day in advance. Re-heat and mix with cooked noodles just before serving. Finished dish can be frozen up to 1 month. To serve, allow to thaw and then heat in a saucepan over medium heat. Add more beef broth, if necessary.
Nutrition
Calories: 388kcal | Carbohydrates: 34g | Protein: 9g | Fat: 17g | Saturated Fat: 4g | Cholesterol: 81mg | Sodium: 70mg | Potassium: 365mg | Fiber: 2g | Sugar: 3g | Vitamin A: 1000IU | Vitamin C: 2mg | Calcium: 69mg | Iron: 1mg