This post is kindly sponsored by Pacific Foods, but the recipe, photography, video, and opinions are 100% ours.
If you're looking for something new and delicious to do with chicken, then you've come to the right place.
Moroccan cuisine is steeped in history, tradition, and, in our opinion, incredible depth of flavor and texture in so many ways. This recipe is no exception. The spices, the broth, the preserved lemons, olives, and perfectly cooked chicken all come together to make a truly magical dish.
HOW TO MAKE CHICKEN TAGINE WITH PRESERVED LEMONS AND OLIVES
In most Moroccan kitchens, this dish would be made with an actual tagine, which is a pottery cooking vessel consisting of two parts: a circular base unit that is flat with low sides and a large cone, or dome-shaped cover that sits on the base during cooking. (See video for visual reference).
For those who don't own a tagine, you can still get wonderful results in a nice, large skillet or saucepan.
QUALITY INGREDIENTS MAKE A DIFFERENCE
We've said it before, but it bears repeating: Most recipes are only as good as the quality of ingredients that comprise the dish.
For this recipe, we stick with traditional Moroccan ingredients, such as saffron threads, turmeric, coriander, plus others.
Using a top-notch broth or stock is critical, too. This is why we always use Pacific Foods. More on that in just a bit.
EXPERT TIP: Saffron threads, turmeric, and coriander can be found in the spice section of most well-stocked supermarkets, gourmet food markets, or online.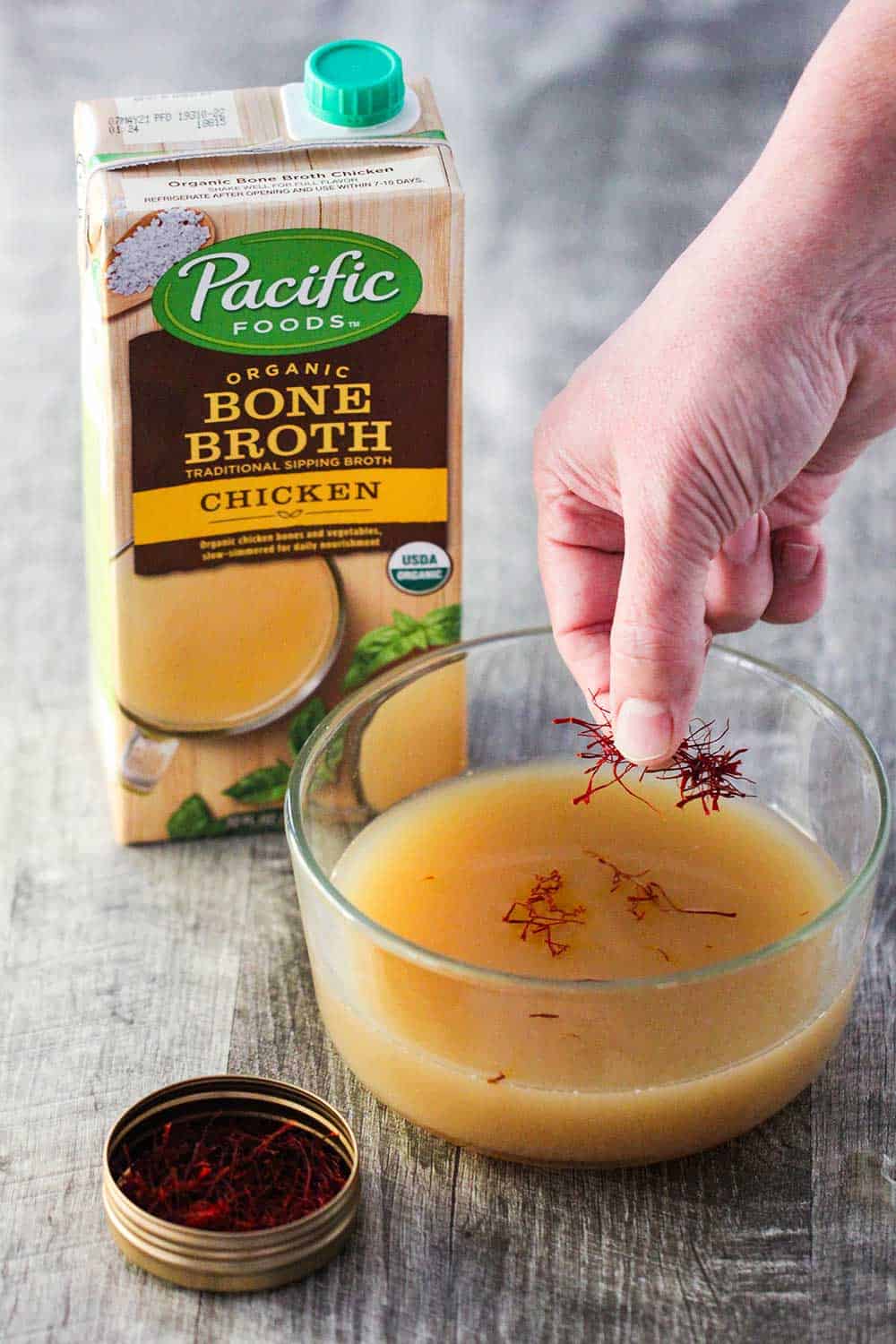 Preserved lemons are very common in Moroccan and Middle Eastern cooking, and we flip for them.
They are lemons that have been liberally pickled in salt and lemon juice for at least 1 month.
EXPERT TIP: We don't recommend skipping the preserved lemons in this recipe. You know how fresh lemon brightens so many dishes. These preserved lemons go even further. They are not difficult to make at home, but you need to give yourself at least a month. We always order ours online and keep extra on hand. They will stay perfectly good for months on end.
Slicing them and browning them in your skillet is an amazing start to this spectacular dish. Set them aside once they are nicely browned.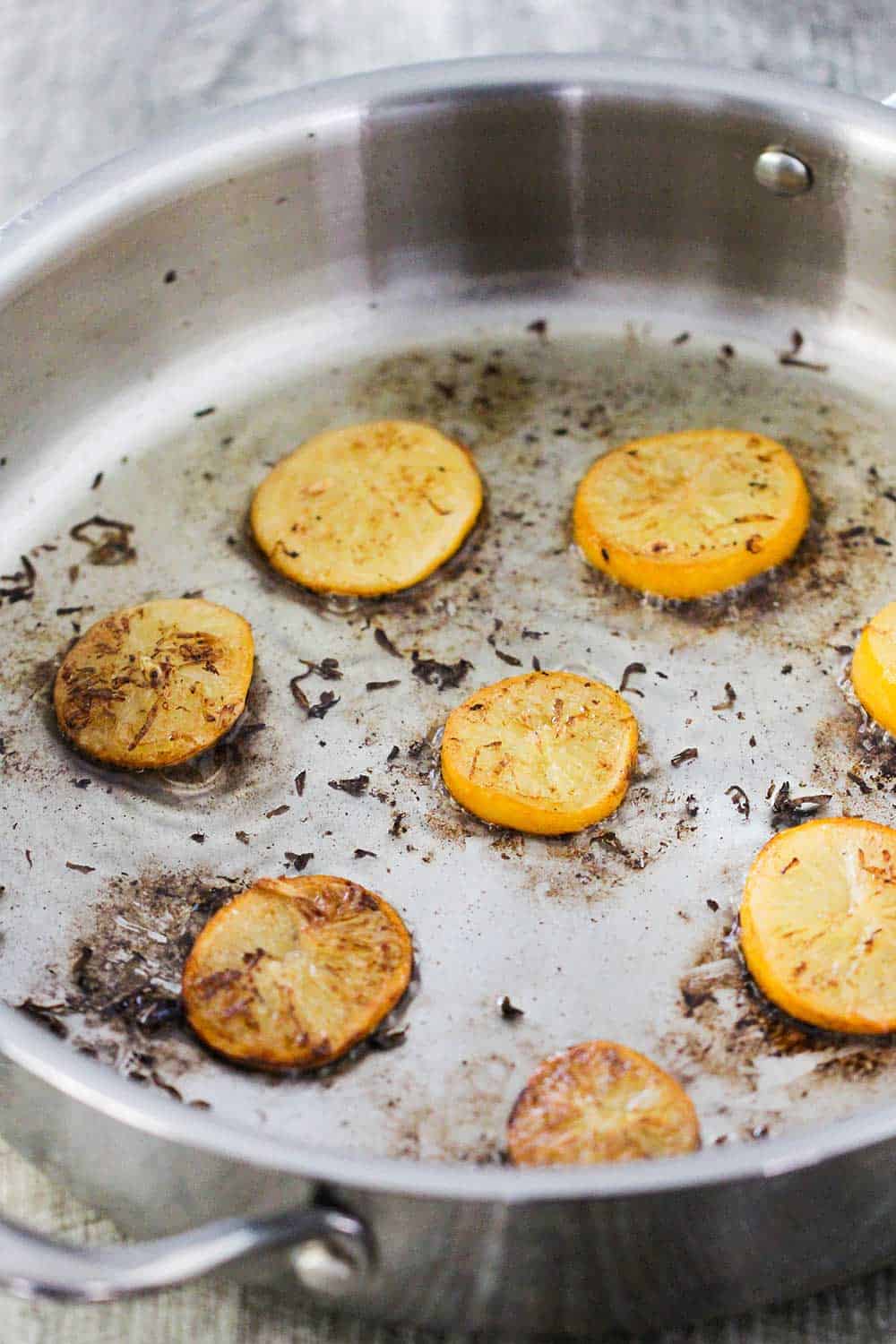 THE BEST TYPE OF CHICKEN AND BROTH FOR CHICKEN TAGINE
We always go with chicken thighs when making a dish like this.
The dark meat is so flavorful and remains extremely tender during the braising process.
EXPERT TIP FOR THE CHICKEN: Bone-in, skin-on always delivers exceptional taste. Searing the pieces, skin-side down, will get the skin super crispy and will deepen the flavor of the dish.
EXPERT TIP FOR THE CHICKEN BROTH: The chicken will finish cooking when braised in the Pacific Foods Organic Chicken Bone Broth with Sea Salt. We love going with this particular broth because it is slow-simmered with organic chicken bones, vegetables, vinegar, rosemary, and a pinch of sea salt that deliver a savory bone broth full of naturally occurring collagen.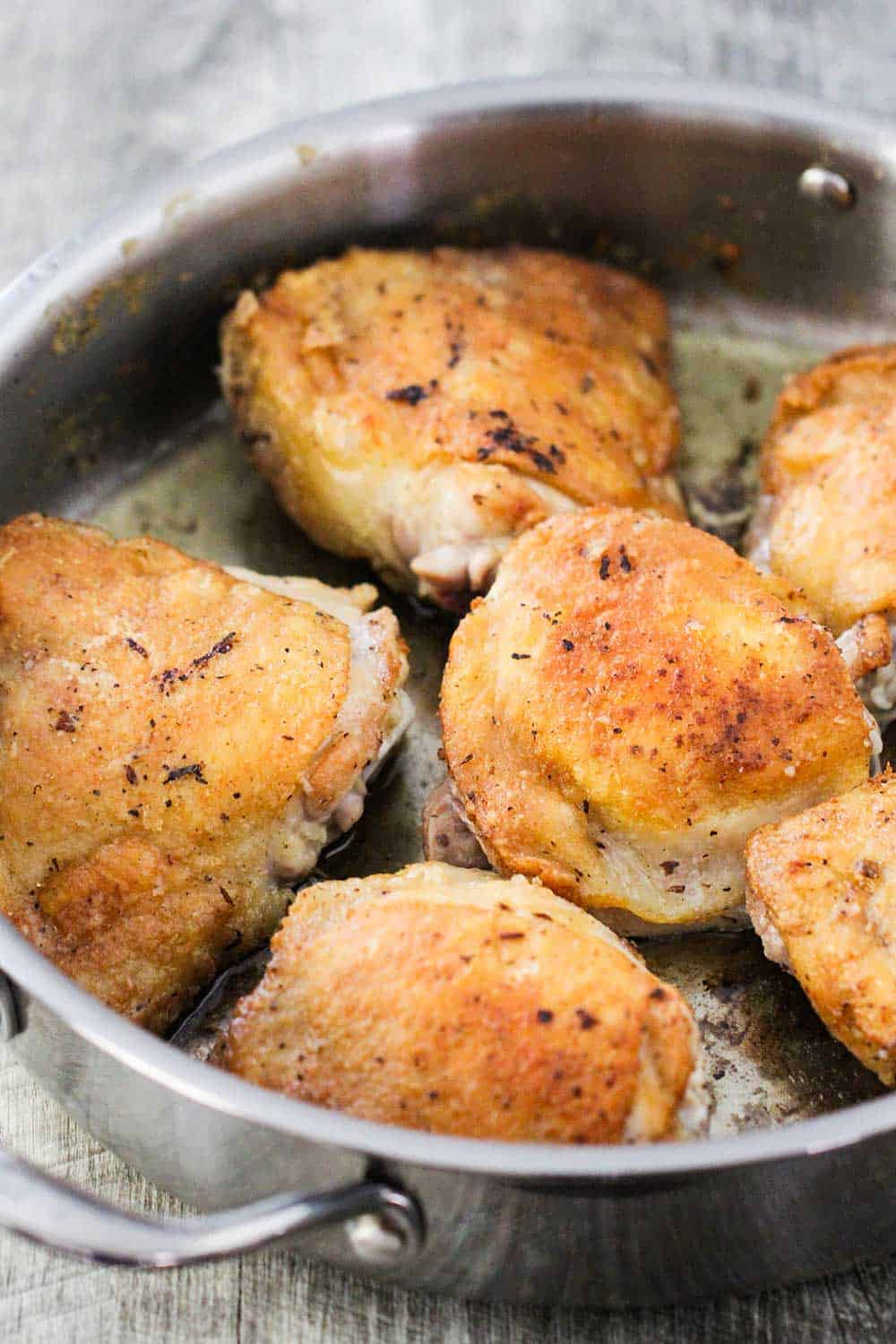 After removing the seared chicken thighs from the skillet, it's time to really amp up the flavors of this amazing Chicken Tagine.
Cook the onions and garlic until nice and translucent.
Now, stir in the spices and get ready for an amazingly delicious smell to emanate from your kitchen.
WHAT TO SERVE WITH CHICKEN TAGINE
Chicken tagine is traditionally served over herbed couscous.
Place one or two of the cooked chicken thighs over a bed of couscous and then ladle the sauce with lemons and olives all over it.
This dish is stunning in presentation, and just wait until you take that first bite.
PACIFIC FOODS' COMMITMENT TO QUALITY
Let's say it again: Going with high-quality ingredients takes this dish to amazing culinary heights…in your very own kitchen.
Pacific Foods uses time-honored recipes and just a few simple ingredients, showcasing each ingredient's true flavor and inherent nutrition. There are no additives or preservatives in their food.
They like to say: "We're out to Nourish Every Body." And we couldn't agree more. Some of our other favorite dishes that star Pacific Food's amazing array of products include our Gourmet Beef Stroganoff, Cornbread Dressing with Sausage and Cranberries, and Air-Fryer Cordon Bleu Loaf with Mushroom Sauce.
We love this Chicken Tagine with Preserved Lemons and Olives beyond words.
Unbelievably flavorful and you truly feel transported to a magical place with every single scrumptious bite.
The recipe is best served right off the stove, but it is still incredibly delicious gently reheated the next day.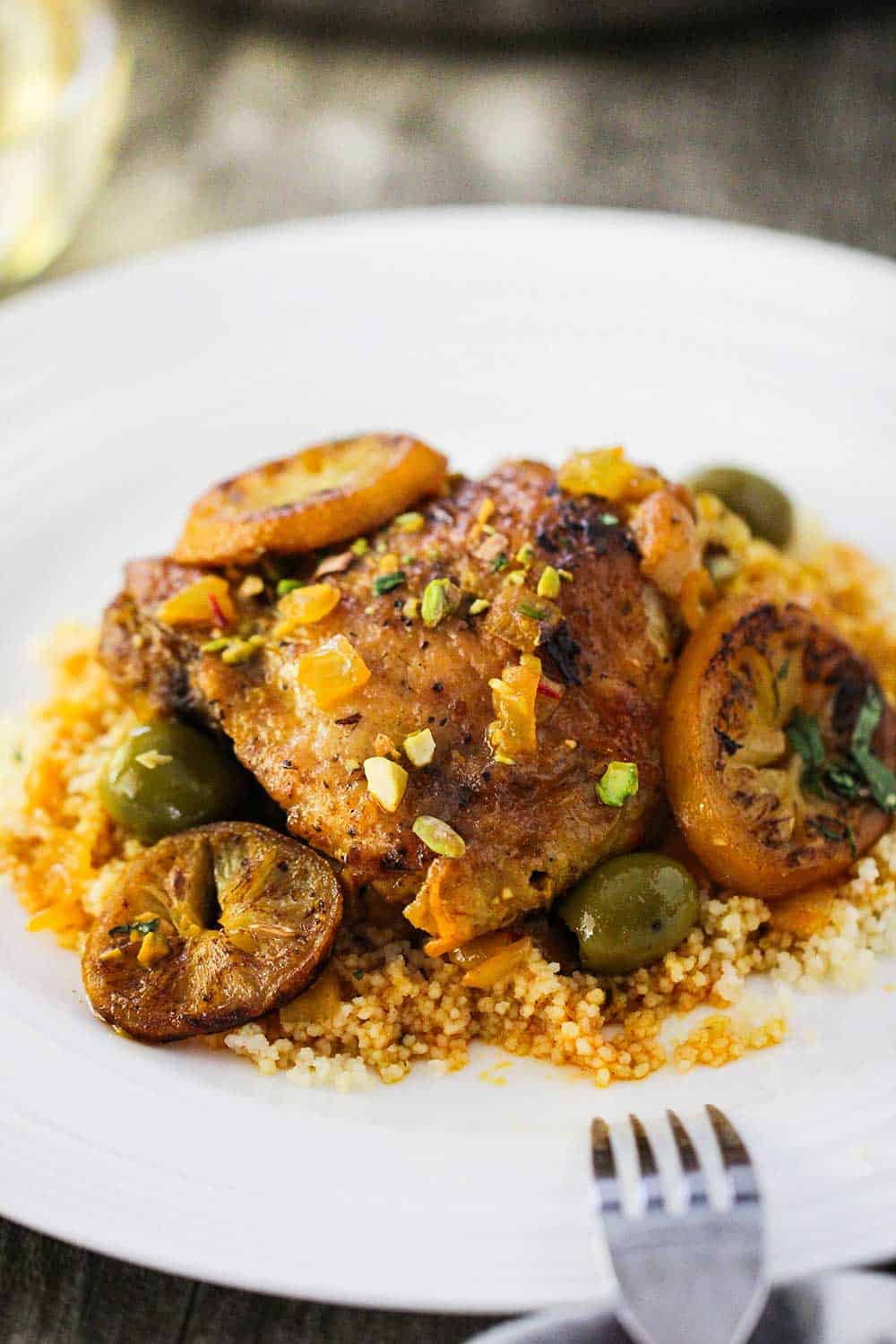 Ready to do something truly special with those chicken thighs you have on hand? Go for it!
And when you make this spectacular dish, be sure to take a photo, post it on Instagram, and tag @howtofeedaloon and hashtag #howtofeedaloon!
Chicken Tagine with Preserved Lemons and Olives
This dish is truly something special. You can cook it in a traditional tagine cooking vessel, or in a large skillet, and have excellent results. Serve over prepared couscous. Divine.
Print
Pin
Rate
Servings: 4
Calories: 633kcal
Equipment
Tagine, or a large skillet/saucepan with a tight-fitting lid
Ingredients
1 tbsp saffron threads
1½ cup Organic Chicken Bone Broth
3 tbsp all-purpose flour
1 tsp Kosher salt
½ tsp black pepper freshly ground
3 tbsp olive oil divided
6 chicken thighs bone-in, skin on
2 preserved lemons sliced
1½ cups onion chopped
4 cloves garlic minced
2 tsp smoked paprika
1 tsp ground cumin
1 tsp ground ginger
½ tsp ground cinnamon
½ tsp ground coriander
1 tsp ground turmeric
1¼ cups green olives pitted
4 tbsp lemon juice
2 tbsp lemon zest
½ cup cilantro fresh, chopped
¼ cup pistachios roughly chopped (optional)
Instructions
Use your fingers to crumble the saffron threads into the chicken broth and stir to dissolve. Set aside.

On a platter, season the flour with ½ tsp salt and ¼ tsp black pepper. Dredge the chicken through the seasoned flour until fully coated.

Heat 1 tbsp oil in a large skillet or Dutch oven over medium heat.

Sear the lemon slices until browned slightly on both sides, about 3 to 5 minutes. Remove from skillet and set aside.

In the same skillet, heat the remaining 2 tbsp of oil over medium-high heat. Sear the chicken, skin side down, until golden and crispy, about 5 to 6 minutes. Transfer to a plate. (The chicken will not be fully cooked at this point).

Add the onion to the skillet and cook until soft and translucent, about 4 to 6 minutes. Add the garlic and cook for another 30 seconds, stirring occasionally.

Stir into the onions the paprika, cumin, ginger, cinnamon, coriander, turmeric, and ½ tsp salt. Stir until combined and very fragrant, about 1 minute.

Add the stock-saffron and use a wooden spoon to deglaze the pan by scraping up any bits that are stuck to the bottom of the skillet.

Place the chicken, skin-side up, throughout the pan. Cover and simmer for 30 minutes.

Remove the lid and stir in the reserved lemons, olives, lemon juice, zest, and cilantro. Cover and simmer for 10 more minutes.

Serve over couscous and garnish with remaining cilantro and chopped pistachios.
Notes
Chicken breasts can be substituted for the thighs, though you'll lose some of the flavor if going with skinless. If using large skin-on, bone-in breasts, you'll need to increase the braising (simmering) time to 35 to 40 minutes, or until internal temperature reaches 165°F.
All the spices in this dish can be found in the spice section of many well-stocked supermarkets, or at gourmet food shops, or online.
Although you can make preserved lemons at home, you'll need to start about a month in advance. We find ordering them online is easy and the quality is good.
This dish is best served right off the stove, however, warmed leftovers are still really good.
Searing the lemons and the chicken can all be done in advance, however, the chicken will lose some of the crispiness on the skin the longer it waits. Be sure to simmer the seared thighs skin-side up.
Nutrition
Calories: 633kcal | Carbohydrates: 19g | Protein: 31g | Fat: 22g | Saturated Fat: 6g | Cholesterol: 166mg | Sodium: 1375mg | Potassium: 614mg | Fiber: 5g | Sugar: 4g | Vitamin A: 957IU | Vitamin C: 16mg | Calcium: 71mg | Iron: 3mg