This post is kindly sponsored by Pacific Foods, but the recipe, photography, video, and opinions are 100% ours.
We absolutely love everything about Mexican cuisine. It is steeped in history and loaded with amazing flavor.
This dish is just bursting with amazing taste and texture. Roasting the vegetables for the verde sauce as well as the chicken delivers superior flavor. And of course, relying on quality ingredients, including our favorite Pacific Foods Organic Chicken Broth, makes this one of our favorite Mexican dishes of all time.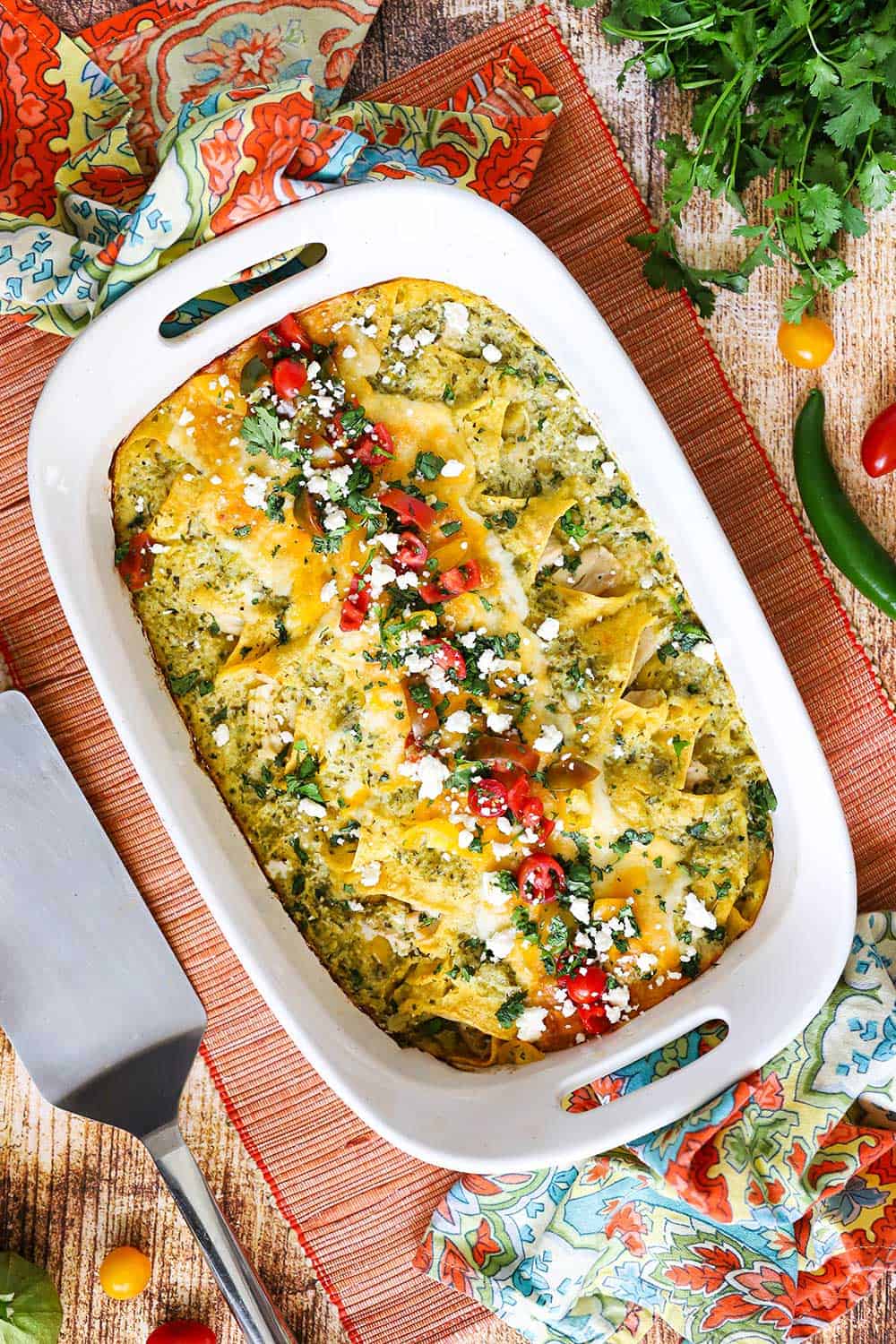 HOW TO MAKE CHICKEN ENCHILADAS WITH VERDE SAUCE
This recipe delivers authentic restaurant-quality taste but honestly is not difficult to prepare.
The verde sauce can be made in advance, and the chicken can be roasted and shredded in advance, too.
Assembly is a snap and lots of fun!
MAKING VERDE SAUCE FROM SCRATCH
The process of roasting the vegetables for the homemade verde sauce is key to creating that delicious, deep taste that we're looking for.
Roasting softens the vegetables and also concentrates them to intensify the flavor profile.
EXPERT TIP: Tomatillos are an important ingredient for classic verde sauce. They are typically found in the produce section of most well-stocked supermarkets or at your local produce market. Be sure to remove the outer skin before roasting. We include two serrano chilies in our sauce, too. Remove the stems and seeds to reduce the heat. For less heat, only use 1 serrano. For more heat, don't remove the seeds.
After the vegetables have roasted and have started to blister a bit, it's time to puree them.
Carefully transfer them to your blender or food processor, and blend (or pulse), until smooth.
The smell is already incredible.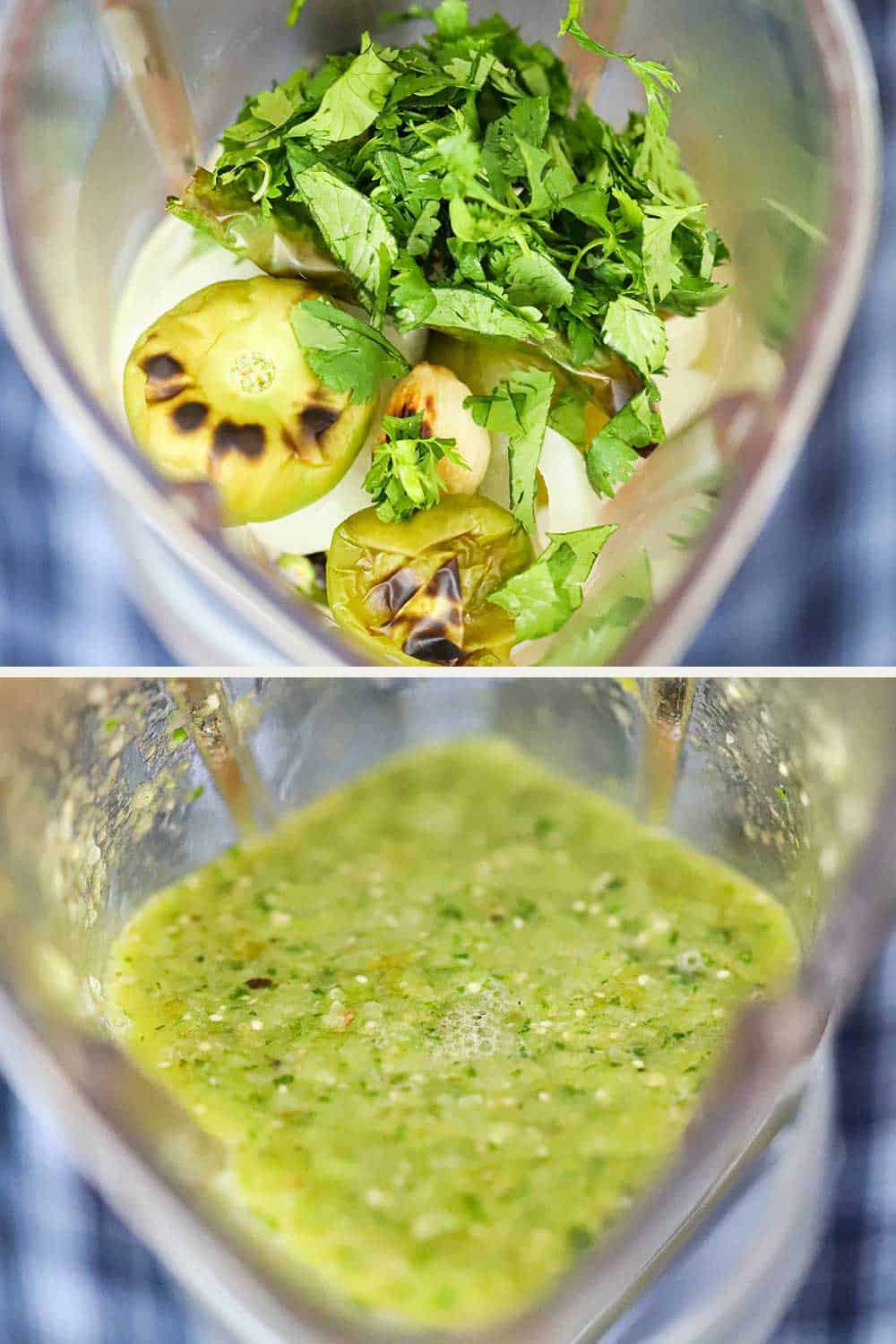 QUALITY INGREDIENTS MAKE A BIG DIFFERENCE
Fresh vegetables are a must to produce a delicious verde sauce. Quality chicken, tortillas, and cheese are important, too.
It is essential that chicken broth be flavorful and good quality.
That's why we always turn to Pacific Foods Organic Free Range Chicken Broth for our authentic verde sauce. We love it because it's the perfect blend of organic free-range chicken, sea salt, and just the right amount of seasonings that results in a broth that is rich and full of flavor.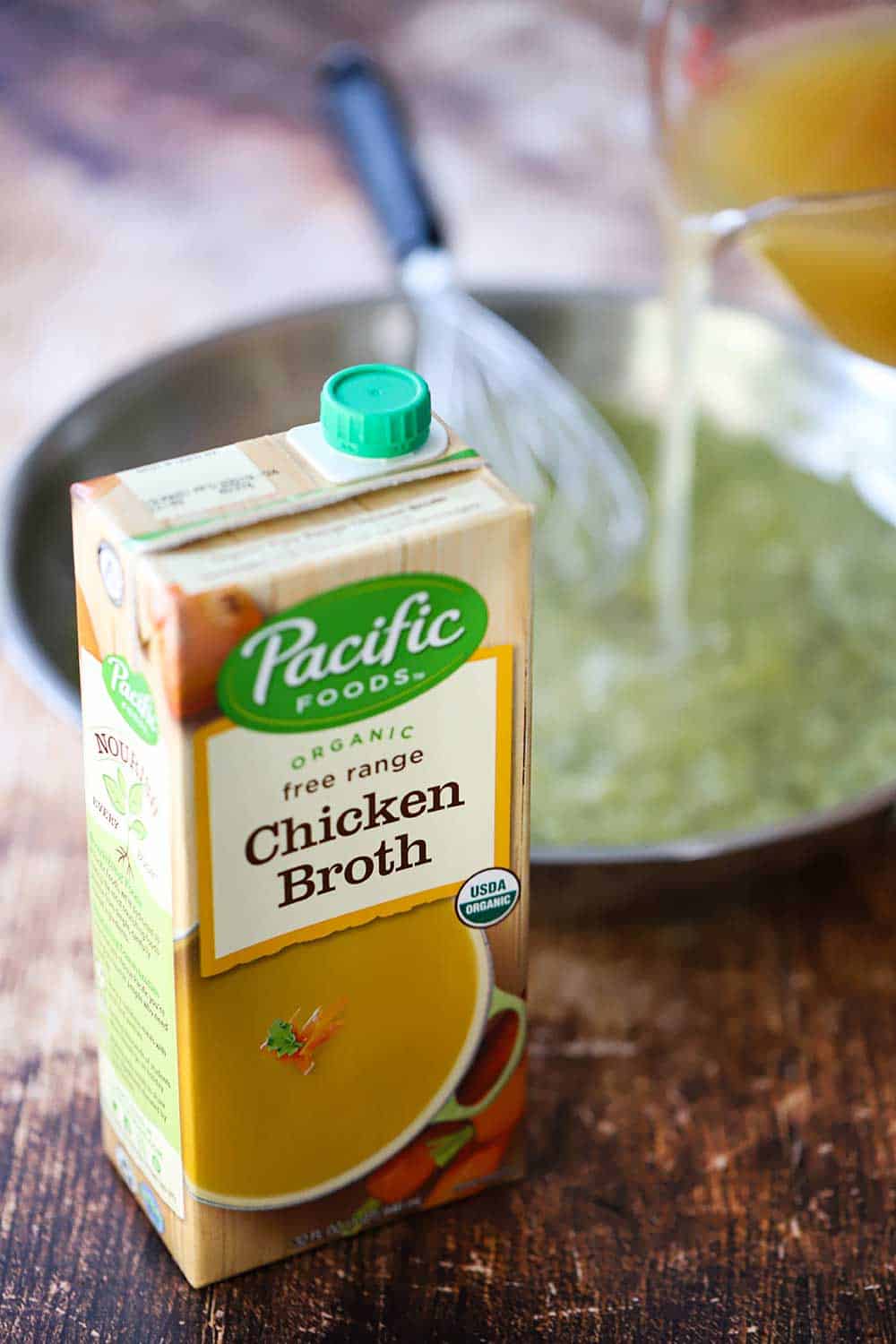 Now to the roasted chicken. We always go with bone-in, skin-on chicken thighs because they're just loaded with flavor.
Roasting the chicken allows the juices from the skin to seep into the juicy thigh meat.
EXPERT TIP: After about 45 minutes in a 400°F oven, the chicken should be fully cooked with an internal temperature of 165° to 167°F. Let the chicken rest until cool enough to shred with a fork. You can certainly substitute boneless, skinless chicken thighs or breasts, however, you'll need to reduce the roasting time to about 30 minutes. A rotisserie chicken from the supermarket will work in a pinch.
HOW TO FORM THE ENCHILADAS
Authentic Mexican enchiladas almost always are made with corn tortillas. In order to form the enchilada, you need to soften the tortillas first.
A common technique to do this is to quickly place them in a small skillet filled with hot oil and then transfer them to the verde sauce.
EXPERT TIP: For this recipe, we simply dampen a couple of paper towels and then place the corn tortillas between them, and then microwave them on HIGH for about 1 minute, or until they are soft. Then transfer them to the skillet filled with the prepared verde sauce to coat. The flash-fry technique often makes the tortillas so fragile that they fall apart when attempting to remove them from the dish. The microwave method is a bit healthier, too.
For topping the chicken enchiladas with verde sauce, you'll want to choose a good melting cheese.
Shredded cheddar, Monterrey Jace, or Mexican Chihuahua are all great choices. A combination of them is even better!
We also use crumbled Cotija cheese as a garnish which can usually be found in the specialty cheese section of most well-stocked supermarkets.
After the enchiladas have baked for 25 minutes, the cheese will have melted and the sauce will be bubbling.
We love to garnish the dish with chopped tomatoes, cilantro, Mexican crema, and as mentioned, crumbled Cotija cheese.
Talk about a Mexican fiesta right in your very own kitchen!
RELY ON PACIFIC FOODS' COMMITMENT TO EXCELLENCE
This bears repeating: Going with high-quality ingredients will elevate this dish to amazing culinary heights.
Pacific Foods uses time-honored recipes and just a few simple ingredients, showcasing each ingredient's true flavor and inherent nutrition. There are no additives or preservatives in their food.
They like to say: "We're out to Nourish Every Body." And we couldn't agree more. Some of our other favorite dishes that star Pacific Foods' amazing array of products include our
Gourmet Beef Stroganoff
Air-Fryer Cordon Bleu Loaf with Mushroom Sauce
Chicken Tagine with Preserved Lemons and Olives
Pappardelle Bolognese
But for now, let's get back to these amazing Chicken Enchiladas with Verde Sauce!
We are big-time lovers of Mexican, Tex-Mex, and Cal-Mex cuisine.
If you and your family are as well, then this is the dish for you.
Deep in flavor and truly restaurant quality. Right in your very own home!
Ready to make the best plate of enchiladas this side of the Rio Grande? Go for it!
And when you do, be sure to take a photo, post it on Instagram, and tag @howtofeedaloon and @pacificfoods!
Chicken Enchiladas with Verde Sauce
Chicken Enchiladas with Verde Sauce is one of our all-time favorite dishes. Roast the tomatillos, peppers, garlic, and onion for a deep rich flavor. We also bake the chicken thighs for about 45 minutes for amazing flavor. Baked to perfection. Muy beuno!!
Print
Pin
Rate
Servings: 4 people
Calories: 670kcal
Ingredients
FOR THE VERDE SAUCE
1 lb tomatillos fresh, husks and stems removed, rinsed
2 serrano chiles stems and seeds removed
4 slices white onion each about 1/4-inch thick
3 cloves garlic
¼ cup cilantro fresh, roughly chopped
2 tbsp vegetable oil
¾ cup Mexican crema or crème fraîche, or heavy cream
Kosher salt
FOR THE ENCHILADAS
3 lb chicken thighs skin-on, bone-in
1 tbsp vegetable oil
Kosher salt and fresh ground black pepper
10 corn tortillas
1½ cups cheese Shredded: Monterey Jack and/or Mild Cheddar
1 cup tomato chopped, for garnish
½ cup cilantro chopped, for garnish
½ cup Cotija cheese crumbled, for garnish
Instructions
MAKE THE VERDE SAUCE
Position a rack under your broiler, and turn on high. Arrange the tomatillos, chiles, onion slices, and garlic in a shallow baking/roasting pan.

Broil, until the tomatillos are soft and slightly charred, about 12 minutes, turning the pan halfway through.

Transfer vegetables to a blender and add the cilantro. Blend until smooth.

Heat the 2 tablespoons of oil in a medium saucepan over medium-high heat. Add the tomatillo mixture and cook, stirring, for 3 minutes.

Add 2 cups of the broth and simmer until the sauce is thick enough to coat the back of a spoon, about 20 minutes.

Remove from the heat and whisk in the Mexican crema (or crème fraîche or heavy cream) and 1 teaspoon salt. Let cool slightly before assembling the enchiladas
ROAST THE CHICKEN
While the sauce is simmering, preheat the oven to 400°F.

Rub the vegetable oil (1 tablespoon) over the chicken thighs, and then sprinkle all over with salt and pepper. Bake the chicken thighs until cooked through with an internal temperature of 165°F. (Approx. 45 minutes for bone-in, 30 minutes for boneless).

Remove the thighs and let cool slightly. (You can turn the oven off, or leave it on...you will be cooking the enchiladas at the same temp shortly). Remove the skin and discard it. Shred the meat with a fork. Lightly salt and pepper the shredded chicken. Set aside.
PREPARE THE ENCHILADAS
Place moist paper towels around the corn tortillas and place in the microwave on high for 1 minute. The tortillas should be soft and pliable. Microwave for another 30 seconds, if necessary.

Spray a 9"x13" baking dish with cooking spray. One by one, dip the tortilla into the prepared sauce, just enough to coat the tortilla. Lay the sauced tortilla into the dish. Fill the center of the tortilla with a heaping tablespoon of the cooked chicken, and then roll in the side of the tortilla, sealing them shut at the top. Spoon some of the sauce over the tortillas to keep the enchilada sealed. Repeat with remaining tortillas.

Pour 1½ cups of the sauce over the tortillas. Top with the cheese and bake until bubbly and lightly browned on top, about 25 minutes.

Garnish with chopped tomatoes, cilantro, and crumble Cotija cheese, if desired. Serve at once!
Notes
We love the flavor of bone-in, skin-on chicken thighs. However, you can certainly go with skinless, boneless thigh or breasts. The bake time will typically be about 15 to 20 minutes less. When fully cooked, the juices will run clear and the internal temperature is 165° to 170°F. A shredded rotisserie chicken is an okay substitute, you won't get quite as much flavor, but it's still a fine option. Serrano peppers will add some heat to the sauce. We remove the stems and then slit the peppers in half to remove in the seeds and ribs on the inside. Consider wearing gloves to do this, or wash your hands and don't touch your eyes! For more heat, leave the seeds in, or increase the peppers to 3. For minimal heat, only use 1 pepper. For not heat at all, omit the peppers. 1 fresh jalapeno, stem and seeds removed, can be substituted for the serrano peppers. The verde sauce and the chicken can be prepared several days in advance. The cooked enchiladas will keep in the fridge for up to 1 week. And though they can be frozen, the texture of the enchiladas will be compromised somewhat if frozen for up to 1 month.
Nutrition
Calories: 670kcal | Carbohydrates: 49g | Protein: 78g | Fat: 21g | Saturated Fat: 7g | Cholesterol: 212mg | Sodium: 625mg | Potassium: 1439mg | Fiber: 7g | Sugar: 8g | Vitamin A: 1584IU | Vitamin C: 22mg | Calcium: 571mg | Iron: 5mg