This post is kindly sponsored by Pacific Foods, but the recipe, photography, video, and opinions are 100% ours.
There's really no question about it. For generation after generation, the French have been masters in the kitchen. And this dish is certainly a masterpiece of that culinary excellence.
A few years back, we had the trip of a lifetime when we traveled from Paris down through the South of France to Nice. For the entire 14 day trip, I don't think we ever had a meal that didn't rank up there as one of the best we've ever had. And this recipe in particular was memorable. There is a depth of flavor that is like no other chicken dish. Exquisitely French. We are so excited to share our version with you!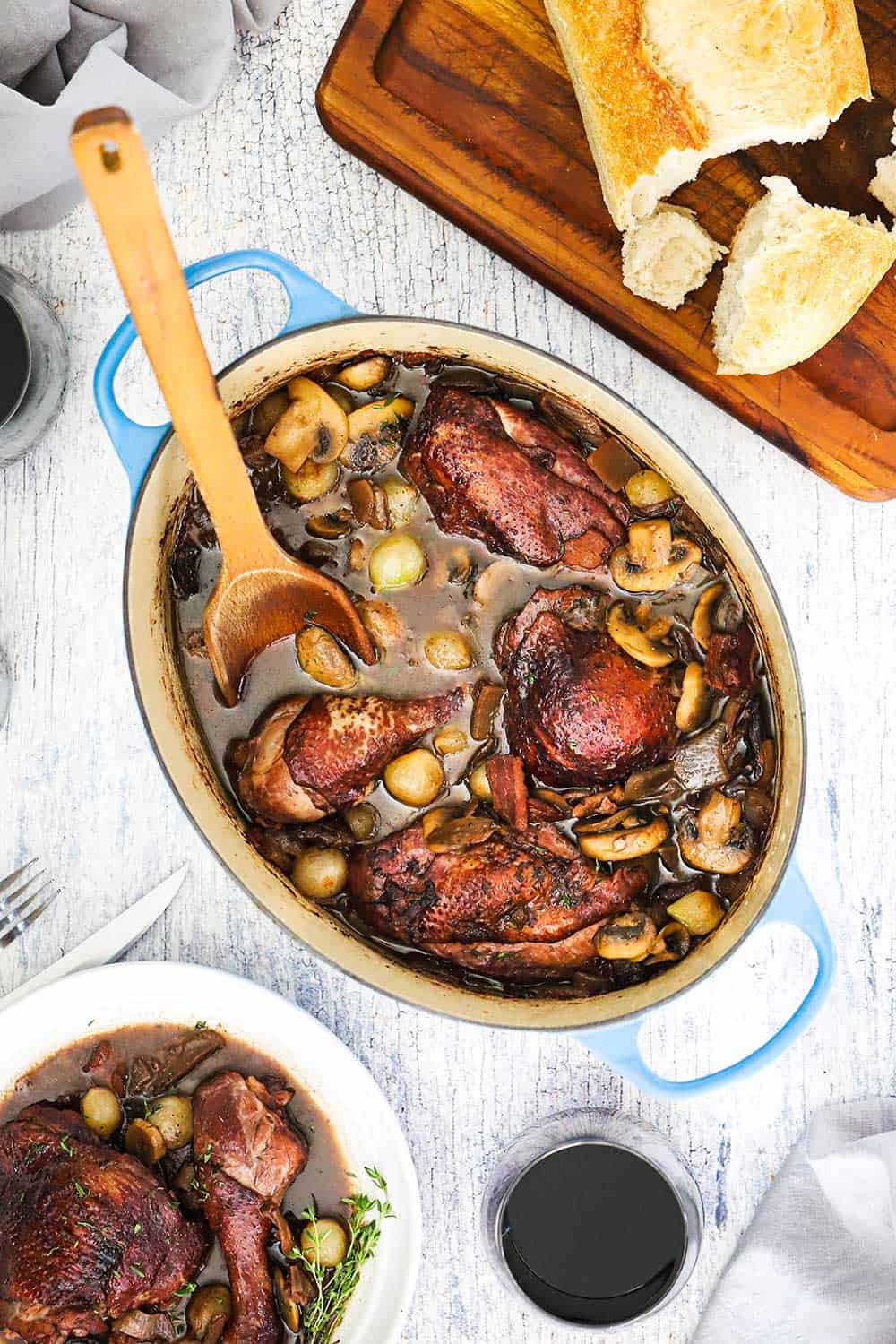 HOW TO MAKE TRADITIONAL COQ AU VIN
To translate the name into English, Coq au Vin meaning is 'Cock/Rooster with wine.'
We recommend getting started on this dish the day before you plan to serve it. Or, at least 6 to 8 hours ahead of time.
We'll show you why!
Purists prepare the dish with a rooster, which is a larger bird than a chicken.
For our version, we go with chicken legs, thighs, and breasts. Bone-in, skin-on, of course.
Another key ingredient in this classic recipe is obviously wine. We first experienced the dish while traveling through the Burgundy region of France. You certainly don't need to break the bank when selecting the wine, but we do recommend going with a decent-quality Burgundy, Bordeaux, Beaujolais, or Cotes du Rhone.
EXPERT TIP: Marinating the chicken pieces in the wine with chopped onion and garlic overnight allows the meat to truly absorb the robust flavors and ensures to deliver that classic French coq au vin taste. If rushed for time, you could allow the chicken to marinate for a minimum of 4 hours, but overnight (12 to 18 hours) will deliver superior taste and texture.
SEARING THE CHICKEN
Once you're ready to start cooking, we recommend you start with a large sturdy pot, such as a Dutch oven. Use tongs to remove the chicken from the wine and then carefully drain the wine through a colander into another bowl. Save the onions and pressed garlic.
Cook the bacon until nice and crisp. Remove with a slotted spoon and leave the rendered grease in the pan.
EXPERT TIP: Searing the chicken in the bacon grease locks in amazing taste and helps to keep the meat tender. You'll need to cook the chicken in a couple of batches. Don't overcrowd the pan! Cook for 4 minutes per side. You will be amazed at the deeply rich, beautiful dark red color the chicken becomes. The chicken won't be fully cooked at this point. That will happen during the braising process.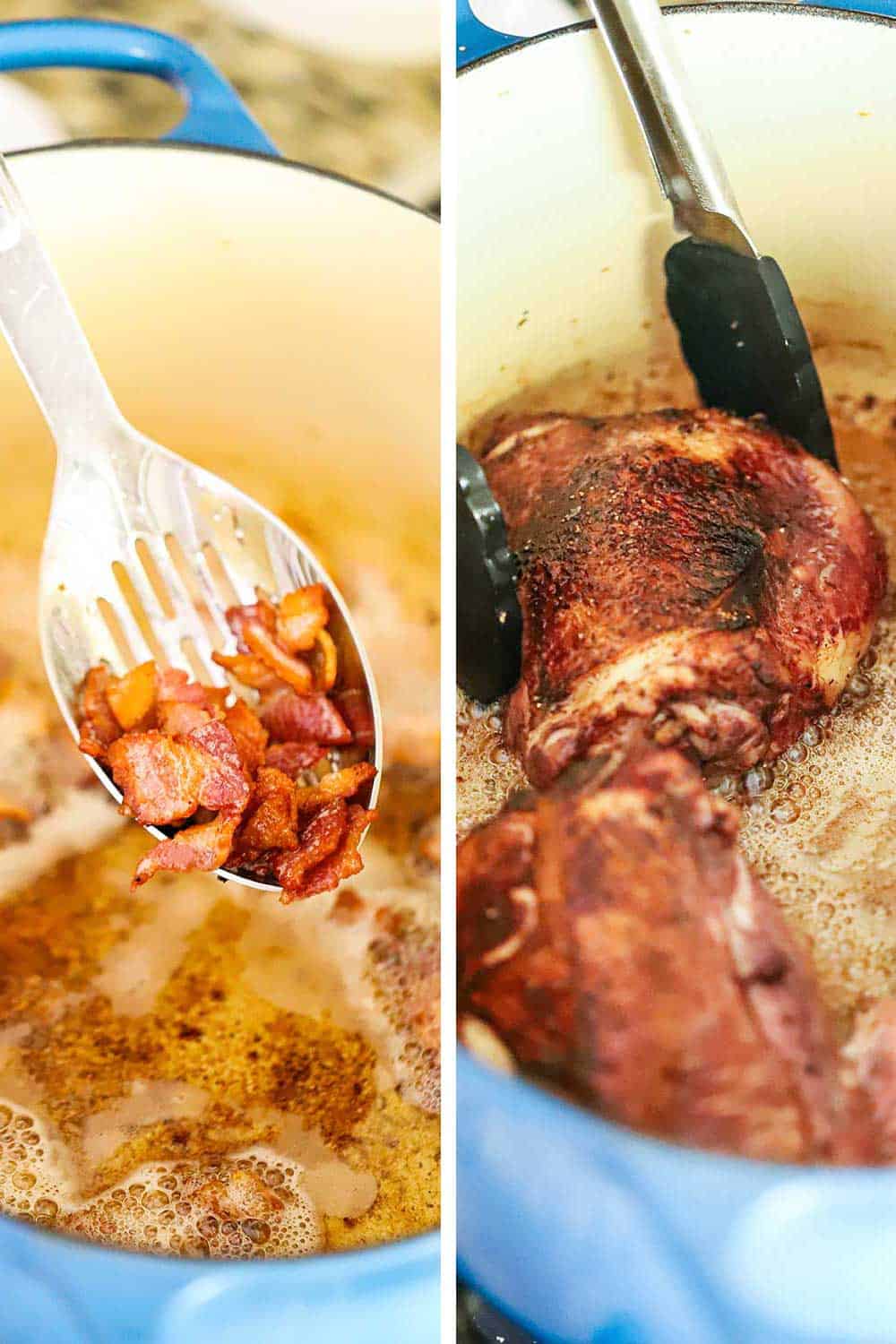 After you've removed the chicken, it's time to add in the wine-soaked onions and pressed garlic.
As they cook, they will become very tender and translucent.
The addition of all-purpose flour will create a roux, which will eventually make a lovely, slightly thickened sauce.
QUALITY INGREDIENTS MAKE A BIG DIFFERENCE
Obviously, good wine and quality chicken is essential in producing a stellar Coq au Vin.
In addition to this, it's imperative that the chicken broth be flavorful and top-notch.
That's why we always turn to Pacific Foods Organic Free Range Chicken Broth for this recipe. We love it because it's the perfect blend of organic free-range chicken, sea salt, and just the right amount of seasonings that results in a broth that is rich and full of flavor.
Sautéed mushrooms and pearl onions are traditional for this dish.
In our version, we use two kinds of mushrooms: porcini and white button.
EXPERT TIP: Porcini mushrooms are typically dried and can be found in the produce section of many well-stocked supermarkets. We reconstitute the dried mushrooms by letting them soak in hot water for 15 to 20 minutes. We also use ¼ cup of the soaking liquid to the sauce for additional flavor. If you don't have access to porcini mushrooms, they can be omitted, and you'll still have an amazing dish.
Simmering the chicken and vegetables in the wine and Pacific Foods Organic Free Range Chicken Broth adds even more flavor and produces perfectly cooked chicken.
You'll only need to braise for about 30 minutes. Don't overcook the chicken!
During this process is when you will sauté the pearl onions and sliced white button mushrooms in a saucepan with melted butter.
RELY ON PACIFIC FOODS' COMMITMENT TO EXCELLENCE
We've said it before, but we have to say it again: High-quality ingredients will always produce superior dishes, and this Coq au Vin is no objection to that rule.
Pacific Foods uses time-honored recipes and just a few simple ingredients, showcasing each ingredient's true flavor and inherent nutrition. There are no additives or preservatives in their food.
They like to say: "We're out to Nourish Every Body." And we couldn't agree more. Some of our other favorite dishes that star Pacific Foods' amazing array of products include our
Gourmet Beef Stroganoff
Air-Fryer Cordon Bleu Loaf with Mushroom Sauce
Chicken Tagine with Preserved Lemons and Olives
Pappardelle Bolognese
Chicken Enchiladas with Verde Sauce
But for now, let's get back to this amazing Coq au Vin!
WHAT TO SERVE WITH COQ AU VIN
Well, let's start with the obvious: We highly recommend a nice Burgundy red wine to accompany the dish.
A loaf of crusty French bread is a must for dipping into the luxurious sauce.
We also love to serve it with a nice leafy green salad with a simple vinaigrette. When serving guests, we often just place the Dutch oven on the table and let people serve themselves.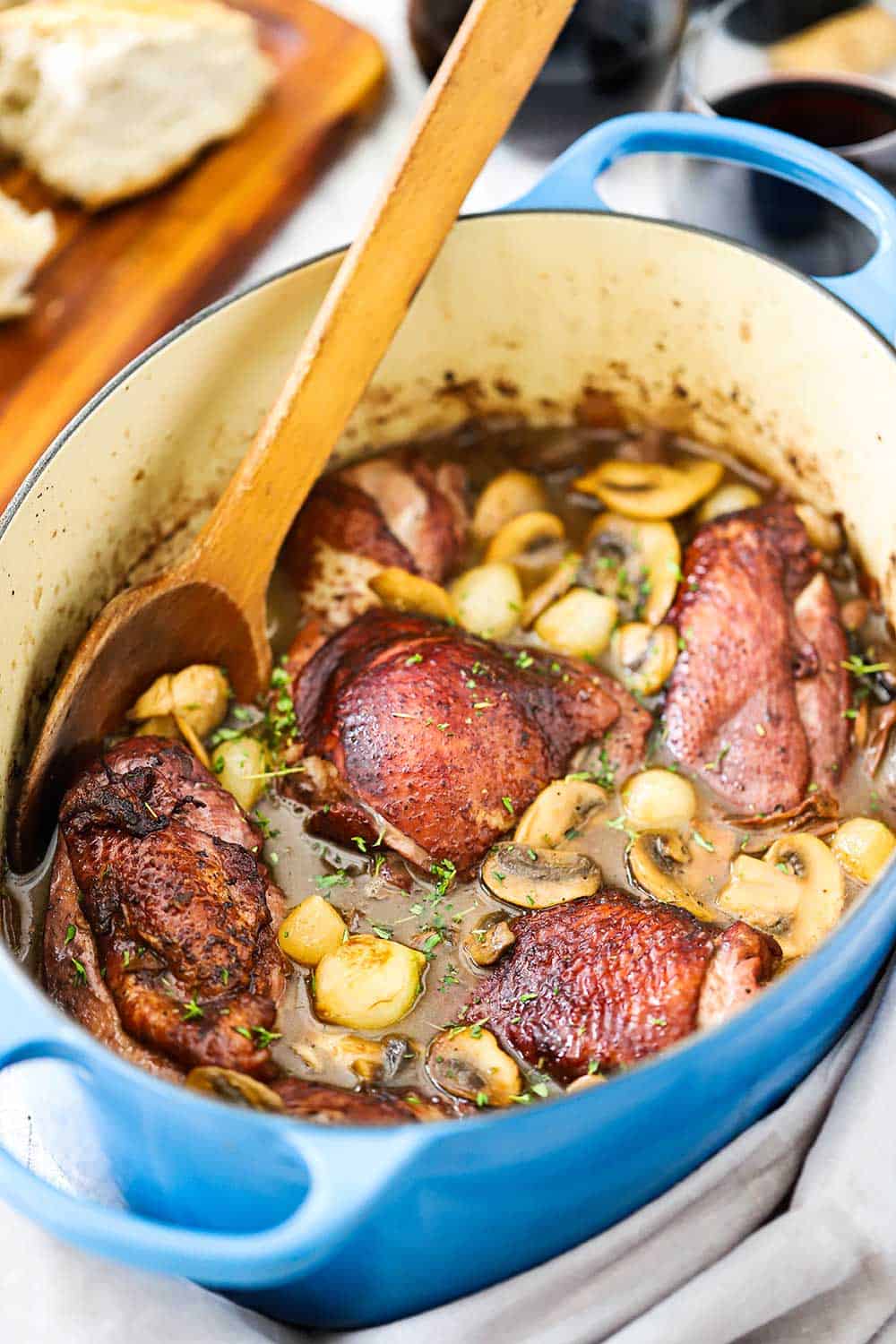 Coq au Vin is classic farm-to-table French cuisine.
And with this recipe, you'll be able to prepare the classic dish with ease in your very own kitchen.
This dish has a special place in our hearts and we are always amazed every time we make it how much it takes us back to those magical times in the beautiful French countryside.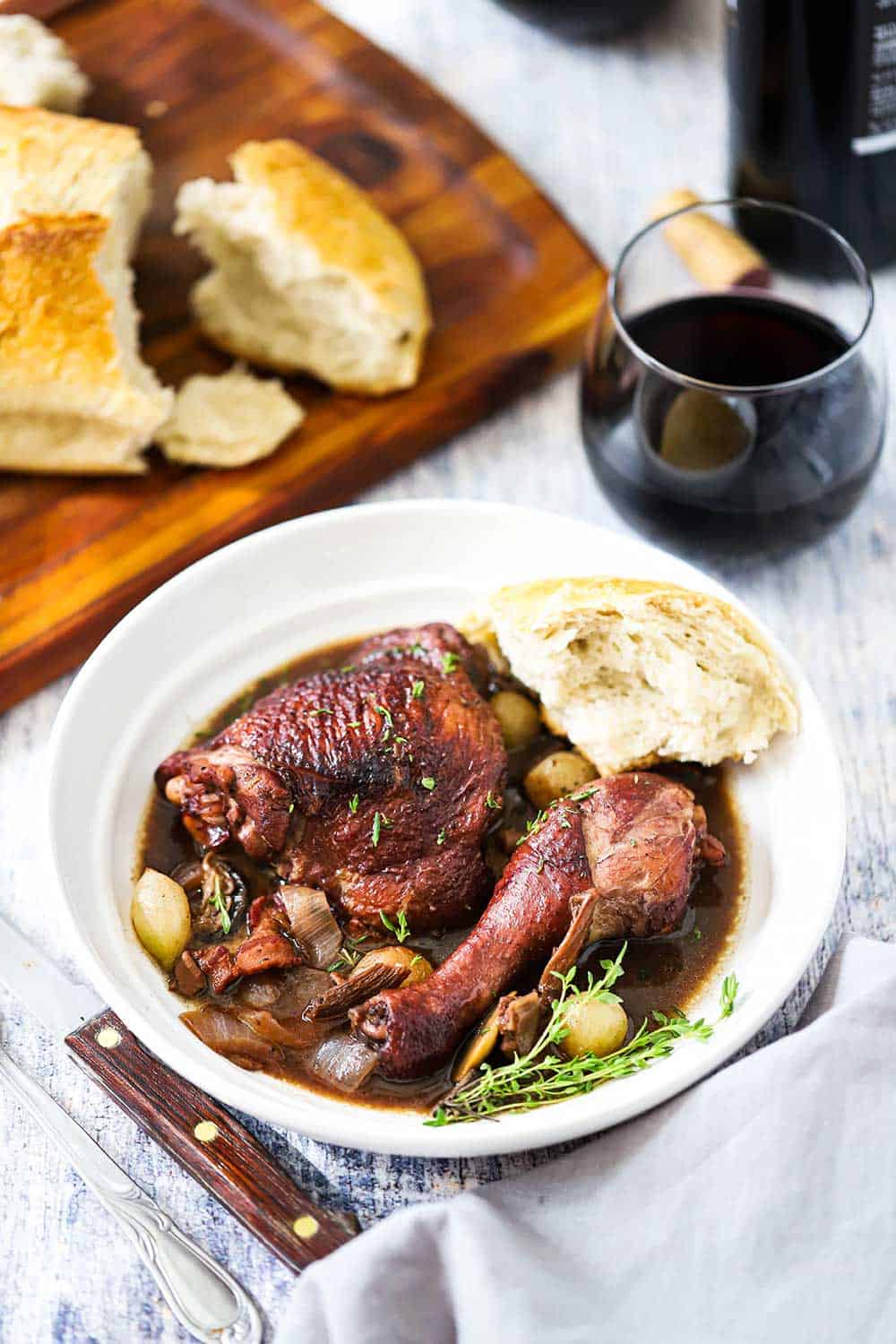 Ready to make the best chicken dish this side of the Seine River? Go for it! It will be tres bon!
And when you do, be sure to take a photograph, post it on Instagram, and tag @howtofeedaloon and @pacificfoods!
Coq au Vin
Coq Au Vin is a French dish that is famous from the Burgundy region of France. Both the Loon and I visited the area a few years back and had some of the best French food we've ever had. This recipe is an adaptation from many different versions that I have made over the years, with some lessons I learned while in France. Enjoy!
Print
Pin
Rate
Servings: 4
Calories: 657kcal
Equipment
Dutch oven, or large sturdy pot or saucepan
Ingredients
1 large chicken cut into 8 pieces, save the wings for another use
1 large onion roughly chopped
3 cloves garlic finely minced, or pressed
1 750 ml bottle red wine Burgundy, Bordeaux, or Cabernet
1 tsp Kosher salt plus more for seasoning the chicken
¼ tsp black pepper plus more for seasoning the chicken
8 oz smoked bacon thick-cut, cut into 1-inch pieces
2 tbsp all-purpose flour
1 oz. dried porcini mushrooms optional
1 cup Pacific Foods Organic Free Range Chicken Broth
1 bouquet garni 1 sprig each of fresh thyme, rosemary, and parsley, tied together
3 tbsp unsalted butter divided
⅔ cup pearl onions
8 oz. mushrooms button, sliced
Instructions
Place the chicken pieces in a large bowl and add the chopped onions, garlic, wine, salt, and pepper. Cover with plastic wrap and refrigerate for 4 hours or overnight.

Use tongs to remove the chicken from the wine marinade. Carefully drain the wine through a colander into another bowl. Transfer the wine-soaked onions in a separate container and set aside. Season the chicken all over with salt and pepper. Set aside.

Heat a large Dutch oven over medium heat and add the bacon. Cook until crisp and then use a slotted spoon to transfer the bacon to a paper-towel-lined plate. Leave the rendered grease in the pot.

Still over medium heat, and working in batches, add the chicken into the hot bacon grease. Sear for 4 minutes. Flip the chicken pieces over and sear for another 4 minutes. Remove the chicken and set aside.

Add the wine-soaked onions to the pot and cook until soft and translucent, about 8 minutes. Stir in the flour and cook for another 2 minutes.

Meanwhile, in a small saucepan bring 1 cup of water to a boil. Pour the hot water over the dried porcini mushrooms in a heatproof bowl. Save ¼ cup of the porcini soaking water.

Add the chicken and cooked bacon into the pot. Pour in the chicken broth and reserved wine. Chop the porcini mushrooms and add them along with the reserved ¼ cup of soaking water and the bouquet garni. Simmer for 30 to 40 minutes, or until chicken is cooked through, but not falling off the bone.

While the chicken is simmering, heat 1 tbsp of butter in a saucepan over medium heat. Add the pearl onions and sauté, stirring occasionally, until lightly browned. Remove from the pan and set aside.

Add 2 more tablespoons butter to the same saucepan and stir until melted. Add the sliced button mushrooms and sauté until soft and just releasing their liquid, about 7 minutes. Remove from the pan and set aside.

Once the chicken is tender and cooked, remove the pieces from the sauce on to a plate and loosely tent with a piece of foil. Stir in the pearl onions and mushrooms, and let the sauce simmer on medium-high until slightly reduce and thickened, about another 10 minutes.

Return the chicken to the pot and serve at once.
Notes
For the chicken pieces, you can go with all of the following, or a combo of them: breasts, thighs, wings. All skin-on, bone-in. We recommend allowing the chicken to rest in the wine/onion/garlic mixture for 8 to 12 hours, but you'll still get good flavor with just a 4-hour soak. For the wine, we recommend a French Burgundy or Bordeaux. Cabernet and Pinot Noir will work, too. Be sure to reconstitute the dried porcinis in hot water. Never consume dried mushrooms that haven't be reconstituted. If you can't find dried porcini mushrooms, you can omit them from the recipe. They add a depth of flavor and texture, but the dish will still be delicious without them. Don't overcook the chicken by braising too long! You don't want the meat to be falling from the bone. Typically 30 minutes is long enough, but test to make sure. The internal temperature should be in the range of 165° to 175°F. The dish will keep in the refrigerator for up 1 week and freeze nicely for up to 2 months.
Nutrition
Calories: 657kcal | Carbohydrates: 19g | Protein: 51g | Fat: 28g | Saturated Fat: 6g | Cholesterol: 194mg | Sodium: 1236mg | Potassium: 965mg | Fiber: 3g | Sugar: 5g | Vitamin A: 533IU | Vitamin C: 11mg | Calcium: 50mg | Iron: 3mg