Ice cream is one of our most favorite sweet treats in the world. And strawberries are one of our favorite fruits in the world. Let's combine the two!
If you're looking for a new twist on an old classic, then this is your ice cream. The fresh strawberries are so flavorful and make the ice cream beautiful, too. And it's honestly not hard to make. You just need a little patience while the custard chills!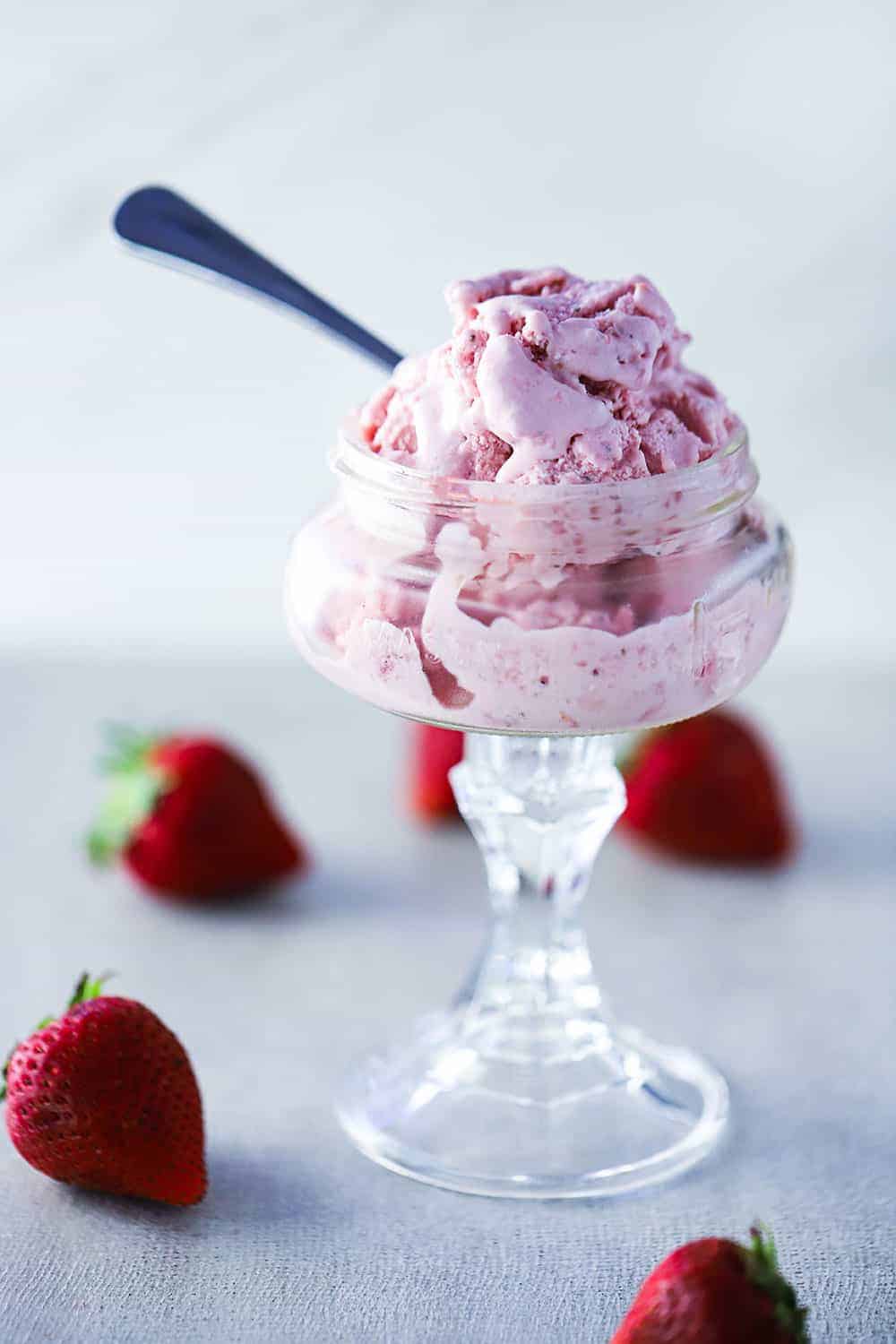 How to Make Ice Cream from Scratch
This is a very traditional method for making homemade ice cream. Ice cream has long history of making people smile and fulfilling a sweet tooth in need, especially on a hot summer day.
We go with a beautiful custard that is enhanced with fresh strawberries and cream.
So delicious and easy to prepare!
Let's start with the strawberries.
We use our food processor to puree the strawberries.
EXPERT TIP: You can also do this in a blender. After cutting away the stem, we halve or quarter the strawberries. You're going to need about 2 cups of the strawberries once that has been pulverized. This typically is about 4 cups of cut fresh strawberries. If you can't get fresh strawberries, you can certainly substitute frozen.
Make the Custard
Now, it's time to make the custard.
Start off by beating the eggs with the sugar in a medium-sized bowl until they become a pale yellow.
Next, we're going to temper the eggs by pouring the warm half-in-half into the egg mixture, still beating to incorporate the cream.
Return the mixture back to the saucepan on the stove and heat over medium heat, and cook (constantly stirring) until thickened and coats the back of the spoon.
EXPERT TIP: Don't let the mixture boil or get too hot, otherwise, the eggs will begin to scramble. Stirring continuously helps this process.
Add the custard to a clean bowl and pour in the strawberries and heavy cream.
Use a wooden spoon to stir and fully incorporate it.
It's critical that the custard cool completely before proceeding with making ice cream. We cover the custard with plastic wrap and place in the refrigerator for a minimum of 2 hours, or up to overnight.
How to Churn Ice Cream
After the custard has chilled for a minimum of 2 hours, it's time to make ice cream!
We use an electric Cuisinart ice cream maker, but you go with the what you've got and follow the manufacturer instructions.
Typically, it takes about 40 to 50 minutes for the ice cream to be thickened.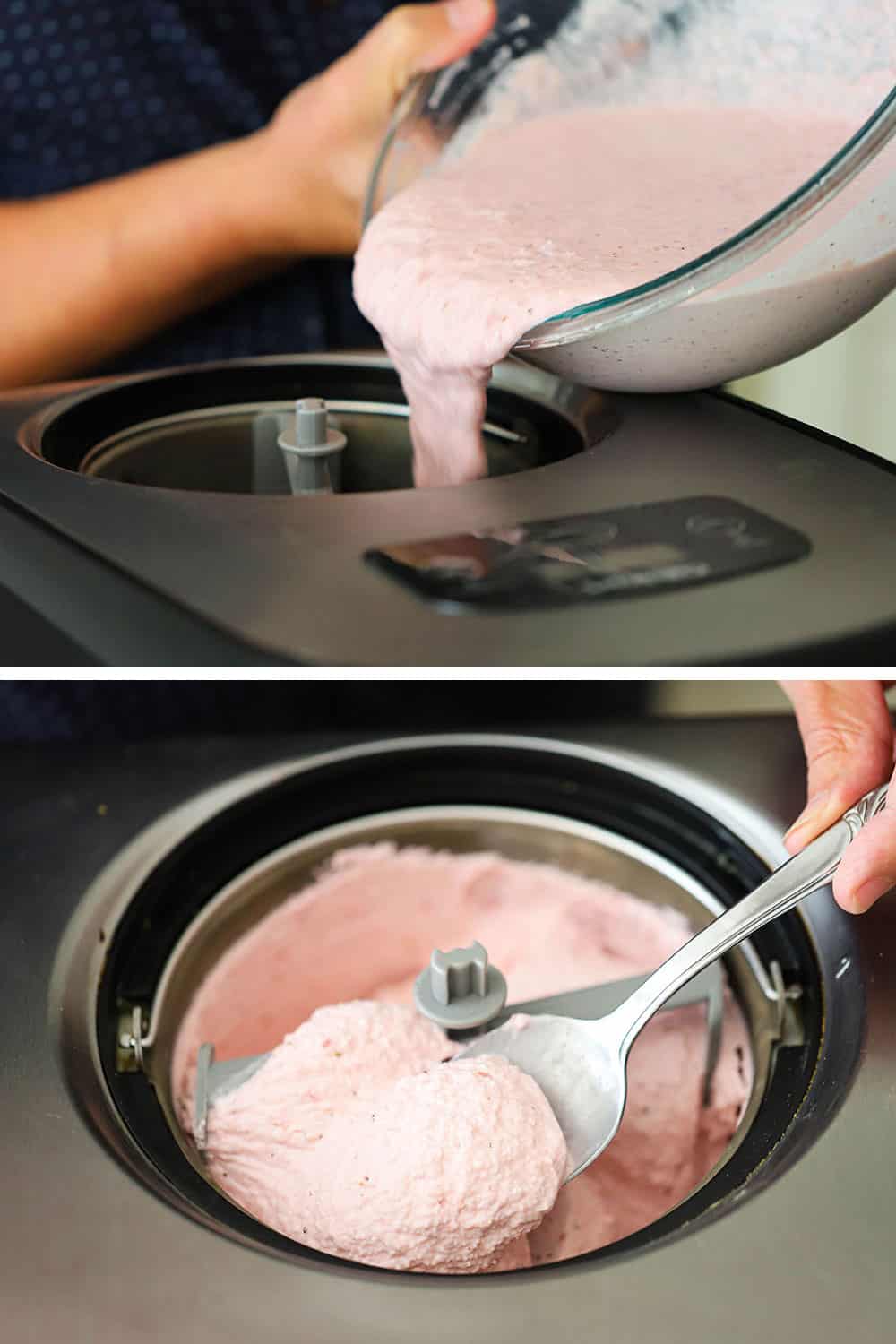 Once the ice cream is ready, the consistency will be similar to soft-serve.
We like to get our homemade strawberry ice cream a little firmer than soft serve.
To achieve this, we simply transfer it to a freezer-ready container with a tight-fitting lid and then stick it in the freezer for an hour or two. If the ice cream is frozen solid, we recommend letting it sit out for about an hour to soften it a bit.
Other Ingredients to Add
We think this strawberry ice cream is amazingly delicious just as is.
But, we've thrown in some white chocolate morsels in the last 5 minutes of churning, and that was an awesome addition.
You could also use almond extract in place of the vanilla extract, and then add chopped almonds in at the end of the churning process, too.
But, wow oh wow…just check out this gorgeous bowl of ice cream!
If you love homemade ice cream as much as we do, then you are going to love this recipe!
It's always a huge hit with kids and adults alike!
And of course, it freezes beautifully for up to 3 weeks! If you like this Homemade Strawberry Ice Cream, you'll also love our:
Homemade Vanilla Ice Cream
Peanut Butter Cup Ice Cream Cake
S'Mores Ice Cream
Blueberry Ice Cream
But for now, you've just got to whip up a batch of this amazing sweet treat!
Ready to make the best homemade ice cream in town? Go for it!
And when you do, be sure to take a photo, post it on Instagram, and tag @howtofeedaloon and hashtag #howtofeedaloon!
Homemade Strawberry Ice Cream
This sweet treat is so delicious because it combines two of the yummiest items in the world: ice cream and strawberries! Be sure to let the custard chill for at least two hours before churning!
Print
Pin
Rate
Servings: 10
Calories: 245kcal
Equipment
Food processor, or blender
Ingredients
4 cups strawberries stems removed and roughly chopped
¼ tsp Kosher salt
1½ cups half-and-half
¾ cup sugar
2 large eggs
½ cup heavy cream
1½ tsp vanilla extract
Instructions
Place the roughly chopped strawberries and salt in a food processor, or blender, and puree until smooth. Pour into a bowl and set aside.

Bring the half-and-half to a simmer over low heat.

Meanwhile, use a hand mixer, or stand mixer, to beat together the eggs with sugar until the mixture is a pale yellow, about 1 minute.

Temper the eggs by slowly pouring the hot half-and-half into the egg/sugar mixture, continue beating them as you do this. Once fully incorporated, transfer the mixture back into the saucepan over medium heat. Stirring constantly, cook the custard until thickened and coats the back of a spoon, about 3 to 5 minutes. Don't let boil, or the eggs will scramble!

Transfer the custard into a clean medium-sized bowl and stir in the strawberries, heavy cream, and vanilla extract. Cover with plastic wrap and place in the refrigerator for at least 2 hours, or up to overnight.

Remove the custard from the refrigerator and give the custard several stirs with a large spoon.

Transfer the custard to your ice cream maker and follow the instructions according to the manufacturer. The ice cream will be ready when it has thickened and expanded in the pan, usually about 40 to 50 minutes.

The ice cream can be served at this point, or transferred to a container with an air-tight lid and placed in the freezer to firm up, about 1 to 2 hours. If serving after the ice cream is frozen solid, then let it sit out for an hour before serving.
Notes
Fresh strawberries are best, but frozen can be used, too. Make sure they are not in syrup. If you like the ice cream to have more chunks of strawberries in it, then don't completely puree them, or keep a small amount on the side that have been finely chopped. Add them during the last 5 minutes of churning. We like the texture and taste of half-and-half for this ice cream, but whole milk can be substituted. Heavy cream adds a wonderful texture to the ice cream and shouldn't be omitted, if possible. The ice cream is ready to eat once the churning is complete, but we think it's best after it firms up for an hour or two in the freezer. If the ice cream is frozen solid, let it sit out on the counter for an hour to soften a bit before serving.
Nutrition
Calories: 245kcal | Carbohydrates: 9g | Protein: 2g | Fat: 12g | Saturated Fat: 4g | Cholesterol: 56mg | Sodium: 77mg | Potassium: 132mg | Fiber: 1g | Sugar: 6g | Vitamin A: 304IU | Vitamin C: 28mg | Calcium: 51mg | Iron: 1mg