Homemade ice cream is amazing. S'mores are amazing. You see where we're headed with this, right?
There is something truly special about this ice cream sensation. Toasty marshmallows are churned right into the custard base. Crumbled graham crackers give great flavor and texture. And the homemade chocolate sauce brings it all together.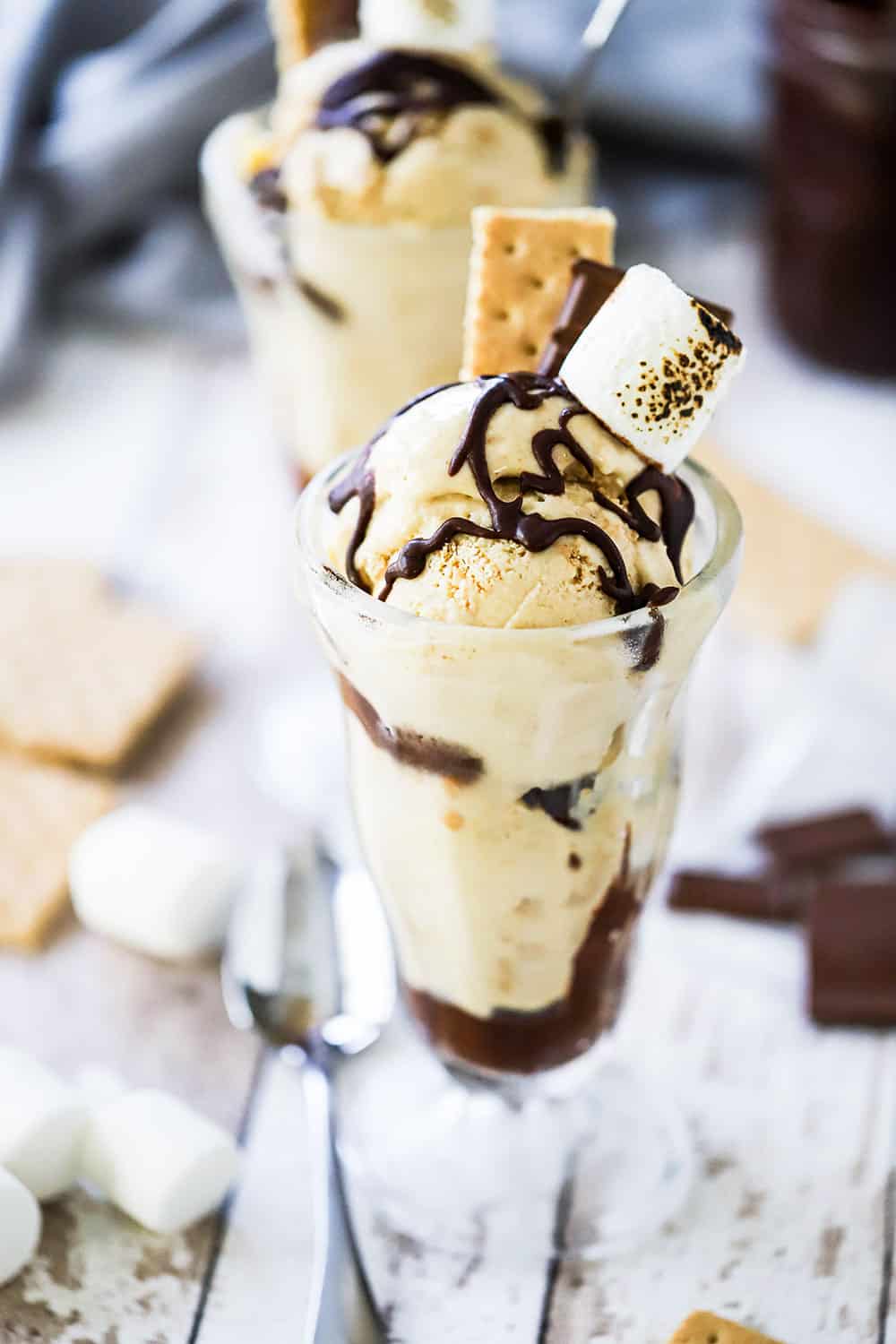 How To Make S'mores Ice Cream
These two treats are a match made in Ice Cream Heaven. Learn all about the history of everyone's favorite campfire treat S'Mores.
Just a little heads up: You're going to need to give yourself some time to bring this amazing ice cream masterpiece across the finish line.
You'll need to allow the custard to chill for about 4 hours, and then you'll want the churned ice cream to freeze in the freezer for at least 2 hours, or even better, overnight.
But trust us, this is worth the time. It's one for the record-books!
Making the Custard Base
We're going with a creamy custard for the base for this ice cream.
First, you're going to beat 5 egg yolks with ½ cup of sugar until pale. Meanwhile, heat the milk, cream, sugar, and a pinch of salt until simmering.
EXPERT TIP: The next step is called "tempering the eggs." This is very important, if you immediately add the egg mixture to the hot cream, the eggs will scramble. To avoid this, we're going to add the warm cream into the egg mixture 1 cup at a time, whisking constantly, 2 or 3 times. Now, pour the egg/cream mixture back into the saucepan with the remaining warm cream.
Infusing the Roasted Marshmallows into the Ice Cream
Toasted marshmallows are a key component to s'mores and this ice cream.
We're going to infuse the custard with roasted marshmallows.
Place a 10 oz bag of large marshmallows on a baking pan lined with parchment paper. Roast under your broiler for only a couple of minutes, flipping them over halfway through.
After the custard has cooled for about 15 minutes in a nice ice water bath, it's time to bring in those glorious toasted marshmallows.
Add the marshmallows into a blender along with the custard, plus a little more heavy cream, and vanilla extract.
Purée in the blender until smooth and silky.
EXPERT TIP: Once the marshmallows have been roasted, they will be a little sticky to the touch. We recommend transferring them to the blender as soon as possible after they come out of the oven. The longer they sit on the parchment paper, the more likely they are to stick to it.
You'll need to transfer the puréed mixture to a bowl and cover it with plastic wrap and place it in the fridge for at least 4 hours, or overnight.
Once chilled, it's time to add the custard to your ice cream maker. Follow the manufacturer's instructions for churning custard-base ice cream.
EXPERT TIP: It's really important to allow the custard to completely chill before adding to your ice cream maker. If you skip this step, you won't get the right consistency. We also like to place the ice cream maker bowl/tin in the freezer for a few hours, too. We want everything cold as we begin to churn!
Just as the ice cream has begun to thicken, it's time to add in the roughly chopped graham crackers. This is around the last 5 minutes of churning.
At this point, the ice cream should be the consistency of very soft-serve ice cream.
Graham crackers provide amazing taste and a wonderful crunch in every single bite.
How To Store S'Mores Ice Cream
You can keep the churned ice cream in the ice cream machine bowl if you prefer. Cover with foil and place in the freezer for at least 2 hours, or even better, overnight.
We love transferring them to ice cream holders. The ice cream will keep in the freezer for up to 1 to 2 months.
EXPERT TIP: Before assembling your first s'mores ice cream, we strongly recommend making an easy batch of homemade chocolate sauce. We use our favorite ice cream parlor glass holders, but any time of bowl or glass will work. Add chocolate, then a couple of scoops of ice cream, and then more chocolate.
Other Favorite Homemade Ice Cream Recipes
If you love homemade ice cream as much as we do, then there's a good chance you'll love these delectable recipes, too:
Peanut Butter Cup Ice Cream Cake
Homemade Strawberry Ice Cream
Creamy Salted Caramel Ice Ceram
Lavender Ice Cream with Honey Granola
Blueberry Ice Cream
In the meantime, go and make this!
Ready to make an ice cream treat that your loved ones will be talking about all summer long? Go for it!
And when you do, be sure to take a photo of it, post it on Instagram, and tag @HowToFeedaLoon and hashtag #HowToFeedaLoon!
Homemade S'Mores Ice Cream
There is truly something magical about this ice cream treat. The toasted marshmallows are amazing in the ice cream. The graham crackers add to the s'mores authentic taste and the homemade chocolate sauce brings it all together. Get started a day or so ahead of when you want to serve it, and you'll be set!
Print
Pin
Rate
Servings: 12
Calories: 372kcal
Ingredients
5 large egg yolks
1 cup sugar divided
2 cups whole milk
1½ cups heavy cream
Pinch Kosher salt
10 oz marshmallows large, or jumbo, leave a few for garnish, if desired.
2 tsp vanilla extract
1½ cups graham cracker roughly chopped, plus extra for garnish
1 cup chocolate sauce click for recipe
1 chocolate bar for garnish, optional
Instructions
Add the egg yolks and sugar to a medium-sized bowl. Use a hand mixer on low speed or whisk, and beat until the mixture is pale and slightly thickened, about 2 minutes.

Next, in a medium saucepan over medium-low heat, whisk together the milk, cream, ½ cup of sugar, and salt. Bring the mixture to a low simmer.

Now, once the cream mixture has started to simmer, whisk about ⅓ of the hot cream mixture into the yolk/sugar mixture. Whisk to incorporate, and now add another ⅓ of the mixture, stir again. Leave the remaining cream in the saucepan, gently simmering.

Return the egg/cream mixture back to the saucepan with the remaining simmering cream mixture, and stir to incorporate.

Using a wooden spoon, stir the mixture constantly over low heat until it thickens slightly and coats the back of the spoon. DO NOT boil, or the yolk will overcook...this only takes a few minutes.

Pour the mixture through a fine-mesh strainer and discard the vanilla pod. Bring to room temperature (you can place the bowl in an ice bath, without submerging, to expedite cooling).

Turn on broiler to high.

Place marshmallows on a shallow baking sheet lined with parchment paper and broil for 2 - 3 minutes (keep a close eye on them, they brown quickly). Remove from oven and quickly flip the marshmallows. Roast again, but be careful, they'll brown even faster the second time.

Let the marshmallows cool slightly, then place them in the blender.

Add the cooled custard to the marshmallows in the blender. And add another ½ cup of cream and the vanilla extract. Puree until well blended and smooth.

Pour into a bowl, cover with plastic wrap, and refrigerate 4 hours, or overnight (overnight is best).
FREEZE THE ICE CREAM
Make the chocolate sauce and let it cool (you can do this up to 1 week in advance). (Link to recipe in the Ingredients list).

Remove the cream mixture from the refrigerator and whisk again. Pour mixture into your ice cream maker and follow manufacturer instructions. During the last 5 minutes, fold in the graham cracker pieces.

The ice cream will be thick, but still very soft. Transfer to a container with a lid, or leave in the ice maker bowl and cover with foil. Place in the freezer for at least 2 hours, or even better, overnight.
Assemble the S'mores Ice Cream
In an ice cream parlor glass, or bowl, add a couple of spoonfuls of the chocolate sauce on the bottom. Layer in one level of churned iced cream and then spoon more of the chocolate sauce. Continue adding ice cream and chocolate, in layers.

Garnish with a piece of graham cracker, a chocolate bar, and a toasted marshmallow, if desired. Serve at once.
Notes
SEE VIDEO IN POST for a visual tutorial on how to make this amazing ice cream! Be sure to allow the custard to complete chill for at least 4 hours before adding to the ice cream maker. Freezing the ice cream maker bowl/pan is a good idea, too. After roasting, the marshmallows will be a little sticky. You may need to use a couple of spatulas to transfer them to the blender. The longer they sit on the parchment after roasting them, the stickier they will get. The ice cream is ready to eat after being churned, but we highly recommend letting it freeze for at least 2 hours, or even better, overnight, before serving. The frozen ice cream will keep in the freezer for 1 to 2 months.
Nutrition
Calories: 372kcal | Carbohydrates: 56g | Protein: 4g | Fat: 16g | Saturated Fat: 9g | Polyunsaturated Fat: 1g | Monounsaturated Fat: 5g | Trans Fat: 1g | Cholesterol: 45mg | Sodium: 136mg | Potassium: 167mg | Fiber: 1g | Sugar: 42g | Vitamin A: 505IU | Vitamin C: 1mg | Calcium: 80mg | Iron: 1mg
POST UPDATE: This recipe was originally published in July, 2018, but was updated with improved tweaks to the recipe with new tips and photography and a fabulous new video in July, 2021!