Like just about everything, when you make something from scratch with quality, fresh ingredients, you'll always end up with a better product than something you'd pick up at the grocery store.
This recipe is certainly no exception. Easily double this recipe, keep for up to a week, or freeze what you don't use for later use. Really great. Serve warm or at room temperature. And on ice cream? Forget about it!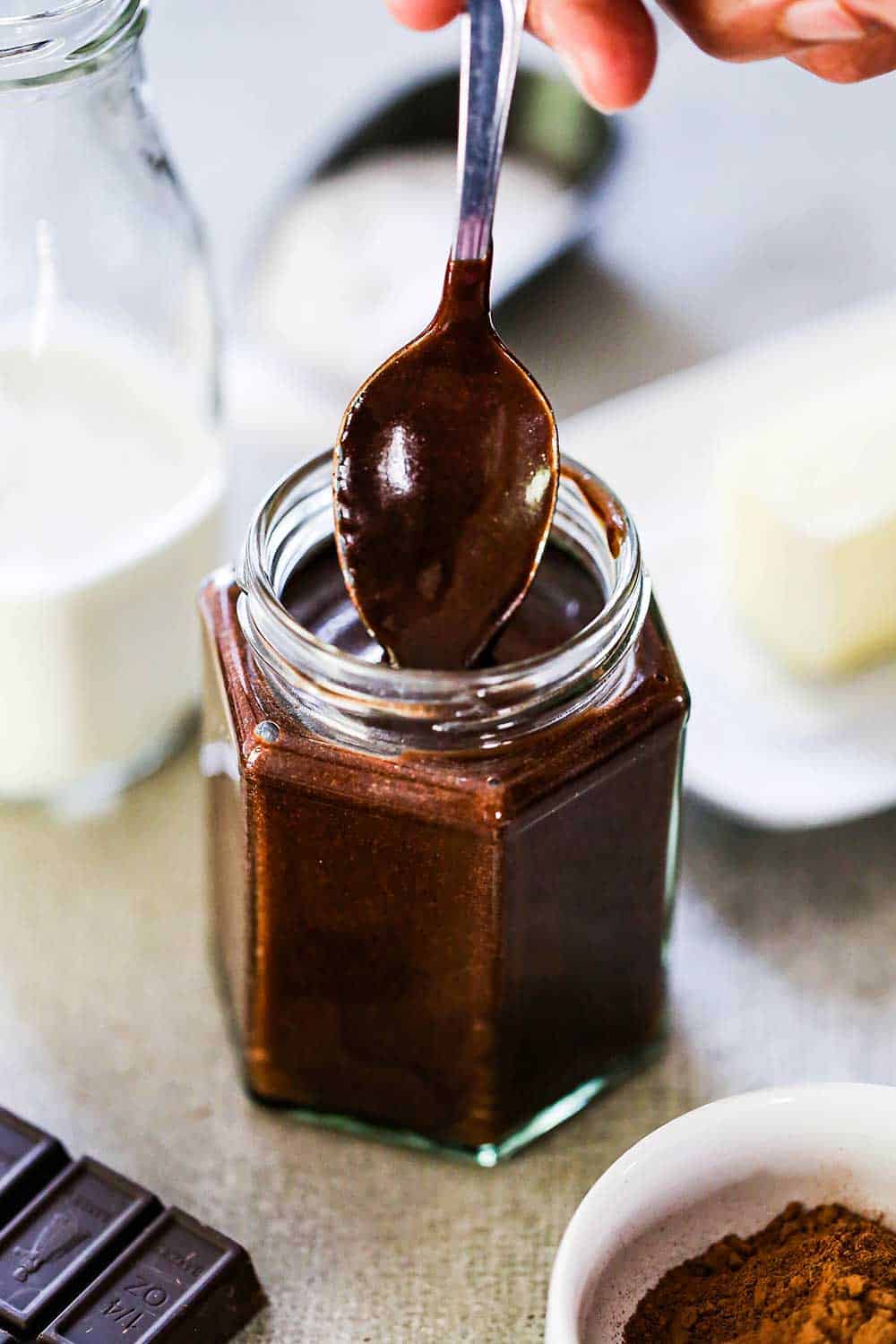 How To Make Homemade Chocolate Sauce
As we said previously, homemade is almost always going to be better. You know exactly what's going into your chocolate sauce, and that's a good thing!
It comes together in a matter of minutes and can be served warm or at room temperature.
And it can be made up to a week in advance!
The Ingredients and Tools You Will Need
We love all kinds of chocolate, that's for sure, but for this sauce, we're going with unsweetened dark chocolate.
You'll also need:
Unsalted butter
Sugar
Unsweetened cocoa powder
Heavy cream
Vanilla extract
EXPERT TIP: We use our trusty double-broiler to melt the butter and the chocolate together. If you don't have a double-broiler, no worries! Simply bring a pot of water to a simmer, and then use oven mitts, or a kitchen towel, to hold a metal bowl (or another pot) filled with the butter and chocolate over the simmering water. Use a wooden spoon to stir until completely melted.
Now, it's time to create another layer of chocolate yumminess.
In a separate bowl, whisk together the cocoa powder and sugar until fully combined.
Whisk in the heavy cream and continue whisking until a thick sauce has formed.
Next, it's time to combine the two mixtures. Simply pour the chocolate paste into the melted butter/chocolate mixture and stir.
You are almost ready to have a perfectly prepared Homemade Chocolate Sauce.
Cook over simmering water for another 5 minutes, and you are all set! You can serve warm or room temperature.
How to Serve and How to Store
This sauce is amazingly delicious served warm over ice cream or fresh fruit.
Did we mention how great it is on our homemade S'mores Ice Cream? Amazing.
EXPERT TIP: The sauce can be kept in the fridge for up to 2 weeks in an air-tight container, or jar, with a lid. It will harden once it is chilled. Let is sit out on the counter for an hour, or stick in the microwave and place on "Defrost" for about 30 seconds to loosen the sauce. You can also warm it over low heat on the stove, or in a small slow-cooker, or in the microwave on HIGH heat for about 15 to 20 seconds.
Ready to make the best chocolate sauce since Willy Wonka closed up shop? Go for it!
And when you do, be sure to take a photo, post it to Instagram, and tag @howtofeedaloon and hashtag #howtofeedaloon!
Homemade Chocolate Sauce
This homemade chocolate sauce is easy, and is so delicious. You'll never want the bottled stuff again. Not too sweet, but super chocolaty, and divinely delicious.
Print
Pin
Rate
Servings: 8 people
Calories: 216kcal
Equipment
Double-broiler, or pot of simmering water with another metal pot
Ingredients
¼ cup unsalted butter
2 oz unsweetened chocolate
¾ cup sugar
2 tbsp unsweetened cocoa powder Hershey's is good
½ cup heavy cream
2 tsp vanilla extract
Instructions
Melt butter and chocolate together in a double boiler, or in a large metal bowl set over a pan of simmering water.

Combine the sugar and cocoa in another bowl and then stir in the heavy cream, mixing until thick and creamy.

Stir the cream chocolate sauce into the melted chocolate and butter.

Cook the mixture over simmering water for 5 minutes, stirring constantly.

Whisk in the vanilla.

Serve warm or room temperature.
Notes
The sauce can be stored in the fridge in a jar with a lid (or container with a lid) for up to 2 weeks. It will harden somewhat, however, when chilled. To loosen it, simply let it sit out at room temperature for 1 to 2 hours, or place it in the microwave and hit "Defrost" for about 30 seconds. The sauce can be reheated in a pan on the stove over very low heat, or kept warm in a small slow-cooker, or nuked in the microwave for about 30 seconds.
Nutrition
Calories: 216kcal | Carbohydrates: 22g | Protein: 2g | Fat: 10g | Saturated Fat: -20g | Cholesterol: 36mg | Sodium: 9mg | Potassium: 91mg | Fiber: 2g | Sugar: 19g | Vitamin A: 396IU | Calcium: 20mg | Iron: 1mg
POST UPDATE: This recipe was originally published in June, 2015, but was updated with improved tweaks to the recipe with new tips and photography, and a fabulous new video in July, 2021!