This is a salad that is about as good as they come when beautiful tomatoes are in season.
We just can't rave enough about this salad. It's good all year long, but in the summertime when tomatoes are in peak season, it becomes truly transcendent. The pesto sauce and balsamic glaze put it over the top. And it only takes a matter of minutes to prepare!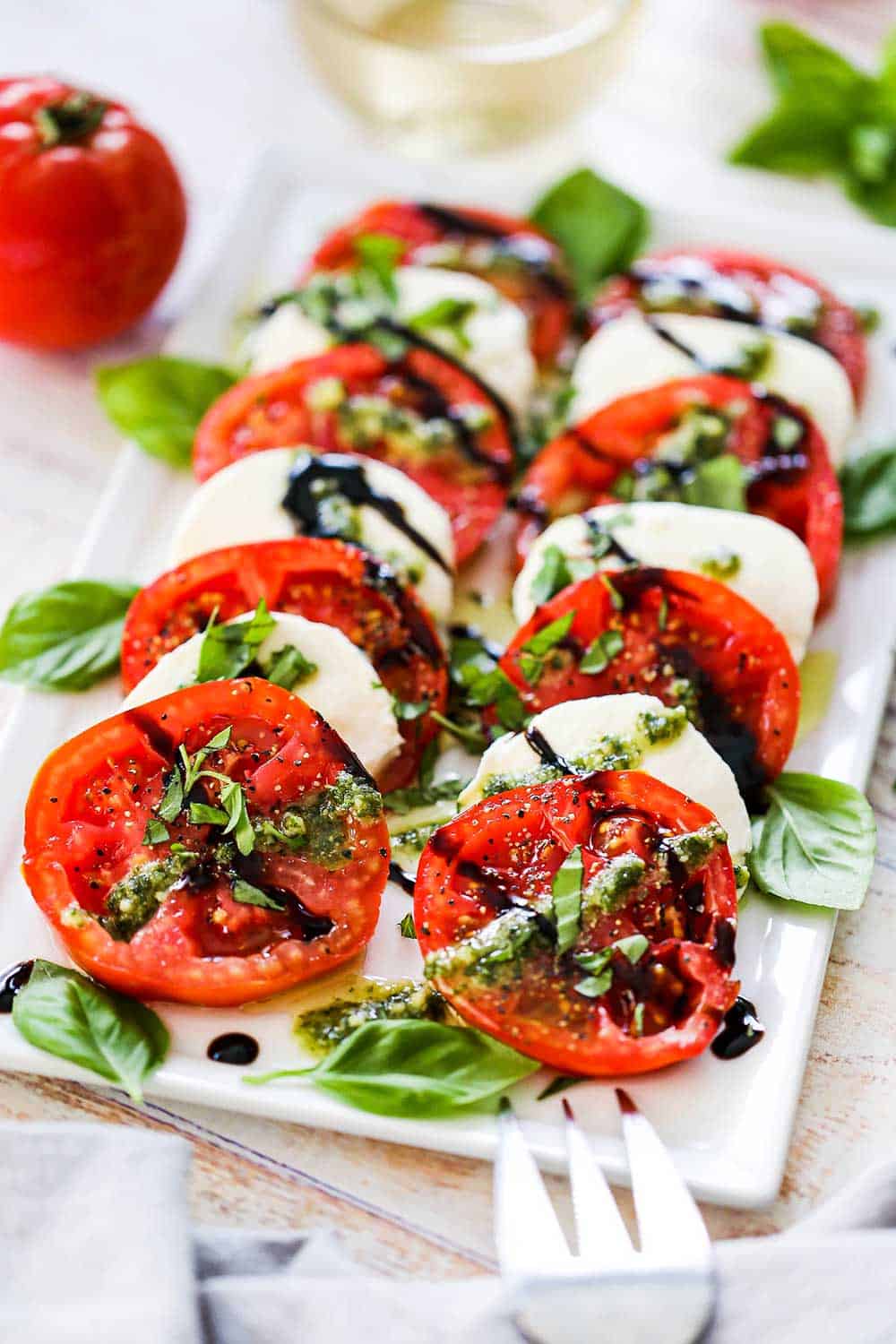 How To Make Caprese Salad
First things first, you may be wondering how to pronounce Caprese salad. It's "kuh pray zay sa luhd."
Now, on to our most favorite salad in the world.
Seriously, that first bite is practically life-changing…in a really, really good way.
Watch Us Make It!

We truly hope you found this video fun and useful. If you did, we would LOVE for you to Subscribe To Our YouTube Channel! And don't forget to click the 'bell' icon so you'll know when we post a new video! FUN!
Choosing the Right Tomato
As you might guess, selecting the best tomato will take this salad from good to amazing.
Of course, there are many types of tomatoes.
By far and away are tomatoes that come fresh from the garden during peak season. Beefsteak tomatoes are big, juicy, and delicious. Heirloom tomatoes are not only delicious, but they are beautiful, too.
EXPERT TIP: Seek out a farmer's market in your area to find the freshest homegrown tomatoes. No matter what, be sure to give them a rinse before slicing them to remove any kind of pesticide that may have been applied to them. Use a nice sharp knife to cut them into slices. We recommend about 3 slices per tomato, depending on the size.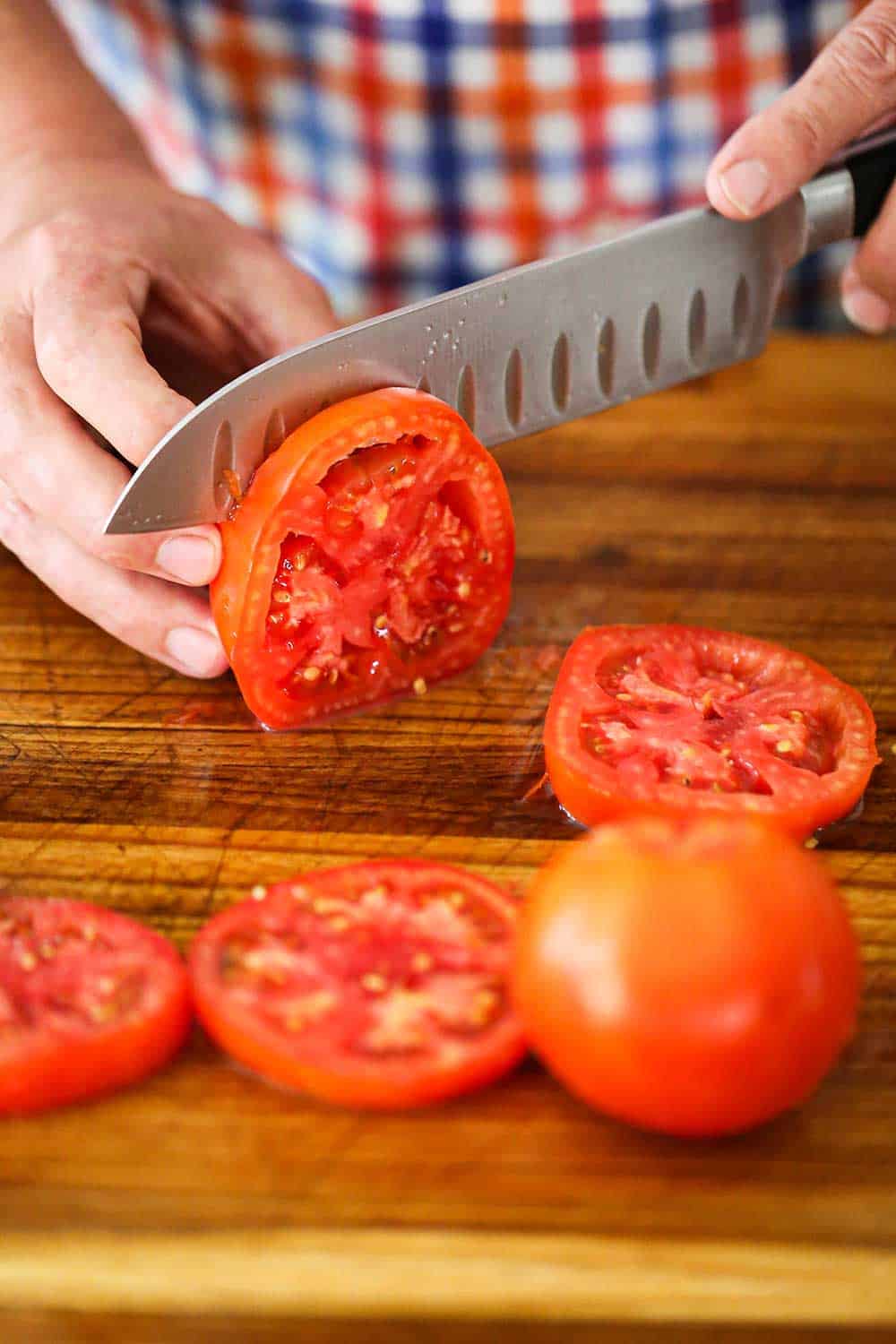 Almost as important as choosing great-tasting tomatoes is the quality of the mozzarella.
Fresh is always best.
Three important factors to consider when selecting a good-quality:
Color: It should be porcelain in color, not a dazzling white.
Texture: Compact and elastic, but not rubbery with a smooth surface.
Porosity: When you press the cheese, a few drops of white liquid should come out.
EXPERT TIP: Also, price is something to consider. Top-notch mozzarella takes time to prepare. If the cheese you are looking at is cheap, the quality is most likely not what you want. Learn more here.
Alternate the sliced tomatoes with layers of the sliced mozzarella.
How To Make Pesto Sauce
Fresh basil is commonly served with classic Caprese salad.
We love to take things up a notch and serve our salad with not only freshly chopped basil, but also fresh pesto sauce. (Click the link for a super easy recipe).
EXPERT TIP: For a beautiful presentation, we love to use a squeeze bottle to apply the pesto (and balsamic reduction) over the salad. Since pesto sauce is a little thicker than balsamic, you may need a large hole at the tip of the bottle. You can take a pair of scissors and snip the tip of a standard squeeze bottle. The link we provided has two different bottles, one with a smaller tip and one with a wider one.
The addition of balsamic and extra-virgin olive is another amazing addition to the salad.
The flavors work perfectly together alongside the vibrant tomatoes and creamy mozzarella.
EXPERT TIP: To make a balsamic reduction, simply place 1½ cups of good-quality balsamic in a medium saucepan over medium-high heat. Simmer for about 15 to 20 minutes until reduced and thickened. The reduced balsamic will keep in the fridge for up to 1 month.
What To Serve with Caprese Salad
This salad is absolutely one of the best pre-dinner dishes we have ever served. It's not too heavy, but huge on flavor and presentation.
It's a great prelude to dishes such as Chicken Parmesan, Shrimp Scampi, or Pasta Primavera.
It's also wonderful served as a mid-afternoon snack on a warm summer day outdoors.
For a wine pairing, it's equally good with a white wine such as chilled Chardonnay or Sauvignon Blanc, a wonderful chilled Rosé, or even a robust red such as Zinfandel, Cabernet, or Pinot Noir.
Ready to make one of the world's greatest salads even better? Go for it!
And when you do, be sure to take a photo of it, post it on Instagram, and tag @HowToFeedaLoon and hashtag #HowToFeedaLoon!
Caprese Salad
Caprese Salad is one of the most vibrant and gorgeous salads that you will ever serve. Be sure to seek out the best beefsteak or heirloom tomatoes from your local farmer's market. Cherry tomatoes will work, too. The easy homemade pesto sauce and balsamic reduction put it over the top.
Print
Pin
Rate
Calories: 428kcal
Ingredients
3 medium tomatoes fresh, ripe, cored and sliced
4 oz mozzarella fresh, sliced
salt and pepper
¼ cup pesto sauce click the link for easy recipe
¼ cup balsamic glaze see NOTES
¼ cup basil fresh, chopped
extra-virgin olive oil for garnish
Instructions
Make-Ahead
The pesto sauce and balsamic glaze can be made several days in advance.
Assemble the Salad
Lightly salt and pepper one side of each tomato slice.

On a medium-sized platter, layer the tomato slices alternatively with the mozzarella slices.

Drizzle the pesto sauce and then the balsamic glaze over the top of the salad.

Sprinkle the fresh basil on top and serve with a slight drizzle of the extra-virgin olive oil when serving or just before.
Notes
SEE VIDEO IN POST for more detailed instruction on how to make this dish. Seek out farm-fresh tomatoes, if possible. This is will you will get the most amazing flavor. Halved cherry tomatoes (fresh) are delicious in place of the sliced whole tomatoes. You can find good-quality pesto sauce and balsamic glaze in most well-stocked supermarkets. However, homemade is ALWAYS a great option. To make the balsamic glaze, simply add 1½ cups of good-quality balsamic to a medium-sized pan over medium-high heat. Simmer for 15 to 20 minutes until reduced and thickened. Don't reduce too much, or it will become bitter. The balsamic glaze will keep in a jar or container with a lid in the fridge for several weeks.
Nutrition
Calories: 428kcal | Carbohydrates: 50g | Protein: 32g | Fat: 21g | Saturated Fat: 6g | Polyunsaturated Fat: 1g | Monounsaturated Fat: 8g | Cholesterol: 95mg | Sodium: 989mg | Potassium: 978mg | Fiber: 6g | Sugar: 25g | Vitamin A: 5407IU | Vitamin C: 52mg | Calcium: 720mg | Iron: 2mg