This dish is about as classic Italian American as you can get.
With a little bit of effort, you can make restaurant-quality chicken parm in your very own home. We strongly encourage to you make the marinara sauce (which can be made in advance), and all the rest comes together in about 30 minutes.
How To Make Chicken Parmesan
As mentioned, it is really is not difficult to make this dish at home and it will truly rival your favorite Italian eatery.
Make it easier on yourself, and make the marinara a day or two in advance.
All the rest comes together in about half an hour.
The Ingredients You Will Need
The ingredients for this classic dish are simple, straightforward, and easy to find.
You'll need:
Thin chicken breast cutlets
Flour
Eggs and Milk (or water)
Bread crumbs (we like a combo of Italian fine and Panko)
Oil and butter (for frying)
Parmesan cheese (grated and/or shredded) and Mozzarella cheese (shredded)
Fresh parsley (chopped for garnish)
And of course…Homemade Marinara! It really is key to making this Authentic Chicken Parmigiana recipe even more authentic!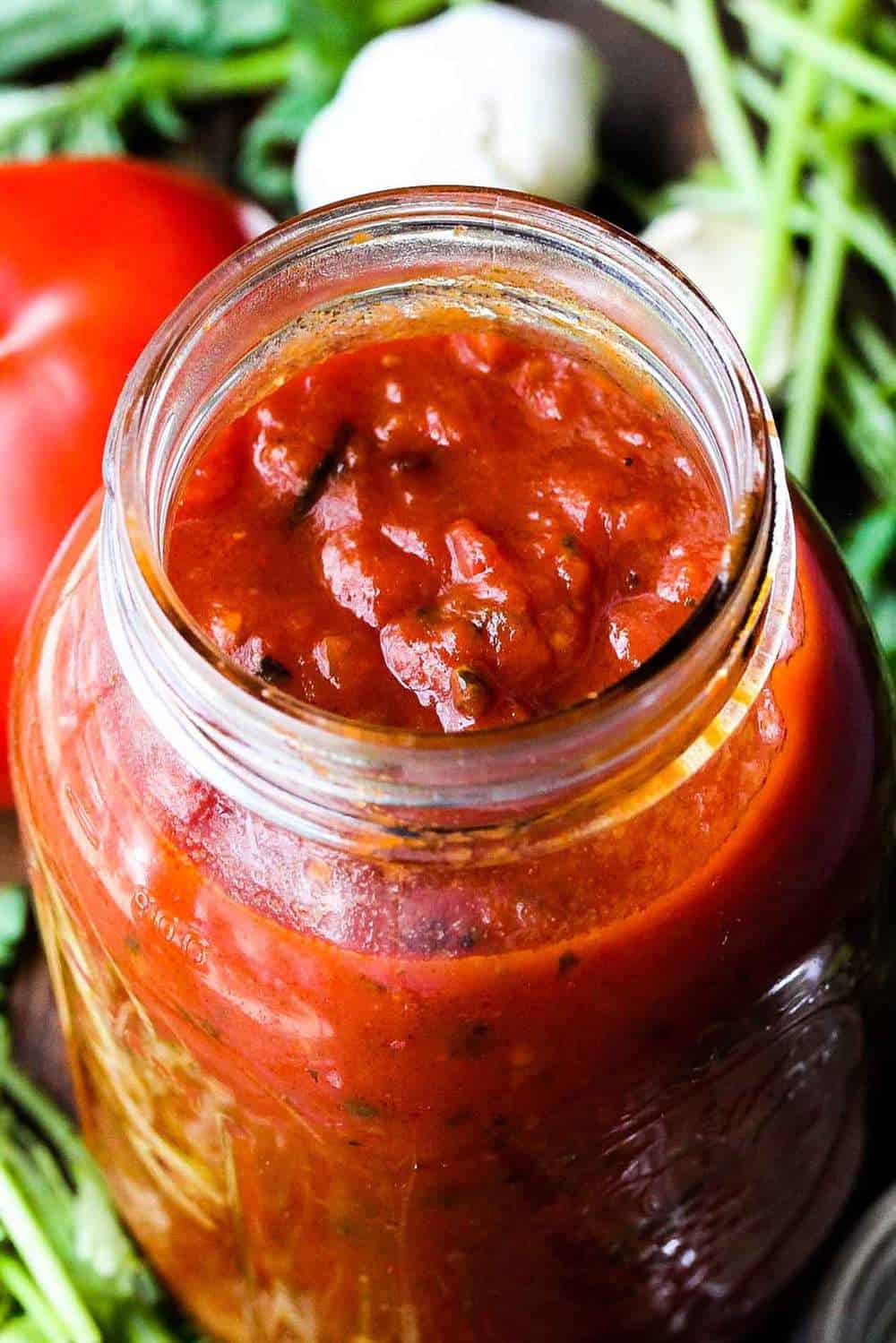 Thin chicken cutlets are very traditional for this chicken parmesan and they cook very quickly.
We like our cutlets to be from ¼" to ½" in thickness.
EXPERT TIP: If you can't find thin chicken breast cutlets, you can easily cut a large breast in half, lengthwise, and then place each piece in a large freezer baggie and then use the side of a mallet, or the bottom of a jar or bottle, and gently pound it until it is the desired thickness. Be sure not to overwork the meat, or it will start to shred on you. We don't recommend going with chicken tenders.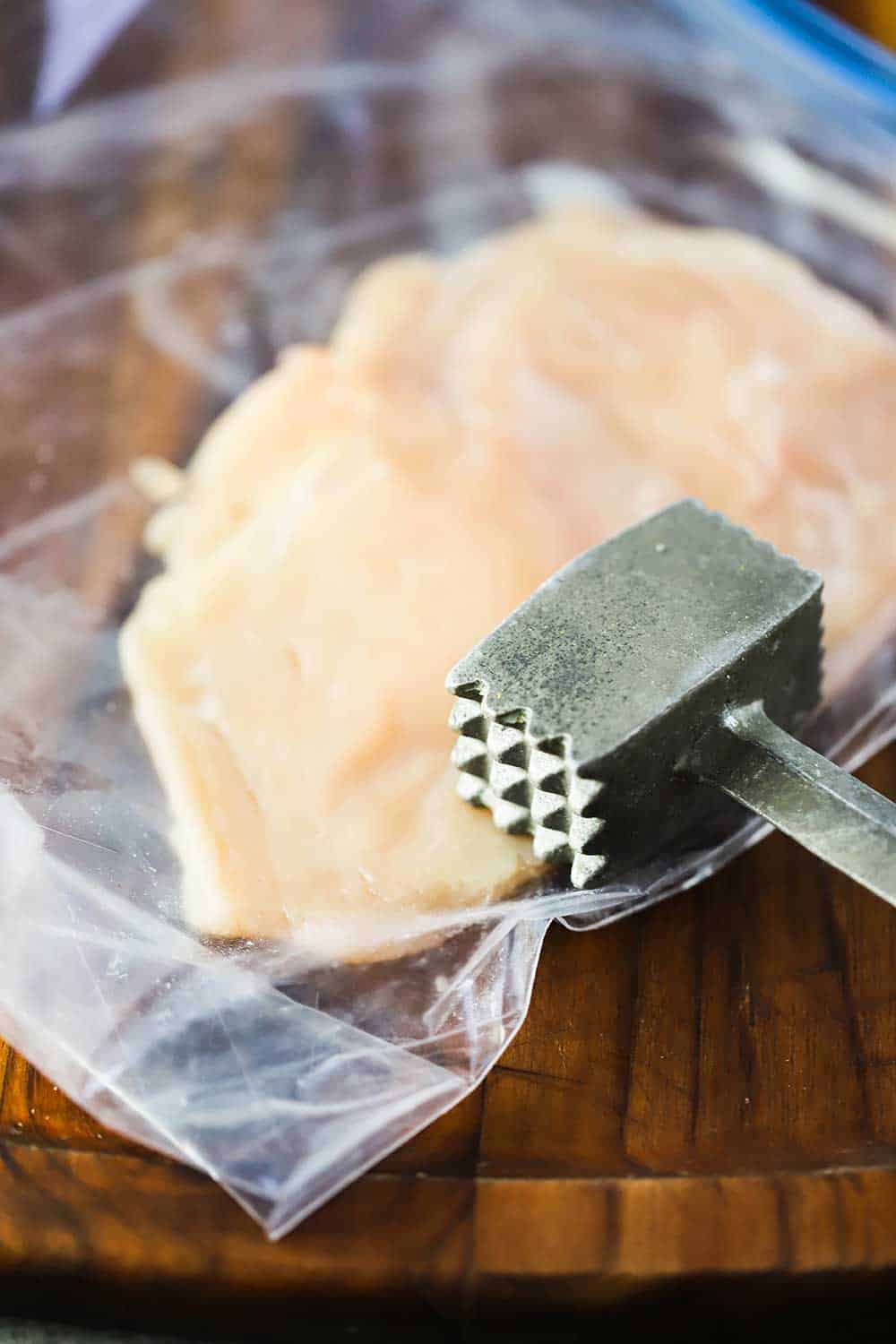 How To Set Up a Dredging Station
To get perfectly crispy cutlets, you'll need to set up a 3-step dredging station.
We use square baking pans, but any dish, or bowl, will work.
Start with flour in pan #1. Create an egg wash with 3 eggs and 1 tbsp of milk in pan #2. Finally, for pan #3, we include a combination of finely ground Italian breadcrumbs and Panko breadcrumbs, grated Parmesan cheese, seasoned with salt, pepper, and garlic powder.
EXPERT TIP: After sprinkling salt and pepper all over the chicken cutlets, dredge them, one at a time, in the flour, and shake off the excess. Next, place in the egg wash. You may need to press down on the cutlet in order for the egg wash to fully coat the chicken. Now, dredge in the breadcrumbs, again, using your fingers to help them to adhere to the cutlet. Be sure to wash your hands after handling the raw chicken!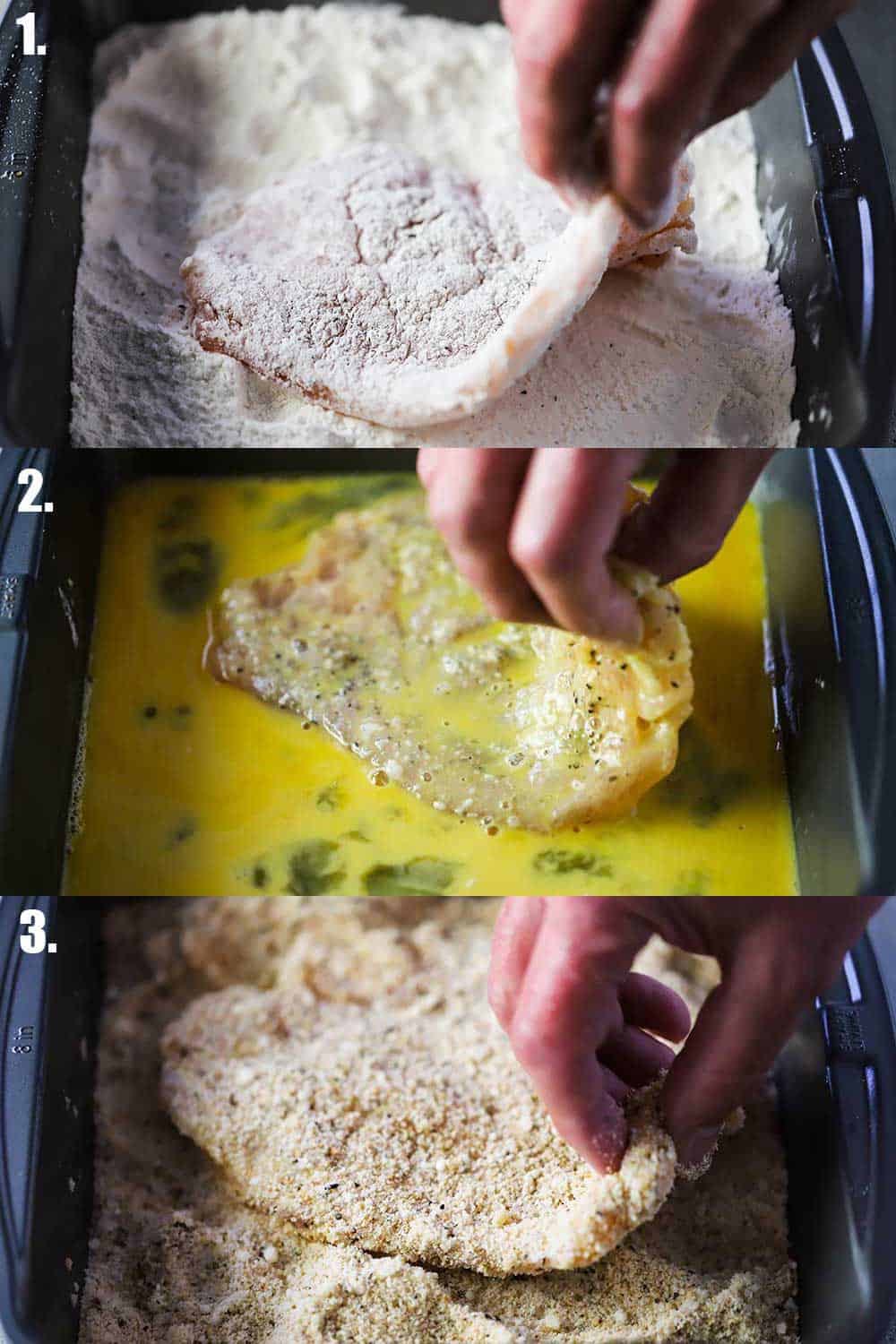 Heat the oil in a large skillet (or two skillets, if desired), and then melt the butter.
Once the butter is bubbly in the pan, carefully add the breaded cutlets. Cook until browned on the underside, about 2 to 3 minutes, then flip and cook the other side until browned. Don't handle, or flip, the cutlets too much, otherwise, it can cause the breading to pull away from the chicken.
EXPERT TIP: Keep the heat on a nice medium level. If it's too hot, the breading will brown too quickly and not cook the chicken enough. The cutlets will finish up cooking when they go into the oven, but they should be almost completely cooked through when they come out of the skillet. Don't overcrowd the pan! We often heat two skillets so we can cook up multiple cutlets at a time. If not, no worries, the cutlets will heat when you place them in the oven.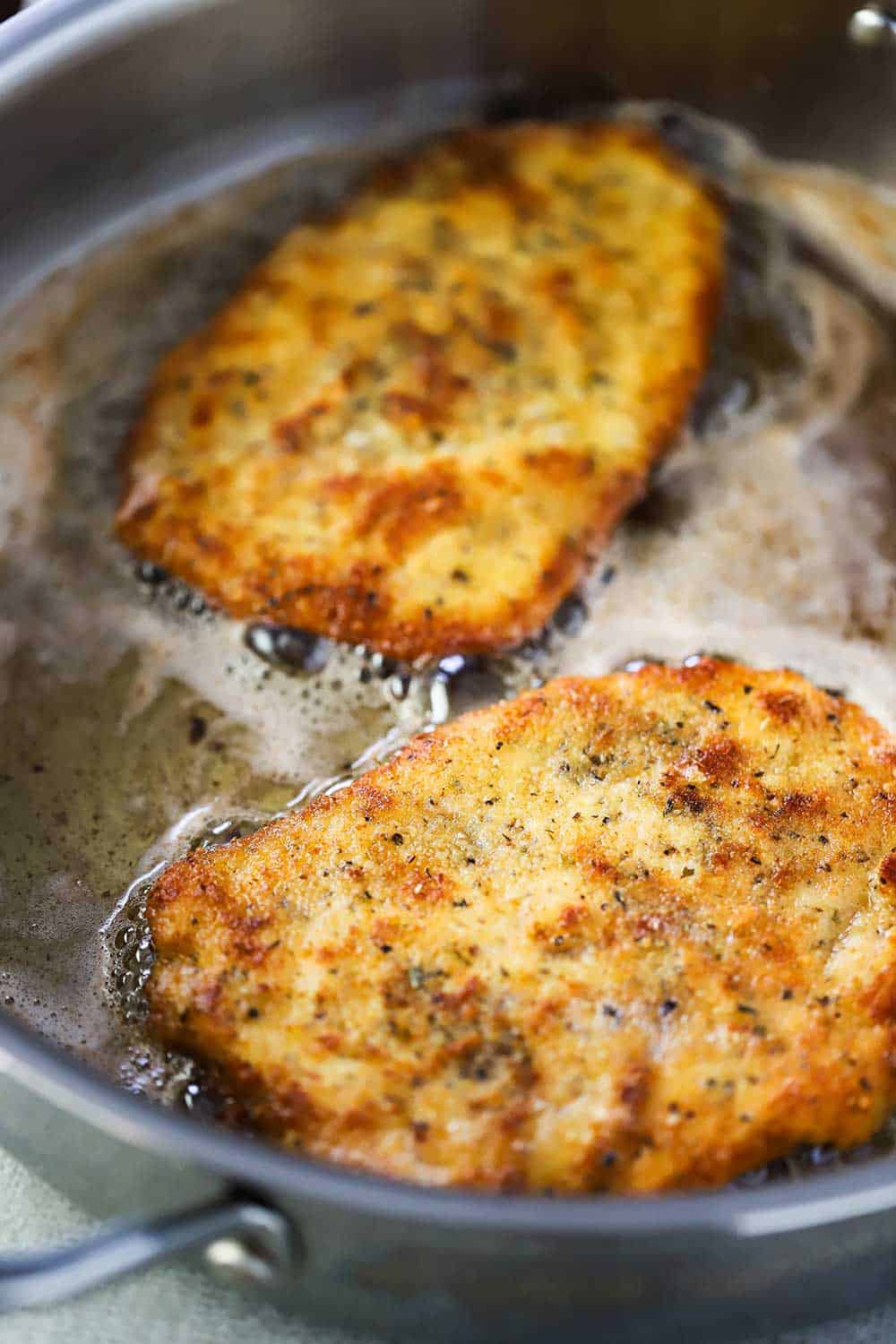 How To Build Each Cutlet
You're getting close now!
For the classic taste and look, add a layer of marinara on top of each cutlet. Sprinkle some shredded (or grated) Parmesan cheese over the marinara, and then top with a good handful of quality shredded (or sliced) whole milk mozzarella.
Place on a baking sheet and bake in a 400°F oven for about 8 minutes, or until the cheese has melted and is a little bubbly.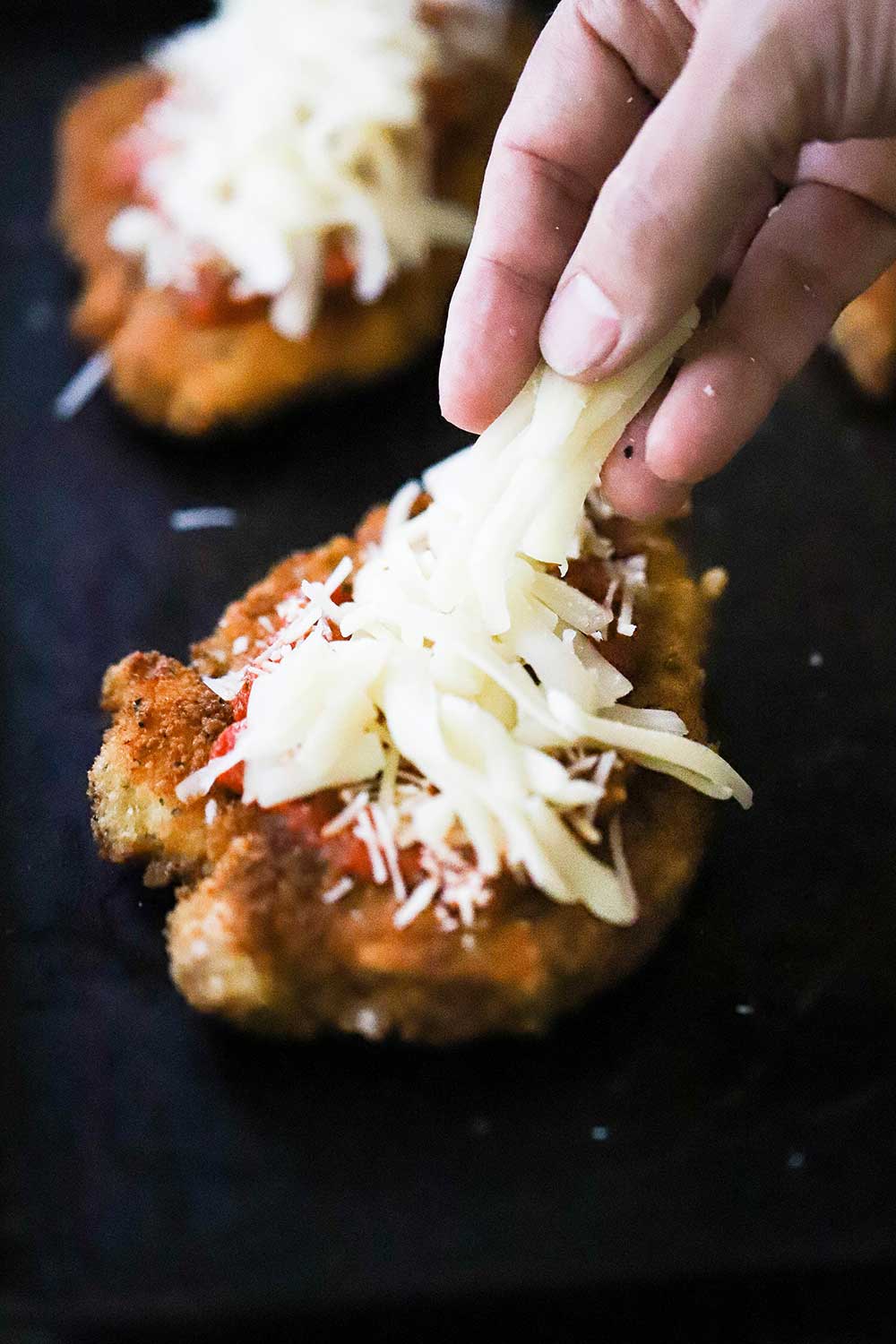 How To Serve Chicken Parmesan
This dish is so good, you can serve the freshly baked cutlets right out of the oven.
Our favorite way of serving them is on a bed of pasta with marina sauce. We can't rave enough about the pasta from Three Farm Daughters.
For a beautiful presentation, we often nestle each cutlet into the large saucepan we used to heat the marinara.
Chicken Parmesan is without a doubt, one of our all-time favorite dishes.
And we promise you, this is as good a version as you'll ever try!
You'll take one bite, and yell: "Sorprendente!" Yes! It's that good!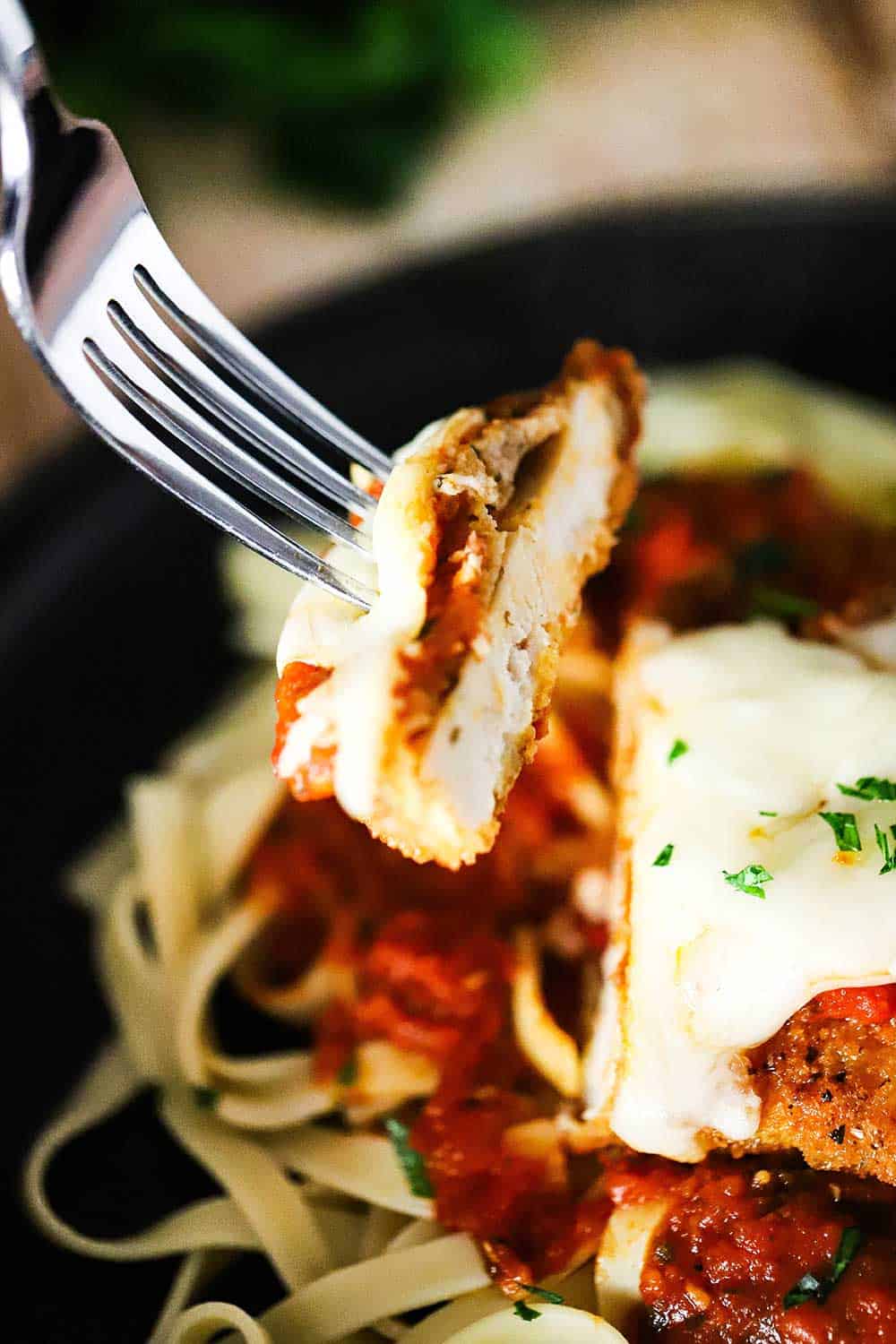 Ready to make the best Italian-American dish this side of Little Italy? Go for it!
And when you do, be sure to take a photo of it, post it on Instagram, and tag @HowToFeedaLoon and hashtag #HowToFeedaLoon!
Chicken Parmesan (Parmigiana)
This Chicken Parmesan is the real deal. So good. And so classic American Italian. Making this with homemade marinara is critical to its success. Awesome.
Print
Pin
Rate
Servings: 4
Calories: 637kcal
Equipment
Large saucepan and rimmed baking sheet
Ingredients
4 5 oz. chicken breasts pounded to a ¼-inch thickness
Salt and ground black pepper
1 cup flour
3 large eggs
1 tbsp milk whole
½ cups bread crumbs Italian, fine
½ cup Panko bread crumbs
¼ cup Parmesan cheese grated
1 tsp oregano dried
1 tsp basil dried
1 tsp garlic powder
3 tbsp olive oil
3 tbsp unsalted butter
2 cups fresh marinara sauce plus more for serving
4 tbsp Parmesan cheese shredded (or use grated)
2 cups mozzarella shredded, or sliced
¼ tbsp fresh flat leaf parsley chopped (for garnish)
Instructions
Preheat oven to 400°F.

Sprinkle salt and pepper over both sides of the chicken cutlets. Set aside.

Set up a dredging station by placing the flour on a plate or in a dish large enough to fit at least one of the cutlets. In another bowl or pan add the eggs with the milk and lightly beat them together. Mix together the breadcrumbs, cheese, dried herbs, and 1 tsp of salt and transfer to a plate or another bowl or pan.

Working one cutlet at a time, dredge the chicken in the flour to fully coat, shaking off any excess. Dip into the egg wash and turn it over until fully coated. Allow excess egg to drip off. Add the cutlet to the breadcrumb mixture and turn it over to coat, using your fingers to help the mixture adhere to the chicken. Set on a large plate or platter, and continue this process with the remaining cutlets.

In a large skillet, heat the oil over medium heat. Add the butter and stir until melted.

Once the butter is bubbling, add the cutlets and cook them for about 8 minutes per side, or until they are a deep golden brown all over. You can do this in two skillets to expedite the cooking process. Don't overcrowd your pan! Transfer them to a plate lined with paper towels.

Meanwhile, in a medium saucepan, heat the marinara sauce over medium-high heat for 5 minutes, or until fully heated.

Transfer the cutlets to a baking sheet. Spoon on about a ¼ cup of the marinara over each cutlet. Sprinkle about 1 tbsp of the grated Parmesan on the marinara, and then place about ½ cup of the mozzarella on the top.

Place in the oven and bake until the cheese has melted and is gooey, about 5 to 7 minutes.

Serve with pasta and more marinara sauce. Garnish with parsley, if desired.
Notes
If you can't find thin chicken cutlets, then purchase large boneless, skinless breasts and cut them in half, lengthwise. Place the chicken, one piece at a time, into a large freezer baggie and pound them with the side of a mallet, or the bottom of a measuring cup or bottler, until approximately ¼" in thickness. We like using a combination of fine breadcrumbs and Panko. However, you can use all fine breadcrumbs or all Panko, and still have great results. The marinara sauce can be made up to 5 days in advance and kept in the fridge in an air-tight container, or can be frozen for up to 2 months. Be sure not to scoot the cutlets around too much while they are frying in the pan. Try to pick them up with tongs or forks as little as possible. Too much handling will cause the breading to pull away from the chicken.
Nutrition
Calories: 637kcal | Carbohydrates: 42g | Protein: 28g | Fat: 24g | Saturated Fat: 6g | Trans Fat: 1g | Cholesterol: 215mg | Sodium: 744mg | Potassium: 204mg | Fiber: 2g | Sugar: 2g | Vitamin A: 964IU | Vitamin C: 1mg | Calcium: 492mg | Iron: 4mg


POST UPDATE: This recipe was originally published in April 2014, but was updated with improved tweaks to the recipe with new tips and photography, and a fabulous new video in April 2021!