I say this a lot, but this is honestly one of our all-time favorite dishes: You will not be disappointed with this Succulent Shrimp Scampi recipe.
The sauce alone is something to write home about.
It's just so good.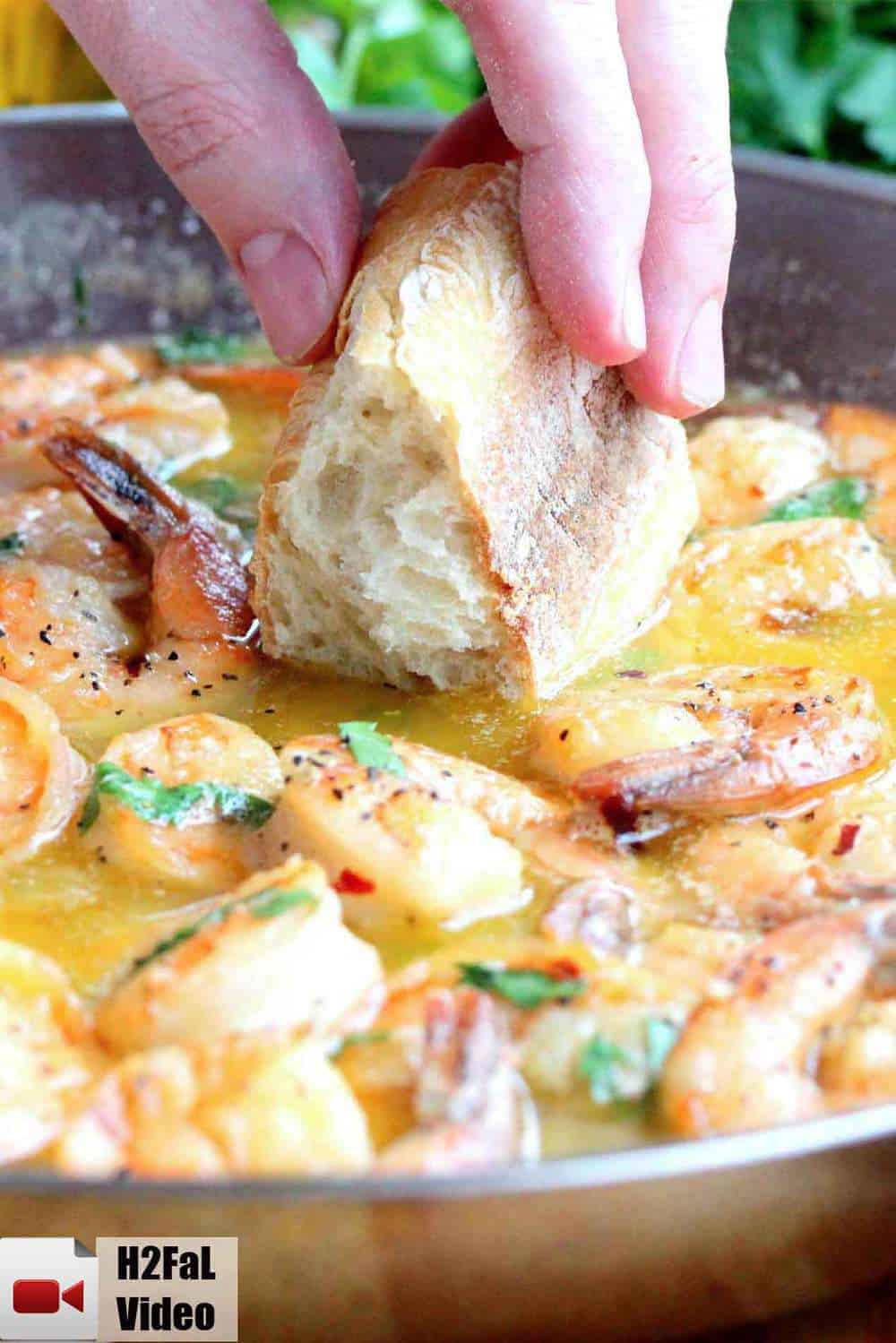 And one of the great things about this classic Italian-American dish is that it comes together in less than 30 minutes!
Watch us show you how to make on of our most favorite dishes of all time!
Of course, quickly searing the shrimp in some olive oil and a good dose of garlic really gets this dish going to flavor town…fast.
And the smell as the shrimp cooks is intoxicatingly incredible.
Ahhh….shrimp!
And this dish comes together so quickly. You can have this dish on the table within 30 to 40 minutes, no problem at all.
We love to serve it over linguine!
So incredibly flavorful!
The wine and butter sauce, combined with the garlicky shrimp, just can not be beat.
Oh, if you're looking for the perfect Shrimp Scampi recipe, you've come to the right place!
This is such an easy dish to prepare, but will truly impress your guests when you serve it to them. It's that good.
This Succulent Shrimp Scampi is Italian-American cuisine at its very best.
This dish will rival any scampi served at just about any restaurant you try.
Don't you just want to dive into that skillet of pure yumminess?
Yes!
I firmly believe that the tools we use are almost as important as the ingredients and techniques we employ to make stellar dishes, like Succulent Shrimp Scampi.   I use my Cuisinart Chef's Classic Stainless Steel for this dish every time, and I swear, it really does make a difference.
Check it out.

Here's one of our other favorite Italian dishes where shrimp is the star ingredient: Shrimp Fra Daviolo
And now…onto this amazing Succulent Shrimp Scampi recipe!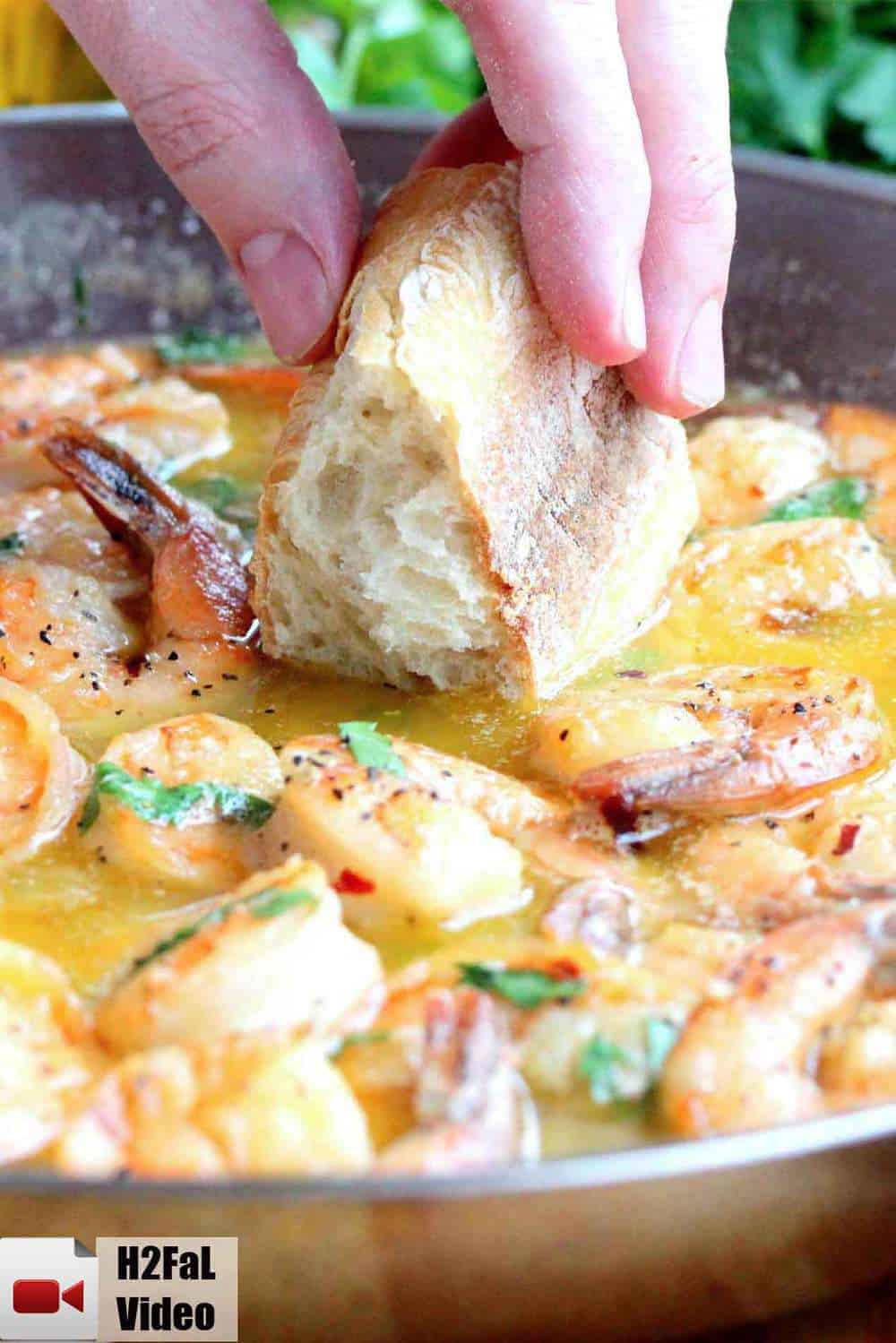 Succulent Shrimp Scampi
This succulent shrimp scampi is incredible. The sauce, alone, is worth writing home about. Serve over linguine, or with a bunch of fresh, crusty bread for soaking. Good Lord...this is so good.
Print
Pin
Rate
Prep Time: 20 minutes
Cook Time: 20 minutes
Total Time: 40 minutes
Servings: 6 people
Calories: 246kcal
Ingredients
1 lb large shrimp peeled and deveined - leave the tails on (if desired)
Kosher salt and freshly ground black pepper
2 tbsp olive oil
2 tbsp garlic minced
1 cup quality dry white wine don't use cooking wine!
1 tbsp Worcestershire sauce
5 tbsp fresh lemon juice about 2 lemons
1/4 cup chicken stock
4 tbsp 1/2 stick of unsalted butter
2 tbsp fresh parsley chopped
Instructions
Lightly season the shrimp all over with salt and pepper.

Heat the oil in a large skillet over high heat.

Add the garlic and cook until translucent, about 2 minutes.

Add the shrimp and sauté until pink and fully cooked, about 3 to 5 minutes.

Transfer cooked shrimp to a paper-towel lined plate.

In the same pan, over medium-high heat, add the wine, Worcestershire sauce, lemon juice, and stock. Bring to a boil.

Reduce heat to medium and cook until liquid is reduced by half, about 6 - 7 minutes.

Whisk in butter and season to taste with salt and pepper.

Add shrimp to re-heat, tossing to coat well with sauce, for about 1 minute.

Sprinkle with parsley, just before serving.
Nutrition
Calories: 246kcal