This is Italian comfort food at its best. No doubt about it.
We love this dish so much. Literally exploding with flavor and they come together and are on the table in about an hour! And going with chicken for the protein is healthier but still off-the-charts delicious. Perfect for weeknights, but also a wonderful dinner party dish, too. The homemade marinara puts it over the top and can be made well in advance.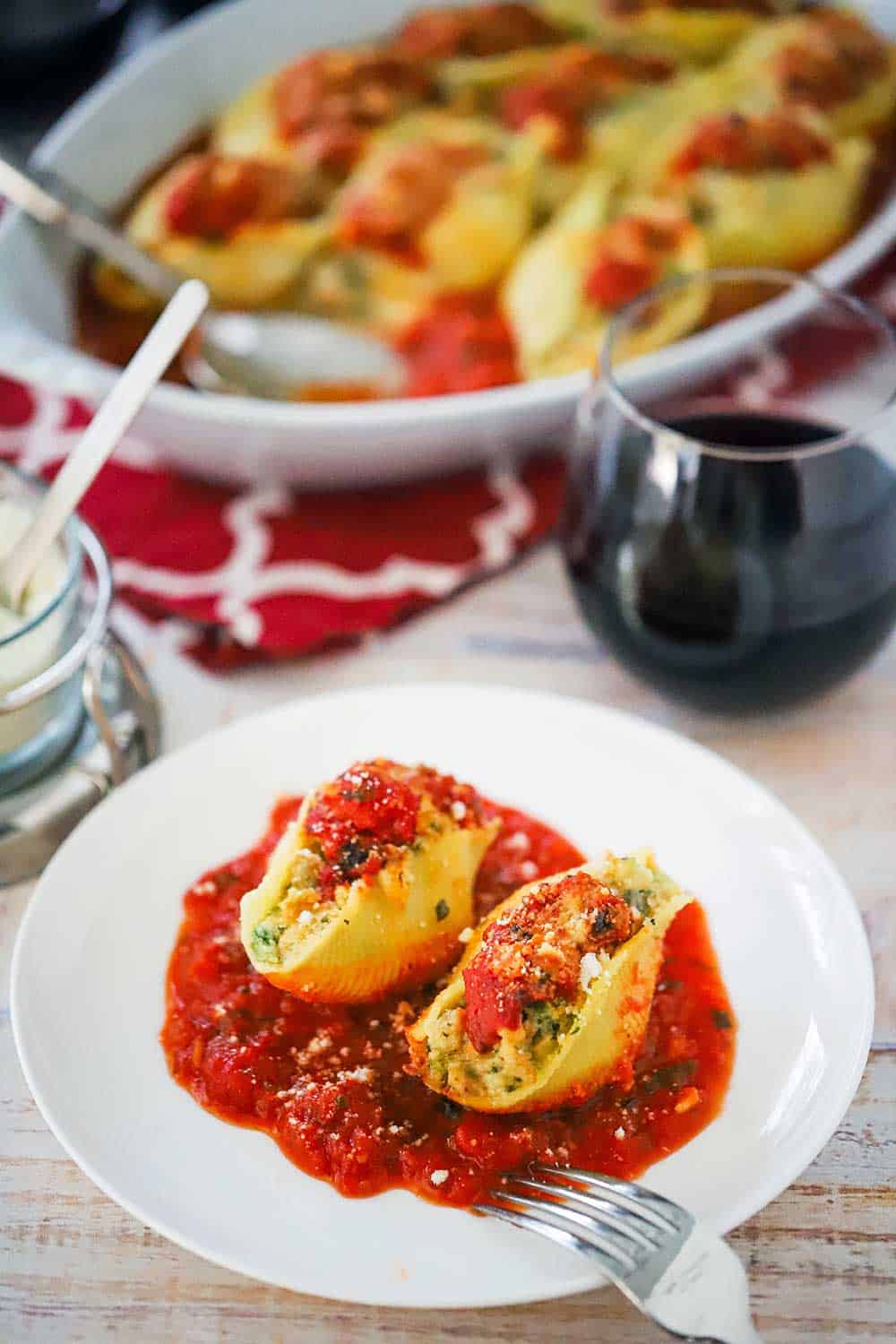 How To Make Italian Stuffed Shells
We just can't rave enough about this stuffed shells recipe.
Loaded with flavor and honestly so easy to prepare.
The Ingredients You Will Need
The components of this pasta dish are simple and straightforward.
There are so many different types of pasta, but we love large shells because they actually become the vessel for the sauce and cheese! We think chicken stuffed shells are so delicious, and healthier, too, but you could certainly go with pork. and have great flavor.
EXPERT TIP: Chicken Italian sausage can be often be found fresh in the meat department of many well-stocked supermarkets or from your local butcher. Make sure the chicken is uncooked (not cured, or cooked). If going with chicken or pork, simply use a knife to cut a strip down the side of the sausage link, and then remove the casing with your fingers and crumble the meat into your skillet.
Fresh herbs deeply round out the flavor of the meat mixture. We use a combination of fresh basil, parsley, and rosemary. If going with dried herbs, only use 1 tsp of each.
Choosing the Right Type of Cheese
Ricotta stuffed shells are a very popular no-meat version.
We absolutely love good creamy ricotta cheese, but why stop there?
EXPERT TIP: After mixing the ricotta cheese with an egg, we recommend mixing in 1 cup of grated Parmesan cheese and 1 cup of shredded mozzarella. We have tested our stuffed pasta shells with smoked mozzarella. The taste is really delicious, but distinct. If you want to try it, we suggest going with ½-cup smoked mozzarella and ½-cup whole-milk mozzarella. If you are a big fan of the smoked variety, go with all smoked mozzarella!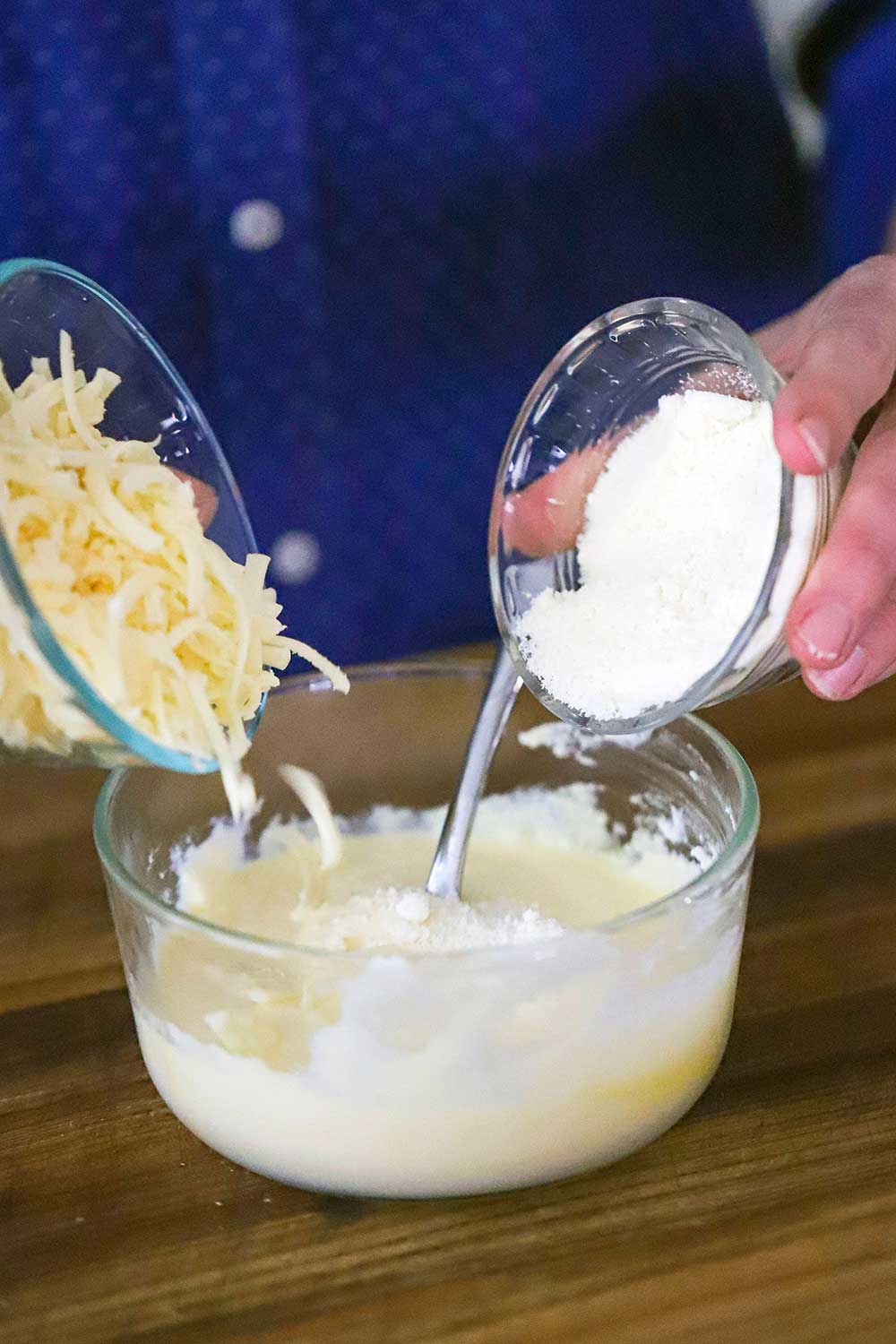 It's important to allow the meat mixture to cool before adding in the cheese mixture.
After the chicken filling is fully cooked, we recommend transferring it to a medium-sized bowl and place in the refrigerator while you're making the cheese mixture.
EXPERT TIP: Both the meat and cheese mixtures can be made up to 24 hours in advance. If not making in advance, allow the meat mixture to cool for at least 20 minutes in the fridge. Give it a stir every now and then to help expedite the cooling process.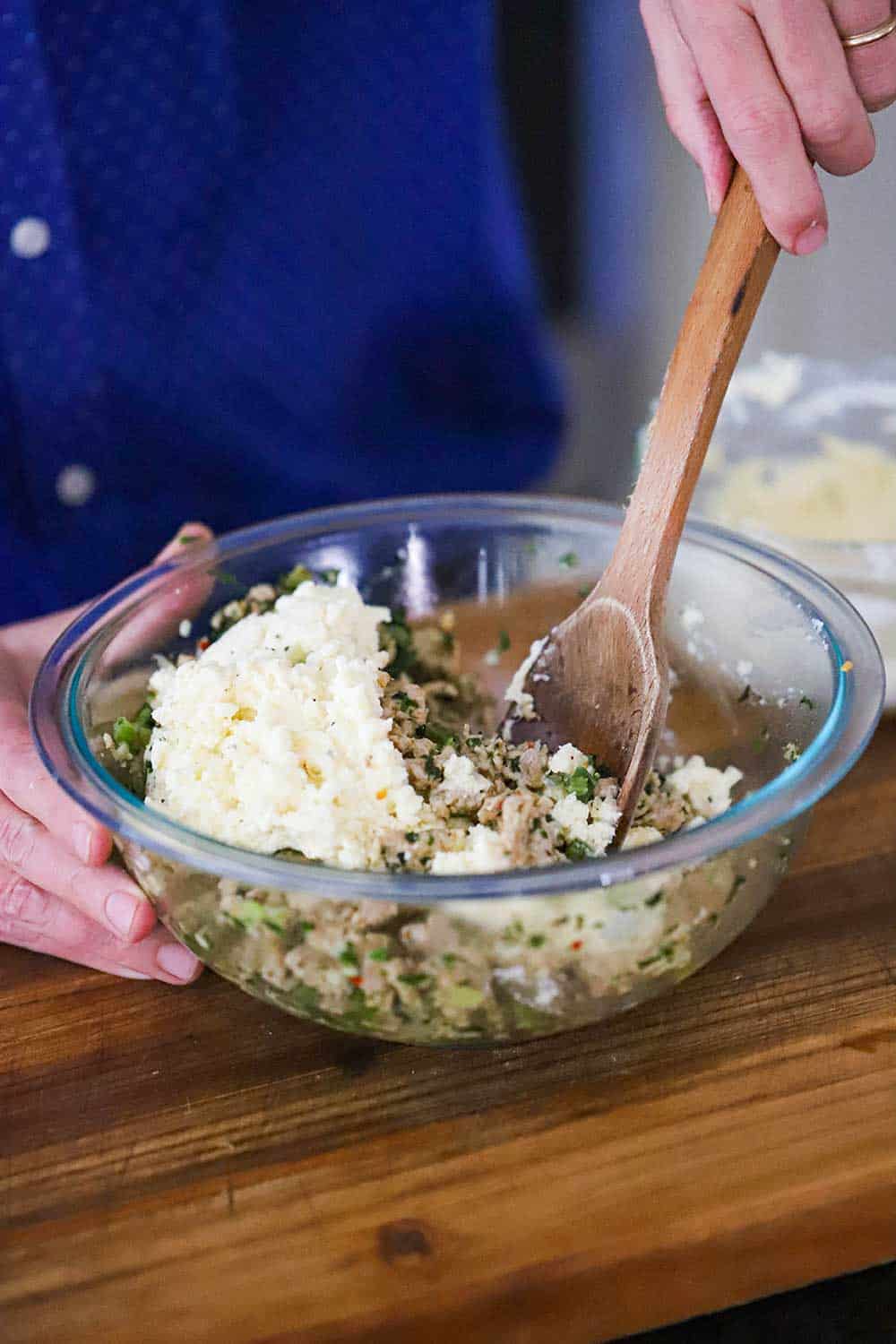 How To Stuff the Shells
The jumbo shells can be cooked an hour in advance. Simply transfer them to a large bowl and gently coat them with about 1 tbsp of olive oil.
This recipe will fill approximately 16 shells.
EXPERT TIP: Once the meat and cheese mixtures have been fully combined, simply use a large spoon to scoop the filling inside the shells. Use your fingers to help hold open the shell as you fill them. Compact the filling with your fingers or the back of the spoon. We like to pile it enough so the filling reaches about ½-inch above the top of the shell.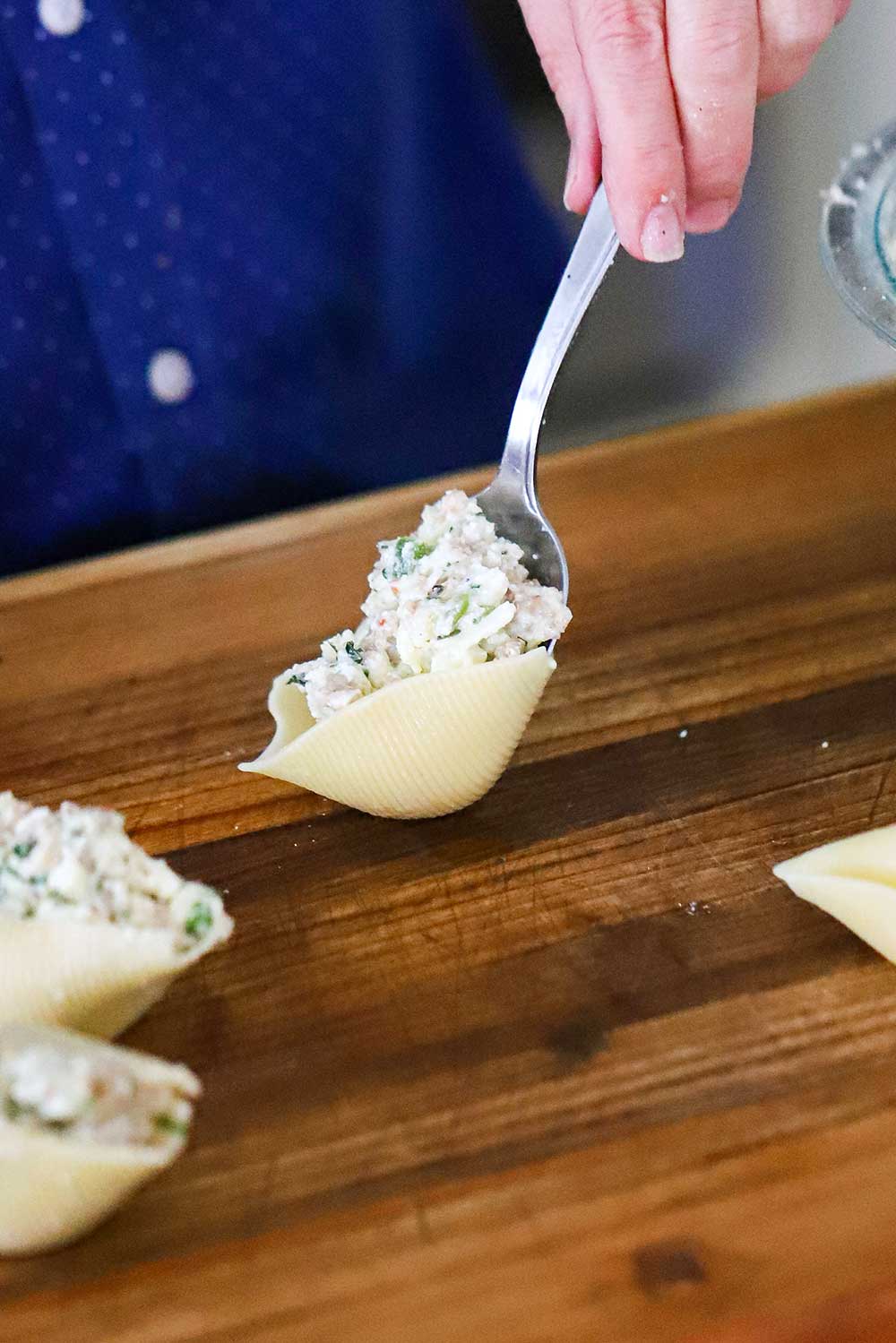 We strongly feel that homemade marinara puts this dish over top. Of course, a good-quality store-bought marinara sauce will work just fine, too.
You'll need a layer of marinara in the bottom of the baking dish, and then about a tablespoon on top of each stuffed shell.
A sprinkle of grated parmesan is the perfect topping just before baking.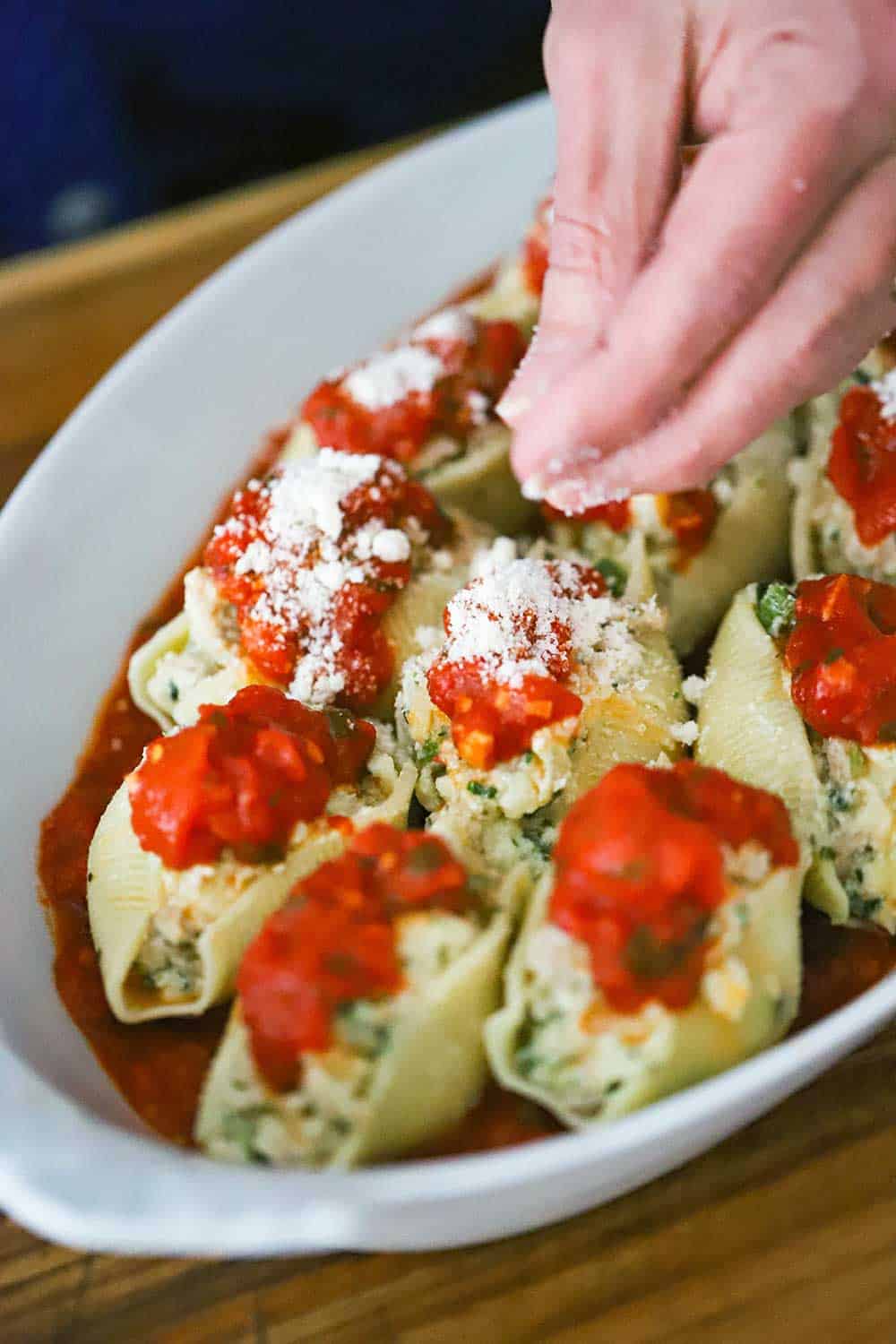 Baking is quick and easy.
Cover the shells loosely with foil and then place in your oven preheated to 400°F.
After 12 minutes of baking, remove the foil and bake for another 10 to 12 minutes, until the sauce is bubbly and the cheese on top has just started to brown ever-so-slightly.
When To Serve Italian Stuffed Shells
These stuffed shells with meat can be served as an appetizer or as an entree, although they are pretty filling, so we think they work best served as the main course.
We love them with a wonderful bottle of red, such as Cabernet, or Zinfandel. A loaf of crusty Italian bread is ideal.
And start things off with our wonderful Caesar salad! And then comes time for the star of the meal!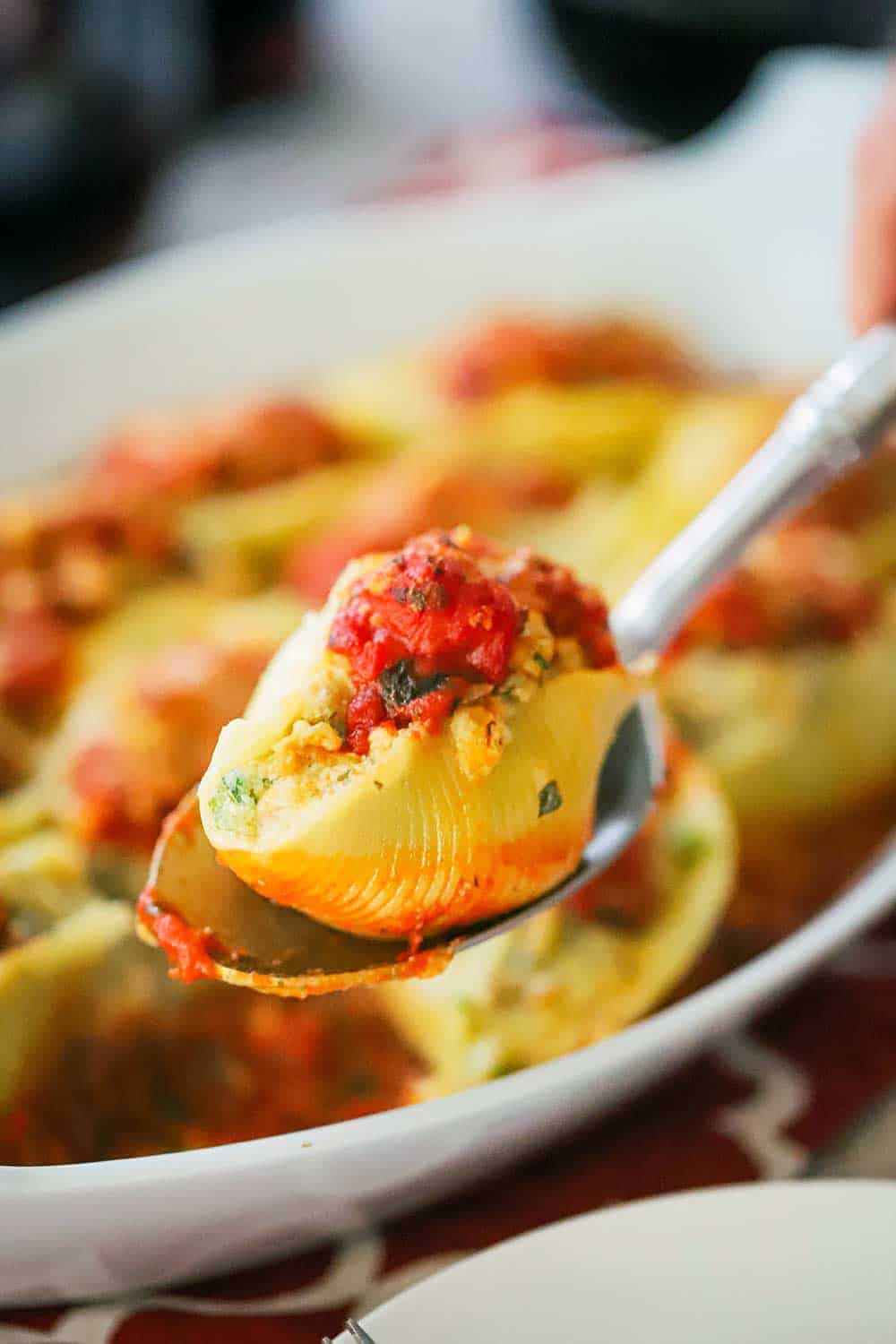 This dish is perfect for a busy weeknight meal, but also special enough for a wonderful dinner party.
And reheating them is so easy. Just place them back in a baking dish, cover with foil, and reheat in a 350°F oven for about 20 to 25 minutes, or until heated through.
With just one bite, you'll understand why this has become a favorite dish in our Italian food rotation!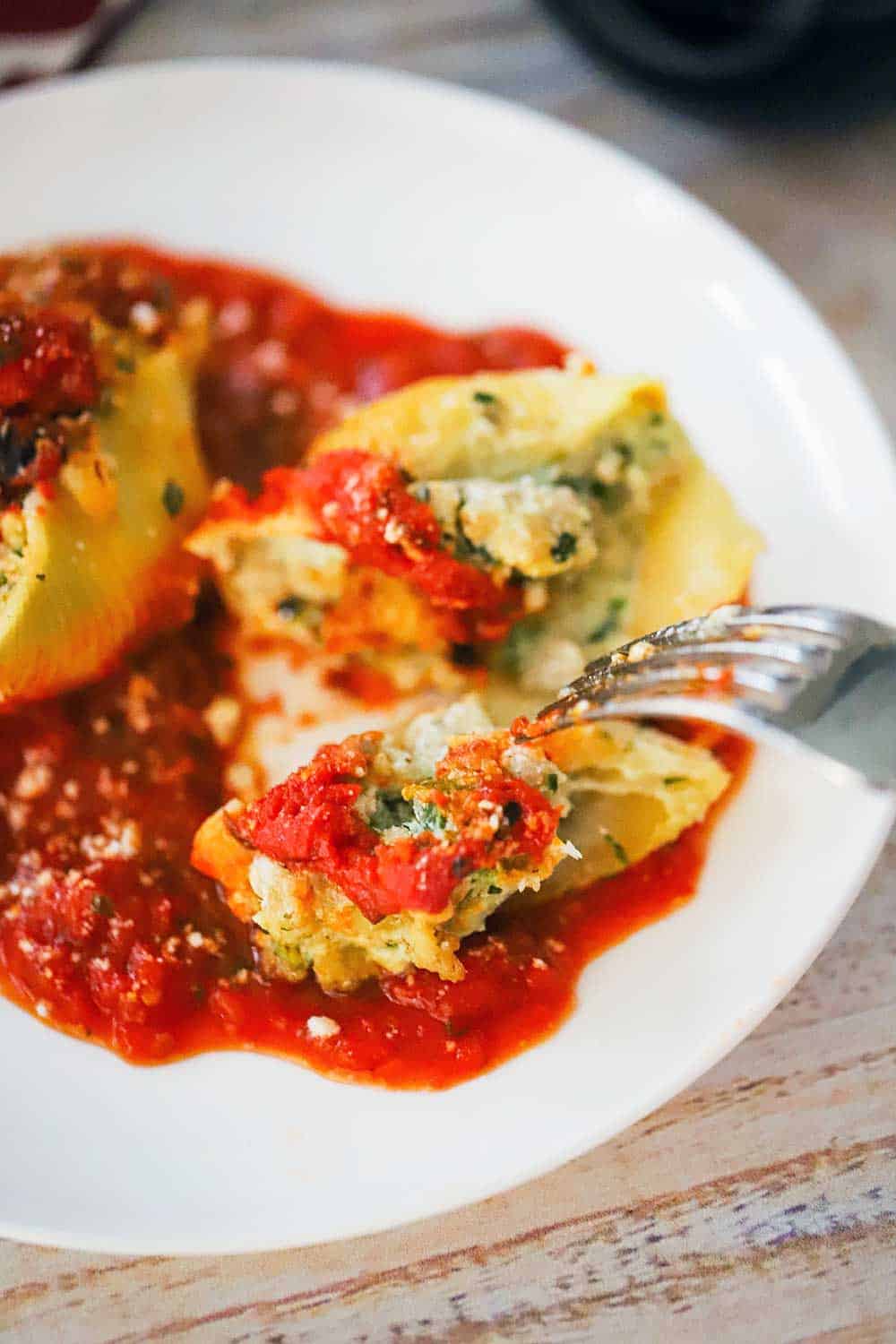 Ready to make some of the best Italian comfort food this side of Little Italy? Go for it!
And when you do, be sure to take a picture, post it on Instagram, and tag @HowToFeedaLoon and #HowToFeedaLoon!
Italian Stuffed Shells
These are amazing Italian stuffed shells. We love using a chicken Italian sausage for the meat, but you could also use standard pork Italian sausage, too, hot or sweet. These shells work as an appetizer or entree and reheat wonderfully the following day.
Print
Pin
Rate
Servings: 6
Calories: 528kcal
Ingredients
20 jumbo shells dried
4 tbsp olive oil
1 cup onion chopped
1 cup green bell pepper seeded and chopped
1 cup celery chopped
2 cloves garlic minced
12 oz. chicken sausage Italian, casing removed, usually 3 links
1 tbsp parsley fresh, chopped
1 tbsp basil fresh, chopped
1 tbsp rosemary fresh, chopped
Salt and pepper to taste
6 oz fresh Ricotta cheese
1 large egg
1 cup Parmesan cheese grated, plus more for sprinkling on top
1 cup mozzarella cheese whole milk, shredded
3 cups marinara sauce
Instructions
In a pot of boiling lightly salted water set over high heat, cook the pasta shells for 10 to 12 minutes, or until al dente. Drain and transfer the shells to a large bowl and toss with a tbsp of olive. Set aside.

In a large saute pan, heat 3 tbsp olive oil over medium heat. Add the chopped onion, bell pepper, and celery, and sauté, stirring frequently, until soft and lightly browned, about 5 minutes. Add the garlic and cook for another minute until aromatic.

Use a small knife to cut the casings off of the chicken sausage links. Use your fingers to crumble the sausage into the skillet with the cooked vegetables. Cook, stirring often, until the sausage is fully cooked, about 8 minutes more.

Stir in the parsley, basil, rosemary, 1 tsp salt, and ½ tsp black pepper. Remove from heat and transfer to a bowl. Place in the fridge to cool for about 15 to 20 minutes.

Preheat the oven to 400°F.

Place the ricotta into a medium-sized bowl and stir in the egg until smooth. Stir in the Parmesan and mozzarella cheeses. Mix until fully blended. Set aside.

Once the meat mixture has cooled somewhat, remove it from the refrigerator and stir in the cheese mixture until fully combined.

Spread about 2 cups of the marinara sauce in the bottom of a 9"x13" baking dish.

Using a spoon, fill the shells with as much stuffing as you can, about 1/4 cup. Place the shells, stuffed side up, on the sauce. Ladle a little more marinara over the tops of the shells. Sprinkle Parmesan all over the tops of the stuffed shells.

Cover the casserole with aluminum foil and bake the shells for about 12 minutes.

Remove the foil and bake for another 10 minutes, or until the sauce is bubbling and the tops of the shells are slightly browned. Serve the shells with the remaining 1/2 cup of grated cheese on the side.
Notes
Jumbo shells can be found in the dried pasta section of many well-stocked supermarkets. If you can't find jumbo shells, you can use lasagna noodles. Simply cook them according to package directions, and then lay them flat and spread a thin layer of the filling over them. Roll them up tight and bake them the same way you would the shells. We recommend cooking at least 20 shells, you probably won't use all of them, but several of them may break during the cooking process, so it's good to have extra. You can make your own Italian chicken sausage by combining 1 lb of ground chicken with 1 clove of minced garlic, 1 tsp each of dried parsley, basil, and oregano, and 1/2 tsp each of fennel, paprika, red pepper flakes, and salt. Smoked mozzarella is a nice twist for this dish. It does have a pretty distinct taste, so taste it first. We sometimes go with 1/2 cup of smoked mozzarella and 1/2 cup of whole-milk mozzarella. The meat mixture and cheese mixture can be made up to 24 hours in advance. The marinara can be made up to 5 days in advance, or frozen for up to 2 months. Leftover shells are delicious! Place in a baking dish, cover with foil, and bake in an oven preheated to 350°F for about 20 minutes, or until heated through and bubbly. The stuffed shells will keep in the fridge for up to 5 days and can be frozen for up to 1 month.
Nutrition
Calories: 528kcal | Carbohydrates: 36g | Protein: 29g | Fat: 26g | Saturated Fat: 8g | Trans Fat: 1g | Cholesterol: 112mg | Sodium: 1659mg | Potassium: 674mg | Fiber: 4g | Sugar: 9g | Vitamin A: 1410IU | Vitamin C: 33mg | Calcium: 400mg | Iron: 3mg
POST UPDATE: This recipe was originally published in August 2014, but was updated with improved tweaks to the recipe, new tips and photography, and a fabulous new video in January 2021!