These Italian Baked Stuffed Shells pack so much flavor, it's kind of ridiculous.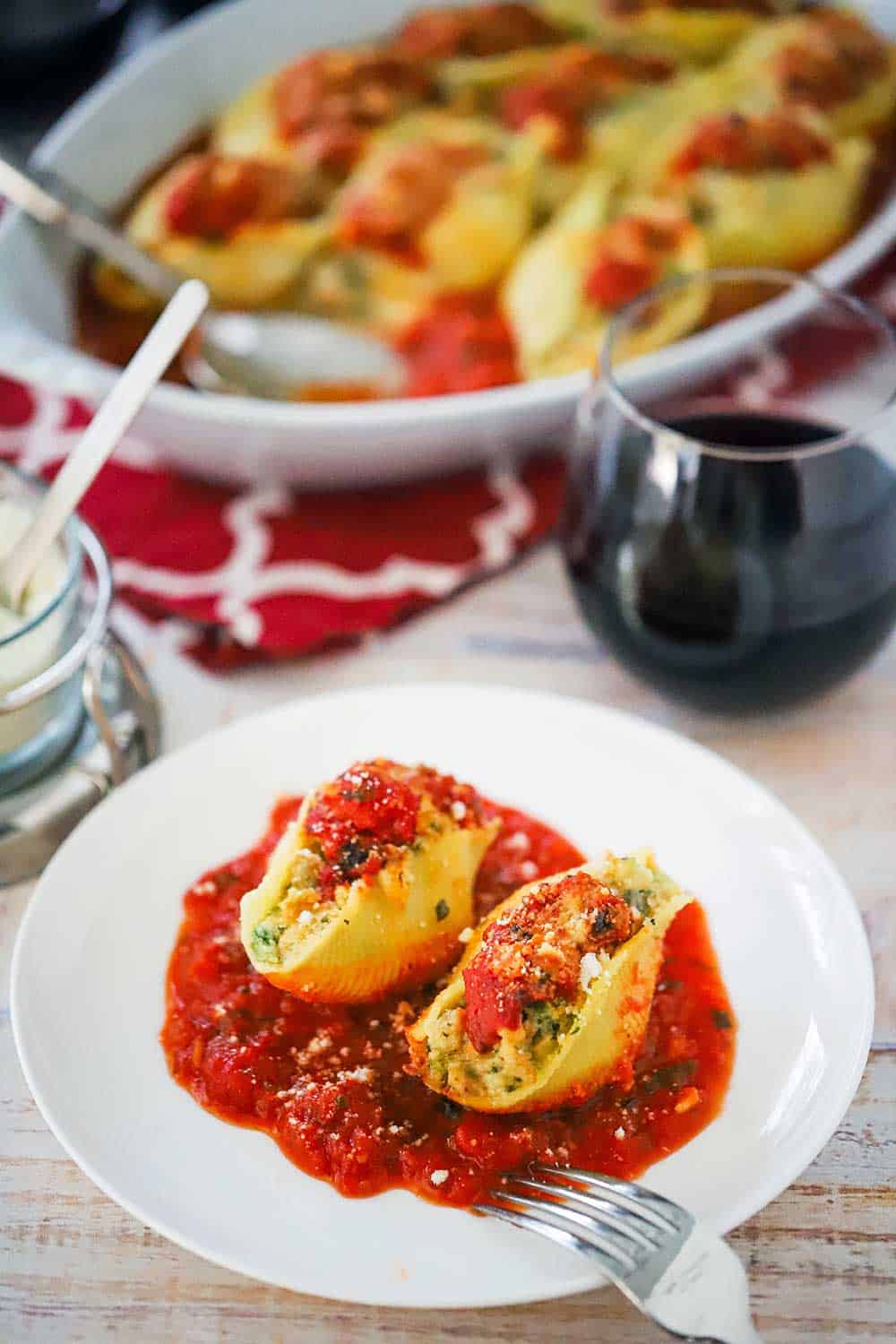 This is Italian cuisine at its best.   Just make and enjoy.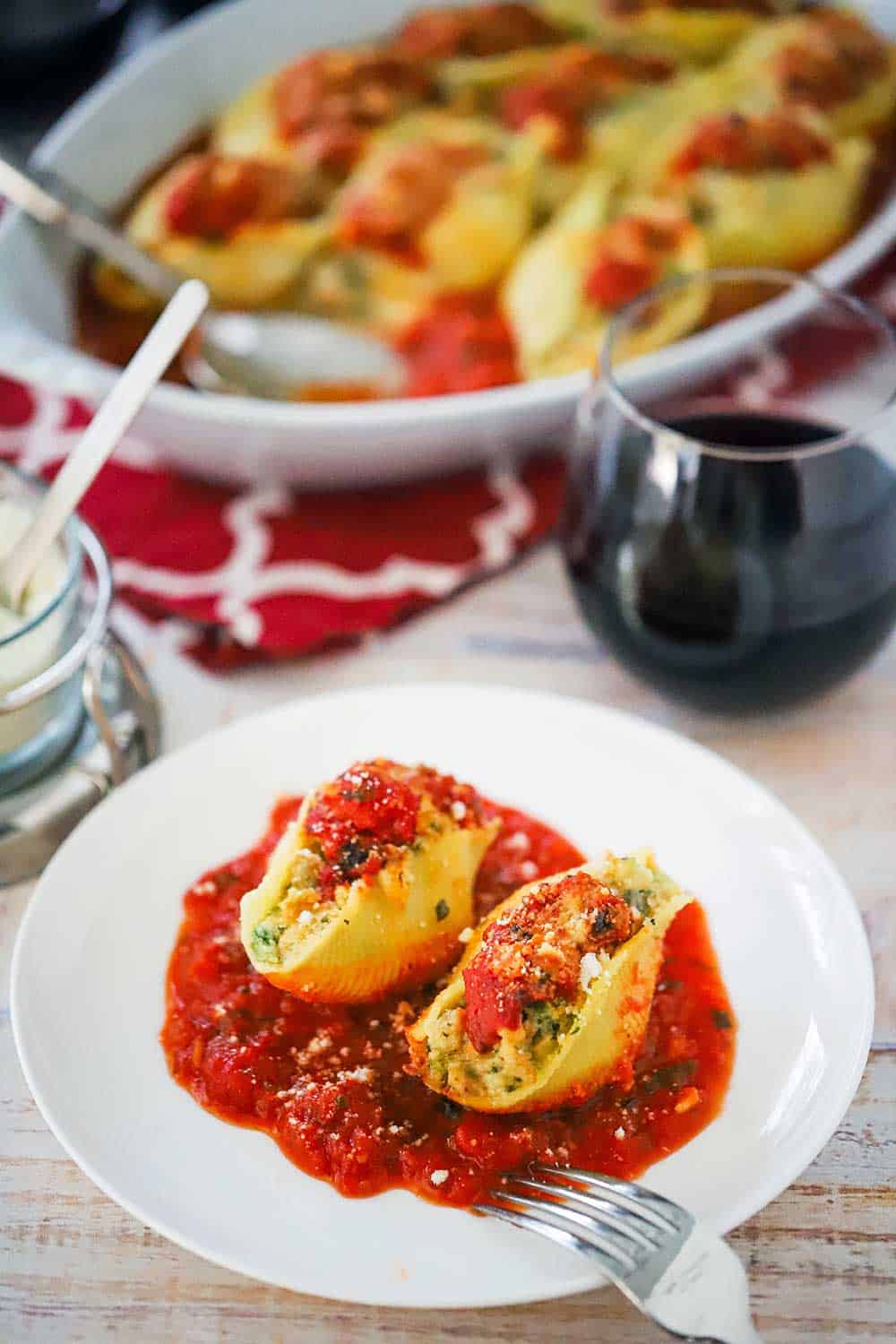 Italian Baked Stuffed Shells
These are amazing Italian baked stuffed shells. Pure Italian flavor!
Print
Pin
Rate
Prep Time: 30 minutes
Cook Time: 40 minutes
Total Time: 1 hour 10 minutes
Servings: 6
Calories: 395kcal
Ingredients
16 jumbo shells dried
5 tbsp olive oil
1 large clove garlic minced
1/4 cup celery chopped
12 chicken Italian sausage casing removed
1 small green bell pepper seeded and chopped
1 tbsp flat-leafed parsley chopped
1 tbsp fresh basil chopped
Salt and pepper to taste
6 oz fresh Ricotta cheese
1 large egg
1 cup plus a couple tablespoons of grated Romano cheese
2 1/2 oz smoked mozzarella cheese chopped
2 1/2 oz fresh mozzarella cheese chopped
3 cups or marinara sauce
2 tbsp unsalted butter chopped
Instructions
In a pot of boiling lightly salted water set over high heat, cook the pasta shells for 10 to 12 minutes.

Drain and rinse under cool running water.

Transfer the drained shells to bowl, toss them with a teaspoon of olive oil, and refrigerate them until they are needed.

In a large saute pan, heat the remaining olive oil over medium heat.

When the oil is nice and hot, add the garlic, and cook, stirring, for about 20 seconds.

Add the celery, reduce the heat to medium, and cook the mixture for about 5 minutes, or until the celery is tender.

Add the chicken sausage and the green peppers and cook, stirring, for about 10 minutes.

Add the parsley and basil and season the mixture to taste with salt and pepper.

Transfer to a bowl.

Mix the ricotta with the egg until it is smooth.

Add 1/2 cup cup of the grated Romano cheese, the mozzarella, and salt and pepper.

Refrigerate for 30 minutes.

Pre-heat the oven to 400 F

Spread about 2 cups of the marinara sauce in the bottom of a shallow casserole.

Take the shells, sausage mixture, and cheese mixture out of the refrigerator. Carefully fold in the cheese mixture into the sausage mixture.

Using a teaspoon, fill the shells with as much stuffing as you can, about 1/4 cup.

Place the shells, stuffed side up, on the sauce.

Ladle the remaining cup of sauce over the shells.

Sprinkle the shells with about 2 tablespoons of the grated Romano cheese and dot with butter.

Cover the casserole with aluminum foil and bake the shells for about 12 minutes.

Remove the foil and bake for another 10 minutes, or until the sauce is bubbling and the tops of the shells are slightly browned.

Serve the shell with remaining 1/2 cup of grated cheese on the side.
Nutrition
Calories: 395kcal