We love all kinds of salsa and this is one of our favorites.
In our books, a quality salsa is essential for Tex-Mex, Mexican, and Latin cuisine. We love our Restaurant-Style Salsa, Salsa Verde, and even Skillet-Roasted Corn Salsa. This salsa is deep in flavor and so simple to prepare. Serve warm or chilled!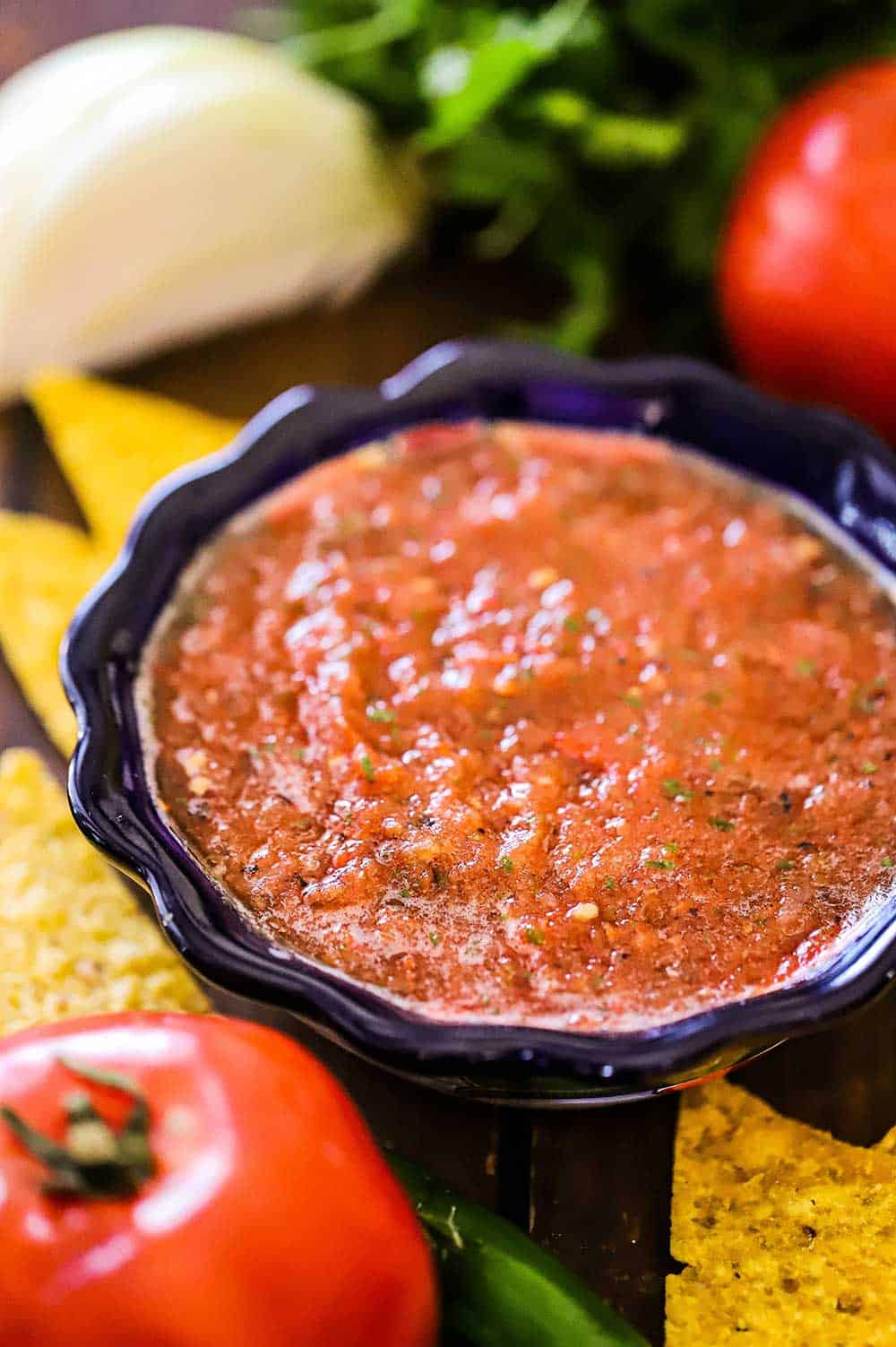 How To Make Roasted Tomato Salsa
Salsa, just like the dance by the same name, has quite a long and colorful history.
We love putting a good-quality salsa on anything from TexMex Tacos, to a homemade Chipotle burrito bowl, scrambled eggs, or just a warm homemade flour tortilla with a little butter.
Roasting the vegetables helps to concentrate the flavors as well add a slightly smokey taste to the salsa. Delicious.
How To Roast the Vegetables
You can roast the vegetables by roasting, grilling, or searing in a skillet.
We love cranking the broiler on HIGH and then placing the quartered tomatoes, onion, and serrano peppers on a baking sheet lined with foil.
Place about 6 inches under the broiler and roast for about 8 minutes, flipping halfway through.
Now, all you need to do is throw the roasted veggies, along with chopped cilantro, minced garlic, and salt into a blender.
Purée for about 30 seconds until smooth.
EXPERT TIP: We think salsa works well with a little heat. 2 serranos provide enough spice to feel it on the backend as you swallow it down with a chip. However, if you prefer very little spice, then go with just one serrano. Extra spicy? Go with 3, or 4 for super spicy.
When to Serve Roasted Tomato Salsa
This salsa is perfect when serving anything Mexican or TexMex, but it's also perfect for serving at parties, game-day, or just a relaxing weekend afternoon.
Warmed corn tortilla chips are fantastic, as well as flour or corn tortillas.
EXPERT TIP: This salsa is often served chilled or at room temperature, but it's really amazing served warm, too.
Ready to make some of the best salsa this side of the Alamo? Go for it!
And when you do, be sure to take a photo of it, post it on Instagram, and tag @HowToFeedaLoon and hashtag#HowToFeedaLoon!
Roasted Tomato Salsa
Roasted Tomato Salsa is a deeply flavorful salsa that comes together in no time at all. You can roast the veggies under the broiler, or also out on the grill, or in a cast-iron skillet. Roasting concentrates the flavors and gives a slightly smokey taste. Perfect for TexMex or serving at parties!
Print
Pin
Rate
Servings: 8
Calories: 12kcal
Equipment
1 Blender, food processor, or forks/masher
Ingredients
3 medium ripe tomatoes halved, or quartered
¼ large onion skin removed
2 serrano peppers 1 for mild, 2 for medium, 3 for hot
¼ cup cilantro chopped
2 cloves garlic minced
1½ tsp Kosher salt
Instructions
Preheat broiler to HIGH.

Place tomatoes, onion, and peppers on a baking sheet lined with foil. Place on a rack about 6 inches below the heating element. Roast for about 8 minutes, flipping the veggies halfway through. Keep an eye on them, don't let them burn!

Use a pair of tongs to transfer the roasted vegetables from the baking sheet into a blender or food processor. Add the cilantro, garlic, and salt and blend/process on Purée/High for about 30 seconds. Less for more chunky, or more for a smooth salsa.

Serve immediately warm, or store in an air-tight container and serve either chilled or room temperature.
Notes
Instead of roasting under a broiler, you can also grill the veggies on a grilling rack, over direct high heat, for about 10 minutes, turning every now and then, until nicely browned and charred in spots. You could also use a heavy-duty skillet, such as a cast-iron skillet. Heat the skillet over high heat and toast the veggies until softened and brown in spots, about 5 to 8 minutes. The salsa will keep covered in the fridge for up to 7 to 10 days. It freezes beautifully up to 2 months. It's great served chilled or room temp, but also warmed.
Nutrition
Calories: 12kcal | Carbohydrates: 3g | Protein: 1g | Fat: 1g | Saturated Fat: 1g | Polyunsaturated Fat: 1g | Monounsaturated Fat: 1g | Sodium: 439mg | Potassium: 126mg | Fiber: 1g | Sugar: 1g | Vitamin A: 432IU | Vitamin C: 8mg | Calcium: 8mg | Iron: 1mg