We, as so many folks, love the Mexican food chain Chipotle.

We particularly love the bowls, which are basically burritos without the tortillas. They are loaded with layers and layers of flavor. Well, there's only one way to make them better…make them scratch, at home. Get ready, this is going to be fun.


NOTE: If you liked this video, please subscribe to our YouTube channel. Remember to click the 'bell' icon so you'll never miss a new video!
How To Make a Chicken Burrito Bowl (Better Than Chipotle's)
We are not here to talk bad about Chipotle! We'd NEVER do that!
Their food is fresh and so delicious.
So much so that we're inspired to recreate it all from scratch, from home.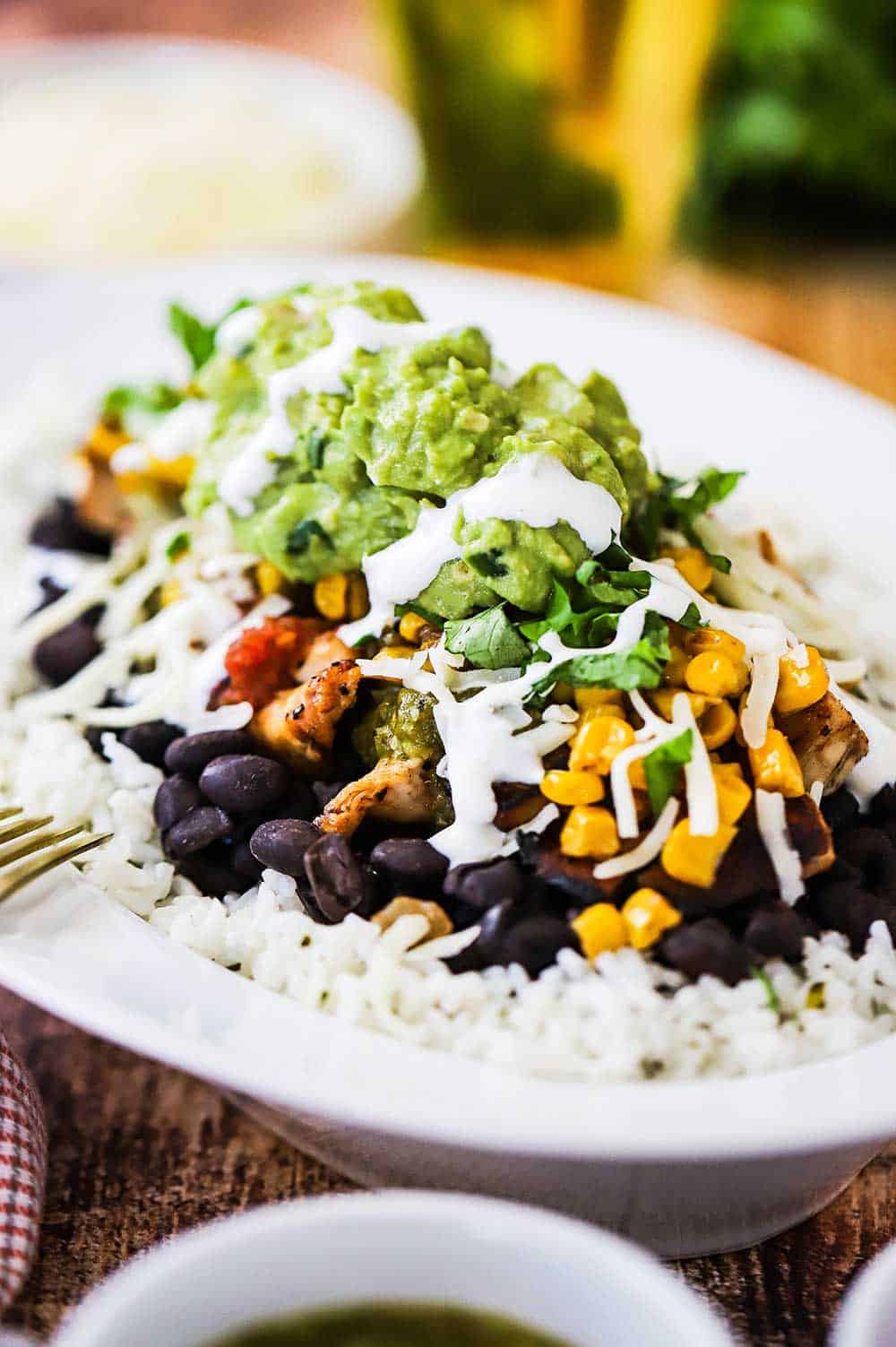 The Components You Will Need
As mentioned, the only way we can make this chicken burrito bowl better than Chipotle's version is to make everything from scratch.
Don't worry folks, much of this can be made in advance! (See NOTES for info this).
Here's what we'll be making:
Cilantro Lime Rice
Mexican Simmered Black Beans
Grilled Chipotle Chicken
Roasted Tomato Salsa
Salsa Verde
Skillet-Roasted Corn Salsa
Chopped Green Leaf Lettuce
Shredded Mexican Cheese
Best-Ever Guacamole
Mexican Crema (or sour cream)
EXPERT TIP: To get that authentic Mexican black beans to taste, we add epazote, which is a leafy green herb that can be found in the produce section of Latin/Mexican markets. Cilantro can be substituted if you can't get to your local Mexican market.
How To Build the Chicken Burrito Bowl
Now, comes the fun part: Building the amazing Chicken Burrito Bowl!
In a bowl, add a layer of the rice. Next, a layer of the beans.
After chopping the chicken fresh from the grill, place a nice layer on top of the beans.
Next, add the salsas, then lettuce, guacamole, cheese, and top with the Mexican crema.
EXPERT TIP: Mexican crema or cream can be found in the dairy section of many well-stocked supermarkets, or at Latin/Mexican markets. If you can't get Mexican crema, simply take sour cream and thin with a little milk or heavy cream. We place the cream in a squirt bottle and add streaks over the top of the bowl for a nice presentation.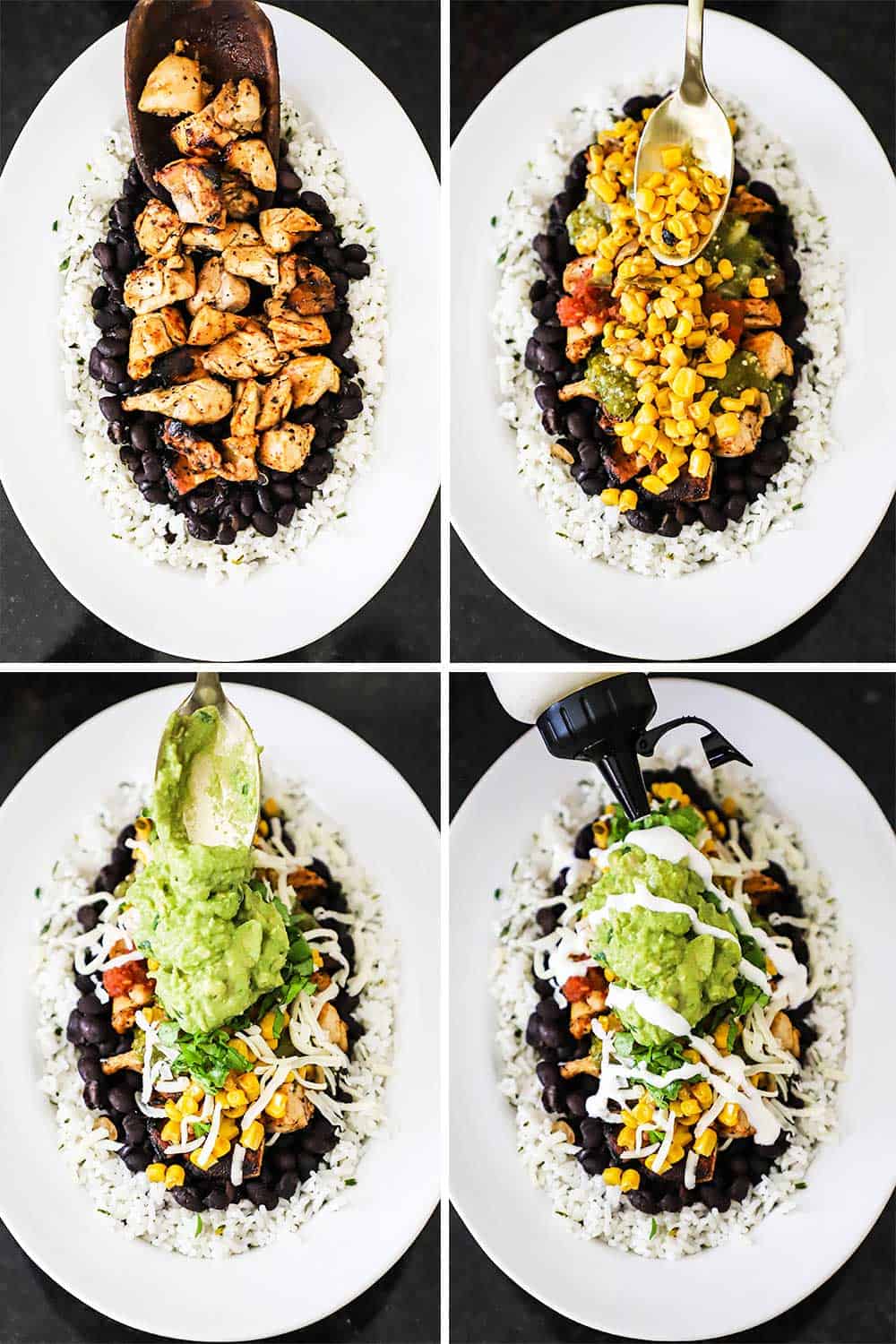 When and How To Serve
We completely understand making all of these components is a lot for one person to do. Although much can be made in advance.
An incredibly fun way to serve this dish is to make a party out of it!
Have friends each bring one component of the dish and then have a burrito bowl party.
You can order the Chipotle bowls so people can make their very own, Chipotle-style!
Look at this bowl of amazingness!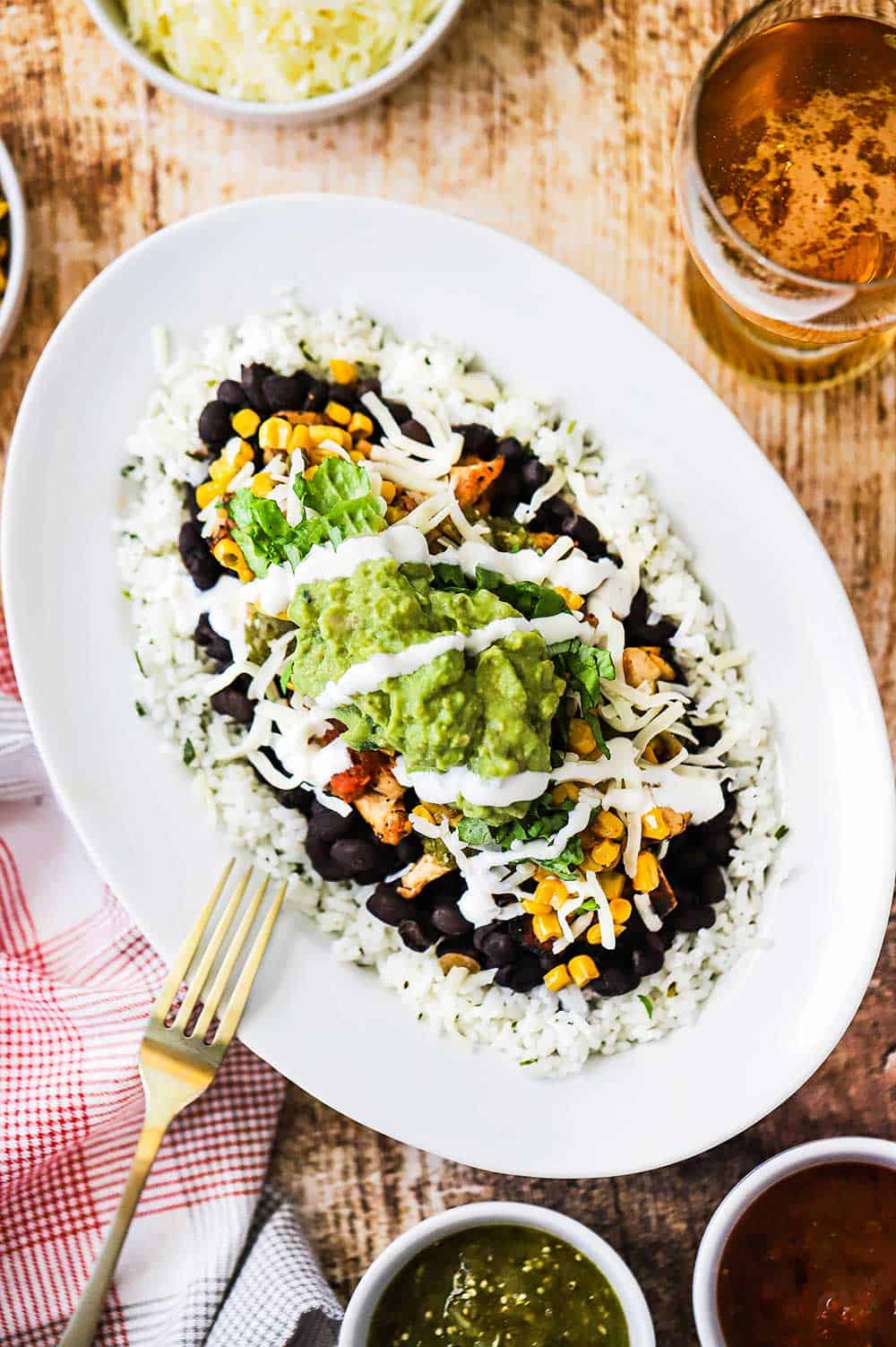 We really don't mean to brag, honestly.
But, folks, you be the judge…which would you pick.
Pssst: Chipotle, if you're listening…we love you! And yours is amazing, too!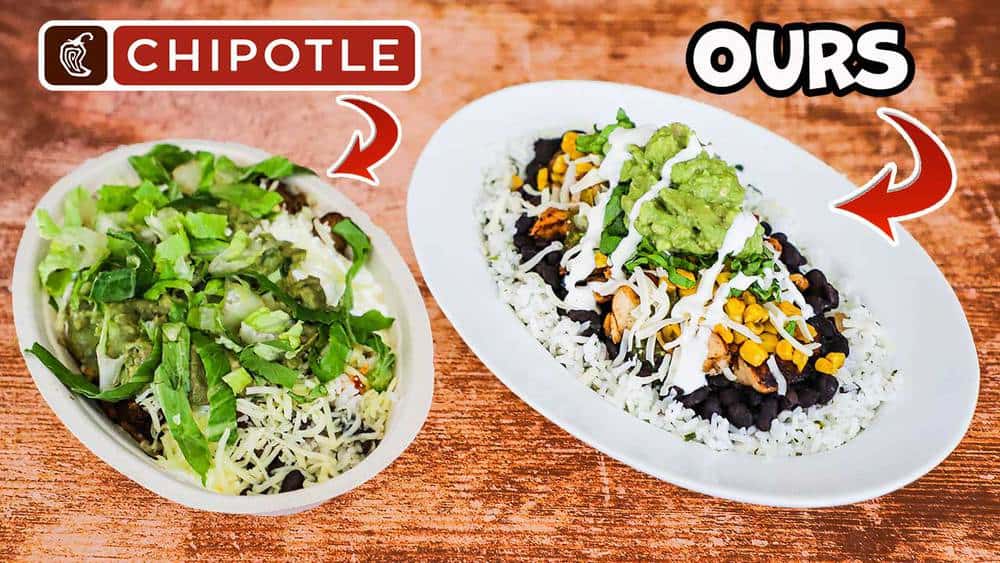 Ready to make the best burrito bowl this side of, well, Chipotle? Go for it!
And when you do, be sure to take a photo of it, post it on Instagram, and tag @HowToFeedaLoon and hashtag #HowToFeedaLoon!
Chicken Burrito Bowl (Chipotle Copycat)
Chicken Burrito Bowl is truly better than the Chipotle version. We've gone the distance to show you how to recreate each component from scratch. Much can be made in advance (See NOTES). The chicken by itself is wonderful in burritos or tacos. We LOVE having a burrito bowl and having guests each bring one component and then let everyone build their own. FUN!
Print
Pin
Rate
Servings: 8
Calories: 613kcal
Equipment
Grill, gas or charcoal, or skillet
Ingredients
Make Ahead (and then reheat while making the chicken)
Make Ahead (no need to reheat)
For the Chicken
½ cup pineapple juice
3 cloves garlic minced
1 chipotle pepper chopped
1 tbsp adobo sauce from the can of chipotles
3 tbsp vegetable oil divided
¼ cup white distilled vinegar
2 tsp chili powder
2 tsp cumin ground
1 tsp oregano dried
1 tsp Kosher salt plus more for finishing the chicken
½ tsp black pepper
2 lbs chicken thighs boneless, skinless
Soon Before Serving
3 cups Guacamole
2 cups Mexican cheese shredded, Chihuahua, Monterrey Jack, Cheddar
3 cups green leaf lettuce chopped
3 cups Mexican crema or sour cream
Instructions
Do Ahead
Prepare the roasted tomato salsa, salsa verde, and skillet-roasted corn salsa. Refrigerate until ready to serve.

Make the cilantro rice and Mexican beans. Reheat as the chicken is being prepared. You may need to add a little more to either dish if a little dry.

Place the chicken in a large baggie (or dish). Pour the marinade all over the chicken, and carefully press the air out of the baggie (if using). Use your hands to massage the marinade into the chicken all over. Place in the fridge for 1 to 8 hours (6 to 8 hours is best).
Prepare the Chicken
In a medium bowl, whisk together 2 tbsp of the vegetable oil with all of the other ingredients except the chicken.

Fire up your grill to medium-high heat.

Remove the chicken from the bag (or dish). Place on the grill and cook until fully cooked (internal temperature of 165°F), turning a couple times. The chicken should be nice and charred in a few places.

Place on a cutting board and cut into bite-sized pieces. Sprinkle a little more salt all over the chicken. Set aside (keep warm in a low-temp oven, if possible).
Soon Before Serving
Make the guacamole, and get the lettuce, cheese, and Mexican crema prepped and ready to be served. Place the other bowl items in serving dishes as well.
How To Build the Bowls
In a bowl, add a layer of rice, then a layer of beans, then chicken. On top of the chicken add the salsas. Then a layer of lettuce and cheese. Top with guacamole and Mexican crema.
Notes
See the video near the top of the blog post for visual guidance. If you like the video, please subscribed to our YouTube channel.
The rice, beans, and chicken can all be made up to 3 days in advance.
The 3 salsas can be made up to 5 days in advance.
Make the guacamole, and prep the lettuce, cheese, and Mexican crema (or sour cream) just before serving.
All of this makes a wonderful burrito bowl party! Have guests each bring 1 component of the bowl!
Nutrition
Calories: 613kcal | Carbohydrates: 22g | Protein: 30g | Fat: 31g | Saturated Fat: 6g | Polyunsaturated Fat: 6g | Monounsaturated Fat: 4g | Trans Fat: 1g | Cholesterol: 185mg | Sodium: 1100mg | Potassium: 903mg | Fiber: 7g | Sugar: 9g | Vitamin A: 2326IU | Vitamin C: 15mg | Calcium: 370mg | Iron: 2mg