Some dishes, most dishes, actually, are better when they are simple and the ingredients are allowed to shine.
This iconic Mexican side dish is no exception. If you have a Mexican market within reach, go and grab some epazote, it's a green herb that really adds depth to the flavor that is classic Mexican. They are wonderful alongside our Best-Ever Mexican Rice.
How To Make Mexican Black Beans
As mentioned, these beans are not difficult to make at all. You just need to allow enough time for them to simmer.
There are just a handful of ingredients, but they come together to make those classic beans that we all love so much
1 lb of black beans will produce a nice large pot of beans that will feed the family.
You'll need a fairly large pot to cook the beans in. A Dutch oven works great, but any heavy-duty pot will work just fine.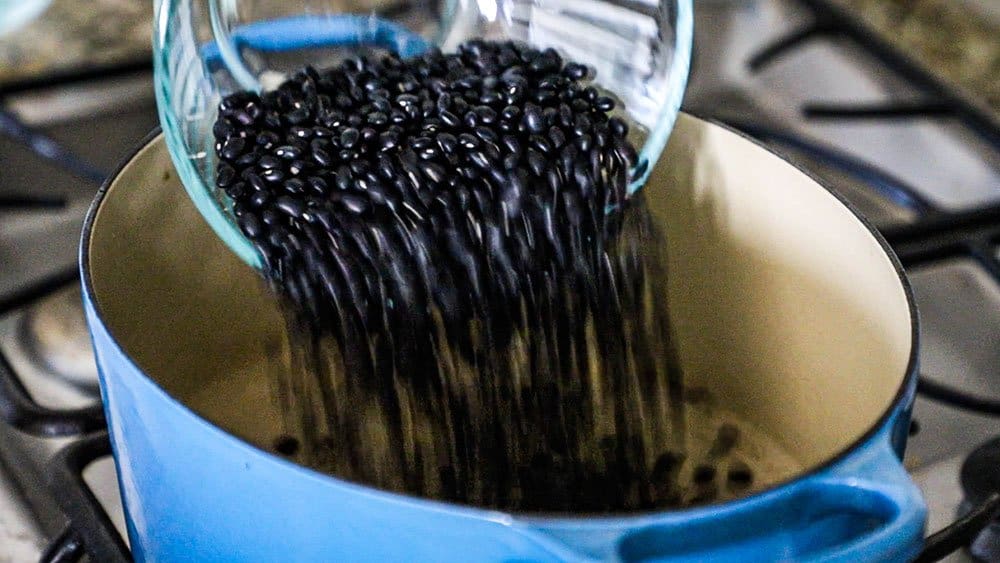 Pour enough water into the pot to cover the beans by a couple of inches.
If any beans are broken or float on top of the water, be sure to remove them.
Adding Depth of Flavor
Sautéd onions, a finely chopped jalapeno, and freshly minced garlic will add a subtle but delicious depth to the beans.
As you are bringing the beans to a boil, sauté the veggies preferably in pork lard.
EXPERT TIP: Pork lard can be found at Hispanic food markets. It really contributes to that classic Mexican flavor. If you can't get to Hispanic market, then you could use bacon grease, or shortening.
Another ingredient that adds to the classic taste is epazote.
Epazote is a leafy green herb that can also be found at Hispanic food markets.
If you don't have access to a Mexican market and can't get your hands on fresh epazote, no worries, fresh cilantro still delivers authentic, delicious taste.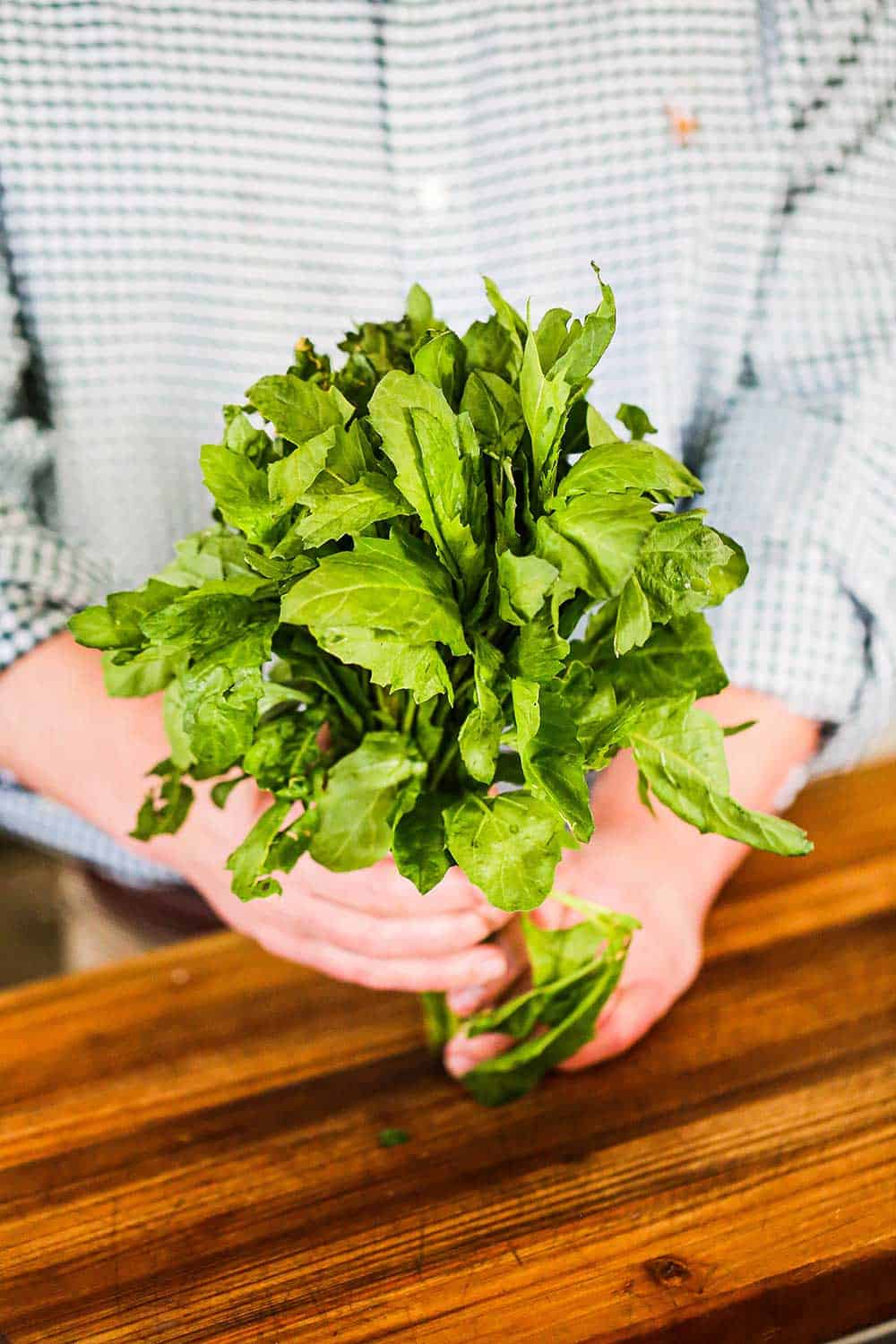 Simmering Deepens the Flavor
Once you have brought the Mexican Black Beans to a boil, turn down the heat and let them simmer.
The smell is amazing. Let them go for about 2 hours, just until the beans are starting to get soft.
EXPERT TIP: Periodically keep an eye on the beans. You'll need to give them a nice stir every now and then and add more water if getting a little dry.
When to Serve Mexican Black Beans
The beans are so delicious and quite filling that they could really make for a wonderful meal alongside Mexican rice and homemade tortillas.
We also love serving them with Steak Fajitas, Chicken Fajitas, Chicken Burrito Bowl, or with our Grilled Shrimp and Corn Salad.
They will keep covered in the refrigerator for about 5 days and freeze nicely for up to 2 months.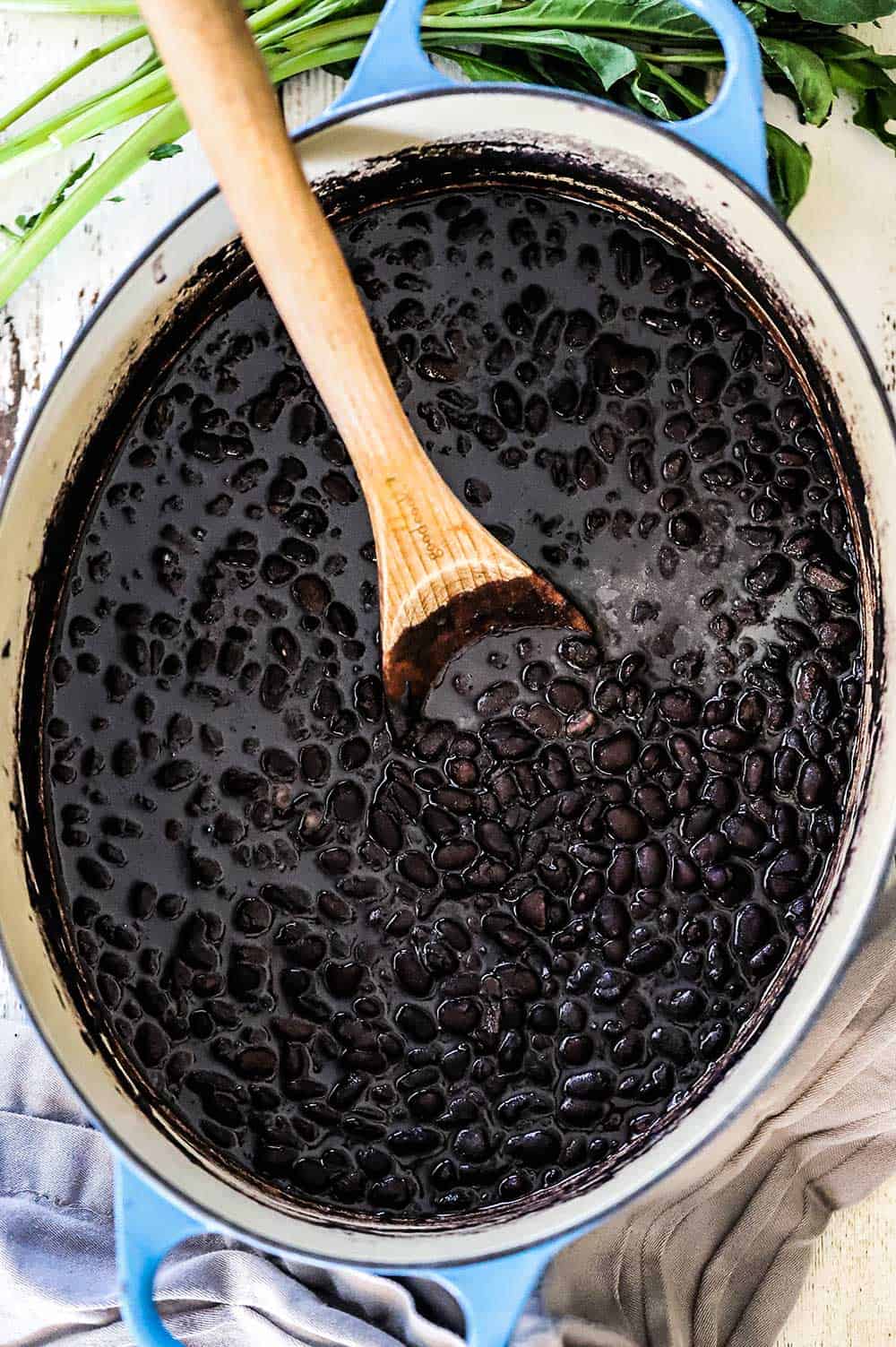 Ready to make the best Mexican Black Beans this side of the Rio? Go for it!
And when you do, be sure to take a photo, post it to Instagram, and tag @HowToFeedaLoon and hashtag #HowToFeedaLoon!
Mexican Black Beans
Mexican Black Beans are a must-have side for your favorite Mexican, or TexMex, meals. Use these beans when you're building a steak fajita, and you will be really happy. Ole!
Print
Pin
Rate
Servings: 8 people
Calories: 163kcal
Equipment
Dutch oven, or large sturdy pot
Ingredients
1 lb black beans dried
2 tbsp lard or bacon grease, or, vegetable oil
1 medium onion chopped
1 jalapeno stem, seeds, and ribs removed, finely chopped
2 cloves garlic minced
2 sprigs epazote or ¼ cup of chopped cilantro
2 tsp salt or more, to taste
Instructions
Rinse the beans in a colander.

Pour the beans into a large pot (preferably a Dutch oven).

Add enough water to cover the beans by a couple of inches. Bring to a boil.

In a skillet, melt the lard (or grease or shortening) over medium heat. Add the onion and jalapeno and cook, stirring frequently, until soft, about 4 minutes. Add the garlic and cook for another 30 seconds.

Lower the beans to a low simmer and add the sautéed vegetables.

Gently simmer for 2 hours until the beans are getting soft. Add more water if the beans are getting a little dry.

Add the epazote and salt and simmer on low for another 40 minutes.

If desired, remove the epazote. Taste and add more salt, to taste.
Notes
Epazote is a green herb that can be found in Mexican/Latino food markets. Cilantro is a perfectly fine substitute. The beans will keep covered in the fridge for up to 5 days and freezes nicely for up to 2 months.
Nutrition
Calories: 163kcal | Carbohydrates: 30g | Protein: 11g | Fat: 6g | Saturated Fat: 2g | Sodium: 1166mg | Potassium: 458mg | Fiber: 11g | Sugar: 1g | Vitamin A: 371IU | Vitamin C: 5mg | Calcium: 54mg | Iron: 2mg
POST UPDATE: This recipe was originally published in April 2014, but was updated with improved tweaks to the recipe with new tips and photography and a fabulous new video in January 2022!