Grilled Shrimp Salad with Corn & Avocado and Lime-Cilantro Dressing.
I mean, what really more is to say than that? Well, a lot actually.
This is the very first recipe published on the blog, and is still, to this day, one of our all-time favorite dishes. It's so good.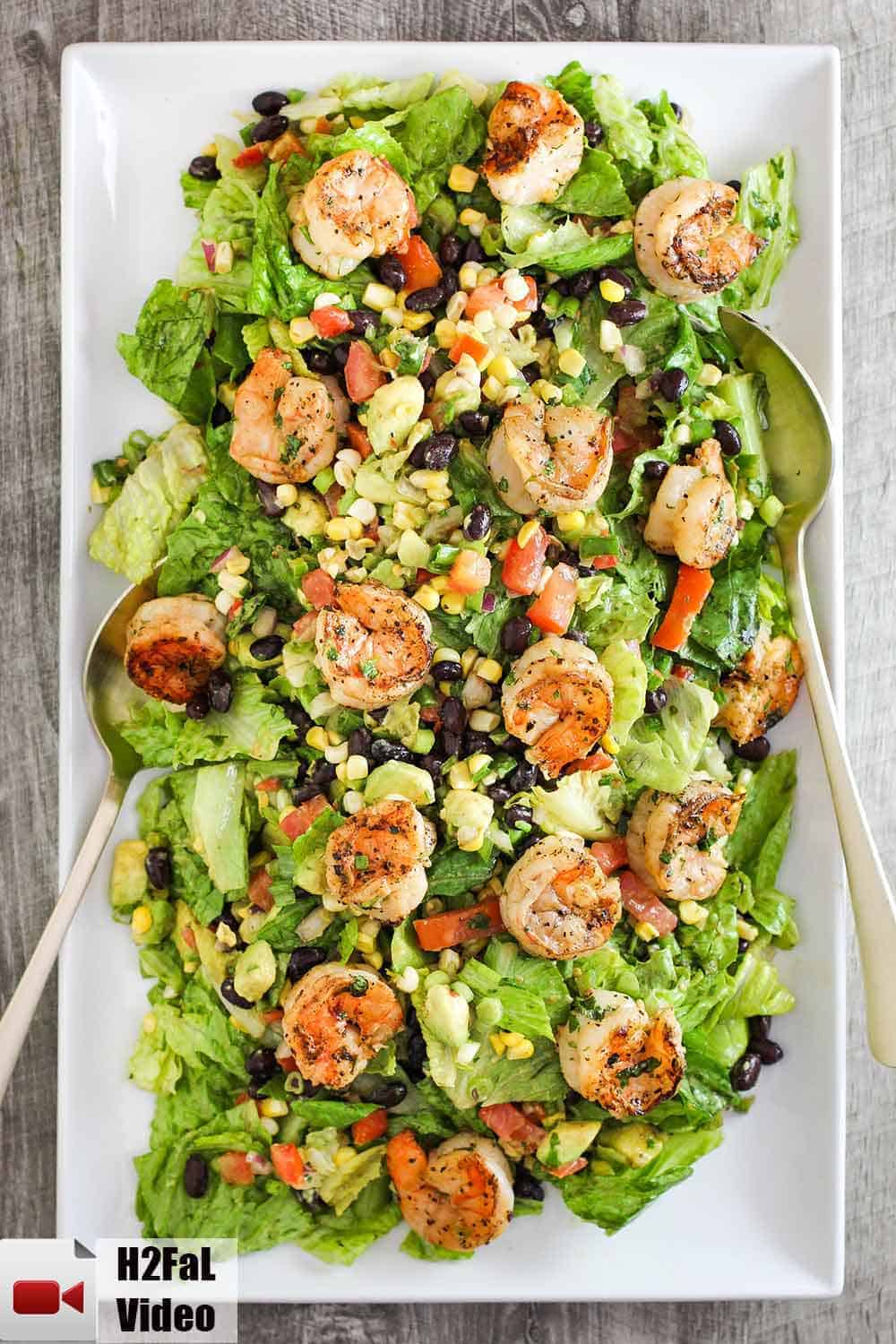 GRILLED SHRIMP, CORN & AVOCADO SALAD IS EASY TO MAKE
This salad is super healthy and literally exploding with flavor.
And the great thing is it can all be prepared ahead of time and then assembled just before serving.
Watch us show you how much fun it is to make this amazing salad at home!
THE DRESSING ALSO WORKS AS THE MARINADE
One of the many wonderful elements of this grilled shrimp salad is that you use the dressing for the salad, but also for marinating the shrimp.
The lime, soy sauce, cilantro and other aromatics work beautifully together to create such a vibrant taste for the salad and the shrimp.
Simply add all the ingredients of the dressing/marinade together in a medium bowl, and then gently whisk in the extra-virgin olive oil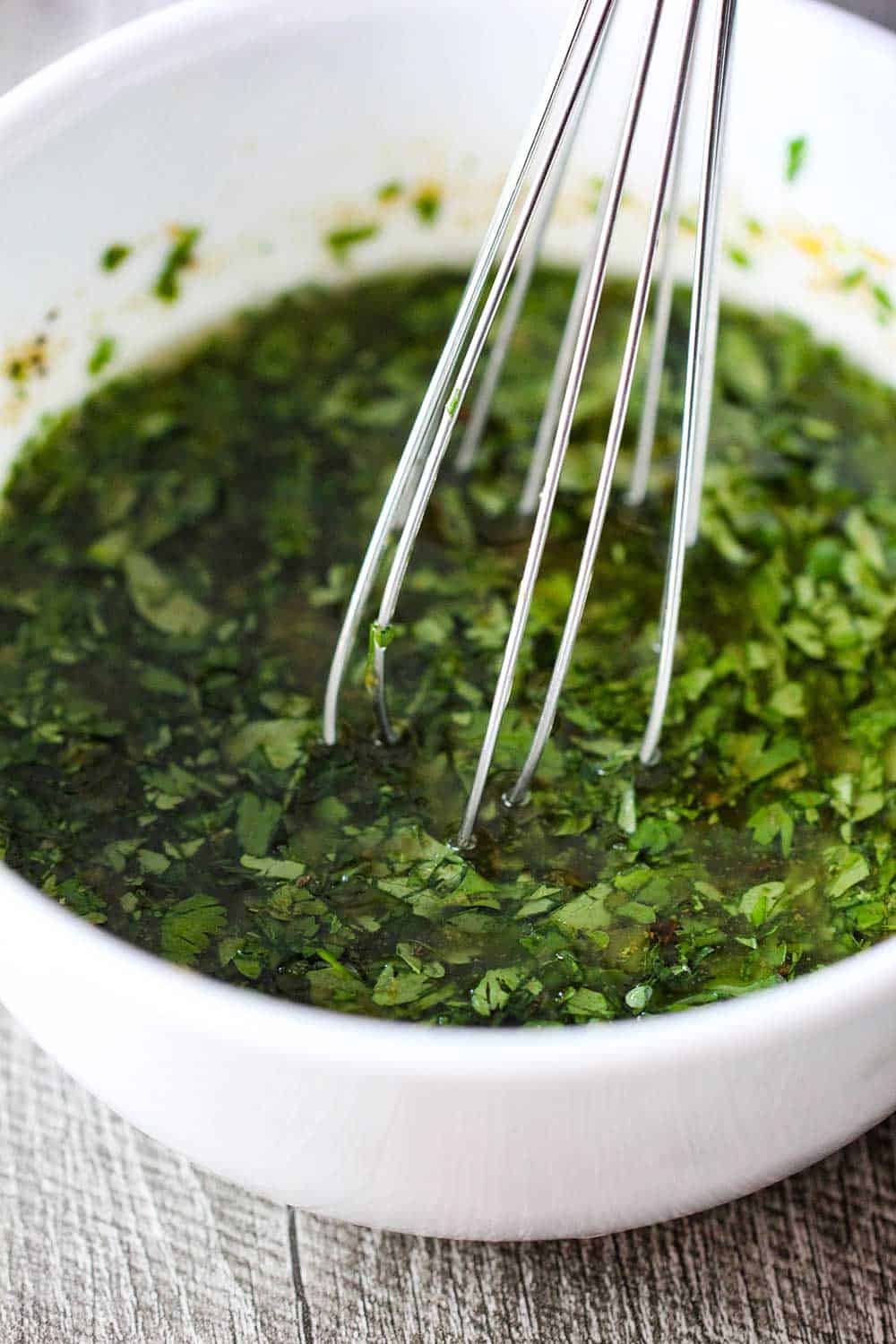 Whenever we serve this amazing grilled shrimp salad, folks always comment on how fresh and delicious it is.
That's, of course, because we use fresh ingredients, but also, the marinade/dressing is such a vibrant combination of flavors, it really enhances and brightens the entire salad.
Simply add the cleaned and deveined shrimp into a large freezer baggie, and then pour enough of the marinade/dressing into the bag to soak the shrimp. The shrimp only needs about an hour in the refrigerator to soak up all that amazing flavor.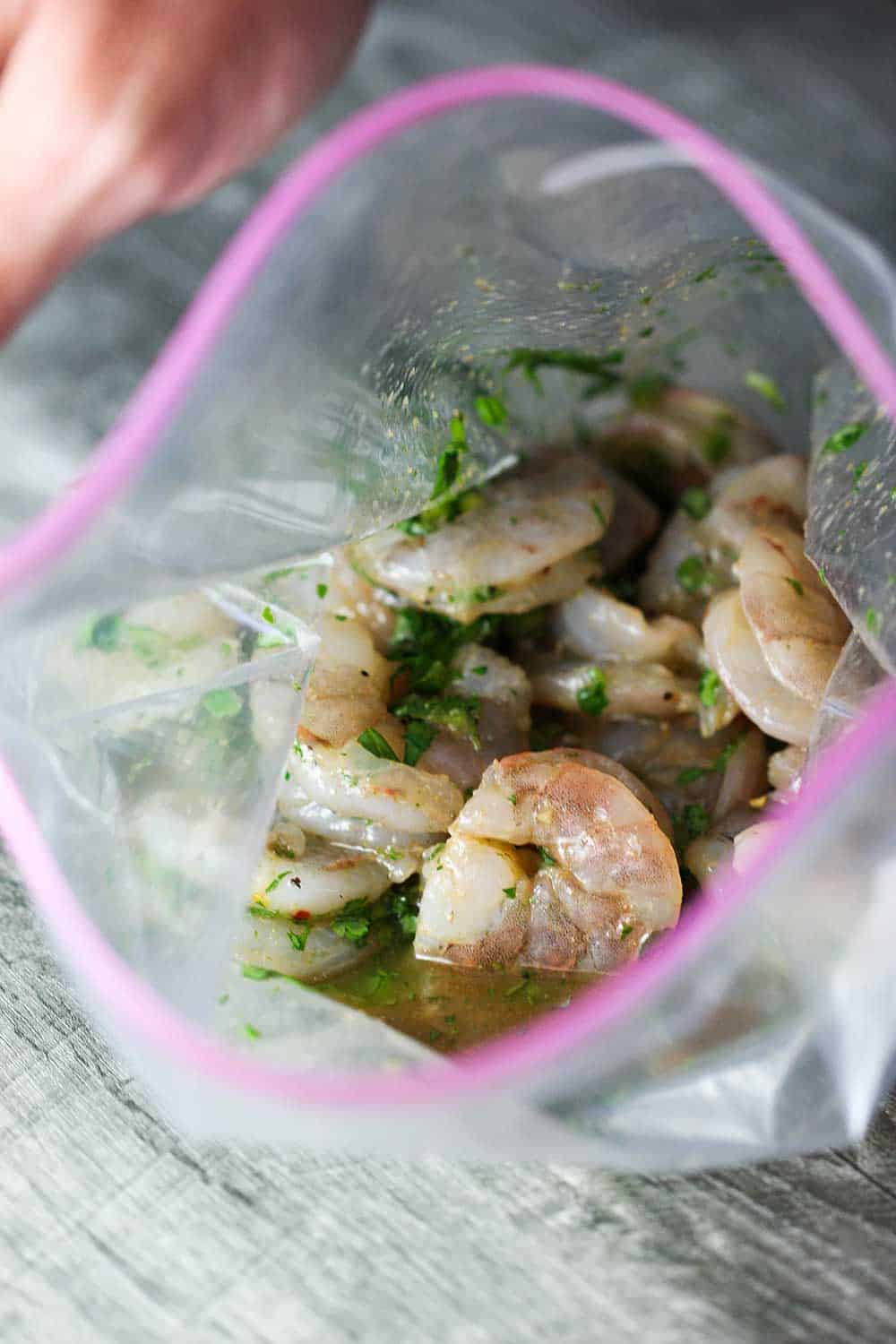 GRILL THE CORN AHEAD OF TIME
Grilling fresh corn is such a wonderful way to increase the flavor profile of this Grilled Shrimp, Corn & Avocado Salad.
Turn your grill to medium heat, and then simply add a little oil to the ears of corn, sprinkle a little salt all over, and then grill until just some of the kernels are beginning to turn brown.
Mmmmm…corn on the cob is so delicious!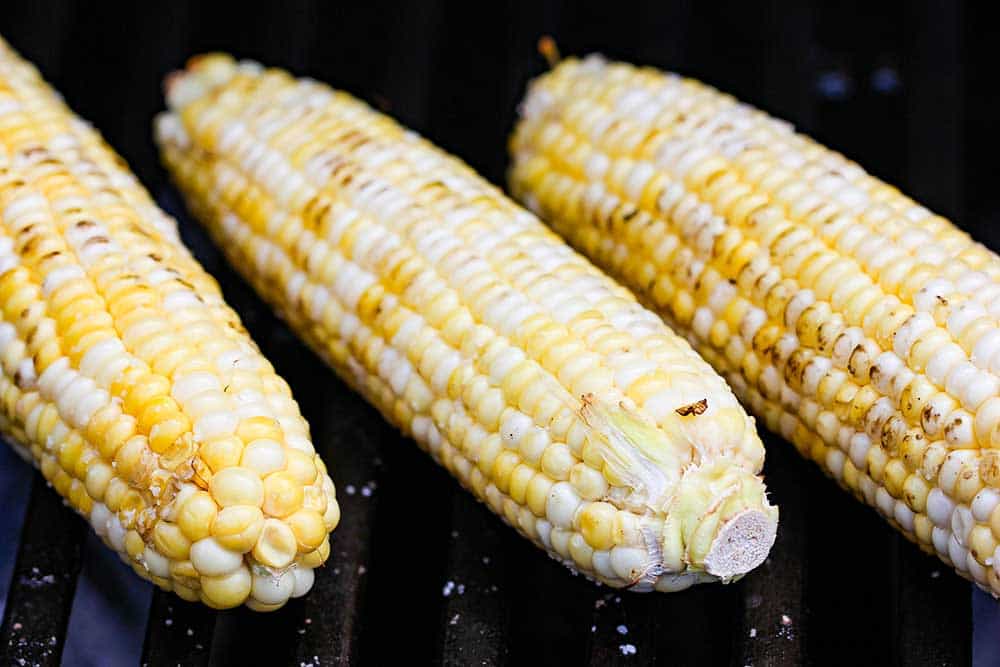 After the corn has cooled enough to handle, it's time to remove those yummy cooked kernels!
Take a large platter, or shallow bowl, and place the ear of corn on one end.
Next, carefully take a sharp knife and remove the corn kernels from the cob. Corn perfection!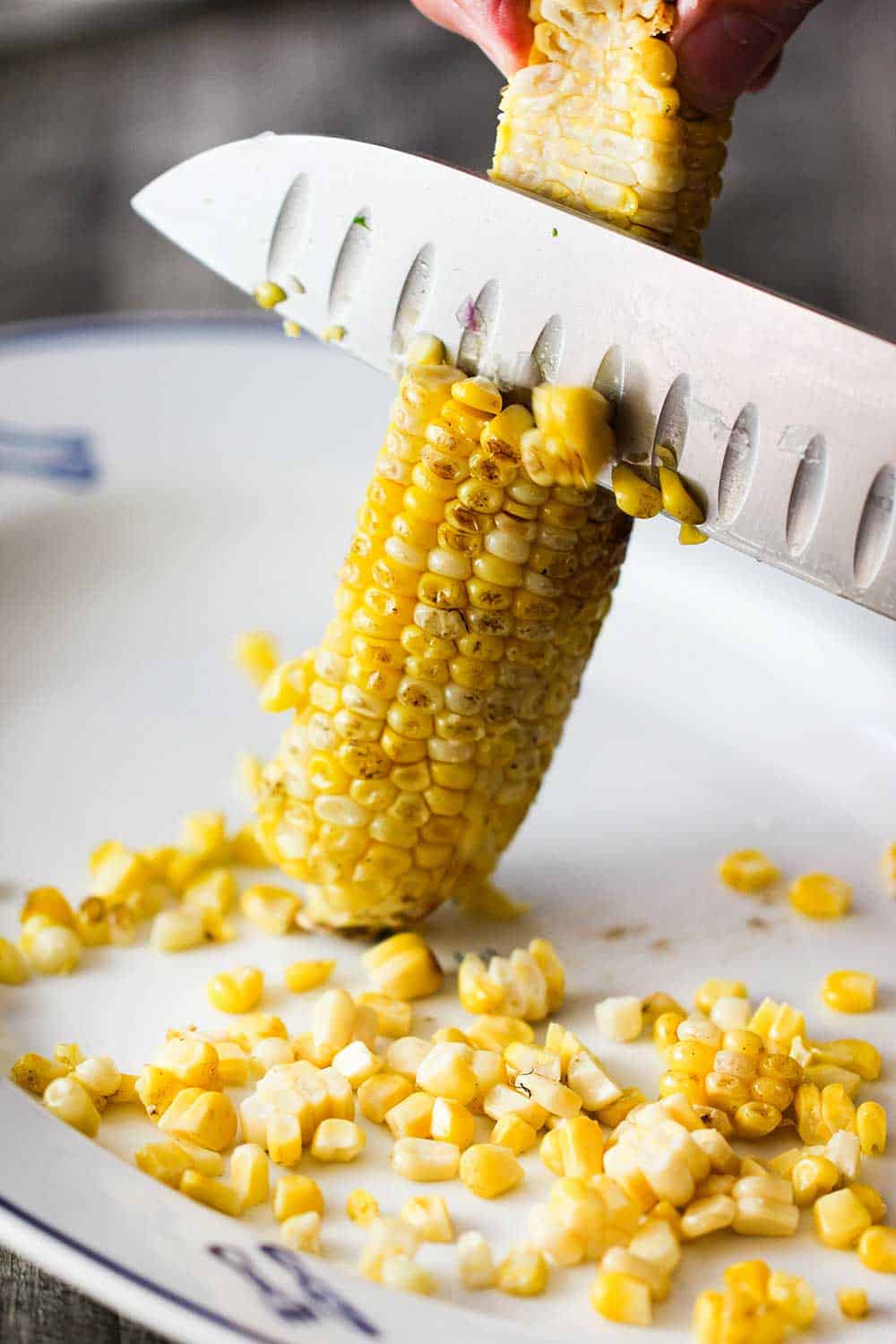 HOW TO COOK THE SHRIMP
We thinking grilling the shrimp brings out the best flavor for this salad.
However, you can certainly sear the shrimp in a hot skillet with a little olive oil, or in a oven-proof pan (i.e., cast iron skillet) in a 450°F oven.
If grilling, be sure to use skewers (metal or wooden), or a grill pan, to cook the shrimp. This will keep the shrimp from falling through the grates. The shrimp only take about 3 to 4 minutes per side!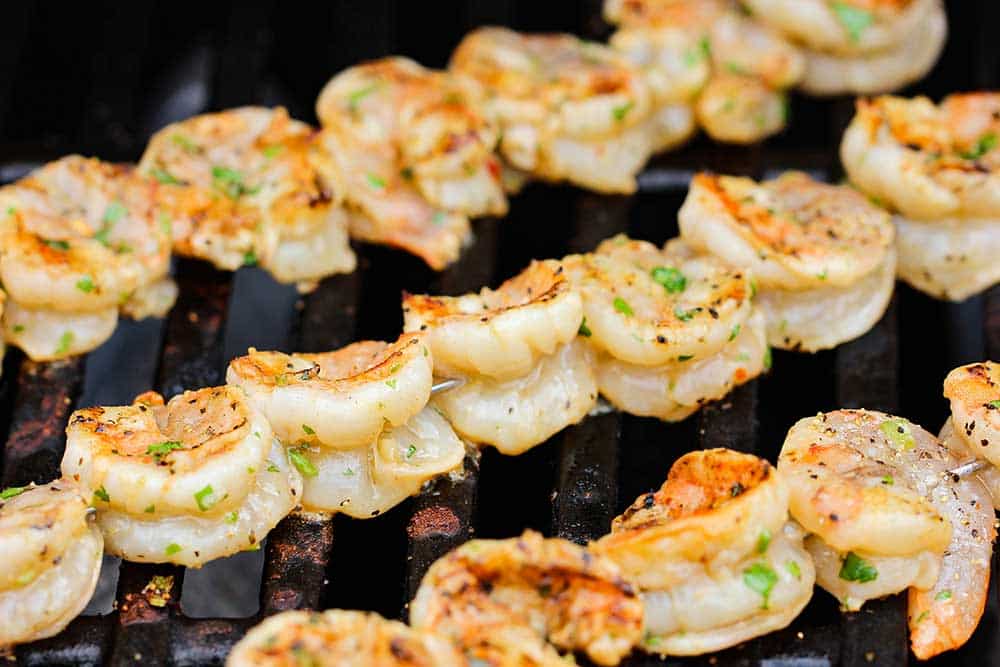 USE FRESH PRODUCE FOR THE SALAD
The grilled shrimp is absolutely delicious, and would be wonderful by itself, or over pasta or rice.
But, folks, this salad, along with the Lime-Cilantro dressing is absolutely out-of-this-world delicious!
In addition to the corn, the additional ingredients we use to build this amazing salad are:
Black beans, rinsed
Fresh tomatoes
Finely minced jalapeno
Chopped red onion
Chopped scallions
Avocado, roughly chopped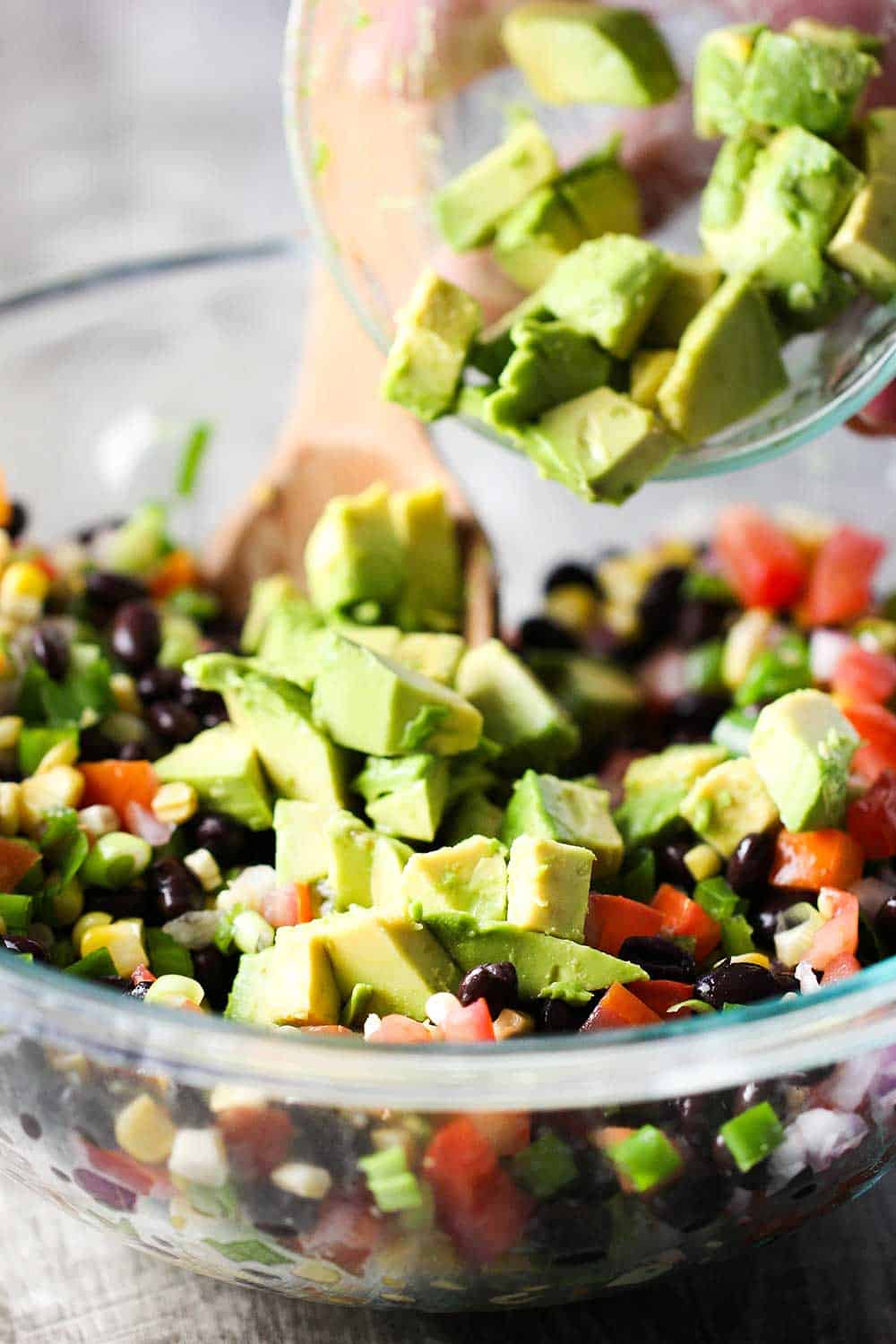 After mixing together all the glorious components of this Grilled Shrimp, Corn & Avocado Salad, toss with about a 1/3 a cup of the dressing. We love to serve the salad on a large chilled platter.
The shrimp is wonderful served warm (right off the grill), but it's spectacular served at room temperature, too.
Resist the urge to over-dress the salad, but a nice drizzle over the entire salad is a nice touch, too…just before digging in.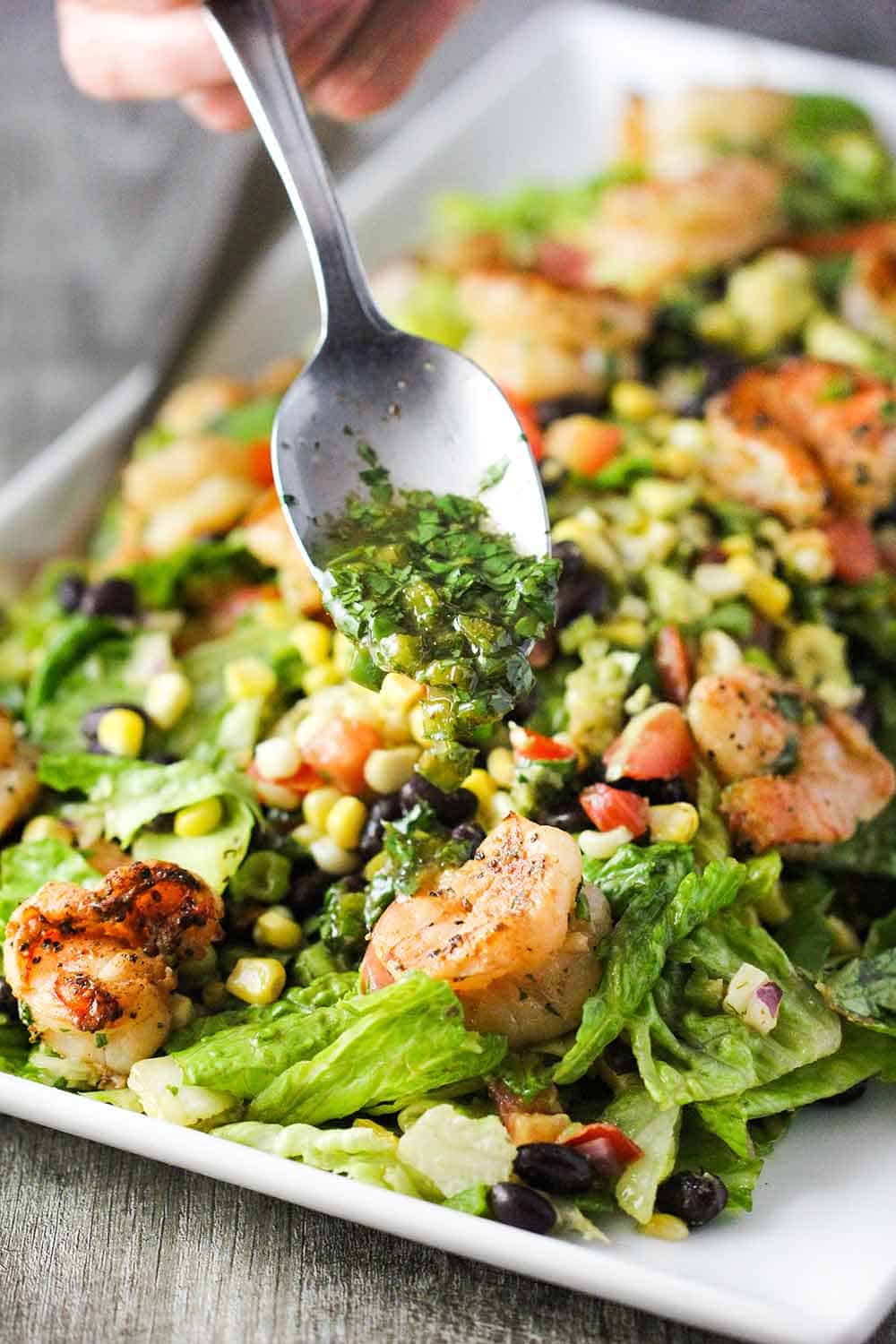 GRILLED SHRIMP, CORN & AVOCADO SALAD IS PERFECT FOR ENTERTAINING
This salad truly makes for a stunning presentation.
Since it is wonderful served at room temperature, you can make all the components of the salad ahead of time and assemble just before guests arrive!
Other wonderful shrimp recipes you might like are:
Cajun Baked Shrimp
Southern Fried Shrimp
Shrimp Fra Diavolo
This grilled shrimp salad, though,  is without doubt, one of our most cherished recipes that we've ever made and we think you will love it, too!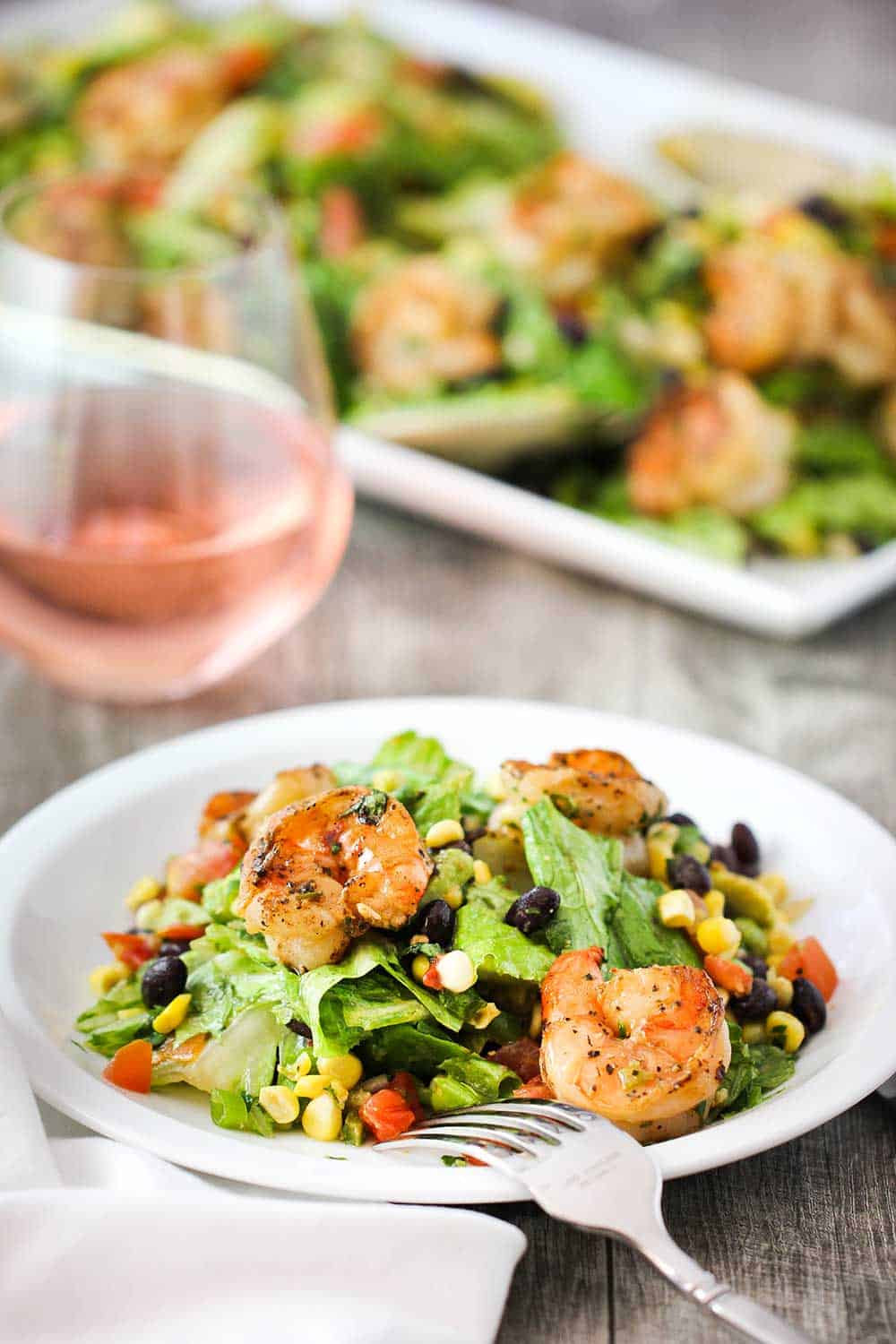 Grilled Shrimp, Corn & Avocado Salad with Lime-Cilantro Dressing
This Grilled Shrimp, Corn & Avocado Salad has been our all-time favorite salad for many, many years. All components can be made ahead of time. Simply assemble the salad, placing the cooked shrimp on top, just before serving. Amazingly delicious!
Print
Pin
Rate
Prep Time: 15 minutes
Cook Time: 15 minutes
Marinating time: 1 hour
Total Time: 1 hour 30 minutes
Servings: 6 people
Calories: 218kcal
Equipment
Grill (or can use skillet on stove or in pan in oven)

Skewers or grill pan
Ingredients
FOR THE MARINADE / DRESSING
1/2 cup fresh lime juice
2 tbsp soy sauce
1 fresh jalapeño cored with seeds and ribs removed
3 cloves garlic minced
Pinch red pepper flakes or more, for added spice
1 tbsp ground cumin
1 cup fresh cilantro chopped
3/4 cup extra-virgin olive oil
FOR THE SALAD
1 lb large shrimp deviend and peeled
Salt and pepper
2 ears fresh corn shucked and silk removed
Canola oil for brushing the corn
1 cup tomato cored and diced
1 15 oz can black beans drained and rinsed
1/4 cup red onion chopped
1/4 cup green onions, scallions green and white parts, chopped
1 jalapeno seeds and ribs removed, finely chopped
1 avocado skin and pit removed, roughly chopped
1 9 oz. bag Romaine hearts lettuce roughly chopped
Instructions
Make the dressing/marinade in a medium-sized bowl by mixing together the lime juice, soy sauce, jalapeno, garlic, red pepper flakes, cumin and cilantro. Slowly whisk in the extra-virigin olive oil.

Add the shrimp to a large plastic ziplock bag, or a bowl, and pour enough of the marinade into the bag to fully coat the shrimp. Close the baggie (or cover the bowl with plastic wrap) and place in the refrigerator for 1 hour. Save the remaining marinade for the dressing (there should be approx. 1/2 to 3/4 cup left).

Heat your grill to medium heat. Brush the canola oil over the corn and then sprinkle all over with salt. Add the corn to the grill, over direct heat, and cook until kernels are starting to brown. About 8 minutes, turning the corn over a time or two while cooking. Remove and set aside to cool.

Once the corn is cool enough to handle, set one corn upright on a large platter or a shallow bowl, and then with the other hand, carefully use a large knife to cut the kernels from the cob. Repeat with the other ear of corn. Set aside.

Take the shrimp from the marinade and place on skewers, careful not to overcrowd each skewer with the shrimp (don't squeeze too many shrimp on a skewer, otherwise, they won't cook evenly). Lightly salt and pepper the shrimps before grilling. Alternatively, cook on the grill on a grill pan, or sear in a skillet over medium-g-high heat on the stove, or in a cast-iron skillet in a 450° oven for about 10 minutes. Discard the marinade.

Meanwhile, in a medium bowl, mix together the corn, tomatoes, red and green onions, pepper and beans. Gently stir in the avocado.

Put the lettuce in a large bowl and pour the corn mixture over the top. Add 1/3 to 1/2 cup of the reserved dressing and gently toss.

Place the dressed salad on a large chilled platter or in a serving bowl. Place shrimp on top of the salad and serve at once!
Notes
All components of this salad can be prepared ahead of time and kept chilled in the refrigerator until 2 hours before serving.  Let everything come to room temperature, and then assemble the salad is indicated in the recipe.  
Nutrition
Calories: 218kcal