Cajun Baked Shrimp is one of those dishes that you will want to come back to time and time again.
The taste is out of this world.
And it literally only takes about 20 minutes to prepare.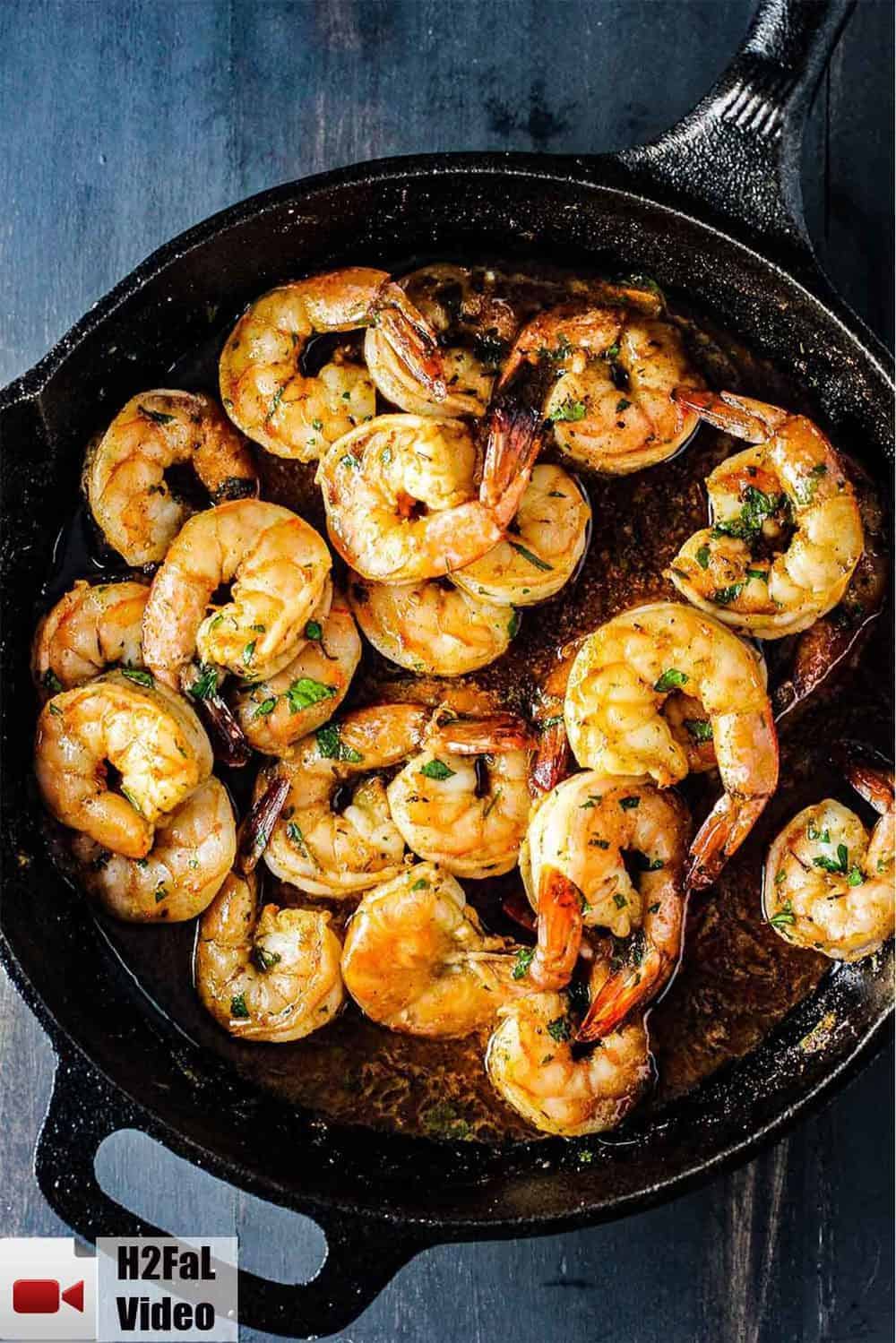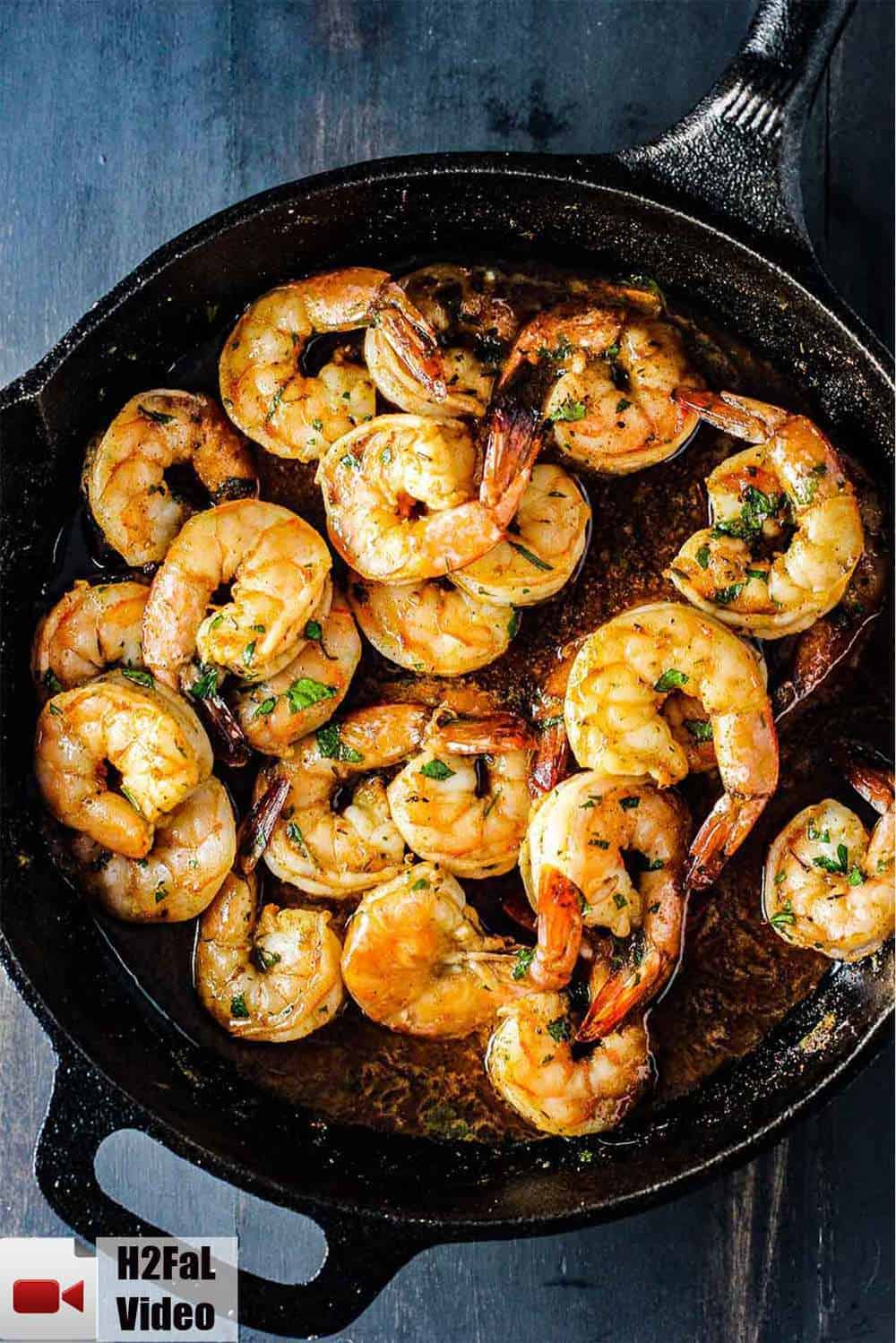 CAJUN BAKED SHRIMP IS EASY TO PREPARE
We love everything about this dish. The flavor is through-the-roof good.
Watch us show you how easy it is to make Cajun Baked Shrimp at home…in minutes!
One of the most wonderful things about this dish is that most of the ingredients you already have in your pantry.
If you can't find cajun seasoning, just get a large bowl, and mix together 1 tbsp of the following:
Garlic powder
Italian seasoning
Paprika
Kosher salt
And then 1 tsp of the following:
Black pepper
Cayenne pepper
Ground thyme
Onion powder
SIMPLY MIX THE SAUCE INGREDIENT IN THE DISH
All you have to do is grab an oven ready dish (we love our cast iron skillet) and mix all the ingredients together.
Toss the shrimp to coat. Then bake in a piping hot oven (450°F)…for only 10 minutes!!
Give the shrimp a good scooch around one or two times while baking!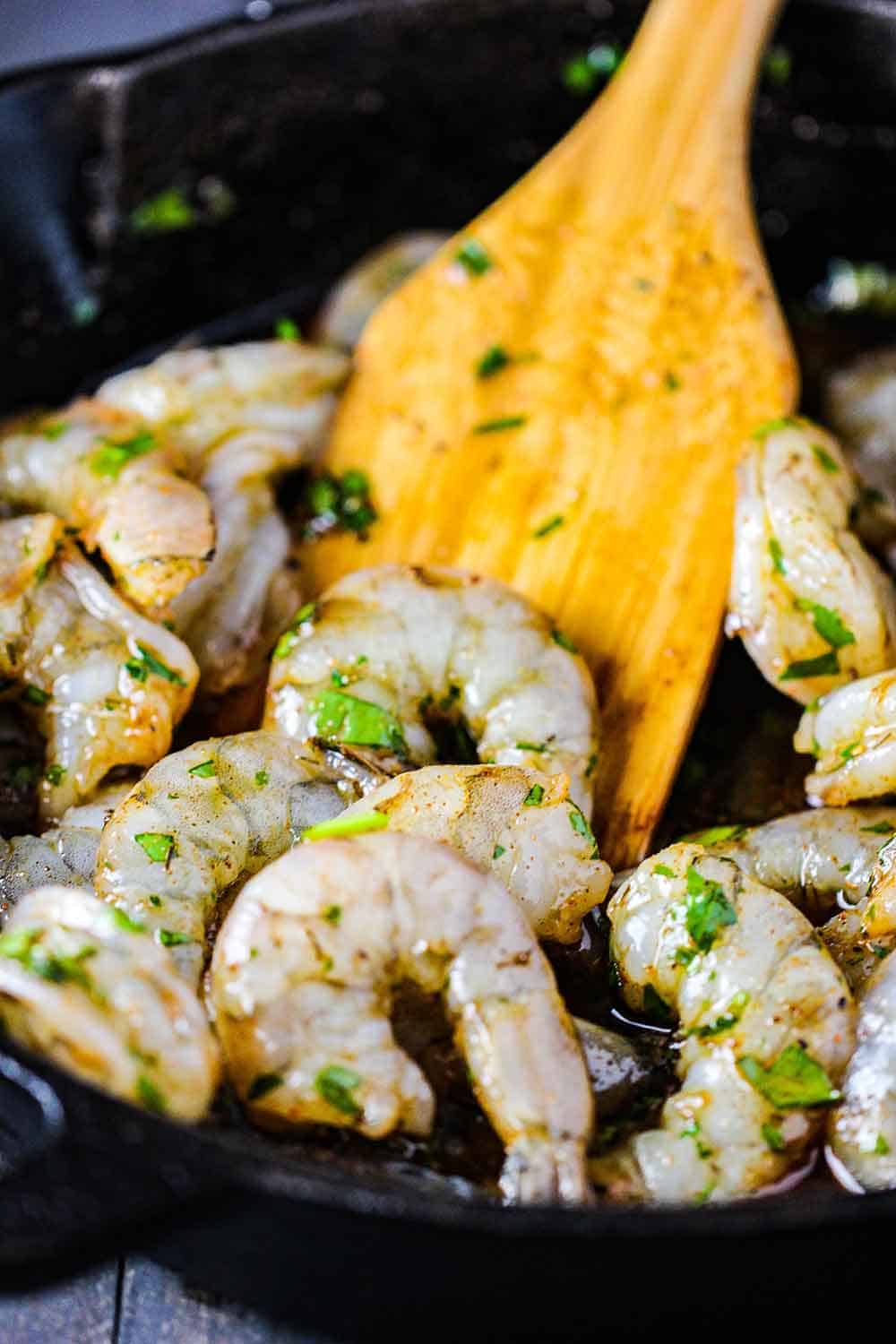 GRILLED BREAD IS PERFECT FOR SOAKING UP THE JUICE
Grab a baguette, slice it on the diagonal, brush the slices with a little olive oil.
And then throw on a hot grill, griddle, or in a toaster oven.
The sauce is begging for bread to soak it up!!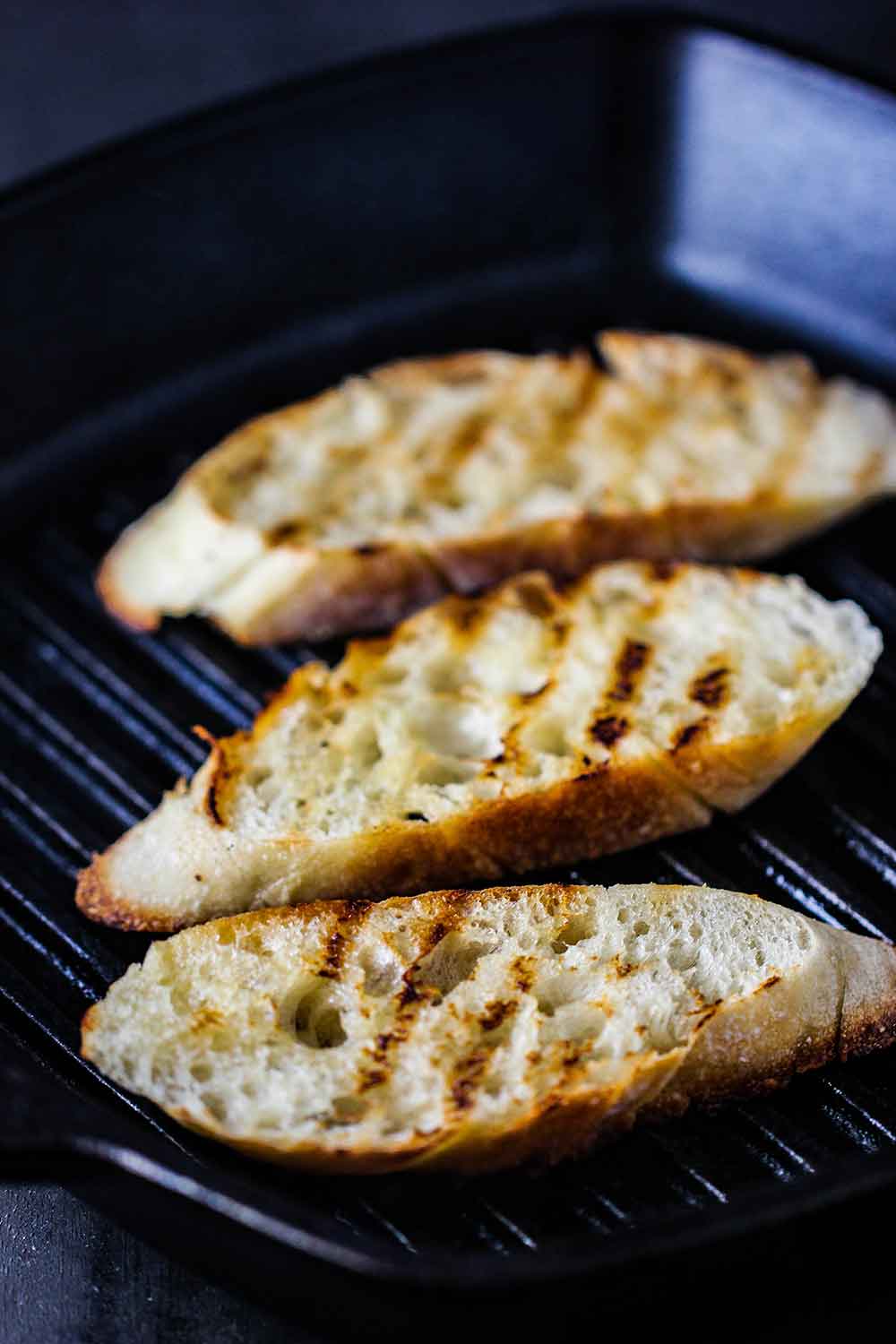 There is truly something magical about Cajun cuisine.
This Cajun Baked Shrimp has just a touch of heat which is perfectly matched against the sweetness of the honey, and the tartness from the lemon juice.
The shrimp is cooked perfectly in only 10 minutes!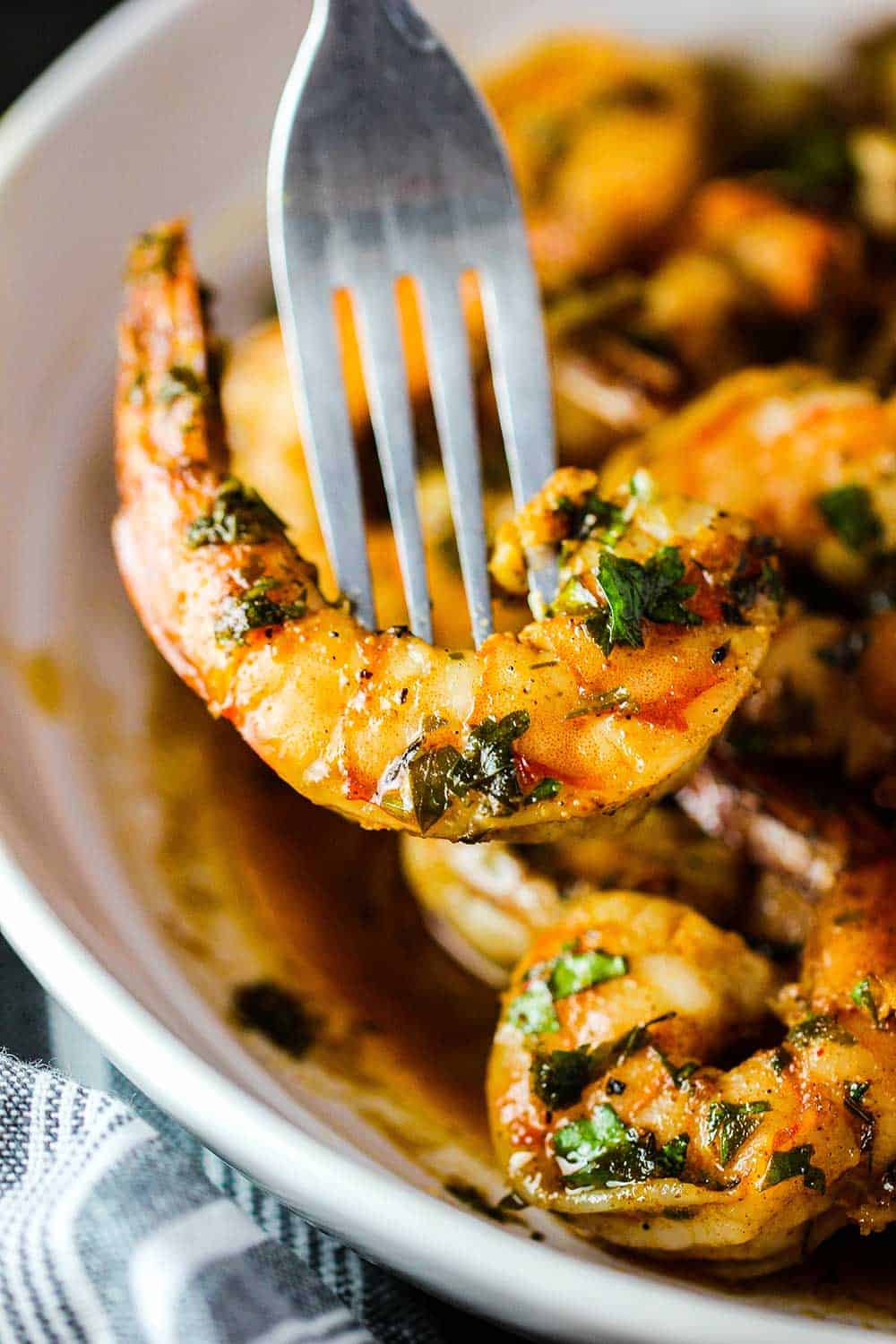 CAJUN BAKED SHRIMP IS BEST SERVED OVER RICE
And folks, if you're going to make this amazing shrimp, then why not go the distance and make our incredible Authentic Cajun Dirty Rice.
This dish is a show-stopper, like no other. And may we remind you…it only takes 15 to 20 minutes to prepare!
Go for it!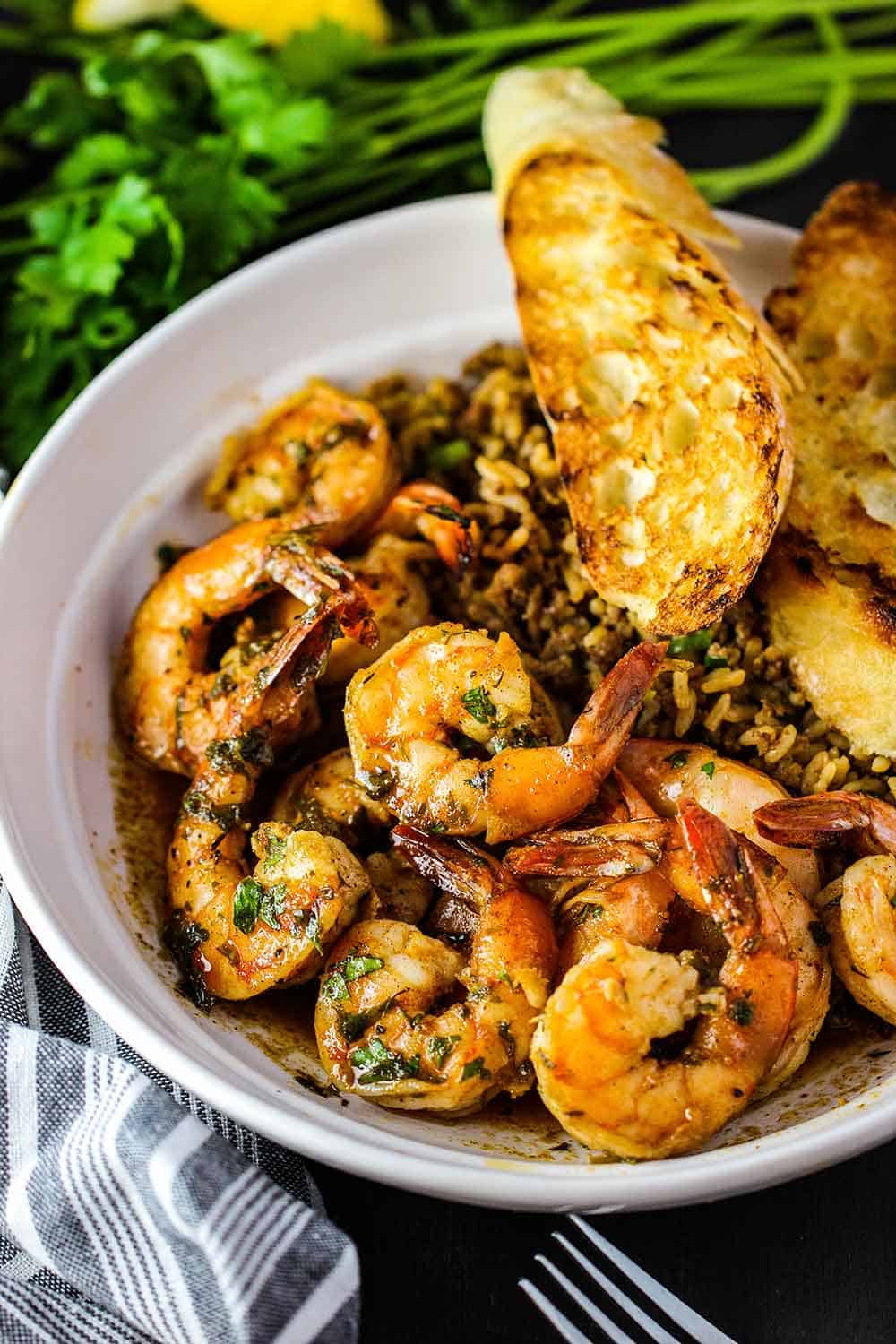 Cajun Baked Shrimp
This baked shrimp is Cajun at its best. Pour the sauce over
Cajun Dirty Rice
and serve with andouille sausage. Oh my.
Print
Pin
Rate
Servings: 4 people
Calories: 224kcal
Ingredients
1/2 cup olive oil
2 tbsp Cajun or Creole seasoning
2 tbsp fresh lemon juice
2 tbsp fresh parsley chopped
2 tbsp honey
2 tbsp soy sauce
1/4 tsp cayenne pepper optional
1 lb uncooked large shrimp shelled, deveined
Lemon wedges
French bread
Instructions
Combine first 7 ingredients in a large oven proof dish. (A 12-inch cast iron skillet or 9x13 casserole dish works well).

Add shrimp and toss to coat.

Refrigerate for 1 hour. (This isn't required, but just makes the shrimp even more delicious).

Pre-heat oven to 450 F.

Bake until shrimp are cooked through, stirring occasionally, about 10 minutes.
Nutrition
Calories: 224kcal