If you love Louisiana cuisine, Cajun to be exact, then you've probably enjoyed this dish plenty of times. Making it at home is so much fun!
We're not born and raised in Louisiana, but, we visit as often as we can, and every single time we fall in love with the people and cuisine even more than the last. This classic dish is one of our favorites and easy to prepare at home. Be sure to make a batch of perfectly steamed rice, and you'll be set.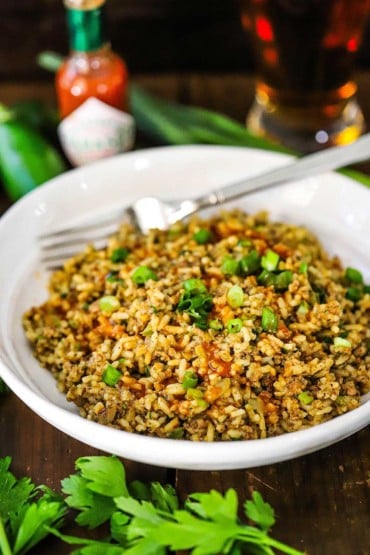 How To Make Cajun Dirty Rice
NOTE: If you liked this video, please subscribe to our YouTube channel. Remember to click the little 'bell' icon so you'll never miss a new video. Thank you!
The Ingredients You Will Need
Legend has it that this dish is called 'dirty' because it looks 'dirty.' We think it looks beautiful, especially after you take that first bite. The ingredients can be adapted to your own likings, but chicken livers, ground pork, and rice are common.
Oil – Vegetable, canola, or olive are all acceptable.
Pork – Ground. We've tried breakfast sausage before, and it's delicious, too, but not commonly used.
Chicken livers – Found in the poultry section of most well-stocked supermarkets. Sometimes they are in the frozen section.
Seasonings – Salt, pepper, and chili powder (cayenne is more common, but we love a good-quality chili powder).
Onion – Finely chopped.
Celery – Finely chopped.
Garlic – Minced.
Jalapeño – Seeded and finely chopped. Leave some of the seeds in for extra heat.
Oregano – Dried is great. Double the amount if using fresh.
Rice – Steamed. It should be wet and not dried out.
Scallions – Chopped.
Parsley – Chopped, optional. It's for garnishing.
EXPERT TIP: As you are cooking the puréed chicken livers and ground pork, it's good if it sticks to the pan a little. You want to get an almost crusty texture.
Tips For Making Perfect Cajun Dirty Rice
Don't Forget the Chicken Livers -Chicken livers are a traditional ingredient in dirty rice and add a rich, earthy flavor to the dish. Purée them in a blender or food processor.
Cook the Livers and Pork on High Heat – Let the livers and pork rest on the hot skillet without stirring periodically. It will start to stick to the pan. Then scrape it up. This adds wonderful texture to the dirty rice.
Use Long-Grain Rice – Steamed long-grain rice is the traditional rice used in dirty rice and will give the dish a fluffy texture and nutty flavor. Instant-rice can be used in a pinch, but long-grain is best.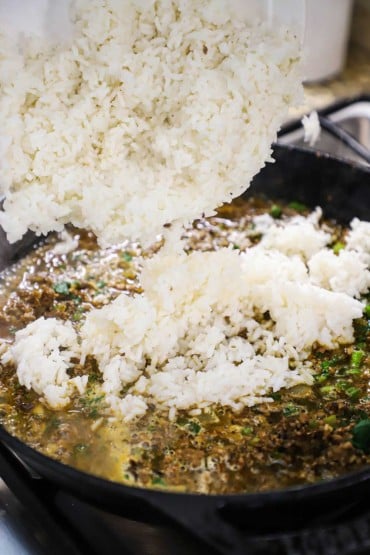 How To Serve
This dish is filling and makes a nice main coarse meal. However, it's also an amazing side dish to some of the classic entree dishes listed below.
It also reheats beautifully. Simply reheat in a skillet over medium heat with a few more splashes of chicken broth.
Be sure to serve it with your favorite hot sauce, such as Crystals, Louisiana-Style, or Tabasco!
We love to serve it family-style right out of the skillet we prepare it in.
Other Classic Louisiana-Style Recipes to Try
If you love Cajun, Creole, New Orleans, or any style of Louisiana cuisine, you will absolutely love these classic dishes. Just remember: New Orleans is not considered Cajun or Creole, although there is plenty of Cajun food served there.
Classic Jambalaya
Crawfish Étoufée
Shrimp and Okra Gumbo
Chicken and Sausage Gumbo
Creole Chicken and Rice
Red Beans and Rice
Fried Catfish Po-Boy
Authentic Muffuletta
Classic Beignets
These are all nothing short of amazing. But, in the meantime, isn't this bowl of yumminess catching your eye?
Dirty Rice has a long, challenging history, and comes from a dark place in the United State's history. But it is steeped in tradition and has found its place in culinary excellence.
This dish has been a mainstay in our home for many years.
We also know it is very near and dear to so many, especially generations from Cajun country down in beautiful Louisiana.
This is sure to become a family favorite. And, don't worry about the chicken livers. No one will identify the flavor. It just gives a depth of taste that is truly wonderful.
Ready to make the best Cajun dish this side of the Bayou? Go for it!
And when you do, be sure to take a photo of it, post it on Instagram, and tag @HowToFeedaLoon and hashtag #HowToFeedaLoon!
Louisiana Dirty Rice
Dirty Rice, often called Cajun Rice, is deeply flavorful and is perfect for a main dish, but also makes a wonderful side. Don't worry about the chicken livers, once puréed, they cook easily and don't make the dish taste like liver. They just add a depth of flavor that is wonderful.
Print
Pin
Rate
Servings: 6 people
Ingredients
3 tbsp vegetable oil
8 oz ground pork
¼ cup chicken livers (about 4 oz), puréed
1½ tsp Kosher salt
½ tsp ground black pepper
½ tsp chili powder
1¾ cups chicken stock
1 medium onion chopped
2 stalks celery stalks chopped
3 cloves garlic minced
1 jalapeño stemmed, seeded, and finely chopped
1 tbsp oregano dried
3 cups steamed rice (recipe below)
1 bunch scallions chopped, plus extra for garnish
2 tbsp parsley chopped
Louisiana-style hot sauce for serving
Steamed Rice
1½ cup long-grain rice
2 cups water
2 bay leaves
Pinch Kosher salt
Instructions
In a large skillet, heat the oil over high heat. Once hot, add the pork and chicken livers and cook, stirring, until browned.

3 tbsp vegetable oil, 8 oz ground pork, ¼ cup chicken livers

Add salt, pepper, and chili powder and stir often, but not constantly: The idea is to get the meat to stick to the pan and get a little crusty.

1½ tsp Kosher salt, ½ tsp ground black pepper, ½ tsp chili powder

Add 1/4 cup of the chicken stock and simmer until it has evaporated, allowing the meat mixture to get browned and crusty and stick to the pan once again.

1¾ cups chicken stock

Add the onion, celery, garlic, jalapeño, and oregano and cook, stirring, until the veggies are nicely browned and crusty and beginning to stick to the pan.

1 medium onion, 2 stalks celery stalks, 3 cloves garlic, 1 jalapeño, 1 tbsp oregano

Add the rice (recipe below), the remaining 1½ cups broth, the scallions, and parsley. Stir until the liquid is absorbed and the rice is heated through, about 5 minutes.

3 cups steamed rice, 1 bunch scallions, 2 tbsp parsley

Serve at once, garnishing with extra chopped scallions and hot sauce on the side.

Louisiana-style hot sauce
How to Make Perfectly Steamed Rice
Combine the rice, water, bay leaves, and salt in a medium pan and bring to a boil over medium-high heat.

1½ cup long-grain rice, 2 cups water, 2 bay leaves, Pinch Kosher salt

Reduce the heat to low, cover with a tight-fitting lid, and simmer for 15 to 20 minutes.

Remove from the heat, and keep covered for an additional 5 minutes.

Remove the lid, cool for a few minutes, and then fluff the rice with a fork.
Notes
See the video near the top of the blog post for visual guidance. If you liked the video, please subscribe to our YouTube channel.
Chicken livers can usually be found in containers in the poultry section of most well-stocked supermarkets. Sometimes they are frozen. Chicken livers are traditional for dirty rice. They don't make the rice have a strong chicken liver taste at all. If desired, you can leave them out and you'll still have a tasty dish.
Leftovers will keep covered in the fridge for up to 6 to 7 days. It can be frozen for up to 4 to 6 months. Reheat in a skillet over medium heat with a few splashes of broth.
POST UPDATE: This recipe was originally published in January, 2014, but was updated with improved tweaks to the recipe with new tips and photography and a fabulous new video in October, 2023!