We just can't get ever get enough of The Crescent City. The people. The culture. The music. The architecture. And, of course, the food.
As we are publishing this beloved recipe, the Fat Tuesday celebrations are soon to commence in New Orleans, so we are turning out once of the most iconic Cajun dishes of them all. Just like our Authentic Chicken and Sausage Gumbo, Jambalaya, or Cajun Dirty Rice, this recipe is the real deal and is worth celebrating!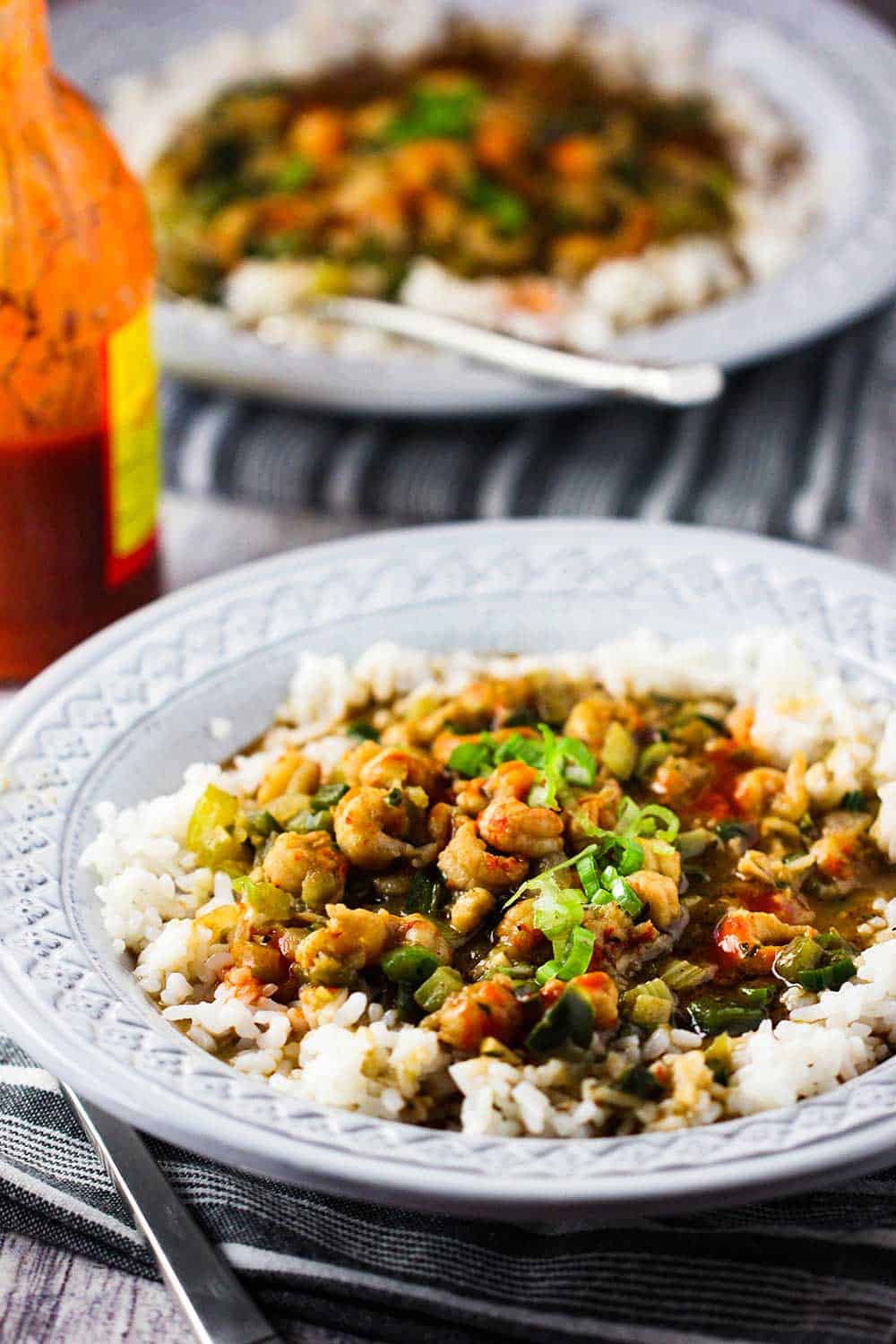 HOW TO MAKE AUTHENTIC CRAWFISH ÉTOUFFÉE
So, we're going classic with this recipe and using wild-caught crawfish (also called crayfish). The meat from the tails are the best, and it's what we use.
A perfectly wonderful substitute for crawfish is shrimp. It is still equally as delicious and has a similar taste and texture.
Crawfish are readily available in the Southern U.S. during the spring and early summer months. But you can also order them frozen, year-round from reputable merchants such as The Cajun Grocer.
Watch us show you how to make Authentic Crawfish Étouffée at home!
HOW TO PRONOUNCE ÉTOUFFÉE
All right, let's get this out of the way. Etouffee is a French word, in English, it's pronounced: "AY-too-FA, in French: "e.tu.fe."
Now, back to the recipe. As with so many Cajun recipes, it all starts with a dark roux.
We use our trusty cast-iron skillet to do the job, but any sturdy saucepan or skillet will work. Whisk the oil and the flour (½ cup each) until a caramel color, about 15 to 20 minutes.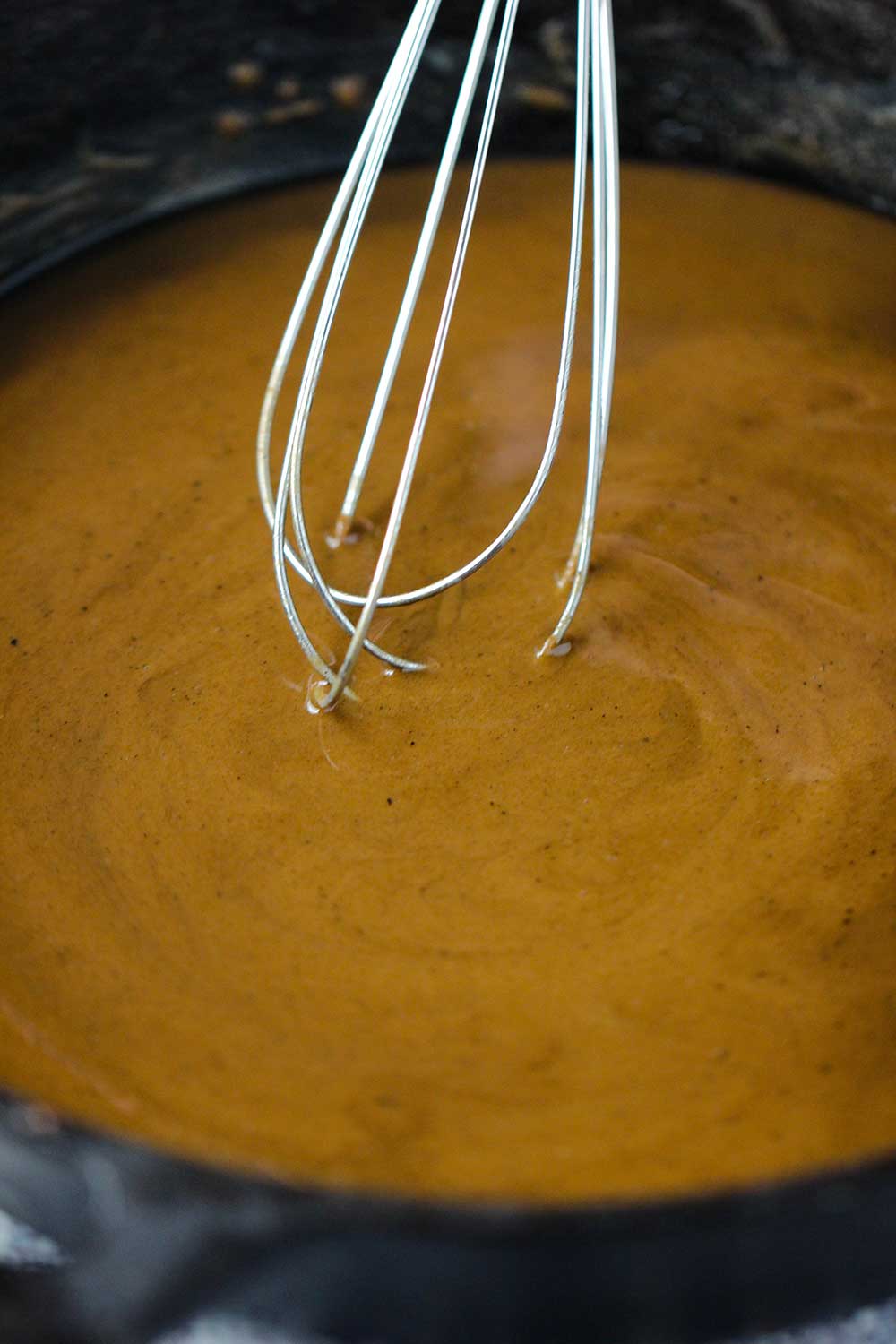 Next, come the veggies. Chopped onion, celery, and green bell pepper are traditional, along with garlic.
We love to add chopped poblano and jalapeno peppers, as well as fresh parsley, too.
They go directly into the piping hot dark roux and release an amazing smell that gets you so excited for crawfish etouffee!
HOW TO COOK CRAWFISH
Crawfish are most commonly boiled with Cajun seasonings and vegetables. Once cooked, they are peeled and eaten as is, with true crawfish lovers sucking the head of the crustacean for the ultimate experience.
None of that here.
We're cooking that tail meat in butter and green onions. Often, frozen crawfish tails will come to you already partially cooked. This is no problem! Just heat the meat until cooked through, and nice and pink!
This amazing Cajun/Creole dish comes together in less than an hour.
Be sure to do all the prepping ahead of time, and then once you get your roux ready, the rest is a snap.
Crawfish Etoufee is incredibly flavorful and not fishy tasting at all. We promise you that!
CRAWFISH ETOUFFEE FAQs
What can I use in place of crawfish? Shrimp! Peeled and deveined shrimp are a spectacular substitution for the crawfish. Go with medium-large or medium shrimp (36/40 count or 41/50 count).
How do I know when my roux is ready? Be sure to whisk constantly, as this will help to keep the roux from burning. Keep the heat to medium-low. It can take anywhere from 15 to 25 minutes. Once the roux turns the color of milk chocolate, it's done. We go with an even darker roux for gumbo. If you see dark streaks, unfortunately, it's burning, and the taste will not be desirable. You'll need to start again.
Can étouffée be made in advance? Yes! We think it's even better after it's had time to sit in the fridge for a day or so. Once ready to serve, just gently bring it back to a simmer and then serve over steamed white rice!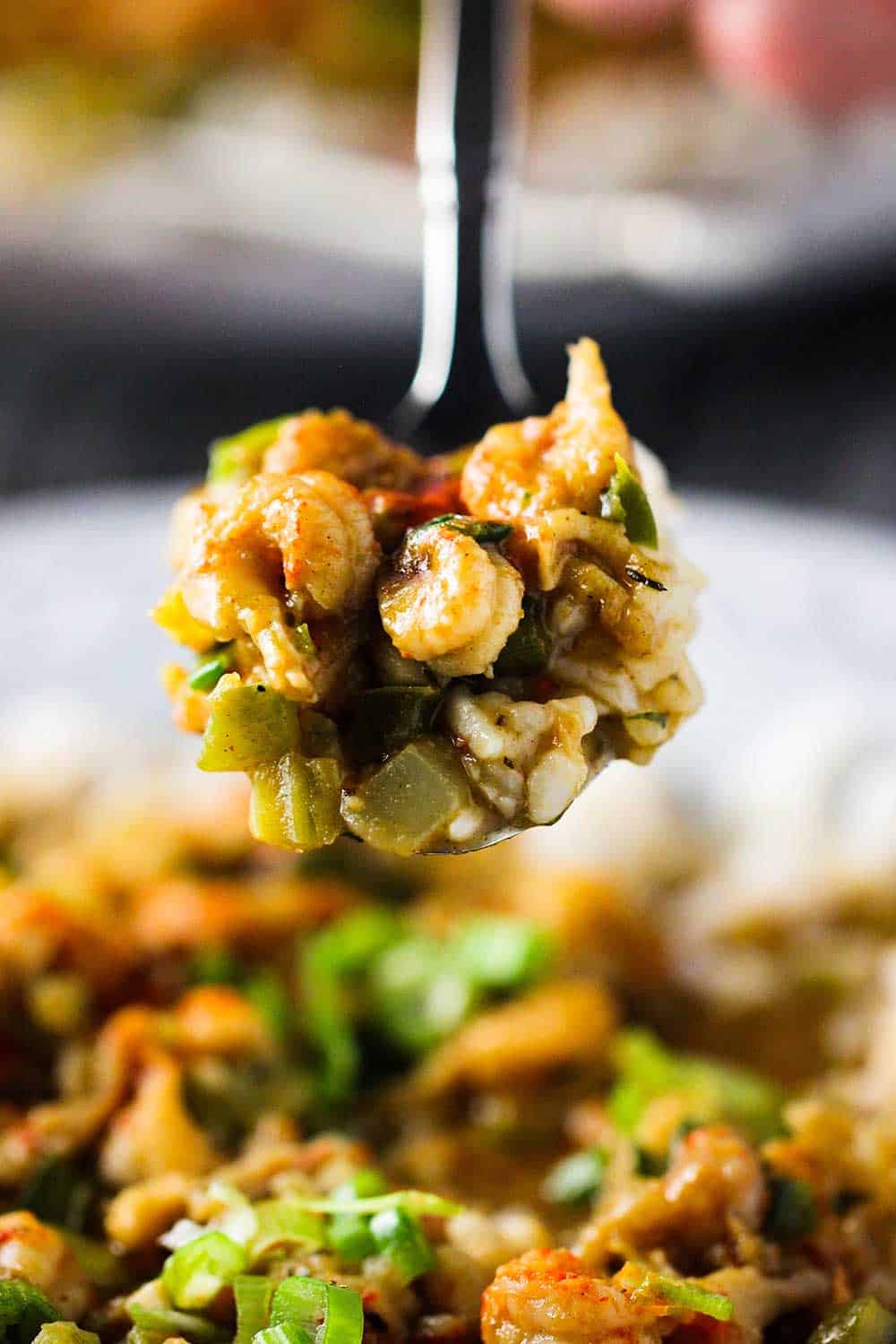 This magical Cajun dish is a wonderful weeknight meal, or for a spectacular weekend feast.
We love serving this for guests. It's also great to keep warm in a slow-cooker and folks can serve themselves whenever the urge hits them, which you'll notice, is quite often!
Etouffee is best served over perfect steamed white rice!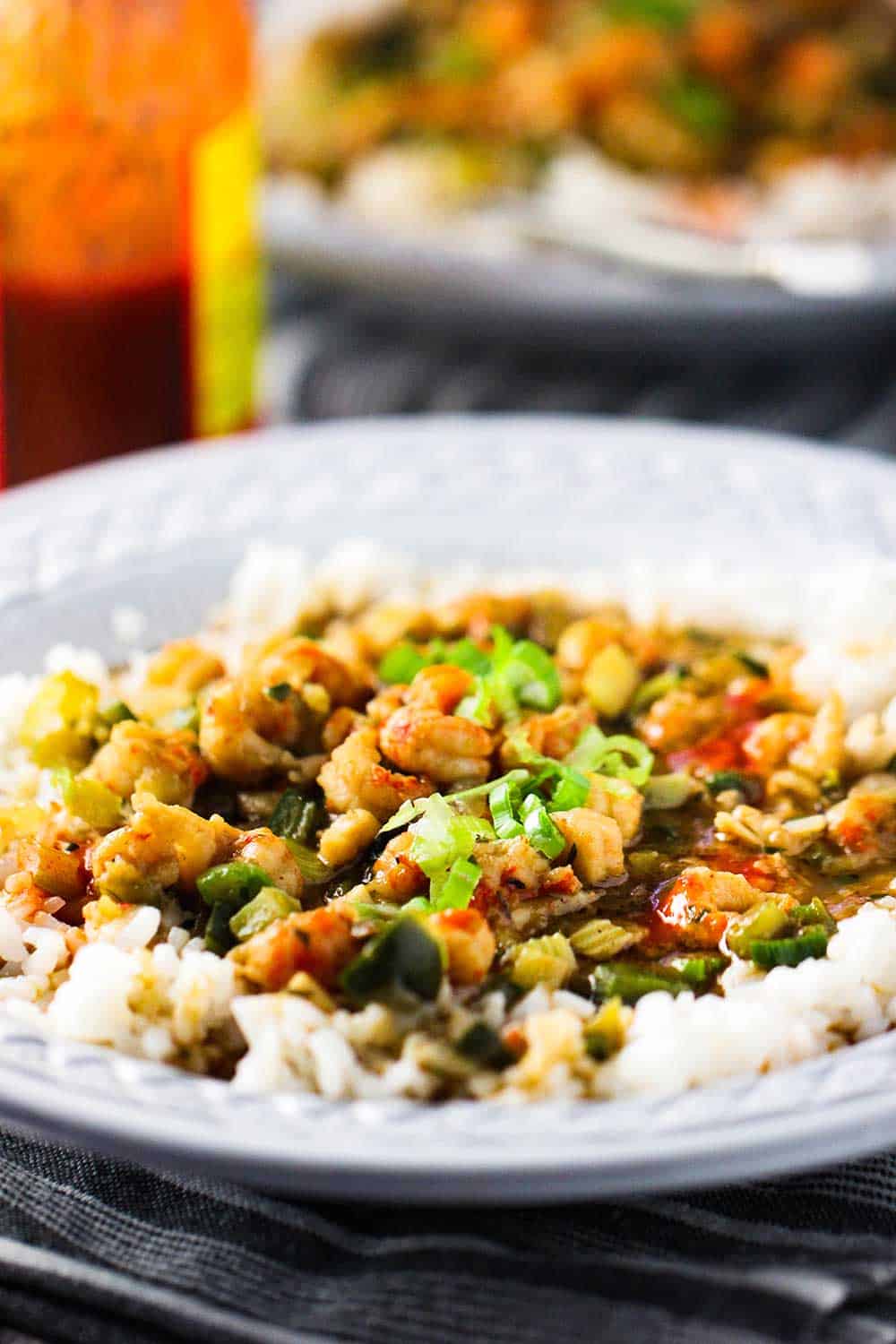 Ready to make the best Authentic Crawfish Étouffée this side of the Cajun bayou? Go for it!
And when you do, be sure to take a picture, post it on Instagram, and tag @howtofeedaloon and #howtofeedaloon!
Authentic Crawfish (or Shrimp) Étouffée
This is a classic Cajun and Creole dish that is deep in tradition and incredible in taste. Use shrimp if you can't get crawfish. This dish is even better the next day!
Print
Pin
Rate
Servings: 8
Calories: 392kcal
Equipment
Cast iron skillet and large pot, i.e, Dutch oven
Ingredients
½ cup vegetable oil or unsalted butter
½ cup all-purpose flour
1 cup onion chopped
1 cup celery chopped
1 cup green bell pepper chopped
3 cloves garlic minced
1 poblano pepper seeded and chopped
1 jalapeno seeded and chopped
2 tbsp flat-leaf parsley chopped
3 cups seafood stock heated in a large pot
1 tsp white pepper
½ tsp black pepper
1 tsp cayenne pepper
2 tsp smoked paprika
1½ tsp thyme leaves dried
1 tbsp Kosher salt
3 bay leaves
½ cup unsalted butter 1 stick
2 lbs crawfish meat tails, or shrimp, skins and tails removed and deveined
1 cup green onions scallions, chopped, plus more for garnish
Juice ½ lemon
4 cups steamed white rice cooked
Cayenne hot sauce for garnish, optional
Instructions
Heat the oil and flour in a heavy-duty skillet (i.e., cast-iron) over medium-low heat. Whisk continuously until a dark roux has form, about 15 to 25 minutes. Remove from heat.

Carefully, to the roux, add the onions, celery, bell pepper, garlic, poblano, jalapeno, and parsley. Stir until well coated and slightly softened about 2 minutes.

Add the roux/veggie mixture to the heated seafood stock in a large pot, preferably a Dutch oven. Stir in the peppers, paprika, thyme, salt, and bay leaves. Bring to a simmer and stir frequently. The etouffee will begin to thicken as you stir.

Meanwhile, melt the butter in a large skillet. Add the crawfish (or shrimp) and green onions and cook for 5 minutes, stirring occasionally.

Transfer the crawfish mixture to the large pot along with the lemon juice and simmer for another 5 minutes.

Serve warm over steamed white rice and garnish with chopped green onions. Passing cayenne hot sauce at the table.
Notes
We use a medium-dark roux for this dish. It should turn the color of milk chocolate. If dark specks or streaks appear, the flour has begun to burn and will cause a very bitter/acrid taste. You'll need to discard and start again. It's better to keep the heat low when whisking the roux. It may take a little longer, but you won't run the risk of burning, and you WILL eventually get there. If using shrimp, go with medium to medium-large (36/40 count or 41/50 count). If purchasing frozen crawfish, we recommend allowing it to defrost in the refrigerator, rather than out on the counter. This usually takes no more than 48 hours. This étouffée has low to medium spiciness. To reduce the heat, omit the jalapeno and cut the cayenne pepper in half (or omit). This dish is even better the next day! Étouffé can be kept in the refrigerator for up to 1 week and it freezes beautifully for up to 2 months.
Nutrition
Calories: 392kcal | Carbohydrates: 35g | Protein: 6g | Fat: 20g | Saturated Fat: 11g | Cholesterol: 31mg | Sodium: 1181mg | Potassium: 296mg | Fiber: 2g | Sugar: 2g | Vitamin A: 1131IU | Vitamin C: 36mg | Calcium: 66mg | Iron: 1mg