Authentic Jambalaya is easily one of our all-time favorite NOLA dishes.
Even if it's not Mardi Gras when you're reading this, when you make this Authentic Jambalaya recipe, you'll feel like you're down in the French Quarter having this amazing bowl of pure goodness!
Welcome to the Big Easy! YUM!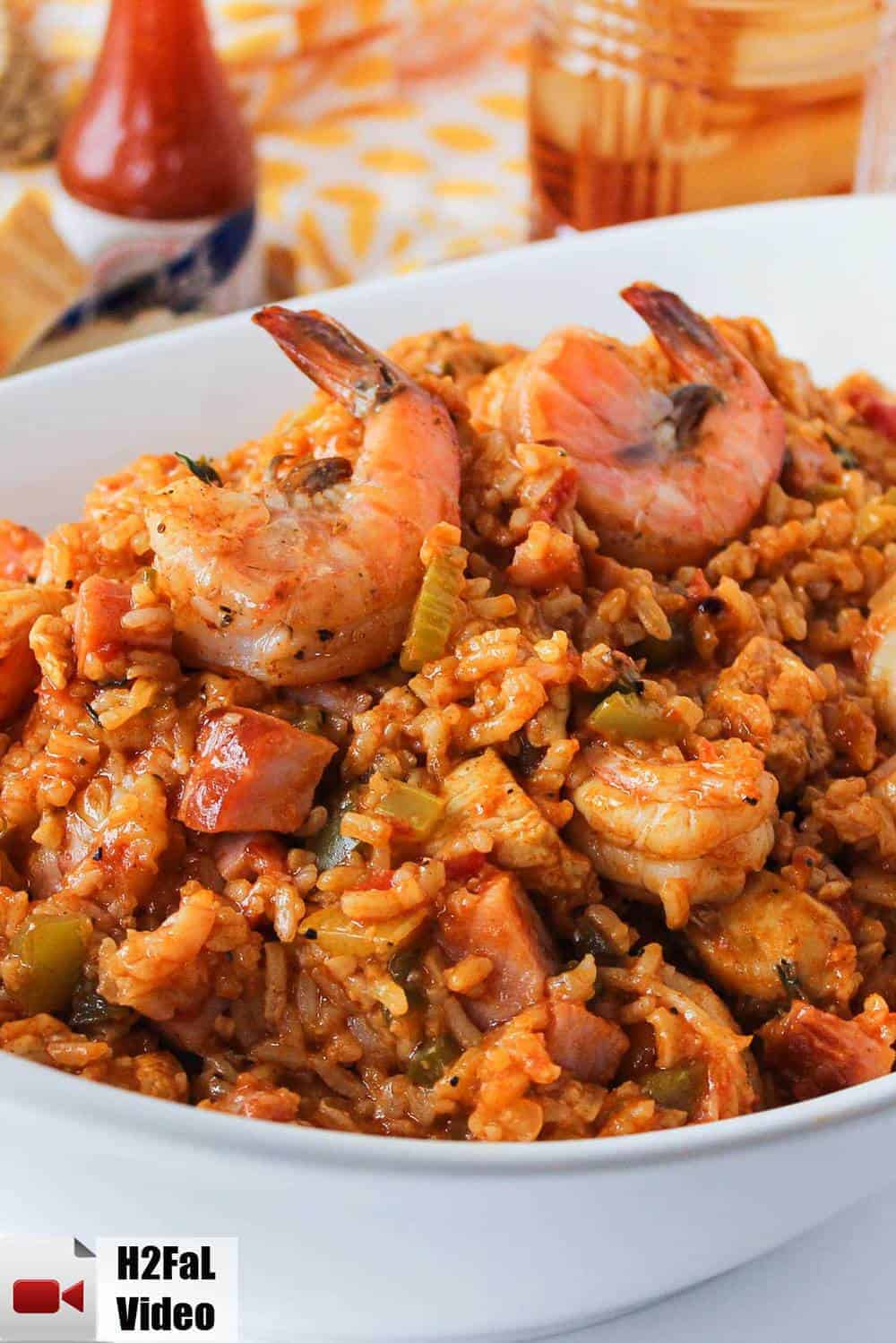 Hey! Watch us make this amazing Authentic Jambalaya! Then see the recipe below.
This classic jambalaya recipe starts off with the Cajun holy trinity (plus 2): Onion, green bell pepper, celery, garlic, and jalapeño.
This is what you call a very good start to something that's going to become spectacular!
Here we go!
Oh, we how we love homemade jambalaya.
It's similar to the mix of culture and tastes down Louisiana way…so vibrant and diverse and just so much flavor.

This is food that's good for your belly and your attitude! The history of jambalaya is as fully textured and colorful as the dish itself. Just incredible!
There are several types of jambalaya; some the have shrimp/seafood, and others that don't. Some have tomatoes, others don't. Our favorite version, which is considered Creole-style, and is most popular in New Orleans, has ample sausage, chicken AND shrimp and tomatoes.
Oh, we have to say it again, this Authentic Jambalaya recipe is one of our all-time favorites.
And, it's not hard to make! We promise!! You've just got to give this iconic dish a try. You're going to love it!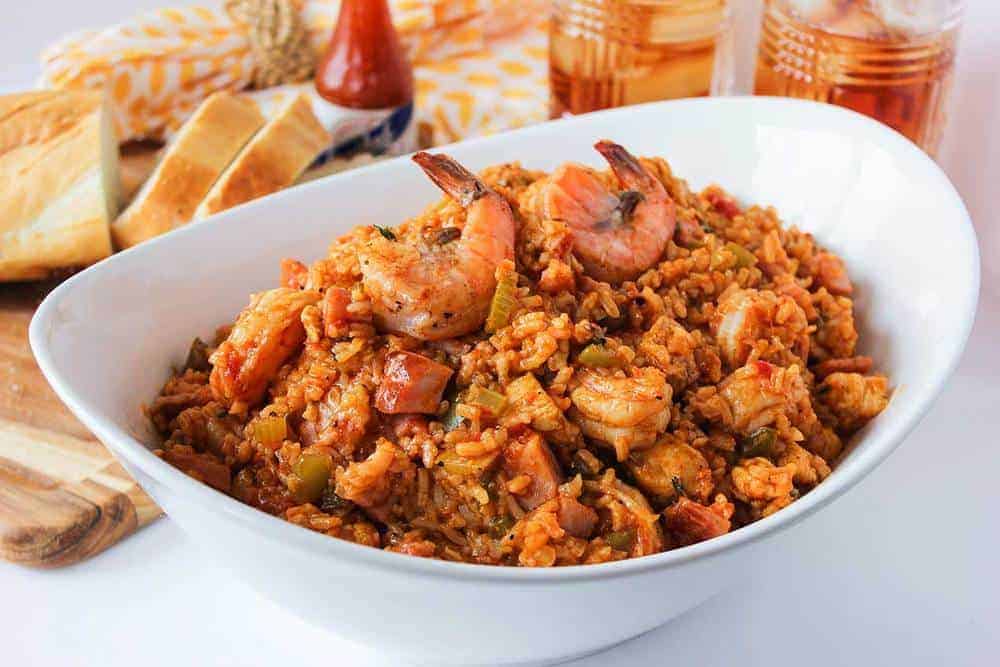 Authentic Jambalaya
Let me tell you it doesn't get much better than this amazing Authentic Jambalaya recipe! Classic New Orleans flavor. We love using chicken, andouille sausage and shrimp. Along with the other spices and aromatics that make this a NOLA favorite. So good!
Print
Pin
Rate
Servings: 8
Calories: 542kcal
Ingredients
3 tbsp olive oil
1 lb boneless, skinless chicken thighs
Kosher salt and freshly ground black pepper
3/4 lb andouille sausage sliced into rounds
1 yellow onion chopped
1 large green bell pepper cored, seeded and chopped
3 celery ribs chopped
1 jalapeno corred, seeded, and chopped
6 garlic cloves minced
1 tbsp tomato paste
1 tbsp red wine vinegar
1 tbsp hot sauce i.e., Louisiana, Tobacco, Crystals
2 tsp fresh thyme chopped (or 1 teaspoon, dried)
1/2 tsp ground cayenne pepper
1/2 tsp garlic powder
1 tsp smoked paprika
1 tsp chili powder
1 28 oz. can whole tomatoes crushed with your hands, liquid reserved
4 cups chicken stock
2 bay leaves
2 cups long-grain rice we use white
1 lb large shrimp peeled and deveined
Instructions
Pre-heat oven to 350 degrees F.

Season chicken with salt and pepper.

In a large heavy pot, preferably a Dutch oven, heat 1 tablespoon oil over medium-high heat.

Add the chicken pieces and saute until browned, about 5 minutes. Remove from pot and cut into bite-size pieces. Set aside.

Heat the remaining 2 tablespoons of oil in the pan over medium-high heat.

Add the sausage and cook until starting to brown, about 4 to 5 minutes.

Add the onion, bell pepper, celery, jalapeño and garlic. Sauté until soft, about 5 minutes.

Add the tomato paste, vinegar and hot sauce and stir to combine, about 1 minute.

Add the thyme, cayenne, garlic powder, chili powder, and a healthy pinch of salt and pepper. Cook until aromatic, about 2 minutes.

Stir in the tomatoes, reserved tomato liquid, stock, bay leaves, and then rice.

Cover and cook in the oven until the rice is nice and tender, about 1 hour.

Remove from the oven and test the rice. If still a little stiff, place back in the oven for another 15 to 20 minutes. Then, remove from oven and stir in the shrimp and cooked chicken.

Return to the oven (covered) for 5 minutes. Remove from oven and let stand for 15 minutes.

Stir with a wooden spoon and then plate into warmed bowls and serve at once.

Serve with additional hot sauce.
Notes
Once in the oven, stir the jambalaya a couple of times to prevent sticking and burning on the bottom of the pan. If rice is still not completely tender in the final minutes, add another ½ to 1 cup of stock, stir, and cook for another 15 to 20 minutes.
Nutrition
Calories: 542kcal | Carbohydrates: 44g | Protein: 38g | Fat: 18g | Saturated Fat: 6g | Trans Fat: 1g | Cholesterol: 236mg | Sodium: 1111mg | Potassium: 568mg | Fiber: 1g | Sugar: 3g | Vitamin A: 369IU | Vitamin C: 9mg | Calcium: 122mg | Iron: 3mg