This is easily one of our all-time favorite NOLA dishes.
Even if it's not Mardi Gras when you're reading this, when you make this recipe, you'll feel like you're down in the French Quarter having this amazing bowl of pure goodness! It's so good and is even better the next day!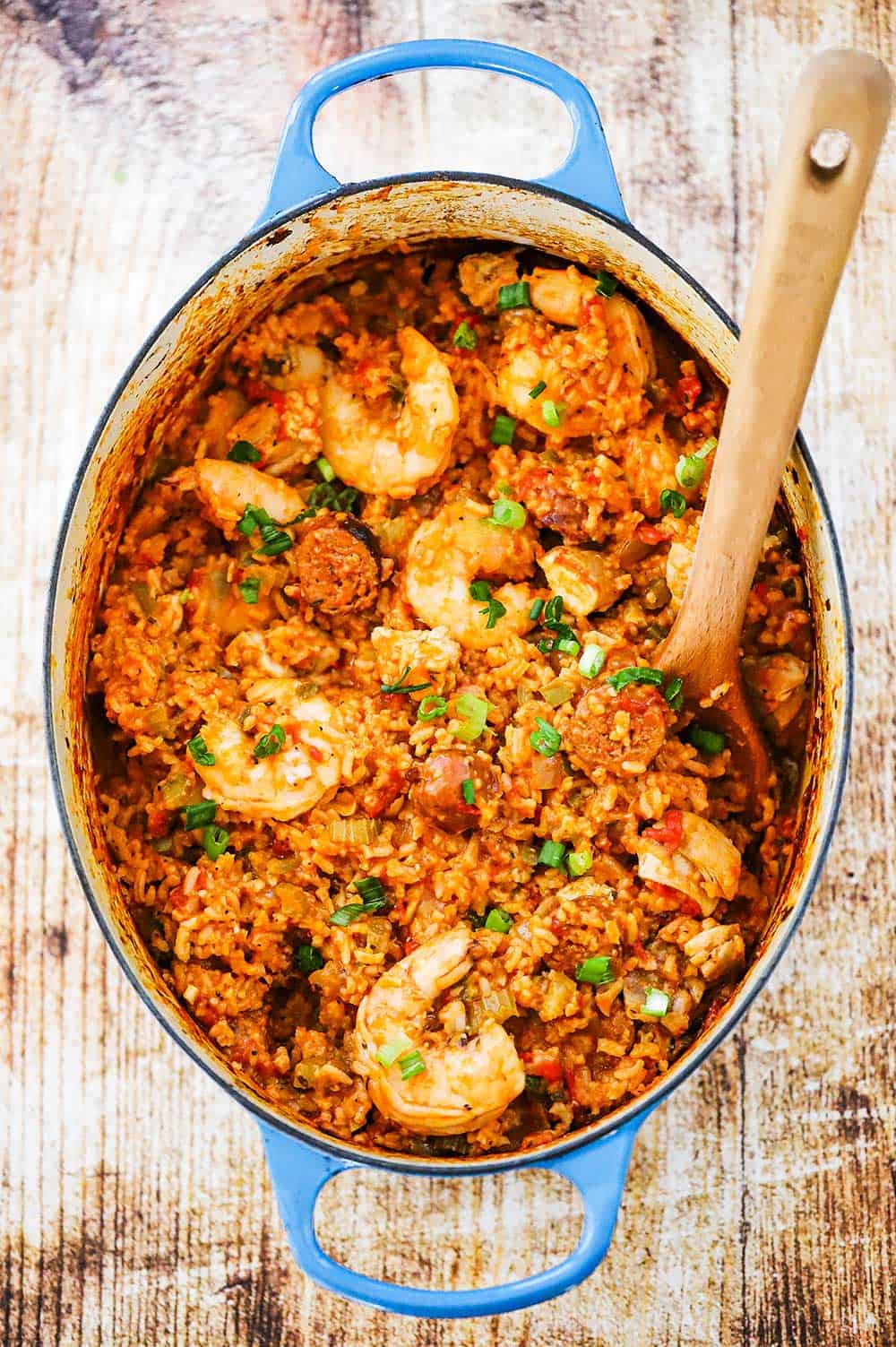 How To Make Jambalaya at Home
There are just so many things to love about this classic dish.
And don't worry, if you don't like shrimp then leave it out! Same with the sausage or chicken!
All of the components do come together to make a dish that is really authentic in taste and texture, and not hard to make at all!
NOTE: If you liked this video, please subscribe to our YouTube channel. Remember to click the little 'bell' icon so you'll never miss a new video!
The Difference Between Cajun and Creole Jambalaya
This dish is very popular in Louisiana and you'll find different family recipes all across the state. There really are two major categories, however. Cajun vs. Creole.
Cajun typically has a smokier taste and does not usually include tomatoes. Often, the proteins are cooked first, and then on the Cajun holy trinity of vegetables: Onion, green bell pepper, and celery.
Our version includes three types of protein: Chicken, sausage, and shrimp, which is common in the Creole version. Creole also usually includes tomatoes, which our includes, as well.
It's similar to the mix of culture and tastes down Louisiana way…so vibrant and diverse and just so much flavor. The history of jambalaya is as fully textured and colorful as the dish itself. Just incredible!
EXPERT TIP: We love using uncooked Andouille sausage links for our recipe. If you can't find raw andouille sausage, you can usually find smoked sausage in most well-stocked supermarkets. The smoked sausage is already cooked so all you need to do is brown the slices in your pot. For raw, you'll need to cook the sausage first, either on the grill or in a hot skillet.
Sear the chicken, remove it, and then give the cooked sausage a quick brown in the pot. The shrimp goes in right at the end of the cooking process.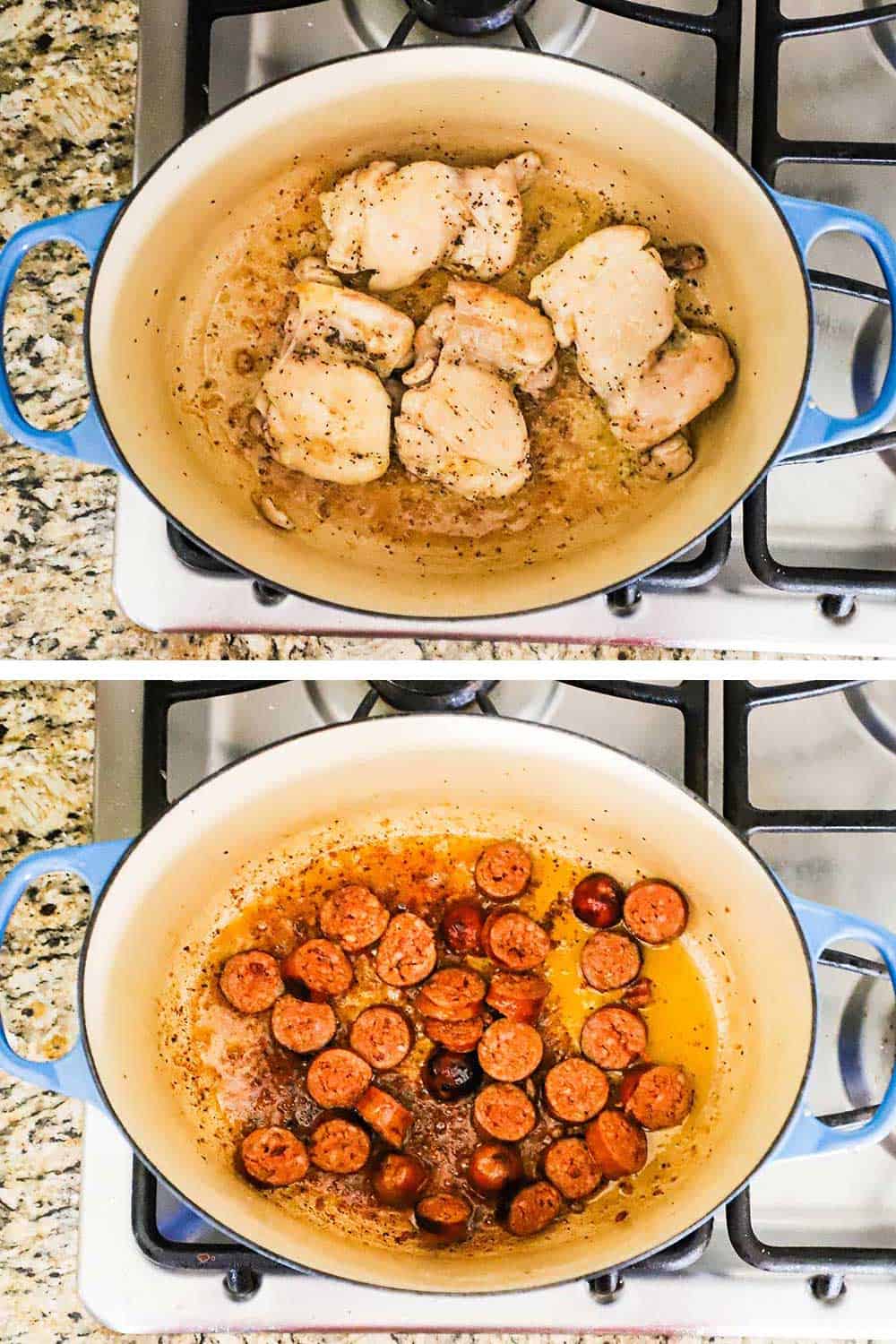 For the shrimp, we like large, extra-large, or even jumbo.
We don't recommend leaving the tails on because they can get in the way when guests dig into a serving, but that's a matter of personal taste.
If you can find gulf shrimp, go for it! Authentic and so delicious.
You'll stir in the shrimp during the final 15 minutes of cooking the jambalaya.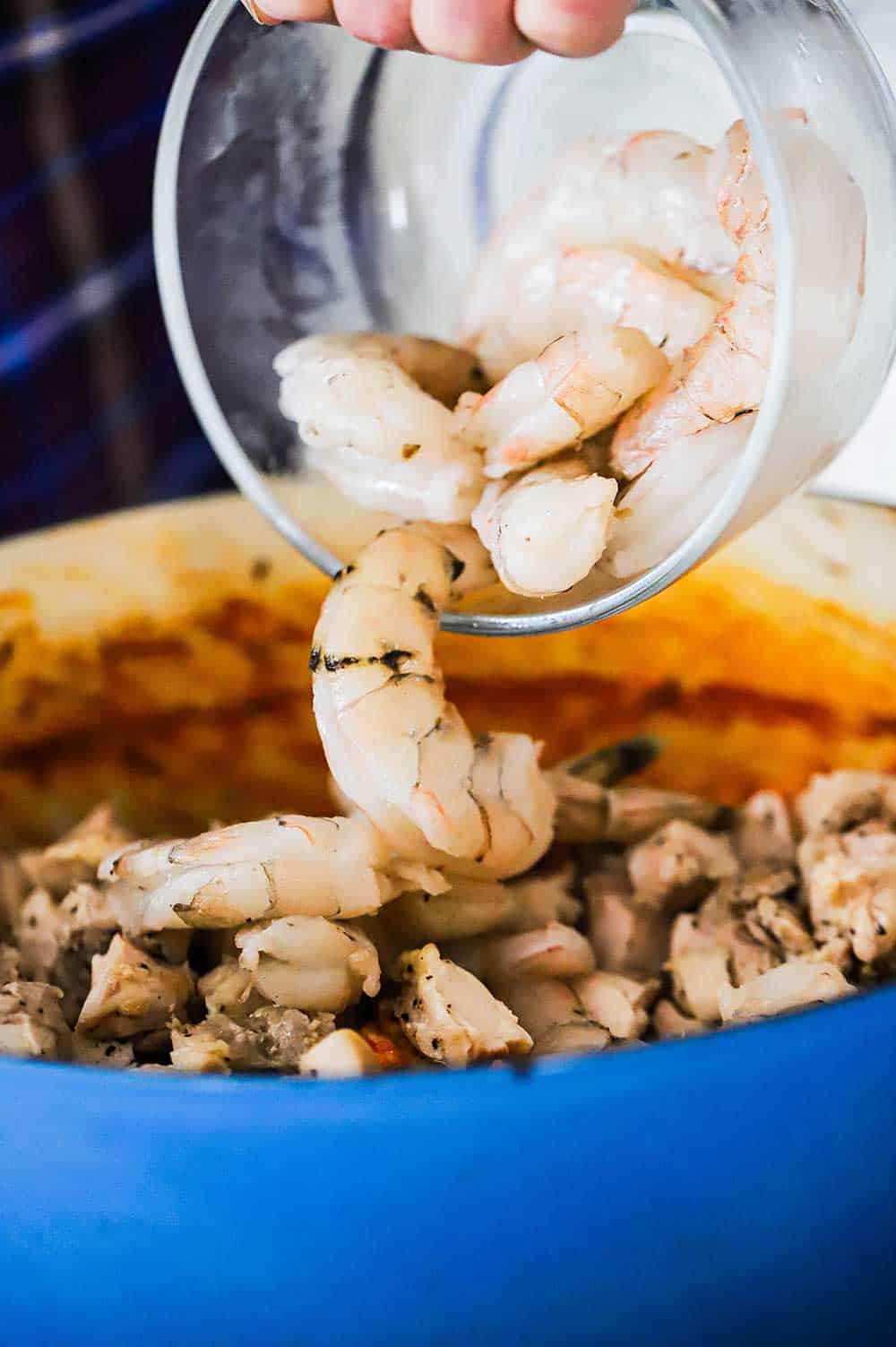 How To Serve and Store
This recipe will easily feed 8 to 12 people, depending on how hungry they are and what else you are serving. It's great for a Mardi Gras party, watching the big game, or a delicious Sunday night dinner.
We serve it right out of the pot with some warm crusty bread and lots of Louisiana-style hot sauce. A cold beer is certainly a nice addition, too.
EXPERT TIP: As mentioned, the dish is even better served the next day. Store in an air-tight container in the fridge and then heat it up on the stove, adding another ½ cup or so of chicken broth to loosen it up.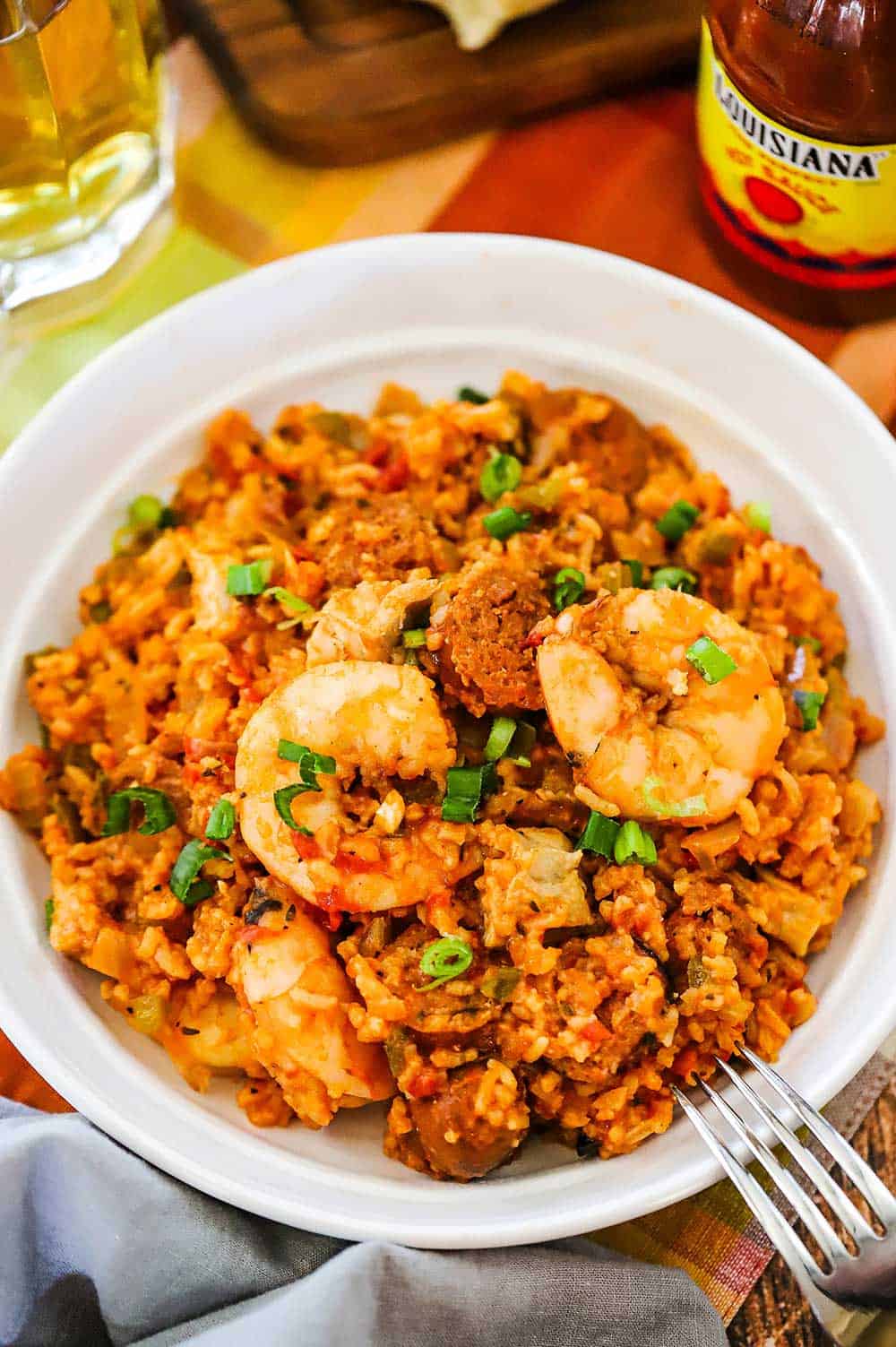 Other Classic Louisiana Dishes
Some of these dishes are Creole, some are Cajun, some are famous in New Orleans, but all of them are downright delicious.
In the meantime, aren't you craving some made-from-scratch jambalaya? Woo hoo!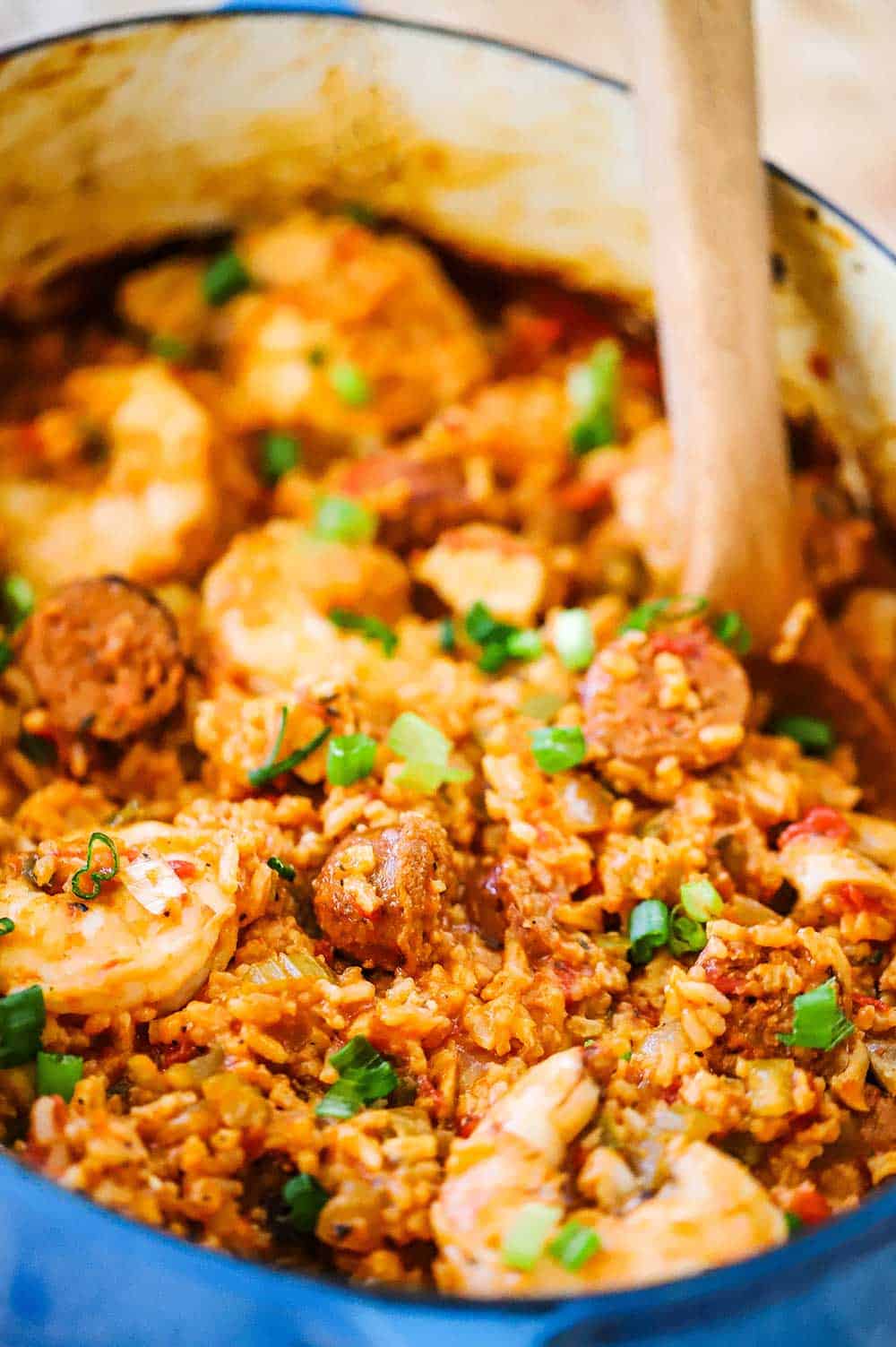 Folks, you may not be able to make it down to Mardi Gras or the Big Easy anytime soon, but that doesn't mean you can't bring it home to your kitchen.
This dish is always a crowd favorite and sure to get lots of cheers of joy when you serve it to friends and family.
There is just something magical about this incredible Louisiana classic dish.
Only thing better? A little Louisiana hot sauce drizzled on top of the steaming bowl of yumminess!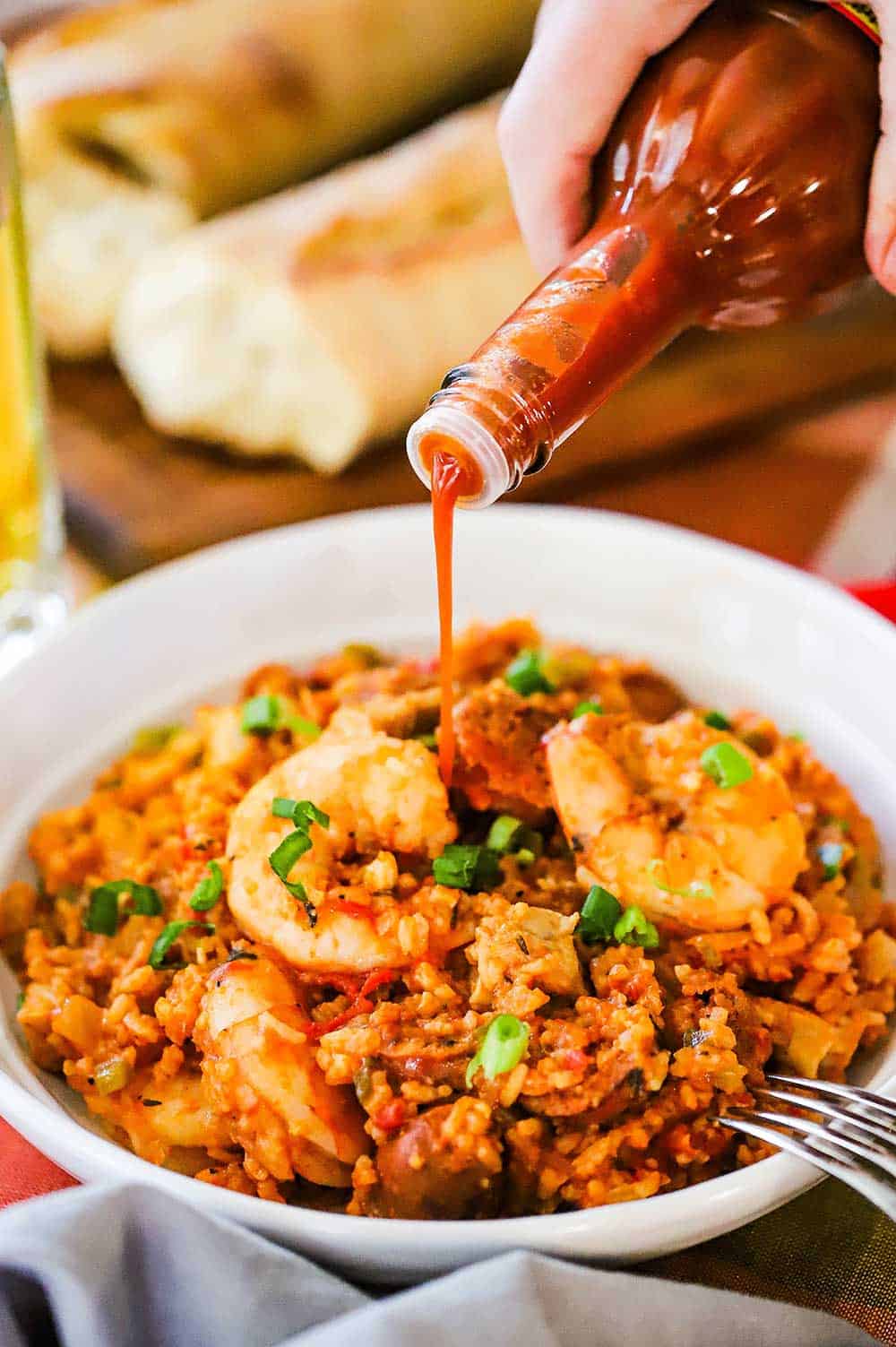 Ready to make the best dish this side of the bayou? Go for it!
And when you do, be sure to take a photo of it, post it on Instagram, and tag @HowToFeedaLoon and hashtag #HowToFeedaLoon!
Authentic Jambalaya
Well, it doesn't get much better than this amazing jambalaya recipe! Classic Louisiana flavor. We love using chicken, andouille sausage and shrimp. Along with the other spices and aromatics that make this an-all favorite dish. So good!
Print
Pin
Rate
Servings: 8
Calories: 552kcal
Equipment
Large pot, such as an 8 qt Dutch oven
Ingredients
3 tbsp olive oil
1 lb chicken thighs boneless, skinless
Salt and pepper
1 lb andouille sausage fully cooked and sliced into rounds (SEE NOTES)
1 yellow onion chopped
1 large green bell pepper cored, seeded and chopped
3 celery ribs chopped
1 jalapeno cored, seeded, and chopped
4 garlic cloves minced
1 tbsp tomato paste
1 tbsp red wine vinegar
1 tbsp hot sauce i.e., Louisiana, Tobacco, Crystals
2 tsp fresh thyme chopped (or 1 teaspoon, dried)
1 tsp cayenne pepper
1 tsp garlic powder
1 tsp smoked paprika
1 tsp chili powder
1 28 oz. can whole tomatoes crushed with your hands, liquid reserved
4 cups chicken stock
2 bay leaves
1½ cups long-grain rice we use white
1 lb shrimp peeled and deveined
2 tbsp parsley fresh, chopped, for garnish (optional)
Instructions
Preheat oven to 350 degrees°F.

Season chicken with salt and pepper.

In a large heavy pot, preferably a Dutch oven, heat 1 tablespoon oil over medium-high heat.

Add the chicken pieces and sauté until browned, about 5 minutes. Remove from pot and cut into bite-size pieces. Set aside.

Heat the remaining 2 tablespoons of oil in the pan over medium-high heat.

Add the cooked sausage and cook until starting to brown, about 4 minutes.

Add all remaining ingredients, except for the shrimp and cooked chicken. Add 2 tsp of salt and 1 tsp black pepper. Stir to fully combine.

Cover and cook in the oven until the rice is nice and tender, about 1 hour.

Remove from oven and stir in the shrimp and cooked chicken. Return to the oven (covered) for 15 minutes. The shrimp should be nice and pink, if it doesn't look fully cooked, return to the oven for another 10 to 15 minutes.

Stir with a wooden spoon and garnish with fresh parsley, if desired. Serve at once with additional hot sauce.
Notes
See the video near the top of the blog post for visual guidance. If you liked the video, please subscribe to our YouTube channel!
We recommend not adding super cold chicken stock to the mixture, this will take longer to heat through. Either gently heat the stock/broth on the stove, or add room temperature stock/broth. If you do add cold stock/broth, you will probably need to increase the bake time by another 15 to 20 minutes to fully cook the rice. Do a taste test on the rice to determine this.
We love to make this recipe with raw andouille sausage that is in links. You can find this easily in the Southern U.S. states and in many well-stocked supermarkets or meat markets. You'll need to cook the sausage before starting this recipe. We love to grill ours, or cook it in a hot skillet with a little water. If you can't find fresh (raw) andouille sausage, you can usually find it already smoked (and fully cooked) in the refrigerated area of your market near other smoked sausages and hot dogs. No need to cook smoked sausage, just slice it and then brown it as instructed in the recipe.
Reheat leftovers in a pot on the stove with the addition of a half to 1 cup of broth or water.
Leftovers will keep covered in the fridge for up to 1 week and it freezes nicely for up to 2 months.
Nutrition
Calories: 552kcal | Carbohydrates: 36g | Protein: 26g | Fat: 27g | Saturated Fat: 9g | Polyunsaturated Fat: 3g | Monounsaturated Fat: 16g | Trans Fat: 1g | Cholesterol: 107mg | Sodium: 791mg | Potassium: 572mg | Fiber: 2g | Sugar: 3g | Vitamin A: 618IU | Vitamin C: 25mg | Calcium: 41mg | Iron: 2mg
POST UPDATE: This recipe was originally published in February 2015, but was updated with improved tweaks to the recipe with new tips and photography and a fabulous new video in February, 2022!