Nothing conjures the taste of New Orleans much more than these sweet and delectable gems!
These are easier to make than you might think, and this recipe produces authentic beignets that you will just want to sit down with a nice cup of strong coffee and think about how nice it would be in the Big Easy! They are authentic and irresistibly delicious.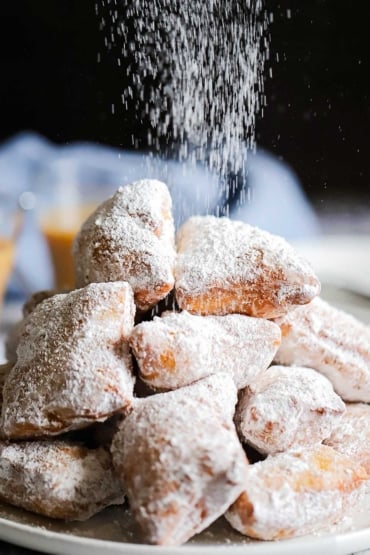 How To Make New Orleans Beignets
Of course, the world-famous Café Du Monde is renowned for its sweet and fluffy beignets and chicory coffee. But we promise you, these babies give them a run for their money!
And did we mention, they really aren't difficult to make, you just need a little time!
NOTE: If you liked this video, please subscribe to our YouTube Channel. Remember to click the little 'bell' icon so you'll never miss a new video. Thank you!
The Ingredients You Will Need
Homemade beignets have a handful of pantry-friendly ingredients.
Here's what you'll need to have to get started
Water – Warm, between 105°F and 115°F.
Sugar – Granulated
Yeast – Active, or Rapid Rise
Eggs – Room temperature
Salt – Table salt is fine
Evaporated milk – You only need 1 cup, pick up a 15 oz can
Flour – We use bread flour, have extra on hand
Shortening – Butter flavored is yummy, but regular is just fine
Cooking spray – For greasing the bowl for your dough
Oil – Vegetable, for frying
Powdered sugar – aka know as confectioners' sugar
EXPERT TIP: Allow the dough to rise until doubled in size in a warm (but not too warm), non-drafty area. We place it, covered with plastic wrap, in our oven and turn the oven light on. It takes anywhere from 1 to 2 hours. Be sure to roll the dough so it's between ¼" to ½-inch in thickness. A pizza cutter helps you to cut the dough.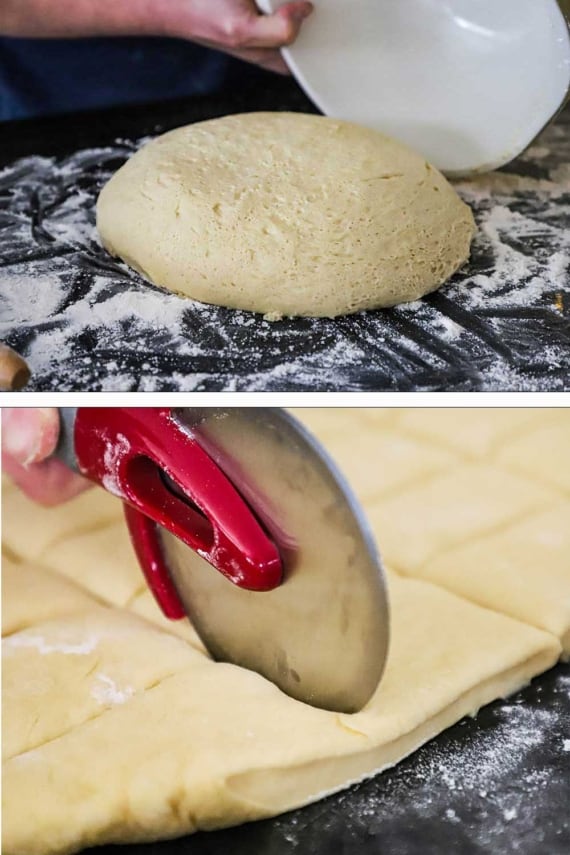 Tips For Making Perfect New Orleans Beignets
Fresh Yeast – One of the most important elements to making bread is yeast. Check the date on the package or container. If you've added it to the warm water, and after 10 minutes, it's not foamy and showing air bubbles, you'll need to toss it and start again with new (and active) yeast.
Correct Thickness of Rolled Dough – Be sure to roll the dough out on a floured surface so it's no more than ½-inch in thickness. And cut the dough to 1″ x 2″. If they are too big, or thick, you will run the risk of the beignets being too doughy in the center after they are fried.
Oil Temperature – Whether you are using a deep-fryer or a skillet filled with vegetable oil, it's important to reach (but not exceed) the proper frying temperature, which is 350 to 360°F. Use a candy thermometer to ensure proper temperature. Or, toss a small piece of bread in the hot oil. If it sizzles and turns golden after about 1 minute, you're good. Or, if it turns brown immediately, your oil is too hot. If it takes more than 1 minute to brown, your oil isn't hot enough.
How to Serve
Beignets are best when served piping hot, preferably within 5 to 20 minutes after coming out of the oil.
Be sure to have plenty of quality coffee on hand. As mentioned, a freshly made beignet is transcendent once dunked into a mug of coffee.
Pile them high and let folks grab their own, or plate them individually. Either way, you can't go wrong.
Other Classic New Orleans Recipes To Try
We are just crazy for the food from the Big Easy, and here are some of our all-time favorites:
Andouille, Shrimp, and Chicken Jambalaya
Shrimp and Orka Gumbo
Chicken and Sausage Gumbo
Crawfish Etouffée
Dirty Rice
Red Beans and Rice
Classic Muffuletta
Fried Catfish Po-Boy
Creole Chicken and Rice
And then for dessert, the choice is obvious:
These pillowy fried pieces of dough are pure perfection.
If you can't get down to New Orleans for Mardi Gras, or any occasion, these will absolutely transport you to the gorgeous Crescent City without a doubt.
This is the real deal folks, and so easy (and fun) to make in the comfort of your very own home! Every bite is a taste sensation!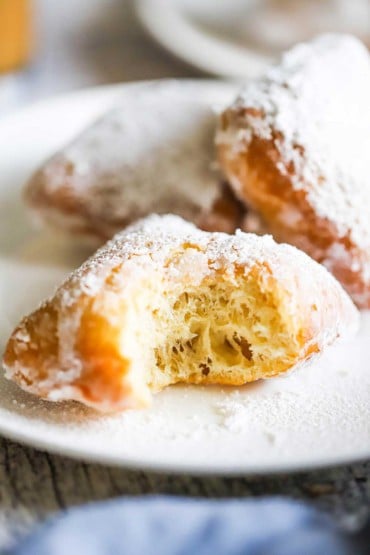 Ready to make the best New Orleans Beignets this side of the Big Easy? Go for it!
And when you do, be sure to take a photo of them, post it on Instagram, and tag @HowToFeedaLoon and hashtag #HowToFeedaLoon!
Classic New Orleans Beignets
These are simply divine. Want to go to Cafe DuMond? Make these, with a cup of rich coffee, and you'll be there. They really are that good.
Print
Pin
Rate
Servings: 10 people
Calories: 573kcal
Equipment
Deep-fryer or skillet with oil
Ingredients
1½ cups warm water 105° to 110°F
½ cup sugar
2¼ tsp yeast
2 eggs slightly beaten
1¼ tsp salt
1 cup evaporated milk
6½ cups bread flour
¼ cup shortening
Baking spray or softened butter (for greasing the pan)
Vegetable oil for frying
3 cups confectioners sugar
Instructions
Add water, sugar, and yeast to a large bowl and let sit for 10 minutes. Gently whisk to combine. (Using the large bowl of your stand mixer works well).

1½ cups warm water, ½ cup sugar, 2¼ tsp yeast

In another bowl, blend together the eggs, salt, and evaporated milk until incorporated.

2 eggs, 1¼ tsp salt, 1 cup evaporated milk

With the blender on medium, slowly add the egg mixture to the yeast mixture.

In two separate bowls, measure out the bread flour, 3 cups in 1, and 3 cups in another.

6½ cups bread flour

With the dough attachment, add 3 cups of the flour to the yeast mixture and mix to combine.

Add the shortening and continue to mix while adding the remaining flour, adding more flour if the dough is too wet.

¼ cup shortening

Remove dough from the bowl and place it on a lightly floured surface.

Knead until smooth. About 5 to 7 minutes.

Spray a large bowl with non-stick spray.

Baking spray

Put dough into the bowl and cover with a kitchen towel.

Let rise for 90 minutes to 2 hours, or overnight (refrigderated).

Pre-heat oil in a deep-fryer (or skillet) to 350°F.

Vegetable oil

Roll the dough out to a large, 1/4-inch thick rectangle.

Cut into 2-inch x 1-inch rectangles.

Deep-fry, flipping constantly until they become nice and golden

Drain on a paper-towels.

Toss in a paper bag with confectioner's sugar

3 cups confectioners sugar
Notes
See the video near the top of the blog post for visual guidance. If you like the video, please subscribe to our YouTube channel.
The dough can be prepared the night before. Place in a greased bowl, cover with plastic wrap, and keep in the fridge until the next morning. Let the dough sit on the counter for about an hour before rolling it out.
Beignets are best served soon after being fried. They will keep, covered, for up to 3 days.
Nutrition
Calories: 573kcal | Carbohydrates: 109g | Protein: 14g | Fat: 16g | Saturated Fat: 3g | Cholesterol: 40mg | Sodium: 334mg | Potassium: 197mg | Fiber: 3g | Sugar: 48g | Vitamin A: 109IU | Vitamin C: 1mg | Calcium: 84mg | Iron: 1mg
POST UPDATE: This recipe was originally published in March 2018, but was updated with improved tweaks to the recipe with new tips and photography and a fabulous new video in February 2023!