This epic sandwich hailing from Louisiana is bursting with flavor and can be adapted to your liking.
When you head down to the Big Easy, and surrounding areas, the varied cuisine is steeped in tradition and some of the best we've ever had. This is our version of the classic New Orleans sandwich. The addition of homemade Cajun Remoulade puts it over the top!
How to Make Fried Catfish Po-Boy
NOTE: If you liked this video, please subscribe to our YouTube channel. Remember to click the little 'bell' icon so you'll never miss a new video. Thank you!
The Ingredients You Will Need
Most po-boy sandwiches include a protein. Fried oysters and fried shrimp are popular, as well as sliced beef. Catfish is a fresh-water fish that works amazingly well with the other components of the sandwich.
For our version, here's what you'll need to have on hand
For the Coleslaw:
Shredded cabbage and carrots – We just grab a bag of slaw mix from the produce section in our market. It's easy and works perfectly.
Mayonnaise – You could make it from scratch, but quality store-bought is just fine.
Vinegar – We love apple cider vinegar, but you substitute white or red wine vinegar, Champagne vinegar, or plain distilled white vinegar.
Sugar – Granulated (don't skip this!)
Seasonings – Salt, pepper, and celery seed.
For the Sandwich:
Catfish – We recommend cutting each fillet into fourths, but that's a matter of taste. The smaller fillets create more of the delicious crispy batter.
Oil – Vegetable or peanut, for frying.
Seasoning – Salt and pepper (for the fish).
Milk – Whole
Eggs
Cornmeal – Medium or fine ground, not coarse.
Flour – All-purpose
Cayenne – Adds a little kick to the batter.
For the Sandwich:
Rolls – Soft French or Italian. Cut the ends off, if necessary. Hoagie rolls work, too. Baguettes are a little too tough.
Cajun Remoulade – This can be made up to 2 to 3 days in advance. This makes these sandwiches even more incredible.
Pickles – Long, sliced dill sandwich pickles are our favorite, but go with whatever is your favorite.
Tomatoes – Sliced with a little salt and pepper sprinkled on top.
Hot sauce – Any kind of Louisiana-style is ideal, such as Crystals, Louisiana, or Tabasco.
Lemon wedges – For serving.
EXPERT TIP: You'll need to set up a 2-pan dredging station. Simply add the milk and beaten eggs in one pan and the dry ingredients in another. Salt and pepper the fillets first, and then fully coat them with the milk mixture and then coat with the cornmeal mixture. Use your fingers to help the breading adhere to the fillet.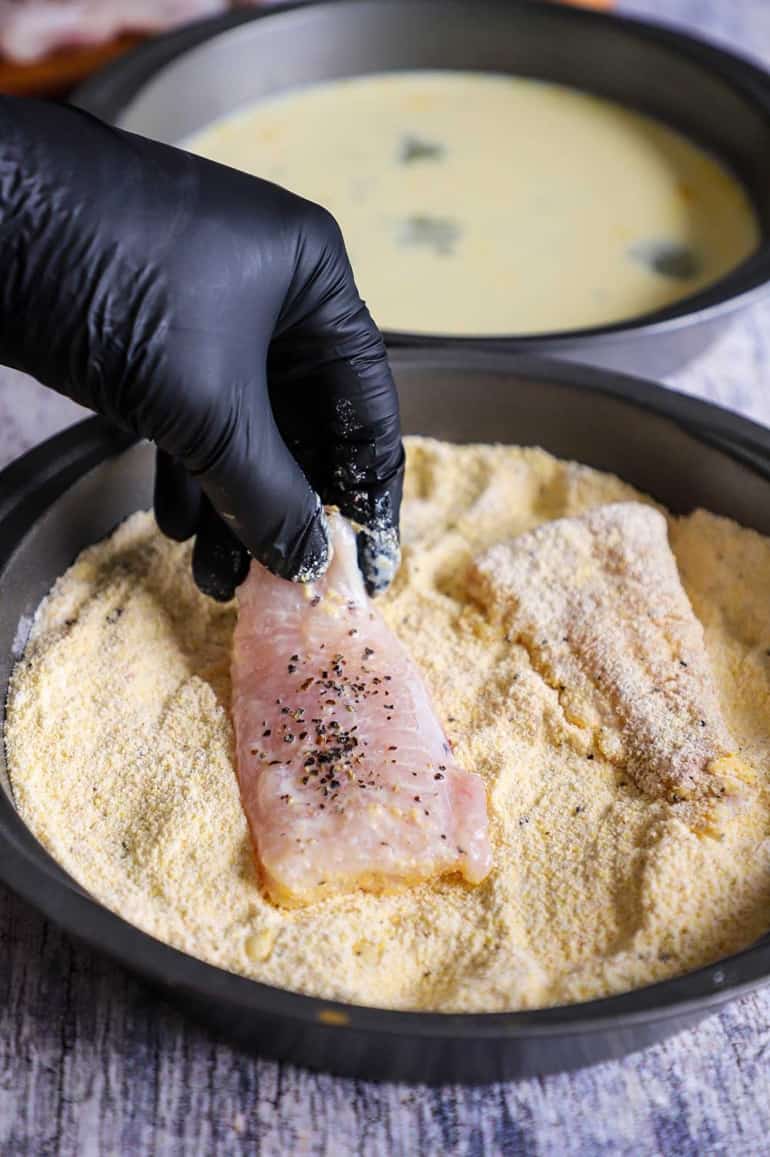 Tips for a Perfect Fried Catfish Po-boy
Make the Coleslaw and Remoulade – Making these from scratch is easy and truly makes a huge difference in taste and texture. The coleslaw (recipe included) can be made hours in advance and the remoulade can be made days in advance.
Fry Until Crispy – Frying the fillets in vegetable (or peanut) oil in a sturdy skillet (at 350°F) will give you extra-crispy catfish fillets that deliver superior taste. See NOTES for air frying or baking.
Choose the Right Kind of Bread – The main objective when selecting the rolls is to find one that is soft on the inside and golden on the outside. Don't get rolls (or loaves) that are too thick with too much bread for a sandwich. Hoagie rolls will work just fine.
EXPERT TIP: A candy thermometer will ensure your oil reaches 350°F. If you don't have a thermometer, simply toss in a pinch of bread. The oil is ready when the bread lightly browns and becomes crisp in about 60 seconds. The fish will fry for about 2 to 3 minutes, until golden brown.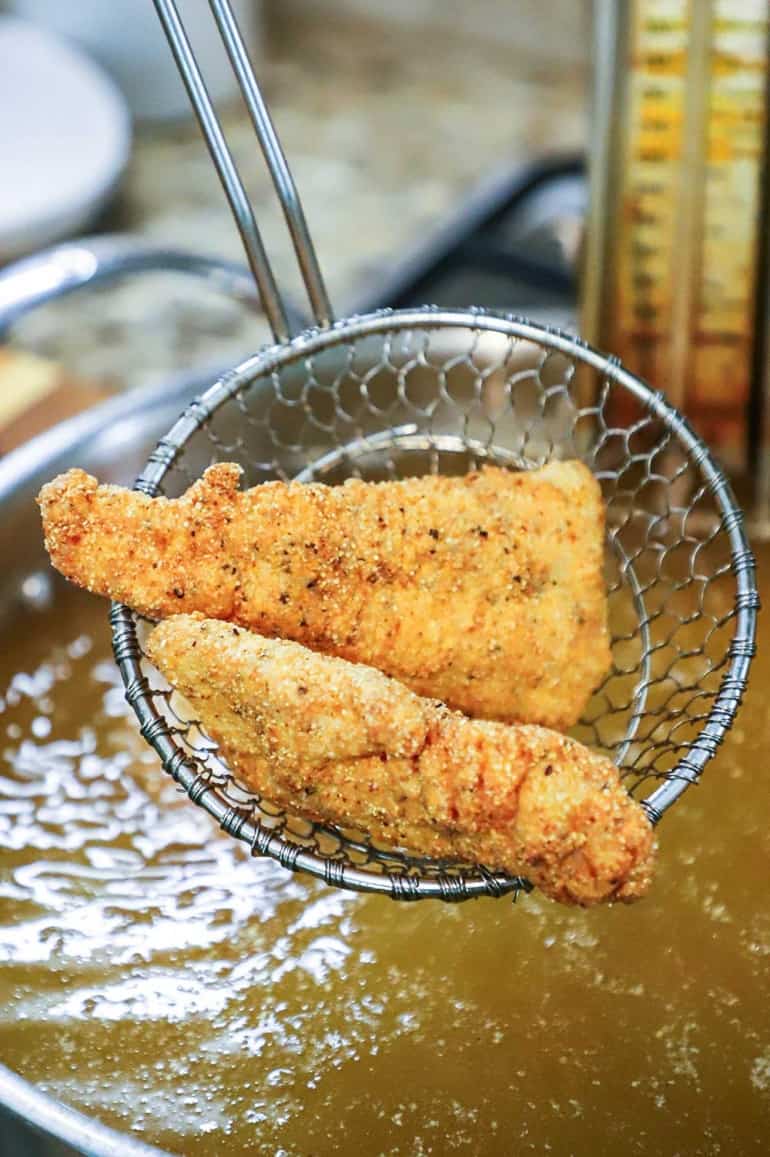 How To Serve
These sandwiches are large and filling. If you're starting with a large sub roll, you can easily cut the sandwich into four pieces and each will be very filling.
Serve with plenty of Louisiana -tyle hot sauce and lemon wedges.
Kettle chips are the perfect side to this amazing po-boy.
EXPERT TIP: We can't stress enough how much the homemade Cajun remoulade takes the sandwich to the next level. Add a liberal layer on the bottom half of the bun, and then half plenty more for guests to add more, if they wish.
Other Classic Louisiana Recipes to Try
There are so many amazing dishes that originated in the great state of Louisiana. From New Orleans to Creole and Cajun country, the taste of these classic dishes is as good as they come. Making them at home is easier than you might think. Here are some of our all-time favorite recipes:
Classic Muffuletta Sandwich
Red Beans and Rice
Jambalaya
Crawfish Etouffée
Shrimp and Okra Gumbo
Sausage and Chicken Gumbo
Creole Chicken and Rice
Dirty Rice
Classic Beignets
Southern Crab Cakes
These are all classic and amazing in their own right. But, right now, isn't this po-boy calling your name?
If you love Louisiana cuisine as much as we do, then you are going to flip for this classic sandwich.
It's perfect for a Sunday afternoon watching the big game, but it's also fun to make a big batch of all the components, and then let guests build their own po-boy.
We can honestly say this is one of the most delicious sandwiches we've ever made or served, and we think you and your family will feel the same way!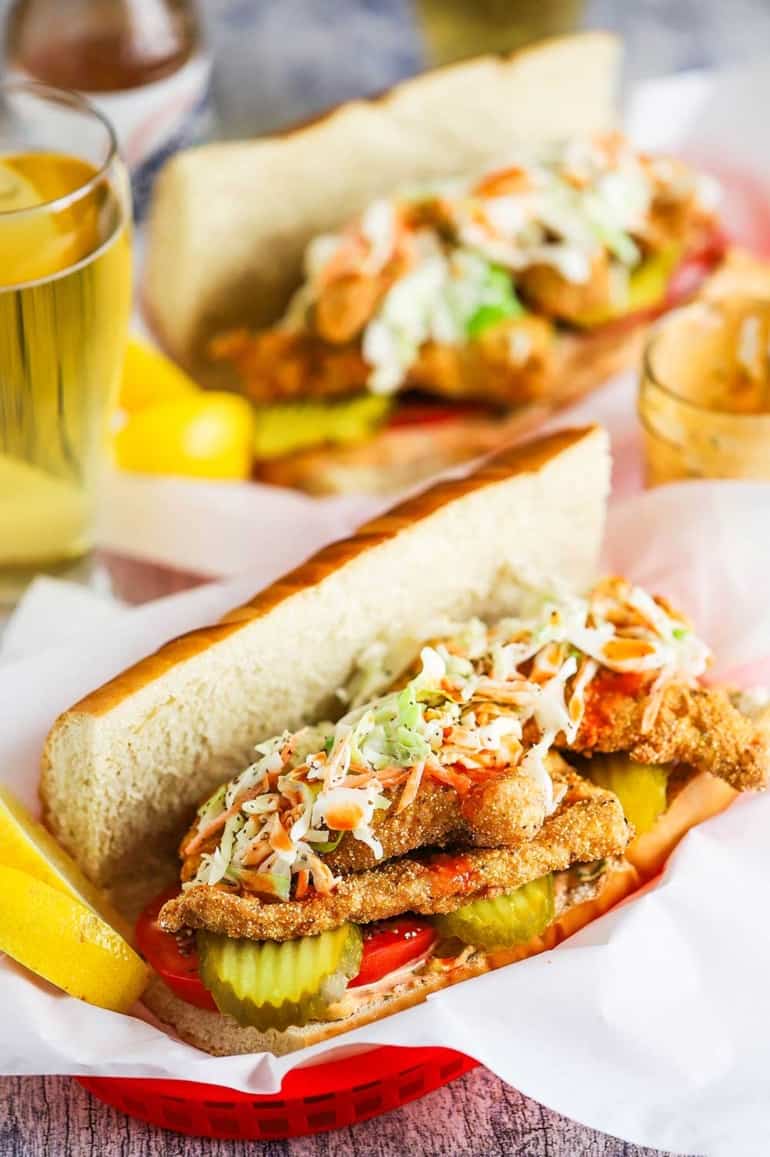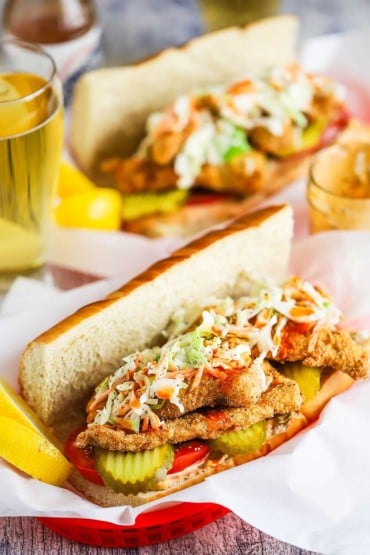 Ready to make the best sandwich this side of the Big Easy? Go for it!
And when you do, be sure to take a photo of it, post it on Instagram, and tag @HowToFeedaLoon and hashtag #HowToFeedaLoon!
Fried Catfish Po-Boy
This Fried Catfish Po-Boy is about as classic New Orleans cuisine as it comes. You can of course go with fried shrimp, or whatever you like...but we love it with classic Southern fried catfish! Be sure to make the Cajun remoulade! It can be made several days in advance.
Print
Pin
Rate
Servings: 4 people
Calories: 427kcal
Ingredients
Do Ahead
For the Coleslaw
3 cups coleslaw mix about 8 ounces
¼ cup mayonnaise
1 tbsp apple cider vinegar
2 tsp granulated sugar
½ tsp Kosher salt
¼ tsp black pepper
1 tsp celery seed
For the Fried Catfish
vegetable oil Enough for 1 to 2 inches in a sturdy skillet
4 7 oz catfish fillets skinned
Kosher salt and freshly ground black pepper
1 cup milk
2 large eggs lightly beaten
1 cup cornmeal fine or medium ground, not too coarse
½ cup all-purpose flour
½ tsp cayenne pepper
For the Sandwich
4 long soft-crust Italian rolls split
1 cup Cajun remoulade
½ cup sandwich pickles sliced
3 large tomatoes sliced
Louisiana hot sauce for serving
Lemon wedges for serving
Instructions
Make the Cajun Remoulade Sauce
Prepare the Cajun remoulade sauce. Keep covered in the refrigerator until ready to use. Can be made 3 days in advance.
Make the Coleslaw
In a small bowl, whisk together the mayonnaise, vinegar, sugar, salt, pepper, and celery seed.

Place the slaw mix (dry ingredients only) in a medium-sized bowl. Add the dressing and stir until fully coated. Set aside. If not used within an hour, place in the refrigerator, covered, for up to 3 hours.
Prepare the Catfish
Heat the oil in a large sturdy skillet over medium-high heat, until reaches 350°F, or when a small piece of bread sizzles and browns in about 30 seconds when tossed in the oil.

Place the milk and eggs together in a medium bowl or pan, and whisk together.

In a separate bowl or pan, mix together the cornmeal, flour, 1 teaspoon salt, ½ teaspoon pepper, and cayenne (½ tsp).

One at a time, dip the catfish fillets into the wet mixture, then dredge in the corn meal/flour mixture, completely covering the fillets.

In batches, fry the fillets until golden brown, about 3 - 4 minutes. Drain on paper towels.
Assemble the Po-boy
If desired, cut the ends off of the rolls, and if they are long rolls, cut them in half.

Smear a good helping (about 2 tablespoons) of the remoulade sauce on the bottom of each roll. Then add a layer of pickles, tomato slices, then the catfish fillets, and top with coleslaw.

Add a good few squeezes of fresh lemon and several dashes of hot sauce. Top with bun. Serve at once.
Notes
See the video near the top of the blog post for visual guidance. If you liked the video, please subscribe to our YouTube channel.
The remoulade can be prepared up to 3 days in advance and the coleslaw can be made several hours before serving. Keep both covered in the fridge until ready to use.
Frying the catfish fillets delivers a truly authentic taste, however, you can dredge the fillets and then bake them on a baking sheet in a 425°F oven for 15 to 20 minutes, until crispy. To air fry them, spray the breaded fish with olive oil. Air fry at 400°F for 10 minutes. Flip, and air fry for another 3 to 5 minutes until crispy.
Although the sandwiches are good all day long, they are best served when the catfish is hot and still very crispy. The longer it sits after being fried, it will lose its crispness.
Nutrition
Calories: 427kcal | Carbohydrates: 55g | Protein: 13g | Fat: 18g | Saturated Fat: 4g | Polyunsaturated Fat: 8g | Monounsaturated Fat: 5g | Trans Fat: 0.04g | Cholesterol: 107mg | Sodium: 458mg | Potassium: 706mg | Fiber: 7g | Sugar: 11g | Vitamin A: 1537IU | Vitamin C: 38mg | Calcium: 140mg | Iron: 3mg
POST UPDATE: This recipe was originally published in July 2015, but was updated with improved tweaks to the recipe with new tips and photography and a fabulous new video in September 2023!