There is truly something magical about New Orleans Cuisine. The beautiful melding of so many influences and cultures makes for incredible dishes.
Every time we travel to the Big Easy down near the bayou, we fall in love all over again with the city, the people, the culture, the history, and of course, the food! Gumbo is about as classic it comes, and this dish is quintessential NOLA. And it's not difficult to prepare!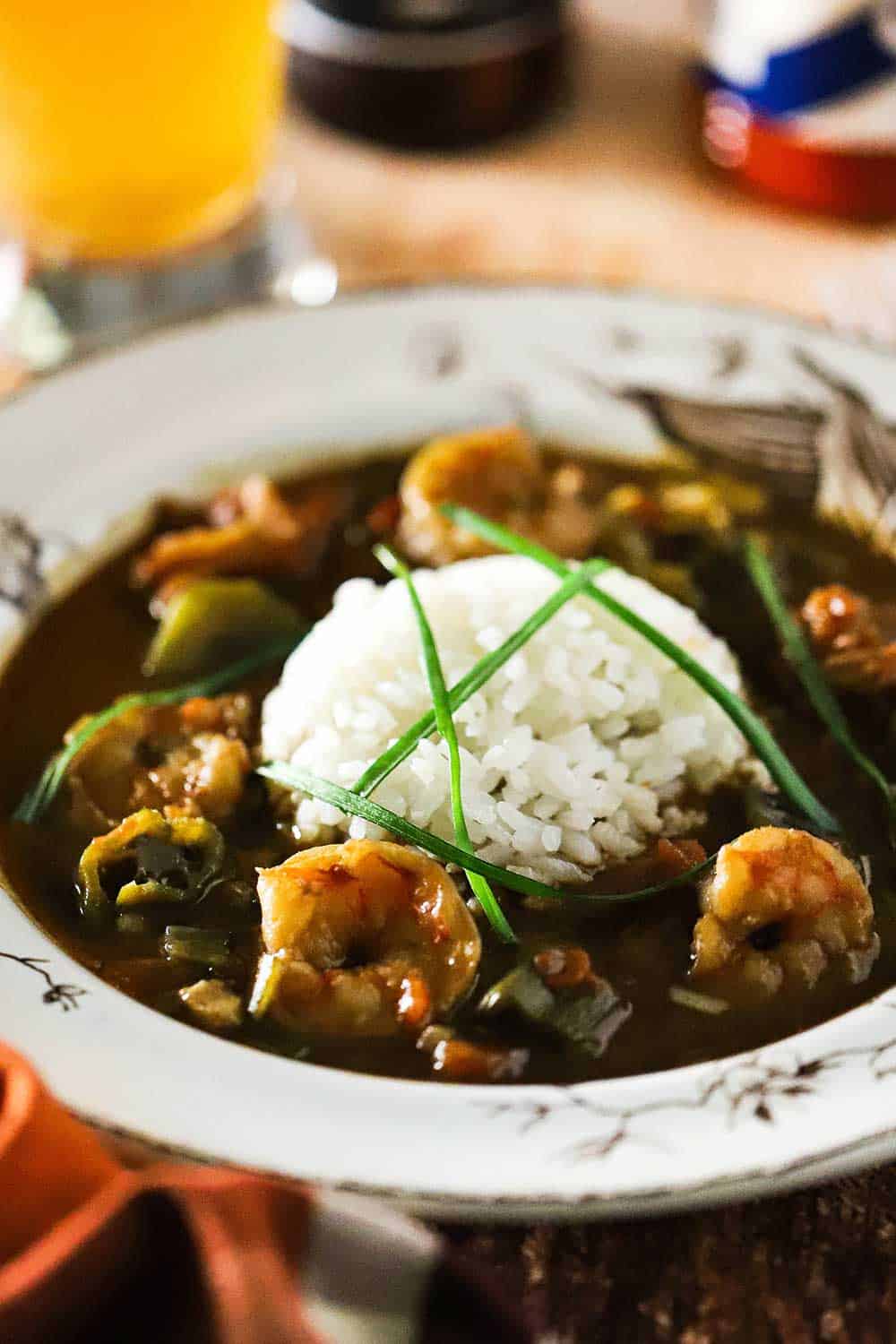 How To Make Shrimp and Okra Gumbo
Making gumbo from scratch is truly something special.
You need to carve out a few hours to make this iconic dish, and you will be so happy that you did.
How To Make a Dark Roux for Gumbo
A dark roux is important to achieve when making classic gumbo.
All you need is a large sturdy skillet (i.e., cast iron).
Add 3/4 cup vegetable oil with 1 cup of all-purpose flour and whisk continuously for 40 minutes until you have a mixture that is the color of milk chocolate.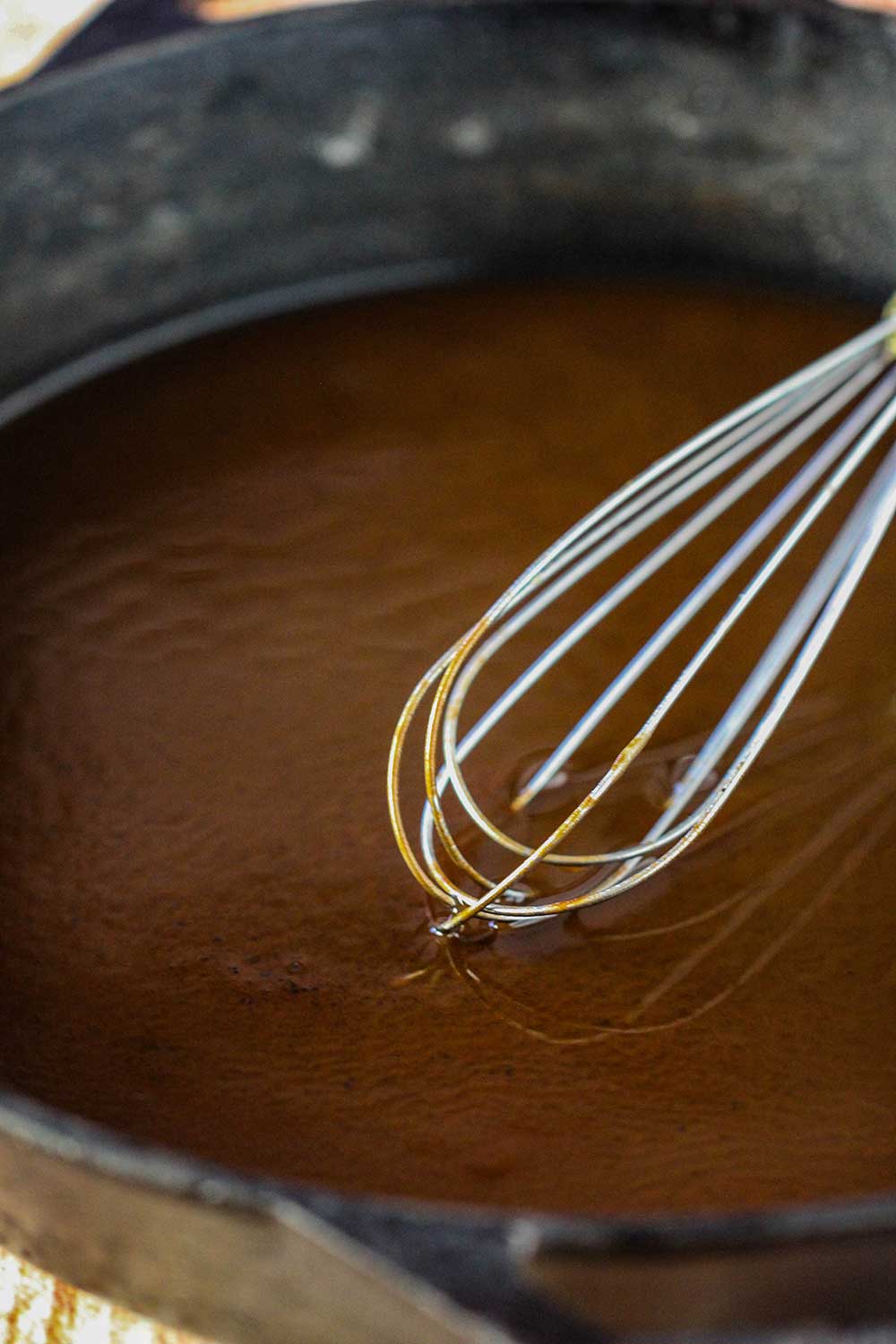 Next, come the veggies and the spices.
Be careful when transferring the vegetables into the hot roux; they will immediately release steam.
The smell is incredible.
The hot roux will soften the veggies almost immediately.
At this point, you'll want to use a wooden spoon instead of a whisk to stir the mixture.
Always be careful, as the vegetables and roux are extremely hot and will burn your skin!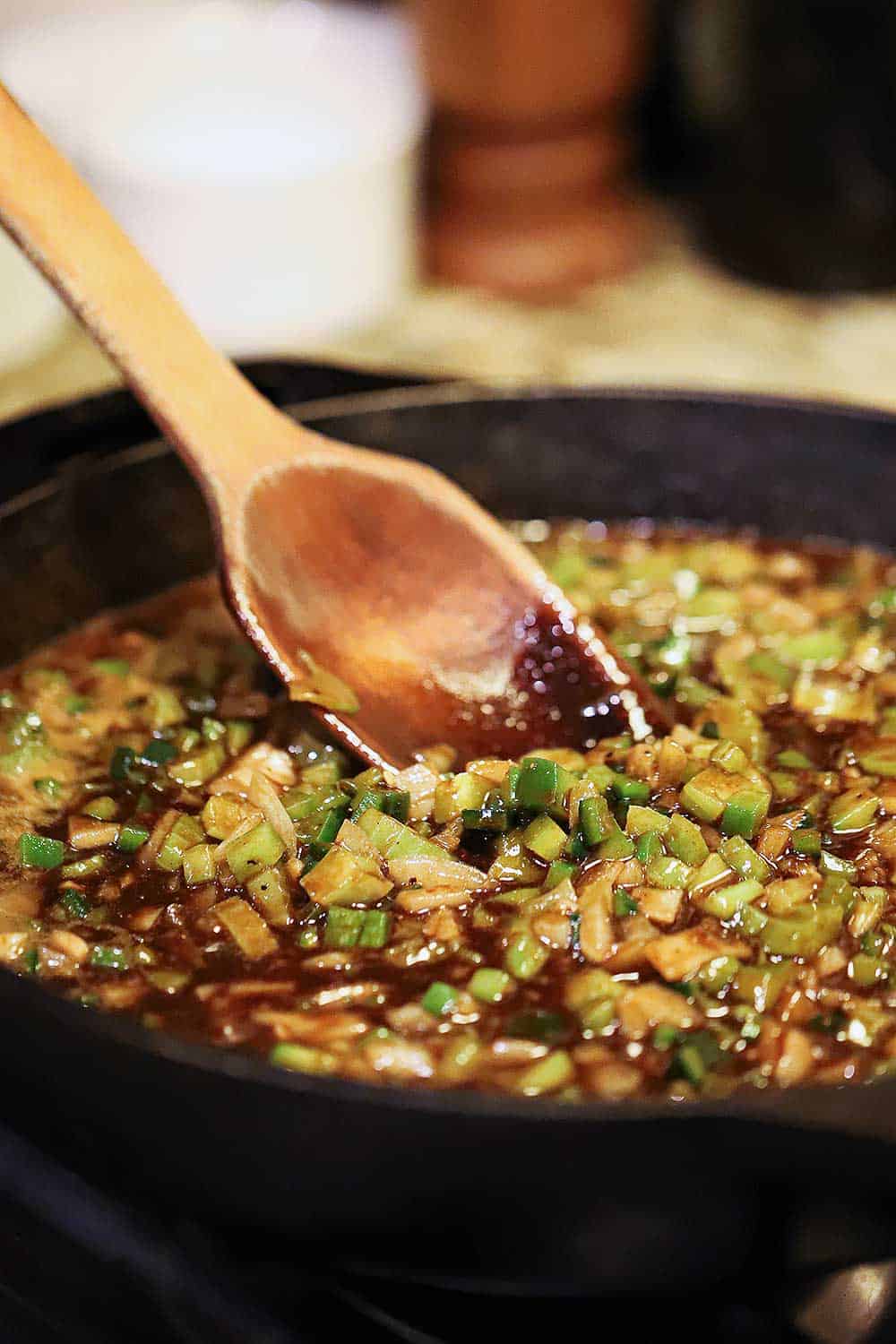 The Key Ingredients for Classic Gumbo
So, a dark roux is critical for making classic gumbo.
Next, is a wonderful shellfish stock.
EXPERT TIP: Our deeply flavorful shellfish stock and be made well in advance. In fact, it freezes beautifully, so you can make it even 1 to 2 months in advance! Of course, store-bought seafood stock can be used in this recipe, but, we strongly recommend going the extra distance and making the shellfish stock from scratch. It really brings your shrimp and okra gumbo to amazing Cajun culinary heights!
Gumbo filé is not 100% required, but it's another ingredient that makes the dish taste very authentic.
NOLA is one of our favorite places in the world, and we try to visit there every couple of years, and every time we go, we pick up some Crystals hot sauce and Gumbo Filé. But we go through Krystals like crazy, so I often order more bottles online. You can also order the file online, too.
After bringing the roux with the stock mixture to a boil, we simmer for 30 minutes. Next goes in the shrimp and then the okra.
EXPERT TIP: To help reduce the sliminess of the okra, we sauté the okra in a couple of tablespoons of vegetable oil in a large skillet until just lightly browned. It won't completely remove the stringy slime, but it will crisp the okra up a bit, and remove a good amount of the slime.
When To Serve Shrimp and Okra Gumbo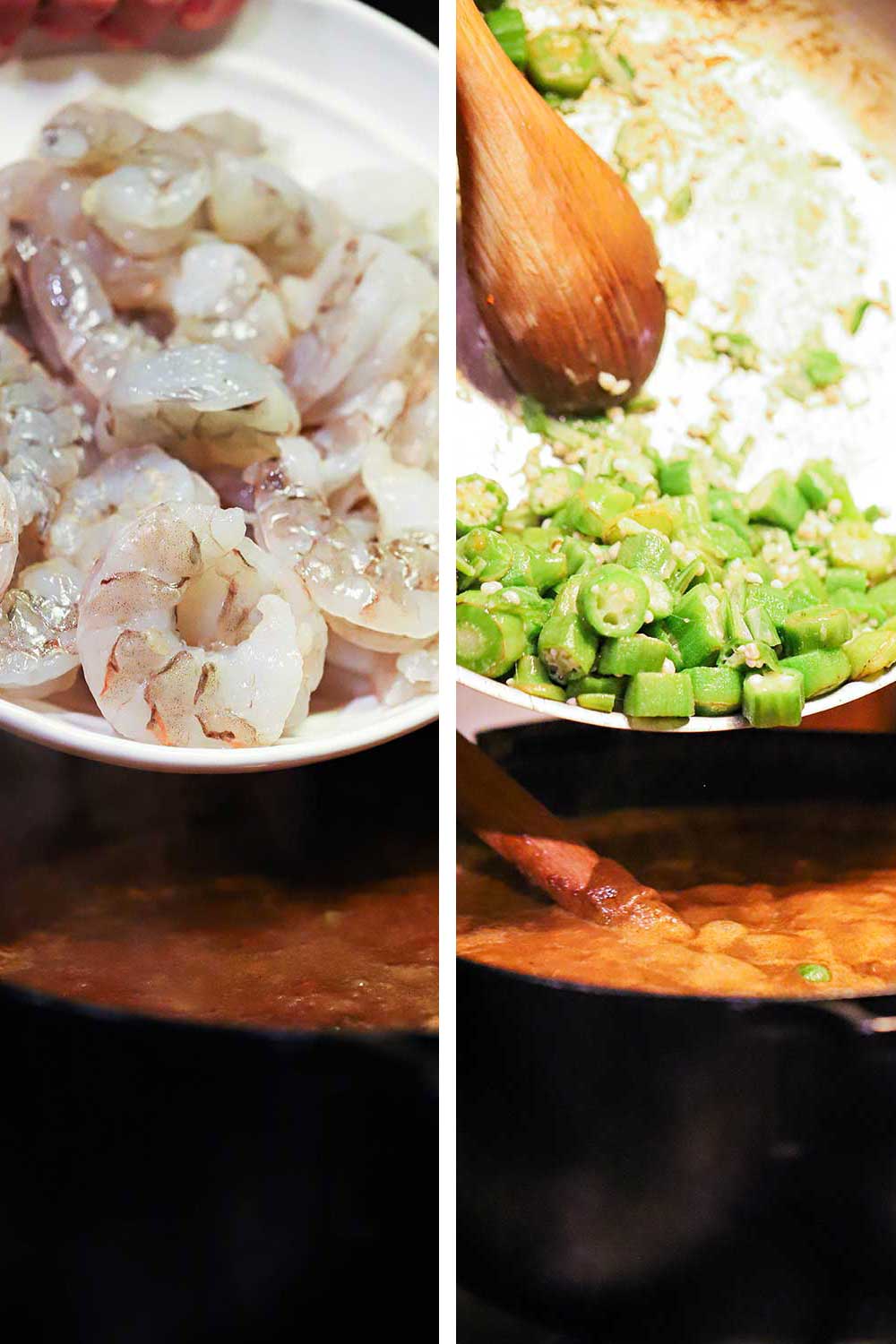 Of course, Mardi Gras is the perfect time to celebrate the beauty of New Orleans, and we always make a big batch of gumbo then.
But, this is such wonderful comfort food, we love preparing the gumbo all throughout the year.
EXPERT TIP: Gumbo freezes really well. Portion our family-sized amounts in freezer-friendly containers and then thaw completely and gently reheat on the stove until heated through.
Of course, you'll need a nice batch of Perfectly Steamed Rice for the gumbo.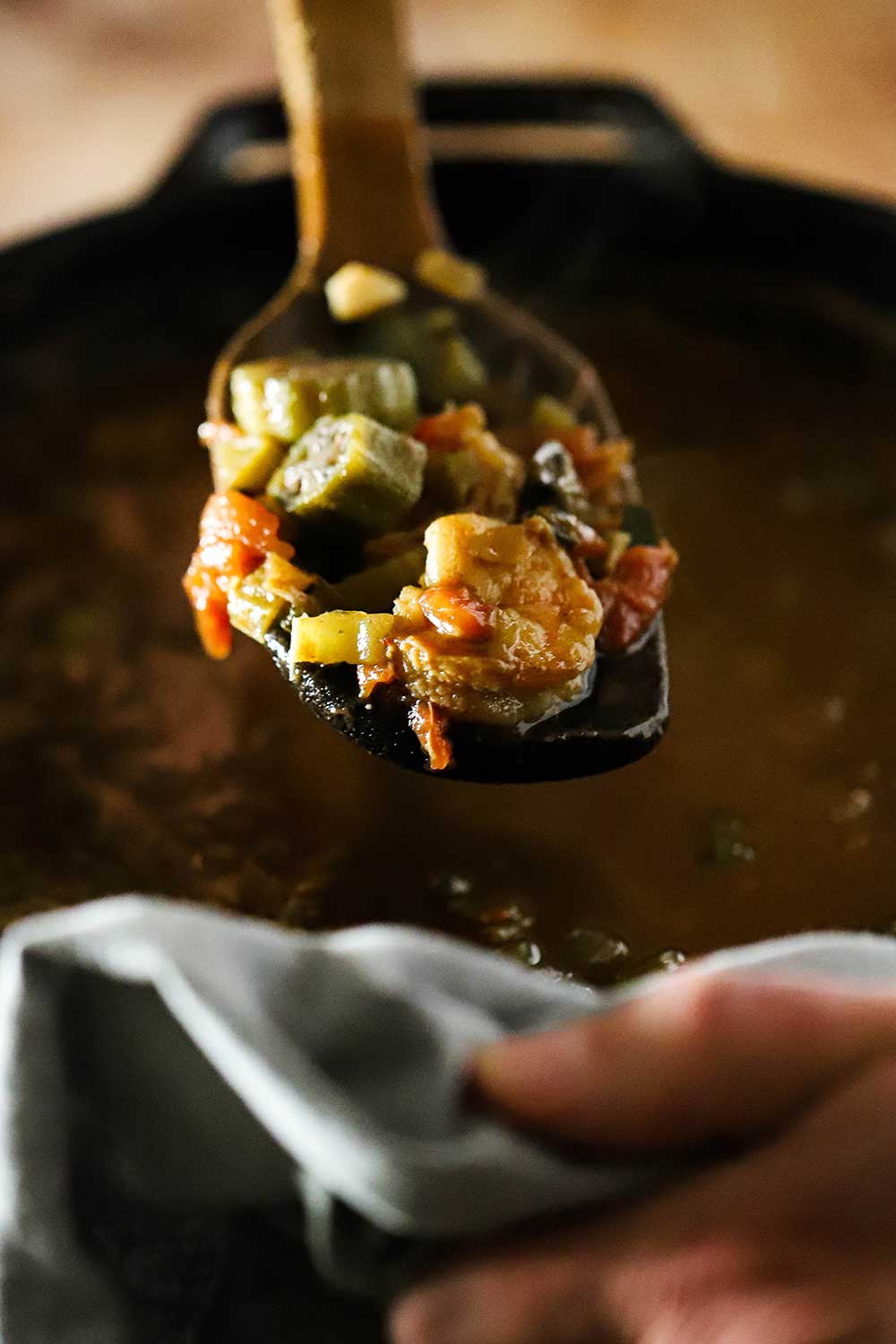 Along with the perfect steamed rice, we love to serve gumbo with sliced scallions and hot sauce.
Crystals is our favorite, but any type of hot sauce will work.
Pour it on baby!
Othe Cajun Classic Dishes To Try
But in the meantime, let's make an amazing batch of this Shrimp and Okra Gumbo!
Ready to make the best gumbo this side of the Big Easy? Go for it!
And when you do, be sure to take a photo, post it on Instagram, and tag @howtofeedaloon and hashtag #howtofeedaloon!
Shrimp and Okra Gumbo
This Classic Shrimp and Okra Gumbo relies on several key features: a dark roux, a really good shellfish stock, file, and a good Louisiana hot sauce. I've been making this gumbo for a long time, and it is a household favorite without a doubt. A NOLA classic in your own kitchen!! So good!
Print
Pin
Rate
Servings: 8 people
Calories: 391kcal
Equipment
Large sturdy skillet and pot, such as cast-iron skillet or Dutch oven
Ingredients
¾ cup vegetable oil
1 cup all-purpose flour
1 cup onion chopped
1 cup celery chopped
1 large green bell pepper seeded and chopped
1 poblano pepper seeded and chopped
3 cloves garlic minced
1 tbsp chili powder
1 tsp smoked paprika
1 tsp cayenne pepper
1 tbsp Kosher salt
1 tsp black pepper
1 tsp white pepper
1½ tbsp filé powder
1 28 oz. can whole tomatoes drained and roughly chopped
¼ cup Worcestershire sauce
¼ cup hot sauce
3 quarts shellfish stock click for full recipe
2 lbs shrimp medium, peeled and deveined
3 cups okra sliced
cooked rice
Scallions sliced, for garnish
Instructions
In a large pot (preferably Dutch oven), heat oil over medium-high heat and slowly whisk in flour. Cook and whisking constantly until a brown roux forms, about 40 minutes.

Carefully add onion, bell pepper, celery, poblano, chili powder, paprika, cayenne pepper, salt, and both peppers. Stir until all is mixed together and heated through, about 2 minutes.

Transfer mixture to a stockpot or large Dutch oven. Stir in tomatoes, Worcestershire sauce, hot sauce, and shellfish stock. Stir to combine.

Simmer for 30 minutes.

Add in the shrimp and simmer for 45 minutes. Skim oil as it forms small puddles on the surface.

Meanwhile, heat 2 tbsp of vegetable oil in a large skillet over medium-high heat. Add the okra and cook until slightly browned and some of the 'slime' is gone. Set aside.

Add the cooked okra to the gumbo mixture and simmer for another 15 minutes.

Serve with hot cooked rice and garnish with scallions.
Notes
The shellfish stock can be made up to 1 week in advance. Frozen cut okra is perfectly fine to use in this recipe. The gumbo is even better the following day.
Nutrition
Calories: 391kcal | Carbohydrates: 22g | Protein: 26g | Fat: 14g | Saturated Fat: 9g | Cholesterol: 286mg | Sodium: 2067mg | Potassium: 462mg | Fiber: 3g | Sugar: 4g | Vitamin A: 1002IU | Vitamin C: 51mg | Calcium: 229mg | Iron: 4mg
POST UPDATE: This recipe was originally published in December 2016, but was updated with improved tweaks to the recipe, with new tips and photography, and a fabulous new video in February 2021!