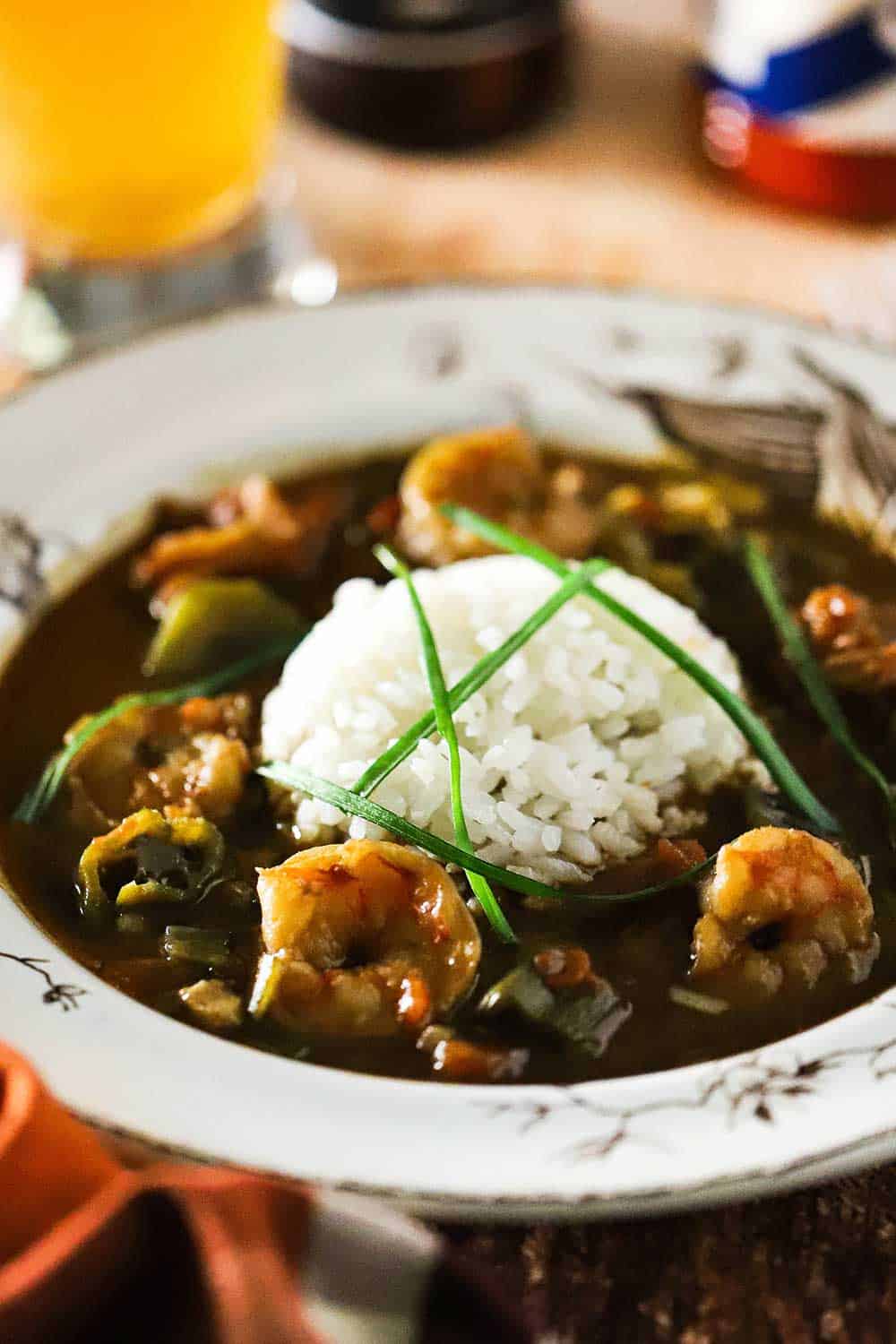 I gotta say that Classic Shrimp and Okra Gumbo has been one of my favorite dishes since I was a kid.  There are a few really important factors to keep in mind when making authentic gumbo.  It really comes down to two important items:  your roux and a shrimp (or shrimp and crab) stock.   I also think the addition of two New Orleans classic ingredients is key, too, those being Crystal brand hot sauce, and gumbo file.  NOLA is one of our favorite places in the world, and we try to visit there every couple years, and every time I go, I pick me up some Crystals and file.  But we go through Crystals like crazy, so I often order more bottles online.   You can also order the file online, too.
But let's get back to the roux…classic gumbo starts with a brown roux.   This takes a little longer to get the right color (and nutty flavor), but be patient.  It should turn a milk-chocolate color, and be sure to whisk constantly.  For the stock, a full bodied shrimp stock is essential.  Follow this recipe for shrimp / crab stock, and you can't go wrong.
OTHER CAJUN CLASSIC DISHES TO TRY
Authentic Jambalaya
Perfect Cajun Rice
Chicken and Andouille Sausage Gumbo
Classic Dirty Rice
Pan-Seared Pork Chops with Cajun Rice
Cajun Baked Shrimp
Shrimp with Summer Corn and Tomato Stew
But in the meantime, let's make an amazing batch of the Classic Shrimp and Okra Gumbo!
This Classic Shrimp and Okra Gumbo is the real deal and a true H2FaL favorite dish.  Can't make it to the Big Easy…whip this up, and you'll feel pretty darn close.   So good!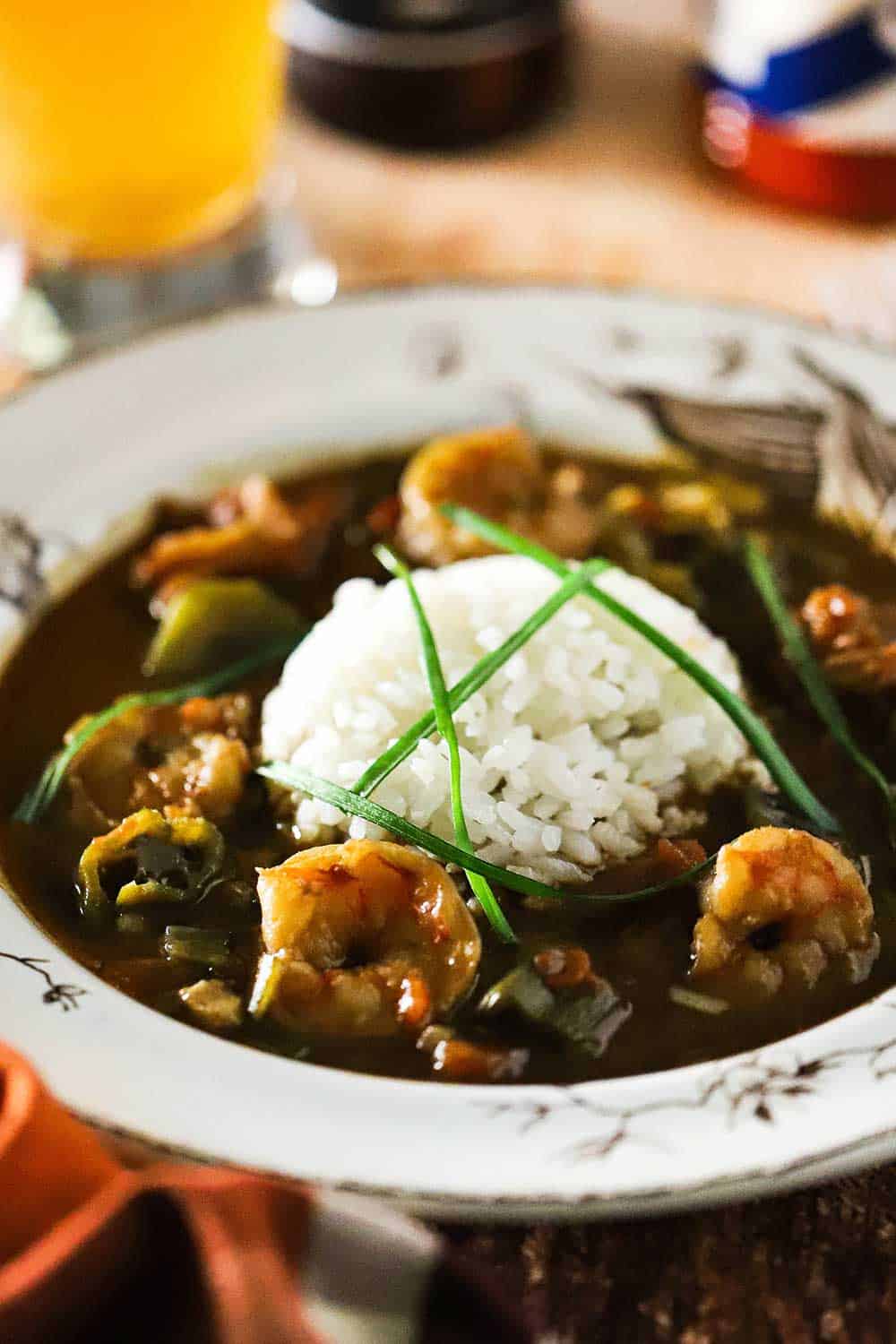 Classic Shrimp and Okra Gumbo
This Classic Shrimp and Okra Gumbo relies on several key features: a dark roux, a really good shrimp stock, file, and Crystals Louisiana hot sauce. I've been making this gumbo for a long time, and it is a household favorite without a doubt. A NOLA classic in your own kitchen!! So good!
Print
Pin
Rate
Prep Time: 1 hour
Cook Time: 2 hours
Total Time: 3 hours
Servings: 10 people
Calories: 315kcal
Ingredients
1 cup vegetable oil
1 3/4 cups all-purpose flour
2 1/2 lbs okra sliced 1/4" thick
2 large yellow onions chopped
1 1/2 large green bell peppers seeded and chopped
4 celery stalks chopped
2 tbsp garlic minced
4 quarts Shrimp / Crab Stock click for full recipe
2/3 cup Crystal Hot Sauce
2/3 cup Worcestershire sauce
2 tbsp Creole/Cajun seasoning
1 tsp Kosher salt
1/2 tsp cayenne pepper
2 bay leaves
1 28 oz can whole tomatoes drained and roughly chopped (I use my hands to crush them as I drop them into the pot)
1 tbsp file powder
2 lbs peeled and deveined medium shrimp
Hot cooked rice
Scallions sliced, for garnish
Instructions
In a large pot (preferably Dutch oven), heat oil over medium-high heat and slowly whisk in flour. Cook and whisking constantly until a brown roux forms, about 20 to 30 minutes.

Carefully add okra, onion, bell pepper, celery, and garlic and cook for 10 minutes, stirring frequently.

Add stock, hot sauce, Worcestershire, Creole/Cajun seasoning, salt, cayenne, bay leaves, tomatoes and file and bring to a boil.

Reduce heat to medium and simmer, uncovered, for 1 hour.

Add the shrimp in the final 10 minutes.

Taste and adjust seasonings, if necessary.

Serve with hot cooked rice and garnish with scallions.
Nutrition
Calories: 315kcal