If you're like us, there are some evenings you want a delicious homecooked meal that doesn't require a lot of effort. Well, check this out!
We're just crazy about 1-skillet dishes, such as our amazing Authentic Jambalaya and Classic Tuna Casserole. This dish is even simpler to make! In fact, it comes together in just a little over 30 minutes! And the bang for the buck is truly spectacular! An instant family favorite!
How To Make Pan-Seared Pork Chops with Rice
You just can't believe how quickly this incredible delicious come together.
You can go with bone-in pork chops, or boneless. More on that in a moment.
This really is the definition of the perfect weeknight dinner.
NOTE: If you liked this video, please subscribe to our YouTube channel. Remember to click the little 'bell' icon so you'll never miss a new video. Thank you!
The Ingredients You Will Need
Of course, it all starts with the chop. But there's a lot to consider when choosing the best pork chop.
We love going with a bone-in rib pork chop. This particular chop comes from the center of the pork loin. It's very tender and includes a T-shaped rib bone that has been stripped and cleaned (frenched) so that it is visible from one end.
The Other Items You Will Need
Chicken stock – Or broth. It adds a depth of flavor to the rice. We recommend low-sodium
Long-grain rice – Also known as "extra" long grain rice
Salt and pepper – Go easy on the salt
Oil – Vegetable or olive
Chorizo sausage – Uncooked, just 1 link
Onion – 1 cup, from a small onion
Red bell pepper – Seeded and diced
Thyme – 1 tbsp fresh, 1 tsp is using dried
Cajun seasoning – 1 tbsp for a little spice, 1 tsp for even less
Scallions – Chopped, white and green parts
EXPERT TIP: Season the chops on both sides with salt and pepper. Because some Cajun/Creole seasonings contain sodium, be careful when adding more to the rice. Chorizo can have sodium, too. Do a taste test when the cooking is about finished to determine if you need more salt.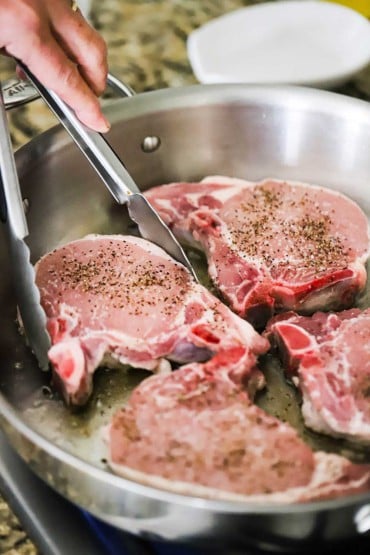 Tips For Perfect Pan-Seared Pork Chops
Rice Hack – Place the rice in a microwave-safe bowl and then add 2 cups of broth. Heat on HIGH in the microwave until most of the liquid has been absorbed, usually 8 to 10 minutes. The rice won't be fully cooked at this point but will be once simmered with the pork chops. Easy, saves time, and ensures the pork chops won't overcook!
Single-Sear the Chops – To keep the chops moist and juicy, you'll only need to sear them on one side. Crank the heat up high to get a nice sear. You may need to use the handle of a large spoon to press the chops down onto the skillet.
Keep an Eye on the Rice – After you have pre-cooked the rice in the microwave, it will finish nicely in the skillet with the pork chops. However, depending on a few variables (ie, skillet heat), it may take a little longer than 8 to 10 minutes for the rice to become nice and tender. It's okay if a little juice is still left, but the rice should absorb most of it. If all of the liquid is absorbed, but the rice still is a little al dente, add another ¼ cup of broth (or water) and cook until desired tenderness.
How To Serve
The chops and the Cajun rice really are a complete meal by themselves.
However, you could serve it with another side, such as maple-braised carrots, roasted broccoli, or easy corn casserole.
To serve, you can simply place the skillet with the chops and rice still in and let folks serve themselves, or, quickly place the chops on a platter and spoon the rice into a serving bowl.
EXPERT TIP: Remember to stir the rice before serving, you may need to remove the chops when doing this. Stir in the chopped scallions just before serving.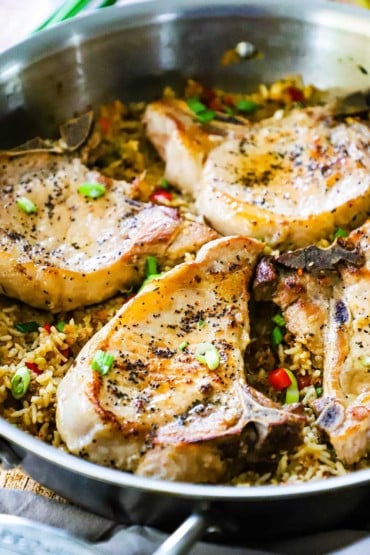 Other Pork Recipes to Try
These pork chops are easy and delicious. Here are some other wonderful recipes starring delicious pork:
Pan-Fried Pork Cutlets with Peaches
Grandma's Pork Loin
Bratwurst Sliders with Beer Cheese Sauce
Delmonico Pork Steak with Homemade Steak Sauce
Slow-Cooker Pulled Pork
Slow-Cooker Dublin Coddler
Ale-Braised Bratwurst with Sauerkraut
In the meantime, aren't you craving these amazing chops with rice?
This dish really delivers amazing taste for such little effort.
It's the perfect meal for a busy weeknight and is very family-friendly.
Every single bite is a true taste sensation!
Ready to make one of the most delicious one-skillet meals of all time? In about 30 minutes? Go for it!
And when you do, be sure to take a photo of it, post it on Instagram, and tag @HowToFeedaLoon and hashtag #HowToFeedaLoon!
Pan-Seared Pork Chops with Rice
Pan-Seared Pork Chops with Rice is one of our all-time favorite 1-skillet dishes. If serving two, cut the recipe in half. Be careful when adding salt, many Cajun seasonings already have sodium, and the chorizo has sodium, as well.
Print
Pin
Rate
Servings: 4 people
Calories: 642kcal
Equipment
1 Large skillet 12" - See NOTES if you don't have a skillet this large.
Ingredients
3 cups chicken stock
1 cup long-grain white rice
4 chops bone-in, rib chops, 1-inch thick, trimmed
Salt and pepper
1 tbsp vegetable oil or olive oil
4 oz chorizo sausage 1 link, casing removed
1 cup onion chopped
1 red bell pepper stemmed, seeded, and chopped
6 cloves garlic minced
1 tbsp thyme fresh, chopped, or 1 tsp dried
1 tbsp Cajun seasoning or Creole seasoning
3 scallions chopped, green and white parts
Instructions
Combine 1½ cups of the stock and rice in a microwave-safe bowl, cover, and cook on HIGH for 8 to 10 minutes (rice will not be completely finished...don't worry...it will absorb more liquid and be ready when finishing off the dish). Fluff with fork.

Meanwhile, pat chops dry with paper towels and season with salt and pepper.

Heat oil in a 12-inch skillet over medium-high heat.

Carefully place chops in the skillet and cook until well browned on one side, 4 to 6 minutes (this may need to be done in 2 batches).

Transfer chops to a plate.

Pour off all but 1 tablespoon of fat from skillet and return to medium heat.

Crumble the chorizo into the skillet and cook for 5 minutes. Stir in the onion, and bell pepper and cook until vegetables are softened, about 3 minutes.

Stir in garlic, thyme, and Cajun spice and cook until fragrant, about 30 more seconds.

Stir in rice and remaining 1½ cups of stock, scraping up any browned bits.

Nestle chops into rice, browned side up, and bring to a simmer.

Cover and reduce heat to medium-low, and cook for about another 8 to 12 minutes, until rice is fully absorbed and soft.

Gently fold the scallions into the rice. Taste and season with salt, if needed. Serve at once.
Notes
See the video near the top of the blog post for visual guidance. If you liked the video, please subscribe to our YouTube channel.
If you don't have a large enough skillet to cook all 4 chops, then sear them 2 at a time. The chops will reduce in size, which should allow you to fit them into the skillet for the final cooking. If not, you can transfer the rice and chops to a baking dish and cover with foil and cook in a 350°F oven for 15 to 20 minutes, or until the rice is completely cooked. You may need to add more broth.
Because the seasonings and chorizo sausage often contain sodium, be careful when adding more salt. You may not need to add any to the rice mixture. Before serving, taste, and add salt, if needed.
Italian sausage (mild or hot, uncooked) is a great substitution for the chorizo, if you can't find it.
Leftovers will keep in the fridge for up to 5 days. You can freeze the rice and chops for up to 2 months. Completely thaw, and then reheat in a baking dish, covered with foil, in a 350°F for 20 to 30 minutes, or until fully heated through.
Nutrition
Calories: 642kcal | Carbohydrates: 52g | Protein: 52g | Fat: 18g | Saturated Fat: 6g | Polyunsaturated Fat: 2g | Monounsaturated Fat: 9g | Cholesterol: 184mg | Sodium: 458mg | Potassium: 1144mg | Fiber: 3g | Sugar: 6g | Vitamin A: 1973IU | Vitamin C: 47mg | Calcium: 92mg | Iron: 3mg
POST UPDATE: This recipe was originally published in January 2015, but was updated with improved tweaks to the recipe with new tips and photography and a fabulous new video in September 2022!