Everyone loves a good casserole, right? Well, this recipe forgoes the canned soup version and ramps up the flavors with sauteed mushrooms, fresh peas, egg noodles, and a crunchy sourdough breadcrumb topping.
There is something about this classic dish that feels nostalgic, yet extra special. You can easily substitute rotisserie chicken from the supermarket if you prefer. All the flavors come together to make a deeply satisfying and comforting dish. And it's not difficult to prepare at all!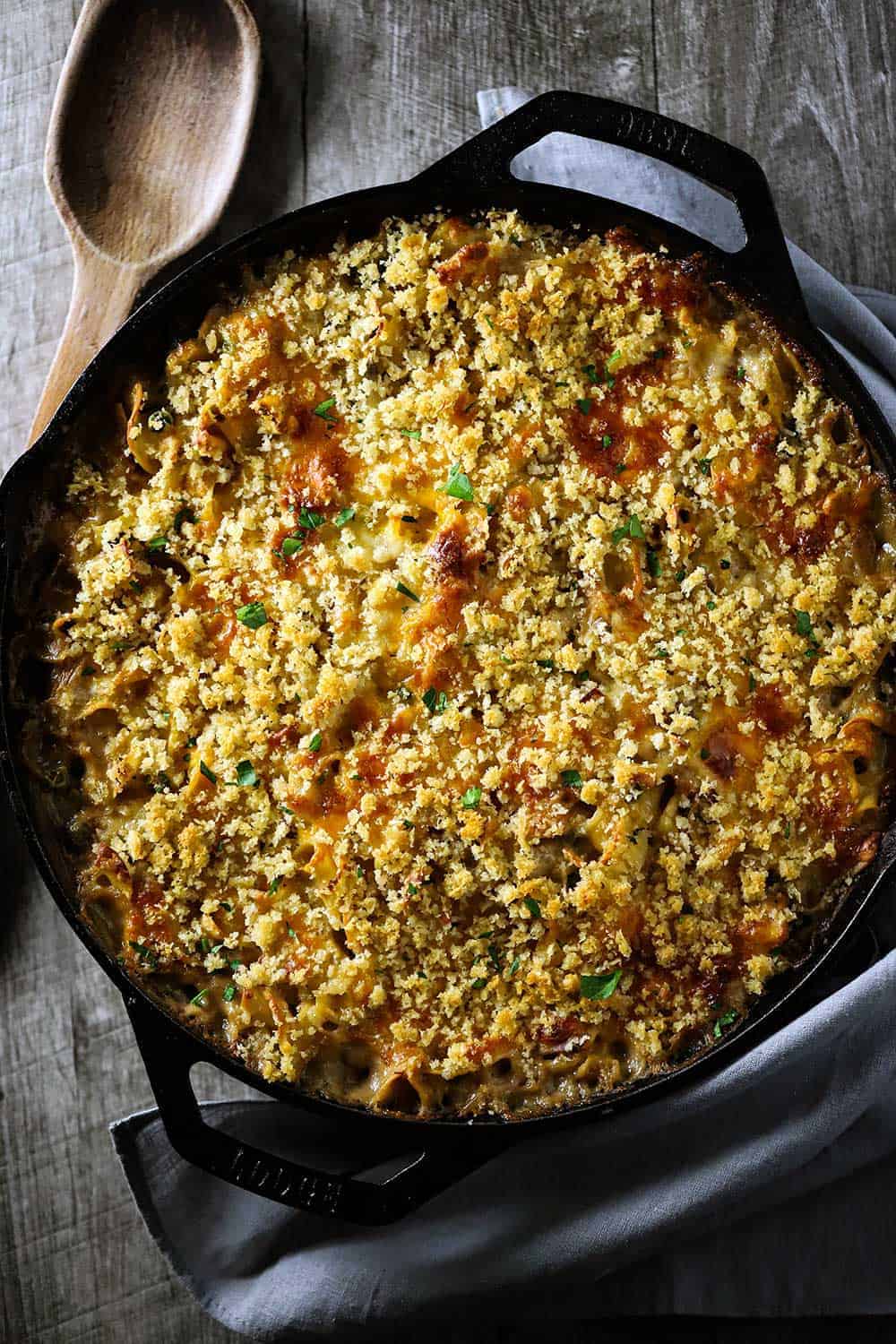 How To Make Tuna Casserole
So, as mentioned, this casserole is not hard to prepare and comes together in stages.
There are many varieties of tuna available at the market, but for this dish, you can certainly use a good-quality canned variety.
How to Make Homemade Cream of Mushroom Soup
One of the things that makes this tuna noodle casserole extra special is making the cream of mushroom soup from scratch.
It's not difficult, and the difference in taste vs. the canned version is night and day.
EXPERT TIP: We start off with 8 oz. of white button mushroom that we slice into about ¼-inch slices. Sauté them in butter, along with the soy sauce, Worcestershire sauce, and fresh thyme until the mushrooms begin to release their liquid, about 5 minutes. The addition of white wine is optional but deepens the flavor profile wonderfully.
Now, it's time to make a blonde roux that will be the basis for a light and creamy filling.
Start with a little butter and then add the flour. The consistency should be close to very wet sand and should be a light blonde color. If the mixture is very, very dry, add a little more butter.
EXPERT TIP: We love using our 12-inch cast-iron skillet for making this tuna casserole recipe. After sautéing the mushrooms, we transfer them to a bowl and make the roux and sauce in the same skillet. If you don't have a large cast-iron skillet, no problem! You can do your sautéing and sauce making in a couple of large skillets, mix everything up in a large bowl, and then transfer to a 9″x13″ baking dish.
The Best Tuna
You really can't go wrong when selecting tuna for the casserole, however, we prefer going with light chunk tuna for our recipe.
Add the tuna to the cream of mushroom sauce and use a fork to flake it into the mixture.
EXPERT TIP: We go with two (2) cans of light chunk tuna. We like this because the mercury levels are considerably lower than canned white (albacore) tuna.
Choosing the Right Pasta
We love using extra-wide egg noodles for this delicious casserole. They can be found in the dried pasta section of most supermarkets.
Get some wonderful sweet peas to mix into the fun. We use frozen petite peas and let them thaw under cool running water.
EXPERT TIP: The noodles can be prepared a couple of hours in advance. After cooking them according to package instructions, simply drain them, and then transfer them to a large bowl. Toss the noodles with about 1 tbsp of olive oil and cover with a kitchen towel or plastic wrap. This will keep the noodles from drying out and sticking to each other.
Every great casserole needs a delicious crunchy topping.
We love grabbing a fresh sourdough loaf from the market, removing the crusts with a serrated knife, and then pulverizing them into crumbs in our food processor.
Toss in 2 tbsp of melted butter and a pinch of salt with the bread crumbs. Sprinkle the crumbs over the layer of cheese on top of the casserole.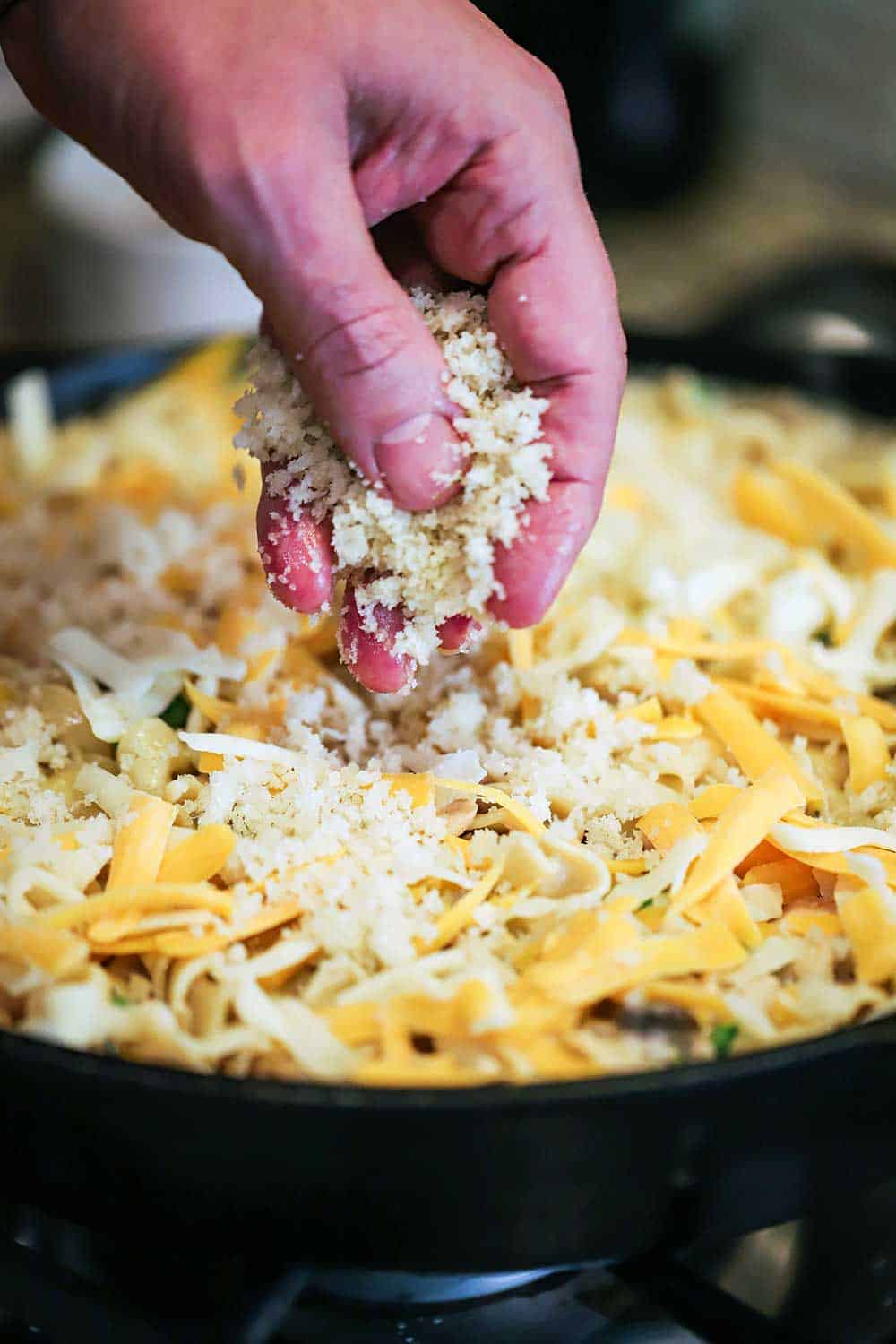 Now, all you need to do is bake the casserole in your oven preheated to 375°F.
You may need to turn the casserole around 90° halfway during the baking to ensure even browning.
Let the casserole rest for about 5 minutes before serving. It will be bubbly and lightly browned on top. Delicious!
When to Serve The Best Tuna Casserole
This dish is amazing for a weeknight dinner, but it's also perfect for special occasions such as a baby or bridal shower, birthday party, or church potluck!
Leftovers also reheat wonderfully in the microwave or in the oven
EXPERT TIP: This recipe, as written, feeds a hungry family of 4 to 6. The recipe can easily be cut in half for a smaller version. Follow the recipe exactly as written, just cut the measurements in half.
Looking for another amazing tuna dish? Try our incredible Best-Ever Tuna Salad or Amazing Tuna Melt!
But, in the meantime, you've got to make this Best Tuna Salad.
Comfort food at its very best!
Ready to make the best tuna casserole in town? Go for it!
And when you do, be sure to take a photo, post it on Instagram, and tag @howtofeedaloon and hashtag #howtofeedaloon!
The Best Tuna Casserole
The Best Tuna Casserole is not hard to make, and so much better using an authentic sauce made with a nice blonde roux. The sautéed mushrooms, peas, egg noodles, cheese, and sourdough crumb topping make this dish divine. So good!
Print
Pin
Rate
Servings: 6
Calories: 657kcal
Equipment
12" cast-iron skillet, or 9"x13" baking dish
Ingredients
7 tbsp unsalted butter divided
1 cup onion chopped
8 oz mushrooms sliced
1 tbsp thyme fresh, chopped
2 tsp soy sauce
2 tsp Worcestershire sauce
¼ cup dry white wine
¼ cup all-purpose flour
1½ cups whole milk
1½ cups chicken stock
1 tsp lemon juice or juice of half of 1 lemon
Kosher salt and fresh ground black pepper
2 12 oz. cans tuna in water, drained
2 cups cheddar cheese shredded, divided
8 oz peas frozen, thawed
12 oz egg noodles dried
2 cups bread crumbs fresh sourdough, coarsely chopped from 3 to 4 slices (a food processor works well, remove crusts first)
Instructions
Preheat oven to 375°F.

Melt 2 tablespoons butter in a large skillet over medium heat. Add onion and cook until soft, about 5 minutes.

Increase heat to medium-high, and add mushrooms, thyme, soy sauce, and Worcestershire sauce, and ¼ teaspoon of salt. Cook until mushrooms begin to release some liquid, about 5 to 7 minutes.

Add the wine and bring to a boil and cook until reduced, about 2 minutes. Remove from heat and transfer to a bowl. Set aside.

In the same skillet (or a separate saucepan), melt 3 tbsp butter over medium heat, and then whisk in flour, stirring and cooking the roux until light blonde, about 3 to 4 minutes.

Whisk in the milk and then the chicken broth. Stir constantly until thickened, about 4 to 5 minutes. The texture should be thicker than broth, but not as thick a cream gravy.

Stir in the mushroom mixture, lemon juice, 1 tsp salt, and ½ tsp of pepper. Using a fork, flake tuna into the sauce, and gently combine.

Meanwhile, cook the noodles in salted boiling water until al dente, about 7 - 8 minutes. Drain.

Stir in 1 cup of the cheese, all of the peas, and the cooked noodles. Stir gently until fully combined. If using a baking dish, transfer the mixture to the dish.

In a medium bowl, toss together the breadcrumbs with 2 tbsp of melted butter and a pinch of salt.

Add the remaining 1 cup of cheese over the top of the casserole, and then top the cheese with the bread crumbs.

Bake until topping is crisp and sauce is bubbly, about 40 minutes. Let rest for 5 minutes before serving.
Notes
We use good ole white button mushrooms, but you can use whatever your favorite 'shroom is, or a combination of them. You can make this a one-pot dish, as we do, if using a large (12-inch) oven-safe dish, such as cast iron, or Dutch oven. You'll need to transfer the sautéd mushrooms from the pan, and then make the sauce. Then mix all the components together before baking. OR...you can 1 or 2 skillets to make the sauce and then mix everything together in a large bowl, and then transfer to a 9"x13" dish. When making the sauce, the consistency should be not too thin, but not a thick a cream-style gravy. The noodles will absorb some of the sauce as the casserole bakes. Leftovers can be kept in an air-tight container in the fridge for up to 5 days. If can be frozen, but the noodles will breakdown somewhat and the texture won't be as desirable. The casserole can be prepared all the way up to topping with bread crumbs and baking up to 12 hours in advance. Once ready to bake, add the bread crumbs and then bake.
Nutrition
Calories: 657kcal | Carbohydrates: 86g | Protein: 30g | Fat: 29g | Saturated Fat: 12g | Cholesterol: 130mg | Sodium: 761mg | Potassium: 671mg | Fiber: 7g | Sugar: 12g | Vitamin A: 1264IU | Vitamin C: 20mg | Calcium: 454mg | Iron: 5mg
POST UPDATE: This recipe was originally published in February 2016, but was updated with improved tweaks to the recipe, with new tips and photography, and a fabulous new video in January 2021!