Everyone loves a good tuna noodle casserole, right?   Well this Gourmet Tuna Casserole recipe forgoes the canned soup version and ramps up the flavors with sauteed mushrooms, fresh peas and a crunchy sourdough breadcrumb topping.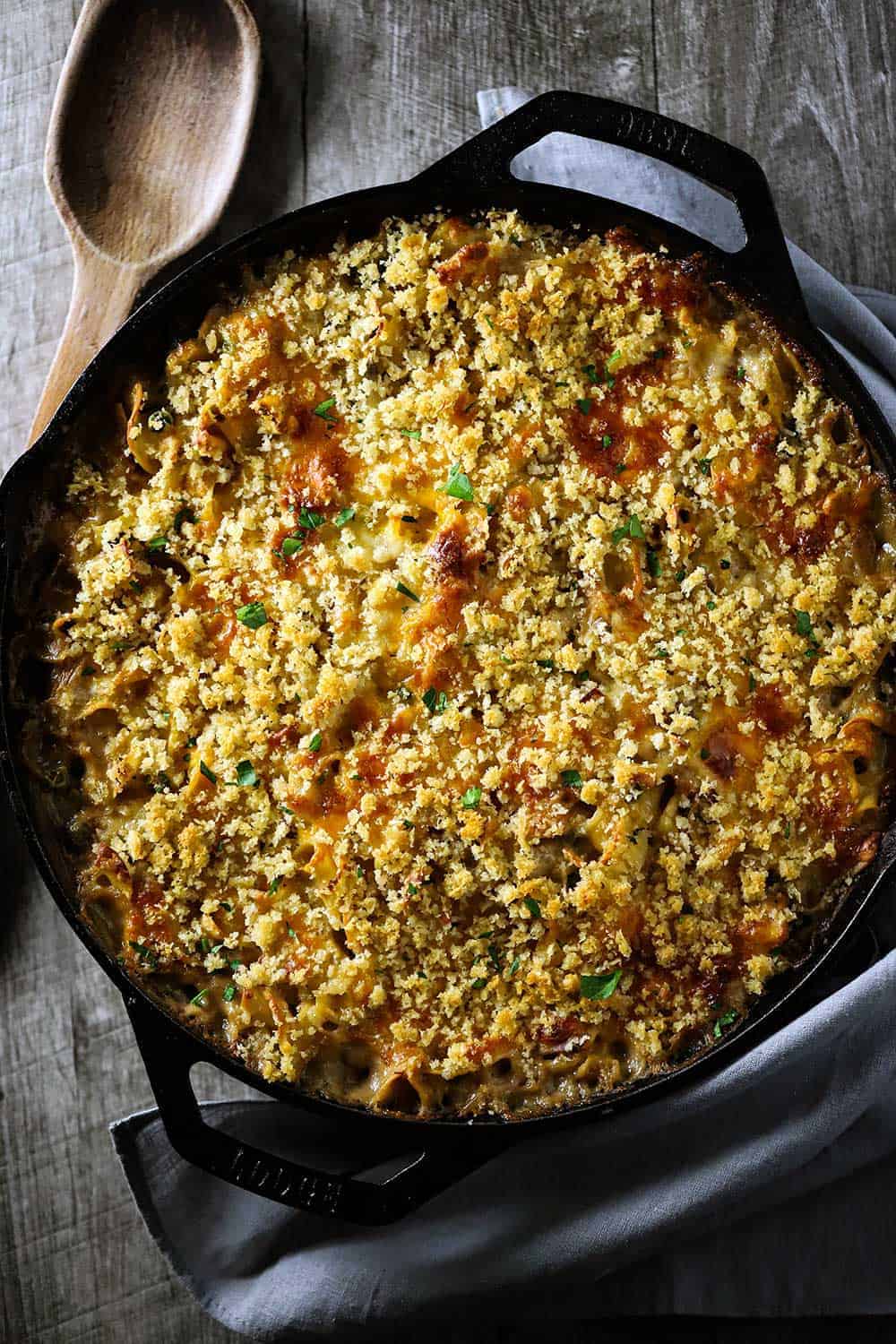 It's not that much more effort than you basic tuna casserole, but the end result is absolutely incredible.   Use a good quality chunk canned tuna, and I love the Pennsylvania Dutch-style curly egg noodles.   This is also super delicious using chicken (rotisserie chicken works fine).
The Loon flipped for this one.  
100% Loon Approved!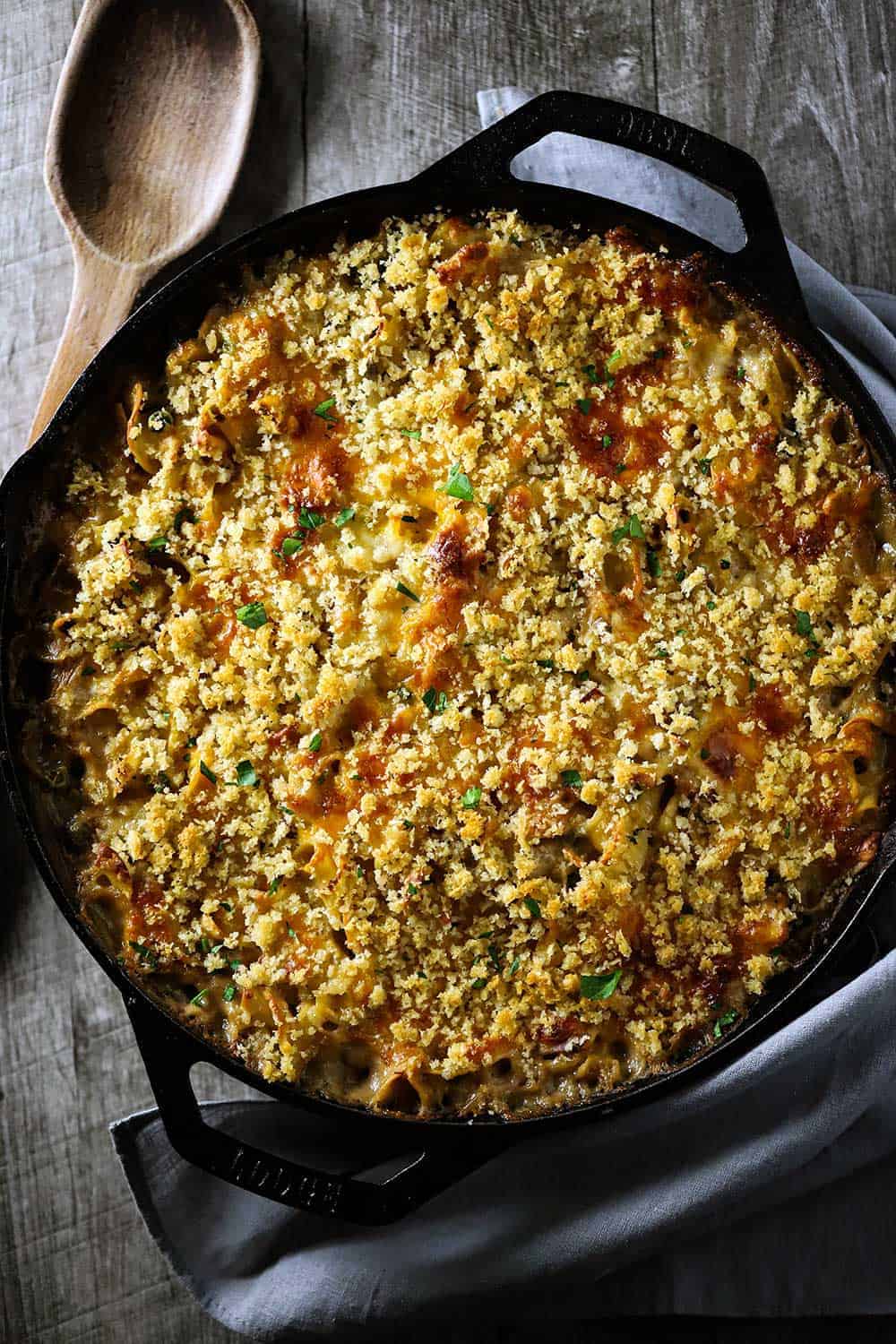 Gourmet Tuna Casserole
This Gourmet Tuna Casserole is not hard to make, and so much better using an authentic sauce made with a nice blonde roux. The sauteed mushrooms, peas and sourdough crumb topping make this dish divine. So good!
Print
Pin
Rate
Servings: 6 - 8
Calories: 412kcal
Ingredients
4 tbsp unsalted butter plus a little more for preparing the dish
1 medium onion chopped
8 oz sliced mushrooms
1 tbsp fresh thyme chopped
2 tsp soy sauce
2 tsp Worcestershire sauce
1/4 cup dry white wine
1/4 cup all-purpose flour
1 1/2 cups chicken stock
2 cups whole milk
1 tsp fresh lemon juice
Kosher salt and fresh ground black pepper
2 6 oz cans good quality tun in oil drained
2 cups cheddar cheese shredded
8 oz frozen peas thawed
1 12 oz bag dried curly egg noodles
2 cups fresh sourdough bread crumbs coarsely chopped from 3 to 4 slices (a food processor works well, remove crusts first)
1 tbsp olive oil
Instructions
Pre-heat oven to 375 F.

Butter a 9x13 baking dish.

Melt 1 1/2 tablespoons butter in large skillet over medium heat.

Add onion and cook until soft, about 5 minutes.

Increase heat to medium-high, and add mushrooms, thyme and 1/4 teaspoon of salt. Cook until mushrooms begin to release some liquid, about 5 minutes.

Add the soy and Worcestershire sauce and cook for 3 more minutes.

Add the wine and bring to a boil and cook until reduced, about 2 minutes.

Remove from heat.

In a separate saucepan, over medium heat, melt the remaining 2 1/2 tablespoons butter, and then whisk in flour, stirring and cooking the roux until light blonde, about 3 to 4 minutes.

Carefully add the stock, whisking constantly, then bring to a boil.

Add milk, and simmer for 5 minutes, stirring occasionally.

Stir in the mushroom mixture, lemon juice, a 1/4 teaspoon of salt and pepper, each.

Using a fork, flake tuna into the sauce, and gently combine.

Meanwhile, cook the noodles in salted boiling water until al dente, about 7 - 8 minutes.

Drain and return noodles to the pot.

Add the sauce to the noodles, and then add 1 cup of the cheese and all of the peas, stir gently to combine.

Transfer the mixture to the prepared dish, spreading evenly.

In a medium bowl, toss together the breadcrumbs with the olive oil and a pinch of salt.

Add the remaining 1 cup of cheese over the top of the casserole, and then top the cheese with the bread crumbs.

Bake until topping is crisp and sauce is bubbly, about 40 minutes.

If desired, finish off under the broiler for about 1 - 2 minutes to brown top (Be careful! Don't burn the topping!).
Nutrition
Calories: 412kcal