This recipe is sure to be an H2FaL fan favorite. Our Best-Ever Chicken Salad has broken all kinds of records.
It's just so delicious, and trust us, we've tweaked this classic tuna salad recipe to make sure it's just as good as the chicken salad. Wow…is it good.
How To Make Tuna Salad
Watch us show you how easy it is to make this over-the-top delicious salad!
Get all your ingredients together, and then simply assemble!
The Ingredients You Will Need
Use a good-quality canned tuna pack in water, not oil. After you drain the tuna, lightly flake it so it's nice and chunky!
And then the fresh dill, capers, and dried cranberries bring such an amazing flavor and texture to the salad, you will just love it.
People who have even told us they're not fans of capers, absolutely love how all the ingredients work together for this incredible tuna salad.
This Best Tuna Salad is great as a stand-alone salad on a bed of greens, and it is spectacular on fresh bread, or in a pita.
And did you know that tuna is good for you? Read more about its nutritional value here!
Double or triple the recipe and it is literally one of the best salads you could ever serve at a shower, birthday party, and special occasion.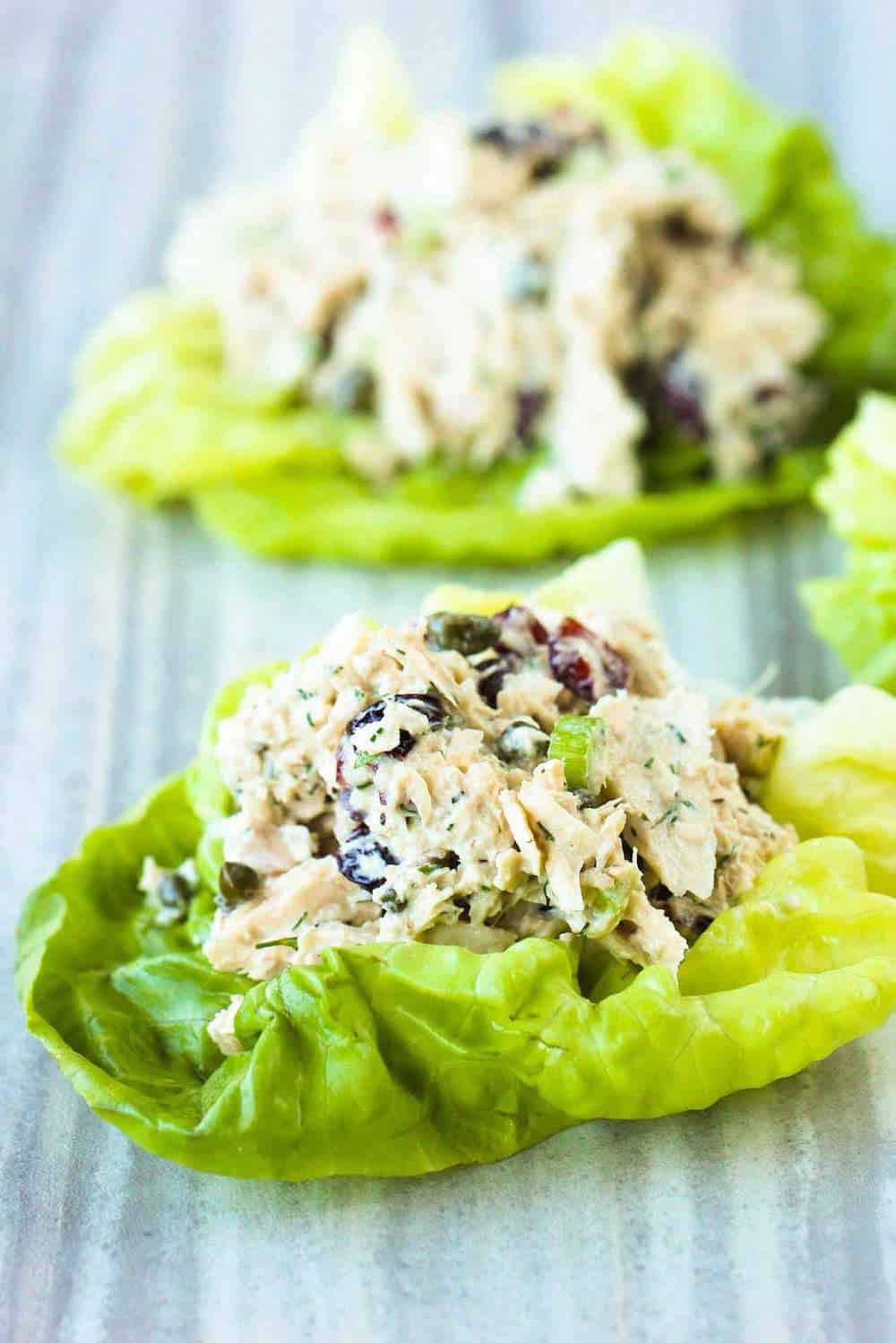 It's all in the ingredients with this salad. This salad isn't heavy on the mayo and relies on the other ingredients to bring the salad to life.
It's just the best ever! Aren't you just craving an amazing tuna salad sandwich?
Another amazing salad is our Best-Ever Lobster Salad!
Ready to make the best tuna sandwich this side of the Atlantic Ocean? Go for it!
And when you do, be sure to take a photo of it, post it on Instagram, and tag @HowToFeedaLoon and hashtag #HowToFeedaLoon!
Best-Ever Tuna Salad
This Best-Ever Tuna Salad really is the best ever. Building off the enormous popularity of our Best-Ever Chicken Salad, this Tuna Salad my just rival that recipe. We tested and tested, until we came up with what we believe, without doubt, is the world's best-ever tuna salad. Double and triple the recipe for showers, parties, and special gatherings. The best!
Print
Pin
Rate
Servings: 4 people
Calories: 405kcal
Ingredients
½ cup red onion finely chopped
½ cup apple cider vinegar
2 5 oz. can albacore tuna in water we love Wild Planet, drained
1 cup dried cranberries
2 celery ribs chopped
1 3.5 oz. jar capers drained
2 tbsp dill fresh, chopped
1 tbsp parsley fresh, chopped
¾ cup mayonnaise
1 large lemon the juice from
1 tbsp Dijon mustard
1 tsp Kosher salt start with 1/2 teaspoon, then add more, to taste
Freshly ground black pepper to taste
Instructions
Place the red onions in a small bowl and cover with apple cider vinegar. Set aside for 15 minutes, and then drain.

In a large bowl, add the drained tuna, pickled onions, cranberries, celery, capers, dill and parsley.

In a medium bowl, mix together the mayonnaise, lemon juice, mustard, salt and pepper (add the salt in 1/2 teaspoon increments, to taste).

Add the mayo mixture to the tuna mixture, and using a large wooden spoon, stir the salad to fully incorporate all ingredients.

Refrigerate for at least 1 hours before serving. (Can be prepared 24 hours in advance of serving).

Serve on a bed of greens or as sandwiches.
Nutrition
Calories: 405kcal | Carbohydrates: 30g | Protein: 1g | Fat: 18g | Saturated Fat: 4g | Cholesterol: 18mg | Sodium: 905mg | Potassium: 100mg | Fiber: 3g | Sugar: 22g | Vitamin A: 123IU | Vitamin C: 17mg | Calcium: 18mg | Iron: 1mg