We know it's sort of a lofty statement to say something is truly 'the best ever.' But wait until you try this dish.
In the tradition of our Best-Ever Chicken Salad, Best-Ever Tuna Salad, and Best-Ever Egg Salad, we're thrilled to present what we feel is the best lobster salad in the world!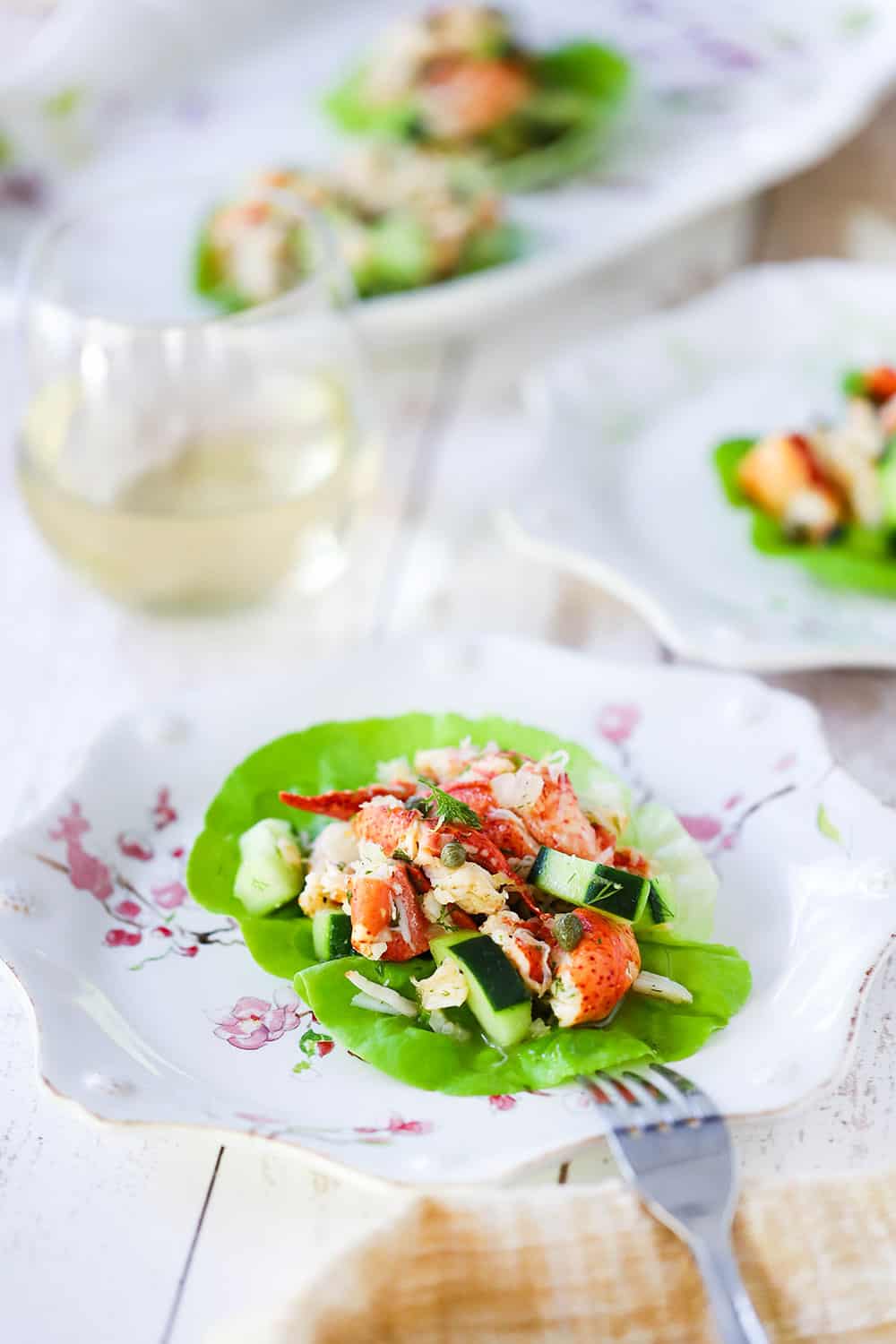 HOW TO MAKE THE BEST-EVER LOBSTER SALAD
The best thing about this salad is how delicious it is. That's a no brainer.
But the next best thing about how amazing this lobster salad is how easy it is to prepare!
PREPARING YOUR LOBSTER
There are many ways to get wonderful lobster meat for this salad.
You can steam a whole, live lobster. Or, you can steam lobster tails from your local fish market.
EXPERT TIP: Or, you can do what we love to do, order 1 lb. of fresh lobster meat (knuckles, claws, and tail meat) from www.LobsterAnywhere.com. They deliver to your doorstep lobster caught fresh right off the shore of the great state of Maine, U.S. Some of the best lobster in the world! And in most cases, you get it overnight!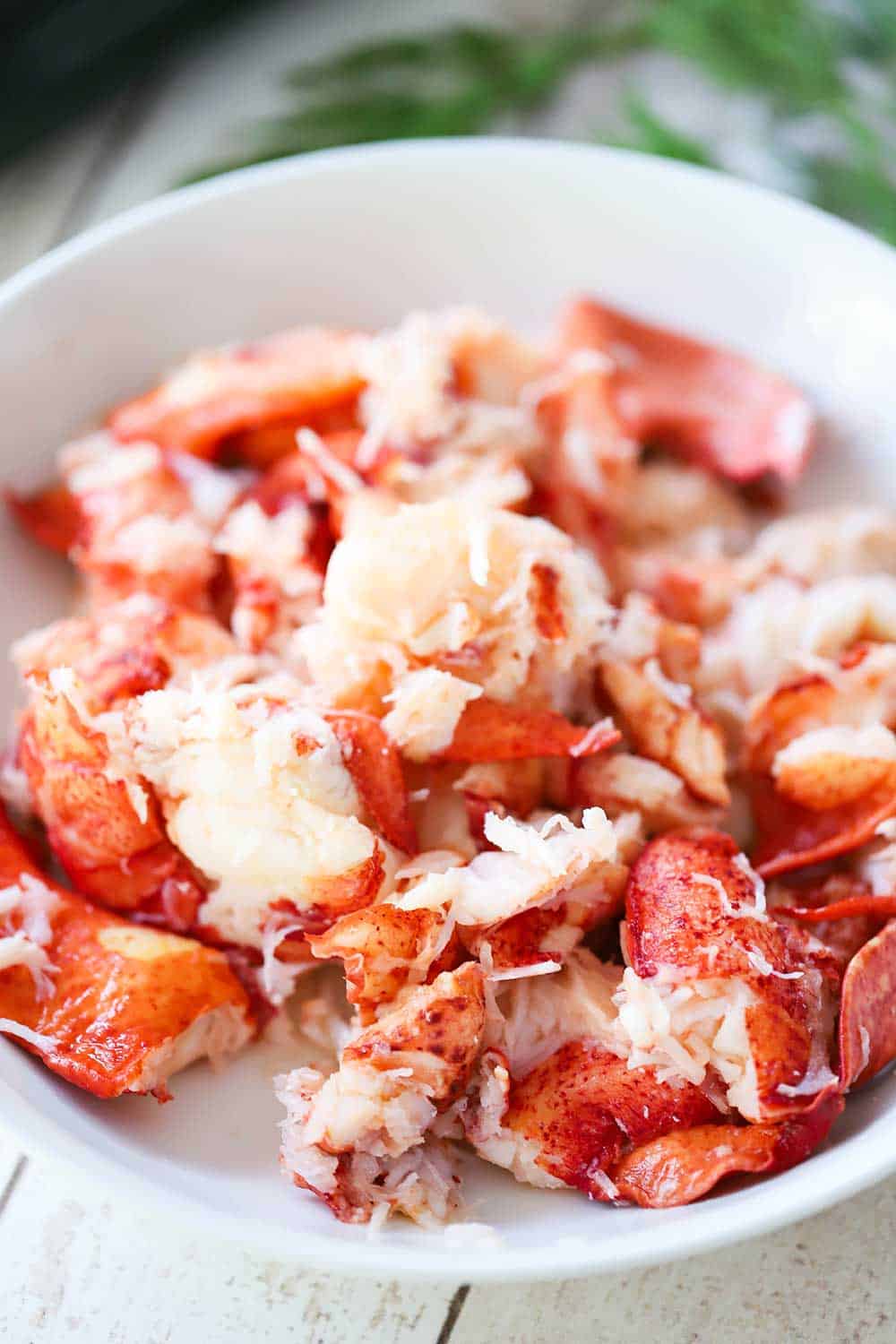 To prepare the cucumbers, we like to peel only a few strips for an attractive presentation.
Slice the cucumber down the middle, lengthwise, and then use a small spoon to remove the seeds.
Cut it up to your desired size. We like smaller chunks because we don't want the cucumber to upstage the lobster meat, but that's a matter of taste.
A CITRUS VINAIGRETTE IS THE PERFECT DRESSING
Citrus, such a lemon, is the perfect match against the succulent lobster meat, cucumber, and herbs.
Mix together the zest and juice from one lemon with a finely chopped shallot or small onion.
EXPERT TIP: We love to add a little more acid to the vinaigrette by mixing in 1 tbsp of Champagne vinegar. If you don't have access to Champagne vinegar, you could certainly use white wine vinegar, Sherry vinegar, or even apple cider vinegar. Add the extra-virgin olive oil slowly and whisk continuously to help emulsify the vinaigrette.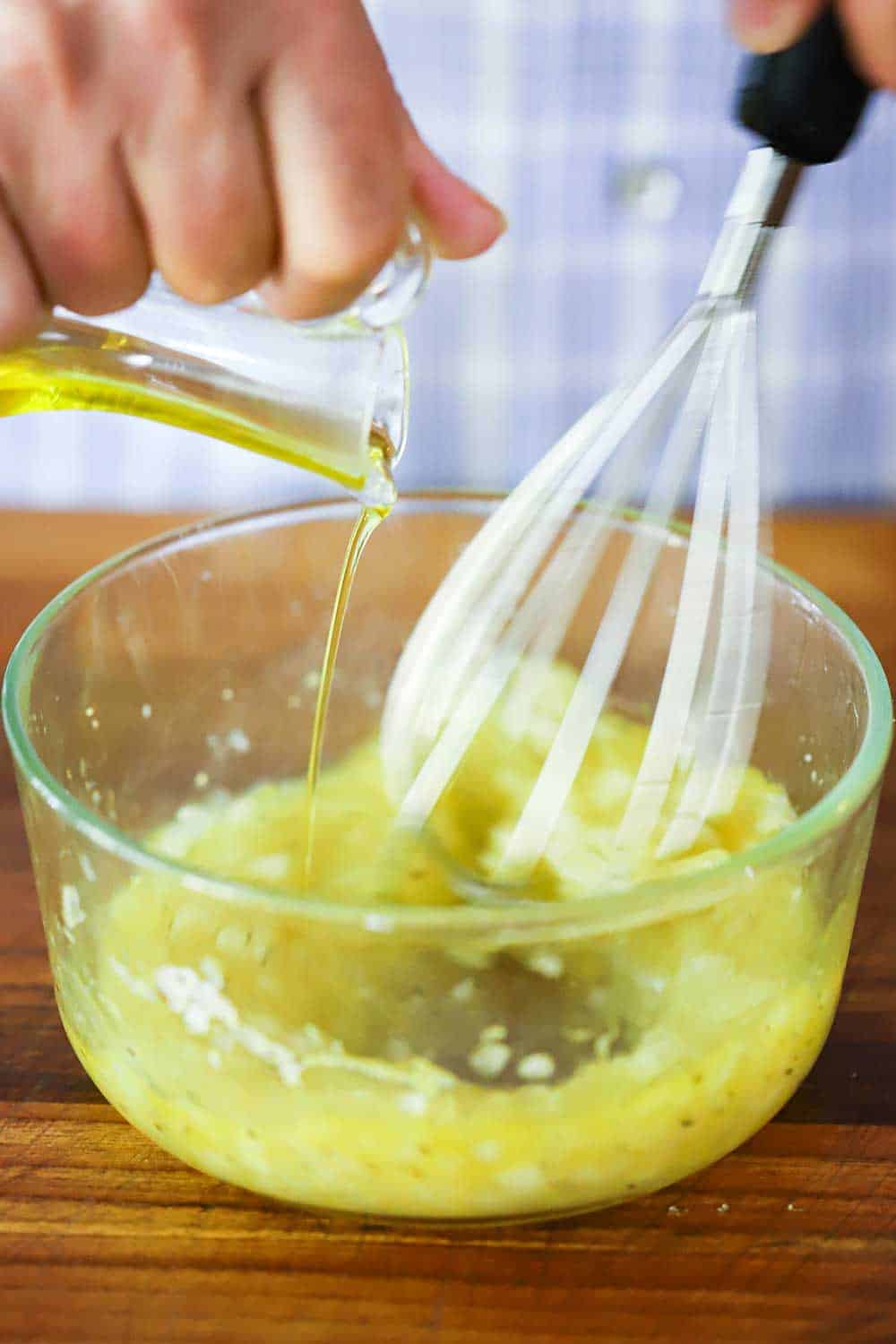 Fresh dill bring a brightness to the lobster salad that is just wonderful.
Briny, slightly salty capers are a perfect match to the lobster meat and dill.
So delicious!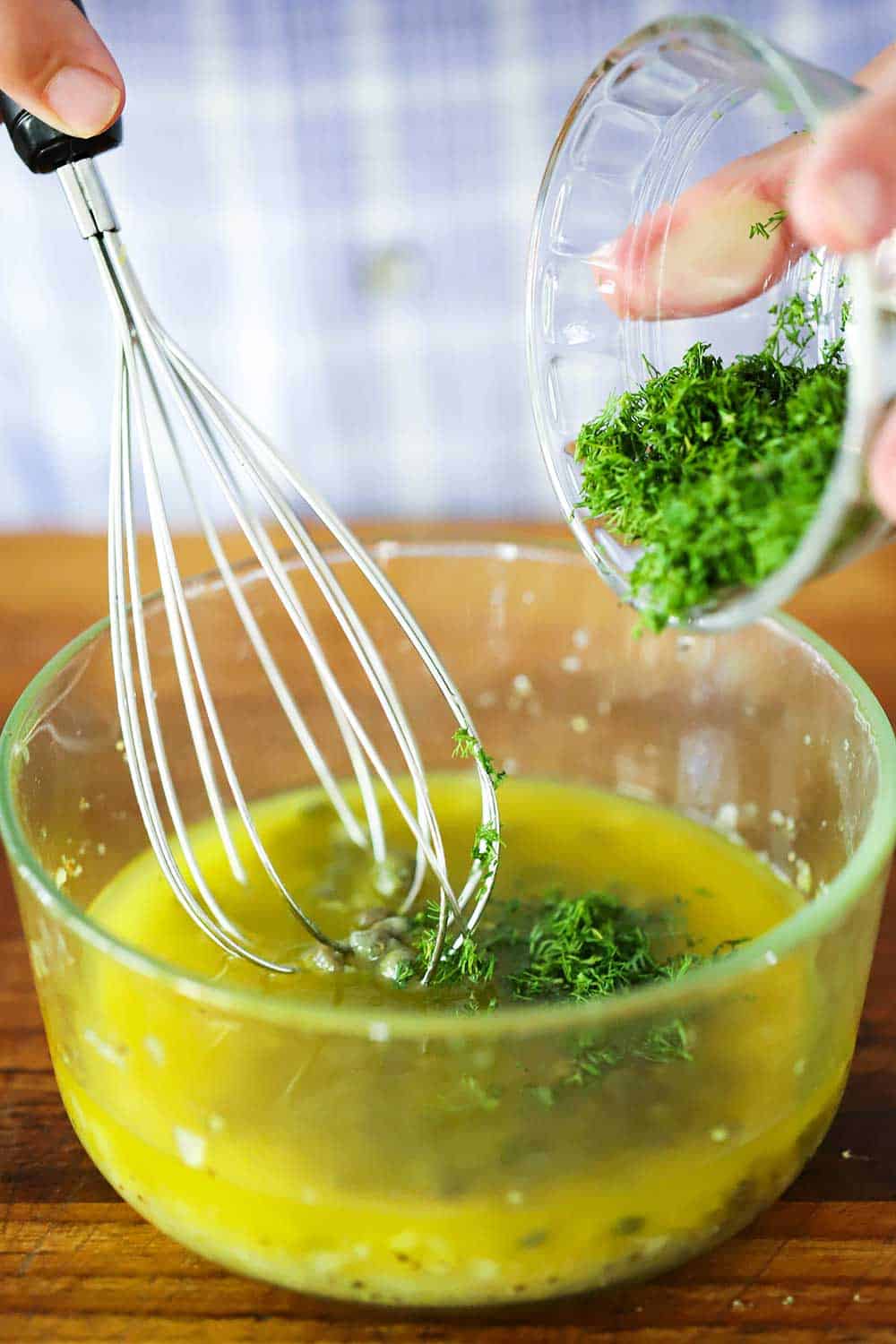 THE FINAL TOUCH
Now, it's time to add the vinaigrette to the salad.
Simply pour it all over the lobster and cucumbers, and then gently mix until fully coated.
EXPERT TIP: The vinaigrette and can be made up to 1 day in advance. Store in a jar, or container, with a tight-fitting lid, and then shake vigorously before adding to the salad. We do recommend allowing the dressed salad to chill for about 30 minutes before serving to allow the flavors to complete meld.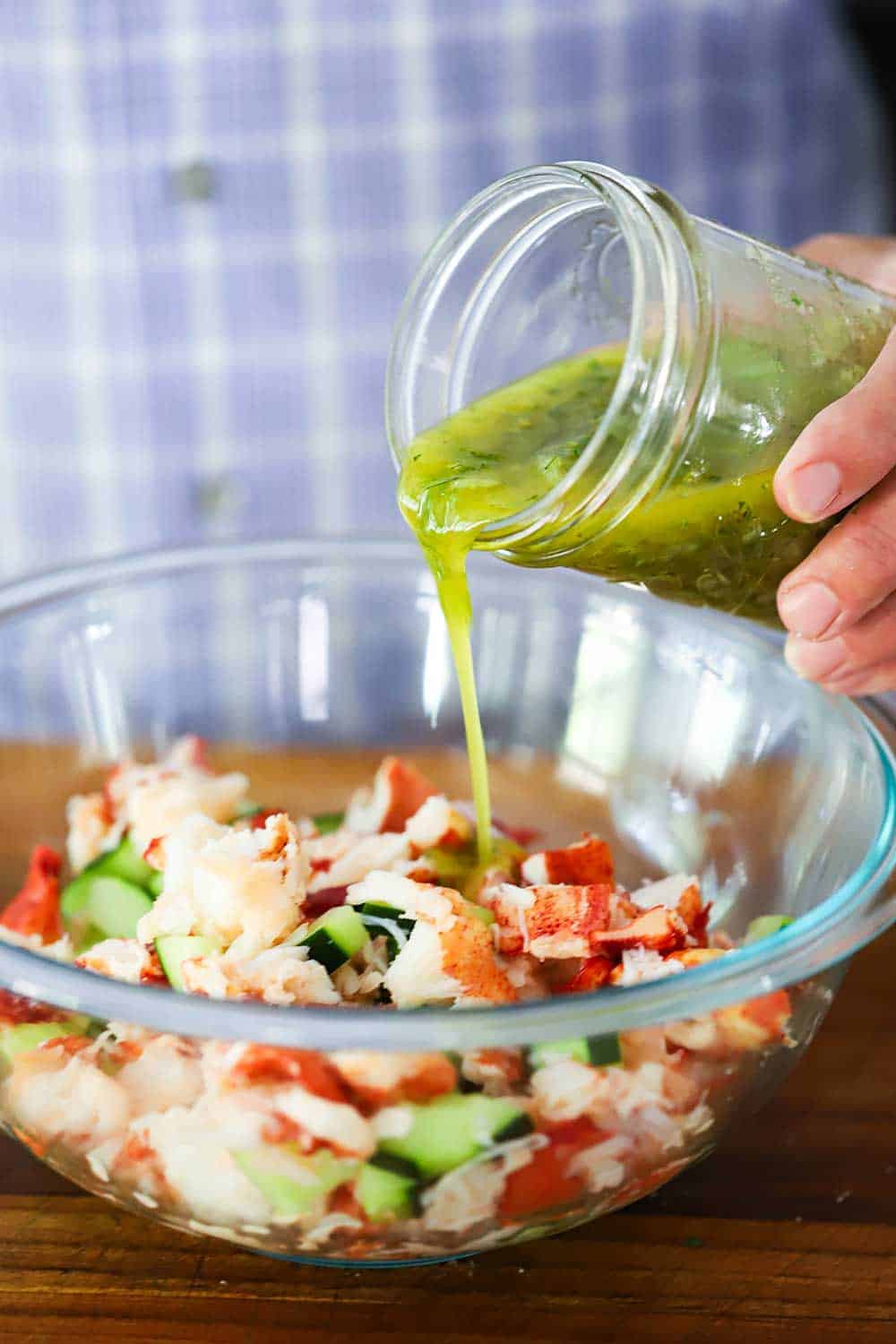 This salad is perfect for serving at a brunch, baby/wedding shower, but also as a starter to a wonderful backyard BBQ. Or, a lovely salad for 2 on a Sunday afternoon at home.
You can place the salad in a serving bowl and let folks dish out their own portion, or do what we love, and place a mound of the salad on pieces of bibb, or butter lettuce.
No matter how you serve it, people will do nothing but rave.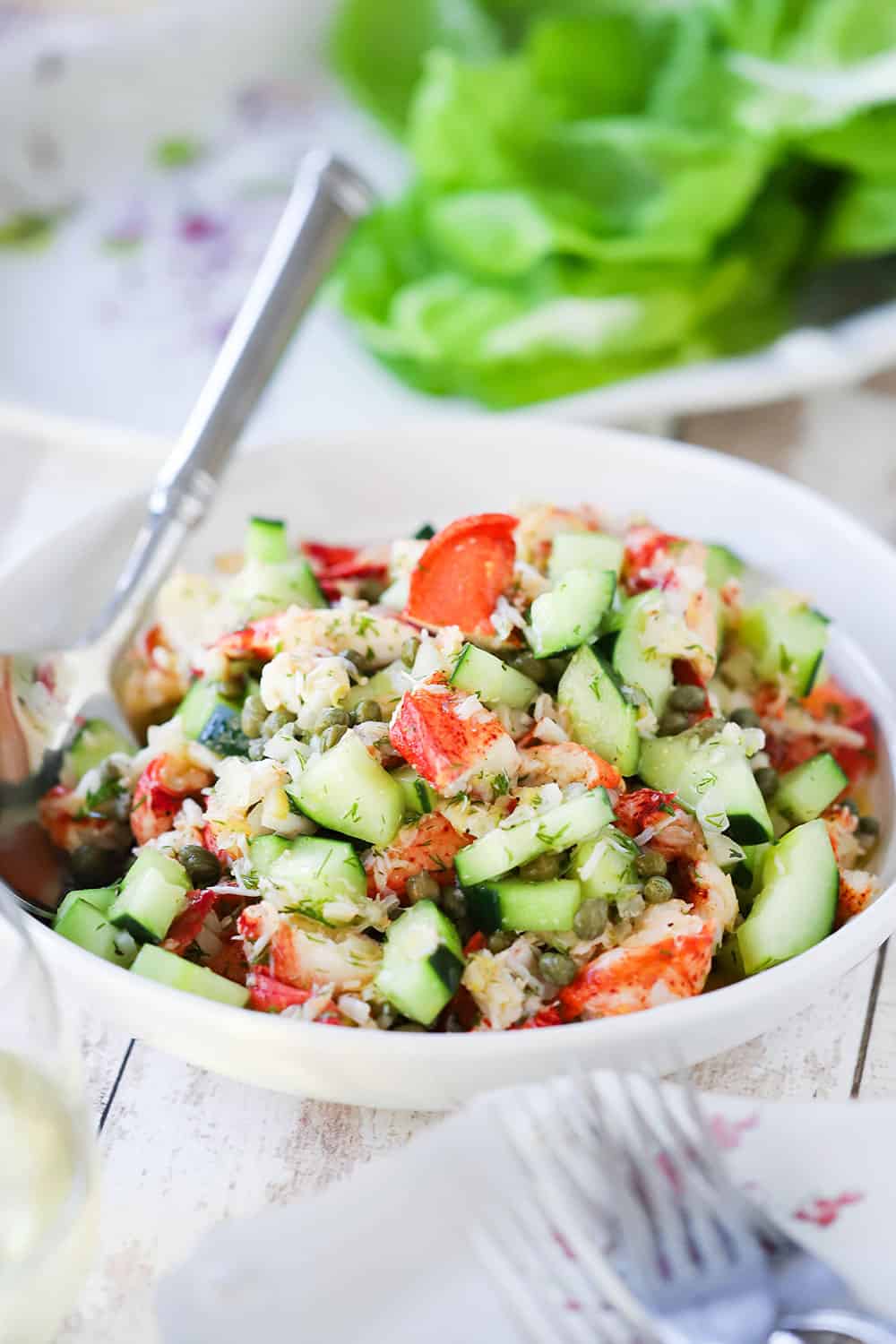 HOW TO SERVER BEST-EVER LOBSTER SALAD
This salad is so beautiful and undoubtedly has a certain sophisticated appeal. It's approachable, not pretentious, yet still feels….well, fancy.
We encourage you to pull out your best dinnerware when serving this glorious salad.
Our favorite platter and serving plates that we own are hand-crafted in Portugal by Juliska that we received from the amazing The Table at Latona's. Be sure to look at their GORGEOUS products. We love supporting small businesses, and this one is absolutely in a league of their own.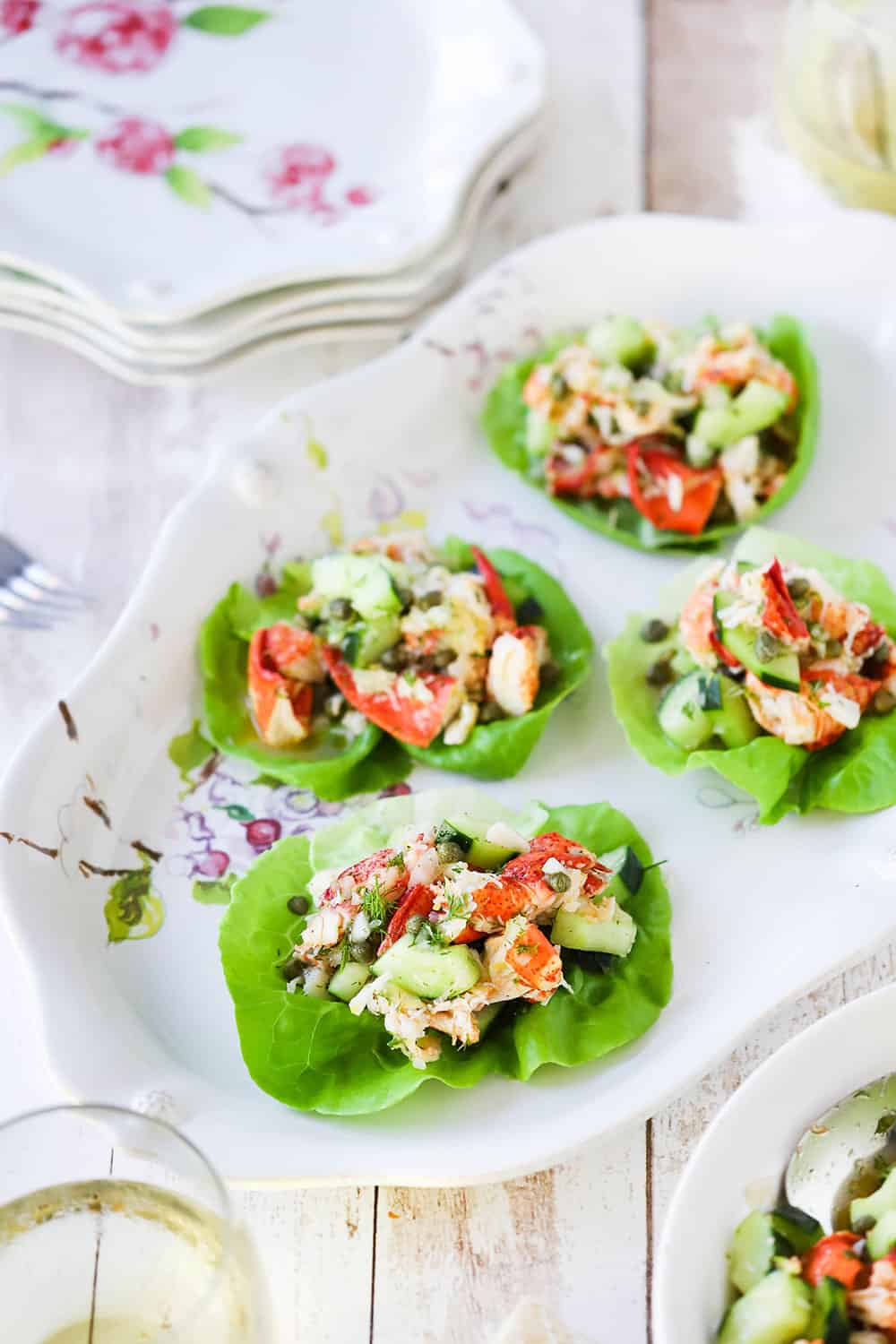 If you love fresh lobster, and you love a fresh, vibrant salad, then this is the perfect recipe for you.
Start with quality lobster meat, and the rest is as easy as can be. By the way, if you love this lobster salad, you'll flip for our recipe for Lobster Tails! To die for!
But in the meantime, talk about a show-stopper of a dish!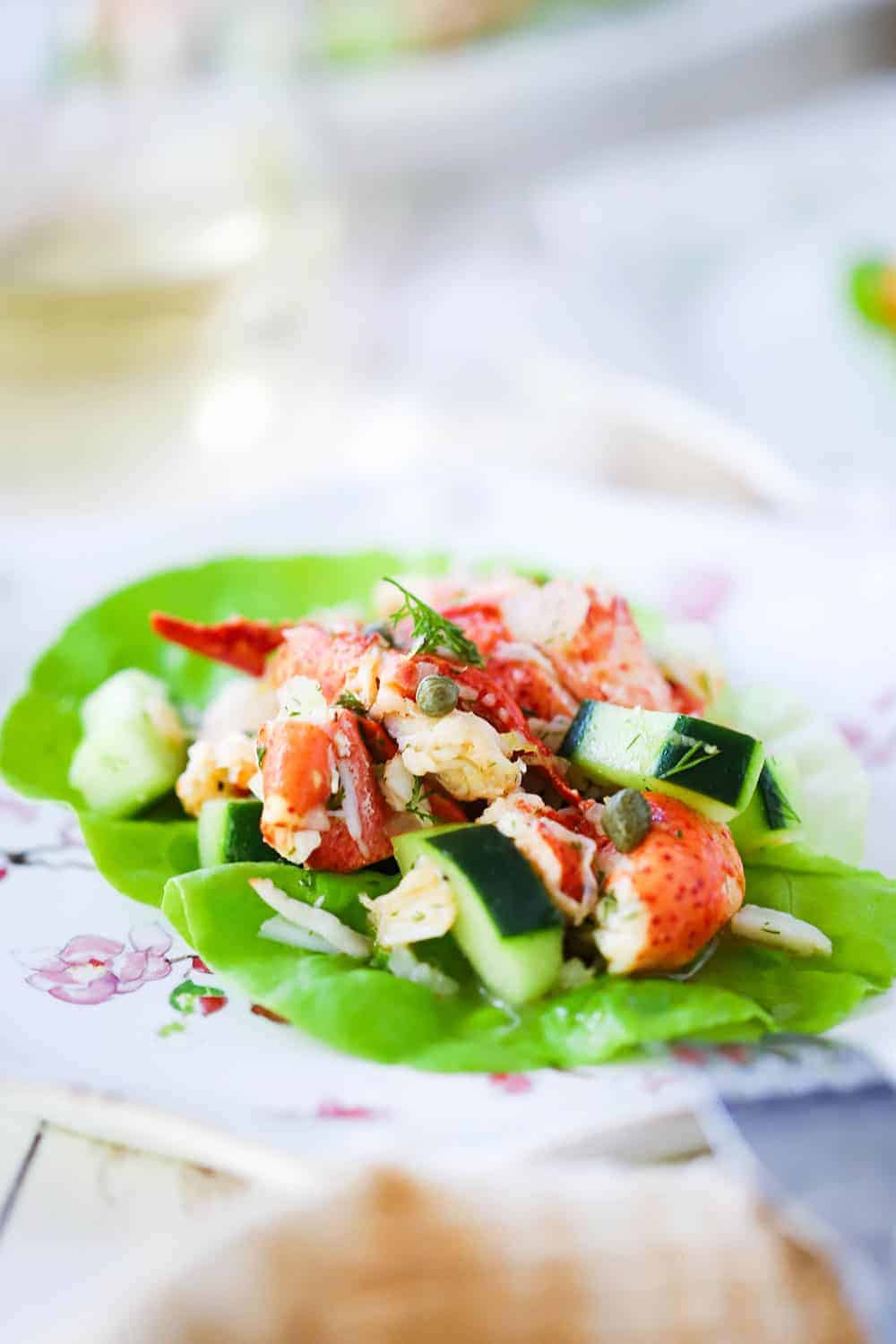 Ready to make the absolutely best-ever lobster salad this side of Maine? Go for it!
And when you do, be sure to take a photo of it, post it on Instagram, and tag @howtofeedaloon and hashtag #howtofeedaloon!
Best-Ever Lobster Salad
This lobster salad is so fresh and vibrant it truly is the best ever. You can go with freshly steamed lobster or even frozen lobster tails to make this salad. We like to order lobster meat from LobsterAnywhere.com
Print
Pin
Rate
Servings: 8
Calories: 135kcal
Ingredients
1 lb lobster meat cooked and roughly chopped
1 large cucumber seeded and roughly chopped
1 tbsp lemon zest usually from 1 lemon
2 tbsp lemon juice usually from 1 lemon
1 tbsp Champagne vinegar
1 shallot finely chopped
1 tsp Kosher salt
½ tsp black pepper freshly ground
⅓ cup extra-virgin olive oil
2 tbsp dill fresh
¼ cup capers drained
1 head butter lettuce for serving
Instructions
Place the cooked, chopped lobster and prepared cucumber in a large bowl.

In a small bowl, whisk together the lemon zest, lemon juice, vinegar, shallots, salt, and pepper.

In a slow, steady stream, pour the olive oil into the lemon mixture, whisking constantly to fully incorporate.

Mix the dill and capers into the vinaigrette.

Pour the vinaigrette over the lobster and cucumbers and mix gently with a large wooden spoon until fully coated.

Cover with plastic wrap and place in the refrigerator for 30 minutes, or for up to 2 hours.

Remove cover, and gently stir the salad. Serve as is, or over small butter lettuce leaves.
Notes
Substitutes for Champagne vinegar are: white wine vinegar, Sherry vinegar, or apple cider vinegar. The vinaigrette can be made up to 1 day in advance. Shake the jar vigorously to re-emulsify the dressing. When serving this salad in a bowl, especially if serving outside, we recommend placing the bowl in a larger bowl filled with ice. This salad is best served within a couple of hours of preparing, but is still extremely delicious the following day. The salad will keep for up to 1 week in the refrigerator and freezes well for up to 1 month.
Nutrition
Calories: 135kcal | Carbohydrates: 2g | Protein: 10g | Fat: 6g | Saturated Fat: 1g | Cholesterol: 72mg | Sodium: 685mg | Potassium: 220mg | Fiber: 1g | Sugar: 1g | Vitamin A: 715IU | Vitamin C: 5mg | Calcium: 62mg | Iron: 1mg