Best-Ever Egg Salad.
That's quite a claim, we get that.
But just wait until you make it. Then you'll get it. It is the BEST.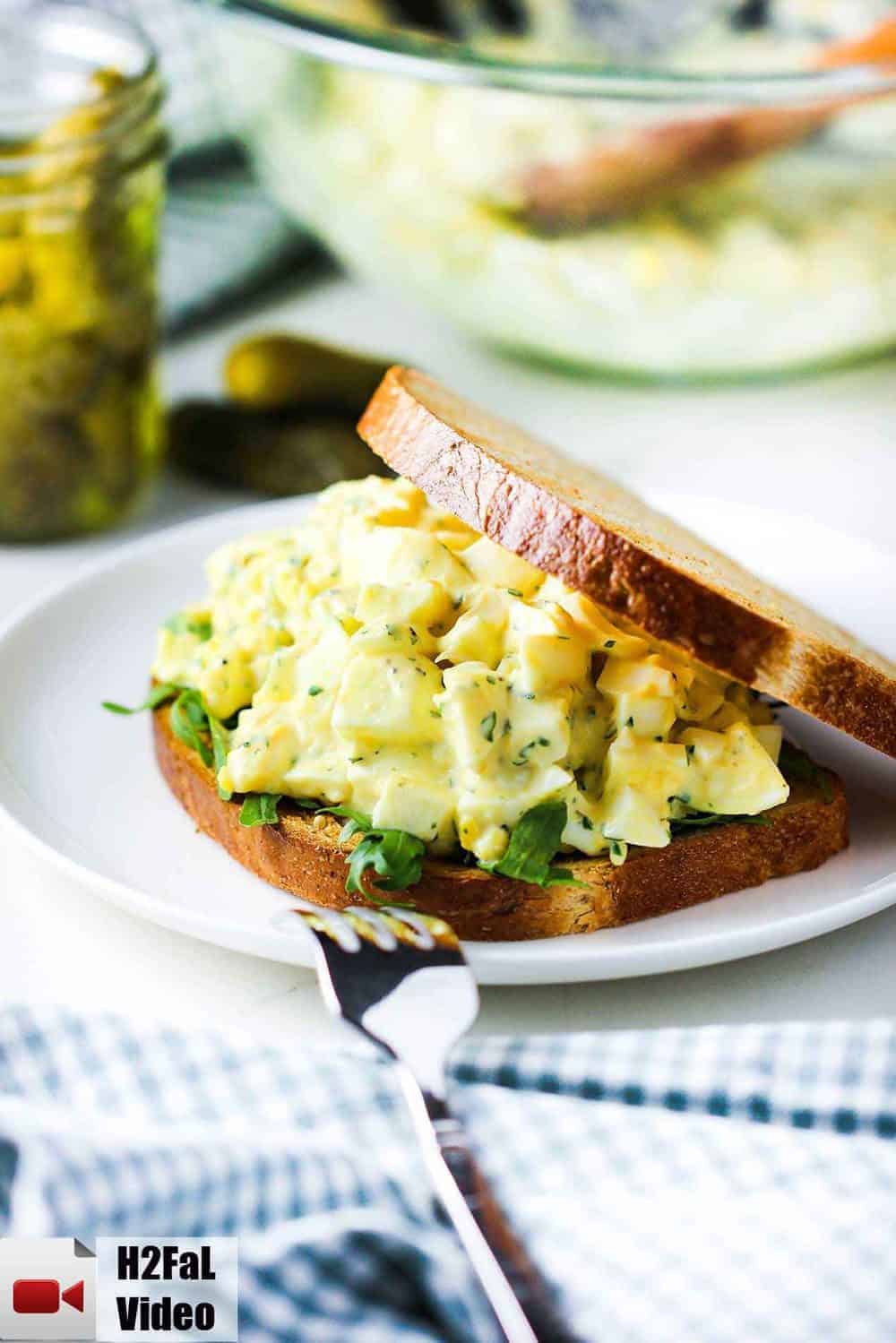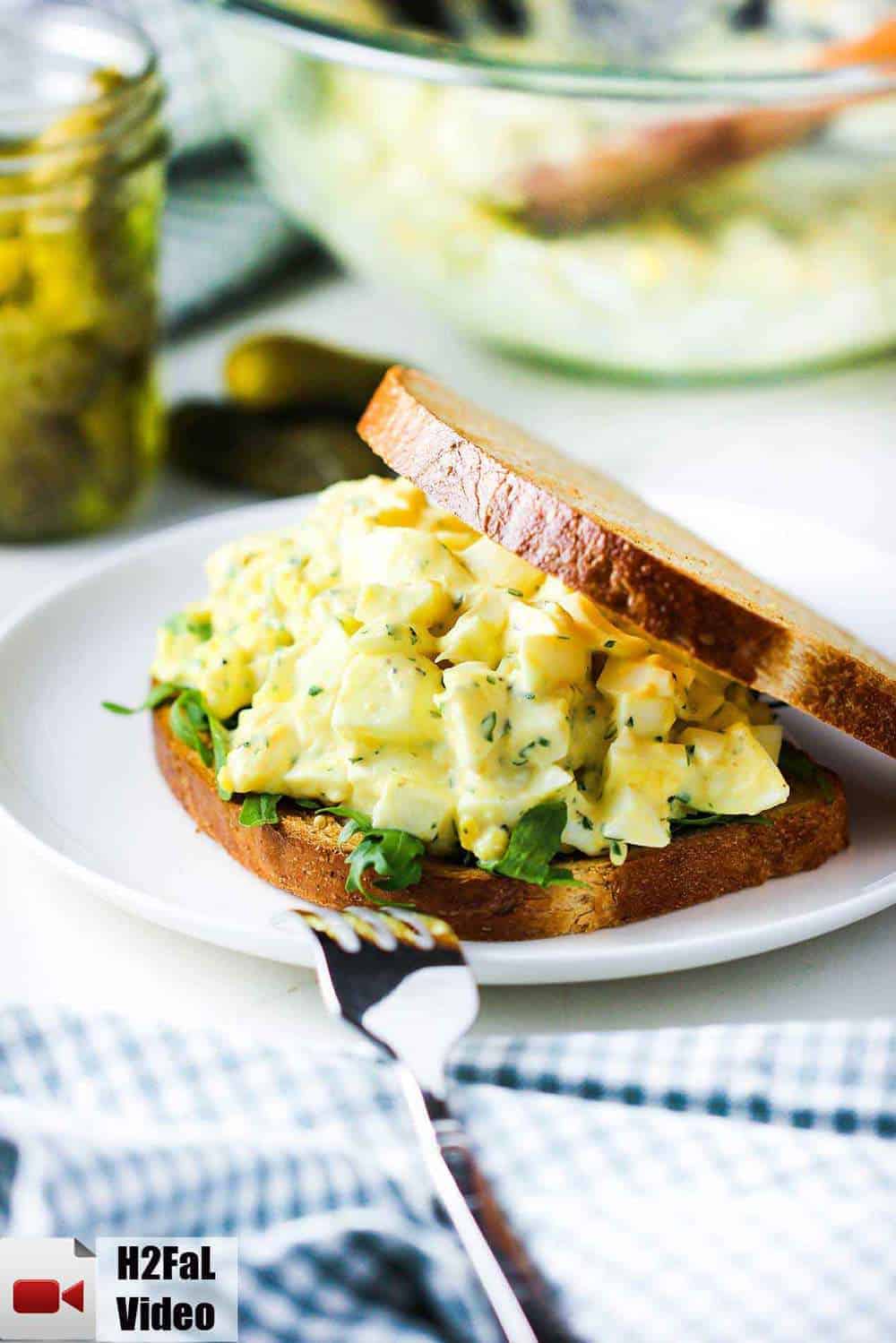 BEST-EVER EGG SALAD IS EASY TO MAKE AT HOME
Egg salad is so good. There's just something about it that makes most people smile.
This egg salad is as good as you'll get at your favorite brunch or lunch restaurant.
Watch us show you how easy it is to prepare the Best-Ever Egg Salad
Perfectly hard boiled eggs should be just a little moist in the center of the yolk.
We love a rough chop on the cooked eggs.
You want this egg salad to taste like egg!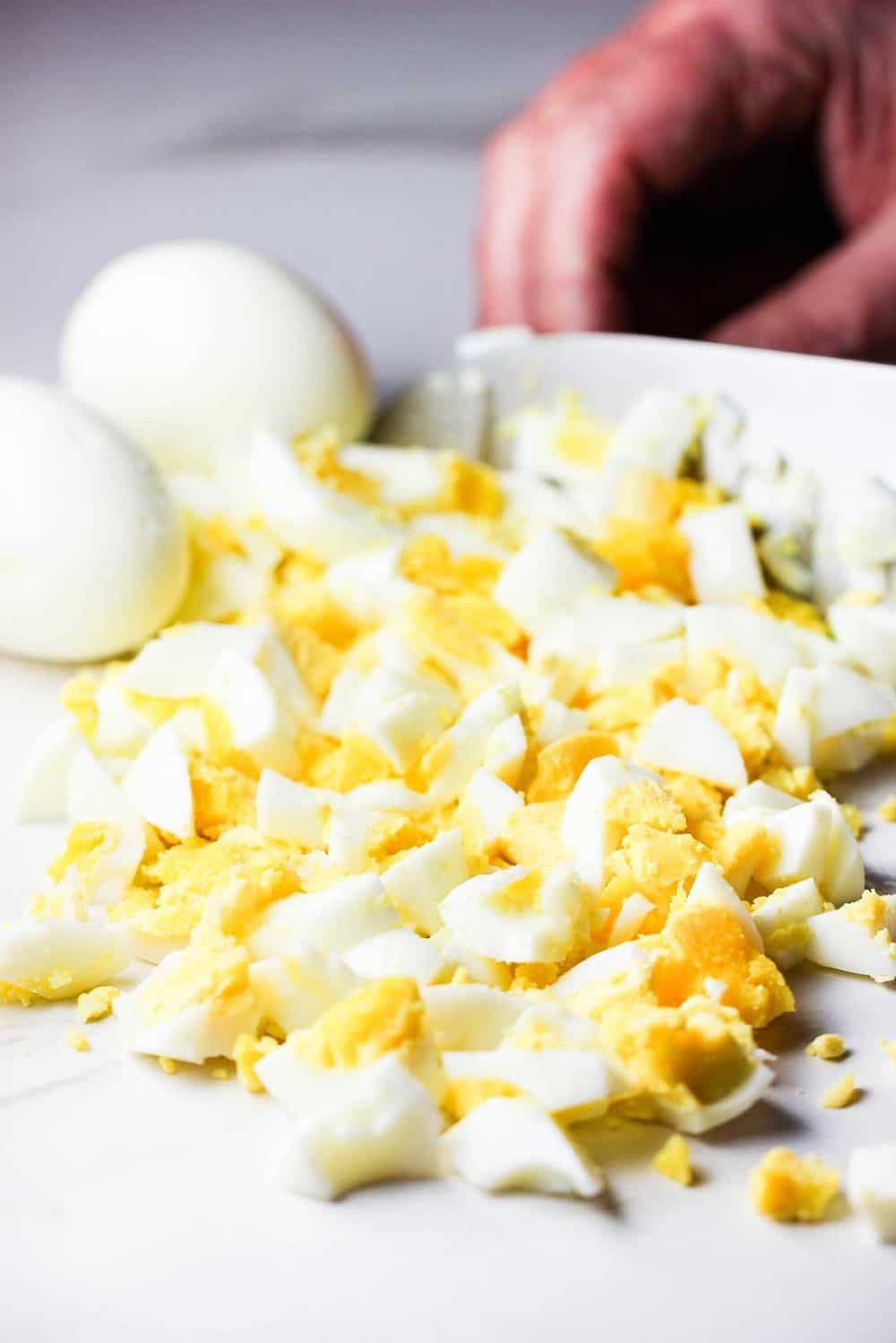 THE PERFECT EGG SALAD SHOULD NOT HAVE TOO MUCH MAYO
Be sure to use good quality mayonnaise when making the best-ever egg salad. Even better, make your own homemade mayonnaise!
Fresh lemon juice brightens the egg salad wonderfully.
Be sure to finely chop the shallot and fresh parsley. Smoked paprika is a wonderful addition, but just be warned, it will turn the salad a slight pinkish color.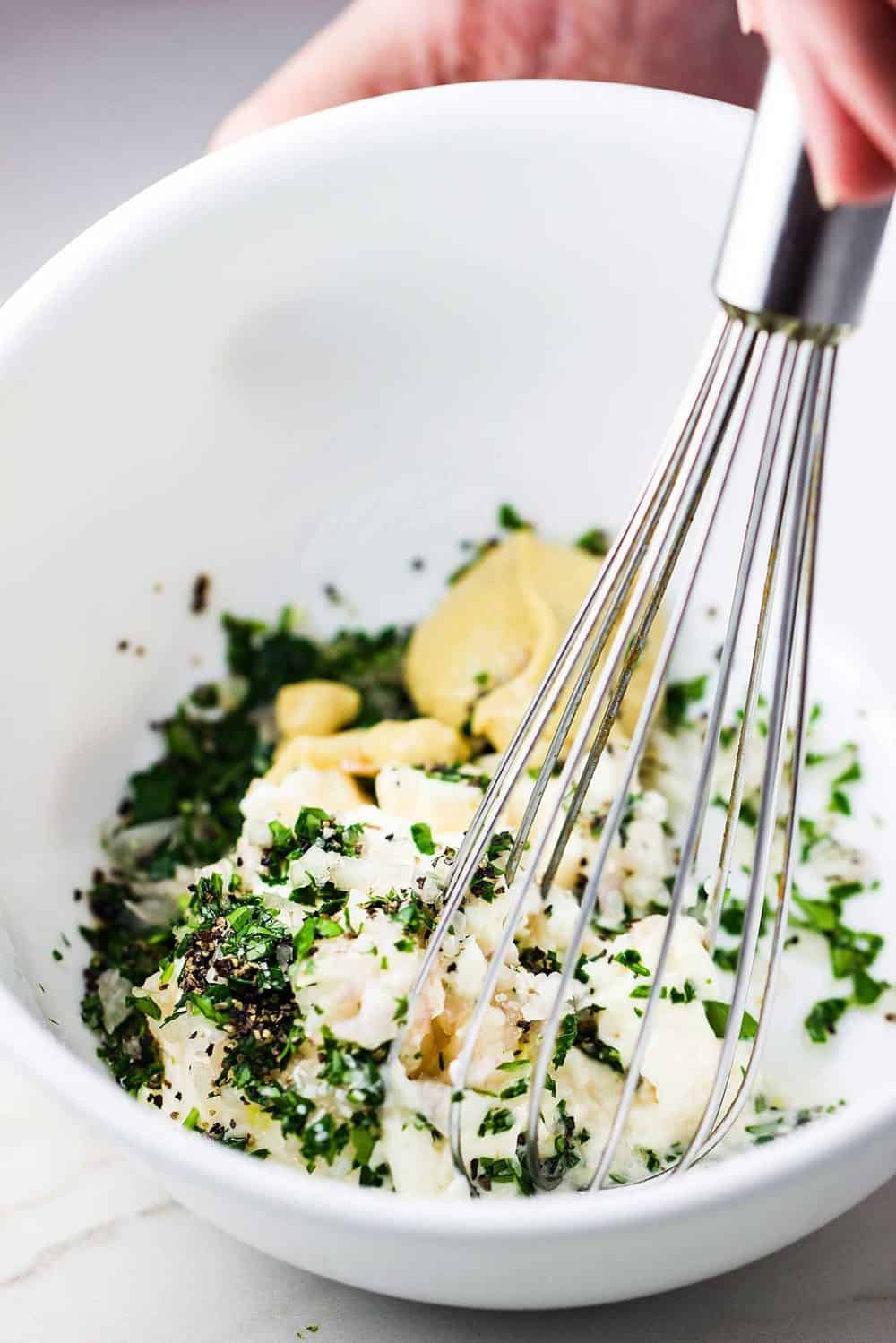 Use a whisk to bring the dressing together.
There shouldn't be any one ingredient that overpowers the other.
The addition of Dijon is especially nice.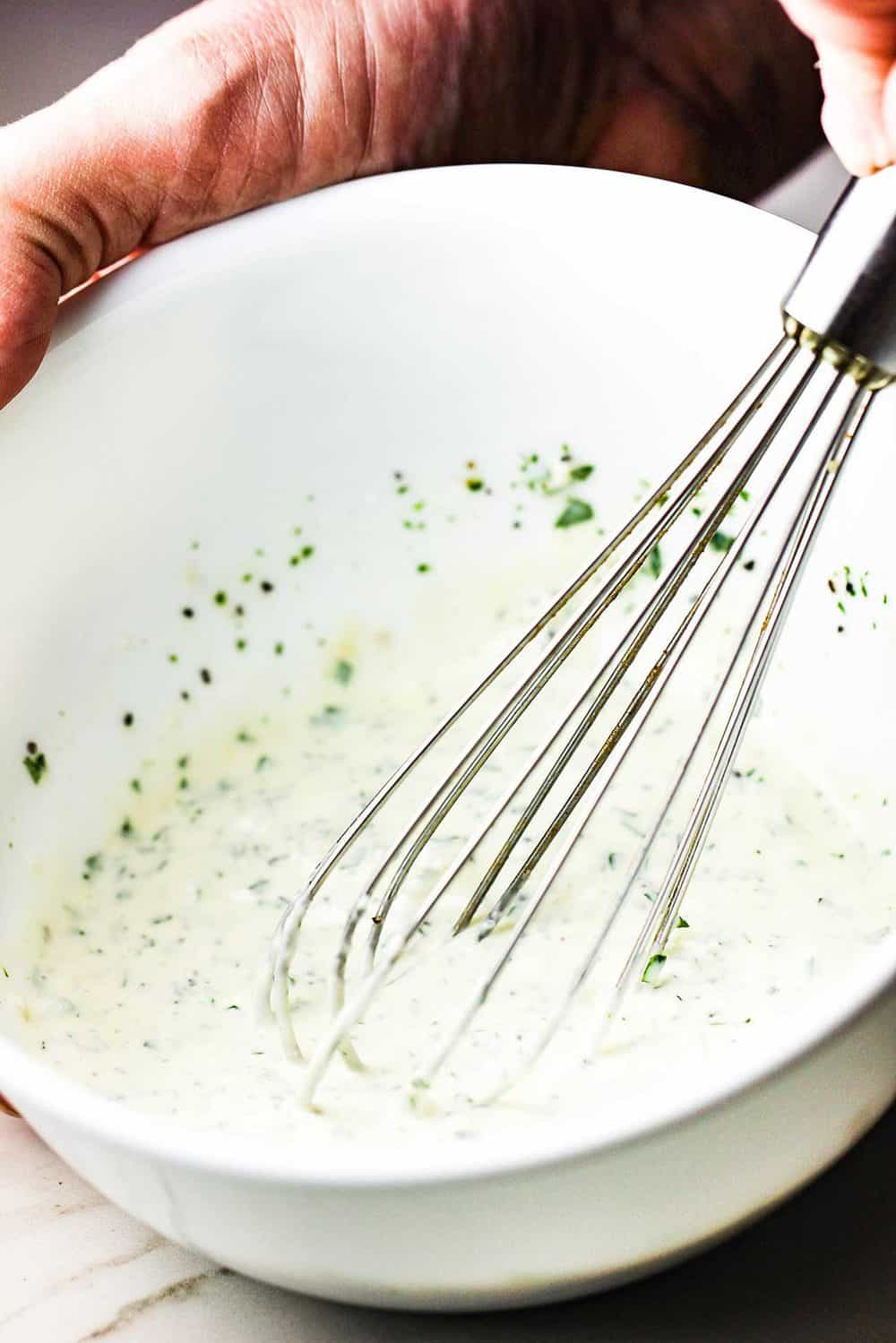 USE A WOODEN SPOON TO GENTLY FOLD IN THE DRESSING
As you add the dressing, gently fold the ingredients together, preferably with a wooden spoon.
At this point, you can chill the best-ever egg salad, or serve it immediately.
Egg salad perfection: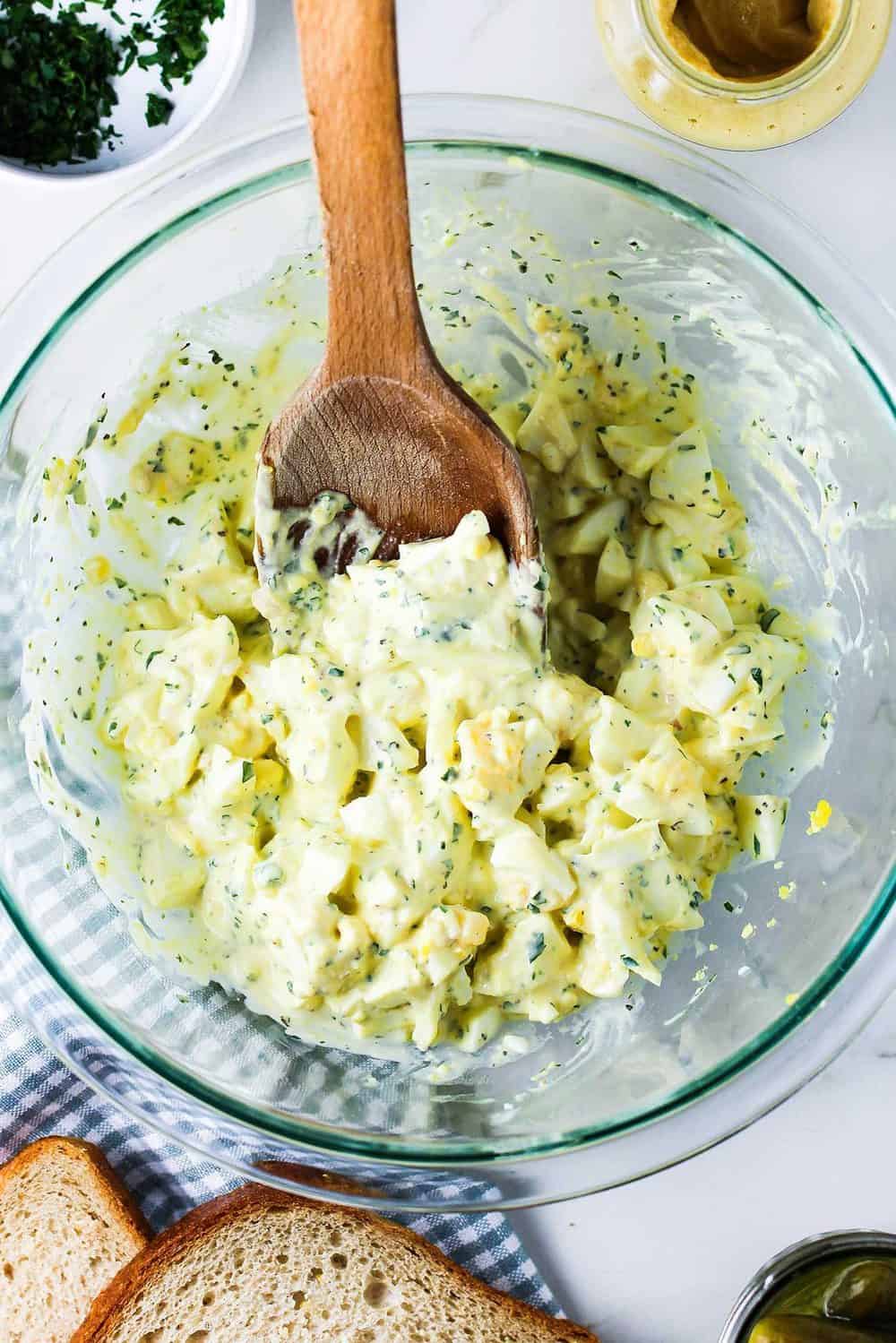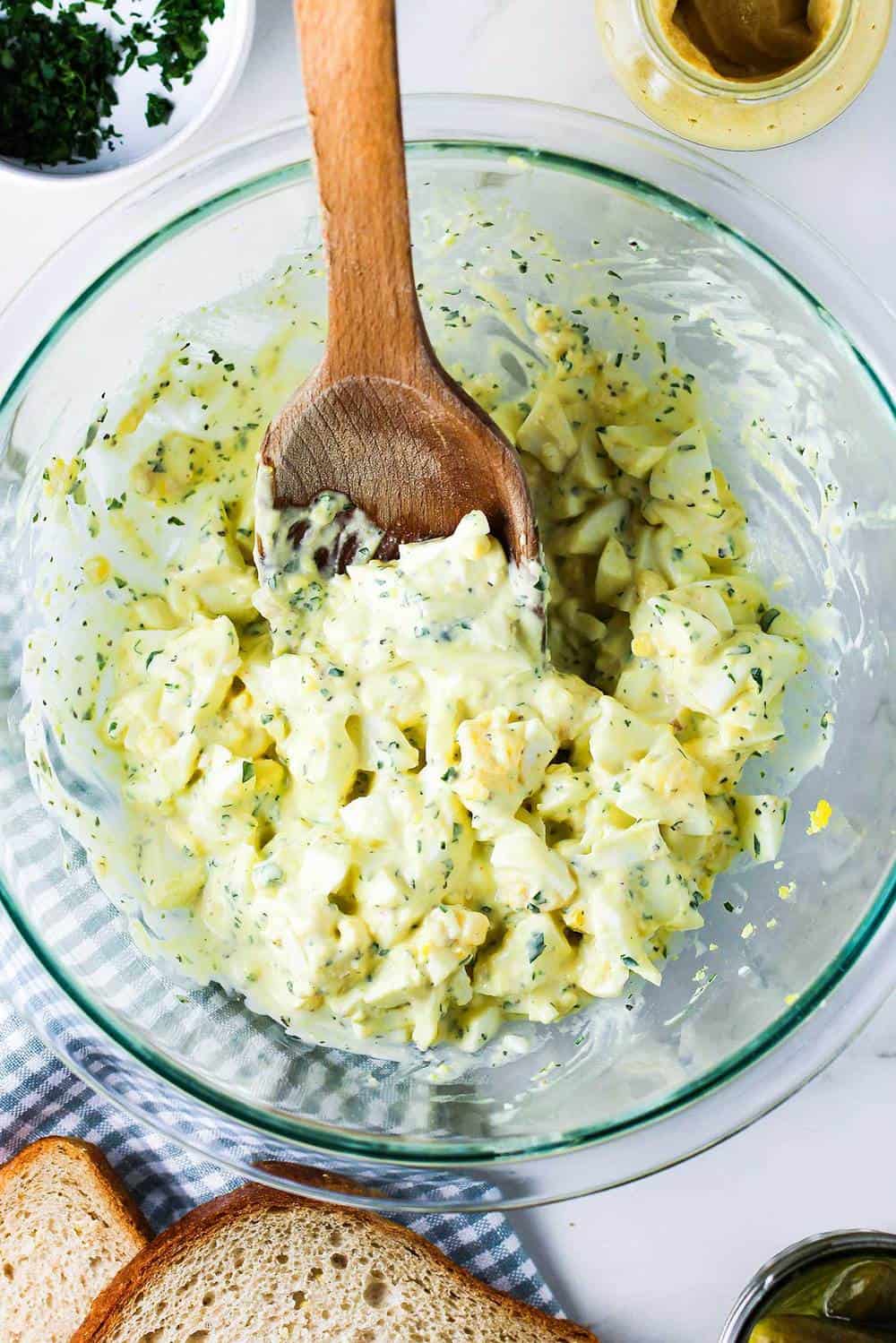 This Best-Ever Egg Salad is just that: The BEST!
The flavors meld beautifully.
By the way, have you checked out our Best-Ever Chicken Salad? How about our Best-Ever Tuna Salad.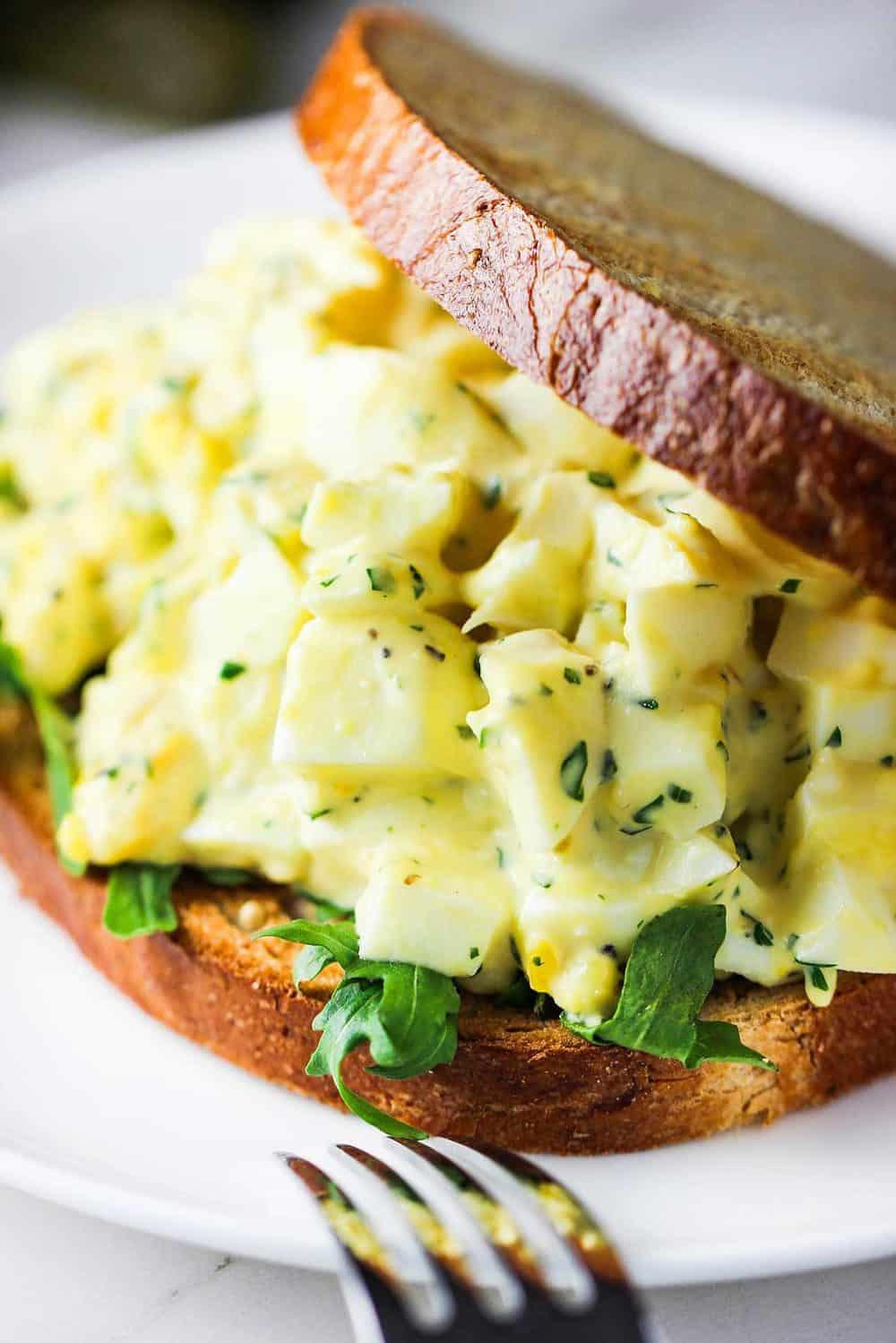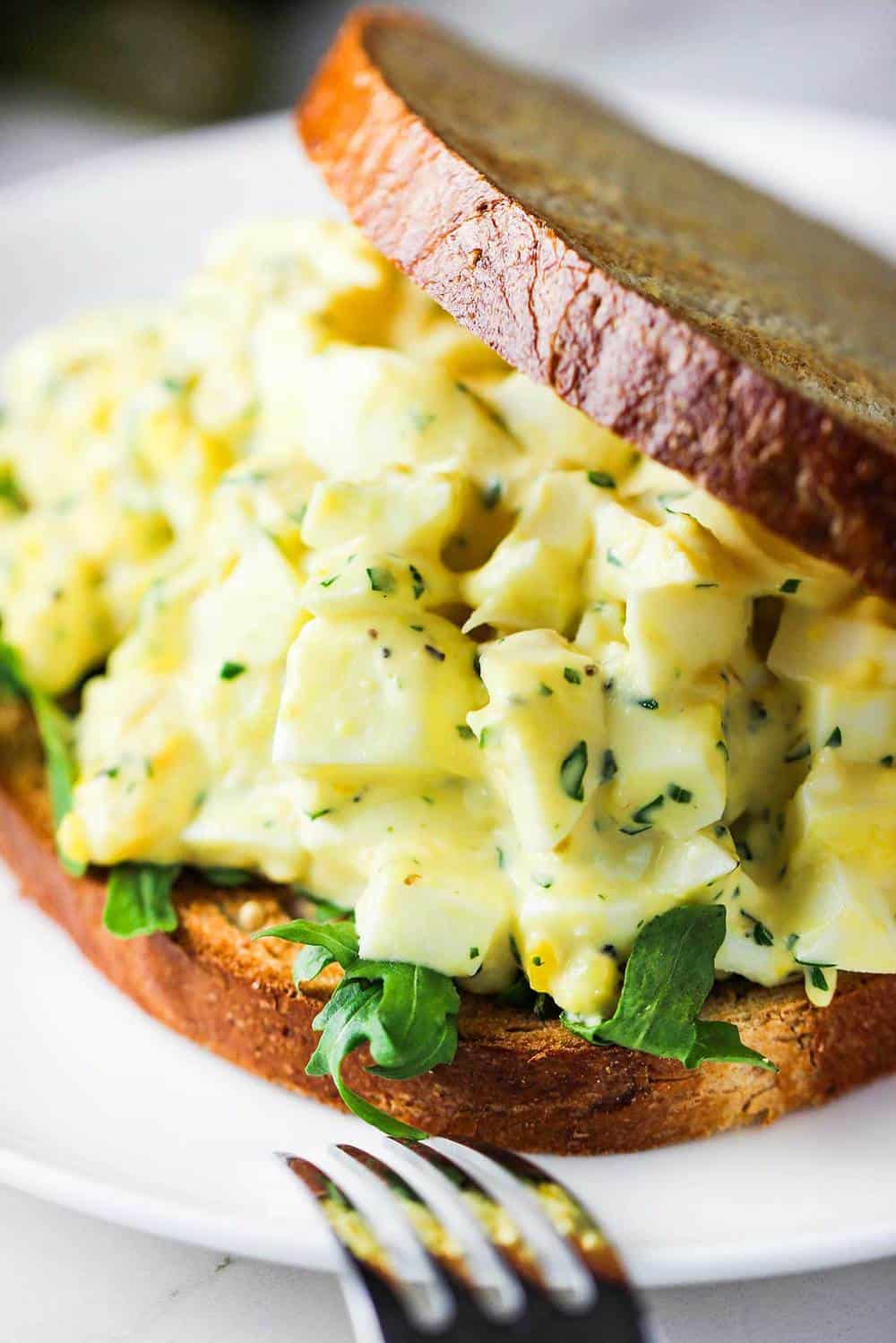 When making this into the best sandwich in the world, we love to go with a toasted whole wheat sliced bread. But whatever your favorite is will also work perfectly.
The simple addition of baby arugula is a little peppery, and adds a very nice touch to the sandwich.
Folks…you gotta make this Best-Ever Egg Salad sandwich. It's easy. It's delicious. And it really is the best ever!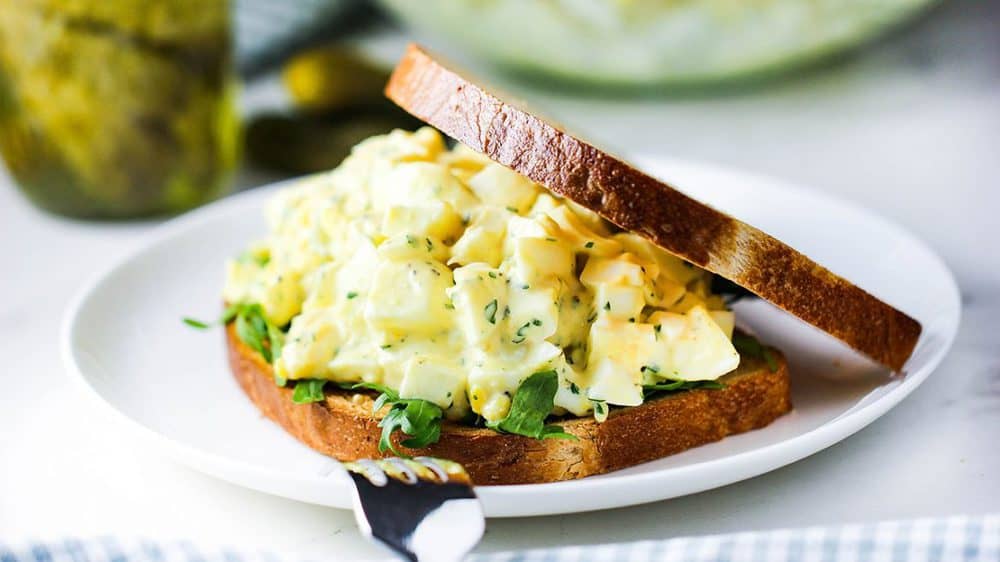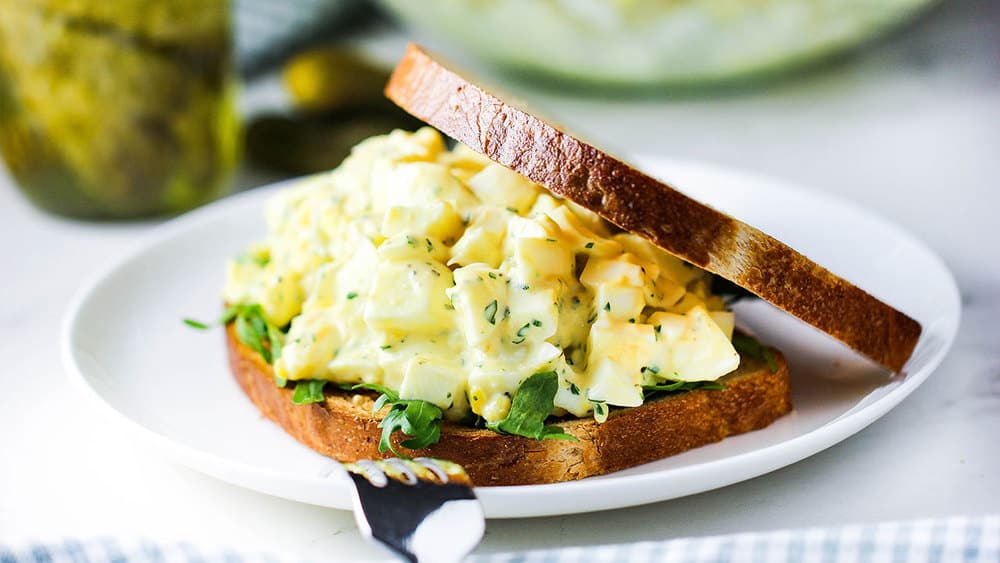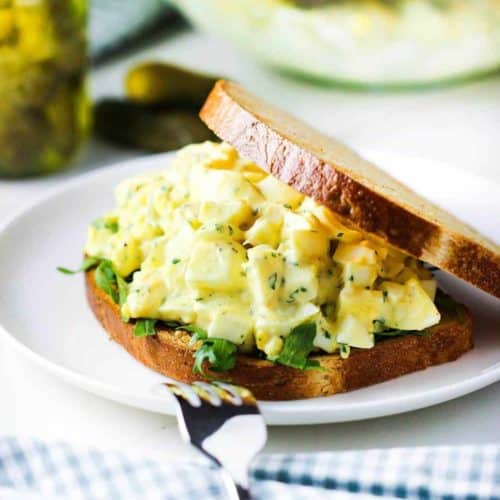 Best-Ever Egg Salad Sandwich
This Best-Ever Egg Salad Sandwich is just that...the best ever! We love the flavors here. Much better than your average ho-hum egg salad. Make your own
homemade mayonnaise
to make it even better!
Print
Pin
Rate
Servings: 4 people
Calories: 398kcal
Ingredients
6 large eggs
1/4 cup mayonnaise homemade or good-quality store-bought
1 to 2 tbsp shallots finely chopped
2 tbsp flat-leaf parsley finely chopped
Kosher salt and freshly ground black pepper a couple pinches each
1 tbsp fresh lemon juice
1 tsp Dijon mustard or more, to taste
1/2 tsp smoked paprika Optional
8 slices whole wheat or multi-grain sandwich bread, toasted - or not
1 small bunch of baby arugula
Sliced tomato optional...in Summertime...yes!
Instructions
To cook the eggs perfectly, put them in a pot so they'll fit in a single layer and cover them by 2 - 3 inches of cool water.

Turn on medium-high heat and bring to a strong simmer (this will take at least 15 minutes).

At this point, set a timer and cook the eggs for exactly 5 minutes, this will keep the yolks just slightly soft.

Immediately use a slotted spoon to transfer the eggs, one at a time, to a bowl of ice water.

Once cool enough to handle, gently tap each egg in several places with the back of a spoon to start a crack in the shell. Carefully remove the shell.

Gently rinse them under cool water. Transfer to a dry bowl or kitchen towel. Coarsely chop the eggs with a sharp knife. Place in serving bowl.

Whisk together the mayo, shallots, parsley, salt, pepper, lemon juice, mustard and paprika (if using) in a medium bowl.

Gently fold the dressing into the chopped eggs.

Meanwhile, toast the bread, if desired.


Add a layer of arugula on two slices of bread. Spread the egg salad over the arugula and top with remaining bread slices. Cut across the diagonal and serve at once.
Nutrition
Calories: 398kcal