Mayonnaise gets a bad name these days.  But seriously, though, don't we just love it?  Make this Classic Homemade Mayonnaise recipe from scratch, and you'll never buy the store stuff again.  It's really that good.
Classic Homemade Mayonnaise.  You can do this recipe in your blender or stand mixer, but the easiest way is with an immersion blender.
In fact, why don't you just watch us show you how easy it is to make this awesome Classic Homemade Mayonnaise recipe!  
We just love our immersion blender!  It brings the simple ingredients that normally don't want to blend come together in such a beautiful and delcious way!
Hooray for homemade mayo!
We just love homemade mayonnaise. It is so creamy and so full of flavor.
Be sure to go with an oil like avocado or another neutral tasting oil. Extra virgin oil imparts too distinct of a taste.
I like 50% avocado and 50% olive oil. Just look at the mayo perfection.
As As we mentioned, an immersion blender is the perfect tool the perfect tool to enable you to make perfect mayonnaise every single time!
There is just something so smooth, natural and comforting about homemade mayonnaise.  
So much better than the bottled stuff!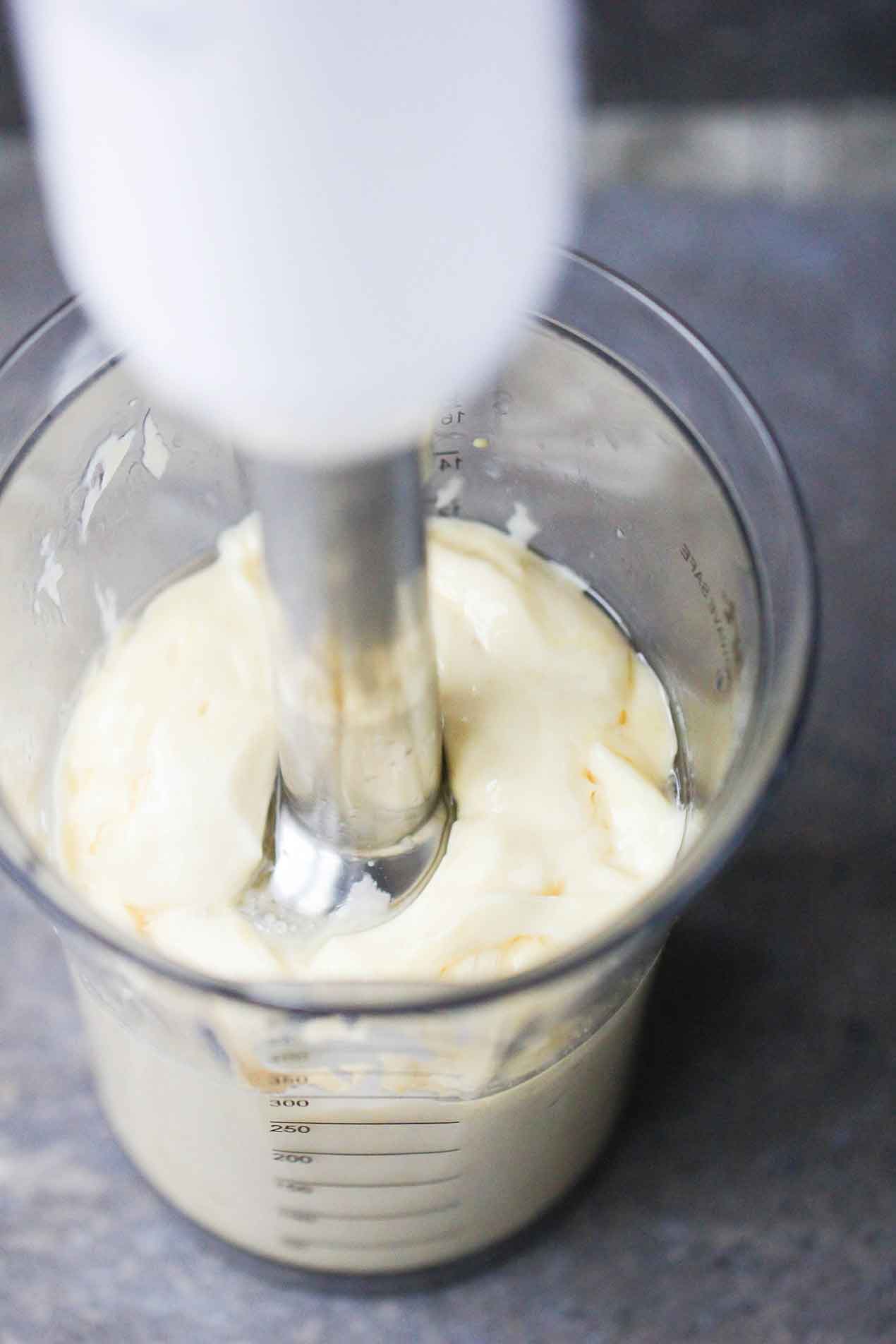 Here's the blender I use almost every week. And it's very affordable…and delivered fast!
This Best-Ever Tuna Salad is even BETTER when you use this Classic Homemade Mayonnaise recipe!
Classic Homemade Mayonnaise
This classic homemade mayonnaise is easy and wonderful. it's also a great base for homemade tartar sauce and rosemary aioli.
Author: Kris Longwell
Recipe type: Condiment
Cuisine: American / French
Serves: 10
Ingredients
1 large egg*
1 large egg yolk*
1 teaspoon of white wine vinegar
1 teaspoon of lemon juice
½ teaspoon of Kosher salt
¼ teaspoon of onion powder
1 teaspoon of Dijon mustard
¼ teaspoon of hot sauce (optional)
1 cup of avocado oil, or olive oil, or combo of both
SPECIAL EQUIPMENT: Immersion Blender
*Although the risk of contracting illness from raw eggs is minimal, children, the elderly, and those with a compromised immune system should avoid consuming them.
Instructions
Place all the ingredients in a vessel just large enough to fit the immersion blender.
Place blender all the way in, so the blades are touching the bottom of the vessel.
Turn on blender, and gently move it up, so the eggs are incorporating, and the oil and the egg begin to emulsify.
Continue, gently moving up and down, until thick.
Will keep in the fridge for up to 1 week.
Enjoy!