Homemade mayonnaise is truly something special, even though some people think negatively about this worldly condiment. But seriously, though, don't we just love it? And when you make this Classic Homemade Mayonnaise from scratch, and you'll never buy the store stuff again.
This is the stuff dreams are made of. At least when I'm dreaming of my recipe of chicken salad!
It's really that good and you won't believe how easy it is!
We just can't rave enough about this recipe! And you can do this in your blender or stand mixer, but the easiest way is with an immersion blender.
HOW TO MAKE HOMEMADE MAYONNAISE
Watch us show you how easy it is to make this awesome Classic Homemade Mayonnaise recipe!
We just love our immersion blender! It brings the simple ingredients that normally don't want to blend come together in such a beautiful and delcious way!
We just love homemade mayonnaise. It is so creamy and so full of flavor.
CHOOSING THE RIGHT OIL IS IMPORTANT
Be sure to go with an oil like avocado, safflower, or another neutral-tasting oil. Extra virgin oil imparts too distinct of a taste.
I like 50% avocado and 50% olive oil. Safflower oil is another ideal choice. A blend of any of these will work great. Just look at the homemade mayo perfection.
As
AN IMMERSION BLENDER MAKES HOMEMADE MAYO EASY TO PREPARE
As we mentioned, an immersion blender is a perfect tool to use.
There is just something so smooth, natural, and comforting about homemade mayonnaise and it is so much better than the bottled stuff!
The origin of mayonnaise is a bit uncertain. You'd think it's decidedly French, but evidence shows it may have originated in Spain. Learn more about the Uncertain History of Mayonnaise by Slate.com.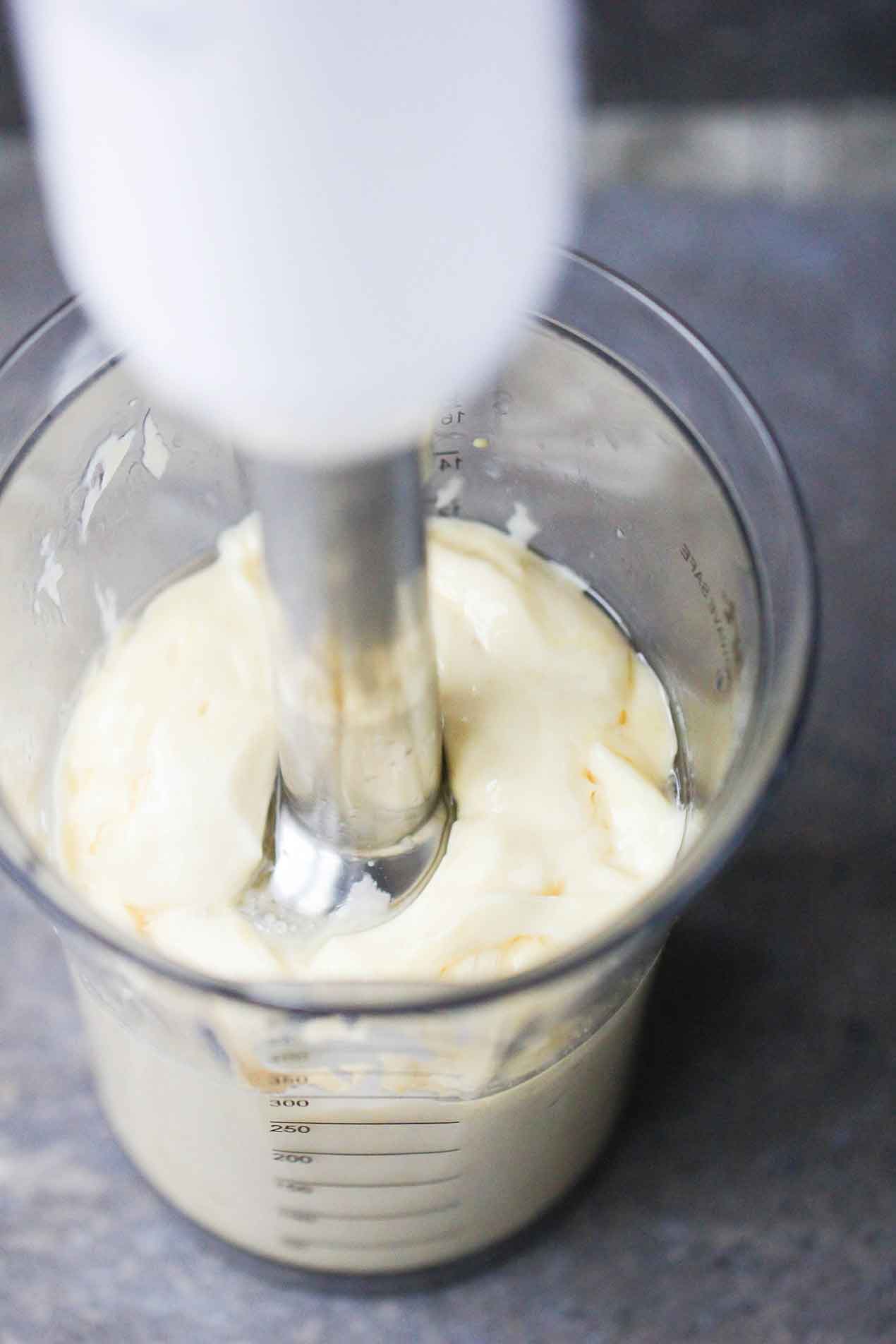 Here's the blender I use almost every week. And it's very affordable…and delivered fast!
This Best-Ever Chicken Salad is even BETTER when you use this Classic Homemade Mayonnaise recipe! Our Best-Ever Tuna Salad is pretty amazing, too!
Look how delicious that is!!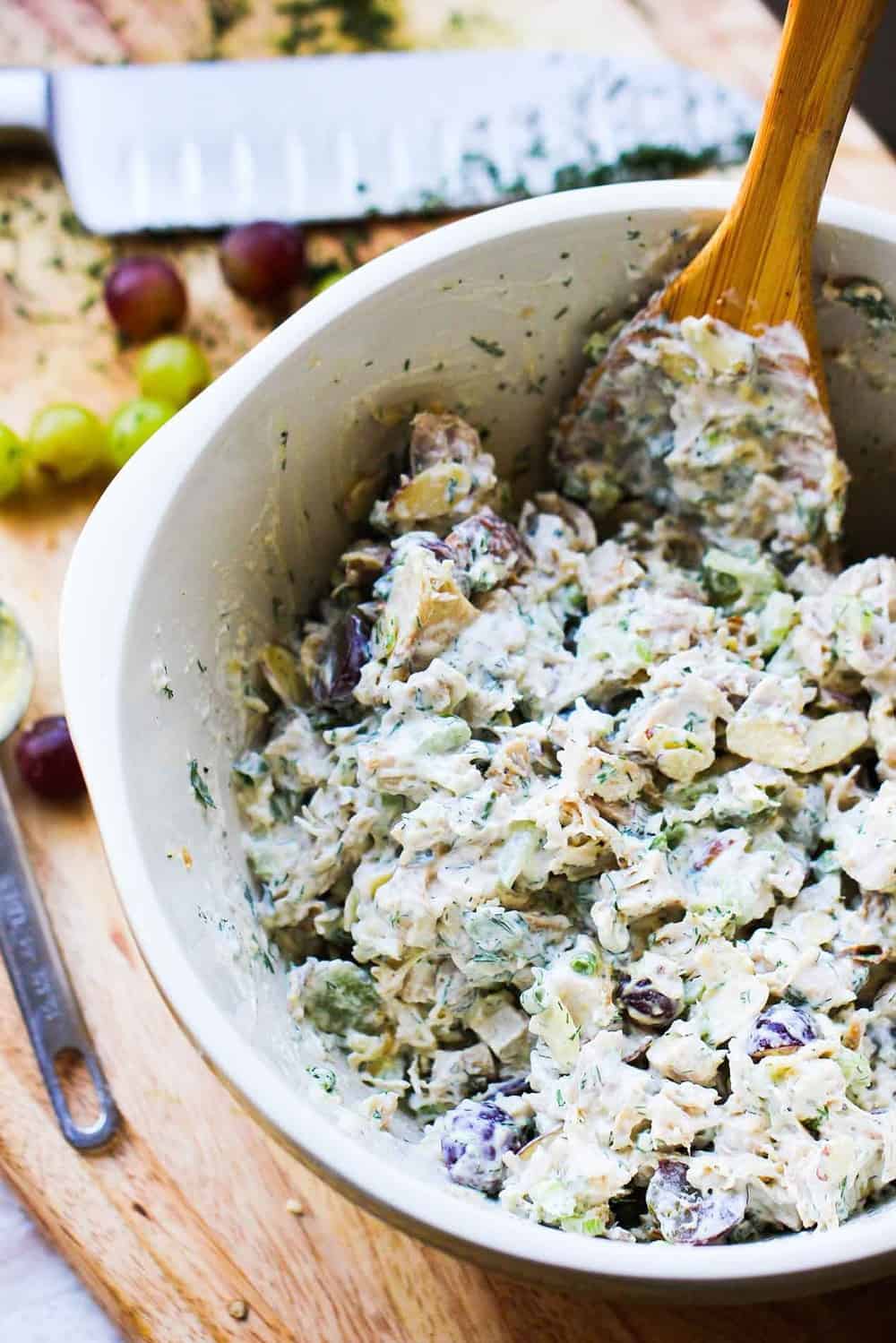 Now, let's make this amazing Homemade Mayonnaise!
Classic Homemade Mayonnaise
This Classic Homemade Mayonnaise recipe is fool-proof. It may take a time or two for you to get 100% comfortable with creating perfectly smooth and creamy homemade mayo, but you'll get it. It's so delicious! It's great in our Chicken Salad and our Tuna Salad!
Print
Pin
Rate
Servings: 8 people
Calories: 16kcal
Ingredients
1 large egg
1 large egg yolk
1 tsp fresh lemon juice
½ tsp white wine vinegar
½ tsp Kosher salt
¼ tsp onion powder
1 tsp Dijon mustard
¼ tsp hot sauce (optional)
¾ cup avocado, safflower, or olive oil, or a blend plus another 2 tbsps
Instructions
Place all ingredients in a vessel just large enough to fit the immersion blender.

Place blender all the way in, so the blades are touching the bottom of the vessel.

Turn on blender, and gently move it upwards, so the egg and egg yolk are incorporating, and the oil and egg begin to emulsify.

Continue, gently moving up and down, until thick. Will keep in the fridge for up to one week.

*Although the risk of contracting illness from raw eggs is minimal, children, the elderly, and those with a compromised immune system should avoid consuming them.
Notes
Safflower oil and avocado oil are both great options for making homemade mayo.
Nutrition
Serving: 1tbsp | Calories: 16kcal | Carbohydrates: 1g | Protein: 1g | Fat: 12g | Saturated Fat: 1g | Trans Fat: 1g | Cholesterol: 46mg | Sodium: 162mg | Potassium: 13mg | Fiber: 1g | Sugar: 1g | Vitamin A: 65IU | Vitamin C: 1mg | Calcium: 7mg | Iron: 1mg