This is the perfect condiment and has such an amazing flavor boost to so many dishes.
You can cheat and start with good-quality mayonnaise, and that's perfectly fine, but we say make it really special and make it completely from scratch it literally comes together in a matter of minutes and keeps perfectly in the refrigerator for up to 1 week!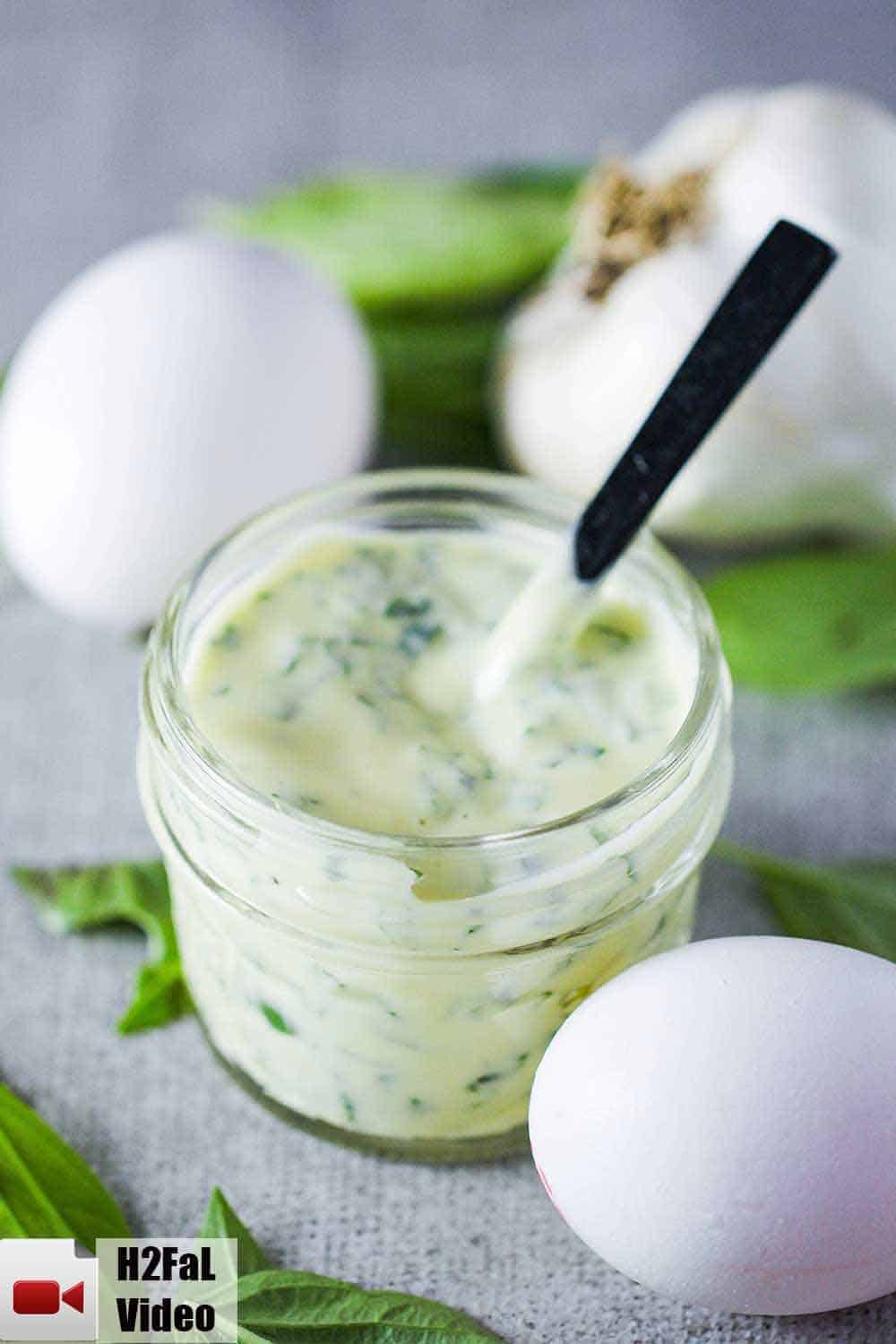 How To Make Basil Aioli with Garlic
We start with a jar that is just large enough for our emulsion blender to fit into. An emulsion blender is a kitchen tool that I use time and time again. It's a great addition to your culinary tools!
Adding the garlic and basil after emulsifying the mayonnaise we find works best.
Watch us show you how easy it is to make Garlic Basil Aioli at home!
Other Amazing Spreads, Dressings, and Dips to Try
Aioli Ingredients
Eggs
Neutral Oil
Dijon
Lemon Juice
Vinegar
Salt
Garlic
Basil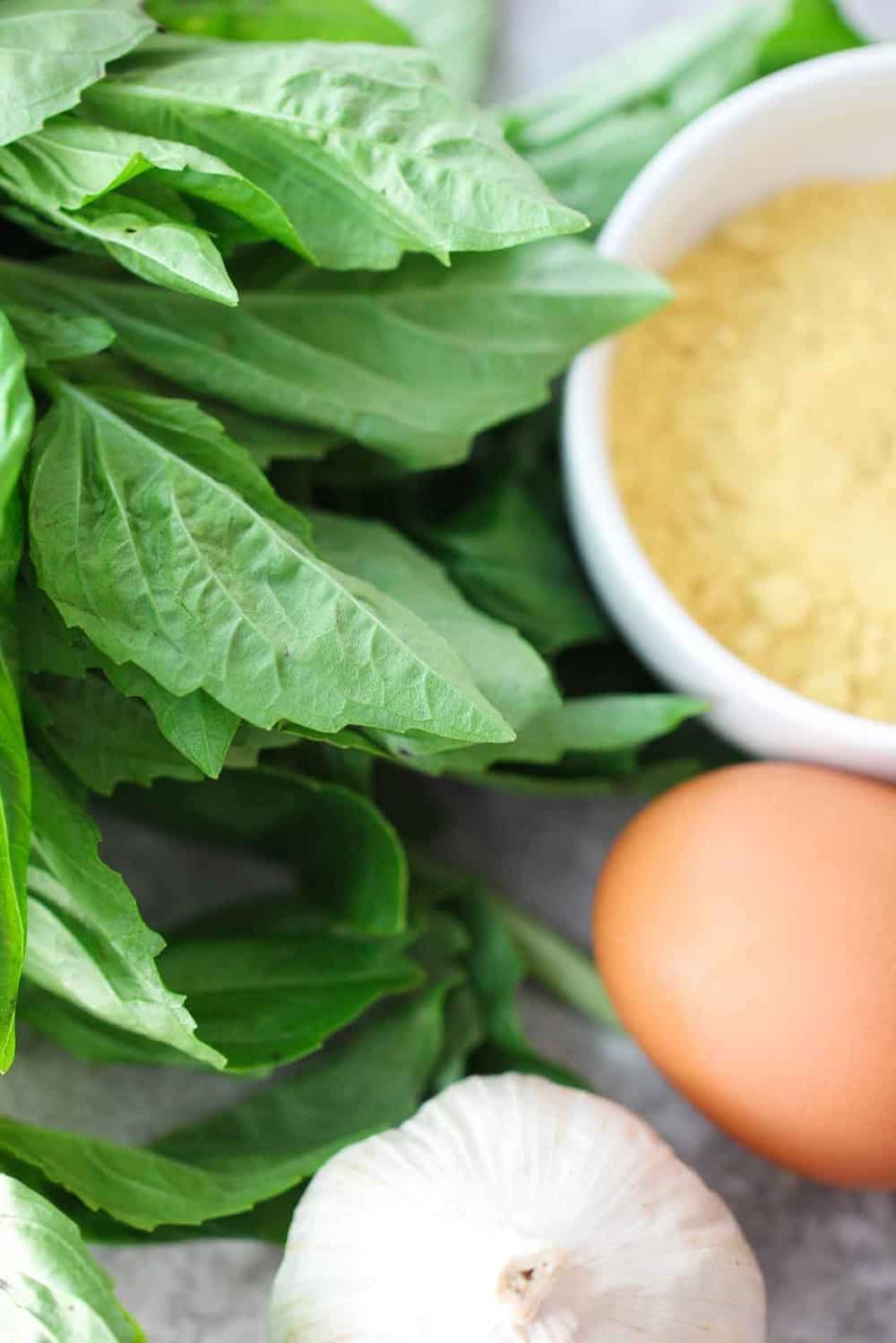 How To Make Homemade Aioli
EXPERT TIP: It is very important to choose the correct oil when making any type of mayonnaise. Olive oil imparts a pretty distinct olive taste. Go with a neutral oil such as avocado, grape seed, or safflower, or a blend. Coconut oil is good, too, but you'll need to mix it with another oil because it will harden once it is cooled and refrigerated. Extra-virgin olive oil is often used when making a traditional aioli, but we find for our garlic basil aioli, a neutral oil yields the best taste.
There is so much to learn about different types of cooking oils. Thrilllist provides a nice breakdown of the most commonly used cooking oils and when they are best utilized.
Homemade mayonnaise is the perfect start for garlic basil aioli.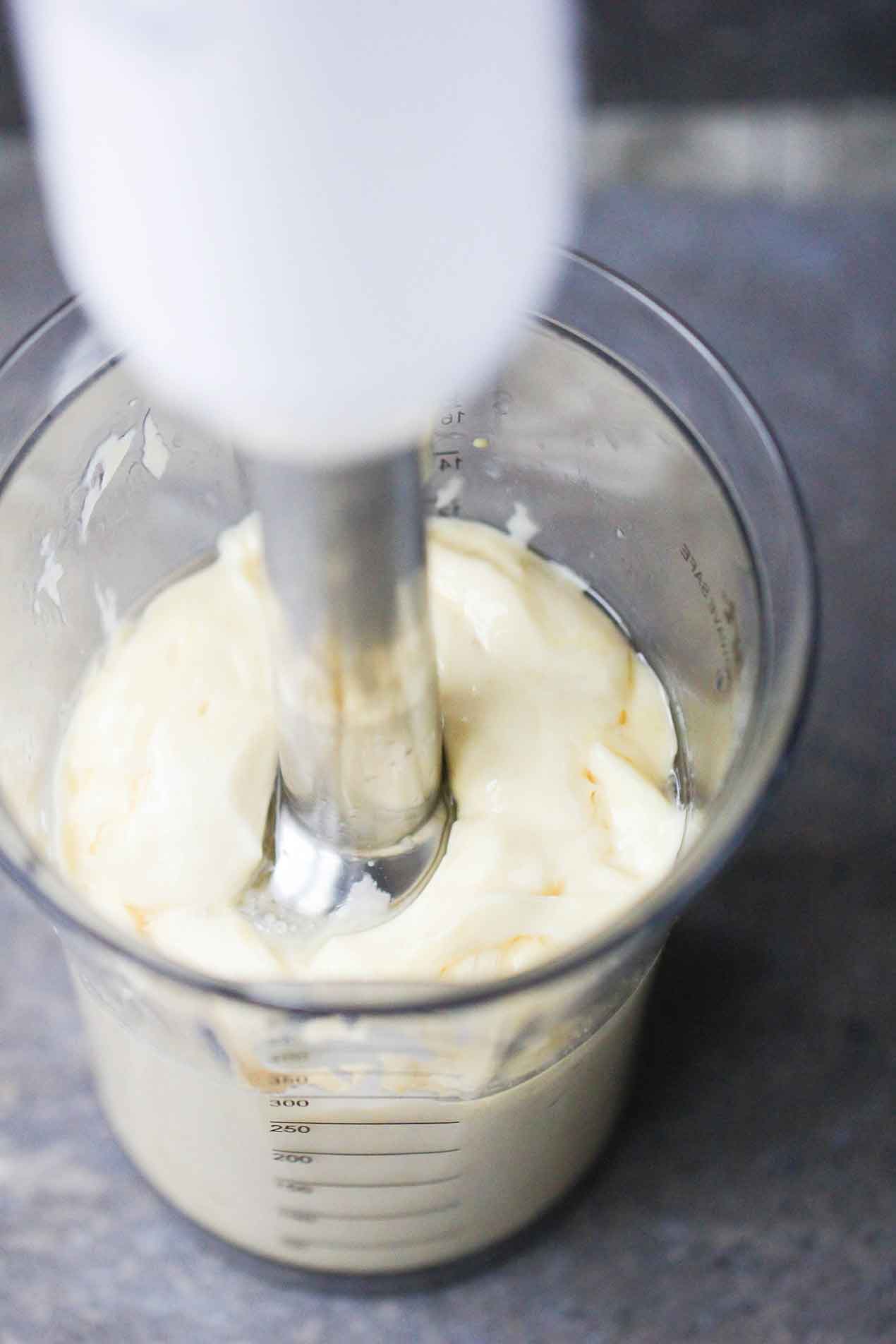 Garlic Basil Aioli FAQs
How long will the aioli last? Garlic basil aioli will keep in the refrigerator for up to 1 week. However, we find that it's at its freshest tasting after 1 day. We don't recommend freezing aioli.
Can dried basil be substituted for fresh? Yes, however fresh will provide more texture and we feel a milder taste. However, dried can absolutely be used. We recommend no more than 1 tbsp of dried for this recipe.
Can I make this without an emulsion blender? Yes. A mixer with a whisk attachment will work, or even a hand whisk. First mix all of the mayo ingredients together. And then very slowly add the oil while continuously whisking. Whisk until the oil and eggs have emulsified. This may take some practice.
Can store-bought mayonnaise be substituted.? Of course! Simply blend in the garlic and basil and there you have it. But…homemade is really so much better, and fun to make!
What kind of vinegar to use? We love using Champagne vinegar. But white wine vinegar will work, or even just plain distilled white vinegar.
Simply divine.
When you make this amazing spread, be sure to take a picture and post to Instagram and tag @howtofeedaloon and #howtofeedaloon!
Garlic Basil Aioli
Garlic Basil Aioli takes good ole mayonnaise and kicks it up several notches on the taste ladder. This isn't real hard to make, and the flavor profile that it adds to your favorite sandwiches and dishes is remarkable. Amazing!
Print
Pin
Rate
Servings: 8 people
Calories: 42kcal
Equipment
Immersion blender

A jar or container that is just wide enough to fit the base of the immersion blender.
Ingredients
1 egg yolk
1 whole egg
1 tsp lemon juice
1 tsp Dijon mustard
½ tsp vinegar Champagne vinegar, white wine vinegar, or distilled white vinegar all work well
½ tsp Kosher salt
1 cup oil avocado, grape seed, safflower
2 garlic cloves minced
½ cup fresh basil chopped
Instructions
Place the egg yolk, whole egg, lemon juice, Dijon, vinegar, salt, and oil in a jar, or container, just large enough to fit the base of an immersion blender.

Turn the immersion blender on high, and gently move the blender in an upward motion. As the emulsification process continues, the mixture will thicken. Continue until you've reached the desired consistency. Usually about 1 minute. Remove blender and set aside.

Add the garlic and basil and use a spoon or fork to gently incorporate into the mayonnaise.

Cover with lid and refrigerate until ready to use.
Notes
Extra-virgin oil can be used for the oil, but it will impart more of a distinct olive taste, which is traditional for aioli, however, we like the clean taste of a neutral oil. If you do not have an immersion blender, you can use the whisk attachment on a mixer, or even a hand mixer. Add all ingredients (except oil, garlic, and basil), and stir to combine. Then very slowly add in the oil all the while whisking. Continue whisking until emulsified. Then stir in the garlic and basil. We love using Champagne vinegar, but you can also use white wine, or even distilled white vinegar. If you go with a vinegar that is not clear, that is fine, but remember it will change the color of the aioli. Homemade aioli will keep in the refrigerator for up to a week. We do not recommend freezing the aioli.
Nutrition
Calories: 42kcal | Carbohydrates: 1g | Protein: 1g | Fat: 4g | Saturated Fat: 1g | Cholesterol: 45mg | Sodium: 16mg | Potassium: 12mg | Sugar: 1g | Vitamin A: 141IU | Vitamin C: 1mg | Calcium: 10mg | Iron: 1mg
Update Note: This recipe was originally posted in August, 2016, but was updated in August, 2019 to include new images, recipe updates, and a video tutorial.