Rosemary and Garlic Aioli is amazing on burgers, fish, and other grilled dishes.
You won't believe how good this aioli is!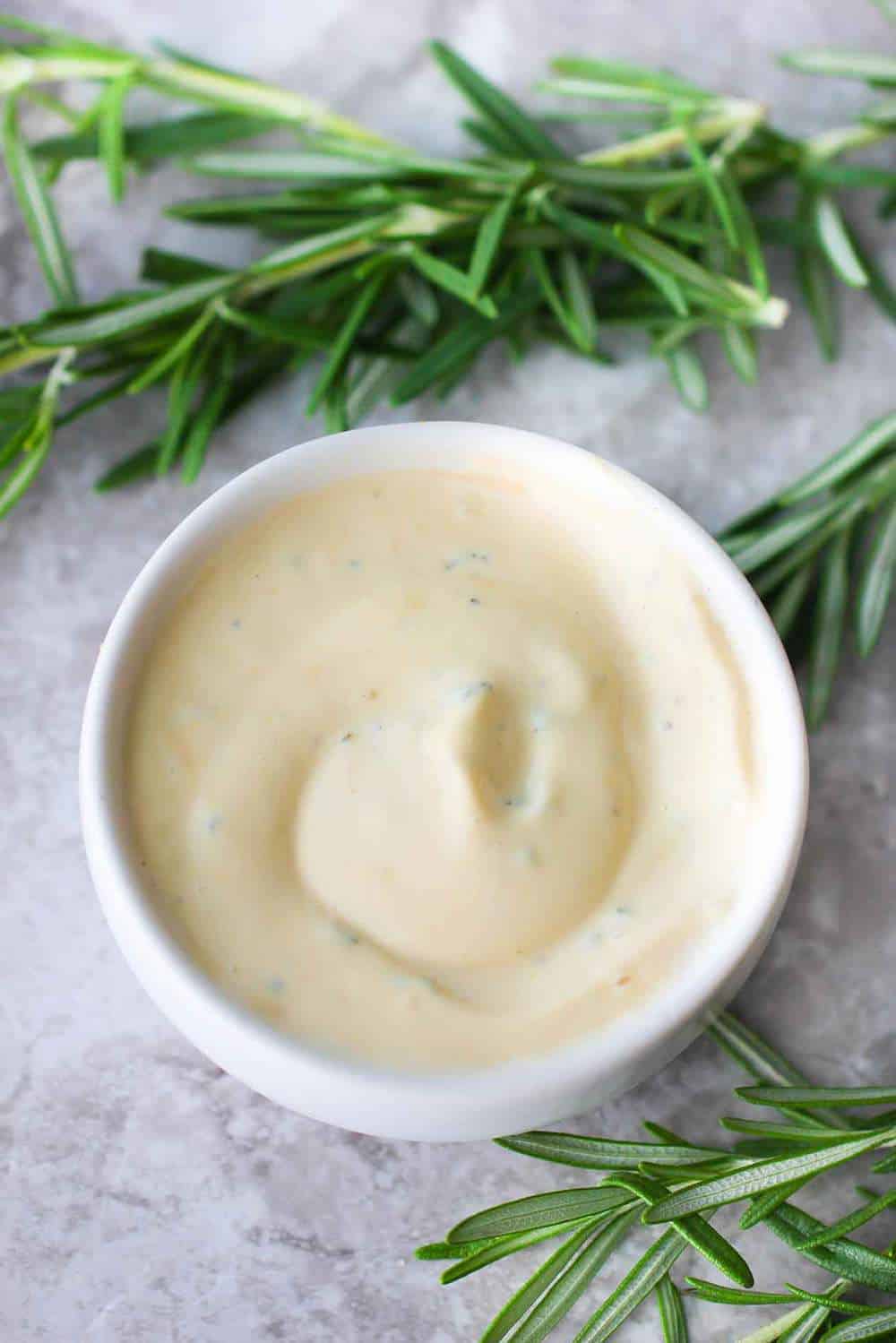 How To Make Rosemary and Garlic Aioli
This aioli is so wonderful and so easy to prepare.
Make it in advance and use it all week!
NOTE: If you liked this video, please subscribe to our YouTube channel. Remember to click the little 'bell' icon so you'll never miss a new video! Thank you!
Homemade Mayonnaise is Perfect for Rosemary and Garlic Aioli
Of course, whip up some homemade mayonnaise, and this is beyond restaurant quality.
We just love making homemade mayo, and it's really easier than you would think!
It truly adds a depth of flavor to this aioli that just can't be beat. The main ingredient in all kinds of aioli is mayo…so why not make it the star!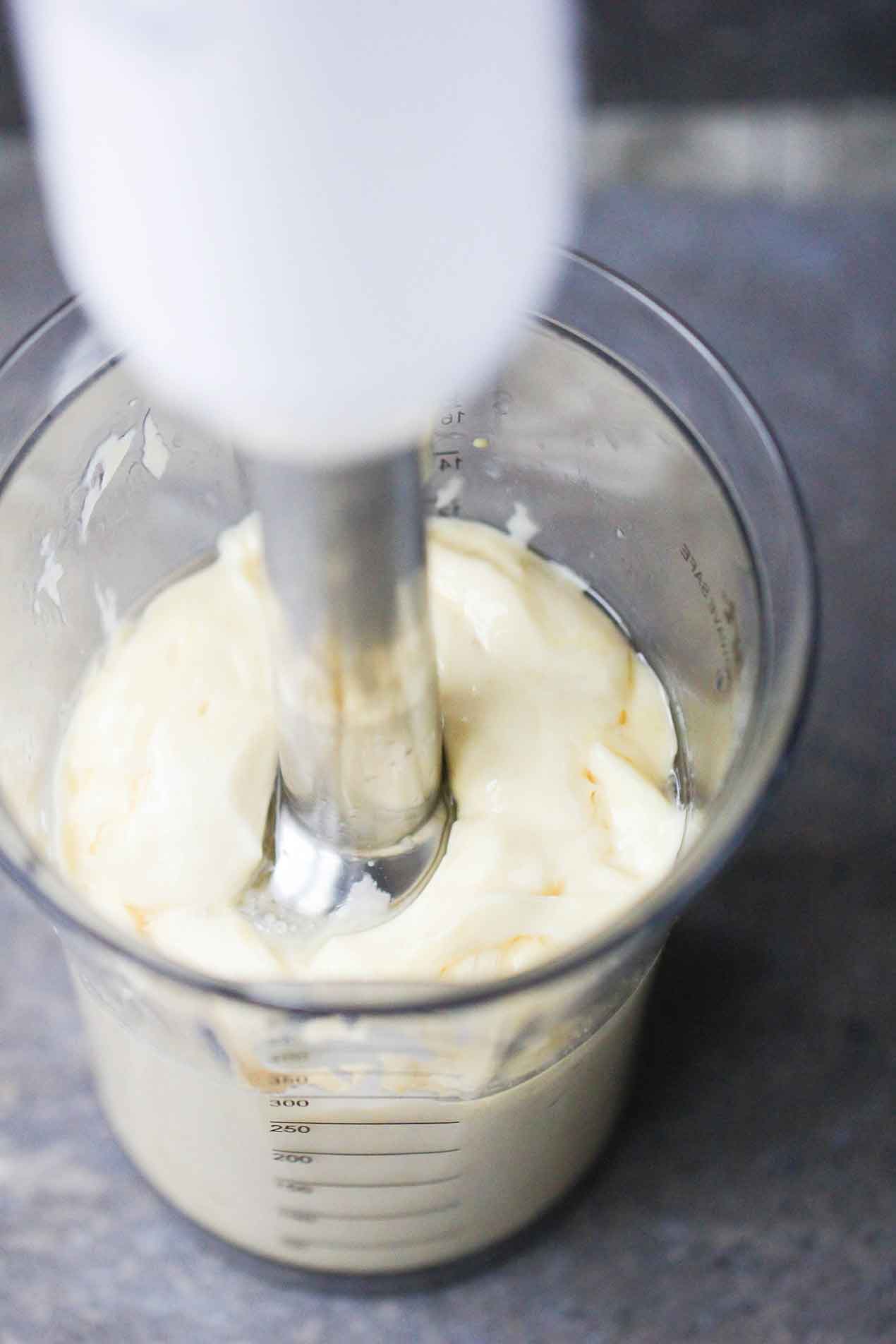 Fresh Ingredients Are Best
The ingredients in this Rosemary and Garlic Aioli are bold but just so perfect together. We always recommend going with fresh herbs for this aioli. But in a pinch, you could use dried rosemary, but we strongly urge you to seek out fresh. It just makes all the difference.
The flavors are all so extremely flavorful and just work incredibly well together.
We like to serve this with our World's Best Gourmet Sliders and it always gets such rave reviews. One friend said he could put that aioli on just about every savory dish he could think of! It's really that good!
So very, very good..and deep with flavors!!
Rosemary and Garlic Aioli
Rosemary and garlic aioli is amazing on your favorite burger on as a dip for veggies. Yum!
Print
Pin
Rate
Servings: 8 people
Calories: 147kcal
Ingredients
3/4 cup mayonnaise
3 garlic cloves finely minced, or pushed through a garlic press
1 tbsp fresh lemon juice
1 tbsp balsamic vinegar
2 tsp fresh rosemary chopped
2 tsp Dijon mustard
Salt and pepper to taste
Instructions
In a medium-sized bowl, place all the ingredients, and whisk until well blended.

Can be made 1 day ahead and covered with plastic and kept in the fridge.
Notes
See the video near the top of the blog post for visual guidance. If you liked the video, please subscribe to our YouTube channel.
The aioli will keep covered in the fridge for up to 10 days. We don't recommend freezing it.
Nutrition
Calories: 147kcal | Carbohydrates: 1g | Protein: 0.3g | Fat: 16g | Saturated Fat: 2g | Polyunsaturated Fat: 9g | Monounsaturated Fat: 4g | Trans Fat: 0.04g | Cholesterol: 9mg | Sodium: 148mg | Potassium: 13mg | Fiber: 0.1g | Sugar: 0.4g | Vitamin A: 15IU | Vitamin C: 0.4mg | Calcium: 5mg | Iron: 0.1mg