If you love a good hamburger, then you are going to flip for these sliders.
These may be cute little sliders, but when you take that first bite, you will not believe the combination of flavors. The rosemary-garlic aioli and caramelized put it all over the top. Perfect for outdoor BBQs and fun gatherings of friends and family.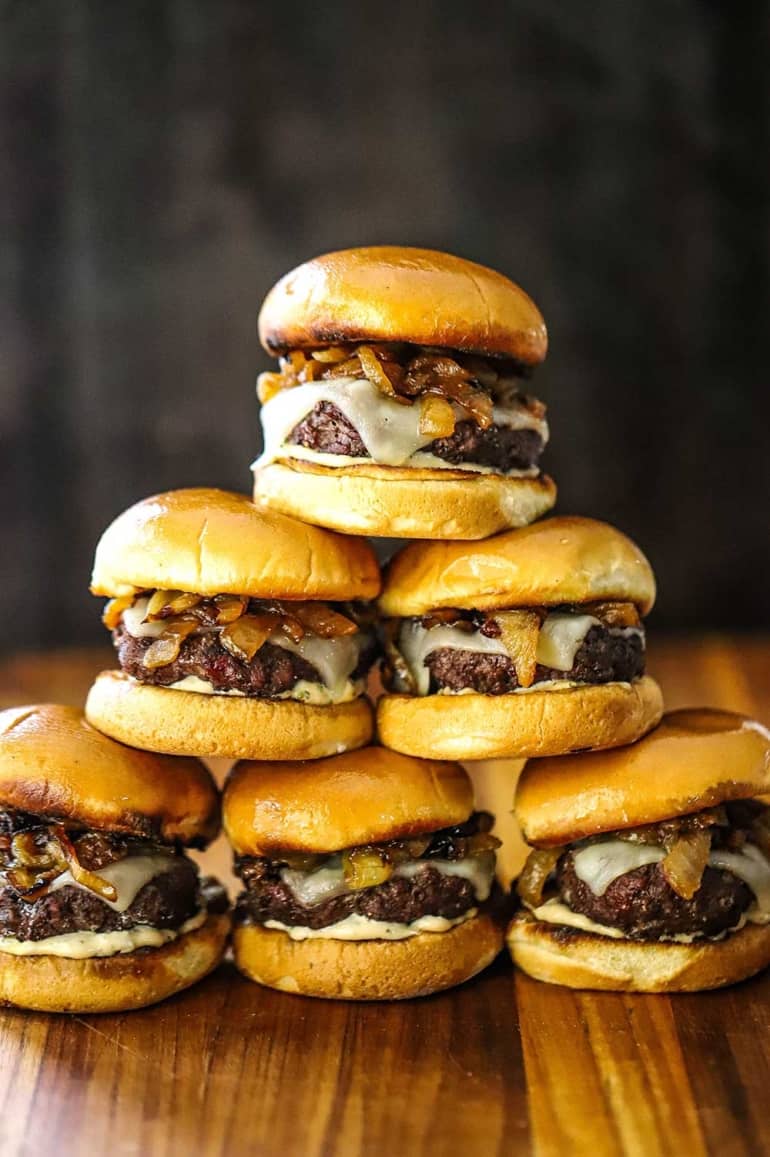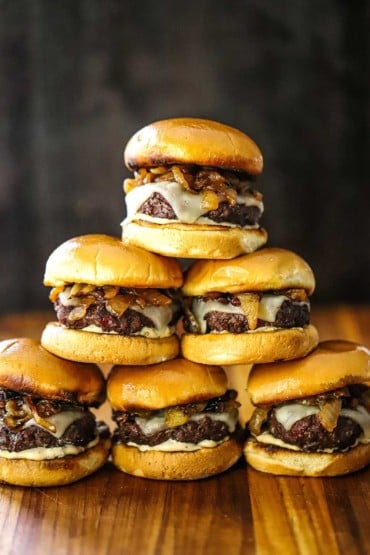 How To Make Gourmet Beef Sliders
There is just so much to love about these sliders.
You can also use this recipe for regular-sized burgers.
NOTE: If you liked this video, please subscribe to our YouTube channel. Remember to click the little 'bell' icon so you'll never miss a new video. Thank you!
The Ingredients You Will Need
To make the best beef sliders of all time, you need to go with top-notch ingredients. Here's what we recommend:
Butter – Unsalted
Onion – Large white or yellow, sliced
Beef – Ground Wagyu or sirloin are excellent choices, 85% lean is best
Seasonings – Kosher salt and freshly ground pepper is all you need
Sliced cheese – Provolone, gouda, or white cheddar are all great options
Buns – Fresh is best!
Rosemary and garlic aioli – If you can, make it with homemade mayonnaise!
EXPERT TIP: We like to cook the burgers out on our grill. But you can also cook them on a griddle or cast-iron skillet on the stove. Cook to 135°F for medium (slightly pink in the center).
Tips for Perfect Gourmet Beef Sliders
Choose the right beef: Use ground beef with higher-fat content, such as 80/20 or 85/15. This will ensure that the sliders are juicy and flavorful. Make sure to season the beef with salt and pepper before forming the patties.
Make the rosemary-garlic aioli from scratch: Making the aioli from scratch will give your sliders a fresh and flavorful taste. Use fresh rosemary, garlic, and high-quality olive oil for the best results. You can also add a little lemon juice or Dijon mustard for extra flavor.
Caramelize the onions: Caramelizing the onions will add a sweet and savory flavor to the sliders. Slice the onions thinly and cook them over low heat with a little butter or oil until they are golden brown and tender. You can also add a pinch of sugar to help them caramelize.
Toast the buns and melt the cheese: To assemble the sliders, toast the buns lightly and melt the provolone cheese on top of the patties. This will add a crispy texture to the buns and make the cheese gooey and delicious. Spread the rosemary-garlic aioli on the buns and top the patties with the caramelized onions. Serve hot and enjoy!
How To Serve
These sliders are always a crowd favorite.
You can prepare the aioli a few hours in advance (just give it a good stir before stirring), and you can make the caramelized onions in advance, too. Reheat on the stove until sizzling.
Get a nice big platter and stack the sliders. You will be amazed at how fast they go.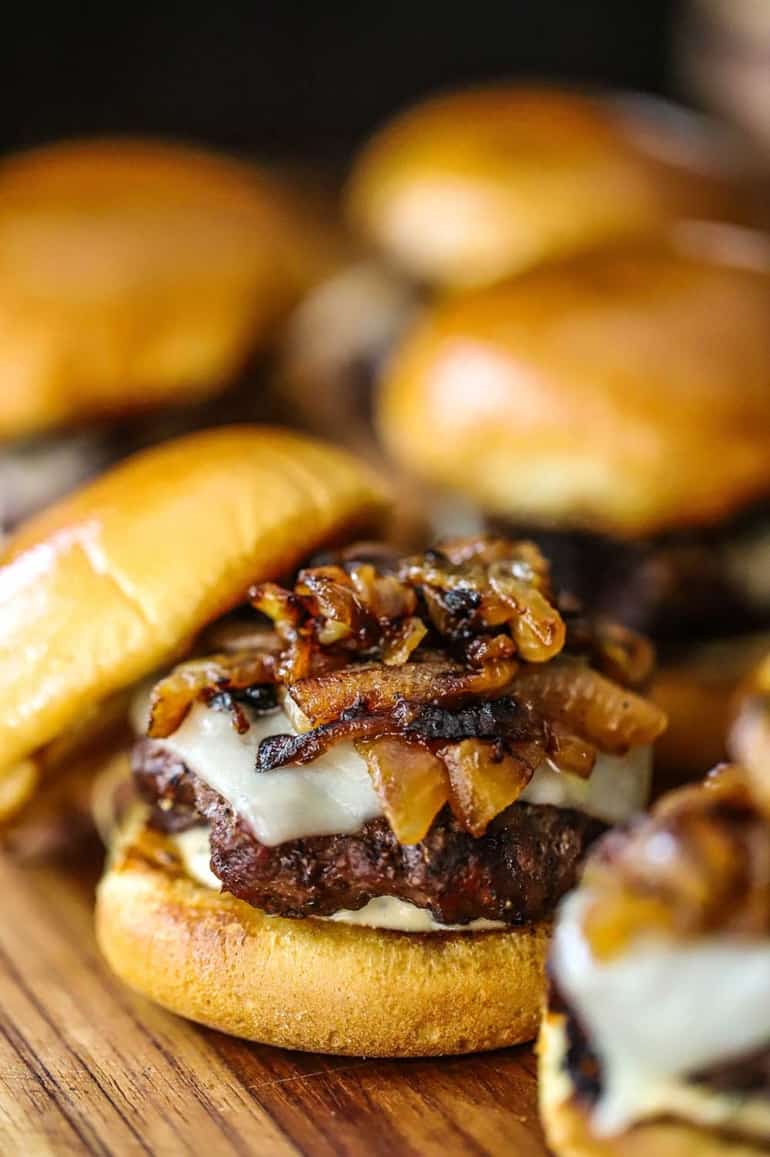 Other Classic Burger Recipes to Try
Nothing spells good times much more than a juicy, delicious burger. Here are some of our all-time favorites that you'll want to try:
Rockin' Black and Bleu Burger
Swiss and Mushroom Burger
Bulgogi Burgers with Kimchi
Epic "Big Mac" Copycat
Curry Turkey Burgers with Grilled Pineapple
Bratwurst Sliders with Beer Cheese
Salmon Burgers
Best-Ever Veggie Burger
These are all absolutely incredible, but in the meantime, isn't the slider calling your name?
Folks, you just will not believe the flavor of these gourmet sliders.
Epic hardly begins to describe it!
If you want to impress your guests, you must make these burgers. They are incredibly juicy, tasty, and so much fun!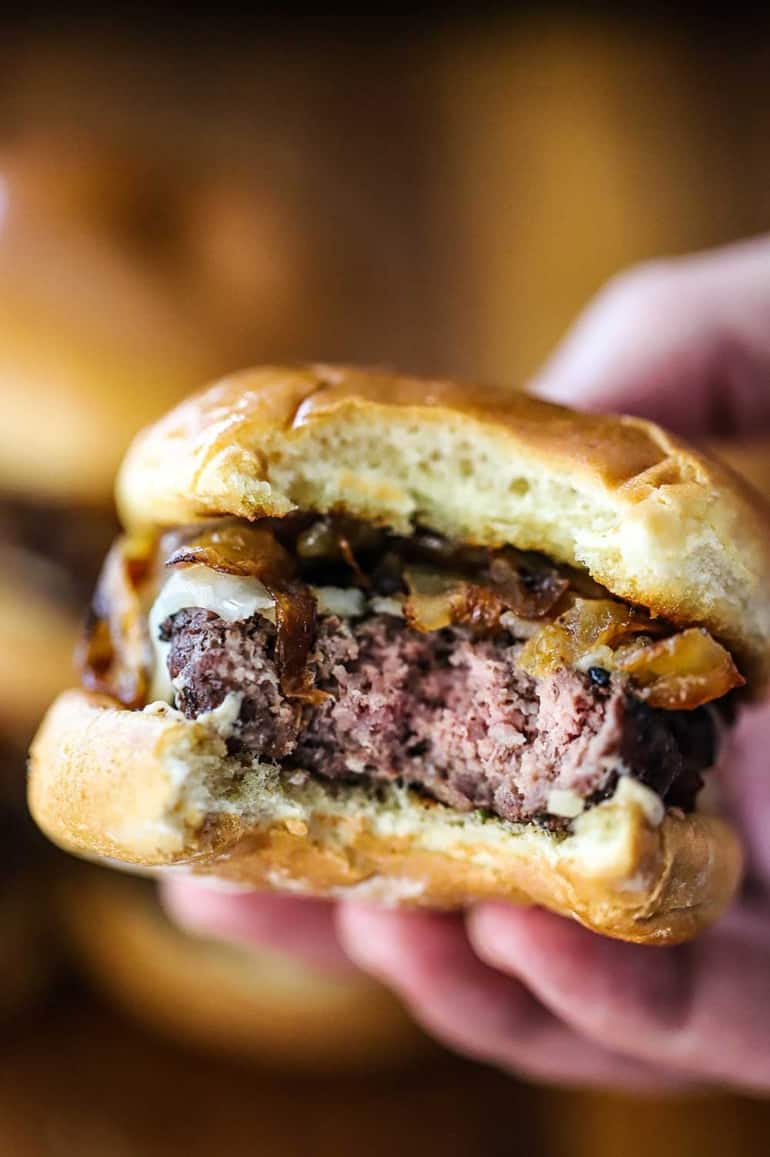 Ready to make the very best sliders in the entire world? Go for it!
And when you do, be sure to take a picture of them, post it on Instagram, and tag @HowToFeedaLoon and hashtag @HowToFeedaLoon!
Gourmet Beef Sliders
Gourmet Beef Sliders are amazing with caramelized onions, fresh sirloin beef, rosemary aioli, and melty provolone cheese! A guaranteed hit!
Print
Pin
Rate
Servings: 4 people
Calories: 568kcal
Equipment
Gas or charcoal grill, indoor grill, or cast-iron skillet (for the stove)
Ingredients
1 cup rosemary aioli
2 tbsp unsalted butter
3 large onions sliced
1½ lbs ground sirloin 85%..formed into 2.5 ounce patties (for sliders)
Kosher salt and fresh ground black pepper
8 slices provolone
Instructions
Do Ahead
Make the rosemary-garlic aioli and refrigerate (covered) for up to 1 day.
Make the Caramelized Onions
In a large skillet, melt the butter over medium heat.

2 tbsp unsalted butter

Add the onions and cook until caramelized and browned, about 35 to 40 minutes. A pinch of salt and pepper and stir. Set aside, but keep warm.

3 large onions
Prep and Cook the Burgers
Salt and pepper each side of the patties.

1½ lbs ground sirloin, Kosher salt and fresh ground black pepper

Press an indention with your fingers/thumbs in the center of the patty.

Heat your grill to medium heat, or heat your skillet to medium heat.

If using your cast-iron skillet, add 1 tablespoon of oil.

Once fully heated, add the patties. Cook on one side for about 4 minutes. Then flip. Cook on the other side for about 4 minutes.

In the last minute, add the cheese.

8 slices provolone

Meanwhile, slice the buns, butter them, and place under the broiler for about 3 minutes (keep an eye on them! Time varies depending on oven).

slider buns

Remove burgers from heat source.

Smear the aioli on each bottom bun. Place the burger on the aioli and then top it with a pile of warm caramelized onions. Place the top bun on the slider and serve at once.

1 cup rosemary aioli
Notes
See the video near the top of the blog post for visual guidance. If you like the video, please subscribe to our YouTube channel.
The rosemary-garlic aioli can be made a day in advance. Keep covered in the fridge and stir again before stirring. The onions can be made several hours in advance. Reheat on the stove over medium-low heat until sizzling.
Nutrition
Calories: 568kcal | Carbohydrates: 13g | Protein: 48g | Fat: 24g | Saturated Fat: 8g | Cholesterol: 184mg | Sodium: 610mg | Potassium: 746mg | Fiber: 2g | Sugar: 7g | Vitamin A: 338IU | Vitamin C: 8mg | Calcium: 471mg | Iron: 4mg
POST UPDATE: This recipe was originally posted in April 2018, but was updated with improved tweaks to the recipe with new tips and photography and a fabulous new video in May 2023!