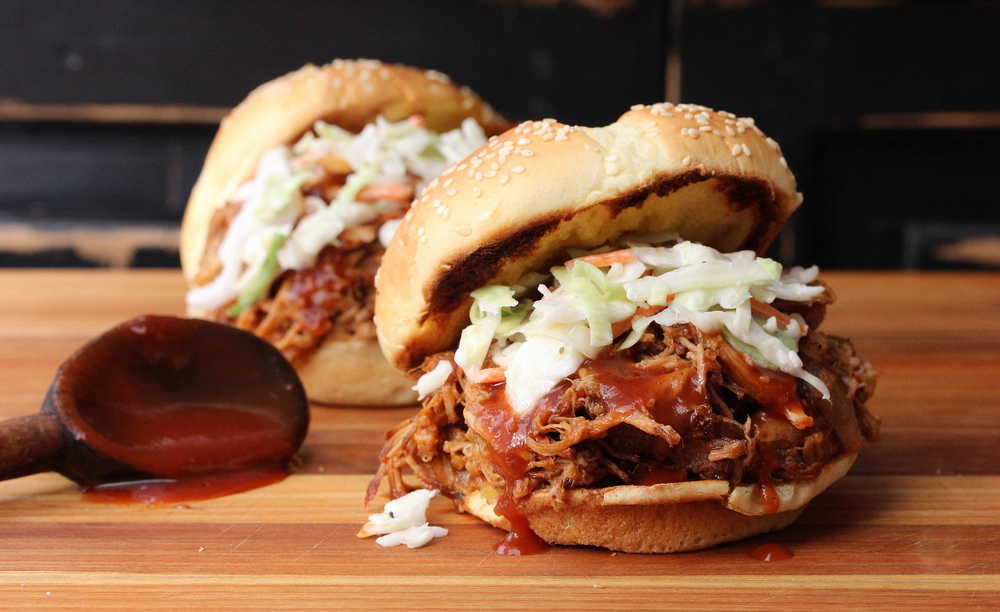 These Slow Cooker Pulled Pork Sandwiches are truly something special.   Don't have a smoker to slow cook your pork shoulder? Trust me, these will rival almost any pulled pork across the land!  I like to go with bone-in, because it adds even more flavor, but you can use a boneless butt (a Boston butt is perfect).   Add the rub and the liquid mop and cover on low for 10 hours (if bone-in) and 8 if boneless.  Make your sauce.  Put it all together, and you'll have one of the best pulled pork sammys you've ever had.  150% Loon Approved!
Slow Cooker Pulled Pork Sandwiches
These slow cooker pulled pork sandwiches are about as good as you'll find. Huge flavor that is easy to put together in the slow cooker, finished off with an amazing BBQ sauce. So good!
Author: Kris Longwell
Recipe type: Pork
Cuisine: American
Serves: 8 - 10
Ingredients
FOR THE RUB:
3 tablespoons black pepper
3 tablespoons brown sugar
3 tablespoons smoked paprika
2 teaspoons course salt (ie, sea salt)
1 teaspoon cayenne pepper
FOR THE LIQUID MOP:
1 cup apple cider
¼ cup water
2 tablespoons Worcestershire sauce
2 teaspoons vegetable oil
1 tablespoon black pepper
1 tablespoon salt (ie, sea salt)
FOR THE SAUCE:
1¼ cup apple cider vinegar
¾ cup ketchup
1 tablespoon brown sugar
1 teaspoon salt
½ teaspoon crushed red pepper
1 cup good quality BBQ sauce
FOR THE PULLED PORK SANDWICHES:
1 bone-in pork shoulder, 6 - 7 lbs (or boneless...Boston butt is an excellent choice)
8 buns, split, butter and lightly toasted
Instructions
Mix together the ingredients for the rub in a medium bowl.
Mix together the ingredients for the liquid mop
Press the rub into the meat and place in slow cooker.
Pour the liquid mop over the meat.
Cook on low: Bone-in: 10 hours. Boneless: 8 hours.
When the meat is almost done, put all the sauce ingredients in a medium sauce pan and heat over medium heat for about 10 minutes.
Carefully remove meat from cooker.
Discard all but about 1 cup of the liquid (set aside).
Shred the meat from the bone using two forks.
Place the meat back into the cooker and add the reserved liquid.
Mix in 2 cups of the sauce and cook for another 30 minutes.
Place shredded pork onto sandwiches and top with coleslaw.
Pass remaining sauce in separate dish.
Enjoy!