This post is kindly sponsored by Crock-Pot, but the recipe, photography, video, and opinions are 100% ours.
Slow Cooker Beef Braciole is literally exploding with flavor and is as delicious as it is beautiful in presentation.
This dish makes an amazing weeknight meal, but it's also so stunning in appearance, it's perfect for entertaining! And making this iconic dish in a Crock-Pot makes it so easy and can be made in advance!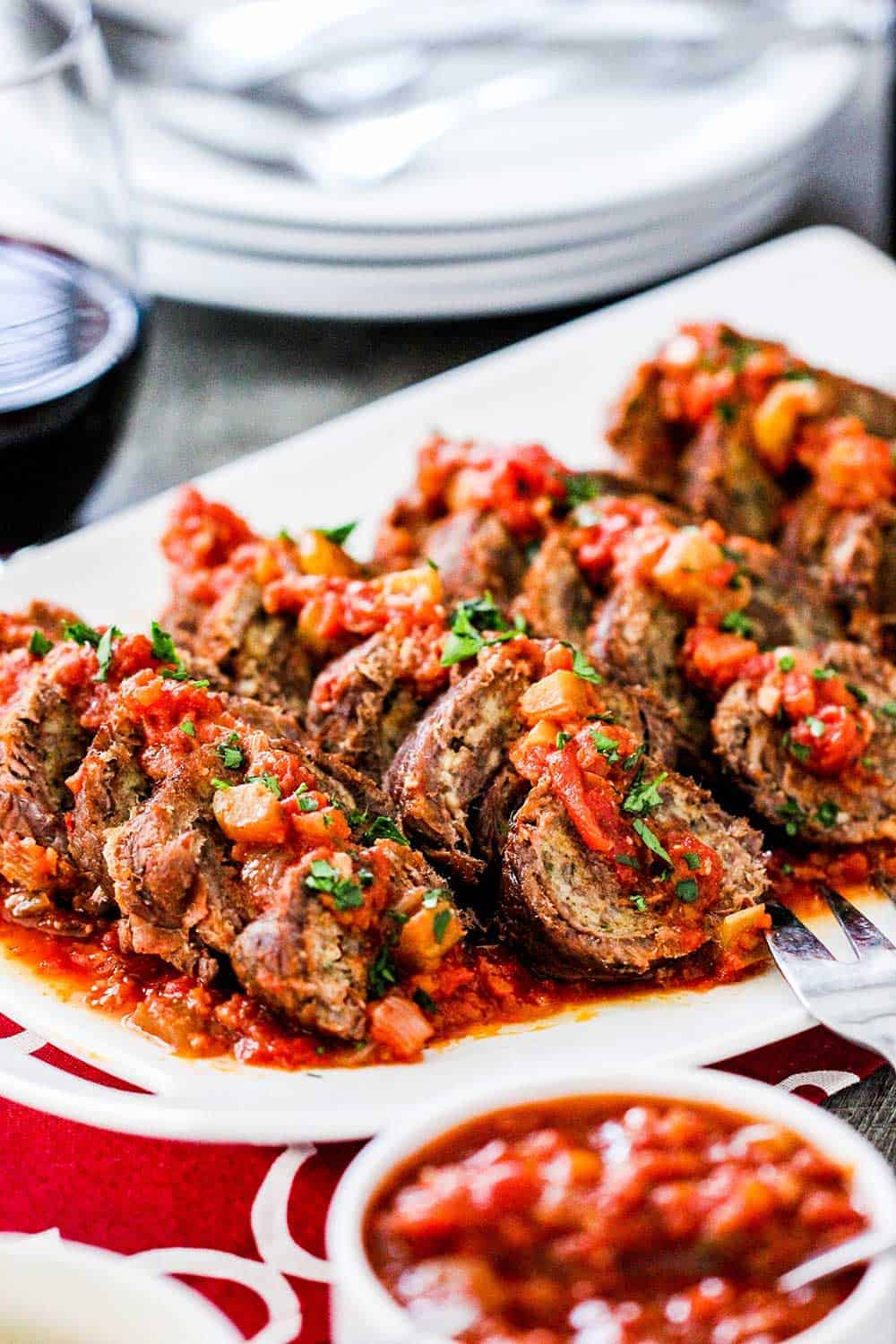 HOW TO MAKE SLOW COOKER BEEF BRACIOLE
This dish is surprisingly easy to prepare.
And it's fun, too! Grab a helper, or two, and have fun rolling up the braciole!
Watch us show you how to make this easy braciole recipe!
The filling for this wonderful dish is loaded with flavor.
The combination of Italian sausage, seasoned bread crumbs, Parmesan cheese, and fresh herbs adds a depth of flavor that is simply spectacular.
EXPERT TIP: No need to cook the sausage! As the braciole slow cooks, the sausage will cook to perfection. Go with sweet or hot Italian sausage. If using sausage links, simply remove the casing and crumble with your fingers.
WHAT CUT OF BEEF FOR BRACIOLE
You're going to want to choose a thin slice of beef for slow cooker beef braciole.
Round steak, or flank steak, is ideal and these are both easily found in the meat department of most well-stocked supermarkets. Be sure to seek out thin cuts of the steak. The steaks should be about ¼-inch in thickness.
After liberally seasoning the steaks with salt and pepper, we line them with thinly sliced prosciutto, and then the amazing filling. Then roll them up nice and tight!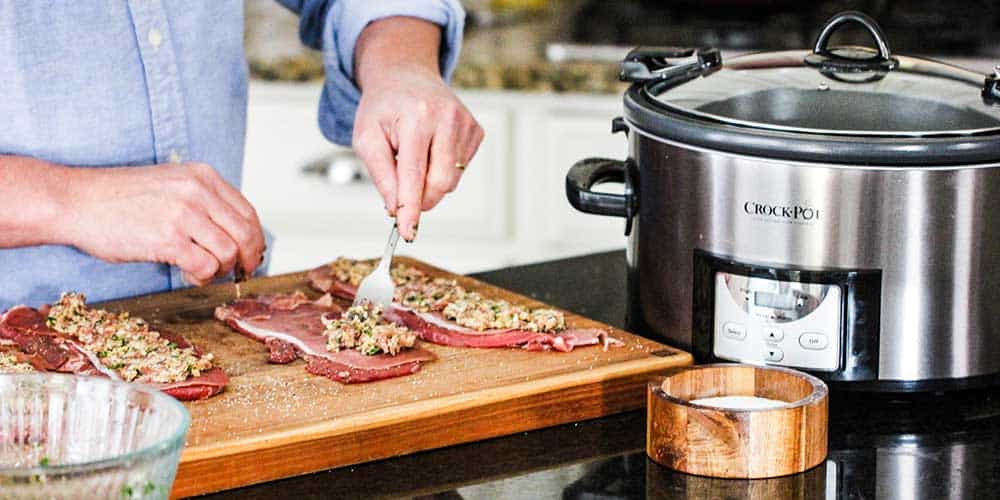 HOW TO TIE BEEF BRACIOLE
Tying up the rolled braciole is very simple.
All you need is some good kitchen twine and a pair of scissors.
EXPERT TIP: After you've tightly rolled up the beef, then measure out about 3 to 4 inches of string or twine and tie together one end of the braciole. Repeat on the other end. And then cut a longer piece of string (8 to 10 inches), and tie lengthwise.
SEARING THE BRACIOLE LOCKS IN FLAVOR
We highly recommend searing the rolled and tied braciole before placing it in the Crock-Pot.
Searing begins the cooking process but most importantly locks in much of the juices of the beef.
This process keeps the beef flavorful and helps to prevent drying out while cooking.
QUALITY MARINARA IS ESSENTIAL
We absolutely LOVE using our 7 QT Crock-Pot Cook & Carry Easy to Clean Slow Cooker for this dish. It's a perfect size and its easy-to-clean non-stick ceramic coating requires less effort to clean by hand compared with traditional stoneware. WIN!
Now, to the question of marinara. To save time, you can use a top-notch store-bought variety. Or, to make it extra special, make a batch of our very own fresh marinara. But, for a quick and really delicious tomato sauce, we recommend the following:
Easy Marinara Recipe:
Heat 2 tbsp olive oil in a large skillet over medium heat. Add ½ cup each of chopped onion, celery, carrot, and 3 cloves of garlic minced. Cook until soft. Add 2 tbsp tomato paste and stir to coat. Add ½ cup of red wine and bring to a boil. Cook until slightly reduced, about 4 minutes. Add 1 28 oz. can crushed tomatoes, 1 tbsp dried oregano, and 2 bay leaves. Simmer for 5 more minutes.
EXPERT TIP: No need to simmer the marinara for a long time, the flavor will deepen as it slow cooks in the Crock-Pot with the beef braciole.
CROCK-POT IS A PROVEN ALLY IN THE KITCHEN
There are varied methods for preparing classic beef braciole. And we can honestly say that we've tried most of them.
Every single time we make this gorgeous dish in our 7 QT Crock-Pot Cook & Carry Easy Clean Slow Cooker the end result is pure perfection.
The digital countdown control lets you program cook times anywhere from 30 minutes up to 20 hours. However, since these beautiful rolls of yumminess are surrounded in thin slices of beef, they don't need a terribly long time in the Crock-Pot. 5 hours on LOW and 2 hours on HIGH!
EXPERT TIP: Because the beef is thinly cut – if overcooked, the braciole will dry out. We feel we get the best results when we cook them on low for only 5 hours. But if you are pressed for time, cooking on HIGH is perfectly fine, just don't exceed two, to two and a half hours.
This is an amazing dish to bring to potlucks or family gatherings.
The Crock-Pot locking gasket lid helps you get the slow cooker to the final destination without spills or messes.
And the 7-quart capacity serves 8+ people and can even fit a 6 lb. roast. Another of our favorite dishes to make in our Crock-Pot is our BBQ Brisket Sandwiches and our Ham and Potatoes au Gratin with Mushroom Sauce. Both to die for!
And what about this Slow Cooker Beef Braciole? Wow!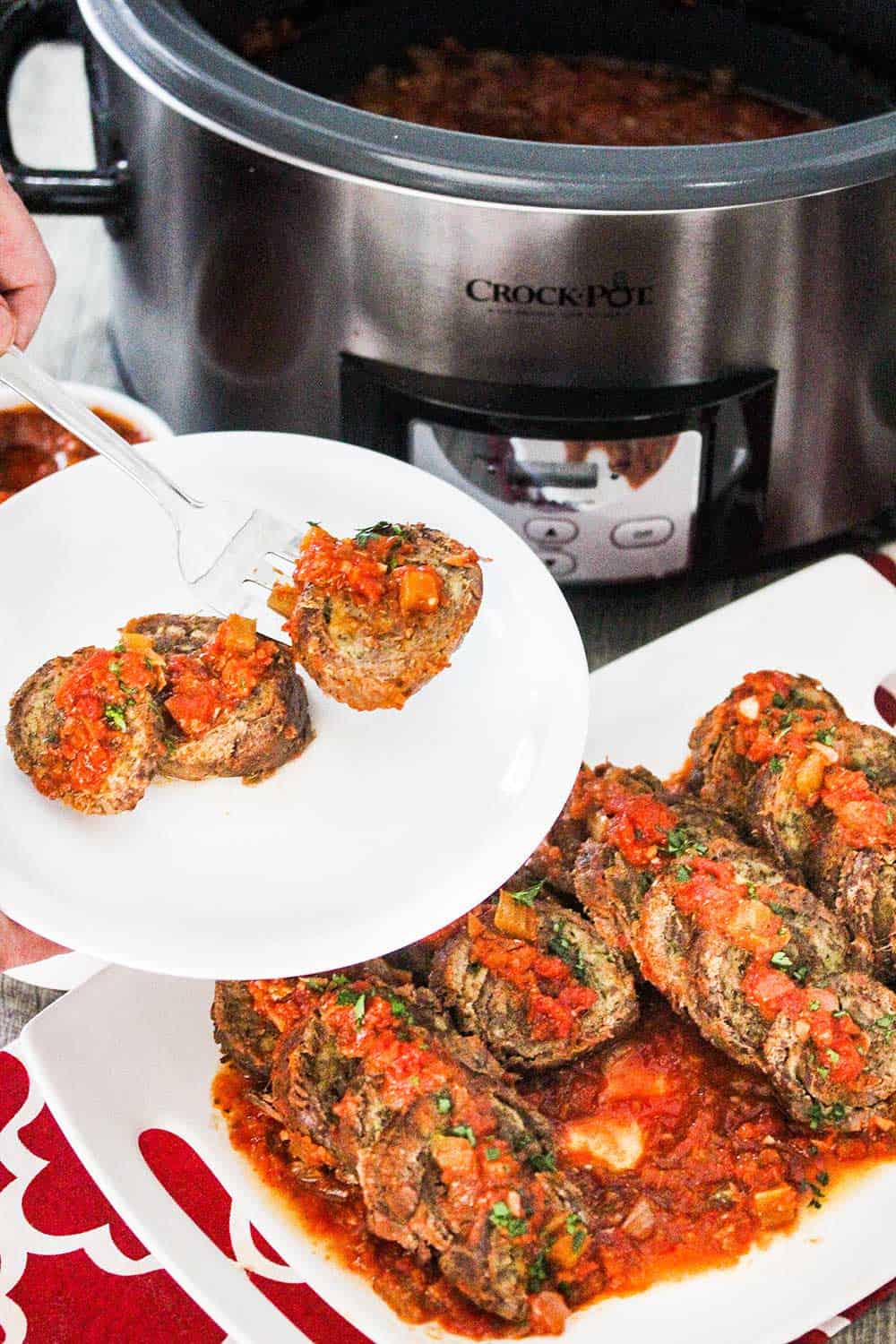 SLOW COOKER BEEF BRACIOLE IS PERFECT FOR ENTERTAINING
This dish is just so festive and truly delicious. And it always produces lots of praise when served at parties, especially during the holidays
After you slice the braciole, add a layer of the sauce from the Crock-Pot onto a nice serving platter, and then layer the slices over the sauce. Top with a little more marinara and chopped parsley. Beautiful!
In case you haven't noticed, we are HUGE fans of Crock-Pot and we just love how this product has been such a major part of our culinary lives since we were kids. We also love shopping at our favorite place in the world, Target, to see all the amazing varieties of Crock-Pot there are to help us make the most delicious food and with such ease!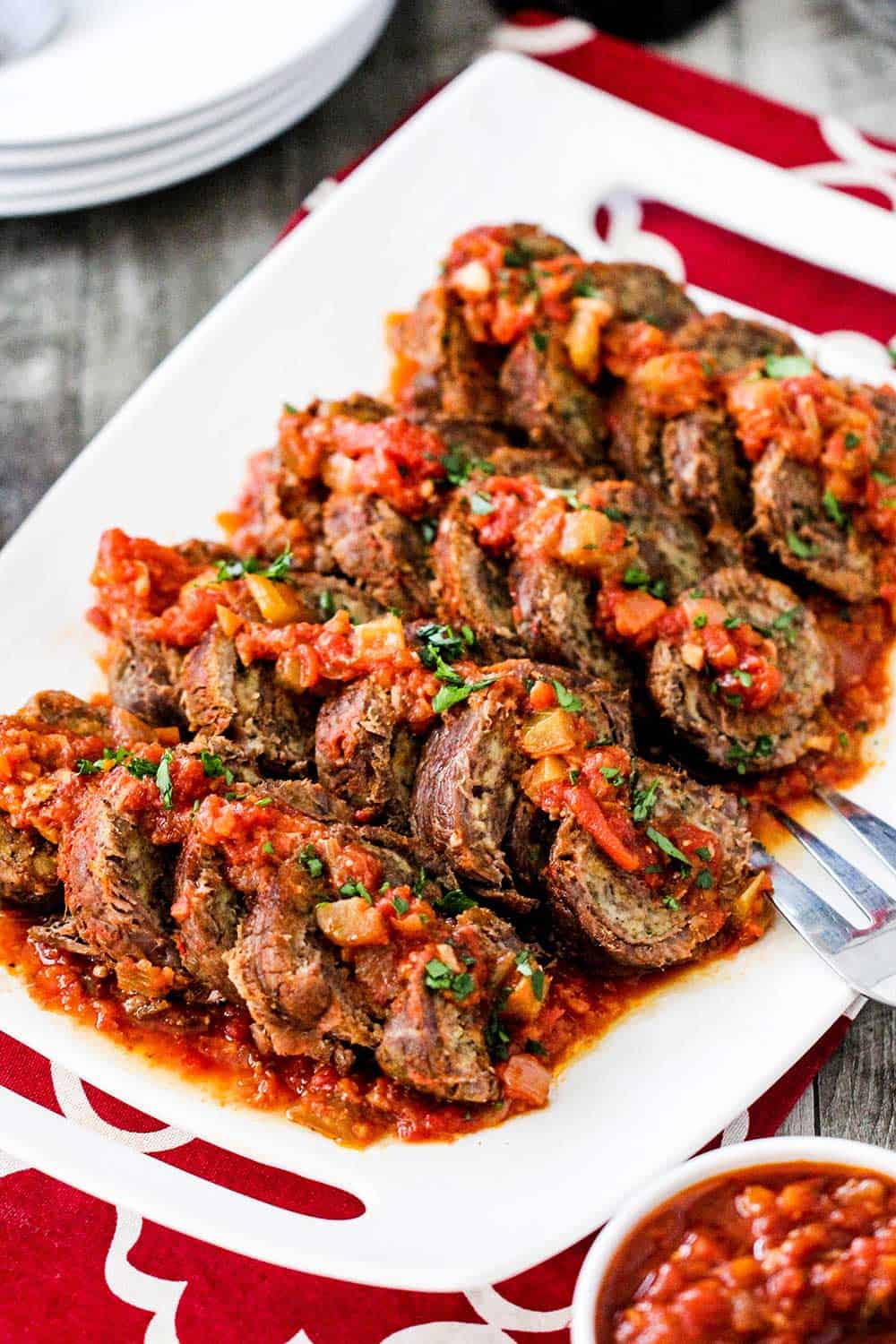 Ready to impress friends and family with this incredible dish? Go for it!
And when you make it, be sure to take a picture, post it on Instagram and tag @howtofeedaloon and @CrockPot and @Target!
Slow Cooker Beef Braciole
Bursting with amazing Italian flavors. So tender and so flavorful and so easy in your slow cooker! Gorgeous when served either on a busy weeknight dinner or at a spectacular holiday party!
Print
Pin
Rate
Servings: 8 people
Calories: 330kcal
Equipment
7QT Crock-Pot Cook & Carry Easy Clean Slow Cooker
Ingredients
¼ lb Italian sausage sweet or hot, about 2 links, casings removed
⅓ cup Panko bread crumbs
2 tbsp Parmesan cheese grated
2 tbsp parsley fresh, chopped, divided
1 tbsp basil fresh, chopped
1 large egg
4 round steaks about 2 to 3 lbs
Kosher salt
Black pepper
3 oz prosciutto thinly sliced
2 tbsp olive oil
3 cups marinara sauce see quick recipe in NOTES
Instructions
In a medium-sized bowl, mix together with a fork the sausage, Panko, Parmesan cheese, 1 tbsp parsley, basil, and egg until well combined.

Lay the steaks out flat on a cutting board and liberally season the steaks on both sides with salt and pepper.

Arrange 1 to 2 slices of prosciutto over each steak.

Using a fork, spread the filling evenly over the prosciutto on each steak, leaving a border of about ¼-inch on all sides.

One steak at a time, starting at the short end, roll each steak up.

Use kitchen twine or string to securely tie the roll in intervals (a couple of times) down the roll, and then again with one string tied lengthwise. (See photos in post).

Heat the oil in a large skillet over medium-high heat. Add the steak rolls and saute until browned all over - about 5 to 6 minutes.

Add 2 cups of marinara in the bottom of the Crock-Pot and then nestle the braciole (steak rolls) into the sauce. Spoon the remaining sauce over the top.

Cook on LOW for 5 hours (recommended) or on HIGH for 2 to 2 ½ hours.

Remove the braciole and use kitchen shears to remove the twine/string. Use a sharp knife to cut the beef crosswise into slices about ½-inch thick.

Place the slices on a serving dish, or individual plates and spoon a little more sauce over the top. Garnish with remaining parsley and serve at once with grated parmesan, if desired.
Notes
We recommend using round steak or flank steak, but any cut will work, just make sure it's pounded to just about ¼-inch in thickness.
No need to cook the sausage before rolling the braciole. It cooks perfectly in the slow cooker and adds flavor to the sauce.
Searing the meat isn't 100% necessary, but helps to lock in juices and gives the exterior of the meat a nice texture.
Our homemade marina is the bomb, but it takes a little while to prepare. Store-bought is fine, in a pinch. Here is a quick recipe that is very easy to make:
Heat 2 tbsp olive oil in a large skillet over medium heat. Add ½ cup each of chopped onion, celery, carrot, and 3 cloves of garlic minced. Cook until soft.
Add 2 tbsp tomato paste and stir to coat.
Add ½ cup of red wine and bring to a boil. Cook until slightly reduced, about 4 minutes.
Add 1 28 oz. can crushed tomatoes, 1 tbsp dried oregano, 2 bay leaves, ½ tsp salt, and pinch of black pepper. Simmer for 5 more minutes.
Nutrition
Calories: 330kcal | Carbohydrates: 7g | Protein: 32g | Fat: 14g | Saturated Fat: 4g | Cholesterol: 116mg | Sodium: 769mg | Potassium: 779mg | Fiber: 2g | Sugar: 4g | Vitamin A: 543IU | Vitamin C: 8mg | Calcium: 62mg | Iron: 4mg