This post is kindly sponsored by Crock-Pot, but the recipe, photos, video, and opinions are 100% ours.
Slow-Cooker Ham and Potatoes au Gratin is the ultimate in comfort food.
When you need a delicious recipe that will feed a group of hungry folks, this is the one to turn to. We use our Crock-Pot 7qt. Cook & Carry Programmable Slow Cooker to make this deeply satisfying dish. Potatoes, cheese, ham and an amazing mushroom sauce. Incredible.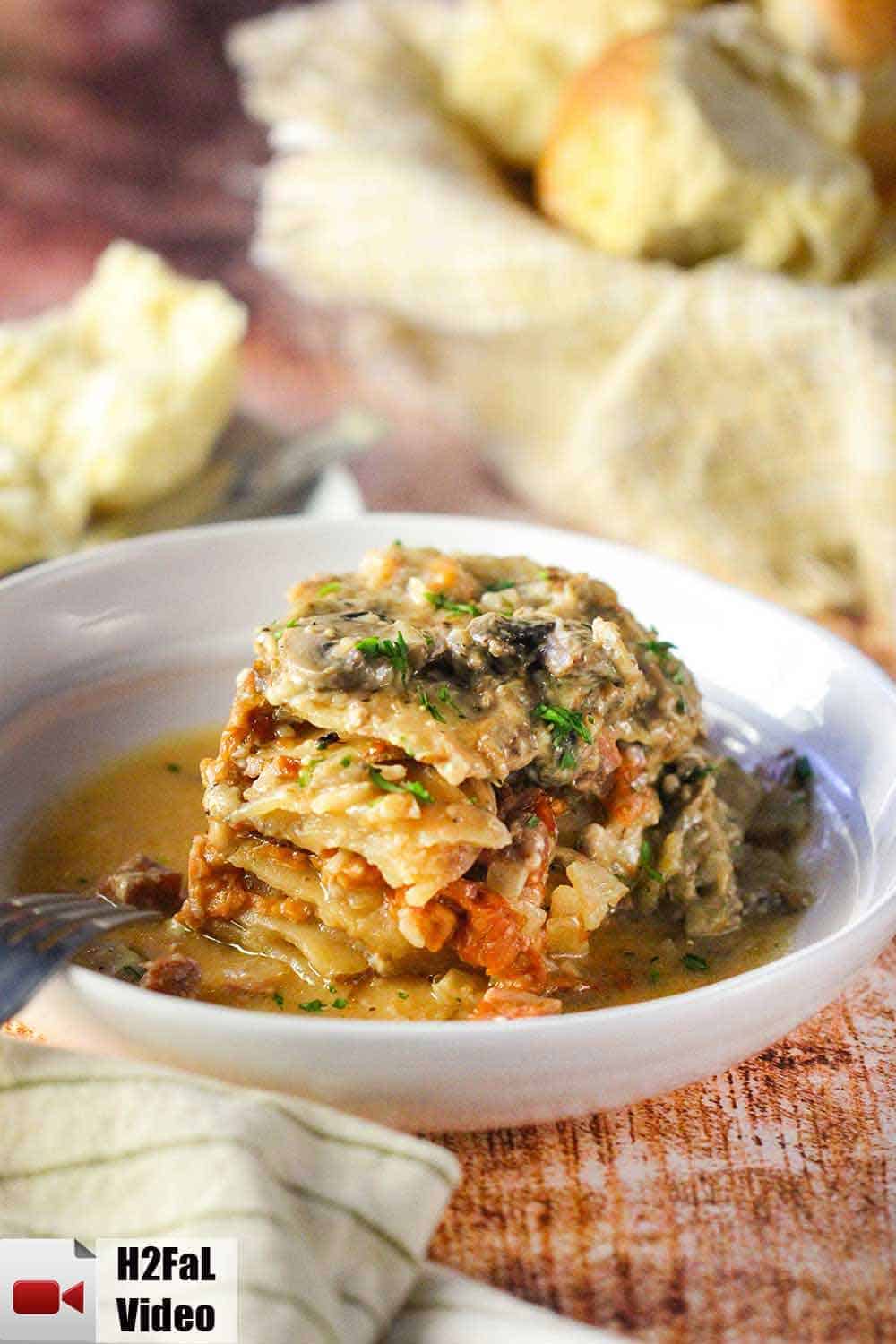 SLOW-COOKER HAM AND POTATOES AU GRATIN IS EASY TO MAKE
Once you have prepped the ingredients for this amazing dish, assembly is a snap.
You can absolutely make the mushroom sauce up to a day in advance.
Watch us show you how easy it is to make this crowd-pleasing dish!
HOW TO MAKE THE MUSHROOM SAUCE
We have to say that the homemade mushroom sauce for this Slow-Cooker Ham and Potatoes au Gratin is what we think puts the dish over the top.
Start by sautéing 1 lb. of sliced mushrooms. We use good ole white button mushrooms. You will create a roux by adding flour, then build the sauce with chicken stock (or vegetable), cream, and Worcestershire sauce.
EXPERT TIP: If you are in a real pinch for time, you can use two cans of condensed cream of mushroom soup in place of the mushroom sauce. But, as mentioned, we strongly feel the homemade sauce is so much more flavorful, and it can also be made in advance.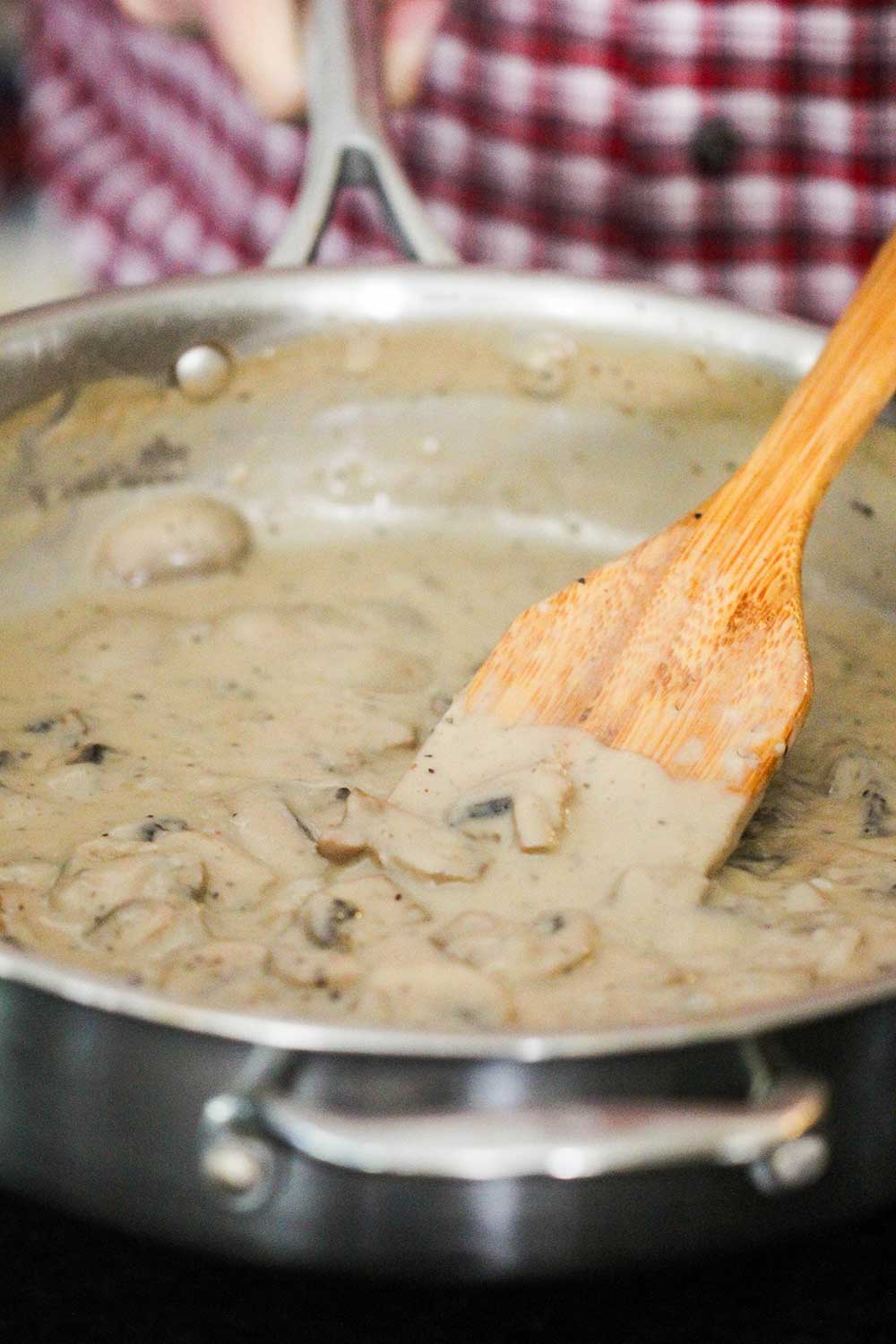 HOW TO PREP THE INGREDIENTS
This recipe feeds a crowd, without doubt. Here's what you'll need on hand, and how to prep them:
5 to 7 large russet potatoes – We use our trusty mandolin to slice them into 1/8″ rounds, but you could certainly just slice them with a sharp knife.
2 12 oz. ham steaks – There are usually several varieties of ham steaks in your meat department. We go with the smoked, bone-in ham steak, and then cube the meat, cutting away excess fat and the bone.
1 lb. Swiss cheese – If you can't find shredded, purchase two 8 oz. blocks and use the medium shredder with your food processor, or use a box grater to shred the cheese.
2 medium yellow onions – Chop them evenly with a sharp knife, or, purchase pre-chopped onion.
EXPERT TIP: Because this makes a lot, we season each layer with salt and pepper. It may seem like a lot, but remember, you're seasoning several pounds of potatoes and ham.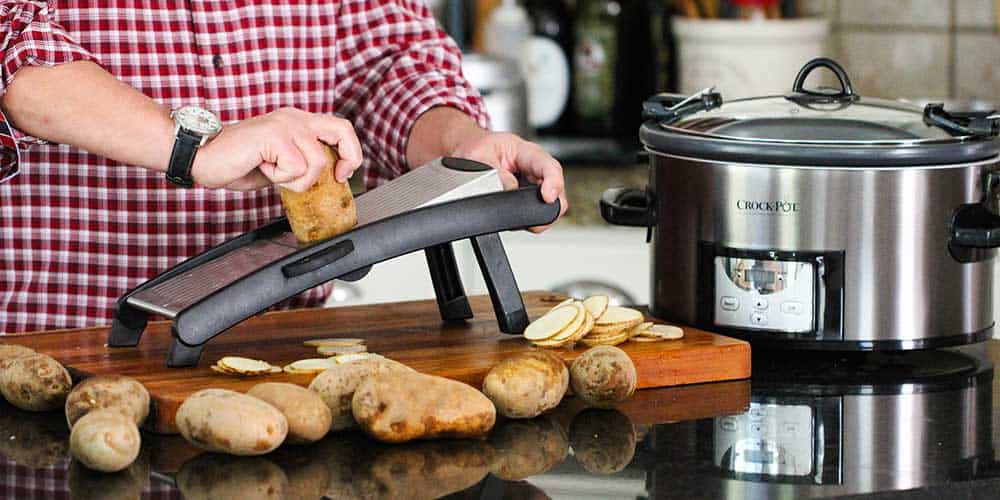 HOW TO LAYER SLOW-COOKER HAM AND POTATOES AU GRATIN
If you know much about us, you know how much we love Crock-Pot. One of the amazing features of our 7qt Slow Cooker is how easy it is to clean. It's 'Easy Clean' nonstick ceramic coating requires less effort to clean vs. traditional stoneware (when cleaned by hand). NICE!
Now, it's time to start layering the ingredients.
We begin with a layer of potatoes, then cheese, ham, onions, and then salt and pepper. Repeat until you've reached about 1 inch from the top of the vessel.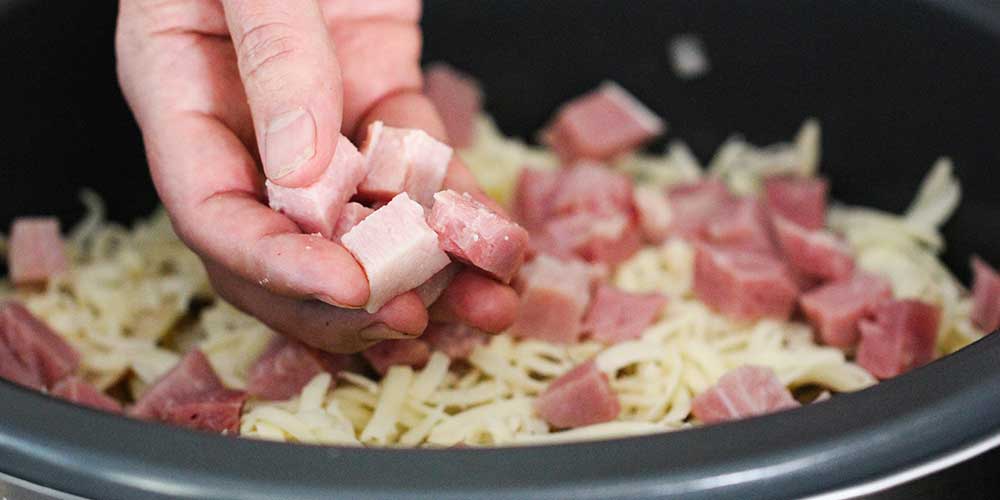 POUR THE MUSHROOM SAUCE ON TOP OF THE CASSEROLE
Now, it's time to top everything off with that incredible mushroom sauce!
If you made it ahead of time, no need to re-heat.
Just transfer the sauce right on top of the layered ingredients. This Slow-Cooker Ham and Potatoes au Gratin is the ultimate comfort food!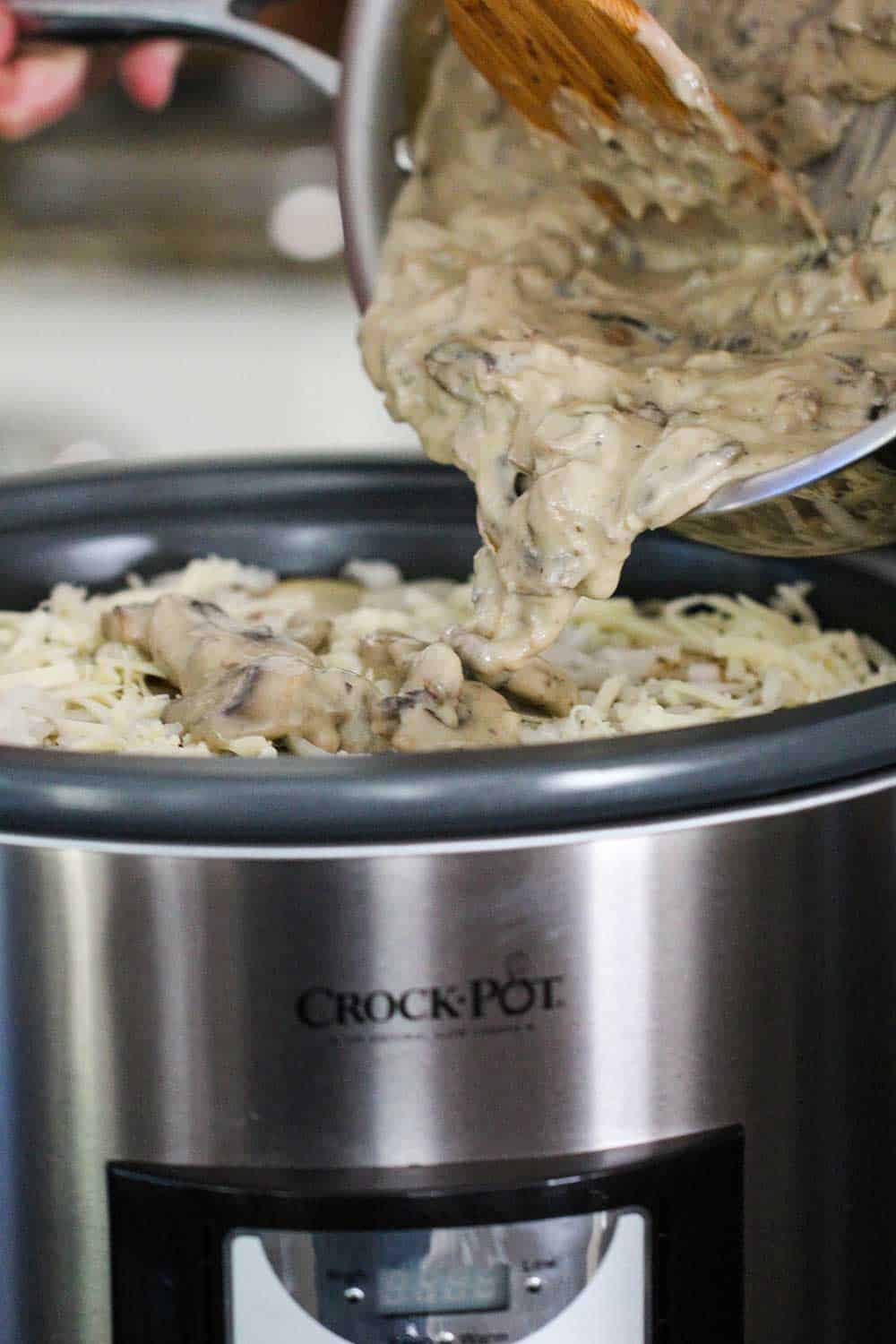 It's now time to let our beloved Crock-Pot do its magic!
We love that the digital countdown control lets us program cook times anywhere from 30 minutes up to 20 hours.
EXPERT TIP: We almost always use the 'LOW' setting when cooking a dish in a slow-cooker. But honestly, this Slow-Cooker Ham and Potatoes au Gratin cooks beautifully on HIGH in just 4 hours. Of course, you can cook it on LOW for 8 to 10 hours, it's up to you! Once the cooking time is completed, the slow-cooker automatically shifts to WARM setting to keep food at the perfect serving temperature.
Look at this gorgeous dish!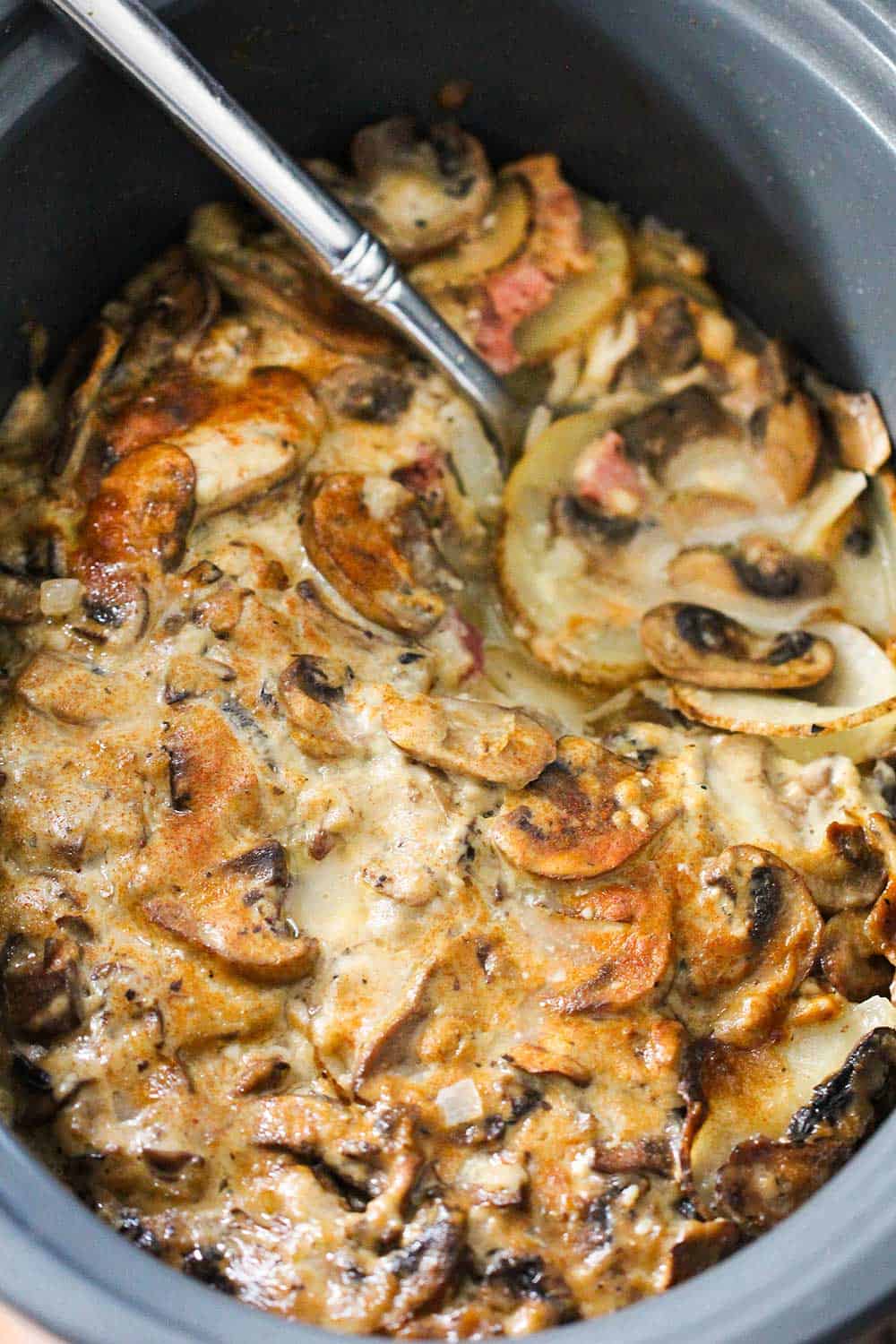 IDEAL FOR POT LUCK DINNERS, TAILGATING, OR ENTERTAINING
Our Crock-Pot 7qt Cook & Carry Programmable Slow Cooker holds enough to easily feed 8 to 12 people. Which makes it perfect for church pot luck dinners, or tailgating at the big game, or having friends and family over for a delicious feast.
Also, the locking gasket lid helps you get the slow cooker to the final destination without spills or messes. And remember, clean up is a breeze with this Crock-Pot!
We love all of our Crock-Pots so much! In fact, have you tried our Slow-Cooker BBQ Brisket Sandwiches, or our Provençal Chicken Stew? They are so delicious and a snap to make in your Crock-Pot! Check them out at our favorite place to shop, Target!
EXPERT TIP: If you're not feeding a crowd, you can easily cut this recipe in half, which will feed 2 to 4 people. The casserole is almost even better the next day. That is, if you have any left over!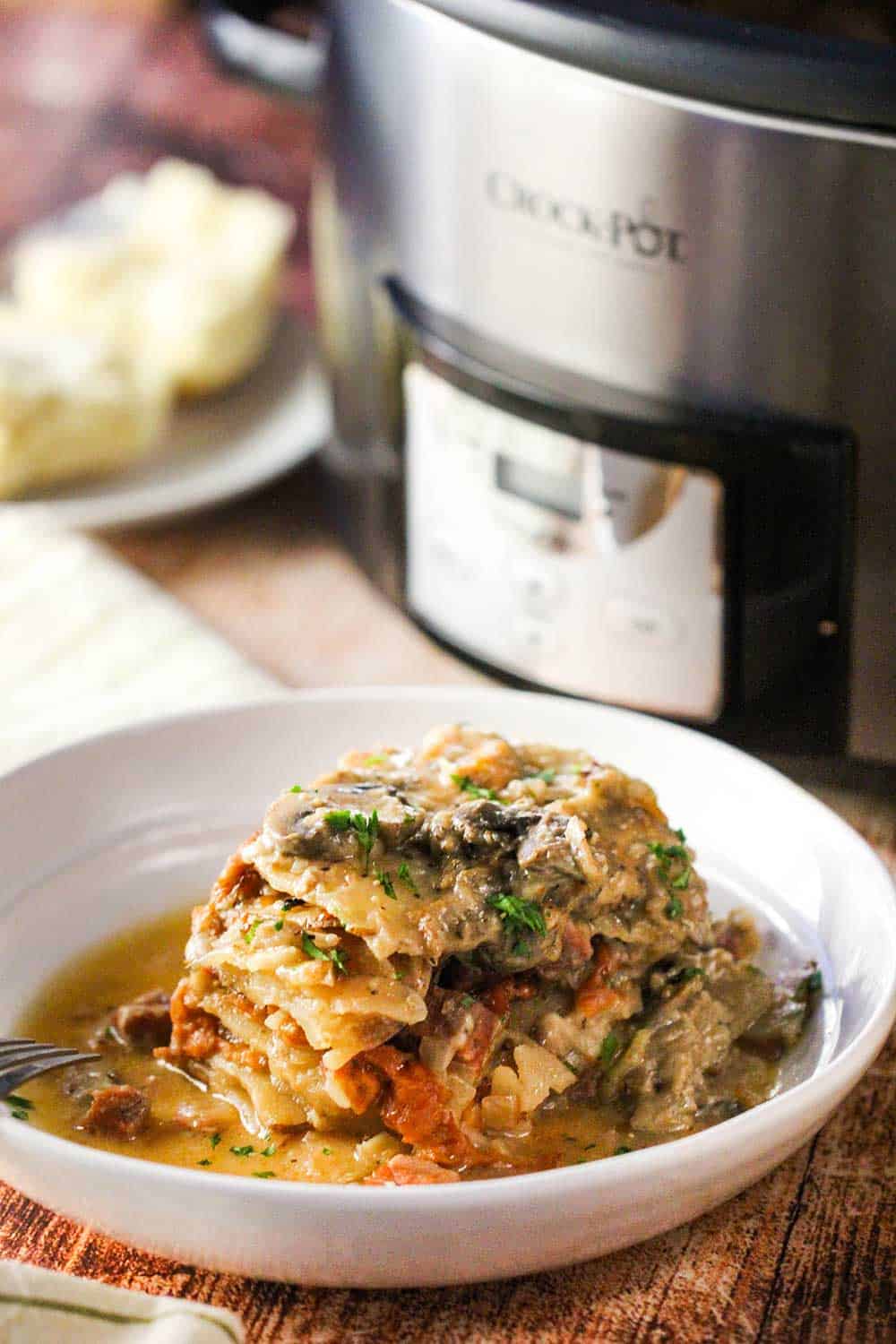 Get ready to make a lot of people happy when you serve this amazing Slow-Cooker Ham and Potatoes au Gratin.
And when you make it, be sure to take a picture, post it on Instagram, and tag @howtofeedaloon and @crockpot and @target
Slow-Cooker Ham and Potatoes au Gratin
Layered with potatoes, smoked ham, Swiss cheese, onion and then topped with a creamy mushroom sauce is what makes this casserole always a crowd favorite. Leftovers are fantastic, too.
Print
Pin
Rate
Servings: 12
Calories: 277kcal
Equipment
Crock-Pot 7 QT Cook & Carry Programmable Slow-Cooker
Ingredients
FOR THE MUSHROOM SAUCE
2 tbsp unsalted butter
1 lb mushrooms sliced
Salt and pepper
¼ cup all-purpose flour
2 cups chicken stock
½ cup heavy cream
1 tbsp Worcestirshire sauce
FOR THE CASSEROLE
4 to 6 large potatoes russet are best, sliced ⅛-inch thick
2 10 oz. ham steaks trimmed of fat, bone removed, and cubed
1 lb Swiss cheese shredded
2 medium onions chopped
salt and pepper
1 tbsp smoked paprika
Instructions
MAKE THE MUSHROOM SAUCE
In a large saucepan, heat the butter over medium-high heat.

Add the mushrooms and cook until starting to lose their liquid, about 5 to 8 minutes. As they are cooking, sprinkle with salt and pepper.

Add the flour and stir until the mushrooms are coated. Continue cooking for 3 to 4 minutes.

Whisk in the chicken stock and the cream. Continue whisking until all lumps have disappeared. Cook, stirring frequently, until slightly thickened. Stir in 1 tsp of salt, ½ tsp of pepper, and the Worcestershire sauce. Set aside until ready to use.
ASSEMBLE THE DISH
Add a layer of sliced potatoes in the bottom of the slow-cooker. To this, add a layer of the cheese, ham, and then onions. Season with salt and pepper.

Repeat this process until you've reached about 1 inch from the top of the slow-cooker.

Top with a layer of potatoes and cheese.

Spread the prepared mushroom sauce over the top. Sprinkle the smoked paprika over the top of the sauce.

Cook on HIGH for 4 to 5 hours, or on LOW for 8 to 9 hours.
Notes
The mushroom sauce can be made up to 2 days in advance. Keep stored in an air-tight container in the refrigerator. No need to re-heat when adding to the top of the casserole. You can prep all ingredients up to 1 day in advance. Keep the sliced potatoes covered in water and then drain and dry before assembling the casserole. Leftovers will keep in the refrigerator for up to 1 week and can be frozen for up to 2 months.
Nutrition
Calories: 277kcal | Carbohydrates: 18g | Protein: 15g | Fat: 12g | Saturated Fat: 4g | Cholesterol: 55mg | Sodium: 146mg | Potassium: 532mg | Fiber: 3g | Sugar: 3g | Vitamin A: 805IU | Vitamin C: 10mg | Calcium: 335mg | Iron: 3mg