This post is kindly sponsored by Crock-Pot®, but the recipe, photography, and opinions are 100% ours
Provençal Chicken Stew. It just sounds comforting, right?
Trust us on this one, we turned to our beloved Crock-Pot to create one of the most comforting autumnal (or really anytime) dishes we've ever made. We start things off with a large skillet, and then simply slow-cook everything for about 4 to 5 hours! Bring the amazing taste of the South of France into your very own kitchen!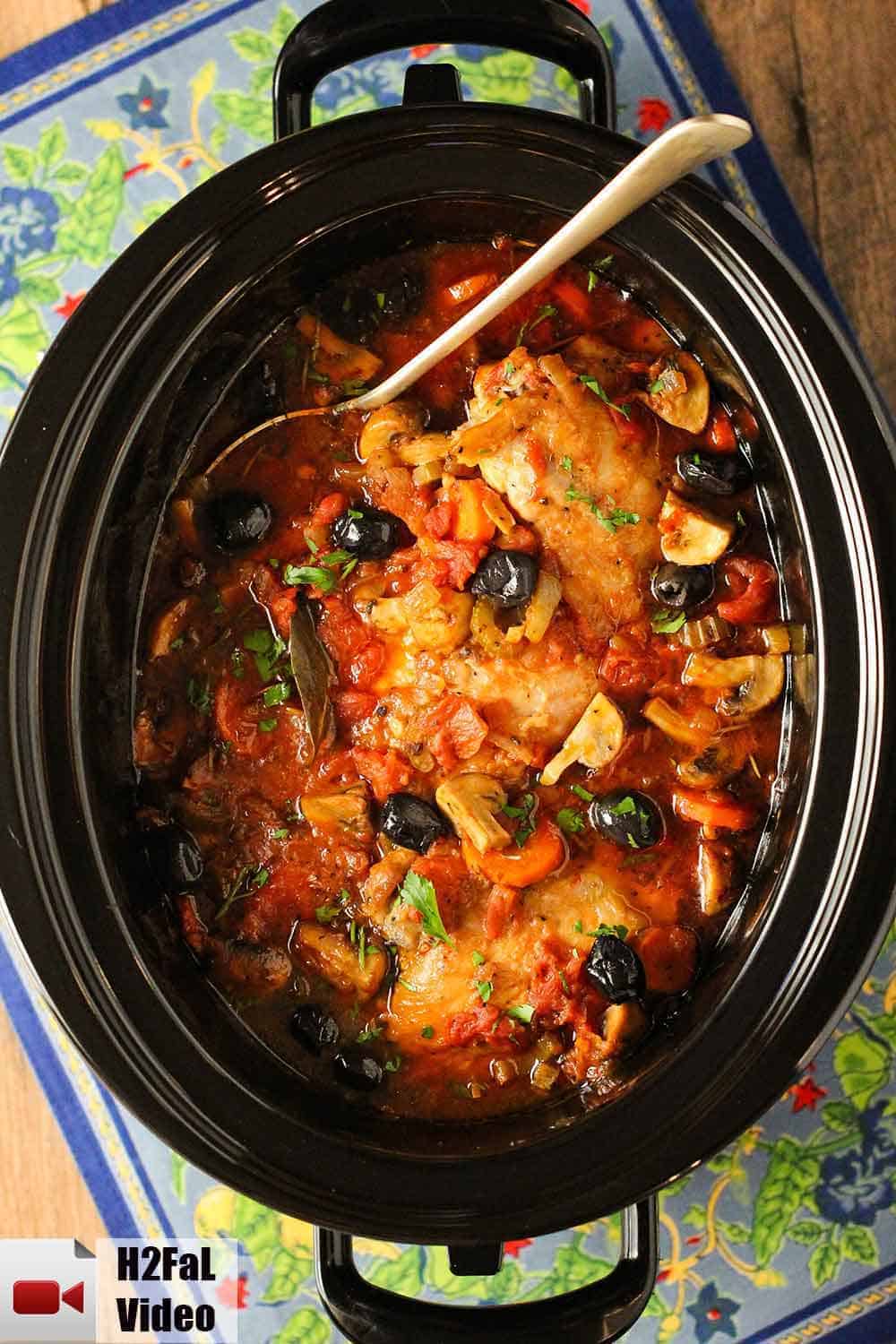 PROVENÇAL CHICKEN STEW IS EASY TO MAKE IN YOUR CROCK-POT®
We are so very thrilled to have partnered with one of our favorite brands in the world, Crock-Pot®, to bring you this delicious and hearty stew.
This dish is amazing any time of the year, but when fall comes around, it doesn't get much better than this stew. We love it so much, we call it: Crocktober!
Watch us use our awesome Crock-Pot® 6-Quart Programmable Cook & Carry™ Slow Cooker to make this incredible stew:
PROVENÇAL COOKING IS VERY SEASONAL
Provence is a region in Southern France that draws its cuisine from the rich countryside and Mediterranean Sea. When we travelled through the South of France a few years back, we loved it all, but there is something even extra magical about Provence, if that's even imaginable.
During the fall months, dishes are created using hearty mushrooms, rich tomatoes, and harvested vegetables, all locally sourced, of course.
For this stew, we knew chicken would be the perfect protein.
EXPERT TIP: When cooking chicken in your Crock-Pot, we recommend going with bone-in, but no skin. The bone imparts unbeatable flavor, but the skin becomes a bit rubbery during the slow-cooking process. We simply remove the skin, then dredge the chicken in flour, and sear in a nice large skillet before adding to your Crock-Pot.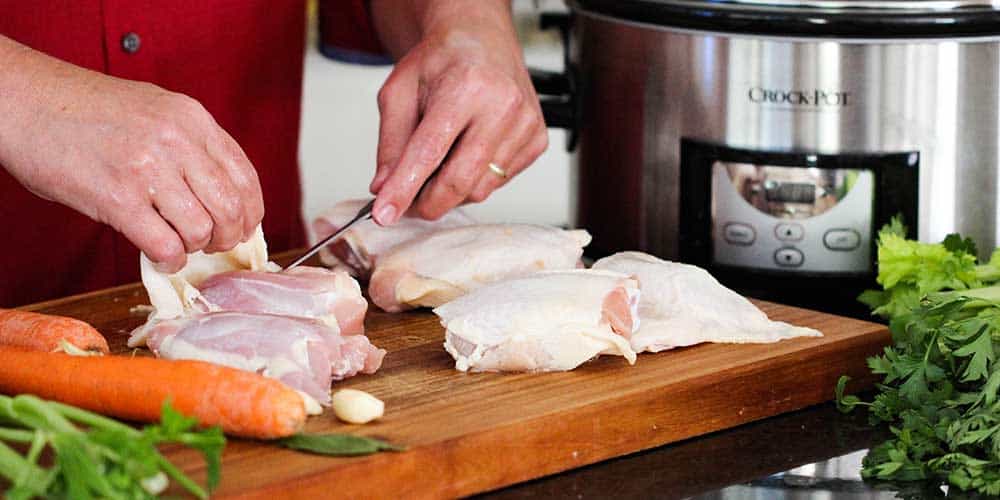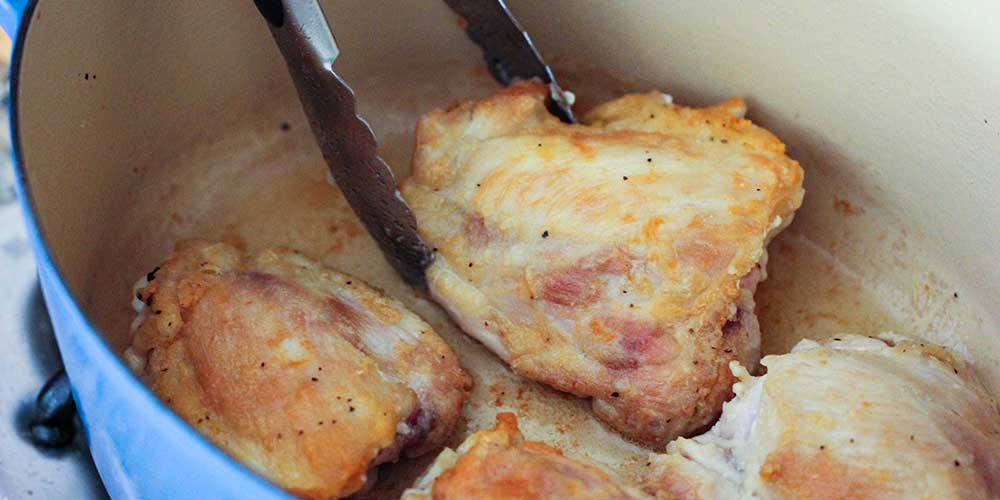 THE BEST VEGETABLES TO USE FOR PROVENÇAL CHICKEN STEW
First and foremost, choose the vegetables for the stew that look best at your local farmer's market or food store.
You can never go wrong with a beautiful mirepoix consisting of chopped onion, carrots and celery.
When we visited Nice, France a few years back, we had a mushroom risotto that to this day will be forever remembered as one of the greatest (and simplest) culinary dishes we ever consumed. We love mushrooms for this Provençal stew so much. Everything gets beautifully sautéed in the same dish as the seared chicken.
EXPERT TIP: We like to keep the vegetables somewhat 'chunky' for the stew. Though they don't slow-cook for as long as a beef stew, you don't want them to become too soft. Cutting them a little larger than you normally might, helps them to maintain the perfect texture. This is true for the mushrooms, too.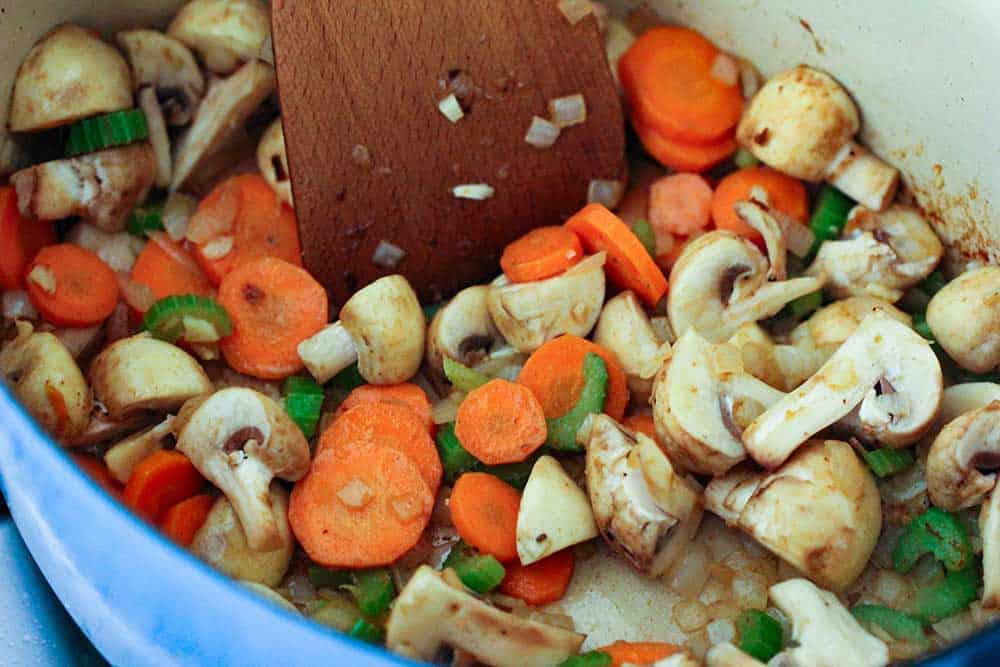 SLOW-COOK THE STEW FOR 4 TO 5 HOURS
After searing off the chicken and then sautéing the vegetables in wine and crushed tomatoes, it's time to bring it all together in your Crock-Pot.
Bone-in chicken will become perfectly tender after slow-cooking in the Crock-Pot after 4 to 5 hours. You can cook the stew for up to 8 hours, but after 6 or so hours, the chicken will become so tender it will fall off the bones, and sometimes leave unwanted bone fragments in your stew.
The awesome thing about our Crock-Pot is that it does the thinking for us, we simply set the timer to 5 hours and then go about our other business. As soon as the cooking time is up, it shifts to WARM to keep it at the perfect temperature until we are ready to serve.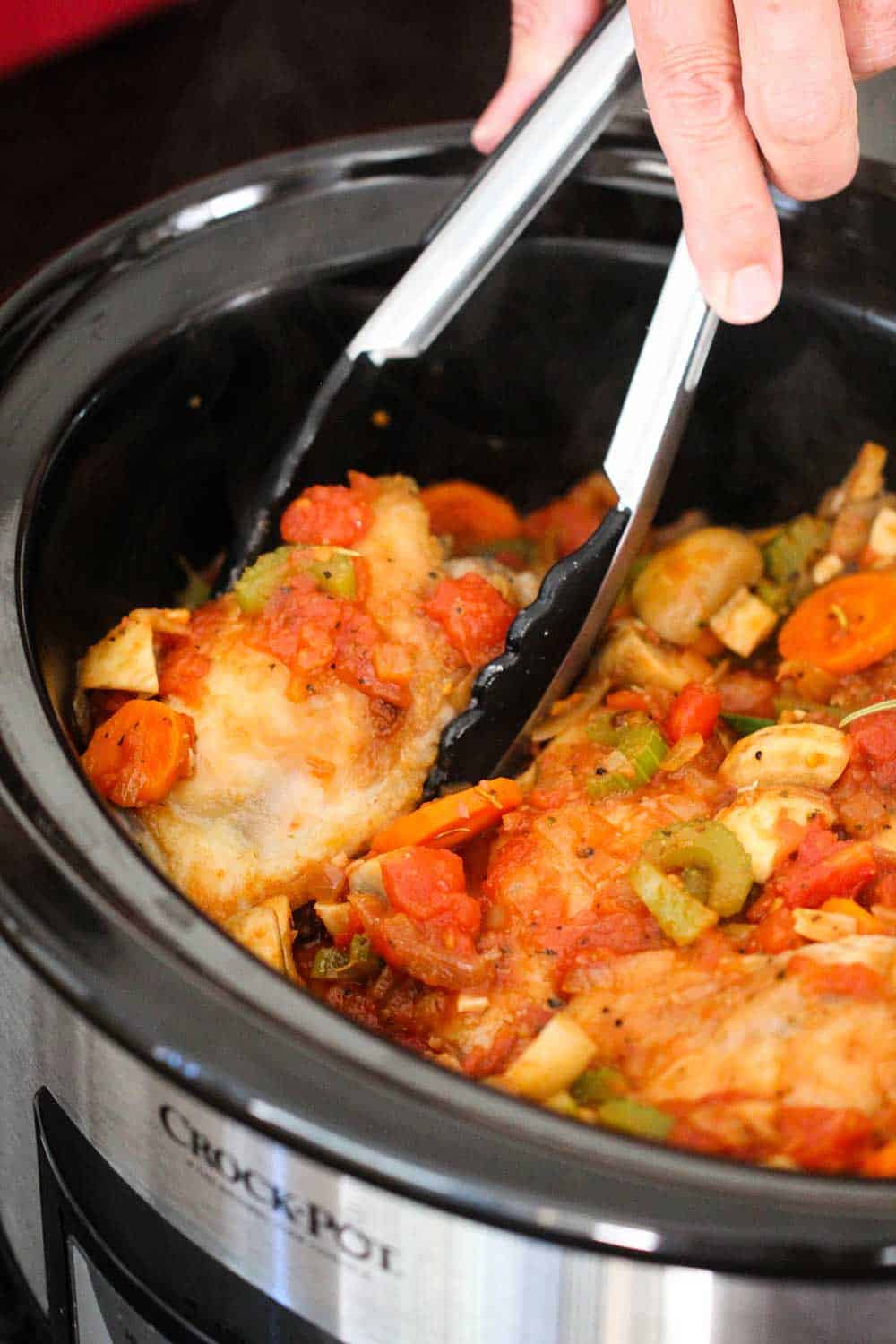 PROVENÇAL CHICKEN STEW IS IDEAL FOR SERVING AT A GATHERING
This recipe is perfect when entertaining. The stoneware from the Crock-Pot® 6-Quart Programmable Cook & Carry™ Slow Cooker looks beautiful for serving right at the table.
We also love that this particular Crock-Pot features the Cook & Carry™ locking lid that makes it easy to travel with your meal. Simply lock the lid in place before you leave, and your food will stay secure while you travel to your final destination. The large, durable side handles make carrying easier than with other slow cookers.
EXPERT TIP: This stew is very hearty and filling. We think creamy mashed potatoes are the perfect side. That sauce on the potatoes is to die for! Cooked linguine or creamy polenta works very well, too.
CELEBRATE CROCKTOBER WITH THIS HEARTY STEW
We just can't rave enough about Crock-Pot®. If you know us at all, you know we have a special relationship with our recipes that are slow-cooked in this iconic kitchen tool.
If you don't have one, there has never been a better time of the year to get your hands on one and make incredible Crocktober recipes! We have numerous sizes and styles of Crock-Pots in our kitchen and we always pick ours up at Target!
By the way…have you tried our incredible BBQ Brisket Sandwiches? They are the bomb and so easy in your Crock-Pot!
In the meantime, it's time to celebrate Crocktober with one of our all-time fall recipes: Provençal Chicken Stew!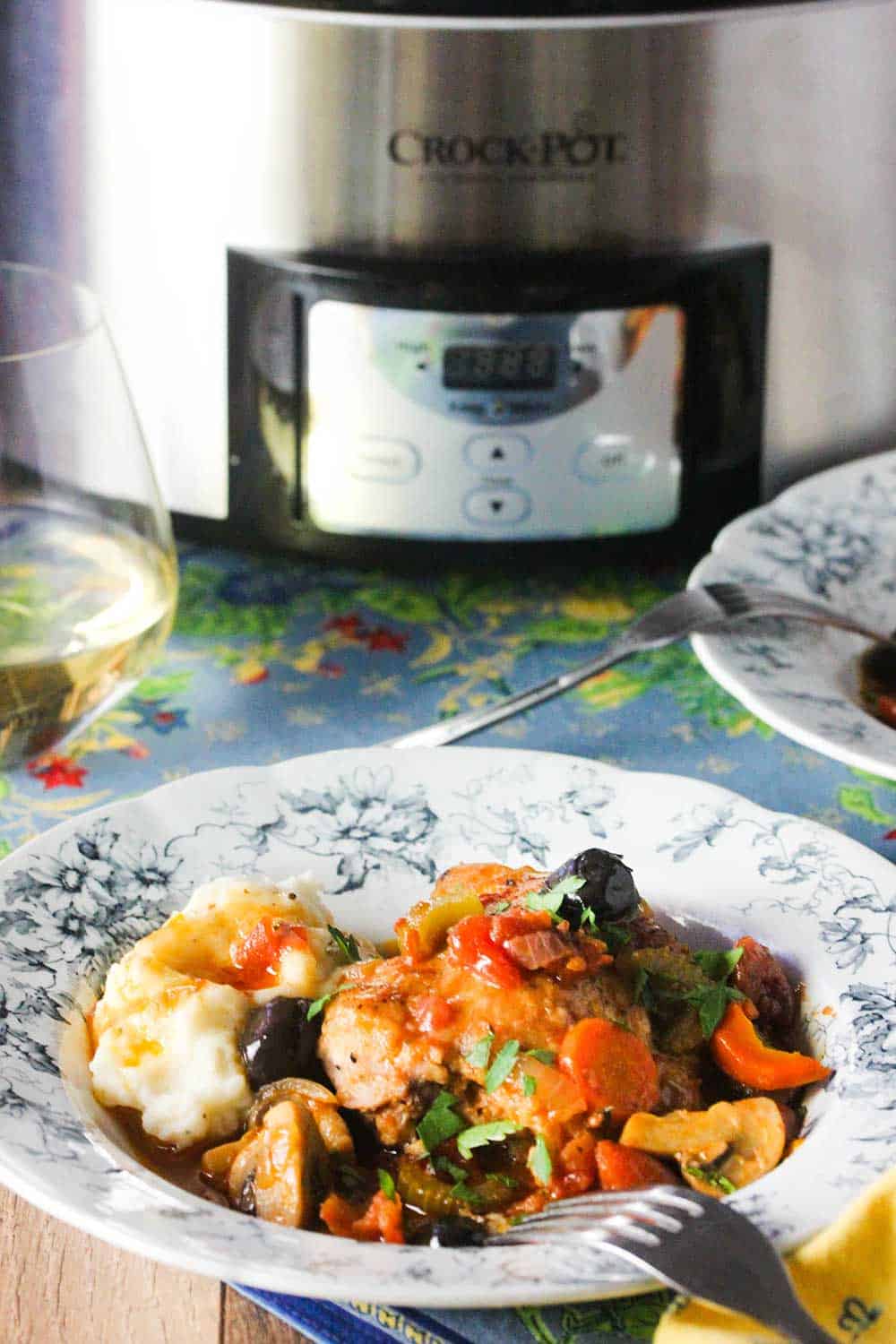 Okay, folks! It's the perfect time of the year to get your Crock-Pot out make one of the most comforting stews ever!
And don't forget, when you make the Provençal Chicken Stew, be sure to take a picture, post it on Instagram, and tag: #howtofeedaloon and #CrockPotxTarget and #CrockPotRecipes!
Provençal Chicken Stew
This Provençal Chicken Stew is so heart-warming and perfect for enternaining, especailly in the fall months. Start things off with a nice sear and saute in a large vessel, and then bring it all home in your slow-cooker. Crock-Pot is ideal!
Print
Pin
Rate
Servings: 8
Calories: 398kcal
Equipment
Crock-Pot® 6-Quart Programmable Cook & Carry™ Slow Cooker
Ingredients
8 chicken pieces bone-in, skin removed
1 cup all-purpose flour
2 tsp Kosher salt divided
1 tsp black pepper
2 tbsp olive oil divided
1 medium onion yellow, chopped
1 medium carrot sliced, about 1/4-inch thick
2 stalks celery sliced, about 1/4-inch thick
2 cloves garlic minced
8 oz. mushrooms button, quartered
1 tbsp herbs de Provence dried
½ cup white wine dry
½ cup chicken stock
1 14 oz. can crushed tomatoes
1 bay leaf
1 cup black olives pitted
2 tbsp flat-leaf parsley fresh, chopped for garnish
Instructions
Sprinkle salt and pepper all over the chicken pieces. Add the flour to a large platter or bowl and dredge the chicken pieces until fully coated. Shake off excess and set aside.

In a large skillet, or Dutch oven, heat 1 tbsp of the oil over medium-high heat. Add the chicken and sear until browned on both sides, about 8 minutes total. You will probably need to do this in batches. Add a little more oil for the second batch, if necessary. Set aside.

In the same skillet, heat another tbsp of oil and add the onion, carrots, and celery and saute until starting to soften, about 4 minutes. Add the garlic and cook for another minute. Stir occassionally with a wooden spoon, scraping up the chicken pieces at the bottom of the pan.

Add the mushrooms and herbs de Provence and cook until mushrooms start to release liquid. About 4 more minutes.

Add the white wine and simmer for 3 minutes until slightly reduced. Add the chicken stock and tomatoes and simmer for another 3 to 4 minutes. Stir in 1 tsp of salt and a ½ tsp. black pepper.

Place the seared chicken in the bottom of the Crock-Pot and the pour the tomato mixture all-over the top. Nestle in the bay leaf.

Cook on the Low setting for 4 to 5 hours. Stir in the olives in the last 10 minutes of cooking. Taste and stir in more salt, if desired. Remove the bay leaf and discard.

Garnish with chopped parsley.
Notes
You can use a whole chicken that has been cut into 8 pieces, or use a variety of bone-in chicken pieces. Removing the skin is critical, otherwise, it will become rubbery during the slow-cooking process. Cut the vegetables and mushrooms a little larger than you normally would. The stew stands up to 'chunkier' pieces and they will reduce in size as they slow cook. If you can't find Herbs de Provence, use a combination of dried thyme and rosemary. We don't recommend slow-cooking the stew for more than 4 or 5 hours. If you do, the meat will be extremely fall-off-the-bone tender, but may leave chicken bone fragments in the stew. We love serving the stew along side a bowl of hot, creamy mashed potatoes. Cooked linguine or creamy polenta are accompaniments, too. The stew can be prepared up to 2 days in advance. Re-heat in the Crock-Pot on Low for 1 to 2 hours, or on Warm for several hours. The stew can be frozen for up to 2 months.
Nutrition
Calories: 398kcal | Carbohydrates: 17g | Protein: 25g | Fat: 12g | Saturated Fat: 3g | Cholesterol: 87mg | Sodium: 964mg | Potassium: 435mg | Fiber: 2g | Sugar: 2g | Vitamin A: 1646IU | Vitamin C: 6mg | Calcium: 47mg | Iron: 3mg