Spatchcocked Turkey is a breakthrough technique that actually has been around for quite some time.  The origins of the technique are a little unclear, but let me tell you, this method of roasting truly produces the best-tasting turkey you and your loved ones will ever try.  And there are lots of reasons for this.   We explain why in the video.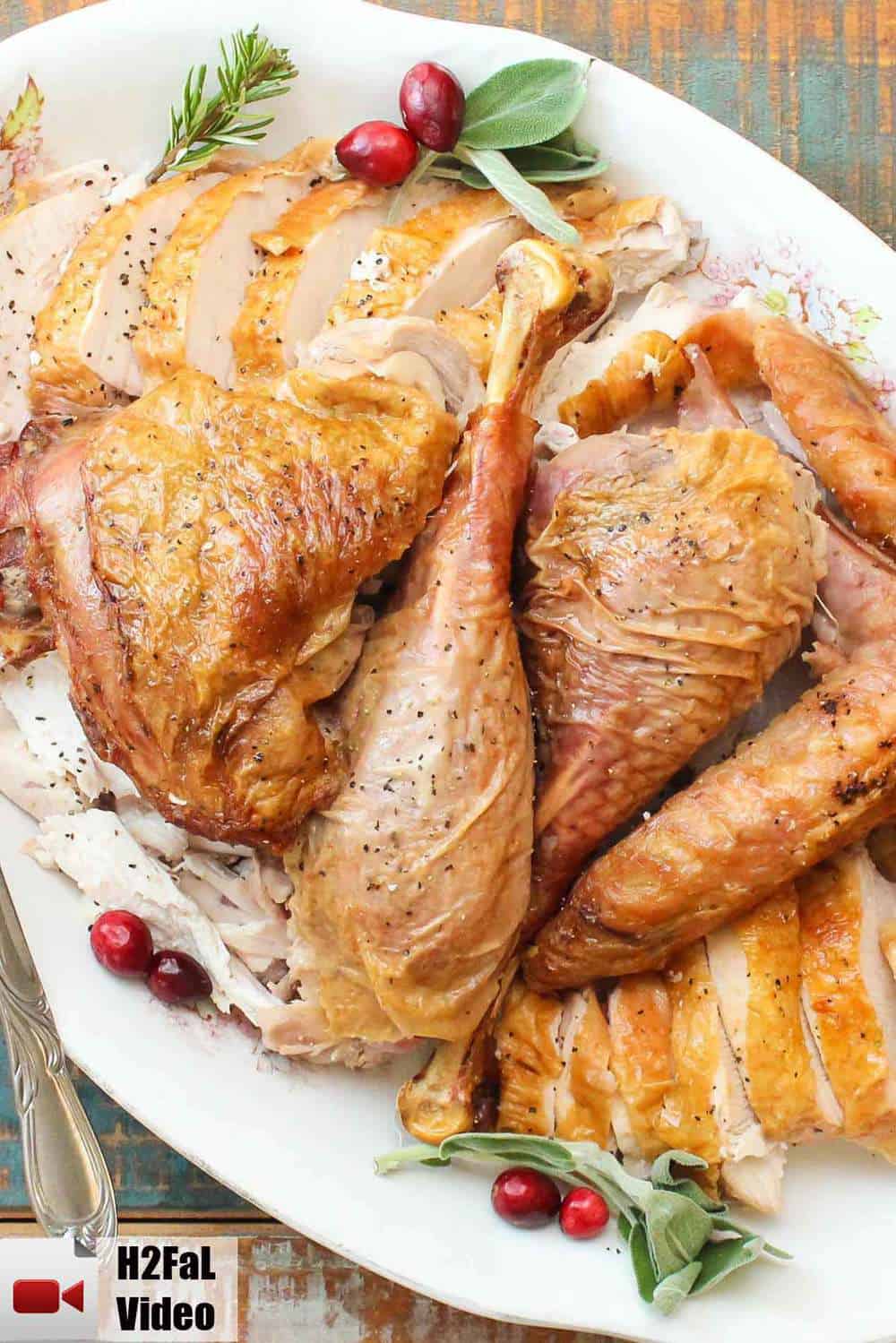 The easiest way to spatchcock a bird (turkey or chicken) is to have your butcher do it.  But, it's really not difficult to do yourself.   All you need are some sturdy kitchen shears and a boning knife.   Turn the bird on its breast, and cut along one side of the backbone.  You'll have to put a little muscle into it, especially near the legs, but keep working it, and you can get it done.  Repeat on the other side of the backbone, and then just pop it right out.
Be sure to save the backbone for the best gravy you'll ever have!  (recipe included below).  Then flip the bird back over, and locate the wishbone near the top of the breastbone.  Use a sharp boning knife to cut around it, and then just pop it right out.   This is not 100% necessary, but it does make it easier to carve a little later on.
Follow our recipe for baking the bird, and in about an hour or a bit longer, you'll have the best-tasting bird you ever had.   To carve, start with the legs.  Move the leg back and forth, and cut along where the joint is.  Then do the same for the hip/thigh and wings.  Cut the breast meat away from the breastbone, and then cut into 1/2-inch slices.   Also, cut the dark meat from the hip bone, and slice as well.  Arrange on a platter and be ready to impress!
150% Loon Approved!  HAPPY THANKSGIVING!
Spatchcocked Turkey
Roasting a Spatchcocked Turkey will produce the best tasting turkey (or chicken) you or your loved ones will ever try. The benefits are endless, with the best one being the taste. Once you try spatchcocking, you'll never want your turkey prepared another way. It's even better than fried! If you are feeding a large group, you can do this technique to 2 birds...and they'll both easily fit into the oven, because they are flat!
Print
Pin
Rate
Prep Time: 30 minutes
Cook Time: 1 hour 10 minutes
Total Time: 1 hour 40 minutes
Servings: 6 people
Calories: 284kcal
Ingredients
FOR THE TURKEY
2 onions roughly chopped
2 carrots peeled and roughly chopped
4 carrots roughly chopped
4 - 5 sprigs fresh thyme
3 fresh bay leaves
1 whole 12 - 14 lb turkey spatchcocked (or butterflied)
2 tbsp oil or softened butter
Kosher salt and freshly ground black pepper
FOR THE GRAVY
1 tbsp olive oil
Backbone from the spatchcocked bird chopped into 2-inch pieces (use a chef's knife to cut, or ask your butcher)
Giblets and neck from the turkey, roughly chopped
1 onion carrot and celery rib, roughly chopped
2 sprigs fresh thyme
1 fresh bay leaf
4 - 6 cups stock chicken or turkey
2 tbsp unsalted butter
3 tbsp flour
Instructions
PREPARE THE TURKEY
Pre-heat the oven to 450 F.

Line a rimmed baking sheet with foil.

Scatter the onions, carrots, celery, thyme and bay leaves across the pan.

Place a rack directly on top of the veggies.

Pat turkey dry with paper towels and rub all over with 1 tablespoon of oil.

Season liberally all over with the salt and pepper.

Tuck wing tips behind the back.

Place turkey on top of rack, arranging so that it does not overlap the edges, pressing down on the breast bone to flatten the breasts.

Transfer the turkey to oven and roast until an instant read thermometer inserted into the the breast reaches 150 F., about 75 minutes (start checking around 60 minutes).

Remove from the oven and allow to rest on a new baking sheet for 15 - 20 minutes before carving.

Carefully pour any collected juices from the the roasting pan through a fine mesh sieve in a measuring cup. Skim off fat and then save the juices for pouring into gravy (recipe below).

Care turkey and serve with gravy!! ENJOY!!
MAKE THE GRAVY
While the turkey roasts, start the gravy by heating the oil in a medium sauce pan over medium heat.

Brown the backbown, neck and giblets until lightly browned, about 5 minutes.

Add the onions, carrots and celery and continue to cook for another 5 minutes.

Add the chicken stock, and then the thyme and bay leaf and simmer for 45 minutes.

Strain the stock through a fine mesh sieve/strainer into a large measuring cup and discard the solids.

Melt butter over medium-high heat in a medium sauce pan.

Add flour and cook, stirring constantly until lightly browned, about 3 minutes.

Whisking constantly, add strained stock in a thin, steady stream until it is fully incorporated.

Simmer and cook until thickened, about 10 - 15 minutes longer.

Pour drippings from roasted turkey into the gravy and mix.

Keep gravy warm then serve with roasted turkey. ENJOY!
Nutrition
Calories: 284kcal