This post is kindly sponsored by Pacific Foods, but the recipe, photography, video, and opinions are 100% ours.
Cornbread Dressing with Sausage and Cranberries is truly something to be thankful for.
When you begin to plan your Thanksgiving day feast, one of the most important dishes you want to get right is the dressing. We've got you covered here with this recipe. Perfect alongside turkey, gravy, and candied yams. And it can easily be assembled a day in advance!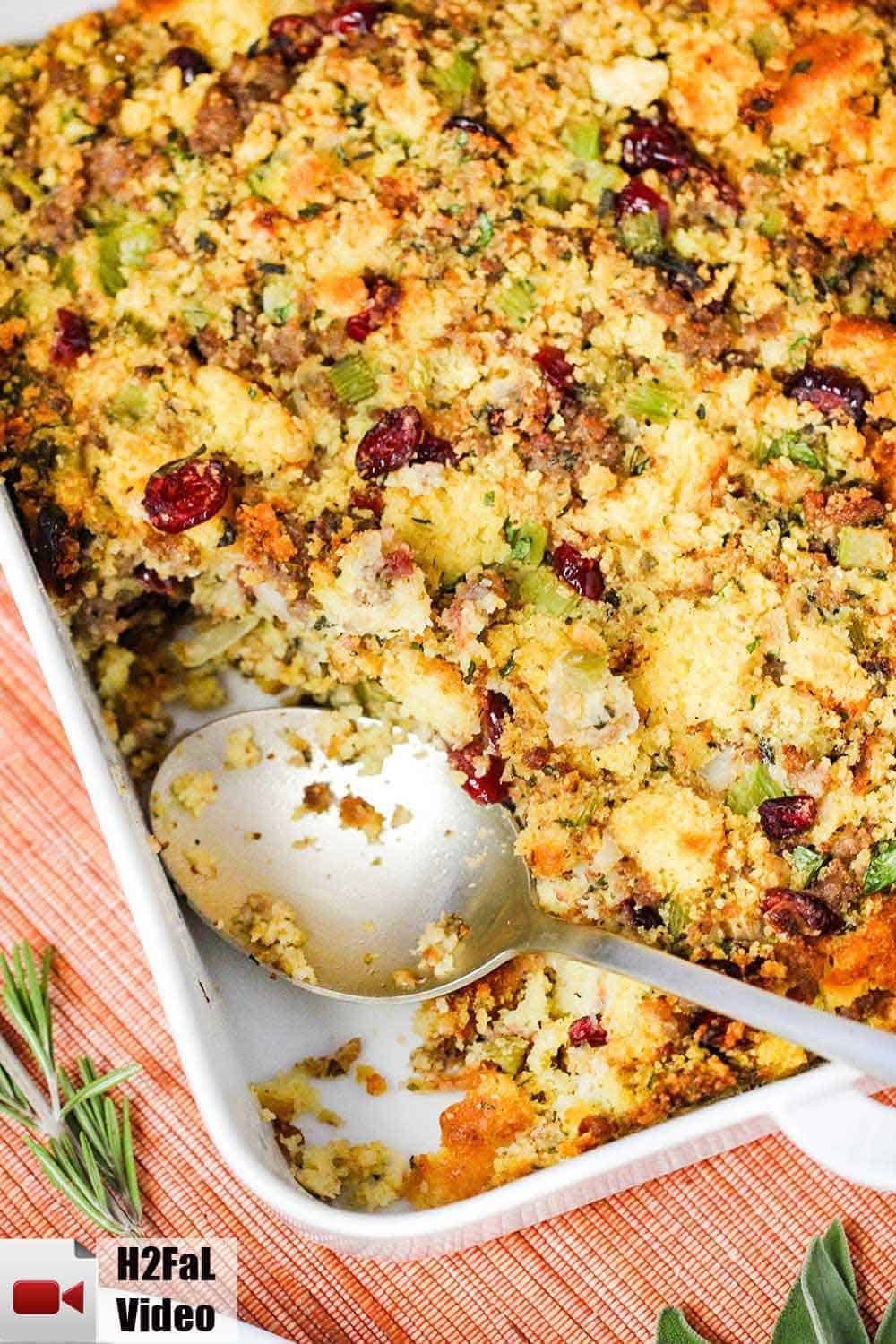 CORNBREAD DRESSING WITH SAUSAGE AND CRANBERRIES IS EASY TO MAKE
There are so many reasons we just love this dressing so very much.
The flavor components work so perfectly together. The combination of sweet and savory just can't be beat.
Watch us show you how simple it is to prepare this incredible Cornbread Dressing with Sausage and Cranberries!
QUALITY INGREDIENTS MAKE A DIFFERENCE
We've said it before, but it bears repeating. Most recipes are only as good as the quality of ingredients that comprise the dish.
This dressing is no exception. We love making our cornbread from scratch. It's so simple, and again, makes all the difference in the world.
Using a top notch broth or stock is critical, too. This is why we always use Pacific Foods. More on that in just a bit.
EXPERT TIP: Allowing the homemade cornbread to sit out for 24 hours before assembling is ideal for this dressing. The cornbread becomes a little dry, which makes it perfect for soaking up the delicious broth. This results in a moist-on-the-inside and crunchy-on-the-exterior dressing.
BREAKFAST SAUSAGE DEEPENS THE FLAVOR PROFILE
We just love the taste of cooked ground pork breakfast sausage. It has a combination of a little sweetness with a little savory. That's perfect for this dish.
We start with a healthy amount of chopped onion and celery. Sautéing them in a little butter until they become golden and almost caramelized also brings out a combination of sweet and savory.
Cornbread Dressing with Sausage and Cranberries has the quintessential flavors of Thanksgiving and the holidays.
Assemble all the ingredients into a large bowl. The dried cranberries and fresh herbs round out this classic side dish.
The addition of two eggs will bind the dressing together perfectly.
EXPERT TIP: The dressing can be made to this point up to one day in advance. Simply cover with plastic wrap and keep in the refrigerator. On the day of the feast, remove from the fridge a couple hours before finishing up the recipe.
CHOOSING THE RIGHT BROTH FOR CORNBREAD DRESSING
Once the dressing has been transferred to your serving dish, it's time to add the liquid. We HIGHLY recommend using Pacific Foods' Organic Low Sodium Chicken Broth.
We always use this broth because it's the perfect combination of organic free-range chicken and just the right amount of seasonings that make the broth (and the dressing) so rich and full of flavor, without all the sodium.
EXPERT TIP: We recommend using what we call the "squish" test for knowing how much broth to add. You want enough liquid added to the dressing so when you press it with your hands, it feels a little "squishy." The dressing shouldn't be swimming in liquid, but still juicy. For this recipe, that's usually about 3 cups of broth.
PACIFIC FOODS IS COMMITTED TO QUALITY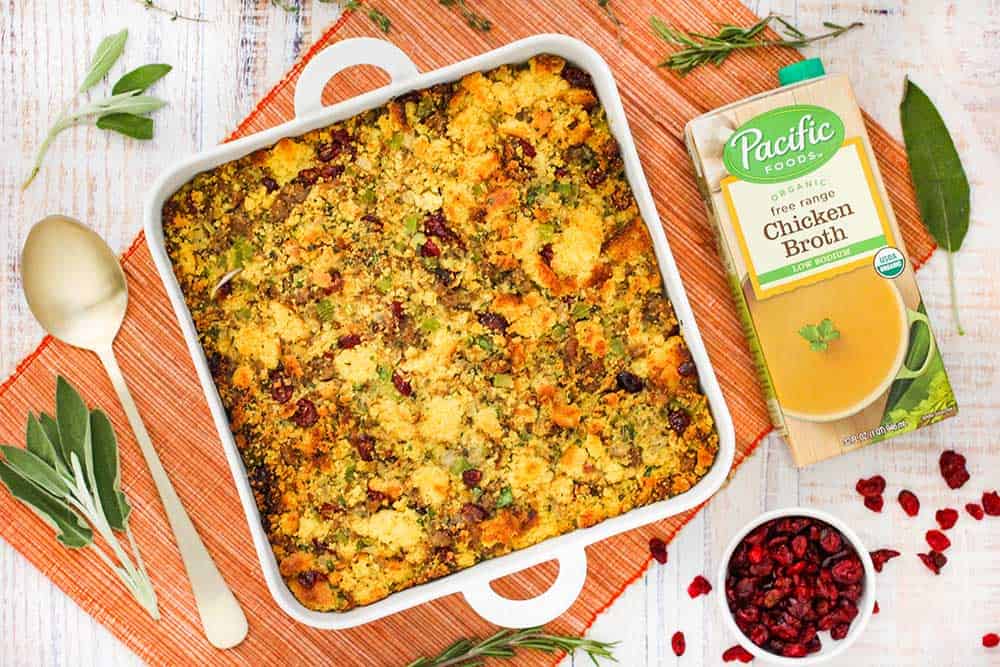 AN IDEAL DRESSING FOR THE HOLIDAYS
We just love everything about this Cornbread Dressing with Sausage and Cranberries.
It really is the perfect combination of sweet and savory.
Moist-on-the-inside and crunchy-on-the-top. Every bite is a celebration of deliciousness!
EXPERT TIP: We don't usually stuff our turkey with the dressing for food safety reasons. If you do prefer to do this, be sure to ensure the internal temperature, throughout the turkey, especially near the cavity, has reached 165°F.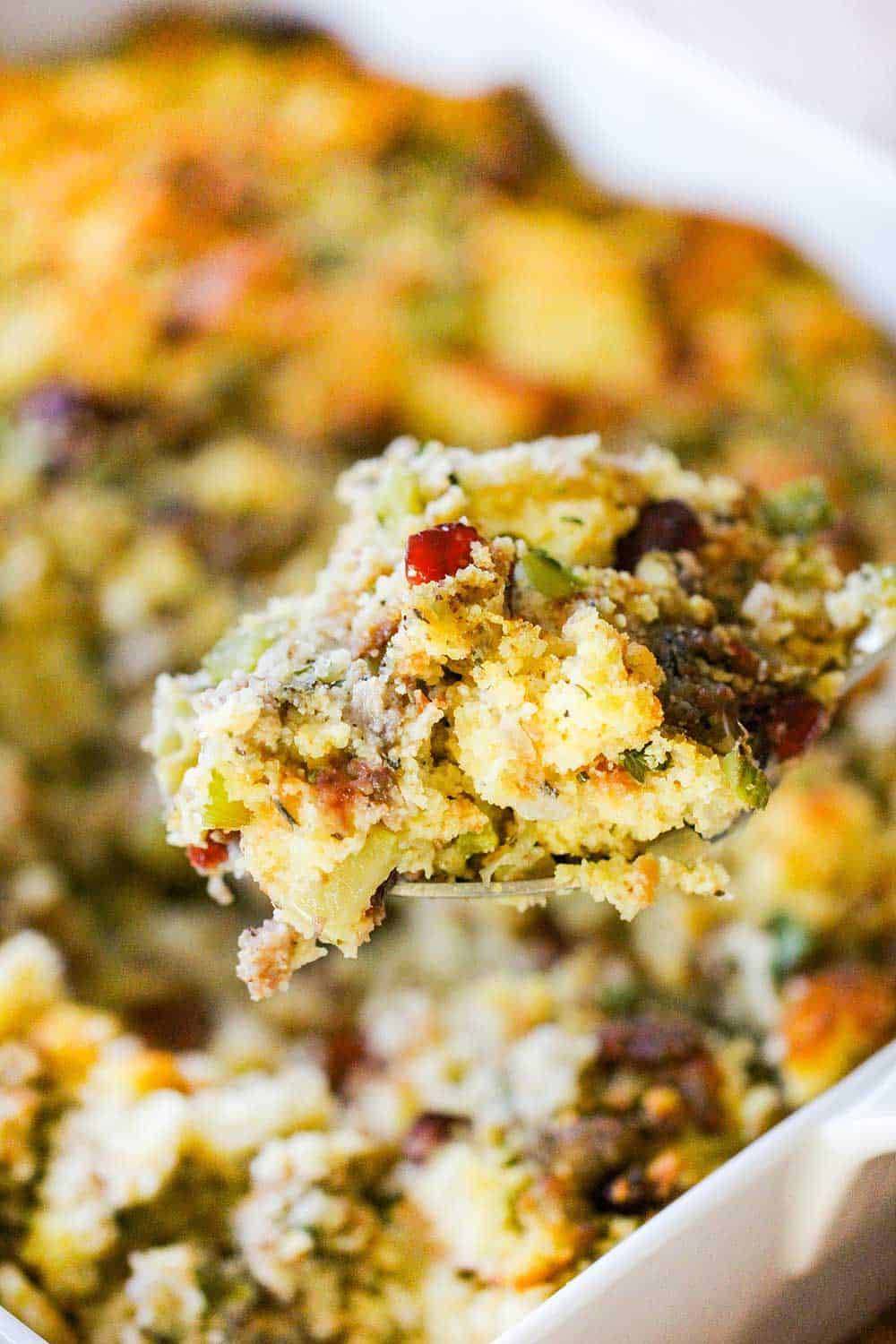 We know everyone has their favorite dressing during the holiday season.
On our table, we like to offer a couple different versions for the big feast. This Cornbread Dressing with Sausage and Cranberries is always a favorite.
It is the perfect accompaniment on your plate of turkey and all the fixings!
Ready to make one of the best dressings you'll ever have? Go for it!
And don't forget to take a picture, post it to Instagram, and tag @howtofeedaloon and @pacificfoods
Cornbread Dressing with Sausage and Cranberries
The dressing is just wonderful. There is a subtle, but classic combination of sweet and savory. And it's as beautiful as it is delicious. The perfect holiday side dish.
Print
Pin
Rate
Servings: 10 people
Calories: 491kcal
Ingredients
¾ cup unsalted butter Plus a little more for greasing the dish
8 cups cornbread day old is best
1 lb breakfast sausage
2 cups onion chopped
1 ½ cups celery chopped
¼ cup flat-leaf parsley fresh, chopped
2 tbsp sage fesh, chopped
1 tbsp rosemary fresh, chopped
1 tbsp thyme fresh, chopped
1 cup dried cranberries
1 ½ tsp kosher salt
1 tsp black pepper freshly ground
2 large eggs
Instructions
Prepare the cornbread, preferably a day in advance. Crumble into a large bowl.

Preheat oven to 350°F.

Cook sausage. Drain and then transfer to bowl with cornbread.

Heat butter in large skillet and then add onions and celery and cook until starting to turn golden, about 12 minutes. Add to cornbread/sausage mixture in bowl.

Gently fold in parsley, sage, rosemary, thyme and cranberries.

Add salt and pepper. Gently mix in the eggs.

Place dressing in a 9" x 13" (or 3 quart) baking dish that has been lightly greased with softened butter.

Pour enough stock over the stuffing so it's a bit squishy to the touch, but not swimming, approximately 3 cups.

Bake for 50 minutes, or until lightly browned on top. Serve at once.
Notes
Letting the cornbread sit out for a day will allow it to dry out somewhat, which means the broth will soak into it fully and produce a moist dressing. You can substitute Italian sausage for the breakfast sausage for a much more savory dressing. For food safety precautions, we don't recommend stuffing your whole turkey with the dressing. However, if you do, it is important to ensure the temperature of the interior of the bird, as well as the dressing, has reached 165°F. Remember, some of the juice from the turkey will seep into the dressing, which is good, but it is critical that it is fully cooked. The dressing can be made up to 1 day in advance, prior to adding the broth. Add just enough of the broth to make the dressing 'squishy' when pressed, but not swimming. This dressing is amazing the next day, too.
Nutrition
Calories: 491kcal | Carbohydrates: 40g | Protein: 12g | Fat: 12g | Saturated Fat: 4g | Cholesterol: 139mg | Sodium: 958mg | Potassium: 305mg | Fiber: 3g | Sugar: 17g | Vitamin A: 834IU | Vitamin C: 6mg | Calcium: 109mg | Iron: 2mg