Thanksgiving is one of our most favorite times of the year.
It's all about family, loved ones, and of course, amazing food. We love savory sides that go along with our Perfect Roast Turkey, such as mashed potatoes, turkey gravy, homemade dressing, and green bean casserole. But the sweetness of this dish is the perfect match for them all. Classic in every way.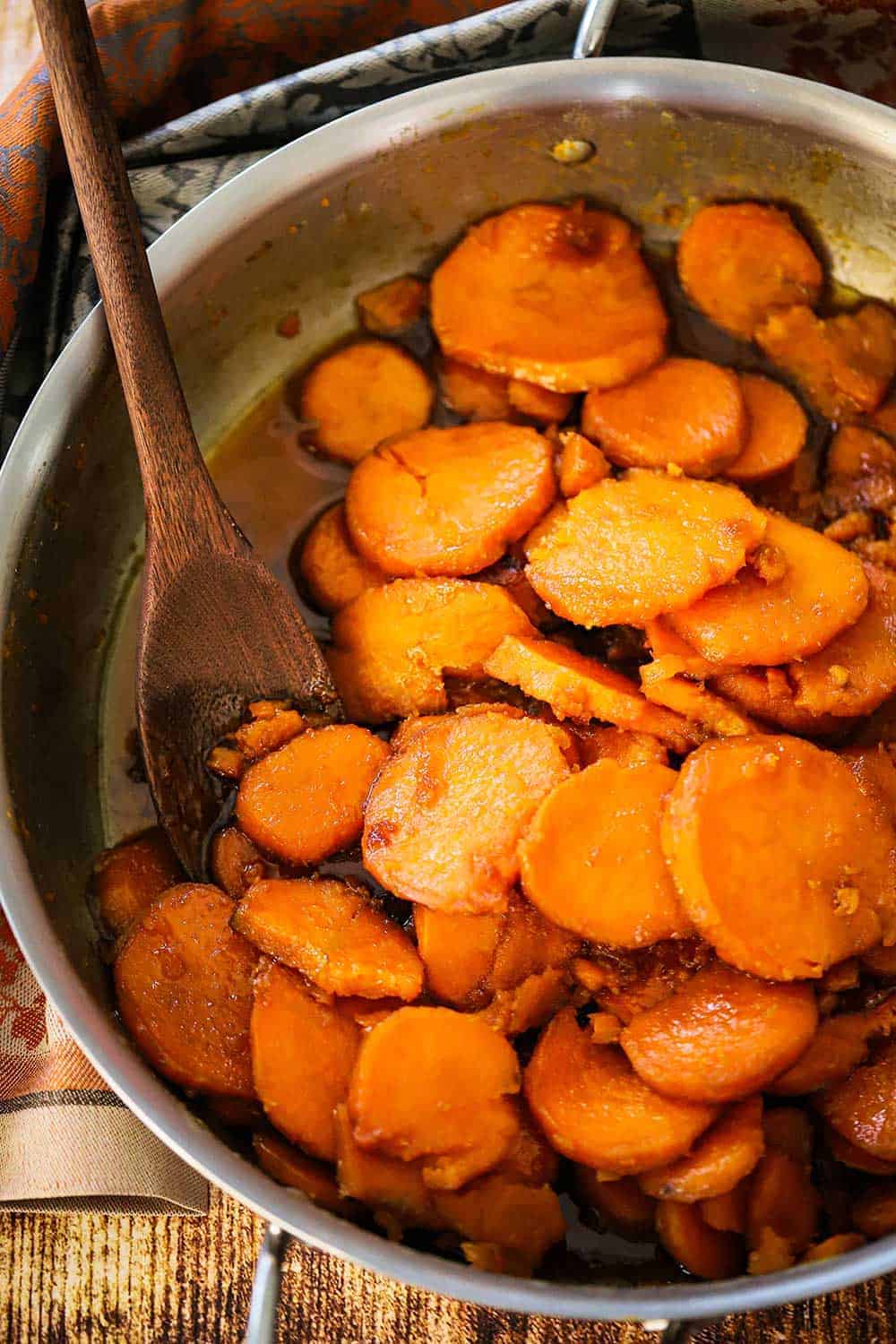 How To Make Classic Candied Yams
These candied yams don't have a lot of ingredients and are quite easy to prepare.
We show you some tips and techniques to expedite the cooking process.
You may be wondering if yams and sweet potatoes are the same thing. The answer to that question is: Sort of. Learn more about that here.
Now, back to the yams, or sweet potatoes.
EXPERT TIP: After peeling the potatoes, slice them into thick pieces and bring a large pot of water to a boil. Drop the sliced potatoes in and boil them for 10 minutes. This will get the cooking process started and make the yams come together quickly.
The Ingredients You Will Need
As mentioned, there are not a lot of complicated ingredients for this dish.
In addition to the sweet potatoes, you'll also need:
Brown sugar
Granulated sugar
Ground cinnamon
Water
Butter
Add it all into a large saucepan over medium heat.
Now, all you need to do is allow the yams to cook.
Stir occasionally to ensure the sliced sweet potatoes are fully coated.
An amazing sticky sauce will form as the candied yams simmer. This can take anywhere from 30 to 45 minutes.
The Perfect Thanksgiving Side Dish
This dish is truly classic Thanksgiving fare.
So heartwarming and delicious as left-overs, too.
And look how gorgeous they are!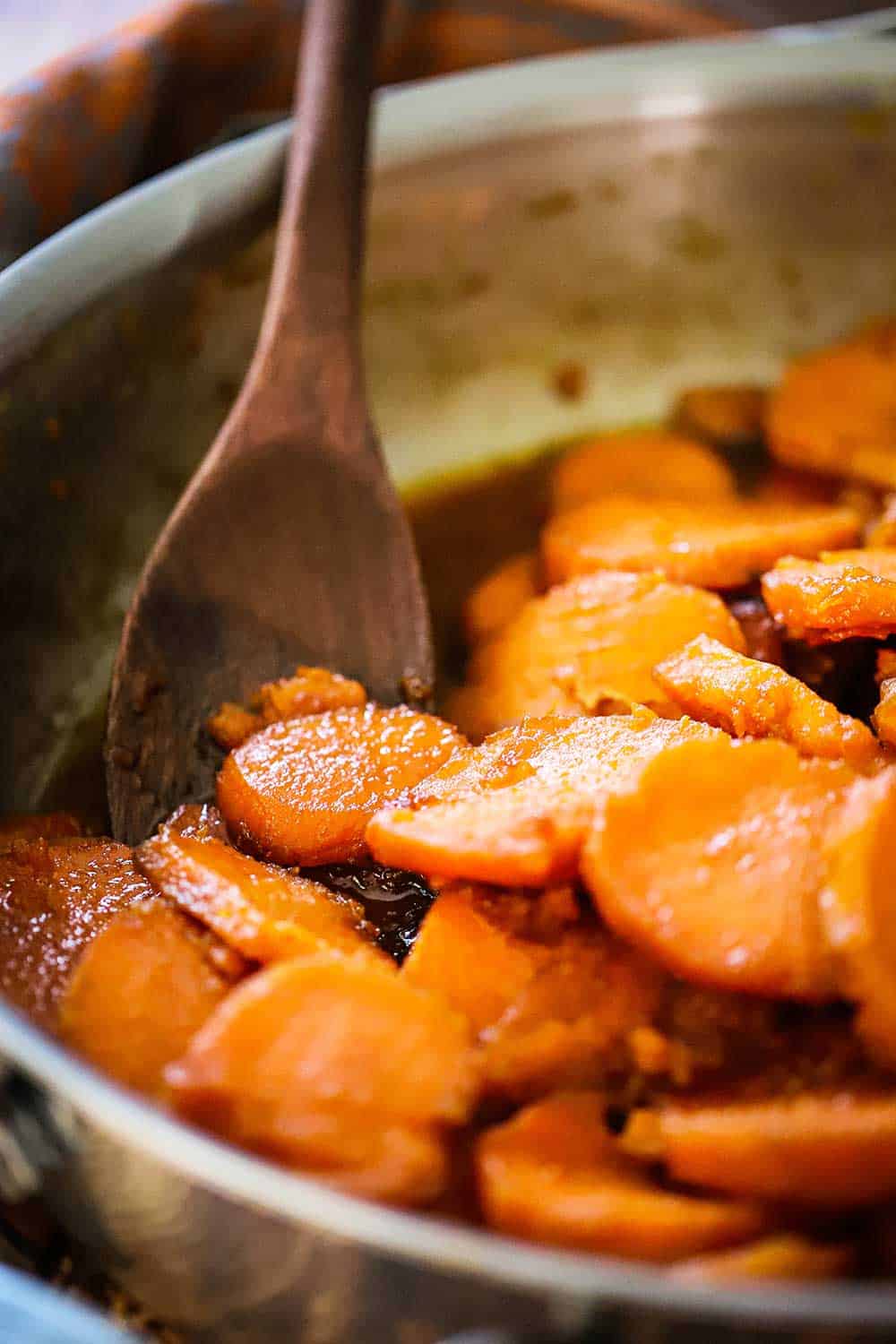 For many, many holiday celebrations, this is a mainstay on our dinner table.
You can even make these classic candied yams several hours in advance and then just reheat them before serving.
This is truly one side dish to be thankful for!
Ready to make the best Turkey Day side dish in town? Go for it!
And when you do, be sure to take a photo of it, post it on Instagram, and tag @HowToFeedaLoon and hashtag #HowToFeedaLoon!
Classic Candied Yams
This Classic Candied Yams dish is pure heaven. They're not difficult to make, and they are an absolute must at our table every Thanksgiving. Enjoy! And be Thankful.
Print
Pin
Rate
Servings: 8 people
Calories: 613kcal
Ingredients
5 large yams or sweet potatoes, peeled and cut into ¼ to ½-inch slices
1 cup granulated sugar
1 cup brown sugar
1 stick unsalted butter 8 tbsp, cut into pieces
½ teaspoon cinnamon
½ cup water
Instructions
Cook yams in boiling water for about 10 minutes.

Place yams in a skillet and then cover with the two sugars, butter, and water.

Cook, uncovered, on low heat until the yams are tender and the liquid has become thick, about 30 to 40 minutes, basting and stirring occasionally.
Notes
Yams are also called sweet potatoes. Don't boil the sliced potatoes for more than 10 minutes, otherwise, they will get too soft and completely fall apart during the cooking process. The candied yams can be made several hours in advance and reheated with a little more water just before serving. The yams will keep in the fridge for up to 1 week and can be frozen for up to 2 months.
Nutrition
Calories: 613kcal | Carbohydrates: 125g | Protein: 4g | Fat: 12g | Saturated Fat: 7g | Cholesterol: 30mg | Sodium: 34mg | Potassium: 2179mg | Fiber: 11g | Sugar: 53g | Vitamin A: 715IU | Vitamin C: 45mg | Calcium: 71mg | Iron: 2mg
POST UPDATE: This recipe was originally published in November 2018, but was updated with improved tweaks to the recipe, new tips and photography, and a fabulous new video in November 2020!