Gourmet Green Bean Casserole. Something to truly be thankful for!
Everyone loves the classic green bean casserole during the holidays, right?
Well, let's kick it up a notch, and scratch the canned soup and the boxed onions…let's do it from scratch.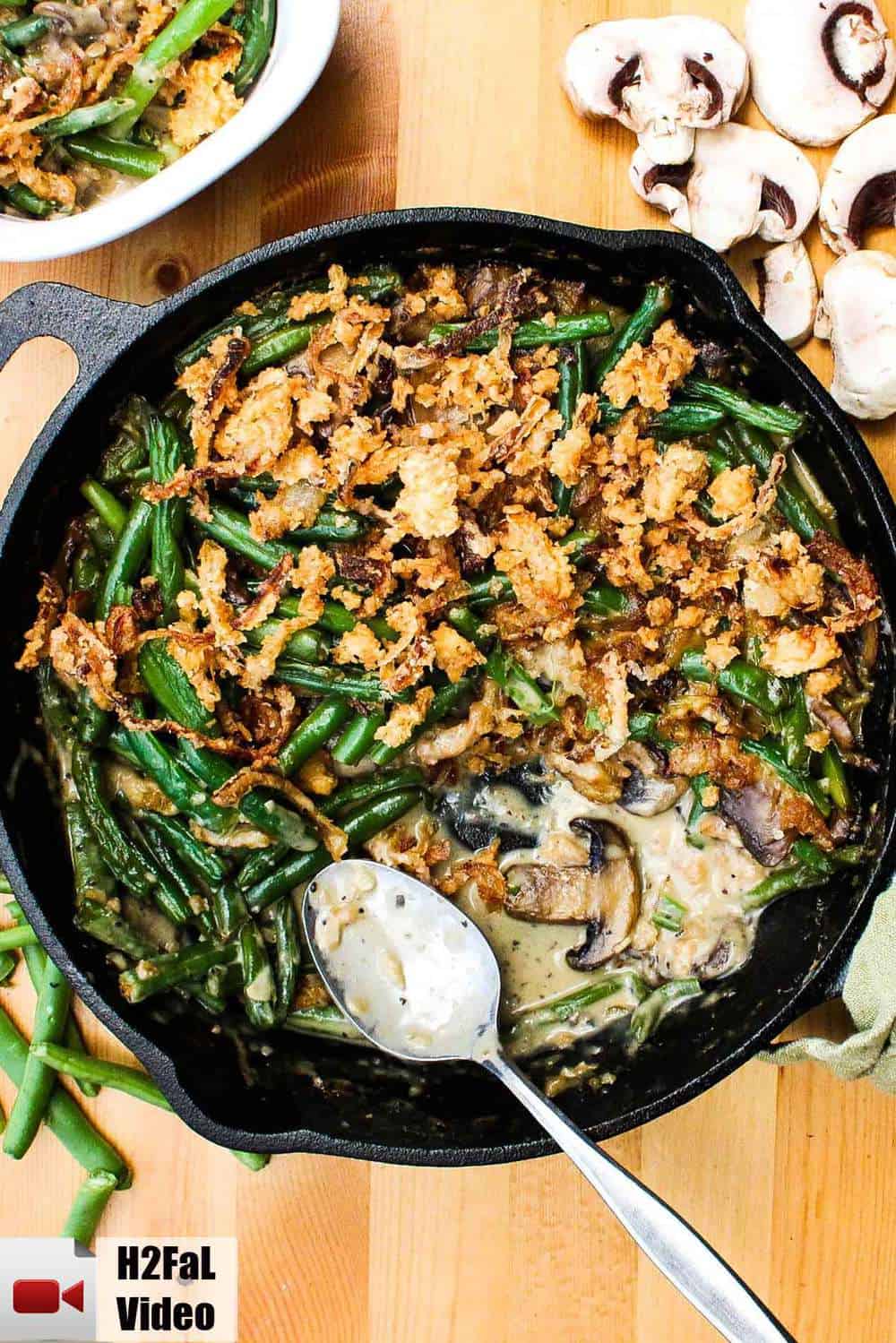 HOW TO MAKE GOURMET GREEN BEAN CASSEROLE
Let's make this amazing Gourmet Green Bean Casserole recipe!
We promise it's not that much more time…but Lordy, oh Lordy, is it that much better.  
Yum! Watch us show you (in an oldy, but goody) how easy it is to prepare at home!
We think using fresh green beans that are braised in chicken stock are so much more flavorful than the beans that come from a can. Don't worry, you'll cook them long enough so they're not too crunchy when you bite into them. Fresh is best!
MUSHROOMS ARE WONDERFUL IN THIS GOURMET GREEN BEAN CASSEROLE
Sauté your favorite type of fresh mushroom for even more flavor in the classic casserole.
We love to go with shiitake, but any type will do perfectly.
Mmmmm…mushrooms!
The addition of flour will create a roux, and when combined with the cream and stock, you won't need that canned condensed soup.
This is the real deal.
NO CANNED CONDENSED SOUP NEEDED FOR THIS CASSEROLE
And of course, the best topping you could ever possibly have for this incredible Gourmet Green Bean Casserole are fried onions!
These can be made ahead of time. Making these from scratch puts this casserole over the top (and they're not hard to make!)
HOMEMADE FRIED ONIONS ARE AMAZING
This casserole is so incredibly flavorful and always a favorite on our holiday tables.
Using fresh ingredients makes a huge difference.
If you love the classic green bean casserole, you will flip for this amazing Gourmet Green Bean Casserole!
Gourmet Green Bean Casserole. You will not be disappointed and neither will your loved ones (we're pretty certain).
And, if you love this dish, you'll probably also love our Candied Yams recipe. It's another crowd-pleaser.
Delicious!
Gourmet Green Bean Casserole
This gourmet green bean casserole is a kicked up version of you average Thanksgiving green bean casserole. No need to open a canned soup, or boxed fried onions. This is all from scratch, and just a tad more effort than the original. Enjoy!
Print
Pin
Rate
Prep Time: 30 minutes
Cook Time: 40 minutes
Total Time: 1 hour 10 minutes
Servings: 8 people
Calories: 376kcal
Ingredients
FOR THE FRIED ONIONS
1 cup whole milk
1 egg
2 medium yellow onions sliced
1/2 cup all-purpose flour
1/4 cup Panko bread crumbs
1 tsp Kosher salt
Oil for frying
FOR THE BEANS
1 lb fresh green beans trimmed and then cut in half
2 quarts chicken stock 8 cups
FOR THE CASSEROLE
2 tbsp unsalted butter
16 oz fresh mushrooms sliced
1 tsp ground black pepper and Kosher salt each
2 cloves garlic minced
1 dash ground nutmeg
2 tbsp all-purpose flour
1 1/2 cups chicken stock use from the stock used to cook the beans
1/2 cup heavy cream
Instructions
MAKE THE FRIED ONIONS (can be done up to 4 hours in advance)
Heat oil to 350 F. Use a deep fryer or skillet on your stove.

Add the egg to the milk and gently mix.

On a separate dish, mix the flour with the bread crumbs and salt.

Drop the onions in the milk/egg mixture, then dredge in flour. Repeat.

Fry the onions until golden, about 4 minutes per batch.

Drain on paper towels.

PREPARE THE BEANS

Meanwhile, bring the chicken stock to a boil over high heat.

Add the beans, and cook for 5 minutes.

Using a slotted spoon (or spider), remove the beans from the stock and place into a bowl of ice water to stop the cooking. Reserve the stock.
MAKE THE SAUCE
Pre-heat the oven to 400 F

Melt the butter in an oven-proof skillet (preferably cast-iron) over medium-high heat.

Add the mushrooms, 1 teaspoon of salt and 1 teaspoon of black pepper.

Cook, stirring often, until mushrooms start to release liquid, about 5 minutes.

Add the garlic and dash of nutmeg.

Add the flour.

Cook for another 4 minutes, stirring often.

Add the chicken stock (use from the reserved stock) and cream and bring to a simmer.

Cook until slightly thickens, about 8 minutes.

Remove from the heat.
ASSEMBLE THE DISH
Stir in about 1/3 of the fried onions and all of the green beans.

Top with the remaining fried onions.

Place in oven for 15 minutes.

Remove from oven and serve at once!
Nutrition
Calories: 376kcal