Gourmet Green Bean Casserole is something to truly be thankful for!
Everyone loves the classic green bean casserole during the holidays, right? Well, we're partnering with one of the greatest providers of spices in the world, The Spice Hunter, to bring you not just the classic turkey accompaniment dish, but we're elevating it to incredible culinary heights that your guests will not believe!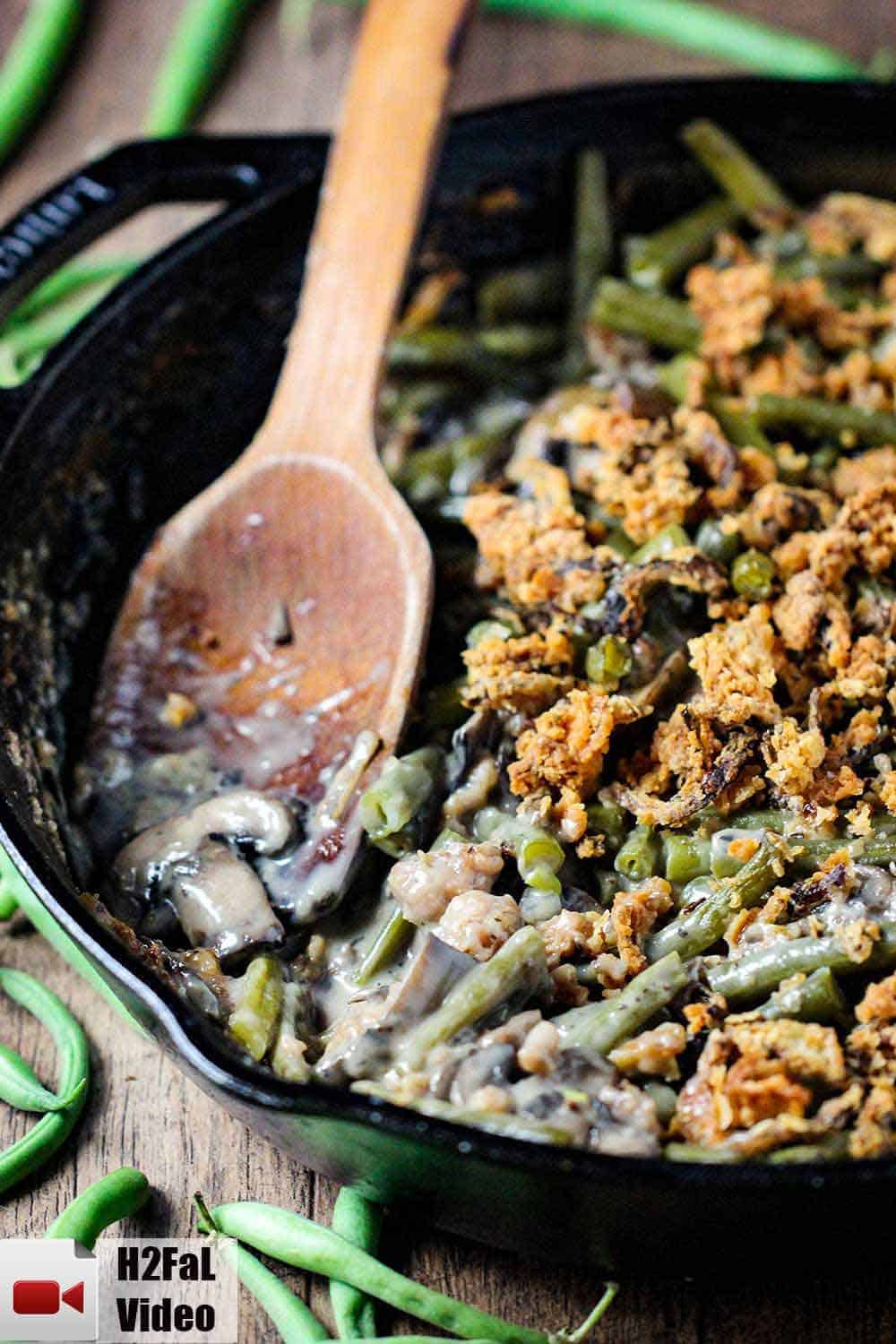 HOW TO MAKE GOURMET GREEN BEAN CASSEROLE
Making this casserole from scratch with fresh, top-notch ingredients is what makes this recipe like none other.
And you might be thinking that this looks great, but too challenging to make yourself, in your own kitchen. Well, think again.
Watch us show you how to make this incredible Gourmet Green Bean Casserole at home!
HOW TO MAKE THE FRIED ONIONS
We said we're doing this from scratch. So, that means the fried onions, too! Yes! Fried onions are the best!
All you need are a couple of thinly sliced onions, flour, eggs, milk, and oil for a quick fry.
We just follow the simple dredging process as shown below.
EXPERT TIP: The onions can be fried up to 1 day in advance of serving the casserole. Don't worry if they lose some of their crispiness, when they bake, they'll crisp up again.
FRESH IS BEST FOR GOURMET GREEN BEAN CASSEROLE
We think using fresh green beans that are braised in chicken (or vegetable) stock is so much more flavorful than the beans that come from a can.
If you like your green beans to have a little 'bite' to them, then only simmer for 6 to 10 minutes. If you like them nice and soft, then simmer them for 15 to 20 minutes.
EXPERT TIP: To prepare the beans, simply snip the ends, and then cut them in half. This allows the beans to be more bite-size for the finished green bean casserole. Also, once the beans have finished simmering, use a slotted spoon, or spider, to transfer them to a bowl of ice water. This will keep them cooking any further.
MUSHROOMS ARE A WONDERFUL ADDITION
Sautéed fresh mushrooms are another element that sets this dish way above your standard version.
Choose whatever type of mushrooms you like most and are available to you. We love to go with shiitake or button, but any type will do perfectly.
Mmmmm…mushrooms!
ORGANIC WHOLE NUTMEG IS PERFECTION
It's all starting to come together, folks. You'll need to create a nice roux by adding flour to the sautéed mushrooms. Next, you'll add chicken stock, a little cream, and Worcestershire, which will turn into a gorgeous sauce (no canned soup needed!).
And finally, it's time to bring the dish home with what we think is the perfect holiday addition: freshly ground nutmeg.
Of course, we use Organic Whole Nutmeg from The Spice Hunter to ensure this dish reaches maximum flavor.
THE SPICE HUNTER DELIVERS SUPERIOR TASTE
We rely on The Spice Hunter for so many of our dishes all year-round because they create and sell Gourmet and Organic spices, seasonings, extracts, and mixes for the passionate cook. You know…that means 'you' and 'us.'
We love that they draw their own inspiration from not only local food trends, but also globally, too. Their spices are sourced from the finest growing regions around the world, and you can honestly taste the difference. And this Gourmet Green Bean Casserole is no exception!
Next, we stir about 1/3 of the fried onions right into the casserole, and add the rest to the top. A quick 15-minute bake is all it takes for the dish to be ready for the big feast. (Add the fried onions on top in the last 10 minutes of baking).
EXPERT TIP: All The Spice Hunter products are available on their beautiful and informative website. You can also find a store near you that sell their amazing products by clicking here.
TIPS FOR A FLAWLESS FEAST
We're not going to lie, pulling off a perfect holiday meal takes a lot of planning and precision. That's why we firmly believe that utilizing products and techniques that help you execute the feast with less stress and effort are worth their weight in gold…or even better, gravy.
One of those tricks is using The Spice Hunter's incredible Turkey Brines. They have everything ready for you, even a brining bag that fits up to a 25 lb. bird. They literally provide exactly what you need for the juiciest, most moist, and over-the-top delicious turkey imaginable.
The only challenge is which brine flavor to use. Their "Original Blend" is so amazing with its savory blend of fruit and rosemary, but then, the "Lemon, Garlic and Herb" brine is crazy good, too. Well, maybe we'll just make the decision easier, and go with two birds!
No matter what, these brines help us out in delivering the perfect turkey, which gives us more time to focus on bringing over-the-top side dishes to the table such as our Gourmet Green Bean Casserole.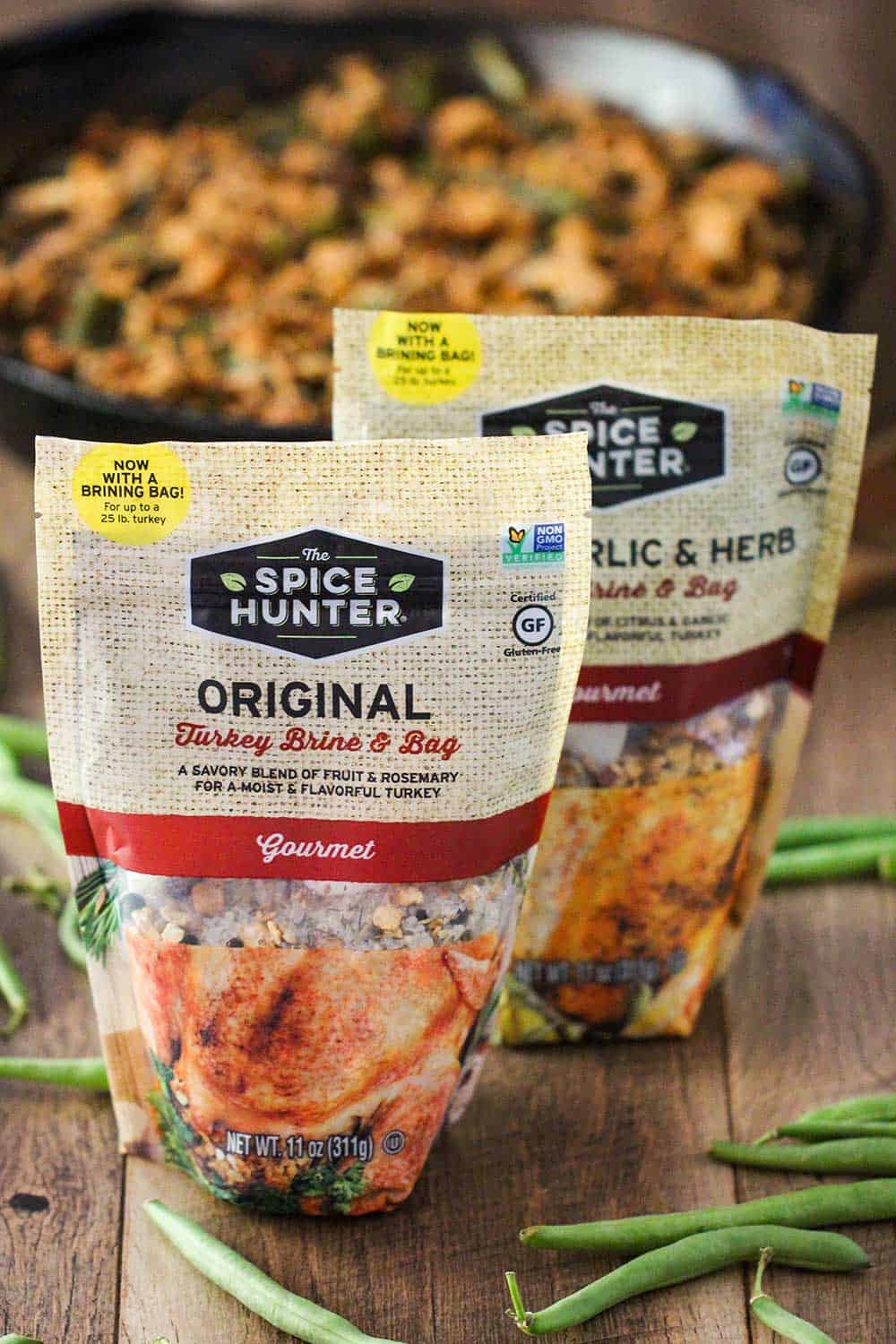 MAKE IT SPECIAL WITH GOURMET GREEN BEAN CASSEROLE
Holiday feasts are special occasions without a doubt. Family, love, thankfulness, and of course, incredible food.
Why not make it even more special by bringing this show-stopper dish to the table alongside your perfectly prepared turkey?
And don't forget to let The Spice Hunter lend a major hand in helping you make your holiday feast one that won't soon be forgotten.
Ready to impress with this incredible dish? Go for it!
And don't forget, when you make it, be sure to take a photo, post it to Instagram, and tag #howtofeedaloon and #thespicehunter and #spicehunter!
Gourmet Green Bean Casserole
This Gourmet Green Bean Casserole is a kicked up version of you average Thanksgiving green bean casserole. No need to open a canned soup, or boxed fried onions. This is all from scratch, and just a tad more effort than the original. And over-the-top delicious.
Print
Pin
Rate
Servings: 10 people
Calories: 234kcal
Equipment
Deep fryer, or sturdy skillet for frying

12-inch cast iron skillet, or 9"x13" baking dish

Micro-plane, zester, or box grater (for grating whole nutmeg)
Ingredients
FOR THE FRIED ONIONS
1½ cup milk
1 large egg
2 medium onions thinly sliced, and roughly chopped
½ cup all-purpose flour
½ cup bread crumbs Panko
1 tsp Kosher salt
Oil for frying
FOR THE BEANS
1½ lb green beans fresh, trimmed and then cut in half
8 cups chicken stock can also vegetable stock, or water
FOR THE CASSEROLE
2 tbsp butter unsalted
16 oz mushrooms fresh, sliced
2 cloves garlic minced
¼ cup all-purpose flour
2 cups chicken stock from the stock used to cook the beans
½ cup heavy cream
1 tsp Worcestershire sauce
½ tsp black pepper ground
1 tsp Kosher salt
Instructions
MAKE THE FRIED ONIONS (can be done up to 1 day in advance)
Heat oil to 360°F. Use a deep fryer or skillet on your stove.

In a medium bowl, add the egg to the milk and gently mix.

On a separate dish, mix the flour with the bread crumbs and salt.

Drop the onions in the milk/egg mixture, then dredge in flour. Repeat.

Fry the onions until golden, about 4 minutes per batch.

Drain on paper towels. Sprinkle with a little more salt.

PREPARE THE BEANS

Meanwhile, bring the chicken stock (or vegetable stock or water) to a boil over high heat.

Add the beans, and cook for 15 minutes.

Using a slotted spoon (or spider), remove the beans from the liquid and place into a bowl of ice water to stop the cooking. (If you used stock, save 2 cups for making the sauce).
MAKE THE SAUCE
Melt the butter in a large oven-proof skillet (preferably cast-iron) over medium-high heat.

Add the mushrooms. Cook them, stirring often, until mushrooms start to release their liquid, about 5 minutes. Sprinkle with a pinch of salt and black pepper.

Add the garlic and cook for another 1 minute.

Add the flour and stir to coat the mushrooms. Cook for 3 to 4 minutes, stirring occasionally.

Add 2 cups of stock, cream, and Worcestereshire sauce and bring to a simmer. Cook until thickened, about 4 minutes. (This is where you add 2 cups of the reserved chicken, or vegetable, stock if you simmered the beans in it. If you didn't simmer the beans in stock, add 2 cups of chicken or vegetable stock).

Using a micro-plane, or zester, or the fine-grates on a box-grater, grate about 1 tsp of the whole nutmeg into the mixture. Add salt (1 tsp) and pepper (½ tsp). Stir until fully combined.

Cook until slightly thickened, about 8 minutes.

Remove from the heat.
ASSEMBLE THE DISH
Pre-heat the oven to 400°F.

Stir in about ⅓ of the fried onions and all of the green beans. Mix until well combined. If not using a cast iron skillet, transfer the mixture to a baking dish.

Place in oven for 20 minutes.

Add remaining onions to the top of casserole in the last 5 to 10 minutes of baking.

Remove from oven and serve at once!
Notes
For firmer green beans, only simmer for about 7 to 10 minutes. For soft beans, simmer for 15 to 20 minutes. Sample a bean to make sure the texture is to your liking. Simmering the beans in chicken or vegetable stock is delicious, but not 100% necessary. You can simmer the beans in water, no problem. If you simmer in stock, be sure to reserve 2 cups for making the sauce. The beans will absorb some of the 8 cups used for simmering, but you'll still have some left over for another use. The fried onions can be made up to a day in advance. Store in an air-tight container. They will also be fine if left out in a bowl on the counter. (Just be careful, folks like to munch on them, if they see them sitting out!). The entire casserole can be made 4 to 6 hours prior to baking. Just don't stir in the 1/3 of the onions until right before baking. If you do prepare the dish ahead of time, we recommend waiting to add the onions for the topping until after the baking is finished. Remove the heated casserole from the oven, and then give it a good stir. Do this because the sauce may have settled while resting. Then top with remaining fried onions.
Nutrition
Calories: 234kcal | Carbohydrates: 23g | Protein: 11g | Fat: 9g | Saturated Fat: 3g | Cholesterol: 53mg | Sodium: 848mg | Potassium: 564mg | Fiber: 2g | Sugar: 8g | Vitamin A: 635IU | Vitamin C: 9mg | Calcium: 72mg | Iron: 2mg