When the Loon took his first bite of this incredible open-face sandwich, he looked at me in complete amazement.
I mean, think about it…toasted country white bread, layered with thick slices of roasted turkey, juicy tomatoes, smoked bacon, melted white cheddar, topped with an incredible Mornay sauce…um, yeah. Perfect for breakfast, brunch, lunch, or dinner! And it's easy to bring together!
How To Make Kentucky Brown
This dish is decadent but luxurious. It brings together flavors that spell pure comfort.
It was actually created at the Brown Hotel back in the 1920s, hence the name.
Don't expect a brown sauce, but do expect a taste sensation.
Like almost every single recipe that we can think of, the end result is only as good as the quality of ingredients that go into the dish.
To that end, if you're wanting to make the best hot brown recipe possible, why not make homemade bread?
It's easier than you think and the taste is heavenly.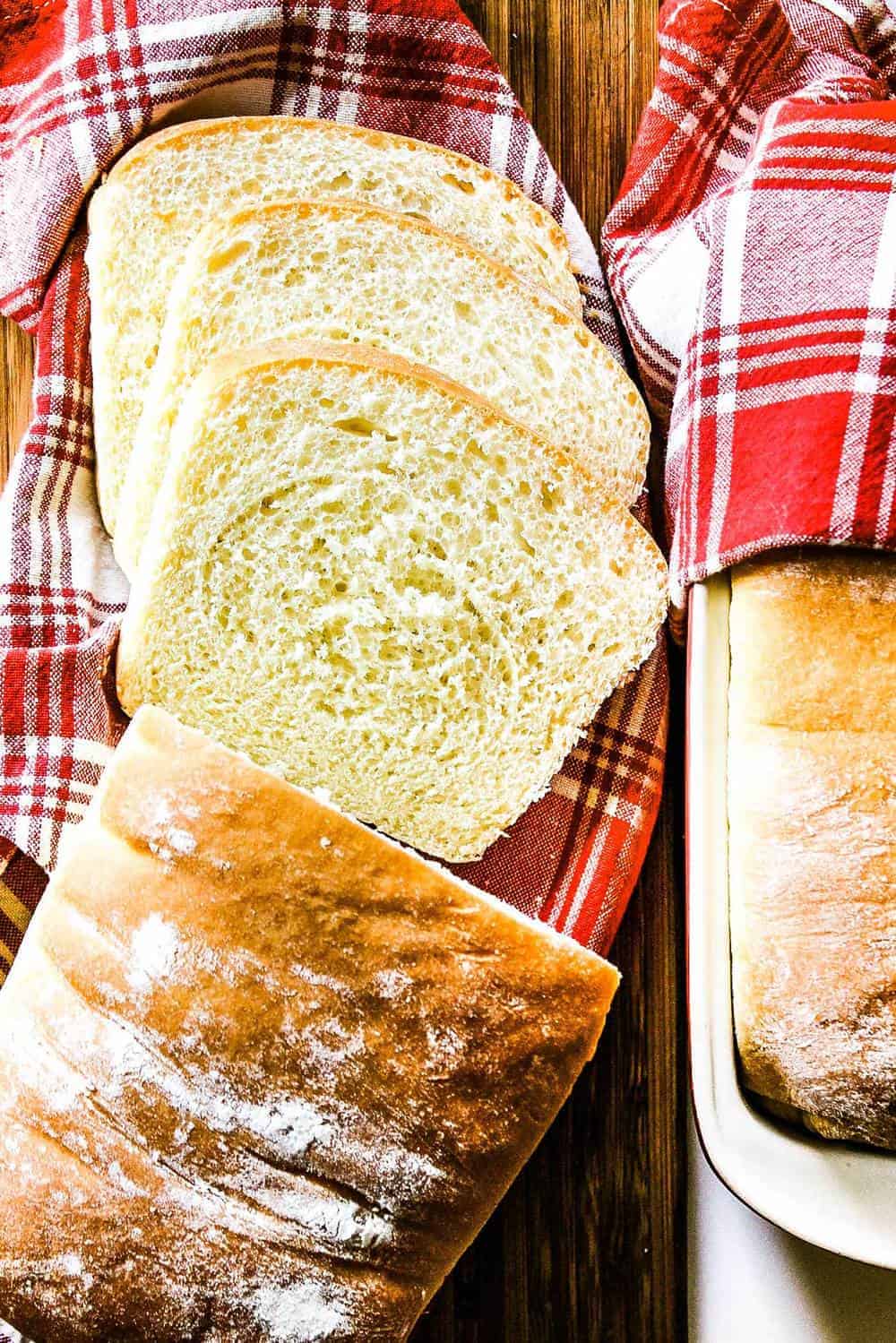 Be sure to get good-quality roasted turkey, thick slab bacon, and seek out the freshest tomatoes you can find.
And top-notch sharp white cheddar cheese is a must. And of course, good country white bread makes a wonderful base.
EXPERT TIP: We get our roast turkey from the deli section at our favorite supermarket. We do smoked Black Forest roast turkey and ask for it to be cut into thick slices, approximately ¼-inch thick.
How To Make Mornay Sauce
The Mornay Sauce is one of the components of this dish that really makes it luxurious and a bit decadent.
To make the sauce, simply make a roux with butter and flour and then add warmed whole milk. Once it has thickened, mix in shredded white cheddar cheese, Parmesan cheese, nutmeg, hot sauce, salt, and pepper. So easy!
EXPERT TIP: The Mornay sauce will stay warm in a covered saucepan for up to 1 hour. It can also be easily be reheated over medium-low heat. We love to pass extra sauce at the table.
When to Serve
There is something about this dish that just screams Southern breakfast or brunch to us.
But it so filling, it also makes a wonderful lunch or dinner. No need to make side dishes when serving this. You've got all you need in one serving!
Another amazing Southern breakfast/brunch dish is our Cheesy Shrimp and Grits!
In the meantime, sink your eyes (and then teeth) into this Kentucky Classic!
Ready to make the most spectacular open-face sandwich this side of the Kentucky Derby? Go for it!
And when you do, be sure to take a photo of it, post it on Instagram, and tag @HowToFeedaLoon and hashtag #HowToFeedaLoon!
Kentucky Hot Brown
This Kentucky Hot Brown is decadent and so extremely fulfilling. Get top-notch ingredients, and you will be in open-faced sandwich heaven! The sauce can be prepared a day in advance and rewarmed before using.
Print
Pin
Rate
Servings: 6 people
Calories: 933kcal
Equipment
2 baking sheets, or a large cast iron skillet
Ingredients
FOR THE MORNAY SAUCE
2½ cups whole milk
2 tbsp unsalted butter
2 tbsp all-purpose flour
2 cups cheddar cheese white, grated, you'll need more for the sandwich, see below
¼ cup Parmesan cheese finely grated
¼ tsp nutmeg ground
1 tsp hot sauce ie, Crystals, Louisiana, Tobasco
Kosher salt and freshly ground black pepper
FOR THE SANDWICHES
1 lb applewood smoked bacon thick cut
2 large tomatoes sliced, you'll need 6 to 8 slices
1 tbsp olive oil
Kosher salt and freshly ground black pepper
8 slices white bread thick slices, country white
4 tbsp unsalted butter room temperature
2 lbs roast turkey sliced into thick slices (1/4-inch is good)
1½ cups cheddar cheese white, shredded
½ cup Parmesan cheese
2 tbsp chives chopped, for garnish
Instructions
MAKE THE MORNAY SAUCE
In a small saucepan, bring the milk to a simmer over medium heat.

In a medium saucepan, melt the butter over medium heat and then add the flour, whisking for about 1 minute.

Slowly whisk in the heated milk and bring to a simmer. Continue to cook, whisking frequently, until thickened, about 5 - 7 minutes. (If becomes too thick, add a little more milk).

Remove from heat and stir in both of the cheeses until melted. Mix in the nutmeg and hot sauce and season with salt and pepper, to taste. Cover and set aside.
PREPARE THE SANDWICHES
Cook the bacon in the oven or in a large skillet until crisp. Set aside.

Preheat the broiler on high.

Place the tomato slices on a baking sheet, drizzle with oil, and season with salt and pepper.

Butter both sides of the bread slices and place on a baking sheet

Broil until lightly charred, flip, and lightly char the other side. (Time will vary, depending on your broiler, just keep an eye on them). Cover with foil to keep warm.

If both baking sheets can fit under the broiler, place both the tomatoes and bread in the oven. Flip the tomatoes and bread after about 1 minute. Keep an eye on them, don't let burn! If you don't have room to broil both tomatoes and bread at the same time, do them one at a time.

Place the bread slices on a baking sheet (you may need to use two baking sheets). Top each slice of toast with one or two slices of turkey. Spoon about ½ cup of the sauce over the turkey, and then sprinkle on the cheeses, evenly distributing across all sandwiches.

Turn the broiler to low, and cook until the cheese is melted and starting to brown, 2 to 3 minutes. Again, keep an eye on them, don't let them burn!

Transfer the sandwiches to plates and top with a tomato slice or two, a couple of strips of bacon, and garnish with chives. Serve at once!
Notes
Although we highly recommend making the country white bread from scratch, any good-quality sliced bread will work just fine. We get our turkey from the deli section of our favorite supermarket. Ask to have it slice nice and thick, about 1/4-inch. We use smoked Black Forest, but whatever is your favorite will work well. The Mornay sauce can be made the day before and then gently reheated on the stove before serving. These are also fun to serve in individual cast iron skillets or individual casserole dishes. But, it's also very impressive when transferred to plates and served individually.
Nutrition
Calories: 933kcal | Carbohydrates: 33g | Protein: 53g | Fat: 28g | Saturated Fat: 12g | Cholesterol: 187mg | Sodium: 2969mg | Potassium: 774mg | Fiber: 1g | Sugar: 11g | Vitamin A: 1386IU | Vitamin C: 6mg | Calcium: 648mg | Iron: 4mg
POST UPDATE: This recipe was originally published in September 2017, but was updated with improved tweaks to the recipe, with new tips, photography, and a fabulous new video in September 2020!