Homemade Cornbread is delicious and versatile.
So flavorful, moist, and incredibly simple to make. Perfect on its own for a midday snack, or as accompaniment to chili, beef stew, or as part of a classic dish such as Thanksgiving dressing. And it comes together in about 30 minutes!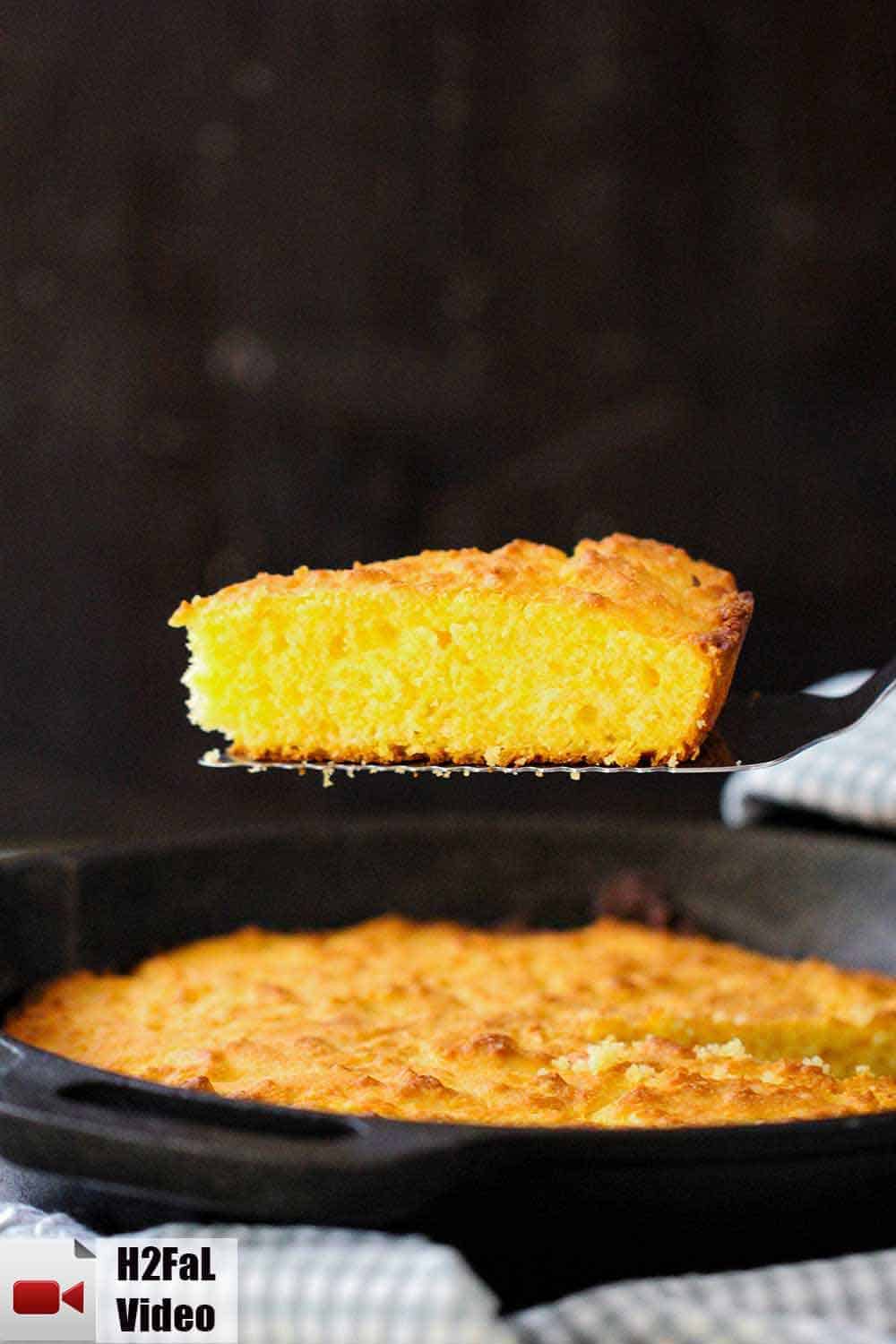 HOMEMADE CORNBREAD IS SIMPLE TO MAKE
We make cornbread from scratch all the time, one, because it's so darn delicious. But also, because it's so dang easy!
All you need are a few basic ingredients, a pan or oven-ready skillet (cast iron!), and an oven!
Watch us show you how easy it is to make Homemade Cornbread!
CHOOSING THE RIGHT CORNMEAL
You've probably noticed there are a multitude of options when it comes to purchasing cornmeal.
Cornmeal is simply dried, ground field corn, which is not the same as the sweet corn we love to eat off the cob. You can choose texture (fine, medium, or coarse), and you can select yellow or white.
EXPERT TIP: For that classic cornbread look and feel, go with fine or medium ground yellow cornmeal. Stay clear of coarse, it takes longer to cook and the texture is too tough. White cornmeal is perfectly fine, too, you just won't get the deep yellow color that comes with traditional cornbread.
Mix all the dry ingredients together in a large bowl.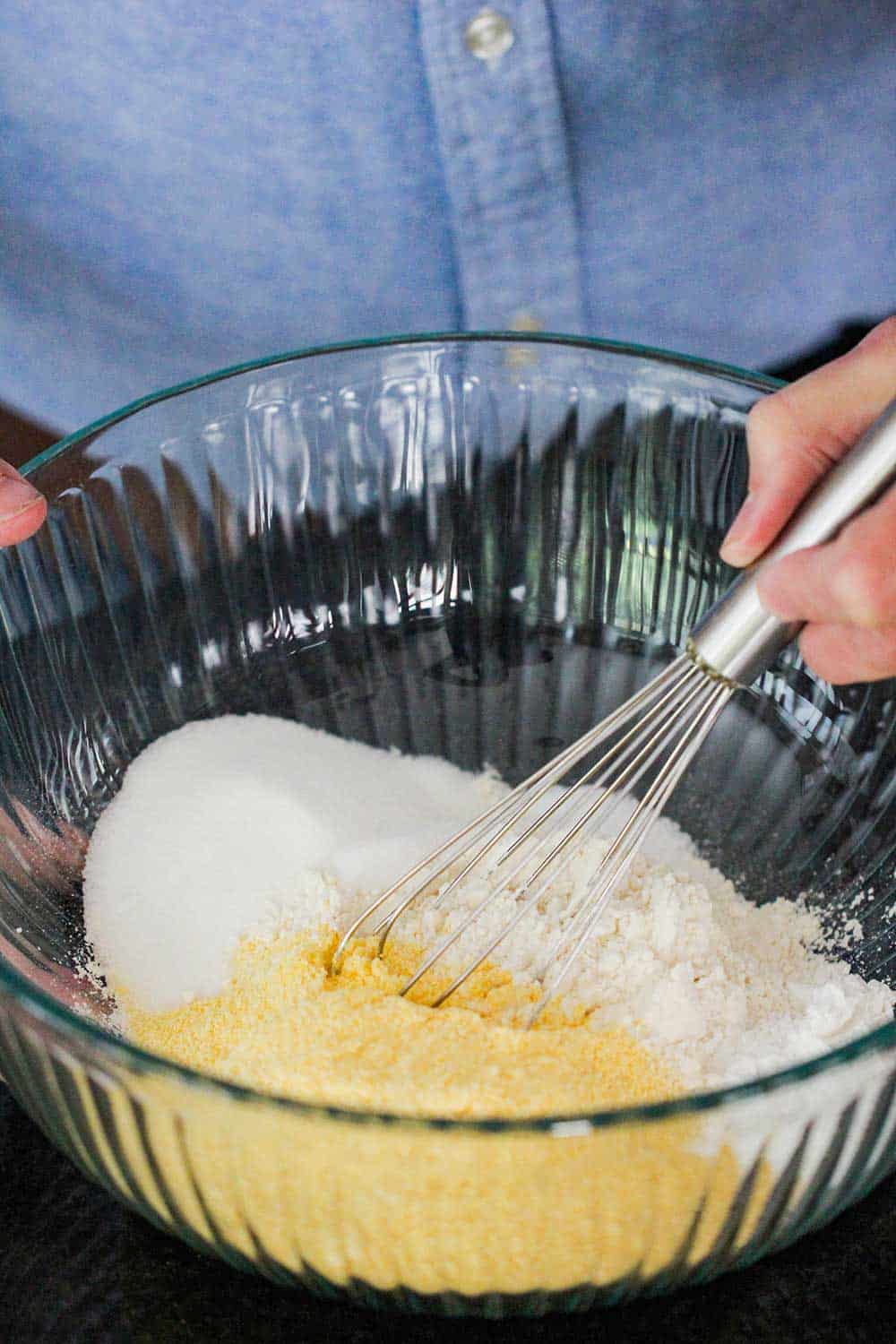 KNOWING WHEN THE BATTER IS READY
Melted butter, buttermilk and an egg ensure the homemade cornbread will be moist and so flavorful.
Use a nice large wooden spoon to mix the dry with the wet ingredients until just combined.
EXPERT TIP: Over-mixing the batter is not good, which is why mixing by hand is recommended. Stir until just combined. It's okay, and actually good, if the batter is a bit 'lumpy.' As the bread bakes, these lumps will hydrate and form the ideal cornbread texture.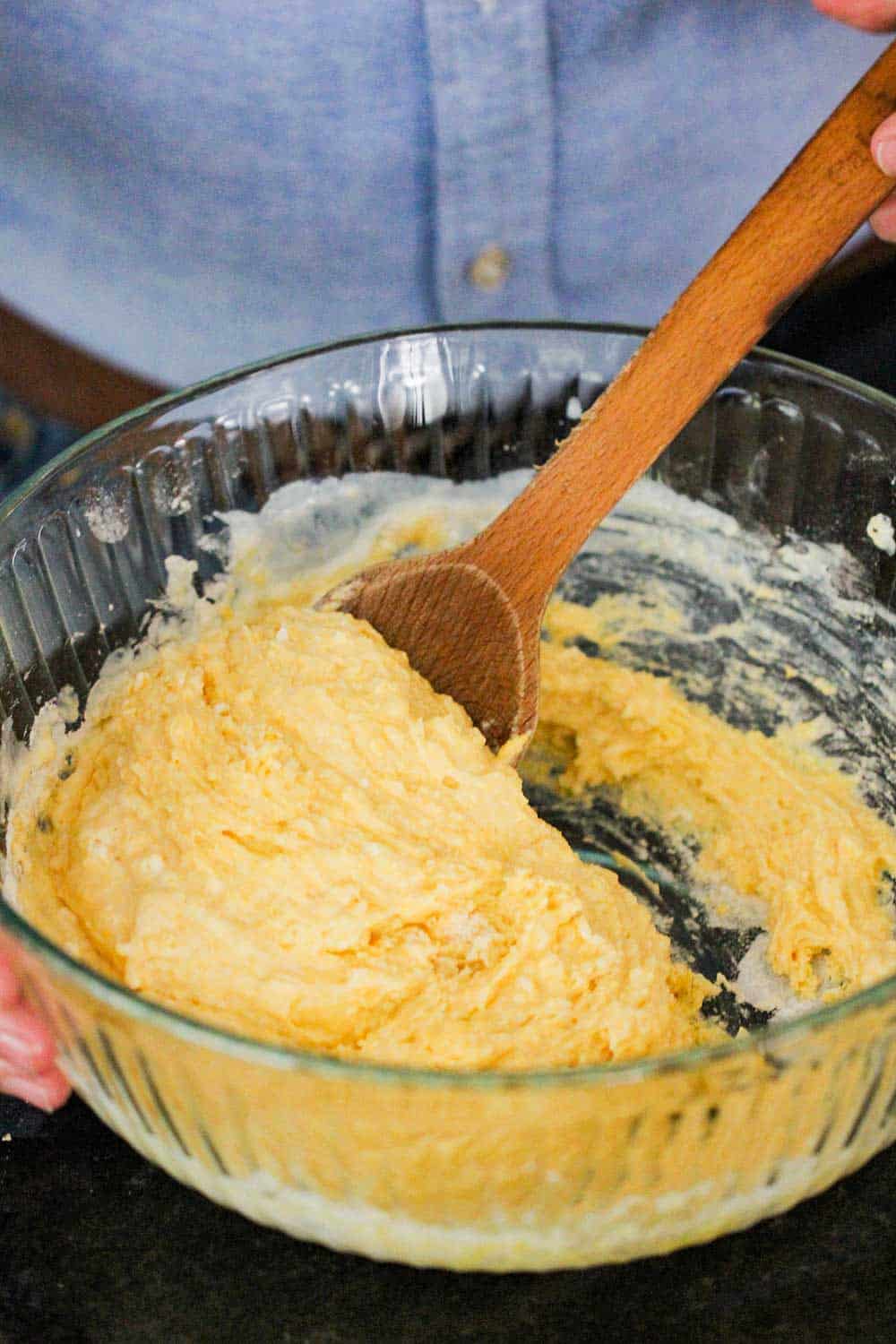 HOW TO BAKE HOMEMADE CORNBREAD
We love to use our 9-inch cast iron skillet for baking cornbread.
You can certainly use an 8″x8″ baking dish, too. You'll need to grease the vessel you choose to bake in.
If using a cast iron skillet, simply heat it over medium heat on the stove and add the 1 tbsp of butter and melt, swirling around to cover the base of the skillet. If using a baking dish, grease with softened butter, or cooking spray.
EXPERT TIP: Use the back of wooden spoon, or your fingers, to gently spread and smooth the batter. Don't worry if it's not completely smooth, it will even out when baking.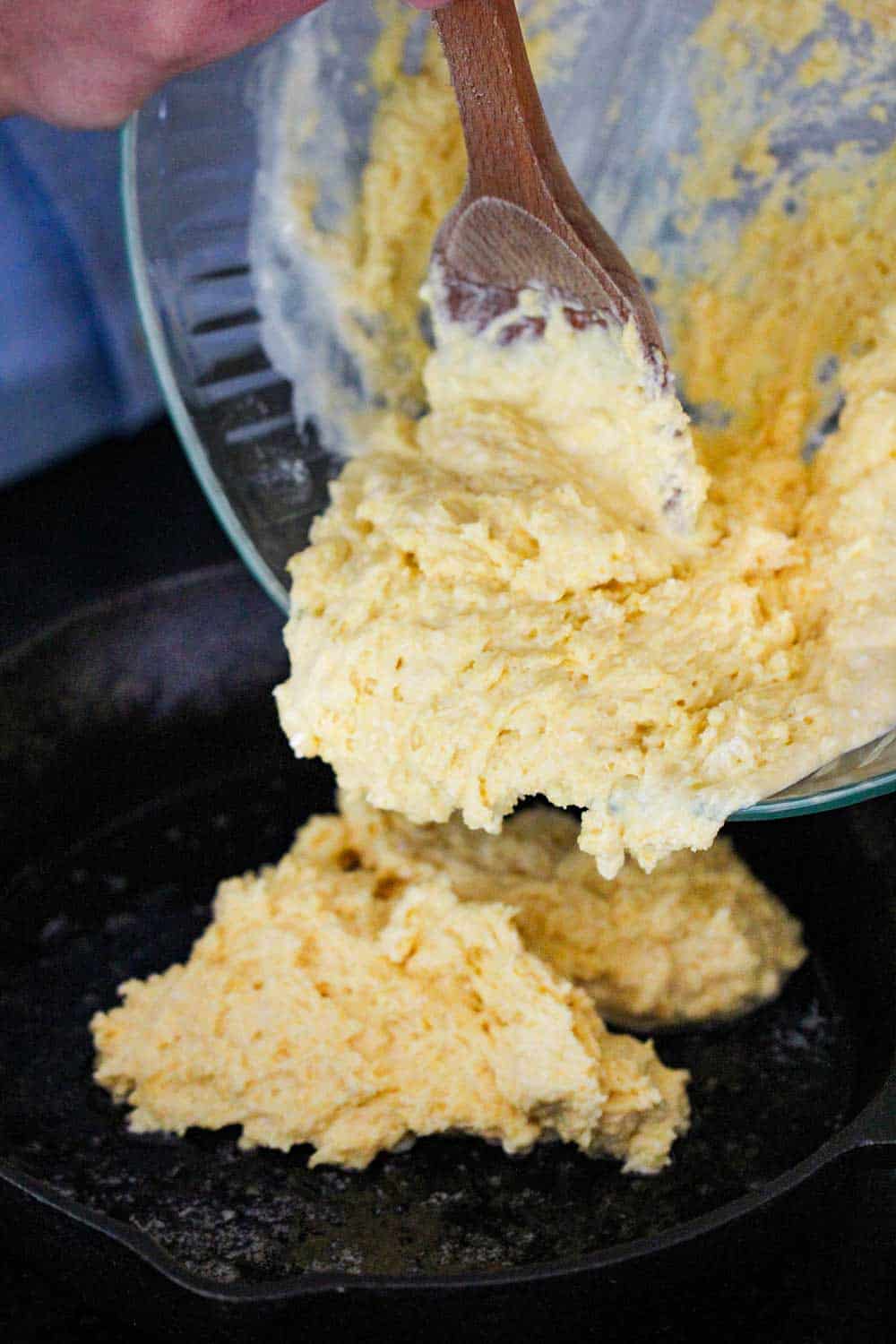 Homemade cornbread is best served the day it is prepared.
However, if you're making cornbread for dressing/stuffing, it's best to make it 1 to 3 days ahead of time.
If preparing this for dressing, you can leave it in the pan or dish until ready to use, or crumble and keep in a baggie until ready to use.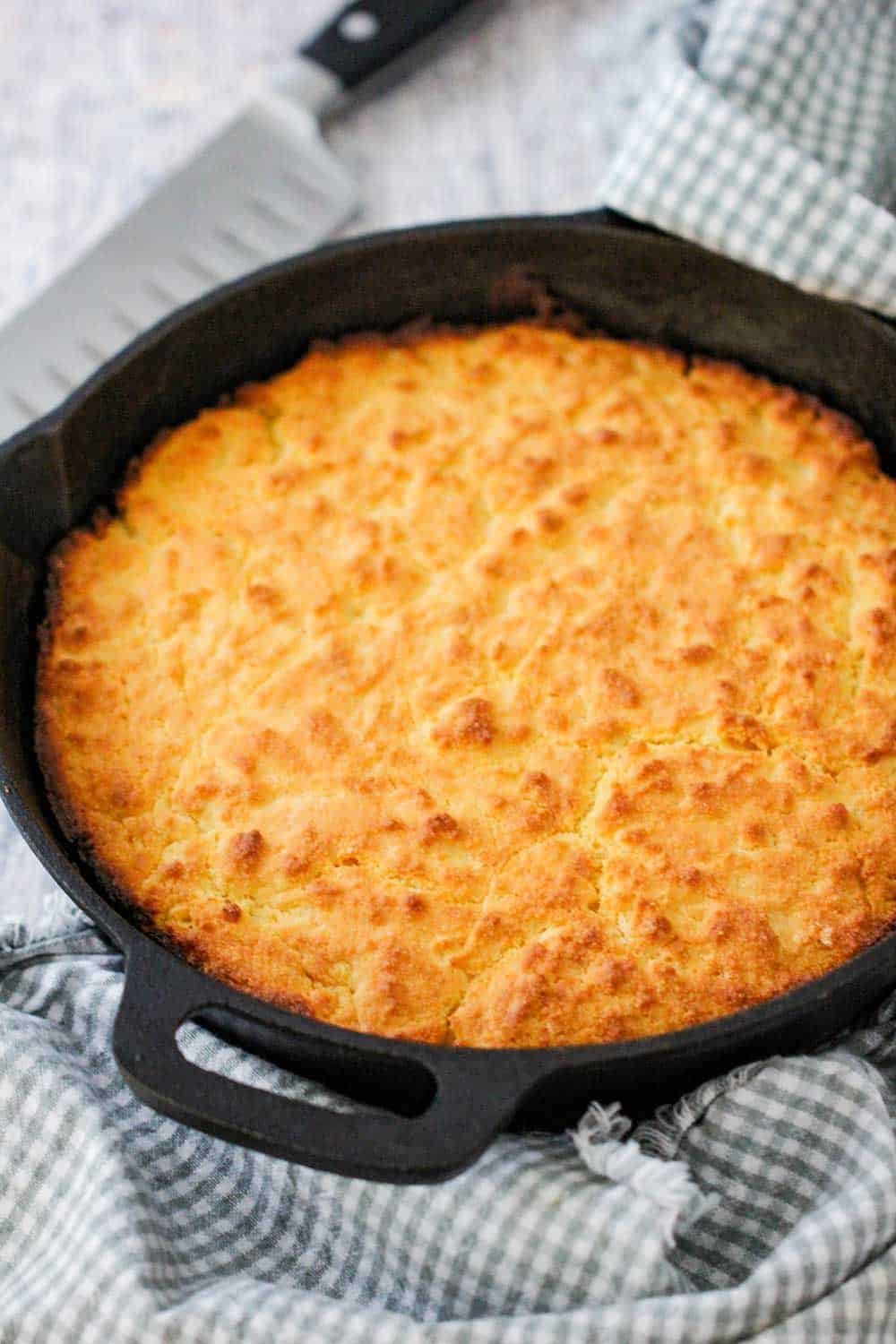 HOMEMADE CORNBREAD FAQs
What type of cornmeal should I use: Medium to fine yellow cornbread is our favorite. White cornmeal is great, too. Stay clear of coarse cornmeal.
Will this recipe work as corn muffins? Absolutely! Grease your muffin tins, or line with paper cups. If you have any unused tins, fill them with partially with water. The moisture will improve the muffins, the tins will heat more evenly.
Is it possible to omit the flour? Yes, double the amount of cornmeal and increase the eggs to 2 medium, or 3 large.
Can this be made in advance? The cornbread will begin to dry out after a day, which is ideal for dressing/stuffing, definitely. If serving as a side to a dish, they are best fresh from the oven, or within an hour or two of baking.
Can the cornbread be frozen? Yes, for up to 6 weeks.
Homemade cornbread is great when serving with stew or chili, or by itself, fresh out of the oven, with a pad of butter on top. Mmmmm….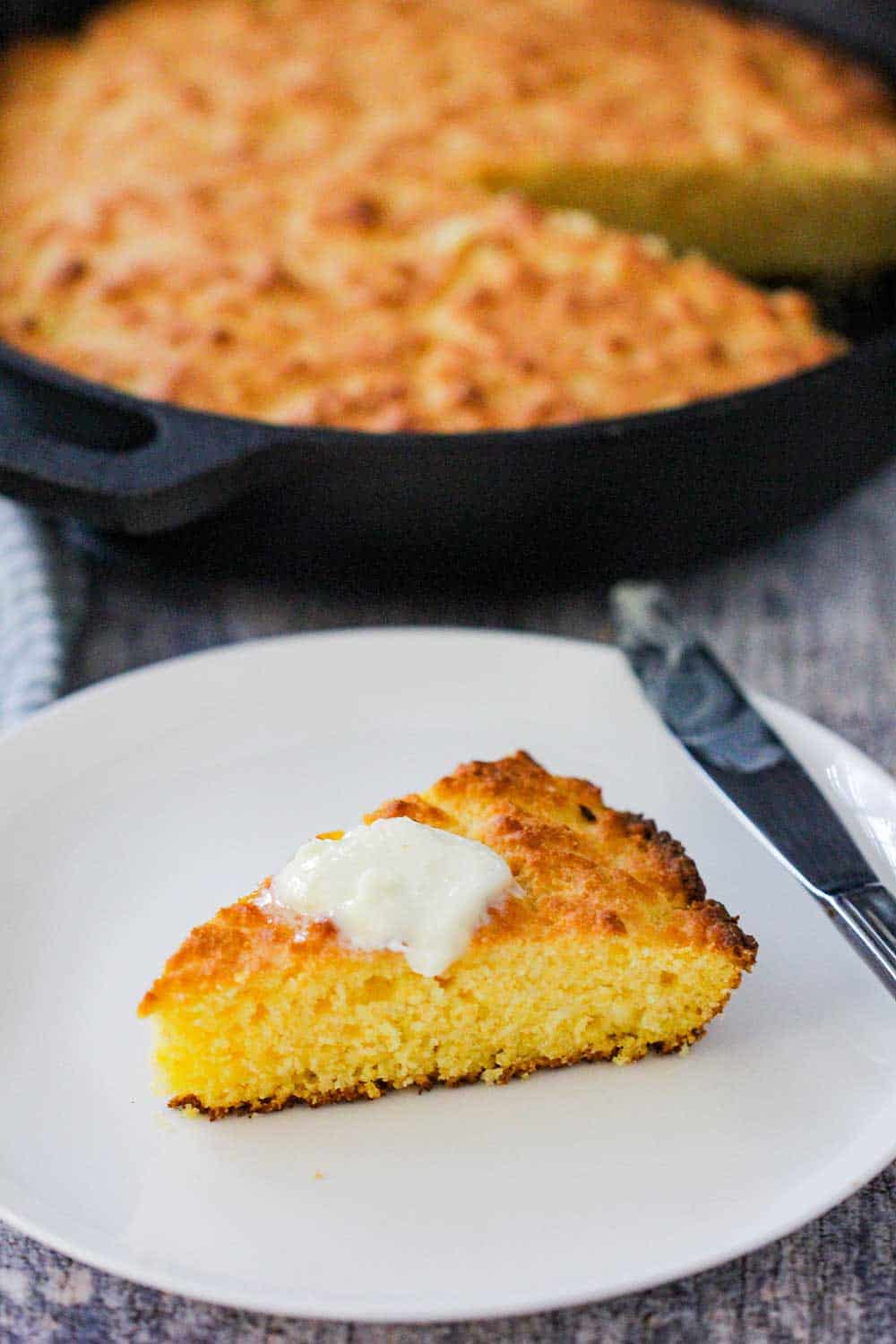 Ready to make the best cornbread in town? Go for it! It's so EASY!
And when you make it, be sure to take a picture, post it on Instagram, and tag @howtofeedaloon and #howtofeedaloon!
Homemade Cornbread
This homemade cornbread is so flavorful and the texture is perfect. It's best served shortly after baking, unless using for dressing, then make it up to 3 days in advance. This is traditional Southern cornbread with just enough sweetness to make it cornbread perfection.
Print
Pin
Rate
Servings: 8
Calories: 264kcal
Equipment
8" or 9" cast iron skillet, or 8"x8" baking dish
Ingredients
1 cup cornmeal fine or medium, yellow
1 cup all-purpose flour
⅓ cup sugar
4 tsp baking powder
1 tsp Kosher salt
⅓ cup unsalted butter melted, plus more for greasing the dish
1 cup buttermilk
1 large egg lightly beaten
Instructions
Pre-heat oven to 400°F.

In a large bowl, whisk together the cornmeal, flour, sugar, baking powder, and salt.

Add the butter, buttermilk, and egg and use a wooden spoon to mix together until just combined. The batter will be very thick and lumpy. Don't over mix!

Melt 1 tbsp in a 8" or 9" cast iron skillet, and swirl around to cover the bottom of the pan. Or, grease an 8"x8" baking dish with softened butter or cooking spray.

Transfer the batter into the skillet, or dish, and use the back of a wooden spoon (or your fingers) to evenly spread.

Bake until golden brown and an inserted toothpick comes out clean, about 25 minutes.
Notes
Use fine or medium yellow (or white) cornmeal. Don't use coarse cornmeal, polenta, or masa harina. If you like your cornbread extra sweet, increase the sugar to 1/2 cup. To make this without flour, omit it and increase the cornmeal to 2 cups, and add an extra egg. The batter will be thick and lumpy. This is good. Don't worry if the batter isn't completely smooth on the surface after you transfer it into the pan or dish. It will smooth when baking. The cornbread is best when served immediately or within a few hours. Wrap leftovers in plastic wrap. If using for dressing/stuffing, make the dressing 1 to 3 days before assembling. Baked cornbread can be frozen for up to 6 weeks.
Nutrition
Calories: 264kcal | Carbohydrates: 37g | Protein: 6g | Fat: 9g | Saturated Fat: 3g | Cholesterol: 50mg | Sodium: 336mg | Potassium: 333mg | Fiber: 2g | Sugar: 10g | Vitamin A: 324IU | Calcium: 130mg | Iron: 2mg