Oh wow, oh wow, oh wow. This Instant Pot Irish Guinness Beef Stew recipe is so heartwarming and so delicious. Right now, as I'm writing this, it's the dead of winter in the Northeast United States. It's frigid and snowy. And it's just screaming for Irish Guinness Beef Stew! So, let's make it easy, and do it in the Instant Pot!
YES!!!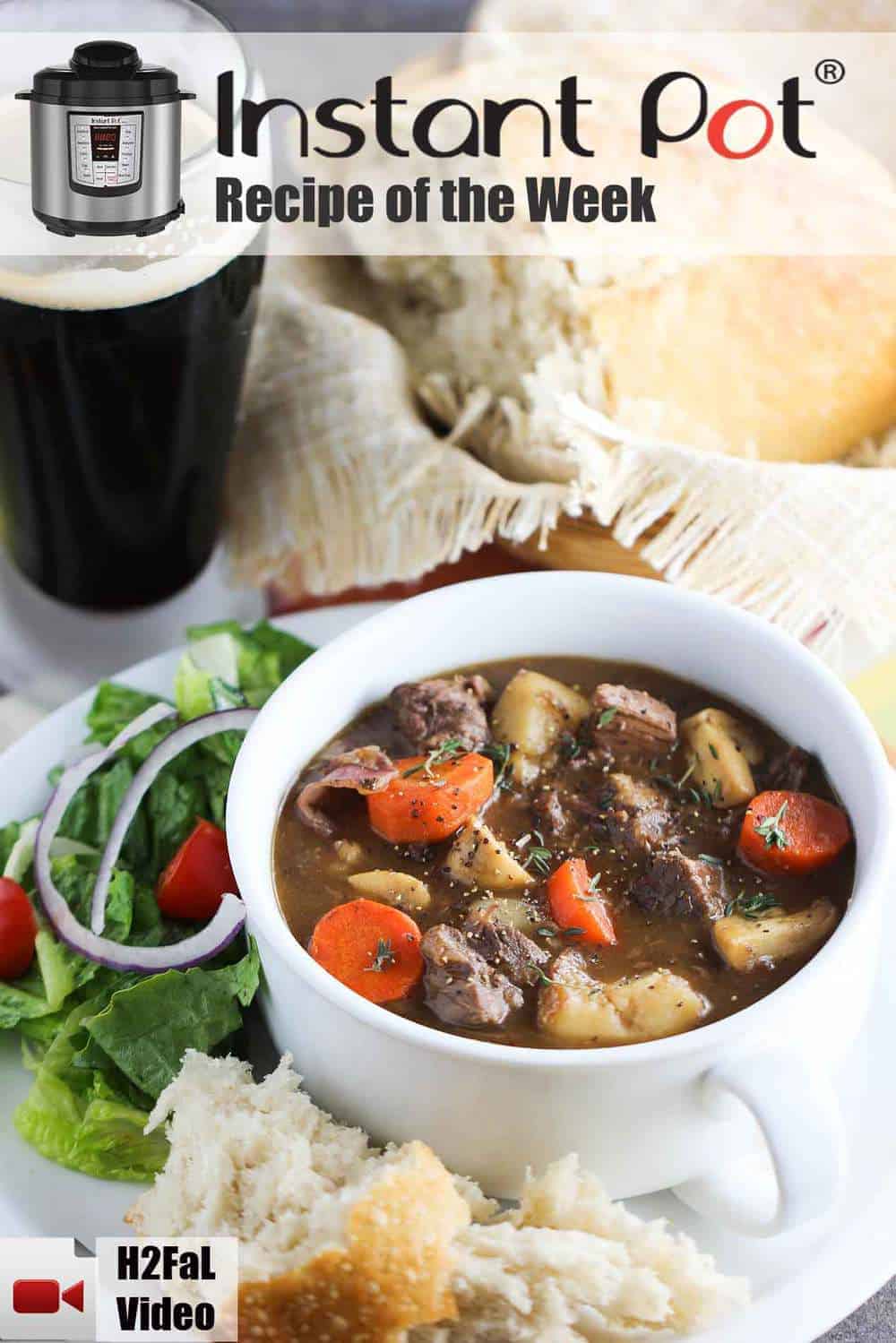 INSTANT POT IRISH GUINNESS BEEF STEW IS EASY TO PREPARE
There is just something truly magical about the flavor profile of this incredible stew. It's meat and potatoes, of course, but also mushrooms, and carrots, and amazing aromatics, all brought together in the pressure cooker with incredible stout beer and beef stock.
Watch us show you how easy it is to make this amazing Irish Guinness Beef Stew!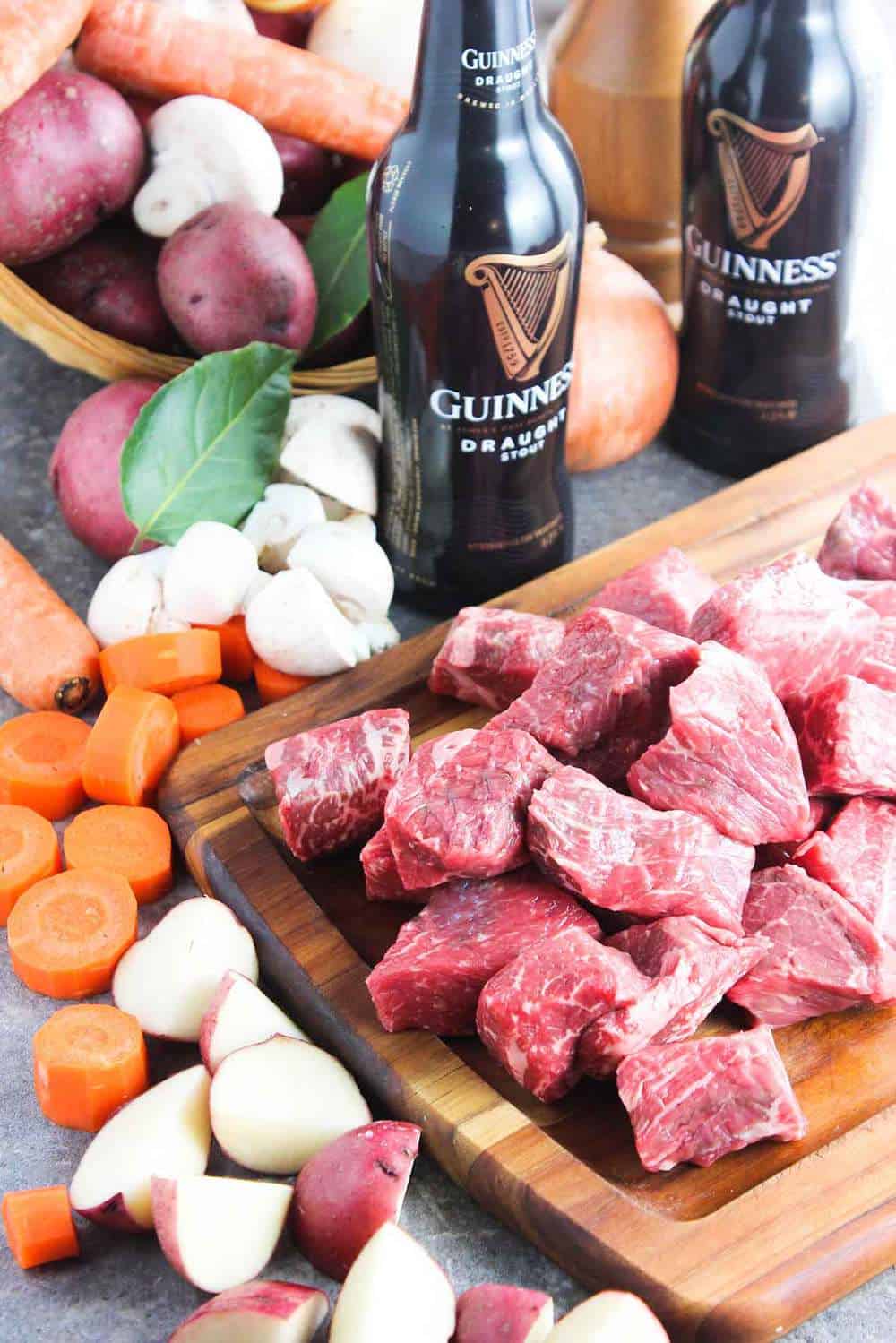 A good stew needs a good liquid to braise in. Red wine is common, and often just a good hearty beef stock does the trick. But leave it to the beautiful people of Ireland to make a beef stew braised in one of the most delicious stout beers on the planet: Guinness!!
We love Guinness beer. It's practically a meal in and of itself!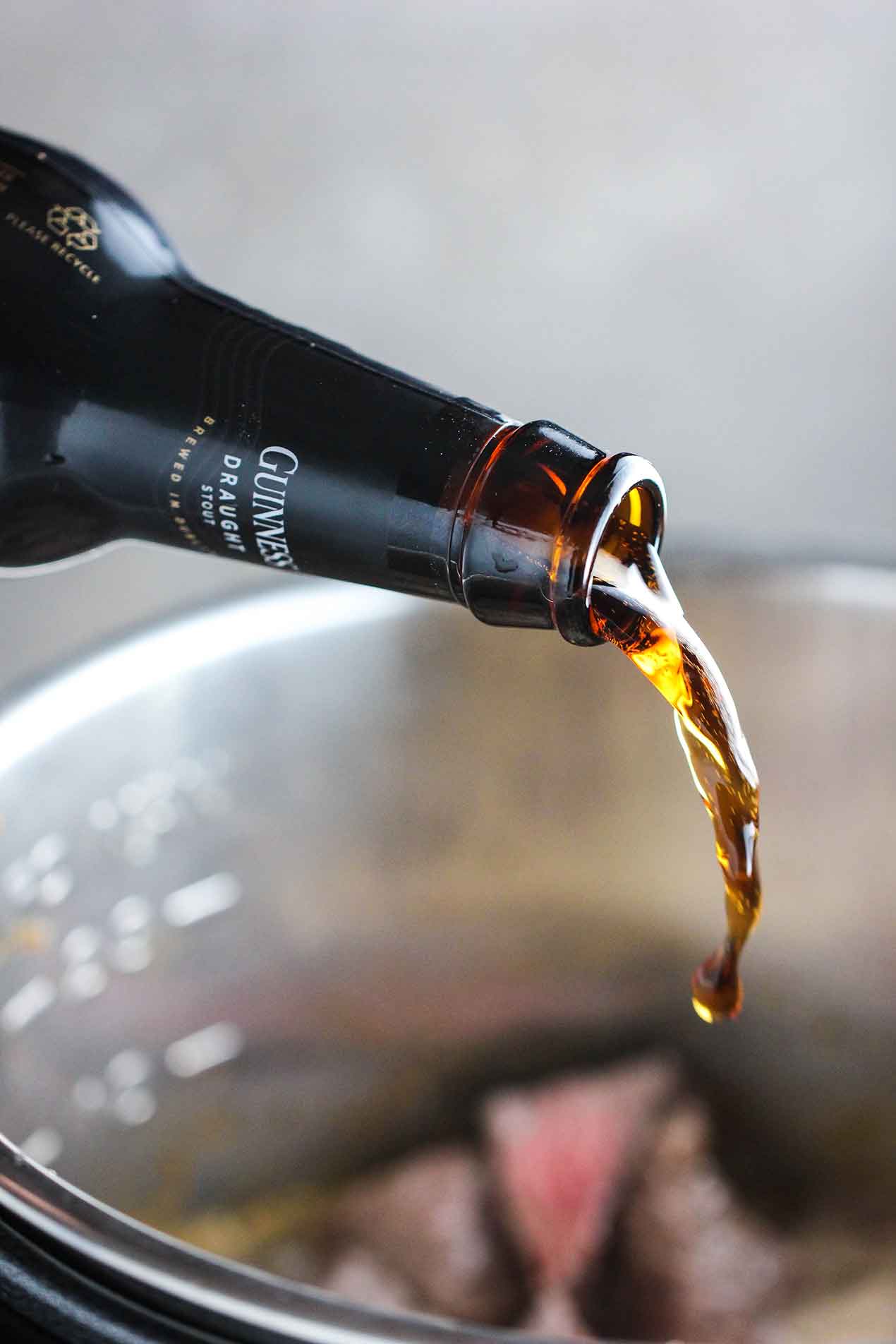 IRISH BEEF STEW IS IDEAL DURING COLD MONTHS
Every bite of this incredibly flavorful stew is just so comforting. It's truly hard to eat just one bowl. This has become one of the most requested dishes that the Loon calls for, especially once the temperatures outside start to drop.
I don't mind…I love it just as much as the Loon does.
I mean, don't you just want to grab that spoonful of comfort and dig in?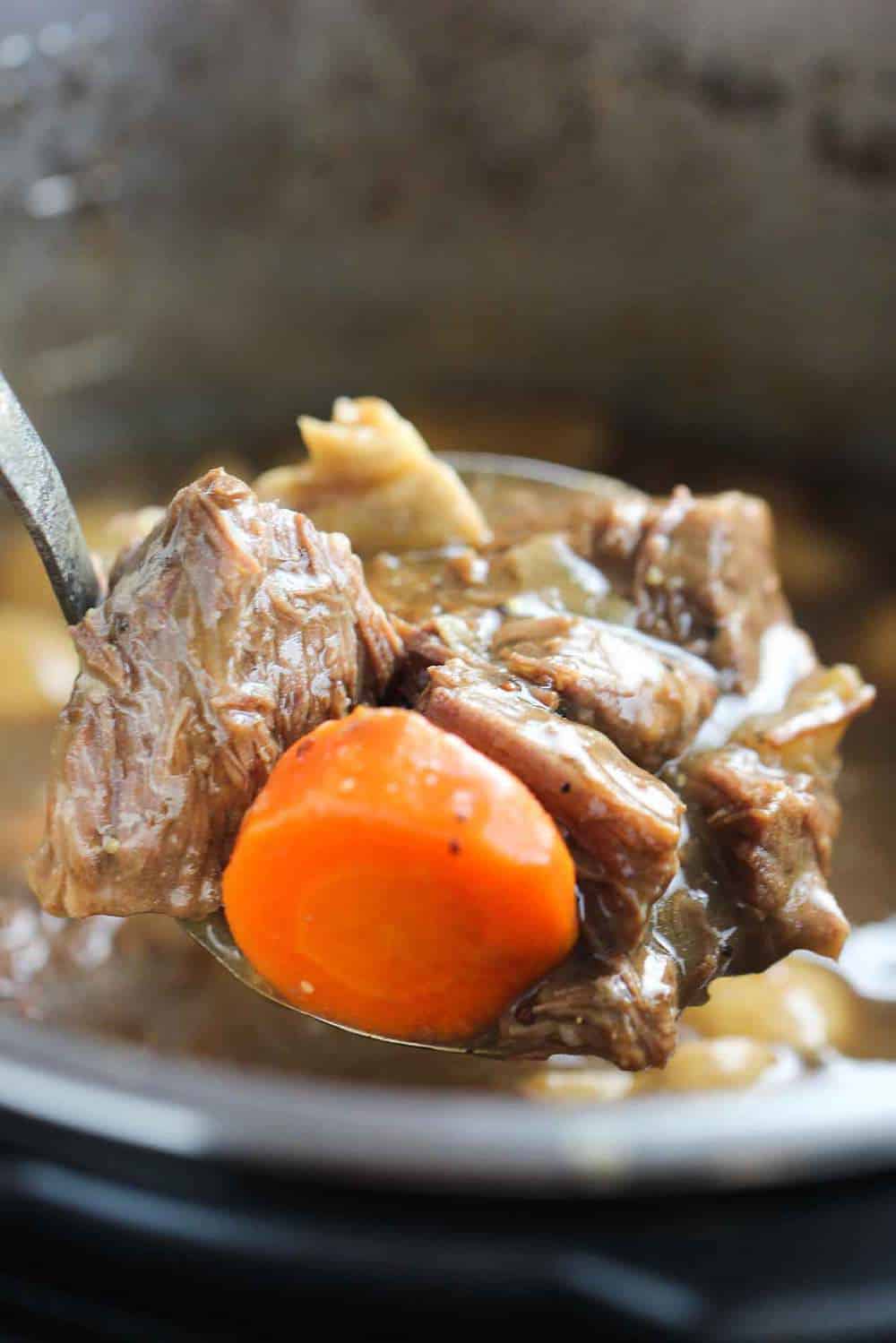 And, of course, making this iconic stew in the Instant Pot allows you to have it on the table in just about an hour. That's it!!
Normally, the beef would need to slow-cook for hours to achieve the ultra-tender results you get with the Instant Pot!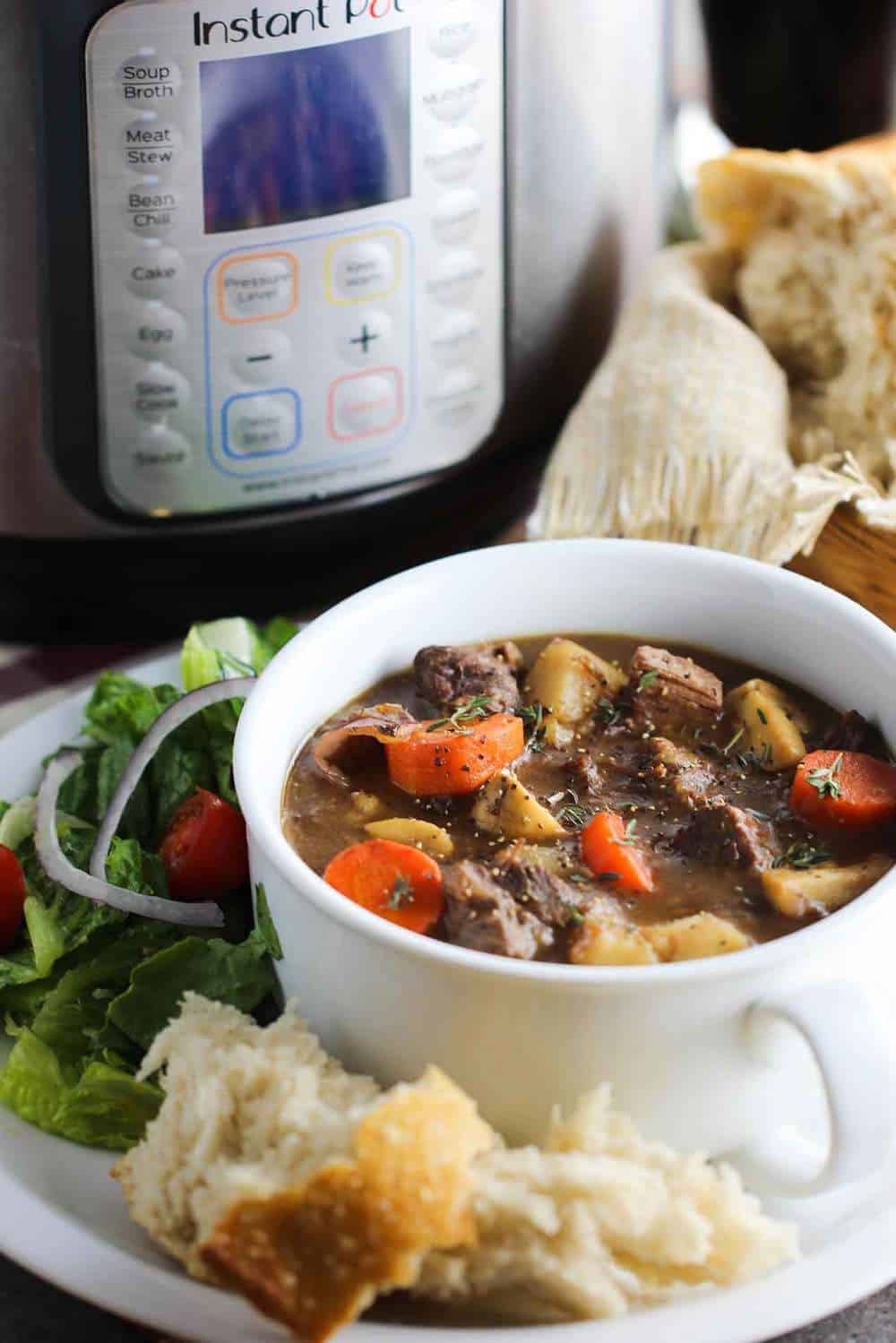 INSTANT POT IRISH GUINNESS BEEF STEW IS AN INSTANT CLASSIC
Now, I ask you…don't you want to make this incredible stew so you can enjoy all this comforting and delicious bowl of wonderfulness?
We just can't say enough fabulous yummy things about this stew!!
You and your family will LOVE it!
Now, let's make this amazing Instant Pot Irish Guinness Beef Stew recipe!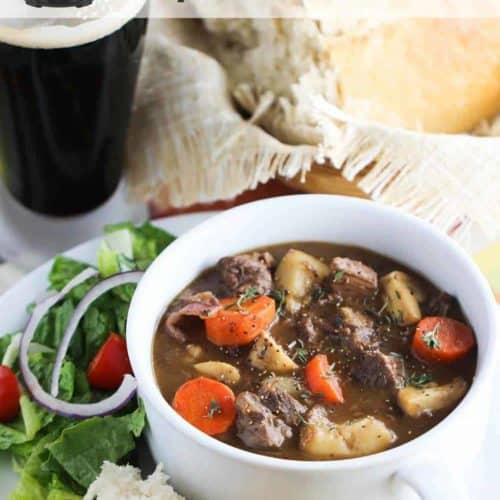 Instant Pot Irish Guinness Beef Stew
This Instant Pot Irish Guinness Beef Stew recipe is perfect for when it gets cold outside and you need something to warm and comfort you up on the inside. You won't believe how delicious it is, and you really won't believe how fast and easy it is to produce in your Instant Pot! Serve with a nice salad, crusty bread, and of course, a tall glass of Guinness! YES!
Print
Pin
Rate
Servings: 6 people
Calories: 280kcal
Ingredients
2 tbsp vegetable oil
2 - 3 lb boneless beef stew meat cut into 1-inch pieces (round chuck works very well)
Kosher salt and freshly ground black pepper
8 oz white button mushrooms wiped clean and quartered
2 11.2 fl. oz. bottles Guinness Stout beer
1 cup beef stock
1 yellow onion quartered
3 garlic cloves
2 tbsp Worcestershire sauce
1 tbsp whole grain mustard
1 sprig fresh thyme
1 bay leaf
1/2 tsp Kosher salt
3 medium carrots peeled and sliced into 1/2-inch rounds
6 small red potatoes scrubbed and quartered
1 cup frozen pearl onions
2 tbsp cornstarch
2 tbsp water
Instructions
Sprinkle the beef all over liberally with salt and pepper.

Select SAUTE and adjust to More on the Instant Pot and add the oil.

Once the oil is hot and begins to shimmer, add the beef. (You will probably need to do this in 2 batches, as you don't want to overcrowd the beef as it browns).

Brown the beef for 3 minutes, then turn the pieces over, and brown for another 3 minutes.

Transfer the beef to a plate.

Leaving the IP on high heat, add the mushroom and cook, stirring occasionally, until the are starting to turn golden brown, about 4 - 5 minutes. Transfer to a bowl and set aside.

Press CANCEL and then add back into the pot the seared beef, as well as the beer, stock, onion quarters, garlic, Worcestershire sauce, mustard, thyme, bay leaf and salt and mix together.

Secure the lid and push the Pressure Release to Sealing. Select the MEAT/STEW or PRESSURE COOK setting and set the cooking time for 30 minutes at high pressure.

Carefully perform a quick release by moving the Pressure Release to Venting.

Once the steam is fully released, open the pot and remove the onion quarters, bay leaf and thyme sprig.

Stir in the carrots, potatoes and pearl onions.

Secure the lid once again and push the Pressure Release to Sealing. Select the PRESSURE COOK or MANUAL setting and set the cooking time for 4 minutes at high pressure.

Perform a quick release by carefully pushing the Pressure Release to Venting.

In a smal bowl, mix together the corn starch and the water.

Open the pot and stir in the reserved mushrooms and the cornstarch mixture. Stir occasionally for about 3 - 5 minutes until slightly thickened.

Taste and add a little more salt, if desired.

Ladle into bowls and garnish with thyme leaves, if desired.
Nutrition
Calories: 280kcal