This post is kindly sponsored by Crock-Pot, but the recipe, photography, video and opinions are 100% ours.
Pressure Cooker Mashed Butternut Squash with Pancetta and Sage is absolutely perfect for any holiday table, without a doubt.
But I tell you, the Loon took one bite of this glorious side dish and said, "Kris! This is amazing! I'd eat this anytime of the year!" This is perfect alongside your Turkey, Dressing and Green Bean Casserole!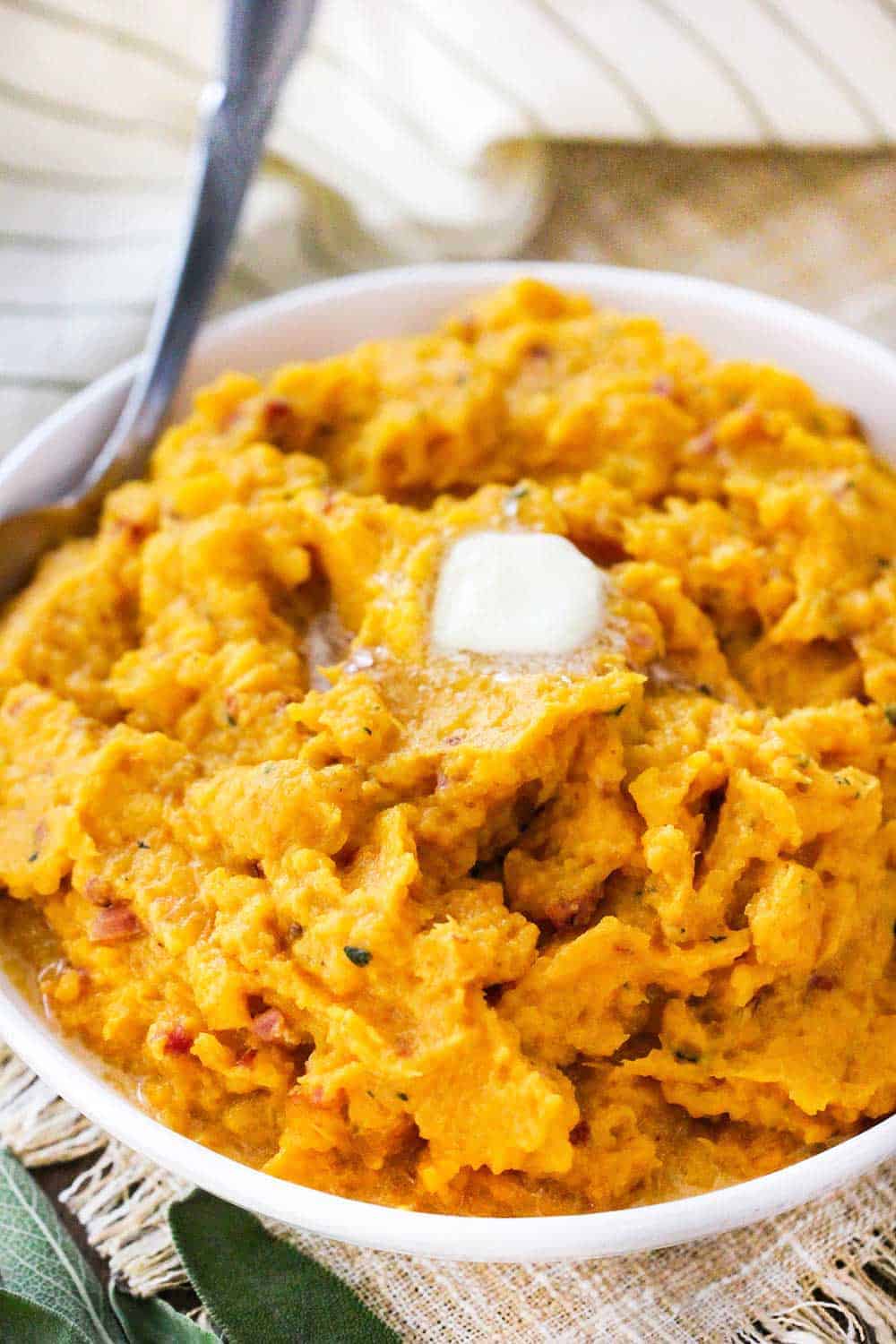 HOW TO MAKE PRESSURE COOKER MASHED BUTTERNUT SQUASH
This recipe is wonderful for so many reasons. First, and foremost it's delicious! Really, really delicious!
But the other big win with this dish is that it comes together in such a short amount of time. Which is so awesome, especially when you're in the final throws of bringing the big holiday feast together. We could NOT make this amazing dish without our incredible 10 QT Crock-Pot Express Easy Steam Release Pressure Cooker.
Watch us show you how to make Pressure Cooker Mashed Butternut Squash with Pancetta and Sage!
THE PERFECT PRESSURE COOKER DISH
This is recipe is ideal for this pressure cooker, because the butternut squash steams to absolute perfection in minutes! We simply place squash on our trusty steamer basket, add 1 cup of water, and lower into the pressure cooker!
We think Crock-Pot's Easy Release Steam Dial is ingenious because it keeps your hands aways from the super hot steam when releasing! Brilliant!
PANCETTA AND SAGE ADD A DEPTH OF FLAVOR
Once the 'valve bobber' has sealed on the pressure cooker, and the correct heat has been reached, the squash then steams for only 8 minutes! Once the steam has fully released, it's time to remove the squash, discard of any liquid that's still in the pot, and return it to the pressure cooker.
Next, we quickly change one of the many awesome settings on our 10 QT Crock-Pot Express Easy Steam Release Pressure Cooker to SAUTÉ!
Oh wow, the smell of the cubed pancetta is incredible. And then the fresh sage? If this doesn't get you excited for the big feast, we're not sure what will!
We are so close now. Another amazing feature with this pressure cooker is that once the dish is ready, you can select the WARM setting and it will maintain enough heat that is perfect for serving, once you're ready to serve. Another WIN!
Place the perfectly steamed squash back into the pot and now all that's needed is a little butter, cream, and salt.
Oh, this is truly a dish to be thankful for!
MASH AND ADD MORE CREAM, IF DESIRED
We use just a standard potato or bean masher to get to our favorite consistency.
If you want them extra creamy, then increase the cream.
We love our Pressure Cooker Mashed Butternut Squash to have some texture to it, but if you prefer them super silky, you can transfer the mixture to a large bowl and mix with a hand mixer or utilize a stand mixer.
CROCK-POT IS IDEAL FOR HOLIDAY COOKING
We rely on Crock-Pot year-round for helping us to deliver some of the best recipes we've ever created and served.
This 10 QT Crock-Pot Express Easy Steam Release Pressure Cooker is incredible for many reasons. First of all, it's perfect when you are serving a large group. 10 quarts, folks!
We also love that there is a Progress Bar so you easily can follow the status of the pressure cooker and know when the pressurization cycle is complete. And you can do so many things with this incredible kitchen appliance. It seamlessly allows you to
Pressure Cook
Sterilize
Slow Cook
Brown/Sear
Sauté
Boil
Simmer
Steam
And of course, remember, this is the PERFECT gift for that home cook in your life (which is probably you!). We always get our varied Crock-Pots at our favorite place to shop on the planet: Target!
And this Pressure Cooker Mashed Butternut Squash with Pancetta and Sage has become a new staple on our Thanksgiving table!
EXPERT TIP: Most well-stocked supermarkets carry pre-cut butternut squash. This recipe call for 3½ lbs, but it can easily be halved. Keep the water amount (1 cup) the same.
If you want a sweeter dish, you can add 1 tsp of cinnamon and ½ tsp of nutmeg when adding the cream and butter.
The sage and the pancetta offer a beautiful savory note to this delicious side dish.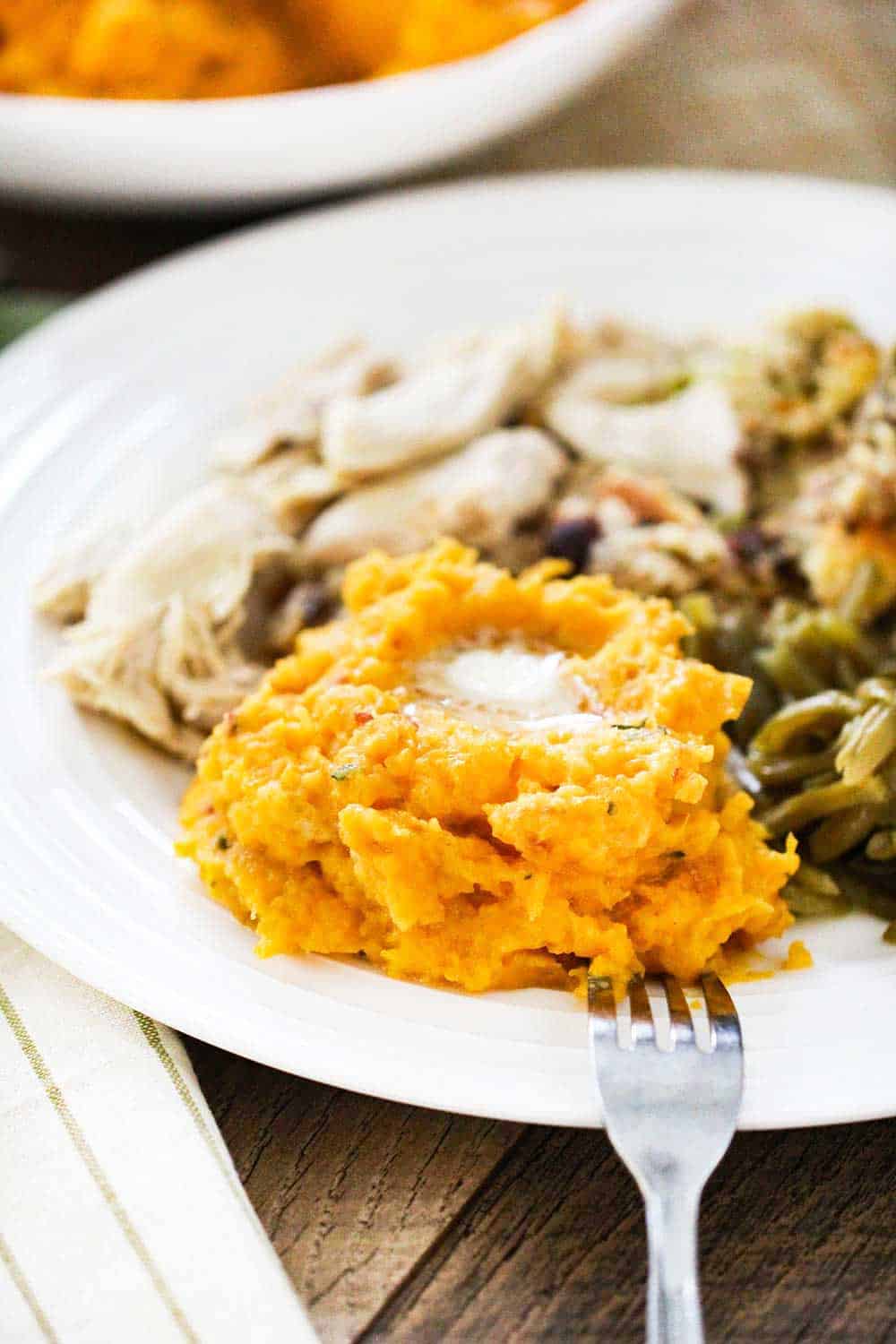 Folks, we're not kidding when you when we tell you that this is one of our favorite holiday dishes. But like Wesley says, it's so good, we have it often throughout the year.
We are thankful to have such an amazing kitchen tool with our 10 QT CROCK-POT EXPRESS EASY STEAM RELEASE PRESSURE COOKER to deliver this recipe and so many more!
Now, go ahead and make this incredible Pressure Cooker Mashed Butternut Squash with Pancetta and Sage recipe!
And when you make it, take a picture and put on your Instagram feed! And be sure to tag @howtofeedaloon and @crockpot and @target!
Pressure Cooker Mashed Butternut Squash with Pancetta and Sage
This Pressure Cooker Mashed Butternut Squash with Pancetta and Sage is so warm and yummy. The pancetta and sage give the squash a delicious woodsy flavor that is perfect for your holiday feast table.
Print
Pin
Rate
Servings: 8 people
Calories: 241kcal
Equipment
10 QT Crock-Pot Express Easy Steam Release Pressure Cooker

Steamer basket
Ingredients
3½ lbs butternut squash cut into large chunks
1 tbsp olive oil
4 oz pancetta thick, chopped
1 tbsp fresh sage chopped
4 tbsp unsalted butter
1 tsp Kosher salt
¼ cup heavy cream 1/3 to 1/2 cup if you like the texture to be extra creamy
Instructions
Pour 1 cup water into the Pressure Cooker.

Place the butternut squash onto steamer basket and lower into the Pressure Cooker.

Place the lid on and lock into place. Make sure the Steam Release Dial is in the NO STEAM position.

Select STEAM on High for 8 minutes.

Once finished, hit STOP, and then turn the Steam Release Dial to the RELEASE STEAM setting .

Once the Bobber Valve has dropped, remove the lid and carefully take the squash out and set aside.

Select SAUTE on More and add the oil.

Once hot, add the pancetta and cook until fat has begun to render and is beginning to get crisp, about 3 minutes.

Add the sage and cook for 1 minute.

Hit STOP to stop the cooking.

Return the cooked squash to the pot and add the salt, butter and cream.

Mash and taste, adding more salt and/or cream, if desired.
Notes
If you reduce or increase the amount of squash, still use 1 cup of water. This is the amount of water needed for proper steaming. If you prefer the mashed butternut squash to be more similar to candied yams, or sweet potatoes, add 1 tsp of cinnamon and ½ tsp of ground nutmeg when stirring in the butter, cream and salt. Leave the mashed butternut squash in the pressure cooker on the WARM setting until ready to serve. Leftovers can keep in the refrigerator for up to 1 week and in the freezer for up to 2 months.
Nutrition
Calories: 241kcal | Carbohydrates: 24g | Protein: 4g | Fat: 10g | Saturated Fat: 4g | Cholesterol: 35mg | Sodium: 396mg | Potassium: 732mg | Fiber: 4g | Sugar: 4g | Vitamin A: 21379IU | Vitamin C: 42mg | Calcium: 107mg | Iron: 2mg