Braised Chicken and Savory Peaches is such a wonderful pot of deliciousness. The peaches match beautifully in this wonderfully savory dish, with a touch of summer sweetness thrown in.
The beauty of this dish is surpassed only by its amazing taste and texture.
This is good. Really good.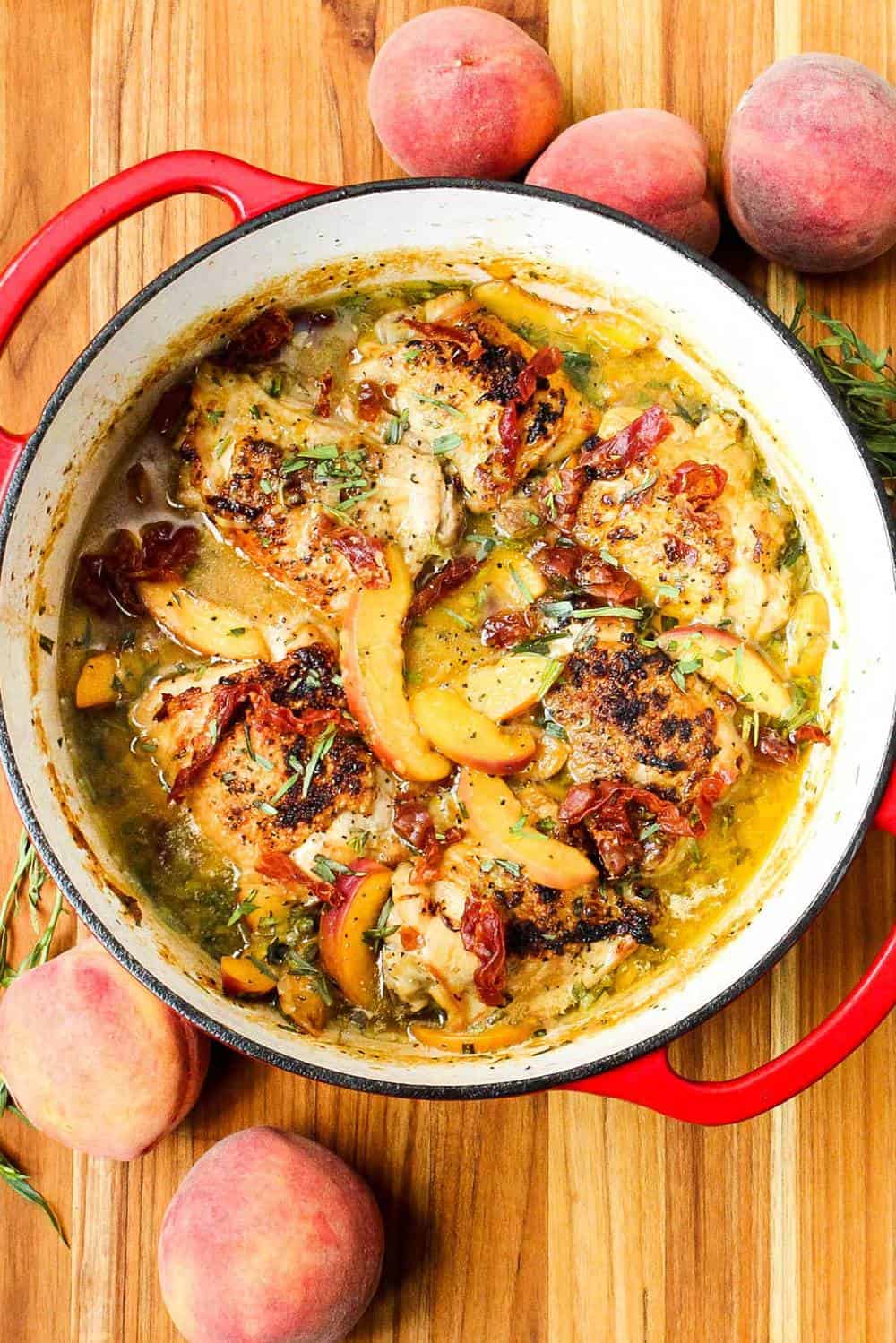 HOW TO MAKE BRAISED CHICKEN AND SAVORY PEACHES
The peaches are first marinated in the most tantalizing aromatics and flavor enhancers. The rum is optional, but we think it adds such a depth of flavor, and if you are concerned about the alcohol content, it cooks out, just leaving a delicious flavor.
Braised Chicken and Savory Peaches is good year round, but obviously, really top notch when peaches are at the height of their season.
Oh, this is just peachy. We love everything about peaches!
SKIN-ON, BONE-IN CHICKEN THIGHS ARE IDEAL FOR BRAISED CHICKEN AND SAVORY PEACHES
We really love skin-on, bone-in chicken thighs. When seared in some hot oil and then braised in the sauce, they are the most flavorful and tender meat you'll find from the bird.
You could go with chicken breasts, but we think the dark meat chicken thigh works so well with the peaches.
Seared to perfection!
OTHER CHICKEN DISHES TO TRY
Skillet Roasted chicken with Tomatoes, White Beans and Wine
Chicken Scarpaiello
Roasted Chicken Enchiladas with Verde Sauce
Bourbon Maple BBQ Chicken Wings
Roasted Chipotle Chicken
One-Pot Chicken Vesuvio
But for now, let's get back to this Braised Chicken…how about some amazing crispy prosciutto!
PEACHES WORK IN SWEET, AS WELL AS SAVORY DISHES
This dish is really something special. Peaches work wonderfully in sweet dishes as well as savory. Or even just by themselves.
Let these peaches marinate overnight, then add to braised chicken thighs, and you won't believe the 'wow' factor you'll get.
Serve with a nice rice pilaf, and green salad, and boy, oh boy, will you and your loved ones be happy! For a wonderfulpeach dessert, try our Grilled Peaches with Caramel Sauce!
Braised Chicken & Savory Peaches
This braised chicken & savory peaches dish is so flavorful and the tastes blend perfectly together. Really amazing anytime of the year, but especially good when peaches are at their height of flavor when they are in season. Incredibly delicious!
Print
Pin
Rate
Servings: 4 people
Calories: 325kcal
Ingredients
FOR THE PEACH MARINADE
3 medium-ripe peaches pitted and sliced, diced, or cut into wedges (we like wedges)
1/3 cup extra-virgin olive oil
2 1/2 tbsp spiced dark run optional, but adds a lot of flavor
2 tbsp sherry vinegar
1 1/2 tbsp fresh rosemary finely chopped
Pinch Kosher salt
Pinch granulated sugar
FOR THE BRAISING
1 tbsp extra-virgin olive oil plus a little more, as needed
1 oz thinly sliced prosciutto cut crosswise into thin strips
3 lbs bone-in, skin-on chicken thighs about 6 to 8
Kosher salt and freshly ground black pepper
1 - 2 medium leeks white and light green parts only, thinly sliced (about 1 cup)
3 cloves garlic thinly sliced
2 tbsp all-purpose flour
3 cups of the marinated peaches drained, with marinade reserved
3 cups chicken stock
2 tbsp capers drained
2 tbsp unsalted butter
2 tbsp fresh tarragon leaves coarsely chopped
Instructions
MAKE THE MARINATED PEACHES
Gently combine all of the ingredients in a medium bowl and let marinate at room temperature for 1 hour, and up to 24 hours. (After marinating, you can refrigerate them for up to 1 day).
PREPRARE THE DISH
Position a rack in the center of the oven and pre-heat oven to 350 F.

Heat oil in a Dutch Oven or other heavy-duty pot over medium heat.

Add the prosciutto and cook, stirring occasionally, until crisp, about 5 minutes.

With a slotted spoon, transfer to a bowl and set aside. If the pan is dry, add a little more oil.

Season the chicken lightly on all sides with salt and pepper.

Working in batches, brown the chicken on both sides - about 12 minutes total. Transfer to a plate.

Turn the heat down to medium-low. Pour off all but 1 tablespoon of fat from the pot and then add the leek(s) and garlic.

Cook, stirring often, until beginning to soften, about 5 minutes.

Add the flour and cook, stirring for 1 minute.

Add the reserved marinade and cook, scraping up any browned bits from the bottom of the pan, until the liquid thickens, about 2 minutes.

Add the stock, season lightly with salt and pepper, and bring to a boil.

Arrange the chicken in the pot, skin side up, and return to a boil, and then transfer the pot to the oven to braise, uncovered, until the chicken cooks through, about 25 minutes.

Take the pot out of the oven, and turn the broiler on high.

Transfer the chicken, skin side up, to a foil-lined rimmed baking sheet.

Simmer the sauce in the pot over medium-high heat, stirring occasionally, until thickened and reduced by about to half - about 10 minutes.

Lower the heat to medium and stir in the capers and peaches; cook until heated through.

Stir in the butter until it melts, then stir in 1 tablespoon of the tarragon and season to taste with salt and pepper.

Meanwhile, broil the chicken until the skin is crisp, about 3 minutes.

Return the chicken to the pot, or transfer it to a large platter and spoon the sauce over it.

Garnish with the prosciutto and the remaining tarragon leaves.
Nutrition
Calories: 325kcal