Let's hear it for the one-pot wonder! Everyone (well, almost everyone) loves a good chicken-chicken dinner! And this is so delicious and so easy!
This skillet-roasted chicken with tomatoes, white beans, and wine has been a go-to meal for several years for us for many years. Incredible, deep flavors, that will be on your table in about 40 minutes.
HOW TO MAKE SKILLET-ROASTED CHICKEN
This dish really hits all the right notes.
There are numerous types of chicken to choose for this dish, but we love going with skin-on, bone-in chicken breast.
You want to start by browning the seasoned chicken breasts in a sturdy (preferably cast-iron) skillet.
At this point, you're searing in those wonderful flavors and in a way, sealing off the exterior of the chicken to lock in those amazing juices.
EXPERT TIP: When you're done searing the chicken pieces, the chicken won't be fully cooked yet. That happens when you finish the dish off in the oven.
CHERRY TOMATOES AND WHITE BEANS ADD FLAVOR AND TEXTURE
Now, it's time to add the tomatoes, wine, and seasonings.
We go with a nice dry white wine, such as Chardonnay, Sauvignon Blanc, or Pinto Grigio.
The cherry tomatoes will pop as they sear and release their amazing juices.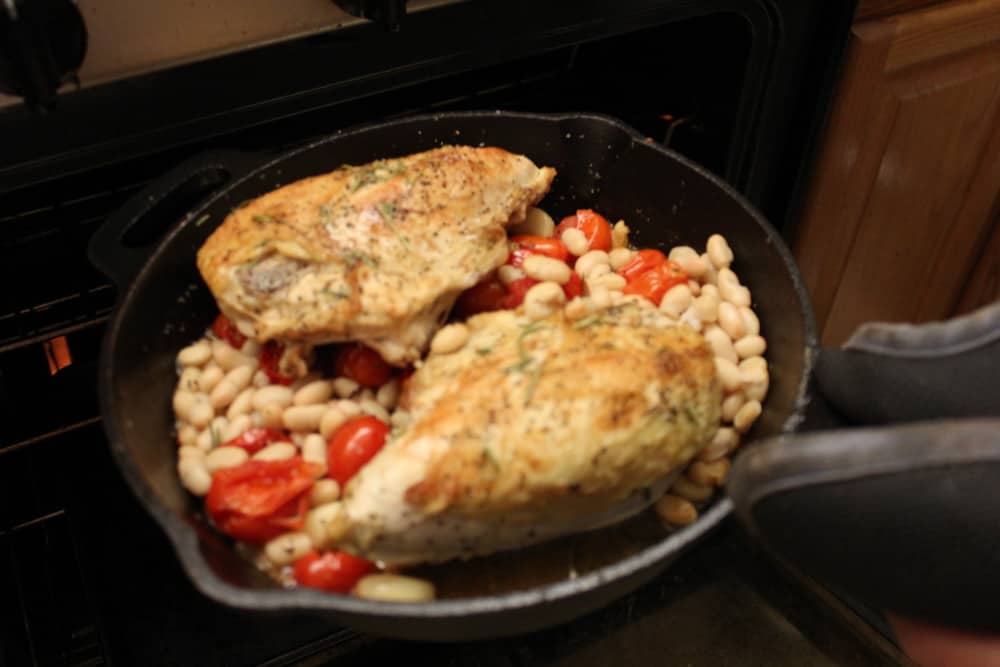 Then finish it off in the oven, throw in the beans at the last minute…and trust me, this is incredibly flavorful and amazing for any night of the week! Enjoy! Loon Approved!\
You might also enjoy our Roasted Chicken with Lemon, Garlic and White Wine!
In the meantime, make this amazingly delicious Skillet-Roasted Chicken with Tomatoes and Beans!
And when you do, be sure to take a photo, post it on Instagram, and tag @howtofeedaloon and hashtag #howtofeedaloon!
Skillet-Roasted Chicken with Tomatoes, White Beans and Wine
This skillet-roasted chicken with tomatoes, white beans and wine is wonderful. Easy to prepare on a busy weeknight, but it's so juicy and bursting with natural flavors, you and the family will be convinced you're dining at some fancy restaurant! Make and impress! Easily double the recipe to serve 4!
Print
Pin
Rate
Servings: 2 people
Calories: 558kcal
Ingredients
2 tbsp extra virgin olive oil
2 chicken breasts skin-on, bone-in
1 cup cherry tomatoes
4 cloves garlic peeled
¼ cup white wine
Kosher salt and fresh cracked black pepper
1 tbsp rosemary fresh, chopped (or 1/2 teaspoon of dried)
1 cup white beans canned: Navy, or other white beans, rinsed and drained.
Instructions
Preheat oven to 425°F.

Heat a heavy 10 or 12-inch skillet over medium-high heat for 1 minute.

Add the oil - it should simmer in the pan and then just start to smoke (but not much!)

Add the chicken breasts, skin side down, and sear for 3 minutes (don't move them around too much while cooking).

After the 3 minutes, flip the chicken, add the tomatoes and garlic (garlic should make contact with the pan).

Add the wine.

Wait a couple minutes, then season everything with salt and pepper.

Sprinkle with the rosemary.

Place the skillet in the oven, and roast until the chicken is just cooked through, about 20 to 22 minutes.

Add the beans for the last 5 minutes of cooking, stirring them together with the tomatoes and the garlic.

Remove the skillet from the oven, remove the garlic cloves.
Nutrition
Calories: 558kcal | Carbohydrates: 29g | Protein: 58g | Fat: 14g | Saturated Fat: 3g | Cholesterol: 145mg | Sodium: 279mg | Potassium: 1546mg | Fiber: 7g | Sugar: 3g | Vitamin A: 484IU | Vitamin C: 23mg | Calcium: 132mg | Iron: 5mg